Ray Burns Summer 2002 Rail Travelogues - Part 1
http://www.trainweb.com/travelogues/rayburns/2002f09a.html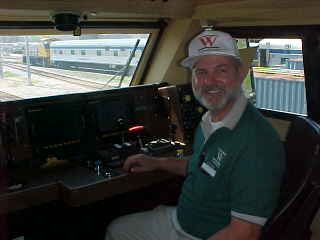 Click Here for a 360x360 Immersion Photos Virtual Tour
of the Interior of the VIA 1 Renaissance Cars
Click Here for a 360x360 Immersion Photos Virtual Tour
of the VIA Rail Easterly Class
Eastern Canada
Sunday, June 9, 2002
This five-week trip is not the longest excursion that I have taken, but still, one of the longer ones. I'll be flying east to New York City and then to Syracuse, drive up to the Canadian border, train into Montreal and stay for a few days, go west across Canada to northern British Columbia, down to Vancouver and then to Seattle, all by train, and then go through the north western States by train, as well, and then fly into Los Angeles from Salt Lake City.
It all started when my wife, Maria, drove me to the Long Beach, California airport, to catch my 9:25 PM flight to New York on jetBlue Airlines. After bidding adieu to my wife and granddaughter, Aricel, I stepped into the small terminal and "checked in." Security went through every little part of my large suitcase, laptop case and camera case. Quite friendly, though.
I really enjoy this airport as it is very close to my home, it is small compared to LAX and the clean surroundings and friendly staff make it pleasant to be here. Going through my material as I listened to the soft piped in music was quite relaxing as I waited for my departure.
Needless to say, we took off on time at 9:25 PM and arrived at 5:40 AM in New York on time. I was impressed with jetBlue's terminal in New York City. Well laid out, comfortable seating, a nice play area for small children and many food sites to make it easy for anyone that was hungry. They only had one gift shop, but it was the largest gift shop that I have ever seen in an airport. There was also four television screens side by side with two of them showing the news and two of them showing sports.
My flight took off at 9:45 AM and I arrived in Syracuse, NY, at 10:50 AM, where my brother in law, Doug Symons, picked me up. Everything was on time! Mind you, you do not get a meal with this company, but you do get chips or cookies with a juice or soda. The best price that we could find on the Internet was with this company.
The two-hour drive to the Canadian border was relaxing and scenic. Lots of greenery. Canadian customs was quite pleasant, which was a nice change! The drive to my sisters' home is just another 20 minutes away in Algonquin, Ontario, Canada. It was nice to see the old country store again and be amongst loved ones. Seeing as that I didn't get much sleep on the "red eye" flight across the US, losing three hours in addition, I was pretty tired. My two and ½ days in Brockville was one of relaxing and getting "climatized."
Wednesday, June 12, 2002
I was at the VIA Rail Canada Brockville train station at 5:05 AM and took a virtual picture of the refurbished interior. VIA is obviously doing well if they upgrade their smaller stations across the country. I believe the US dollar is equal to around $1.53 Canadian right now. Down from $1.60. Those are still good rates for Americans so one should seriously consider taking advantage of those rates while one can. It is just a matter of time when they'll come down even more. The country's scenery won't change, but the dollar will! My suggestion is "do it while the sun still shines!"
The train takes off at 5:23 AM and I bid adieu to Doug, who brought me to the train station. I'll take coach this morning to Montreal, Quebec. It's something like 200 miles. It rained yesterday and there was light rain this morning. More than usual this time of year, I'm told. The coach car is pretty full and everyone is spattered out in their sleeping mode. There is an empty seat down near the front of the car, just behind the engine, and it is the only place where there is an electrical outlet. What luck! I plug in my laptop and go to work. When finished, I'll just enjoy the lovely scenery until I get to Montreal.
Two hours later I was in Montreal. This city is a beautiful place that has something for everyone. Lots of skyscrapers of intricate design and the hustle and bustle of a large city that is truly international. Though French is the dominant language, English as a second language for most people, is the norm. Probably the most unique feature of this place is the sincere hospitality of the people. This is a trait that VIA RAIL headquarters is very proud of about their staff. I am sure that those people that have visited Canada would agree with me.
The trains come into the Montreal rail complex underground. You then take the escalator upstairs to the heart of the station itself. With the many passages to and from the station and the multitude of stores and restaurants plying their wares, the area is no less than an upscale mall with most of the delicacies and needs that the public desires.
I went to the information booth (the green light) and had the VIA person on duty call Guy Faulkner at VIA Rail marketing for me. Guy had arranged it for TrainWeb to take virtual pictures (www.360360.com) of one their new train sets that they had purchased from England. These trainsets were originally built to run in the Chunnel between England and France. But due to changing economic circumstances, VIA Rail Canada was able to purchase and modify these trainsets from England for a fraction of their original manufacturing cost. For more details about the purchase and modification of these trainsets, click here. VIA announced the purchase of these 139 new passenger cars on December 15, 2000, the first major purchase of passenger rail cars in more than 20 years. Now officially branded as VIA's Renaissance cars, the new equipment expands the total passenger fleet by one third. For VIA Rail Canada's News Release about these new passenger cars, click here.
Photos inside the new VIA Rail Canada Renaissance Cars:
Set #1 / Set #2 / Set #3 / Set #4 / Set #5 / Set #6
The train left around 8:00 AM for Ottawa, Ontario, with Bernard Aubin, my host, and myself from the VIA Rail marketing department. There were no paying passengers on board. Other than a film crew, a photographer and myself, there were just marketing and PR people on board. Everyone did their "own thing" and everything turned out pretty good. This is a beautiful train set so be sure to look at the car interiors, including the Genesis engine, at either our virtual pictures site at www.360360.com or at VIA Rail's own website at www.viarail.ca.
After being in Ottawa for an hour we headed back east and stopped at Alexandria, Ontario, for a while to do some filming with the train. We were back in Montreal by 1:00 PM. That afternoon I worked on putting the pictures together so they could be sent to Steve Grande of TrainWeb to put up on the Internet. By all means, take advantage of looking at the virtual pictures so you will have a good idea as to what the interior of the units look like.
Thursday, June 13, 2002
Today I reported to Guy Faulkner as I was going to go to their maintenance yard to take more virtual pictures. Bernard Aubin of marketing, was again my host for the day. We took a taxi to the target site and met with one of the supervisors, who showed us around the maintenance yard. You railfans will have a nice treat as I took a couple of virtual photos of the maintenance yard. I don't think that has ever been done before, by anyone. The yard was very large, modern, clean and orderly. After the shots were finished I spent the rest of the day putting the photos together to prepare same for Steve Grande at TrainWeb. Once I arrive in Toronto on Monday, I will have the computer chips with the pictures in them with this portion of the travelogue FedEx'ed out to our office in southern California to be posted on TrainWeb by Steve.
Friday, June 14, 2002
Today I went into Guy's VIA Rail office to show him the pictures that I had completed so far. He was quite happy with what I produced so there were only a few pictures left to take, and I will take them on the "Canadian" while I'm on my way to Jasper, Alberta. If only other company representatives would be as friendly and accommodating as Guy, the world would be a much better place!
Later that afternoon Guy and I went over to the Hotel Le St-James (514) 841- 3111, (866) 841-3111 in "old Montreal" at 355 Rue Saint-Jacques, Montreal, PQ. You can find them at www.hotellestjames.com. If you are saving your pennies, do not go to this hotel! However, if you relate to staying at "only the best will do" style of accommodations, and have the money to afford it, then this place is for you. They just opened two weeks ago so the dust hasn't even settled yet. If you enjoy European luxury and the grandiose as the norm, I think you'll thank me for this tip. Believe me, it is much more luxurious than you think it is! Make sure that you mention TrainWeb.com! I wonder if they named the hotel after my middle name?? If you would ever like to see virtual photos of the 61 rooms that are all different from each other, let me know.
Saturday, June 15, 2002
I have been staying with my aunt Thelma while in Montreal and also with my cousin Linda Anthony and her husband Allan. Yes, everyone is bilingual. Everyone is friendly, the food is great and I even enjoy the rain. I love to see the green. I am relaxing, listening to classical music while I am catching up on my travelogue. I will be catching my train later this afternoon at 6:15 PM for Brockville, Ontario. A busy time while in Montreal, but thoroughly enjoyable. A very refreshing pastime while in the pearl of the north. "Ah, Quebec!"
I checked into the VIA 1 first class lounge at the Montreal train station around 5:30 PM and relaxed on one of their comfortable leather sofas. The call soon came out for first class to Toronto (Brockville is between Toronto and Montreal) over the speaker system to go to the escalator that would take us downstairs. The train station was bustling with travelers giving it a bygone era of train travelers going to their destinations. Down I went and then with VIA staff directing me, I made it to my car. The young attendant was very courteous and had a genuine generous smile. I told him that I was concerned about getting my dinner too late to finish by the time I get to Brockville, but he assured me I would have enough time to finish my meal. A comfortable ride with my dinner ( I shouldn't be eating this veal.) My sister, Lorraine, along with her husband, Doug, with granddaughter in tow were all at the train station to greet me. All in all, a very enjoyable trip to Montreal, being amongst good friends.
Sunday, June 16, 2002
Today is basically a day of rest and to prepare for tomorrows journey. My brother, Robert and family came in from Ottawa, around 65 miles from Brockville. Other good relatives, friends and neighbors came in as well. I took a virtual picture of all of us in my sister's living room that can be seen in www.360360.com. Everyone had a great time together with lots to eat and talk about.
Monday, June 17, 2002
I was awakened around 6:00 AM and we were all at the train station by before 7:00 AM. The Genesis engine pulled into the station quietly and everyone boarded with me taking up the rear. There was barely any room in the storage area, but we made it just fine. Breakfast was soon served and it was quite good as a fruit plate was offered prior to the regular meal itself. In my case I had scramble eggs. My cranberry muffin with marmalade was quite good, as well.
It is pretty looking at Lake Ontario as the train speeds along its coastline. It has rained while I was in Montreal a few times, yesterday when I was in Brockville, and I hear that it will supposedly start up again this afternoon as well. It is overcast this morning with blue sky peeking out once in a while. I would enjoy to go fishing about now. I'm certainly in the country that has that luxury available. We should be into Toronto a little after 10:00 AM this morning (another 30 minutes). Once in Toronto, we will all check into the hotel, go eat at an Indian restaurant and then send my pictures and this travelogue FedEx overnight to Fullerton, CA so Steve Grande to put same up on our website. We're coming into Toronto now so I'll close off at this time. Stay tuned and the next phase of the trip will be up for you in a few days. "Ciao!"
Click Here for a 360x360 Immersion Photos Virtual Tour
of the Interior of the VIA 1 Renaissance Cars
Click Here for a 360x360 Immersion Photos Virtual Tour
of the VIA Rail Easterly Class
Click here for more information and photos of VIA Rail Canada's new Renaissance passenger cars that started service on June 23, 2002.
Ray Burns and the TrainWeb field crew did quite a bit of rail travel from June 9, 2002 to July 11, 2002, especially in Canada. Click on each link below to read the travelogues and view the photos and virtual tours:
CLICK HERE
To Read More Rail Travelogues
And View More Photos Of Rail Travel!
Visit our Rail Magazine promotion trading partners:
Click here to add your print rail magazine.