An Evening on the Pacific Starlight Dinner Train
By Darlene and Laurie
http://www.trainweb.com/travelogues/bcrail/2002f29a.html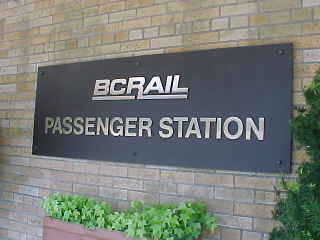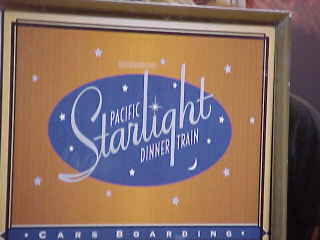 We inquired at the hotel concierge desk about transportation to B.C. Rails Pacific Starlight Dinner Train. We had tickets for dinner on the train, and wanted to know the best and quickest way to get to the station. Grey Line tours had pick-up service but that required us to purchase our dinner ticket package from them. A few other unsuitable options were investigated, so, we opted to take a taxi for the supposed forty to fifty minute ride.
We left our hotel at 5:00 p.m. and were pleasantly surprised to arrive at B.C. Rail a short ten minutes later. People were already milling about. We inquired, and received our tickets at the ticket wicket from the very pleasant and helpful operator. We met Dean McClernon, the guest service co-ordinator of the Pacific Starlight. Darlene and I enjoyed browsing at the numerous quality items in the gift and souvenir shop. People lined up to have their picture taken before heading to the boarding platform area to listen to the live band. They were excellent, and played ( according to Darlene) such toe tapping oldies as 'Sweet Georgia Brown' and 'Yes Sir That's My Baby.'
Dinner was served at 7:00 p.m.. Red Pacific salmon presented on strips of B.C. red cedar, fresh carrots, green beans, and cauliflower, with wild rice and a lemon wedge completed our fabulous dinner. Darlene declared her fish, 'just perfect'. (We had never seen salmon served this way before, and I asked Darlene how would we write this up?, she replied, 'Just say red salmon on a two by four') We noticed Dean moving back and forth between cars, checking that everything was perfect.
The train snaked along the coastline, hugging the mountains. We were hypnotized by the breathtaking view of the distant mountains and sun-dappled water. Across from us, a young couple and her parents, were obviously celebrating a special evening. They were Dan and Helen Robek, daughter Kirsten, and, her husband of one year, Stephen Holmes. The special event this evening was Stephen's 30th birthday, and we enjoyed watching him unwrap some presents along the way. He was serenaded by a hearty rendition of 'happy birthday' sung by everyone in the salon.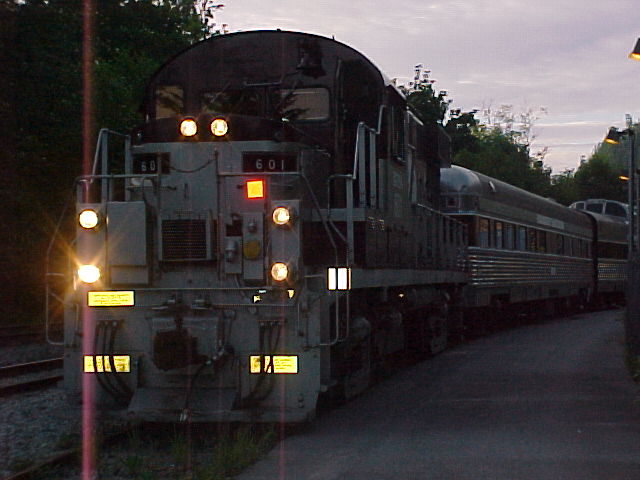 As we detrained at 10:00 p.m. the pictures taken before boarding had been processed and for a fee of $10.00, you could take home a pleasing personal memento of the Starlight excursion. We were surprised by the many different reasons people took this trip. I thought of a special anniversary, but there were many different celebrations going on. One woman said she received this trip from her daughter for Mothers' Day, Kirsten and Stephen were celebrating a special birthday, one group was here as a 'thank you' from a grateful daughter, to all those who helped her move her elderly mother to new lodgings. And Hilda, whoever you are, I hope you saw your fans waving a sign wishing you a happy 80th. So many reasons to be on this train enjoying spectacular scenery, and fine dining. Taxies were waiting at the station.. $l6.00 plus $4.00 tip, well worth it to be driven right to our hotel.
P.S. As a postscript to this story, a Lionel collection watch, purchased at the souvenir shop, was not working. Darlene phoned the next day and was told 'no problem, a replacement will be mailed to your address, just mail the broken one back'. She wanted you to know the watch was waiting for her when she returned to Ontario.
Ray Burns and the TrainWeb field crew did quite a bit of rail travel from June 9, 2002 to July 11, 2002, especially in Canada. Click on each link below to read the travelogues and view the photos and virtual tours:
Part 1 - VIA's Renaissance Cars and travel (Montreal-Brockville-Toronto)
Part 2 - VIA's Canadian (Toronto-Jasper)
Part 3 - VIA's Skeena (Jasper-Prince George-Prince Rupert-Prince George)
Part 4 - BC Rail's Whistler Northwind (Prince George-Whistler-North Vancouver)
- BC Rail's Pacific Starlight Dinner Train
- Amtrak's Cascades (Vancouver-Seattle)
Part 5 - American Orient Express Great NW & Rockies Tour (Seattle-Salt Lake City)
Part 6 - Tour of Salt Lake City


Part 7 - Darlene's Trip to Vancouver on the VIA Rail Canadian
Part 8 - Laurie's Adventure to the Rockies on the VIA Rail Canadian
Part 9 - An Evening on the (BC Rail) Pacific Starlight Dinner Train <<== You Are Here


CLICK HERE
To Read More Rail Travelogues
And View More Photos Of Rail Travel!
Visit our Rail Magazine promotion trading partners:
Click here to add your print rail magazine.