Ray Burns Summer 2002 Rail Travelogues - Part 6
http://www.trainweb.com/travelogues/rayburns/2002g10a.html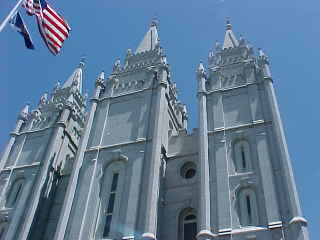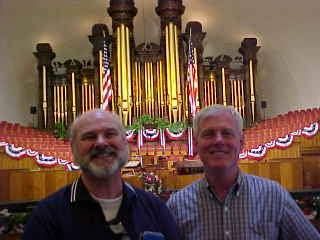 Click Here for a 360x360 Immersion Photos Virtual Tour
of Temple Square in Salt Lake City, Utah!

Touring Salt Lake City

Wednesday, July 10, 2002

Robert and I checked into the Best Western Salt Lake Plaza Hotel, which is basically across the street from Temple Square.

When I talk about "Temple Square" I am talking about the Temple grounds of "The Church of Jesus Christ of Latter Day Saints," commonly known as "Mormons." Mormon, by the way, was an ancient Prophet here in the Americas that lived approximately 300 AD to 385 AD. He abridged over 100 sets of records, or metal plates, regarding the history of his people from 600 BC to approximately 400 AD, which is about 1,000 years of history. Because he abridged this record, the record bears his name. Thus the abridged record is called "The Book of Mormon." Consequently, the people who accept this book as a religious record are called "Mormons" (preferably called "Latter Day Saints" (LDS)).

Bob and I dropped off everything in our room and took what we needed for Temple Square. We went into Temple Square South and talked to one of the information hosts. We were allowed to take regular as well as virtual pictures around the compound. Folks, I took a lot of pictures of these grounds, so I have a special treat for you. I also took a number of virtual pictures that will allow you to take a virtual tour through temple square as well. More virtual pictures are needed to be taken, but my time was at a premium at this point.

The first place that I went to was "Assembly Hall" and I took a number of pictures. In this 1882 meeting hall, concerts by international and local artists are presented here. It's a beautiful church structure with impressive organ and design features. The hall is still used when there is an overflow of "saints" for conference services.

You know, these structures remind me of children. They are all beautiful, look different, have their own personalities, but each one is part of the whole, and you love them all alike.

I now went to the "Tabernacle" in time to listen to a free ½ hr. concert given there. The demonstration given on acoustics was quite dramatic, and the organ performance was very "impressive." The tabernacle was totally built with wooden pegs. Not one nail was used other than a pin and a nail for the demonstration of its' acoustical capabilities. The building was built in the 1860s so there was no CAD to assist the designers. The structure resembles the form of half an egg, and the seating capacity is over 7,000 people. Not bad for a bunch of farmers!

This structure is the home of the Mormon Tabernacle Choir and the Orchestra at Temple Square. The public is invited to choir rehearsals, so that must be a real treat. When the organ recital was finished, most of the people left, so that gave me the opportunity to take photographs of the building's interior.

I had then gone out and taken a number of pictures on the walkways between the beautiful trees and bouquets of flowers. My goodness, even the gardener was smiling. That is one of the great things about this place; everyone is smiling and saying "hi." I am not just talking about the pretty missionaries that greet everyone to the area, but also the visitors themselves. It is like "goodness" is a prerequisite when they come to the area. Wouldn't it be something if everyone in the world was continually like that!

Bob and I had pretty well had it for the day. The hot sun had drained us pretty bad. In fact, we had stopped just in time as he had a touch of heat stroke. Fortunately, our hotel was very close and the air conditioner in our room worked well. We both cooled off drinking cold water and Robert went immediately to bed with a headache.

I then walked five blocks in the blistering heat to the Indian restaurant, not knowing that the streetcars are free if you use them within the downtown area of the city. The food was good and generous. I did ask about the streetcar when at the restaurant so with that knowledge in check, I took the streetcar back to my hotel.

Robert was in a sound sleep and I knew that it would do him good. We would have Indian leftovers for breakfast. A good cool shower for me and then off to bed for tomorrow's continuation of my picture taking at Temple Square.

Thursday, July 11, 2002

There are two art galleries, an interactive map of Jerusalem, interactive exhibits on scriptures and revelation, and the Love Thy Neighbor exhibit. If you want to see an exceptional movie, and free at that, view "Legacy," a 53 minute film on a huge wide screen in the comfort of spacious seats and clear view with extraordinary sound quality. This movie is about the westward trek of the Mormon pioneers. For all you macho guys out there, let me give you a little tip: Bring a hanky!

This building features a 21,000-seat auditorium and a 900-seat theater. This is a very modern and elegant structure with high tech swirls of flowing lines elaborating everywhere. Very elegant with absolutely stunning designs that bring beauty to one's sight. The sound effects must be extremely impressive!

Also included in this building is a large amount of original artwork that is actually printed in the Book of Mormon. That's like seeing pictures of "Mona Lisa" and "Blue Boy" in a magazine and then seeing the original paintings. I did take quite a few pictures of these paintings, so please take the time to view them and blow them up to a larger size so you can really appreciate high quality artwork that can be seen here.

My guide brought me up to the roof of the structure, and yes, there are trees and plants covering about 3 ½ acres of landscaping and gardening all over the roof. These signify the trees and plants that the Mormon pioneers traveled through on their tortuous trek westward. If you think that my verbiage of "tortuous" is too strong, then read the records of their accounts prior, during, and after their tumultuous ordeal and judge for yourself.

I also took a virtual picture on the roof where the water starts its long drop down to the street, cascading into wider sections as it tumbles lower and lower, glistening silver flashes of light to admiring onlookers. Looking at this virtual picture, one will also be able to view part of the roof, as well as a bird eye view of some of Temple Square and Salt Lake City.

Now my greatest worry occurred. My camera computer chip had filled up. I managed to find a kind soul who watched my heavy 30 lb. camera case so I wouldn't have to lug it to the mall to purchase another camera computer chip. What a blessing that was. The temperature was pretty hot and other than my overweight carcass, the less I had to lug around, the better. The manager in the camera shop was quite knowledgeable and gave me excellent service, so it was back to Temple Square and a new start.

Next in line was picture-taking in front of the temple beside the glass like pool. I took another picture near the spectacular fountain (which reminds me of "Old Faithful" in Yellowstone Park), and then down to the Joseph Smith Memorial Building for a take. This large structure, spotlessly clean (like everything else around the area) houses a 70- mm theater that shows an hour-long film about the mission of Jesus Christ. Of course it's free. What did you expect?

Give yourself more time when you come to this place as it will "knock your socks off" once you see the grand entrance. Have a seat, relax and listen to the music coming from the grand piano. Admire the woodwork, the stunning chandeliers, the glasswork, the colors, the statues, the flowers, the……….. Just relax and enjoy! It was a great place for me to escape the sweltering bite of the sun. It was almost surrealistic. Disneyland, eat your heart out! I took my pictures, so I pray that they came out, as I leave later on today.

I would have loved to have gone through this building as well as the Relief Society Building (you didn't think that the women didn't have anything to do here, did you?), the Church Office Building, the Church Administration Building, the "Lion House," the "Beehive House," and Brigham Young Historic Park. But I was just out of time, plus I was physically exhausted! That kind of heat does a number on overweight people lugging around heavy camera cases. One thing that I really wanted to do was to view the different movies that are shown. I felt bad that I did not have the time to see them.

I managed to go to the Church Administration Building and take a picture of the foyer. If the picture comes out, you will have a look at an area very few people get to see. Now I was on my way back. I had to leave! Down the block through that awful heat I was thinking how easy I had it compared to the pioneers that made the harrowing trek across the country to find refuge, and then from there, began to hack out of the mosquito infested wilderness a livable place to survive. No, I wasn't going to complain and grumble to myself. I actually felt quite good, happy in fact, as I knew that I, and my associates, will put together a grand virtual tour of Temple Square for the world to see on our website. I believe that nothing like this has ever been done yet. There are different interpretations of "virtual" and "virtual tour," so please do check out our "Virtual Tour" button on the main page of www.TrainWeb.com and see what I mean by this word!

I stopped into the South Visitors' Center and gulped large amounts of cool water from their water dispenser. That should get me to the West Visitors' Center to turn in my Media pass. Just prior to dragging myself to the office I looked up and saw the Family History Library and the Museum of Church History and Art. I looked at my watch and then looked back at the buildings and then I heard the "chirp" of the "little bird" (the pedestrian signal) and said to myself, "GO FOR IT!!" I ran as fast as my little fat legs would carry me, holding my heavy camera case high in one hand and my hand held camera in the other, I gasped for hot air every few paces, but made it to the other side with 0 seconds to spare. Now to hold my composure and not melt on the sidewalk! I walked the few feet more to the entrance of the Family History Building taking gulps of air for my bursting lungs and knowing that I would soon gain entrance to a peaceful, air- conditioned office, where cool water would be close by.

Sure enough, I was saved, and my body temperature started to slowly cool down to a safe level. I was allowed to take a picture of the reception area (that is ALL the time that I had) and then one of the senior people here offered to guide me through the Museum of Church History and Art. This would save me time so I graciously accepted. Like every place here, there is so much to see let alone read. Temple Square is truly a museum of museums. Suffice it to say, I did take one virtual picture in the building, for times sake, but if it comes out, it should be a "doozer," so hopefully you'll be curious enough to go check it out.

I thanked the gentleman for his hospitality and went back to the West Visitors' Center and turned in my Media pass. It bothered me that I did not have the time to take any more pictures as I surely needed more. I did get a lot of them, but there is so much to see that much more is needed if you want to get a grasp of how grandiose this place really is. However, considering the time given, working alone, the heat, no lunch, and just being "dogged beat," I was satisfied for what I did accomplish.

Through all my train journeys on this trip, VIA Rail across Canada, from Montreal to Prince Rupert and then to Prince John, BC, the Whistler Northwind of BC Rail through British Columbia, north to south, the BC Rail Pacific Starlight Dinner Train in BC, the Amtrak Cascades (Talgo train) from Vancouver to Seattle, and the American Orient Express Great Northwest & Rockies Tour from Seattle to Salt Lake City, Utah (8 days), the service and attention has been phenomenal. The total dedication, service, and genuine friendliness of the volunteers and missionaries here at Temple Square have made this journey grand beyond expectations. That extra comfort and assistance that I received because of the gentleness and effort of these people helped me to accomplish my mission at hand. To all the good people who came through my life on this journey, I salute you, and I love you! There truly is a pot of gold at the end of the rainbow!

I walked as fast as I could back to my hotel on my shaky, tired legs. Fortunately, it was just around the corner. My poor crumpled body was in dire need of rest and I at last knew that my physical ordeal was over. The sun and the heavy equipment was what made things difficult. The rest was a joy! I drank a lot of ice water in my air conditioned room and said a "prayer of thanks" for living in a modern world where ice water and air conditioning were at my disposal.

I want to make special mention of "thanks" to the Best Western Salt Lake Plaza Hotel for letting me stay in my room until 3:00 PM. My brother Robert truly needed that extra time to recuperate from yesterday's heat, and I needed it at this time! That ½ hour was just the time I needed to get back on my feet. Check out time is normally at 12:00 noon. We were very thankful for their consideration. It's an excellent place to stay for a great price, and is so close to Temple Square.

I cannot elaborate how enjoyable train travel is. I cannot say enough that to travel first class is well worth the difference in cost from coach fare. I cannot emphasize how much more you will enjoy luxury on a first class train, and I cannot wait until I can do this again someday. I have never met someone on a train that never enjoyed their ride and experience, and I have never met someone that never wanted to go on another train ride. Surely a picture is forming here.

There are many adventures going out in every direction around the US and Canada. Each of those rail companies, be it a private railcar, or a nationwide passenger rail company, especially ones that have banner advertisements rotating throughout www.TrainWeb.com and www.TrainWeb.org , will certainly offer you an adventure passing through many different scenic areas of natural wonders. To what level of luxury? Well you must make that choice. Why should you drive and put up with road problems when you can leave the driving to the engineer?

Each of my travels is unique to themselves. They are different adventures that I cannot forget. You have a choice: You can read the travelogues (and hopefully enjoy them), or you can grab your own adventure by the horns and "go for it." I could have written a book about this trip, but travelogues are what TrainWeb offer. Happy rails to you, until we meet again.

Click Here for a 360x360 Immersion Photos Virtual Tour
of Temple Square in Salt Lake City, Utah!

Ray Burns and the TrainWeb field crew did quite a bit of rail travel from June 9, 2002 to July 11, 2002, especially in Canada. Click on each link below to read the travelogues and view the photos and virtual tours:
Part 1 - VIA's Renaissance Cars and travel (Montreal-Brockville-Toronto)
Part 2 - VIA's Canadian (Toronto-Jasper)
Part 3 - VIA's Skeena (Jasper-Prince George-Prince Rupert-Prince George)
Part 4 - BC Rail's Whistler Northwind (Prince George-Whistler-North Vancouver)
- BC Rail's Pacific Starlight Dinner Train
- Amtrak's Cascades (Vancouver-Seattle)
Part 5 - American Orient Express Great NW & Rockies Tour (Seattle-Salt Lake City)
Part 6 - Tour of Salt Lake City <<== You Are Here


Part 7 - Darlene's Trip to Vancouver on the VIA Rail Canadian
Part 8 - Laurie's Adventure to the Rockies on the VIA Rail Canadian
Part 9 - An Evening on the (BC Rail) Pacific Starlight Dinner Train by Douglas Symons


CLICK HERE
To Read More Rail Travelogues
And View More Photos Of Rail Travel!

Visit related pages from this and other web sites:
Click below for pages in the directory of TrainWeb sites: