BookRailTravel.com
FULL-SERVICE AGENCIES WITH A RARE EXPERTISE IN NORTH AMERICAN TRAIN TRAVEL:



*Train Travel Consulting at Accent On Travel: 800-347-0645 or 541-885-7330 (Fax: 541-883-6457), Web Site: TrainTravelConsulting.com, E-Mail: sylvia@traintravelconsulting.com, 3939 S. Sixth St. #331, Klamath Falls, Oregon 97603. Customized US and Canadian rail trips including air travel and hotels. Owned by Ted and Sylvia Blishak, their company name reflects their specialty of train travel. The travel agency received a Certificate of Appreciation from Amtrak as a top producer, and is on Conde Nast Traveler Magazine's Top Travel Specialist List. Sylvia, who is a Canada Specialist, tickets all three of the Canadian trains. (PDF ad)


The above railtour companies and agencies are TrainWeb Sponsors. Their support allows us to make the TrainWeb site available to you. When you contact them, please let them know that you heard of them through TrainWeb!
WHEN TO USE A RAIL TRAVEL AGENCY
(They are rare, but those listed above are our sponsors, and are rail experts):

If you are planning a simple rail trip without connections, we recommend scrolling down the page to National Rail Systems to click on either Amtrak or VIA Rail Canada. For a trip with sleeping compartments, or multiple connections or railroads, the agents above can help -- and are worth their service charges. Please say you found them on Trainweb!
These experts will:

Book a personalized package adding cruises, car rentals, hotels, and air tickets.
Explain various sleeping-car configurations.
Offer options you haven't heard about.
Know which hotels are closest to the stations.
Will recommend sightseeing highlights.
Advise you about rail tour options with companies such as Royal Canadian Pacific, Brewster Vacations, Rocky Mountaineer Vacations, Mayflower Tours and Tauck Tours.
Work with operators who offer little-known trips geared to the rail enthusiast.
NATIONAL PASSENGER RAIL SYSTEMS: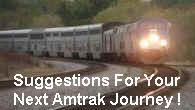 Additional Passenger Rail Resources:
Planning a trip by Amtrak? Click here now!
Rail Tour Providers: Excursions / Private Railcar Trips / Tourist Railways / Travel Agencies
Announce or View Upcoming Rail Tours: Excursions / Private Railcar Trips / Tourist Railways
Visit our Rail Magazine promotion trading partners:
Click here to add your print rail magazine.