Rail Travelogues & Photos,
especially on
Amtrak and VIA Rail Canada.
Below you will find all of the railroad related stories, rail photos, rail trave logues and rail events that have been featured with a photo link on the main page of TrainWeb.com this year. Click on each of the below photo links to review the full reports. You will find there are a tremendous number of travelogues of Amtrak travel, rail travel on VIA Rail Canada, as well as rail travel on many other rail systems and tourist railways throughout the world. Check back often as new stories are continually being added.
Reports Posted in Prior Years
Click each link for reports posted in that year: 2015 / 2014 / 2013 / 2012 / 2011 / 2010 / 2009 / 2008 / 2007 / 2006 / 2005 / 2004
Reports Posted This Year:
| | |
| --- | --- |
| | Jul 2, 2016 - Chicago Union Station's New Metropolitan Lounge: Report & Photos Jack M. Turner Our arrival at Chicago Union Station on Saturday, July 2, 2016 aboard the California Zephyr was filled with anticipation as we prepared to experience the new first class Metropolitan Lounge for the first time. On the outbound trip in mid-June we spent much of our layover between the City of New Orleans and the Empire Builder in the old Metropolitan Lounge located close to the south concourse gates. Now the journey from trackside to the lounge would be longer as it has been relocated close to the station's Great Hall which is about as far from the boarding gates... Read More>> |
| | |
| --- | --- |
| | Jul 11-12, 2016 - Amtrak Capitol Limited Chicago to Washington,DC: Report & Photos by Carl Morrison This is the third leg of my son, Matthew Morrison, and my America By Amtrak Tour. The daylight portion of this Capitol Limited segment, which left Chicago at 6:40 pm, includes photos from the train of Cumberland, Maryland; Martinsburg, West Virginia; Harpers Ferry, West Virginia; Rockville, Maryland; and Washington, DC; and forest, farms, and rivers in between... Read More>> |
| | |
| --- | --- |
| | July 9-11, 2016 - Chicago: Report & Photos by Carl Morrison America by Amtrak, Coast-to-Coast and Border-to-Border, Chicago (CHI), an Amtrak Destination City. The second Destination City on a dream Amtrak train trip covering 25 states on 6 Amtrak Long Distance Trains on 7,638 rail miles by a 74 year old dad, Carl Morrison, and 42 year old son, Matthew Morrison... Read More>> |
| | |
| --- | --- |
| | July 6, 2016 - Amtrak Destination City, Seattle, Washington: Report & Photos by Carl Morrison America by Amtrak, Coast-to-Coast and Border-to-Border, Seattle (SEA), Served by these Amtrak Trains: Amtrak Coast Starlight (Trains #11 & #14) and Amtrak Empire Builder (Trains #7 & #8). Arrival in Seattle on the COAST STARLIGHT from Los Angeles, California about 8:12 pm. We made our first Uber call and were picked up quickly. The Uber app even showed where the driver was located on a real time map. Our destination was Courtyard Seattle Downtown/Pioneer Square... Read More>> |
| | |
| --- | --- |
| | July 2, 2016 - Topic: Report & Photos by Chris Guenzler We awoke to rainshowers so I checked on Amtrak and it was running over 2.5 hours late. I got Robin up at 6:15 AM and after we loaded the car in the rain, we left Flagstaff and headed east. Trying to escape the thunderstorms we went to Darling but it was still raining so we... Read More>> |
| | |
| --- | --- |
| | Photographing TRAINS Vol. 1 Amtrak's Southwest Chief by Carl Morrison (Kindle Edition) First in a Series of Long Distance Amtrak Train Photography Guides. This book tells you where and how to make great exterior and interior train photos along the route of the Amtrak Southwest Chief Los Angeles - Chicago. . This eBook includes tips for taking photos, not only of the Southwest Chief, but of tourist trains, rail museums, and private rail cars close to the Southwest Chief route. Carl gives many suggestions as to where to eat, and where to stay along the way. Includes over 350 photos by the author from over 20 trips on the Southwest Chief to illustrate proven photo concepts. All Photographs and Text, except where noted, By Carl Morrison... Read More>> |
| | |
| --- | --- |
| | Jan 29, 2016- An Inside Look Into Outside The Rails (Part 1 of 2). The Story Behind our Railroad Route Guides by Robert & Kandace Tabern. Several readers of our posts here on TrainWeb have contacted us and requested we write about our experiences researching, writing, and publishing these books... Read More>> |
---
Highlighted Stories From TrainWeb's Past:
---
Click each link below for hundreds of rail stories
featured in previous years on the main page of TrainWeb:


2015 / 2014 / 2013 / 2012
2011 / 2010 / 2009 / 2008
2007 / 2006 / 2005 / 2004



Rail Travelogues & Photos:



Other Rail Travel Websites:
---
Travelogues of specific Amtrak routes:

Travelogues of other Amtrak rail journeys:

Travelogues of commuter rail routes:


Are you interested in rail travel along some or all of these journies yourself? There are very few travel agents that have the necessary knowledge and experience of rail travel to answer your questions and to book a journey that you will remember for a lifetime. TrainWeb has sought out those travel agencies and rail tourism companies that not only have the knowledge to book your travel, but have gained the required experience through extensive rail travel themselves! Click here or visit for a list of these rail travel providers!
Click on the below images to visit our rail magazine promotion trading partners:

(Click here to add your print rail magazine.)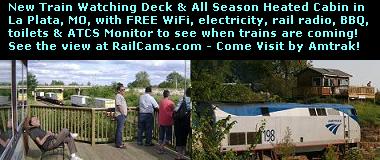 Visit related pages from this and other web sites:
Click below for pages in the directory of TrainWeb sites:
Why this ad?