Laurie's Adventure to the Rockies
On VIA Rail Canada's Canadian
http://www.trainweb.com/travelogues/viarail/2002f17a.html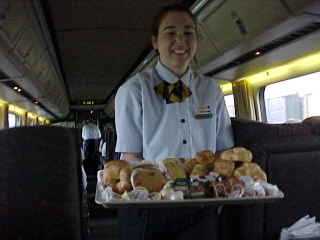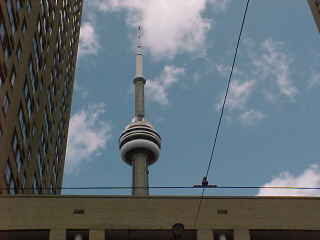 Our destination this morning upon leaving the house, was the VIA train station in Brockville, Ontario. The night before we all decided that leaving at 6:30 a.m. would get us there in plenty of time for our 7:13 a.m. train. Travelling with me this morning were Ray from Fullerton, California, and Robert from Ottawa, Ontario, and my good friend and neighbour Darlene Banning. My husband Doug double checked to make sure nothing was left behind, then loaded up the van and drove us to the station. Arrival time at the depot was 6:45 a.m.; we unloaded the luggage and equipment, said our good-byes to Doug, and took pictures in the station.
This is always the most exciting part of any trip for me, waiting for the train. It is a time of reflection on earlier rail travel, or in this case, family holidays when our children were young. In particular I remembered the long arduous two and a half day journey around the lake head of Ontario. The climbing and dipping and winding and climbing once more seemed never ending as we made our way out of the province. We usually set out very early. It was a game for my husband to see how many miles we could travel during daylight, the more the better. He could never understand why we needed more than two pit stops a day, and was never happy until he caught up to, and passed the car that was following us when we made our pit stop. Our young son, like his mother, felt caged in a car, while his bossy older sister was verbally in charge of making sure that no part of his body touched her side of the seat, nor looked out her window. A panting dog, and a hitched hard top trailer completed the picture. We were the Griswalds' of Canada. But today would be my first trip out west by train, all the way to Vancouver. Contemplating my first sighting of the Canadian Rockies with no children, no animals, and no trailer to pack and unpack each day was a dream come true.
We boarded VIA 1 car # 4l04. Between the four of us we had a lot luggage but Ray managed to arrange it all on the baggage rack at the rear of our car and we were finally settled in. The train left on time. Our adventure had begun. v We arrived in Kingston just before 8:00 a.m. Breakfast menus were passed out and our orders taken. Darlene had cold cereal, fresh fruit and yogurt, while I really enjoyed my cheddar cheese omelette with chopped pepper, potatoes and bacon, and a fruit platter. Of course fresh coffee completed the meal Maria Claude, our very pleasant car attendant, passed around a tray of fresh croissants and muffins. All was delicious. It was an overcast day as we sped along, our destination today being Toronto, where we would spend the night before boarding our train, 'The Canadian', in the morning.
We arrived in Toronto at 10:10 a.m., detrained, and took a short taxi trip ($5.00) to the Raddisson Admiral Hotel on Queens Quay West. The lobby was beautiful, and the cordial desk personnel had us quickly signed in. Kevin, the hotel concierge, inquired about our trip, and offered his services if we needed any directions. Our bright, clean room which overlooked the swimming pool was equipped with two double beds. We had a glimpse of the harbour as well. We freshened up then headed down the hall to Ray and Robert's room. They had a stunning view of the harbour, and were watching some tall ships sail by. We decided to tour the city a bit and, at Ray's insistence, would search for an Indian restaurant for our dining pleasure.
We took a streetcar, then transferred to the subway where we promptly became lost in the bowels of the Toronto Subway system. You can live in the city and be lost, but when you come from the country and become lost, you have a completely different look on your face. People approached us and asked if they could help. We eventually made it above ground and decided to walk to the restaurant and have lunch. It was my first taste of this cuisine and it was thoroughly enjoyed. The diverse spices gave a unique flavour to otherwise familiar foods. We chose the buffet in order to experience as many different varieties as possible. Everything looked and smelled delicious. When I returned to the table, Ray commented that the sauce I used to garnish the variety of foods on my plate was actually vanilla custard, a dessert. He explained that in Indian restaurants it is the custom to have the desserts and fruit accompanying the meat and vegetable dishes. However, I love custard and found it added an interesting flavour to the food, especially the curried chicken. As with any buffet, a taste from each of the selections added up to one heaping plateful. We were all stuffed to bursting, so decided to walk it off by shopping in the Chinese area of Kensington Market. There is always something unique to be found in these cultural shops and we were not disappointed in the wonderful selection offered. We purchased a few souvenirs and sauntered on down the street to take a streetcar, as we were all just too tired to walk any further.
Back at the hotel, we retired to our rooms to unpack and rest up. Robert dropped by to let us know that he was going sightseeing for a while. Darlene and I had observed some boats sailing in the harbour so we thought it a good time to go down and explore it ourselves. We enjoyed walking along the waterfront and hadn't noticed ourselves being drawn along in the midst of an organized tour. We decided to continue with the group rather than draw attention to ourselves by leaving the throng. Of course, we found things getting sillier the further afield we went. The tour ended unexpectedly when they boarded their bus. We would have enjoyed the tour much more had it been in English. There was a wonderful mini-mart across from our hotel that served sandwiches, pizza by the slice, fresh salads and a nice selection of desserts. We were still full from our buffet lunch, so I settled for a salad and on the way back through the lobby picked up a cookie from a complimentary tray situated on the desk. We were both tired, so prepared for bed and called it a night. Sleep came effortlessly.
Since the first class lounge was packed, we located the correct boarding gate and waited there. Pre-boarding was announced and they asked all members of a tour group to board first, followed by a second group. They were quite large tours and as a result the waiting area had drastically thinned out. A third group boarded...then the eight of us remaining were then allowed to board at 8:45 a.m. I stored my luggage in our double room and detrained to take a few pictures. Back on board we walked back through two sleeper cars to reach the park car. Fresh fruit, muffins, croissants, and juices were waiting for anyone who missed breakfast. We retired to the dome section of this car to await departure. It was then that we met Betty Jean Dickerson of Austin, Texas. Back in the 40's her father was a brakeman on the train. This was her first train ride, and she was on her way to Vancouver to take an Alaskan cruise.
Our train departed on schedule, but pulled onto a siding while we waited for three GO trains to pass. After a further forty-minute wait we were finally on our way. It was 9:55 a.m., almost an hour late. Also in the dome car this morning was Suzanne Friedman Falconi from New York City, who was travelling to Vancouver and 'easing her way down south'. I first met Suzanne in the train station as we jockeyed for position and made light of it. She was very knowledgeable about global train travel, and told us that she travelled ten months of the year, worked one-month, and spent the last month catching up on whatever. She wowed us with some pictures of her travels. Todd, the Park car attendant, came up to chat and answer any questions we might have. Darlene and I decided to walk to the front of the train and record the numbers of the different cars on our way back. On our way through one of the cars we met five year old Karla, her stuffed animals, and her family from Los Angeles California. This was her parents thirtieth holiday by train.
Our train set consists of:
3 engines
8616 - baggage
8112 - coach
8118 - coach
8512 - dome
8305 - sleeper
8309 - sleeper
8319 - sleeper
8516 - dome and activity
8411 - diner
8338 - sleeper
8314 - sleeper
8333 - sleeper
8341 - sleeper
8311 - sleeper
8301 - sleeper
8504 - dome and activity
8410 - diner
8315 - sleeper
8329 - sleeper (ours)
8342 - sleeper
8706 - park car
On our walk back we met Lucy, a talented cartoon artist, and Bill Burns from Massillon, Ohio, and their travelling companions Paul and Shirley Edee. They looked like a fun bunch. It was almost eleven o'clock, so Darlene and I headed for the diner. We met a very handsome couple, Aurore and Viateur from Quebec City, and asked if we might join them. Viateur had not spoken English in fifty years, (since being stationed in Reading England during the Second World War) but it was coming back, and with our limited French, we enjoyed conversing over lunch. Viateur is eighty-one, and Aurore eighty-six. 'It is very important', said Viateur, 'to have an apple every morning and a drink of gin every evening.' that was his secret to a healthy life, 'and don't you forget it'.
The tables in the diner were draped in pink linens for lunch and blue for dinner. Fresh cut flowers adorned the table and china tableware was used. I liked the VIA logo on their flatware. One more piece and I'll have a complete place setting. (Just kidding) Complimentary champagne was served with our lunch. Since Darlene and I are non-drinkers, we ever so gently slid our champagne across the table. Viateur smiled. For lunch I enjoyed a delicious bison burger with Caesar salad, potato salad, a slice of melon, and some yummy cheesecake. The servers were kept busy refilling water glasses and making sure everyone had coffee refills.
All four of us preferred the first seating for lunch and dinner. We were all early risers and enjoyed an early breakfast, so eleven o'clock lunch was o.k. and five p.m. for dinner was perfect. Continental breakfast was served every morning in the park car and activity car, plus the diner opened for breakfast each morning at 6:30 a.m. There were no reserved seating arrangements for breakfast. First come first served. As we bid adieu to Aurore and Viateur, we realized that one really does have more in common with strangers than differences.
The train sped across the countryside. The green, lush vegetation was proof of the excess rain this spring and early summer. We were now somewhere in Ontario, and were not hauling a trailer. We retired to the park car and started chatting with Sheila from North Hampton, England. Richard Algonah from Michigan was on his way to Vancouver to board one of the cruise ships headed to Alaska. It became apparent when talking to Richard that he had a passion for Dixie-land music. 'There will be, three of the best Dixie land bands in the world on the ship' he explained, and he was looking forward to meeting up with two hundred of his friends on board. This was his second time to Alaska, but first time by train. At a near loss for words, he described train travel as 'beautiful.'
Todd, our park car attendant, explained that all staff on this train were Winnipeg based. He mixed easily with our fellow travellers, and even though he was kept busy servicing this car, he always managed to chat and share a joke. Young children seemed to gravitate to him. BONUS! Up in the dome car Robert and Ray were enjoying the scenery and taking pictures. Moe and Diane Watts were on their way home after a holiday trip down east. They live in the Pas, Manitoba, and Moe is a locomotive engineer on the VIA Churchill run. Ray and Robert remembered him from their trip north a few years ago. He entertained us with stories about working on the rails, and patiently answered everyone's rail related questions. He'll probably travel incognito next time, telling everyone he's a hairdresser.
Jake D is also on board. He comes from Manchester, Connecticut, and he is a shrine clown headed for the convention in Vancouver. We are told that there will be 30,000 attending this convention. Everyone loves a clown, but shrine clowns are special.
Todd brought out a platter of sliced marble pound cake and cookies. Fresh juices and jugs of cold water with citrus slices, hot water for tea and fresh coffee are always available. A basket of mixed fruit is replenished throughout the day.
Edward Wilmot and his mother, Vivienne, from Surrey, England joined in the conversation. I noticed that light, balance, focus, and lens attachments appeared to be important to Edward when taking his photos. Myself, I use the point and click system. He seemed to have unlimited patience when 'setting up' a shot. We learned that Vivienne and Edward travel extensively, and have packing down to a fine art. Vivienne mentioned that she travels with a 2 1/2-cup fine bone china teapot, because she believes tea tastes best in a bone china teapot. It was their packing expertise that saved the occupants of the Park car from a very uncomfortable ride the following morning. (More about that later,) but VIA take notice; there's a simple piece of equipment that should be mandatory on all northern runs. We detrained in Capreol, Ontario while the train refuelled and took on supplies. The sunshine felt wonderful as we walked about taking pictures.
We headed to the diner shortly after boarding and sat with John and Alice Hergel from Toronto, Ontario. The conversation was light and animated; we thoroughly enjoyed their company. Delicious onion soup with crackers, and a variety of warmed rolls with butter were enjoyed before the main course. I chose the roast beef and gravy with oven-roasted potatoes and a mixed medley of cauliflower, carrots, green beans and red and yellow peppers. The meat was so tender, and enjoyed from start to finish. I decided to skip dessert, until I spied the caramel cream cake, that is. Coffee and ovation chocolates completed the meal.
We waddled to the dome car to relax and enjoy the stunning northern Ontario scenery. It was a sunlit evening, with the clouds reflected in the countless lakes, as we watched the train snaking its way on the path cut from thick forests. People appeared to be on the lookout for moose and black bear, and every once in a while someone would exclaim 'there's one!' The effort was too great to snap a picture. We were both so full; should have been stronger and left the caramel cake, it seemed the only thing we could move effortlessly, were our eyes.
I met up with Ray after dinner and we decided to walk the train knowing the exercise would be good for us both. We met Karla and her parents again and enjoyed a nice visit with them. Her dad told us that he closes his office every year for a month, in order to travel. 'We will never be rich,' he laughs, but I ponder that there are many definitions of 'rich'. I think they are 'rich.'
We retreated to the Park car and listened to the lively conversations on just about every topic. At 10:00ish we headed to our bedroom. The beds were made and two chocolate mints rested on our pillows. We both laughed as Darlene got caught up in the upper bunk safety harness. Of course, at this time of night many things were hilarious. A couple of bangs on the wall from the next compartment momentarily brought us to our senses, then we laughed even harder and longer. (Ray and Robert were next door)
I was up early Wednesday morning, and headed straight to the showers. I awakened Darlene and suggested she get down to the shower room so she wouldn't have to wait. This way I could do my hair and get dressed, then be out of the way when Darlene finished her shower. When she returned she asked what time I thought it was. 5:30 I replied 'try 4:30' she said 'clocks changed last night, which means you got me up at 3:30 to bathe, and I can't go back to bed because my hair is wet'. Think I'll avoid Darlene today. She might be a bit grouchy.
Since the park car was empty and hushed, I tiptoed to the dome and took a picture of the pre-dawn. The sky became lighter and someone stirred. Edward and his mother, Vivienne, were up and Edward was there to take pictures of the sunrise. Darlene, Robert and Suzanne were also up so we all sat about chatting. We become aware of a few mosquitoes buzzing about, then many, many more of them. We began swatting at them but were out numbered. Apparently they came aboard during the night, via the ventilation system, while we had stopped to wait for a freight train. Vivienne commented, between swats, that when travelling there were three things you should never leave home without; a sweater, an umbrella, and a fly swatter. This was met with much laughter, but she was sincere, and Edward left to retrieve it. Vivienne used two rolled up newspapers to stun them, while Edward, showing no mercy, moved in for the kill. The park car was a battlefield of squash, smack, whack, swipe, and slap, with Edward leading the charge. It was not poetry in motion, but they did get the job done, and afterward we all joked that fly stickers should be hung. So, 'fly swatters' should be standard fare in these cars.
We went for breakfast at 6:30 a.m. and sat with Helen Colgan of Carnelian Bay, California. She was another one who had travelled frequently by train and knew her geography. She told us of picturesque areas we might want to photo, and she usually knew what towns we were passing through. We thoroughly enjoyed stories about her other travels, and her knowledge of rail experience on Amtrak. She is an enthusiastic fan of Amtrak. I had only traveled once on Amtrak, in California, between Fullerton and Santa Barbara, along the coastline and back. It was one of the most mesmerizing trips I had ever taken, with the Pacific ocean right outside our window. We backtracked to the park car where we chatted with M.A. Sherif of Ottawa. He was another seasoned traveller, who loved and knew the geography of this country.
We stopped in Sioux Lookout for refuelling. Most passengers detrained and walked about to get some fresh air. Local tourism volunteers welcomed us and handed out pins and information booklets of the area, a nice souvenir in itself. We took a few pictures before it was time to board once again. We met Wes McNeice, a Shriner from Mississauga, who was on his way to Vancouver for the Imperial Shrine Convention. We told him about Jake and he looked forward to meeting him. It was almost lunchtime so Darlene and I headed for the diner. We sat with Sam Brown of Saratoga Spring, New York. He and his wife have rented the same cabin in Jasper for the last fourteen years. They stay twenty-five days, and this was their fourteenth trip on the Canadian. He jokingly told us that when the owners of the cabins alter the decor, they send them colour swatches for their approval. For lunch I enjoyed the smoked salmon served on herbed focaccia bread, spread with creamed cheese, and red onion and caper garnish. It was absolutely delicious; a piece of chocolate strawberry cream cake and coffee completed the meal. Darlene and I walked the train again.
Many faces were now familiar, so we stopped and chatted along the way. We pulled into Winnipeg early, it was 4:00 p.m. when we detrained and toured the lovely old station. Line-ups were too long for postcard purchases, so we just walked around taking pictures and admiring the architecture. We rested in the lounge area and re-boarded about 4:45 p.m. It was gloomy and rainy as the train departed at 5:00 p.m. We headed to the diner when first call was announced. Ray and Robert were our tablemates tonight. Our server was Jacques, and like all the other diner attendants we've had, he was very friendly and competent. All of the attendants work well together. If more butter is required and the one serving your table is busy, someone else will gladly get it for you. For dinner I chose pan-fried pickerel with white wine tarragon sauce, accompanied by mushroom and herb pilaf rice. My fish was absolutely perfect. A dish of vanilla ice cream with wafer cookie was enjoyed for dessert. Over dinner we discussed the merits of having a nautilus-equipped car as part of this train set. A few stationary bikes, a couple of Stairmasters, and maybe a treadmill or two could be put to use. Just a thought.
We retired to the dome car and just relaxed. Trees, crop fields, huge grain elevators, and the small station of Brandon North were just a blur as we flew by. It was early evening and the skies looked like they would clear. We were all content watching the passing countryside, seeing a flock of sheep, or herd of cows, and wondering what people were doing in the houses we passed. Someone spotted a beautiful rainbow and I realized, while admiring it, that it was the first time I'd ever seen a whole rainbow. In Ontario one side ends in a building or mountain. The train sped along, easily making up time on the flatlands. We passed a few potash refineries, but with the sun setting, the clouds hanging low, and a mist rolling in, someone suggested that they looked like alien stations. Imaginations ran wild and in no time the car was filled with marathon suggestions and much laughter. Sunset would be late tonight, almost ten o'clock, and it looked like a glowing fireball. Edward was in the dome section waiting for the perfect exposure/shadow/light/reflection/mood/degrees north. Edward had indomitable patience. He snapped a few of the fireballs using my camera.
We retired quite late; it was almost midnight when we finally got to bed. I remembered waking once during the night thinking we were travelling at high-speed, the train was really rocking from side to side, Darlene told me the next morning that she awoke a few times, thinking we were airborne.
Thursday I awoke later than usual at 6:30 a.m. knowing that I would be waiting my turn for the shower. The train had passed Chauvin at approximately 5:30 a.m. this morning, so we were now in Alberta. It was a glorious, sun-drenched morning, and I noticed the lush green fields of Manitoba and Saskatchewan had given way to very parched, rust looking fields in Alberta. I partook of the continental breakfast this morning, having just a muffin and coffee. Large grain elevators were commonplace now, so indicative of the prairies. Oil wells dotted the rural landscape and here and there stood a lone farmhouse with its outbuildings, and no other structures for miles.
Darlene was working on her notes, so I walked to the forward dome car. In the activity car, Jason, the car attendant, was pointing out landmarks, and mentioned the movie he would be screening later in the day. I sat in the almost empty dome car and enjoyed the beauty and vastness around me. The parched fields were broken by splotches of green vegetation. The train was travelling quite fast now, I guess getting a head start on the Rockies where the twists and turns would slow it down.
Sitting in this dome car was Brian and Liz Mead from West Sussex, England. They arrived and stayed a few days in Ottawa, then took the train to Toronto, and would be on the 'Canadian' until Jasper. There they would board the Skeena and travel on to Prince George. 'High marks for VIA' they both said 'Brilliant, top class', they were loving this. Also on board were June and Steve Robinson from Halifax, England. This was their first visit to Canada, and their first train ride. Ruth Wilton a teacher from Cornwall, England took this trip twenty-seven years ago. She looked pleased to be taking it again.
Walking back to my room I noticed the car attendants in the different sleeper cars making up the berths, cleaning the rooms, changing linens and towels, answering questions, smiling and nodding a hello. They work very hard at their job and it shows. They start at 6:30 a.m., and most times when we returned from breakfast, the beds were made, and the room tidied, ready for the day. They truly went out of their way to make your stay as pleasant and comfortable as possible.
Back in the park car I joined a conversation with Betty Jean and Vivienne. Vivienne and her family have travelled extensively, needless to say she had packing down to a fine art. A week's worth of clothing, two pair of shoes, a 2 1/2-cup china teapot and one fly swatter, all packed in a small beaded evening bag with spaghetti strap thrown over her shoulder. Well, just about. Between her and Edward their total luggage was very manageable. Unlike Darlene and myself each with a large suitcase on wheels, a carry-on bag, Darlene with a movie camera, myself with a camera and bag, a purse, and the most ugly straw beach bag with orange flowers, which was the only thing large and strong enough to handle the gallon of maple syrup I was delivering to good friends on Victoria Island.
The terrain was rockier now with vast rolling hills, and mountains in the distance. Huge rock formations loomed close to the tracks The train arrived early in Jasper. It was just after 2:00 p.m. when we said our good-byes to the friends we had made on this leg of our journey. These rail fans were journeying to Prince George for the day, then south to Vancouver by B.C. rail. We also had to say good bye and thanks to Ray and Robert. They would be spending the night in Jasper, then continuing on the VIA Skeena run to Prince Rupert. It had been great traveling with them. I'm going to miss the banging on the wall. Darlene and I proceeded to visit some of the many souvenir shops. All had nice gifts, but the one I loved and planned to visit on our return trip was the Elysion Florals Antiques and Gifts Shop. Very nice selection, good prices, but our time was limited.
We re-boarded at 3:30 p.m. Brian had a nice display of crackers and pate, puff pastry hors d'oeuvres, pound cake and champagne. I think they introduced finger foods at this point so we wouldn't sit slack-jawed at what was unfolding before our eyes. It was truly spectacular scenery. The breathtaking, rugged, snow-capped mountains in the distance, and the stately trees reflected in the crystal clear waters of the lake outside these windows, was indescribably moving. As we passed through steep rock cuts I noticed what looked like a chain link fence lying across the rock face on one side of the track. Maybe to stop rocks from falling onto the track, I thought, but someone explained that it was an electronic indicator system that forewarns the engineer of rock slides.
Helen told us that during dinner tonight we should be passing by Pyramid Falls, so when first call for dinner was made, we raced to the diner to get a seat on the correct side of the car. Ali-sha joined us. Helen was a wealth of information about the different sites and she promised to let us know in advance so as to ready our cameras. Darlene and I really enjoyed traveling with Helen because she was so much fun to tease. We passed Moose lake. It was six miles long and local lore declared that a ship sank in it years ago, laden with whiskey. Moose have been spotted swimming there, and we were told that it was also the headwater of the mighty Fraser River. (It is now a week since we completed this trip and something has bothered me about this passage. We were told a ship, that's a SHIP on a six-mile lake' And in the mountains' A SHIP? Come on now, M-a-y-b-e a bootlegger on a raft, and he lost a case of whiskey. It just goes to show how local LORE gets distorted over the years.) As our route followed the Fraser, we saw magnificent trees lining the shores of this raging river. It was an unbelievable setting for dinner. Tonight I enjoyed a tossed salad, mixed julienne carrots and butter-squash, creamed baby potatoes and roast beef. I relished every morsel and couldn't pass up the three-berry crumble for dessert.
Helen alerted us that we would soon be approaching Pyramid Falls. The train slowed down and I managed two photos but, if you blinked, you would have missed it. So our thanks to Helen. We headed back to the park car stuffed as ever. Someone mentioned Mount Robson and there it was in all its glory. At l2,972 feet, it is the highest mountain in the Canadian Rockies. We were told it is free of clouds an average of fourteen days a year. Today wouldn't be cloudless, but mighty close. So majestic and all alone, as it should be, I guess. The trees were so close to the tracks that some of the branches swayed as the train skirted onward. The forest floor was carpeted in thick green foliage with splashes of red, white and pink wild flowers. Lilac bloomed forth in white and purple splendour. Elegant white daisies swayed in the breeze, accompanied by neighbouring yellow buttercups, mauve marguerite, purple magenta and yellow broom. The natural beauty was captivating.
We hailed a cab for the short five-minute ride to the Holiday Inn downtown. We arrived at 7:45 a.m., to learn that earliest possible check in time would be l2: 00 noon. They cheerfully checked our bags. I phoned my friends Peter and Sharon in Victoria and left a message on the answering machine saying I would call back in a half hour. We made inquiries at the concierge desk about the best way to cross over to Victoria. Lorri suggested a coach and said she could do the booking for us. I dialed Peters cell number again and left another message. Since we couldn't reach them on the island, we had to made a corporate decision. Buy a pass on the next available bus and take a chance we could reach them when we arrived on the island, or, wait until we communicated with them and take a later ferry. We opted to take a chance. After all! It was an island, just how lost could we get???, and we had to get rid of this cumbersome maple syrup, or at least, as Darlene said, 'get rid of the ugly straw beach bag with the orange flowers.' We went back to the concierge desk and booked the last two seats (luck was with us) on the coach to Tsawwassen to take the ferry to Swartz Bay. The cost was $21.00 each for the forty minute ride to the ferry and included the $l0.00 charge for the ferry ride. We walked a short half block to our pick up spot and joined others waiting for the same bus. Once we boarded, it took approximately forty minutes to reach the ferry terminal, and one and half-hours to cross to the Island.
Darlene and I choose to live in the country but sometimes modern technology passes us by. While on board we passed a row of pay phones and I said that I'd like to try calling again, while Darlene took the packages and found a seat. A coin slot was mysteriously missing. I went back to her and whispered 'I can't find the slot'. She gave me one of her 'are you stupid' looks and told me to go back and look again. Definitely no slot appeared as I ran my hands all around it, thinking maybe I could feel it. I reluctantly admitted it had me stumped, so Darlene took the coins and went to the phone. I gave her a minute then went over to see her running her hands all over the box. It was at that moment we both noticed the sign saying 'phone cards only.' Talk about your dumb and dumber.
We arrived at our hotel around l0: 00 p.m. It was very busy with all the Shriners, but we were finally checked in and Artur took our bags upstairs. We were on the sixth floor and were looking forward to a good nights sleep. The room was quite large with two double beds, a comfortable side room with a couch, chair and coffee table, and a front balcony with a great view. We were so tired, but hey, you always sleep well at a Holiday Inn.
I'm not sure what time we awoke Saturday morning, but we felt good, and we both had a great sleep. Holiday Inns seem to have comfortable beds. We decided to do some laundry this morning, before breakfast in the hotel restaurant. Darlene got some change from Artur at the front desk, and we headed downstairs to the guest laundry room, to put those machines to use. I didn't want to take my empty suitcase up stairs so asked the girls in the hotel laundry if I could leave it with them. 'Sure, sure' they said, 'we will watch it'. Many thanks girls! It looked busy at the Restaurant, but in no time we were seated and Samantha immediately served coffee. Darlene ordered eggs Florentine, while I had my usual toast and jam. We arrived back in the laundry room just as the machine stopped. We deposited the clothes into the dryer and retreated to our room for note updating and picture taking on the balcony. We could appreciate our clean comfortable room more after a good night's sleep. There were little extras that are nice when you're away from home. We were sure going to put the iron and board to use. We retrieved our laundry and decided to take a bus tour of the city instead of ironing. By the time we made the front lobby, we again changed our mind. We would saunter down the street and see what found us.
A few blocks from the hotel we came upon the Aboriginal Heritage Festival and decided to tour their craft (for lack of a better word) tent, and sit for a while to enjoy the entertainment. It was exciting to hear the native music of many different countries, and to see their native dances. While each country had a distinctive sound, there was a similarity, a shared thread to all of the music. The throat singers of the north were outstanding amongst all the fine entertainers. Darlene and I understood early on that this would be our only stop of the day. We had much to see in Vancouver, but this gem was not to be missed, so we decided to enjoy it for as long as possible. Because we had a prior commitment for the evening we reluctantly left and headed back to the hotel. We stopped at Starbucks for a coffee and enjoyed it on the patio of the hotel overlooking the front entrance. We were going out to dinner tonight on a dinner train and knew it would be a late night. Oh well, we would sleep in tomorrow.
We were both up and ready by 8:00 a.m. Sunday Morning and decided to do one more load of laundry, leaving everything clean for the return journey. This is a wonderful service that some hotels make available, and we were so thankful they provided one here. We went for breakfast in the hotel restaurant after we loaded the washing machine. We had our usual breakfast, with efficient service, then made a trip back to put our clothes in the dryer. The girls in the hotel laundry department waved a good morning to us I'm sure their day started quite early. Passing through the lobby we waved good morning to Lorri at the concierge desk, then we were off on our foot tour of the local area. It felt good to walk in the fresh air and look first hand and up close at all of the beautiful flowers. We walked a two-block area around our hotel and window-shopped. Being Sunday, everything was closed until noon, but there were a few places we decided to return to. We walked back to the hotel, picked up our laundry, finished packing, and checked out at 10:45 a.m. asking at the desk that our luggage be checked until our departure later on.
We started out for the second hand treasure shop spied earlier in the morning. Back home Darlene and I frequent the local auctions, so this was right up our alley. The place was stocked from floor to ceiling with treasures. Two hours later we left with our prizes. Darlene purchased a beautiful hammered brass parrot on a perch, while I settled for a more manageable small folk art picture. At one o'clock we went for lunch at 'The Elbow Room' restaurant. The sign in the window claimed they served 'the best burgers in town.' Ho-hum, we would be the judges.
Immediately we were seated by a less than friendly waitress who asked for our drink order. Darlene proceeded to give her dinner order; 'listen honey, this is just the drink order, pay attention'. (I'm glad I listened) We read a few house rules: l.) We'll get your first cup of coffee, if you want more-get a butler, and 2.) In a hurry? Go to McDonalds. Stupid me pointed out a spelling mistake on the menu board, a cleaned up version of her reply would be, 'Why don't you talk to your friend and leave me alone.'
Her name was Sue, and she was our waitress from Hell. As we ate, she told us to stop talking and hurry up, 'This is not a public library,' she would remind us. I was afraid to, but did ask if I might please take a picture of her and Darlene. She obliged and actually smiled. As she gave us our bill and told us to get off our butts and pay it, she commented that she couldn't believe I had eaten the whole burger. 'If I was you honey, I'd be worrying about stretch marks.' She also noticed that my salad was half eaten and demanded to know, 'What was wrong with it?' We found ourselves staring at unsuspecting newcomers to hear what Sue had to say to them, then peals of laughter at the looks on their faces. Both Darlene and I agreed that they serve, without a doubt, the best hamburgers we have ever eaten, that's 'ever eaten.' And we told Regean the owner/manager as much when he came over to see how things were. Because I had not finished my salad, and Sue found two hash brown bits on Darlene's plate, we were both fined and had to donate to 'A Loving Spoonful.' Sue explained that the fines went to support a local aid hospice and a food bank. A chalk board tally showed 'A Loving Spoonful' had raised more than $30,000.00 to date. You were a delightful part of our adventure out west. An enjoyable dinner, guys, and we will recommend you to anyone we know traveling to Vancouver as a 'must visit' experience.
We went back to the Native Festival to enjoy an hour or so before returning to the hotel to claim our luggage and call a cab. We were at the train station by 3:30 p.m.
At the VIA counter Scott looked over our tickets and issued us a boarding pass, reserved our dinner seating preference, showed us where to check our baggage through to Brockville, or have it delivered to our bedroom, and finally directed us to the first class lounge. He was so helpful. The baggage attendant couldn't believe we wanted everything in our room, but was very obliging, and jokingly gave us a 'hard' time. He said that if there was any trouble with our bags not making it to our rooms, 'just tell them it was the guy with the long black curly hair and bushy beard in baggage who looked after you.' All these guys are helpful and most have a twisted (but fun) sense of humour.
We took pictures of the station and visited the souvenir shop before retreating to the first class lounge, then, outdoor patio to sit and enjoy the live entertainment. Alex, our VIA host, served cold drinks and joked with the passengers. he even posed with the parrot. The entertainment was toe tapping sing along music enjoyed by all. We boarded at 5:20 p.m. The baggage was in our room, and Rinaldo introduced himself as our car attendant. We paid a visit to the park car where champagne and hors d'oeuvres were being served. The train pulled out at 5:35 p.m. and we decided to walk the train to record the car numbers.
They were
6434 - engine
6449 - engine
6446 - engine
8609 - baggage
8129 - coach
8125 - coach
8126 - coach
8501 - Skyline
8325 - Elgin manor
8330 - Hunter manor
8314 - Cameron manor
8502 - Skyline
8402 - Diner Alexandra
8341 - Thompson manor
8327 - Fraser manor
8318 - Craig manor
8332 - Laird manor
8303 - Amherst manor
8507 - Skyline
8414 - Diner
8307 - Blair manor
8311 - Burton manor
8322 - Drummond manor
8708 - Park Car
First sitting for dinner was being announced and once in the diner we sat with Karen L. Vos, and Herminin Johnson, two good friends from Corpus Christie, Texas, on their first train trip. They were not sure if this was the diner they should be in or if they should have told their attendant where they were going. They wondered about the showers, too. We answered their questions and when we were about to order, their car attendant came in with a relieved expression on his face. He had been looking for them, worried that they didn't make it to the diner and would miss their meal. See, they do watch out for the people in their cars. For dinner this evening I enjoyed a soup entree, fresh red salmon, whipped potatoes, asparagus and carrots with a wedge of lemon. It was all done to perfection and mouth-watering cheesecake completed my meal. We enjoyed our dinner dialogue with Karen and Herminin and assured them they could ask their car attendant anything. They did say they felt comforted that he was looking out for them.
We retreated to the park car to relax and meet some of our fellow adventurers. This is where I first met Bert Hyland, a human encyclopaedia of information, eagerly shared with us. He lives in New York State and frequently travels by train. Bert always knew the correct time, something I was still struggling with. Darlene became engrossed in conversation with Bert, so I sat in the dome section to once again feast on the scenic beauty of British Columbia. There were a number of people in the car, each lost in their own thoughts. As a Girl Guide leader years ago, my girls and I would go on a weeks-camping trip, and during the week would have a little ceremony called a 'guides own.' This ceremony might be planned and organized by the girls, the idea being to get in touch with the spirit in ourselves, but the best ones were the ones that just happened. We might be hiking, then all of a sudden find ourselves in a field of wild daisies, or see a doe and fawn, or after campfire look up and see a night sky full of twinkling stars. For a little while we were a spirit of the daisies, or spirit of the stars, and when I glanced around at my fellow travelers, in this moment, we were all spirits of this incredible landscape around us. Darlene came up and joined me for a while. It had been a long day, so we called it quits about l0: 00 p.m., disbelieving that we were already on the return trek.
I was awake at 4:30 a.m. Monday morning, but not early enough to be the first to the shower. I decided to skip breakfast in the diner and instead enjoyed a muffin and banana in the park car. Darlene and I headed for the dome car to enjoy our last morning in the Rockies. We met cousins Joyce Watson from the Isle of Iona, Argyll, and Sally Heathcote from England. They had traveled through the States, and were now in Canada re-tracing their grandfather's steps. He died in 1932 and was an Anglican minister. They were beside themselves talking about their adventure to this point, and were quite moved, when telling us, about meeting a few people who actually remembered their grandfather. Now their adventure led to Canada, and they would be exiting in Edmonton, hopefully to pick up the trail. We enjoyed listening to their excitement over spotting the different wild flowers, which they knew by name.
We arrived in Jasper shortly before 11:00 a.m. and detrained. We asked Rinaldo if we could get a picture taken with him. He had been just great, always so pleasant and accommodating. We meandered on down the street and entered a shop that had beautiful Christmas decorations. I purchased a few articles and decided to go back to the antique shop we were in on the way up. I could not find it; it was as if they had moved it. I searched as long as I dared, then walked back to our train. It was wonderful to walk in warm sunshine.
We left the station shortly after 12:00 noon and champagne was once again served in the park car. First call for lunch and were off to the diner. Our seatmates were Cliff and Marilyn Ponnikas from Tacoma, Washington and in no time at all it felt as if we'd known them forever. It was evident that they loved their family, their grandchildren and traveling, and we enjoyed hearing about some of their travels and adventures, and some of their recommendations. For lunch I enjoyed chicken soup, smoked salmon served on herbed focaccia bread with cream cheese, Bermuda onion and caper garnish, Caesar salad, and the most delectable orange cream cake that I have ever eaten, that's 'ever eaten'. Of course coffee completed the most satisfying meal. I walked back to my room after lunch and started to update notes, but nodded off for fifteen minutes. In the forward dome car I joined Marilyn and we sat and chatted about everything.
Sarah, the activity car co-ordinator was pretty busy getting the movie ready for showing, and preparing some games. I overheard Sarah ask someone how her foot was, and told her that she would be around later at night with a bag of ice for it. People who used this car thought Sarah was pretty special.
It would soon be dinnertime so Darlene and I meandered to the diner. Our seatmates tonight were Vern and Betty Rhone of Pennsylvania. We conversed over dinner with this pleasant couple. We each had the arctic char, and it was cooked to perfection. Mixed vegetables, roasted potatoes, and a salad completed the meal. I was simply too full to even consider dessert.
We took the parrot on our walk tonight, taking photos of him along the way. Margot Acquistapace of Richmond, California got into the swing of things by trying to find the perfect name for him. She had the most infectious laugh. The parrot safely ensconced on his perch once more, we sat again in the park car. The mountains were far behind us, and the flat parched lands of Alberta stretched for miles in every direction. Large beef herds and oil pumpers emerged as part of the scenery once again. All along our trip in both directions, I noticed many rail-track work crews in the rail yards or way out in the middle of nowhere; the trucks were apparent alongside the tracks. Maintenance is an ongoing part of rail travel that we don't give much thought about until something happens, so it's nice to know they are out there checking on things. We both retired early tonight; no sun sets for us. Maybe we were eating too much.
Another great sleep: I awoke at 5:30 a.m. Tuesday morning, and a great beginning to my day was being first to the showers. By the time Darlene finished I was ready and we both set out for the diner, but no one was there. The clocks hadn't changed yet and we were an hour early. We went to the activity car and met Cliff, who also was fooled. We enjoyed chatting over a coffee while waiting for breakfast. Cliff seemed to be in awe of the wheat fields, as he mentioned them a few times. The car soon filled up, and when breakfast was announced we hustled like campers at the sound of the dinner bell. Ron, from Victoria, joined us for breakfast. He was originally from England and possessed the most witty sense of humour. I had my usual toast and juice, but ordered some porridge this morning. It was true, pure and delicious comfort food. After breakfast we went looking for Rinaldo to convey our thanks for his attentive service. His smiles and thoughtfulness were much appreciated. He said he loved his work, loved his job, and loved the people; he also told us to 'come back again.'
In the forward skyline car I met Eunice and Dick Wiseman, and Roy Williams, all from Connecticut. They were soaking up the morning sunshine and enjoying the panoramic view in the dome car. As we left Portage la Prairie behind we approached our next stop, Winnipeg, and I noticed the abundance of wild rose bushes along the tracks. You could almost smell their phantom fragrance.
Passing through the diner on our way to the park car, we met Ricardo and expressed our thanks to him and the dining car staff for the scrumptious meals and exceptional service. Ricardo's humorous stories were a source of enjoyment also. The kitchen staff were more than willing to pose for a picture, and again we expressed thanks, as they would be leaving upon arrival in Winnipeg.
We proceeded to the activity car for a rendezvous with Sarah who mentioned yesterday that she would try to arrange for us to get up close to the engine for a photo-op. We were to wait for her on the platform in Winnipeg while she completed inventory and took on fresh supplies. Meanwhile we met and chatted with Angel, Sarah's niece, and Angel's daughter, Heaven-Leigh. A strong resemblance binds this family. The train arrived in Winnipeg at 11:00 a.m., Darlene and I detrained and eagerly awaited Sarah's arrival on the platform. A platform attendant said, for safety concerns, we would have to wait in the station. We went down the escalator and waited for half an hour, then walked around keeping our eyes on the lookout for her. An hour and a half later when we were about to re-board, Sarah spied us and said that she had been running all over looking for us. (We must have been like ships passing in the night.) We raced up the escalator after her but as we neared the front cars, were told that one of the engines was having mechanical trouble and was being switched around. No one would be allowed up front. Sarah really wanted to do this for us, but it was not to be. Darlene and I wanted her to know we really appreciated the effort, and the time spent trying to arrange it.
After a few false starts the train departed the yard. It was 1:40 p.m. and we were almost two hours late. A new crew was aboard and we soon met Brenda, our car attendant. Because our room was across from an emergency window, she detailed the procedure in the event of an accident, and explained where the other emergency exits were on this car. She pointed out her room and told us to buzz if we needed anything.
Seated in the diner, we enjoyed the company of a lovely couple from Long Island, N.Y. Darlene and I both ordered the Chefs choice, a most delicious lasagne roll with Caesar salad. Of course, there was always a breadbasket with a super selection of rolls and crackers and I found some room for the three-berry crumble. Back in the park car we said 'hi' to Bert who was in deep conversation with a fellow traveler. We ascended to the dome car and relaxed after lunch. Every night lying in bed we both made empty promises about skipping dessert tomorrow, or not having any rolls before dinner tomorrow, foregoing a meal tomorrow, but tomorrow comes and there we are, like pigs at the trough.
The train was flying along trying to make up the almost two hour delay in Winnipeg. We chatted with Viv Whitcombe from Reading in Berkshire , England. Viv had been traveling since the 13th of May and remarked, 'I want to go home now.' She has a young 10-month-old granddaughter and knows she is missing many of her milestones. They are headed to Toronto where they'll stay a night, then off to New York to catch a flight home. We crossed into Ontario about 3:30 p.m. The trees are back. Hooray! This is the northern cottage and fishing country. Back in our room we begin to up date our notes and both promptly fell asleep in the chairs. The powernap seemed to re-charge our batteries and we found ourselves enjoying the view from the window in our room. The green lushness and abundance of lakes is such a contrast to the parched fields of Alberta.
We proceeded to the diner when first call was made. It is always best to get seated as soon as possible, as this simplifies things for the dining staff. Servicing a car that is full is much easier than trying to wait on tables while late comers arrive. Also, upon entering the diner and noticing a table with one or two people seated, by asking if you may join them, 99.92% of the time you will discover it is not being reserved, and people are happy that you chose them as dinner companions. It's a wonderful way to start a conversation, and 99.99% of the time you will find yourself sitting with very interesting and likeable people. If you find yourself sitting with that other .01%, well, it's one hour of your life and you'll know who to avoid the next meal.
Our dinner mates this evening were Ron and Viv Whitcombe from England. We were thoroughly entertained by this couple. Ron explained how he booked this part of their trip using 'Scenic Rail Guide to Western Canada' by Bill Coo. We talked back and forth about everything from grandchildren to travel. I noticed Bert a few tables up and waved. It looked like he was in deep conversation with a new acquaintance. Marilyn and Cliff had the table beside us, they smiled and said 'hi.' For dinner tonight I enjoyed succulent fried rainbow trout, fresh green beans, oven-roasted potatoes, wedge of lemon and chopped tomato and green peppers. Vanilla ice cream with a wafer cookie complimented my fabulous dinner. Leaving the diner and walking down a corridor someone piped up, 'come on in and join the party.' It was Eunice and Dick Wiseman and the couple in the next compartment. During the day their attendant had opened the wall separating the two compartments making one, rather large sitting room, and tonight the wall would be put back in place. Both parties found this a wonderful solution to their small rooms. We declined the invitation to party; it was time to walk the train. We had a short stop in Sioux Lookout. Again we were greeted by local tourism volunteers and handed souvenirs of the Sioux. I enjoyed reading the booklet from the first leg of our journey. It was both interesting and informative. The skies were once again cloudy and it began to rain. We counted ourselves lucky that we had eight days of sunshine when it counted. We enjoy relaxed conversation in the park car. Bert who must be a light sleeper, said he was awakened whenever the train stopped during the night. Fortunately, I don't have that problem. We retired after ten; tonight would be our last sleep on 'The Canadian.'
In the dome car this morning we met two teachers from Ohio, (I hope it was Ohio and not Iowa) Kristine Ferguson and Rebecca Heimlick. These two ladies teach at Cardington-Lincoln Middle School, and they wanted to say, 'Hi to all our students, and train travel is a great way to get to know your country. It's like traveling into a post card, and your fellow travelers become family.' We chatted a bit about teaching, geography, and life in general. These two ladies were having the time of their life aboard this train. Somehow I think they would have fun anywhere. Joyce and I struck up a conversation and she told me that she was on her way to Toronto to attend a 50th wedding anniversary. Joyce was the matron of honour at this wedding and the whole wedding party would be present. We talked on about everything and couldn't believe first call for dinner was being announced. We strolled down to the diner and sat with Ron and Viv. Viv is getting excited because in a few days she will be home. Outnumbered, Ron sits quietly while the three girls enjoy a good chinwag. For lunch today I had the Alberta Bison Burger with Caesar salad and potato salad. A piece of caramel cake for dessert hit the spot. At home I have dessert maybe once a month but these are so palatable, there is no chance of resistance. Darlene and I have both joked about our clothes shrinking in the dryers of Vancouver. We detrained in Capreol about 2:00 p.m. to refuel. We had twenty minutes to stretch our legs before the train pulled out of the station.
White birch dominated the hilly and rocky terrain therefore we must be near Sudbury.. We were sitting in the Park car enjoying the view one last time. Hors d'oeuvre were served at 4:00 p.m. and included smoked oysters, cheese and mushroom rolls in flaky pastry, cookies and pound cake. I skipped dinner, I should have skipped the hors d'oeuvres too, but when someone went to the bother of preparing the trays..... I returned to my room to double check everything, and searched out Brenda to thank her for the great service she provided. Whenever we saw her she was always emptying, re-filling, smiling, and asking if there was anything we required. She gave me some very insightful information about the different rooms in the manor cars. Each attendant in the sleepers have a car and a half to look after, so it's no wonder they were quite busy on the trains, but never too busy to answer questions. It would be much easier if everyone awakened at the same time and were herded out of the sleepers for an hour. They have to work around the different waking patterns, making and putting away the beds, changing the linens, and cleaning up in general. They all did a great job because the cars always looked clean and tidy.
The train stopped in Parry Sound to let a few people detrain, then we're on our way again, next stop, Toronto. In the park car are some 'Brits' talking about the different accents in their country. It was quite enlightening, and very entertaining listening to them imitate the different accents for our benefit. Darlene and I decided to retrieve our baggage from our room and put it on the landing, but Brenda had already seen to it. Viateur and Aurore were sitting patiently waiting for the train to arrive at the station, so we sat with them and relaxed for the next fifteen minutes. We asked them about their connecting train, and when they showed us their tickets, we saw that we would be on the same train together. We suggested that we stay together and find out where our next train departed. The train arrived at close to 10:00 p.m. and we said our final farewell to our friends. We had the full length of the train to walk before we reached the escalator. Noticing that Aurore and Viateur looked very tired, we took their luggage and just walked slowly.
We detrained and took pictures outside, but it was really too dark to take proper ones. We boarded at the end of the train and walked forward toward the engine. Glass doors separated the cars. A push of the button and they silently slid open. At the end of each sleeper was a coffee and breakfast station. This is where you would get your continental breakfast and coffee, to be eaten in your room, I think, or maybe taken to the lounge, I forgot to ask. We reached the first class lounge area where coffee carafes were available for anyone who wanted a fresh cup of perked java. Baskets of snack food (chips and peanuts) and newspapers were sitting out, and there was also a bar/canteen. Moving forward we came to the coach car, and the seats on a raised platform looked quite comfortable. They were upholstered in a soothing soft blue colour, conducive to relaxation.
Ray Burns and the TrainWeb field crew did quite a bit of rail travel from June 9, 2002 to July 11, 2002, especially in Canada. Click on each link below to read the travelogues and view the photos and virtual tours:
Part 1 - VIA's Renaissance Cars and travel (Montreal-Brockville-Toronto)
Part 2 - VIA's Canadian (Toronto-Jasper)
Part 3 - VIA's Skeena (Jasper-Prince George-Prince Rupert-Prince George)
Part 4 - BC Rail's Whistler Northwind (Prince George-Whistler-North Vancouver)
- BC Rail's Pacific Starlight Dinner Train
- Amtrak's Cascades (Vancouver-Seattle)
Part 5 - American Orient Express Great NW & Rockies Tour (Seattle-Salt Lake City)
Part 6 - Tour of Salt Lake City


Part 7 - Darlene's Trip to Vancouver on the VIA Rail Canadian
Part 8 - Laurie's Adventure to the Rockies on the VIA Rail Canadian <<== You Are Here
Part 9 - An Evening on the (BC Rail) Pacific Starlight Dinner Train by Douglas Symons


CLICK HERE
To Read More Rail Travelogues
And View More Photos Of Rail Travel!
Are you interested in rail travel along some or all of this journey yourself? There are very few travel agents that have the necessary knowledge and experience of rail travel to answer your questions and to book a journey that you will remember for a lifetime. TrainWeb has sought out those travel agencies and rail tourism companies that not only have the knowledge to book your travel, but have gained the required experience through extensive rail travel themselves! Click here or visit RAILagencies.com or RAILexcursions.com for a list of these rail travel providers!