Ray Burns Summer 2002 Rail Travelogues - Part 2
http://www.trainweb.com/travelogues/rayburns/2002f17a.html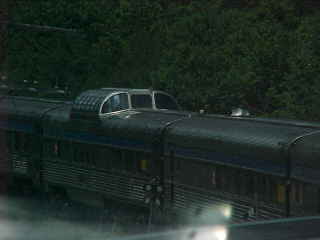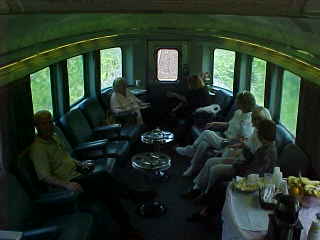 East To West on VIA Rail Canada's Canadian
Monday, June 17, 2002
Our VIA 1 car was the last car on the trainset from Montreal to Toronto. Arriving into the Toronto station before noon gave everyone ample time to get to their hotel (or wherever they were going in the Toronto area). Toronto happens to be the home of Andrew MacIntosh, TrainWeb's number 1 railfan! The only thing that I do not like at the Toronto station is that one has to carry their luggage downstairs after one disembarks the train. A person with heavy luggage has a difficult time lugging their suitcases down those steps. Also, they could use a larger first class lounge for a city that large. With the tour groups that sometimes show up, it can be quite tight for room.
After checking into the Westin Hotel and putting my baggage into room 640, which overlooked the bay area, I went out to look for an Indian restaurant. The marvelous Toronto streetcars are right out front of the hotel so luck was with me. I headed for the Chinatown district and soon thereafter I found "Babur Fine Indian Cuisine." This Indian restaurant is at 273 Queen Street West, Toronto, Ontario, Canada (216) 599-7720. I was very happy that they had a buffet to offer the populace. The restaurant was not very large but was very clean and modern. The buffet had an excellent selection of great tasting food and all four of us were quite pleased. Two of the four had never had Indian food before.
Outside it sprinkled rain a little bit, but not enough to give us any worry. The four of us, Robert, Lorraine, Darlene, and myself, were soon going for a good walk looking at the interesting sights that were in the vicinity. I eventually found a small store that had old French Indo Chinese silver coins from the 1896 to 1907 era, as well as Japanese silver coins that were used during their occupation of China. To finish off this little find, there were also various pre-1945 Chinese silver coins available. All of these large one dollar coins were available for $2.17 US, each. It was fascinating to find such worn old coins still in existence!
We then all took the streetcar again, this time to the hotel. I had a good sleep that afternoon. Needless to say, I stayed in for the night to get up early the next morning for the next phase of the trip, which is from Toronto to Jasper.
Tuesday, June 18, 2002
I slept well last night, so when I got up at 5:50 AM I was ready to go. The four of us met at 7:00 AM and had a great breakfast at the restaurant in the hotel. We then picked up our luggage from our rooms, checked out, and had two taxis take us to the train station. We were surprised to see so many people already there waiting to board. There was a large tour group taking this trip as well. We were to leave at 9:00 AM but had to wait an extra hour for two "GO" commuter trains to pass us first. No problem, as VIA just makes up the time later.
As usual, it is always pleasant meeting and conversing with the other passengers on these train trips, a thoroughly enjoyable experience! We set it up to dine at first call which meant that our noon meal was around 11:00 AM. I had thin slices of salmon on a bread base that looked like some kind of small pizza, along with vegetables and salad. Champagne was passed around as well. Fresh fruit salad for dessert finished it off.
I always like going through Ontario by train as there are so many scenic rivers and lakes for ones' viewing pleasure. Our room attendant was Michelle Ouimete, a pretty French Canadian gal that was very pleasant to communicate with. She kept everything very clean and orderly. A great attendant. I don't know how she managed to move everything around in our room to make our bed, but she did a fine job. Lorraine and I went through many sleeper cars to get to coach as there were were 22 cars and only three were coach. I was introduced to a Hispanic couple with their little daughter, who all live in Downey, California, which is pretty close to where I live. I had a great conversation with that couple.
For dinner, Robert and I sat with a French couple from Quebec. We knew just enough French and he just enough English to make decent conversation. It turned out pretty nice. I had chicken with vegetables and Basmati rice. The chicken was almost as soft as Jell-O. Incredible! Delectible, destructive chocolate cake for desert. A real killer.
There is always room for more communication with the other passengers. It is good therapy for everyone. Many people from England tend to come on this run. A wise choice! Good bang for the dollar! So much to see, especially from the dome car. One never gets tired of looking out the crystal glass look the many lakes that abound along this routeway. A very pleasant and enjoyable way to be in "another world."
Todd, our Observation Car Attendant (dome car) is always laughing and full of mischief. Beware, but have fun! Lots of drinks, fruit and pastries for everyone. Lots to see from the scenic dome car. Great picture taking. Of course your pictures will never come out as magnificant as what your eyes will absorb. So much to see, so little time. Well it is pretty late now, so time to hit the sack. Morning will come soon enough.
Wednesday, June 19, 2002
Leaving Winnipeg in the rain meant greener pastures for them. However, I was looking for sunnier places. All the bug splatters on the front of the dome cars were gone because of the good wash they were getting. All of the beautiful lakes and trees which filled the rolling hills of Ontario were now behind me. The flat lands of mid-Canada stretched many miles ahead of me. A little boring to some, beautiful to others. One thing that I noticed going through Ontario and in some of this area is that the railroads are doing a fair amount of new construction along their rail lines. I notice that the rail industry is growing significantly in both the US and Canada. That is good for everyone!
I met many very interesting and nice people on the train. Some of them were great rail fans enjoying what they like best. James Porterfield from State College, PA, who writes for rail magazines as well as books, was one of them. With his interesting background and knowledge, possibly some of that expertise will rub off on TrainWeb, and you the reader will benefit that much more for it. We shall see.
The rolling landscapes would seem endless if there weren't distractions within the train itself to keep you occupied. There were always new people to talk to, pictures to take, and snoozes to slip into. Each landscape has its own unique beauty to offer.
I have friends that live in Edmonton but circumstances prevented them from getting down to the station to see me. I was pleasantly surprised to see that the station had been refurbished when we arrived for our stop this morning. I skipped breakfast so I would have time to walk around outside. One thing that I thought was pretty smart was a young man was wearing "roller blades" (in-line) on and would be "skating" from one car to the next car to fill the holding tanks with water. He zipped and zoomed from one end to the other and managed to do all the work by himself. It was fun to watch him and his work of art.
It was only a little stop in Edmonton, but it's always nice to step off the train and "stretch our legs." In no time at all we were on our way again. The mountains are constantly beautiful and always awe-inspiring. I think that coming through when there is good snow in the area would make for more beautiful scenery, especially the mountains! Not only that, but there are less people traveling at that time. I think that the ticket prices are less expensive at that time as well. I would also think that the hotels are less costly in the off- season. You won't see the grass on the ground as it is covered with snow, but the trees are still green. Summer and winter are two different worlds, but are both quite beautiful!
It seems that the only place that it had rained on me was Montreal, Brockville, Winnipeg and a little in Toronto. I don't mind, as it's all part of the adventure. It eliminates any smog in the area and the fresh air smells good, especially if there has been recent lightning in the area. I noticed that there seemed to be thicker forest as we traveled west and by mid afternoon we were in Jasper. Two gals, good Samaritans, seeing that Robert and I were bogged down with luggage, offered us a ride in their minivan to our hotel. I just love to witness acts of kindness. In this case, we were on the receiving end.
We checked into the hotel, and lugged our luggage up to the second floor to our room, as there are no elevators. To our surprise the room was quite large, with two queen beds and nice furniture for the decor. A large sliding glass door with a sliding screen door opened up to a very roomy patio with a lovely view of the interior garden area, and to a portion of the Canadian Rockies. The bathroom was quite large with a huge bathtub/Jacuzzi built for two. A large shower stall with an excellent showerhead made taking a good shower an enjoyable experience. The refrigerator/bar area was a nice touch. There were more amenities, but suffice to say, I liked this place!
After dropping everything off we left immediately for the train station to see if we could still find Laurie and Darlene. We did find them just after they finished their little souvenir shopping. Bob and I enjoyed their warm company before they departed, took one last picture of them and said "adieu." Now that the girls had us out of their hair, they could let it down.
Bob and I then did a little looking around and then headed back to the hotel. I caught up on some of this travelogue and then also went through my virtual photos to make sure that they were in order. Everything was up to date so I faxed some information to Steve at TrainWeb in Southern California. My cell phone did not work in this area so I did not call out other than a call to VIA RAIL in Montreal to confirm a few things. A good night's sleep in nice weather. The simple things in life are the best.
Ray Burns and the TrainWeb field crew did quite a bit of rail travel from June 9, 2002 to July 11, 2002, especially in Canada. Click on each link below to read the travelogues and view the photos and virtual tours:
CLICK HERE
To Read More Rail Travelogues
And View More Photos Of Rail Travel!
Visit our Rail Magazine promotion trading partners:
Click here to add your print rail magazine.