Ray Burns Summer 2002 Rail Travelogues - Part 5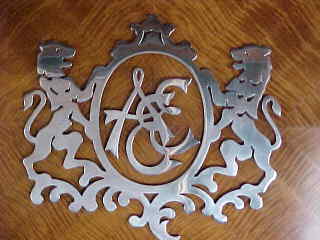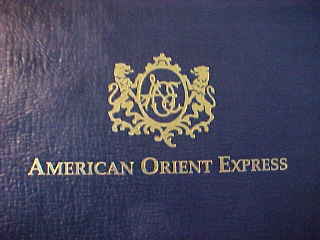 American Orient Express
Great Northwest & Rockies Tour
Photos Highlights From The Entire Journey:
Highlights Set #01 / Highlights Set #02
Wednesday, July 03, 2002
Today I got up at 7:30 AM and took my time getting everything prepared to depart the Best Western Pioneer Square Hotel at 12:00 noon. After cleaning up I went downstairs to the lobby and into the dining area where a free continental breakfast is offered to their guests. Bob and I went to the large Pike Place Market, and later Bob did go to see the underground city. I met Bob at 2:30 PM, whereupon we went back to the hotel, picked up our luggage, and took a taxi to the Westin Hotel to commence our new journey with The American Orient Express.
Our taxi delivered Robert Burns and I to the Westin Hotel around 3 PM. We checked into the hotel and were given a room on the 23rd floor, giving us a good view of the water. Robert shortly left to scout out the neighborhood. I relaxed in the room and got a few things in order.
I later found out that this hotel did not have any washer/dryer facility on the premises like the Westin Hotel in Whistler, BC, did. I was hoping to clean up before this trip. Oh well, I did have enough clean clothes to last me until we get to the next hotel with no problem.
At 6:45 PM, we went to the meeting room in the hotel to meet the other people and the key staff of the American Orient Express Railway (AOE). This was an opportunity to "break the ice" in regards to meeting everyone while we had dinner. The staff gave a good presentation talk and I got to meet Jim Porterfield again whom I first met on VIA Rail Canada over a week ago. Jim is a guest speaker on the train and one of the many things that he does is write about rail cuisine.
A number of people had been on the AOE a number of times in the past on different routes that this train travels. Most of us were with them for the first time. Either way, it was exciting for all. We stayed until around 9:00 PM and then went back to our room. I went to bed around midnight.
Thursday, July 04, 2002
We were up at 6:00 AM this morning and went down to our breakfast buffet in the same meeting room as last night. After breakfast it was back to our room to make sure everything was set to go. The luggage was automatically taken from our room and brought outside to be put on the bus. Everyone was to be taken on a bus tour of the city and then put on a dinner boat for their lunch before being brought to the train. This also gave the onboard staff time to clean up after the passengers disembarked from the previous trip.
I found my luggage waiting for me outside and picked up my camera bag and laptop computer and took a taxi that took us to the AOE in the rail yard. By being on the train early and taking pictures before the passengers embarked, no one would be tripping over my tripod nor getting in my way. I would have more time to check the pictures out to see which ones, if any, did not work out, and re-shoot the same scenes for another try.
The American Orient Express consist is:
Amtrak P42DC Engine #161
Amtrak P42DC Engine #137
San Francisco Diner/Sleeper (San Antonio?)
Montecito?
800109 Vienna Sleeper (Robert and I stayed in room 'D')
800231 Monte Carlo Sleeper
800740 Denver Sleeper
800311 Rocky Mountain Club Car
800308 Chicago Dining Car
800301 Zurich Dining Car
800742 New Orleans Dome Car (formerly Amtrak 10030 "Mountain View")
800297 Instanbul Sleeper
800255 Berlin Sleeper
800741 Savannah Sleeper
800321 New York Observation Car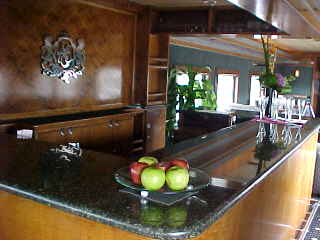 We started in the Observation car, which was the last car of the consist. The centered bar separated the seating areas, with the scones' surround seating at the tail end of the car, with its crown of flowers looking down at other comfortable seating on both sides of the car. The opposite side of the bar consisted of two rotating chairs per table that graced both sides of the car. The bar always had a bartender on watch, with a myriad of fruit, cheese, crackers, and nuts to tantalize your palate as you enjoy your drink and the scenery.
The wood paneling was throughout the interior of the entire vintage trainset, as was the luxurious carpeting and the attentive detail given to the ceilings. These are old cars that have been totally refurbished to their original splendor, and then some. This particular trainset is pulled and sometimes pushed by two Amtrak Genesis engines operated by an Amtrak engineer.
The particular tracks that this consist will be traveling on belong to Burlington Northern Santa Fe, Union Pacific, Montana Western, and a few other railroads.
Marvin Melson is the Hotel Manager, the senior crew chief on board, with Richard Evans and Steve Kaverman as the Tour Leaders. Edwin Cohen was our Chef, Ken Ward was the Train Master, Joyce Williams was the Chief Porter, and Stephanie Spain was the porter to our car and room, room D in the Vienna sleeper car.
I went through the different cars taking the virtual pictures for AOE and TrainWeb. The nice thing about this photography is that the pictures can be seen by anyone in the world on the Internet through our respective websites and will be preserved for posterity. Very few websites have the luxury of surround virtual pictures, so it is comforting to many to know that a number of railcars have been secured in this endeavor.
Most of the morning was spent taking pictures of the interiors of the different cars. I also had to wait until the staff cleaned up the cars before my shoot. This was my best time before the other passengers came to the train. I was fortunate enough to be allowed to have lunch with the staff in their car. I always appreciate the hard work and dedication that I observe behind the scenes to make everything work for the guests' pleasure. It actually starts in the Corporate office when the call comes in, and goes out from there. It takes a lot of people to make this machine work like a fine tuned clock.
The passengers came aboard around 1:00 PM and I spent a good part of the day in my room going over the virtual pictures to see which ones had to be redone. It seems that the Rocky Mountain Club Car, with its grand piano and bar, will have to be re-shot. It seems that my picture taking time frame was much smaller than I had realized as the staff had their cleanup to do and I had to work around them. However, I did get a lot done.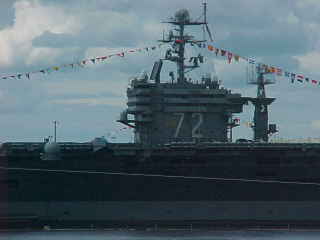 The train soon departed after everyone was on board and we did pass some lovely scenery. We passed the USS Abraham Lincoln aircraft carrier that was docked in Everett, Washington. I had seen this same ship as I traveled on the Amtrak Cascades Talgo trainset. The difference was that someone on AOE told me the name of the ship, so now my curiosity is satisfied.
I came out for late dinner and sat down with two ladies that had been friends for decades. For dinner there was Roasted Chicken Breast, Marinated & Grilled Ribeye Steak, or Swordfish. After my salad I had grilled Hawaiian Swordfish with asparagus & Julienne red peppers with fennel caper buerre blanc (white butter). For dessert there was creme brulee with fresh fruit garnish, chocolate cake with chocolate chips served with vanilla ice cream, or seasonal fresh fruit. It doesn't matter which one you choose, you won't go wrong.
After dinner I went back to my room to finish working on my virtual pictures that were transferred to my laptop computer from the camera computer chip. It takes a little while to sew the pictures together to make a virtual picture. When that is complete, I then have to decide which pictures should be chosen to be used and marked as same. The material is then sent by FedEx to Stephen Grande at TrainWeb.com to finish the last technical segment of its journey prior to being completed and tastefully put up on the website by Shivam Surve.
The night porter put the beds down for us and I went to bed quite late. It was a long day for me, with some sporadic views of the scenery going by as I worked on my computer. The sooner I got done, the sooner I could enjoy the trip. Everyone was quite friendly, but I needed to be alone to catch up on my work. Tonight we will be entering the Mountain Time Zone. Time to turn our timepieces ahead one hour. Tomorrow would be a new and fresh day!
Friday, July 05, 2002
I was up around 7:30 AM this morning and headed straight for the dining room for breakfast. I had some fruit with granola cereal to start my day off. Today, the weather forecast calls for a high of 78 degrees and a low of 46 degrees, partly cloudy. A good day to go sightseeing.
At 8:45 AM we detrained at West Glacier, Montana for our tour of Glacier National Park. We boarded minibuses for today's tour of the park on the spectacular Going to the Sun Road and over Logan Pass. Because we are located in a National Park, once we reach West Glacier (here), we are no longer allowed to dump any "grey" water. This includes the use of showers and sinks. The flushing of toilets is permissible. We will leave the park this evening so everything will be "back to normal" at that time.
There is also an optional Hike & Float trip. Those people who signed up for that detrained to meet their Glacier Wilderness Guides. They would be provided a boxed lunch while on their journey and would rejoin the train in East Glacier at 4:30 PM.
Because temperatures in Glacier National Park can be considerably cooler than in West Glacier I took my jacket along with me. It turned out that I did not need it, some people needed theirs, but another day can be very different. Better to be safe than sorry.
The trip by minibus from West Glacier to Whitefish, then to North Glacier Park, was quite the scene. We steadily went higher as we snaked along the paved road that clung along the mountainsides. Jeremiah Padgett, our young tour driver is a descendant of the Blackfoot Native Americans. Quite informative with quick wit and humor. He did mention that Logan Pass was 6,646 feet high.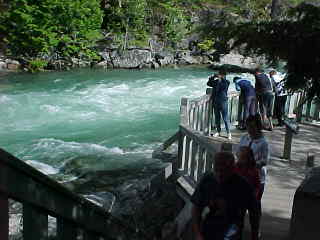 Our first stop was Trail of the Cedars. Everyone walked on a wooden sidewalk that was above ground so the surroundings wouldn't be trampled to death by the millions of tourists that come through these areas every year. This nature walk was filled with various foliage in the area, as well as a bridge over rapids thrashing its way from one huge rock to another, winding its way down to its final destination. Quite picturesque, a lovely cool walk, the sounds of a live forest, and a coolness that made you feel good. Right now we were in the temperate rainforest and would soon be going to a coniferous forest and then eventually to sprawling tundra.
We did stop at certain strategic turnoffs to take great photo shots. At one point high up on a mountain road we had a goat stop. A couple of ram goats were just a little above the traffic and some guy decides to stop, get out of his car and take pictures. Not only did he have the insensitivity to do that, he also had the "no brainer" to change the film in his camera before he got back in his car and then speed away - after everyone was honking their vehicle horns at him. Needless to say there was a long line of traffic behind him. I did get my goat pictures.
We ended up at the summit of our mountainous tour to an area called Logan Pass. This is a rest stop where people can get out and shake their legs for a half hour or so, purchase some souvenirs, and take pictures. There is a good view from this standpoint. But then again, there is excellent view from everywhere. An excellent uniqueness of the park is that the scenery seems never ending. In fact, I am told that there are 100 distinct mountain ranges in the Rocky Mountains.
We soon left and eventually made a turnoff at an area called Green Lake. I took a virtual picture of the area. A very windy place, but beautiful to the sights! Pictures never come out as good as what one visually sees with their own eyes, but we do what we can.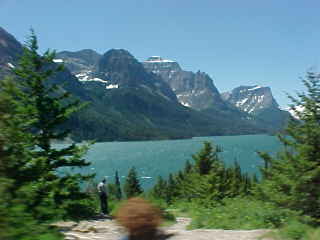 After driving some distance we soon came to a place called the Snowgoose Grill in Mary, Montana, for our lunch. This was a large and lovely structure that was built out of large logs. It has a large souvenir shop as well as a dining room that easily held all of the AOE passengers in one sitting. The staff did a great job and the meal consisted of salad, vegetables, and roast beef. A pretty good meal! With lots of bread and honey butter, I was a happy camper. I sat with Jeremiah, Raymond Croff and Edward NorthPeigan, tour bus drivers and all Native Americans. These guys were continually laughing because they were always telling jokes. They are far from the stoic faces that the movies show them out to be. The lounge was huge with super excellent seating with grand views to the outside fresh mountain air. A well designed layout! Now we were off again down the mountain road to an area called the Continental Divide, which we will cross many times before we reach our final destination. This is where the great mountains and trees cease to stretch out their fingers as the tundra picks up from here as we head further east. Even the trees and shrubbery are different in this area as we leave the splendor of the majestic mountains and their treasures.
Soon we were coming back into East Glacier, Montana, where the AOE was parked. I took a virtual picture of the area. After boarding, I went right into my pictures again to see how they might turn out. After going through them and catching up on some of my travelogue I went over to the dining room and had dinner. My fare for the evening was salmon. Last night was the best swordfish meal that I have ever had and tonight was the best salmon meal that I ever had. That is a phenomenon!
The gal who was sitting at the table with me was an attorney from Alabama. She was allergic to fish, so she opted to leave a little early. Robert showed up a little later and I had a fresh baked coreless apple with sauce and nuts for dessert. Delicious! I was tired after late dinner so I went back to my room, had the porter lower the bed and I was off to sleep. The train headed for Sandpoint, Idaho, to stay for the night. This is where the Montana Rockies Rail Tours is headquartered. They also use these same tracks.
Saturday, July 06, 2002
Between 6:30 AM and 9:00 AM continental breakfast was available in the Rocky Mountain Club Car, New Orleans Dome Car (fomerly the Amtrak 10030 "Mountain View"), and the New York Observation Car. Between 7:00 AM and 9:00 AM breakfast was served in the Zurich and Chicago Dining Cars.
Between 9:30 AM and 10:30 AM Jim Porter continued his lecture series in the New Orleans Dome Car. His subject material was "Romance of the Rails - Why People Love Trains." Also during this time, Betty Bauer presented "Up to Date with the National Trust," in the Rocky Mountain Club Car. Between 10:30 AM and 11:30 AM Jim and Betty repeated their presentations, but they exchanged cars this time around.
The AOE Signature Souvenir Shop in the Rocky Mountain Club Car was open between 11:45 AM and 1:00 PM for everyone, and talented Bonnie Hackett, the skillful and talented singer/pianist who plays the grand piano on board, was on hand to sign and autograph her CDs.
I did not have breakfast today as I was too busy typing away my travelogue from my bed since 6:00 AM. I am so thankful that I have electricity in my room as my laptop battery will not last too long without a recharge. However, I did stop for lunch around noon and had the Chef Salad. Something cool for my system. Lunch was served at leisure between 12:00 noon and 1:30 PM in the Chicago and Zurich Dining Cars.
At 1:30 PM, until 2:30 PM, Jim Porterfield gave his lecture, "The Great American Orient Express Trivia Contest" in the New Orleans Car. Prizes were awarded but I was about the train taking pictures of other passengers and the scenery, so I don't know what the winners won.
Like any other train ride, you meet fascinating people from every place and from every walk of life. For example, Dr. George Schrenk pilots his own Lear jet to many countries of the world. Later on he'll be flying to Hanoi and Cambodia as well to other places. I told him that I had been to those two places in the past, but not in a Lear jet. Here he is forced to go for the slow pleasant ride of a train. I have met other pilots who enjoy trains, as well. Also, is H. Brandy Hoss, the owner/promoter of IEVANE.COM (I EVANE), which is a 5 star wholesale skin care store and spa for the entire family. This pretty gal is no novice to skin care. Her knowledge and products taught many doctors the value and strength of her skin care products rather than just using a scalpel. Her two A-student teenage boys seemed to be having a good time on board as well. What a great family adventure to see some of the great national parks of our country. Walter Erley had with him his grandson Patrick, who in turn befriended the other two boys.
Terrence and Elizabeth Kennedy from the Chicago, Illinois, area flew out to Seattle for this trip, as did Allan and Dolores from Mendocino County, California. Mendocino County is about100 miles north of San Francisco, in the "wine country."
Come 6:30 PM I went to the dining room and sat with Jim Porterfield, Walter Erley, and Robert Burns for dinner. I had a crab cake for my appetizer and all four of us had lamb with carrots and potatoes. It was great! I had a pumpkin tart for desert. I know that this sounds "hokey," but this was the best lamb that I have ever had, meaning, the best swordfish, the best salmon and now, the best lamb. No, folks, I am not paid to say this. I'm impressed!
I went to my room to work on my travelogue after dinner to work some more. Time seems to slip by so quickly now. We slipped into Helena, Montana, to berth for the night. It rained for a while but then ceased an hour later. I think that I'll be well rested tonight for tomorrow.
Sunday, July 07, 2002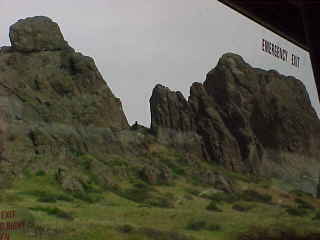 Up and at 'em at 6:30 AM today. After washing up, I headed for the Dining Room and had granola with skim milk, and later French toast with baked apple slices. A pretty good and filling delight. Lonnie and Kathy Harpool of Naples, Florida were sitting across from me and I learned that Lonnie enjoys trains a lot. I hope that he and his wife do write a travelogue and submit it to TrainWeb (via e-mail) so that we may post it for the public to read. I hope that many other people submit their travelogues as well. I do not mean this for just the people on this excursion, but for anyone that has taken any train ride anywhere, anytime. We will accept everyone's rail travelogues.
Lonnie came up with a good point in that many people would like to talk (write) about their experiences while working for the railroad, and of course, also those who have not worked for the railroad, but have had one or more unique experiences that is/are notably related to the railroad. It would not necessarily relate to traveling on a train. TrainWeb has already put up another website at www.RAILstories.com just for this category of rail related stories.
After breakfast I went back to my room and worked on my laptop until it was time to detrain at 9:30 AM. The bus leaves at 9:45 and starts off by taking a mini tour of Helena, Montana, which is the capital of this state, with a population of 25,000 souls. Remember, there are only one million people in the state of Montana.
The bus took us for a very scenic ride through the countryside and through and around many mountains, heading for Great Falls, Montana. The geography changed from flatlands with very few trees, to unusual rock formations with trees sporadically placed on their tops and their bases. We crossed the mighty Missouri River a couple of times. It was very easy to envision in my mind what it must have looked like to the Indians to see the Lewis and Clark expedition boats making their way towards the Rocky Mountains.
We were early for our 11:15 AM schedule to get to the historic Collins Mansion, which was built in 1891 and remodeled in 1998, for lunch. Very Victorian, very elegant and is available as a bed and breakfast. This is where I met that grand lady, Betty Bauer, who was the group leader of a number of people who were associated with the "National Trust for Historical Preservation." She was having lunch with another couple and I took the empty seat. It was interesting to learn of the many good projects that this worthwhile group of good Samaritans does, donating their time and money in order to keep many of our heritages alive. Like they say, "It's your memory. It's your history. It's worth saving." This includes rail related captions. You can contact them at www.nthp.org. An organization worth looking into!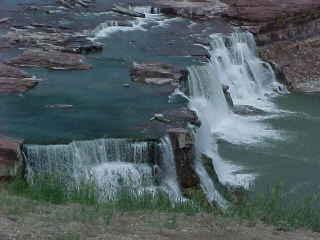 We came to and stopped at Rainbow Falls, which the Lewis and Clark expedition was forced to go around. In his journal, Lewis described Rainbow Falls as "...one of the most beautiful objects of nature. Its edges are as regular and straight as if formed by art. Water dashing against the rocky bottom rises into foaming, flashing and sparkling..." Lewis had referred to these falls as "Handsome and Beautiful."
Our next stop was the Lewis and Clark Interpretive Center. This was a very enjoyable place to visit. The thirty-minute introductory film on the expedition, the many artifact displays, self-guiding exhibits, and instructions on how to do the many chores necessary that those people had to do during their era, made for a fascinating journey for us.
We were later bussed over to the C.M. Russell Museum Complex. Charlie Russell is considered "America's Cowboy Artist." His fine portrayals of the vanishing era of the Old West live on at this museum dedicated to him. Russell completed 4,000 works of art during his lifetime and this museum owns the most complete collection of his works and memorabilia in the world. It is a living museum for a legendary man. My time was well spent at this museum, in fact, everyone had a great time. Nice souvenirs were available at both sites.
We left around 4:00 PM and were brought back to reboard the AOE at 5:30 PM. At 6:00 PM AOE departed Helena for an overnight run to St Anthony, Idaho. Bonnie Hackett was entertaining the guests at the piano during this time. From 6:30 to 9:30 dinner was served at one's leisure in one dining car and the dome car (like last night) because the air conditioning unit for one dining car was acting up. This only adds to part of the adventure. I guess this is our version of "roughing it" compared to the crew of Lewis and Clark.
I went into dinner around 7:30 PM and met Jim Porterfield again. I had fish with vegetables. Jim and I had relaxing conversation for a while and then we headed for our rooms. Jim went off to do some more reading and I went to do some more typing. I did buy a small souvenir in each of the museums today, one for my wife and one for myself. I hit the sack around 10:00 PM.
Monday, July 08, 2002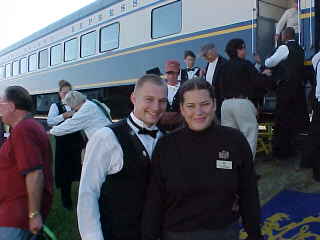 Wake up call was at 6:00 AM. I showered up right away and headed for the dining room. Granola cereal with skim milk was just what I needed to start my day off.
We detrained at 8:30 AM, each of us with a small overnight bag for our tour of Yellowstone National Park, our nation's first national park. Two motor coaches took all of the passengers for the trip and Dave Akers was our Alpine Guide for my group on bus # 1 until we would be returned to the train a day latter. The bus did ride through some very scenic country as we went through the west entrance of this famous park around 10:30 AM. The admission fee costs something like $350 per busload of people.
Yellowstone Lake has 110 miles of shoreline, covers 138 square miles of territory, is over 250 feet deep, and is the largest lake in the lower 48 states at high elevation. State fishing permits and regulations do not apply at Yellowstone National Park. You must get your fishing permit from THIS park only, if you ever think of fishing here.
Stops today included Fountain Paint Pots, Old Faithful (where we enjoyed a box lunch with fruit drink), and West Thumb Geyser. We obviously had a full day ahead of us with a lot of ground to cover.
Fountain Paint Pots was where I saw my first geyser and where I saw the bubbling mud for the first time as well. The lovely green/blue color of the extremely hot "water holes" are both deceiving for how deep the bottom can be and how blistering hot the water really is. Their color gives these holes an illusion of being "cool," where in reality they can be killers. The geysers are awe-inspiring because they have continued to spew their hot water for so long, and they are a sight to behold. The dancing waters fly out of the earth at different heights and different directions with great sound effects. The wide wooden sidewalks direct people from one area to the other, guiding them between and around the appropriate exciting hot spots!
We also stopped at a number of beautiful photography stops along our way. Then came up the ever-popular "Old Faithful." Well phrased, I must say, because its geysers are so predictably accurate. When our bus drove into the compound we saw a bison just standing behind one of the staff quarters. Very dangerous animals, so never trust them, as they can run three times faster than man and can jump a high fence that a horse can have trouble with.
The Old Faithful Hotel is as gorgeous today as when it was first built. By hard and desperate work and an act of God, the structure was saved from a serious fire that razed the area a few years ago. A lot of tourists were inside and the surrounding area, but it was still impressive to know that I at last was fortunate enough to be here and see some of the surroundings in our small time allotted for this grand experience.
I stood in the shade behind one of the beautiful log structures, where a number of other travelers from our group were already settled in and eating their lunch. I did manage to finish my lunch and make it back to the hotel and take some more pictures.
The log work, inside and out, was nothing short of impressive. The artisans that partook in its' construction must have been well pleased in knowing that they were part of something very special - to say the least! Now it was getting close to "Old Faithful" doing her "thing." I went outside and was very fortunate to have room out on the upper front part of the patio where I could take a good shot of this tallest of geysers when it starts spewing out its tremendous load of hot water.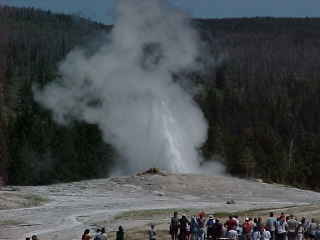 With the wonderful luck of not having anyone too close to me, I managed to take a virtual shot of Old Faithful in all her glory. I was using my hand held digital camera at the same time, so I hope that the juggling of using two cameras paid off. I have not had time to check the pictures yet, so here's hoping that everything came out okay.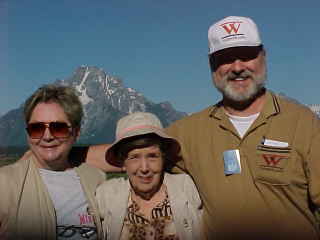 It was soon time to leave again. This time we were off to that scenic of places, Jackson Lake Lodge where the Grand Teton Mountains are located. Jackson Pass has a height of 8,429 feet high. No wonder I was huffing and puffing when I went for a little trail hike at the lodge area.
The lodge and units where we each had our sleeping quarters were nice. However, once we entered the lodge and witnessed its huge log beams and two massive fireplaces flanked on each side of the room as you entered, we were enveloped wall to wall, floor to ceiling, by gargantuan windows that opened up our shocked vision to Jackson Lake as well as "Les Tres Tetons" in all their glory.
It seems that this mountain range was found by French Canadian explorers, and they named the mountains so. In English, it means, "the three breasts." It makes sense that these French mountain men knew beauty when they saw it and named it after what they thought appropriate. Makes sense! If you saw these 7,000 foot mountains that rise suddenly from a flat plain, I'm sure that you'd agree with them.
I immediately went back to my cabin and retrieved my camera case and came back to the lodge and started to take virtual reality pictures of both the inside of the lodge and also from the large patio outside. I might have "over killed" on taking too many pictures of these mountains, but they were above and beyond spectacular! Surely you'll find one picture that you'll like.
After putting the equipment back in my room, it was time for a good shower. "Ooohhh, but that felt sooo good!" Now it was time to get back to the Lodge and have dinner at the Mural Room at 6:45 PM. I had great company with great people, as usual. It was natural for everyone to become friends as we were all so close on a 24 hour basis for about a week, now.
I had roast of lamb for my main meal with banana cream pie for desert. It was good, but not as good as the food on the train. Any food that we had off the train was taken care of by AOE, and this included gratuities. All of the group seemed to be having the time of their lives. A lovely restaurant with an exceptional view for all.
I eventually excused myself from the table after I had finished my meal and headed back to my cabin to get the virtual camera equipment, again. The sun was going down behind the mountains and I was curious to see if the pictures would come out better at this time of day. We shall see. This is when I took my little hike carrying that heavy camera case. "Wheh!" One lady from our group who was walking with me made periodic stops and would mention the beauty of a particular wild flower in the area, or about some rock formation, or something or other. I knew that she was really doing it to give ME a rest and catch my wind. This blond with a big heart was smart!
One must keep moving around a bit or else the mosquitoes will drain a person dry. Some people spotted elk, but darned if I could see them. I had already taken photos of animals. I was finished for the day and quite tired, so that was it for me. I was headed back to my cabin one last time for the day, and sack time for me! I was drained!
Tuesday, July 9, 2002
I got up around 6:00 AM, washed up, and took my baggage to the bus, which was a short distance away. I really enjoyed my cabin knowing that I was surrounded by large beautiful trees with birds chirping all over the place and small animals running about everywhere. The compound was kept very clean and the service was excellent.
I headed for the main lodge and up to the second floor to the Mural Room where a breakfast buffet was waiting for me. Again, good company with a good meal. I then went outside and took pictures of some of the people from our group and it was easy to see that a number of us were trying to lock in the beautiful scenery into our minds so we would not forget it. Hopefully, the virtual and digital pictures will help.
There were great shops up on the second floor of the lodge, where the restaurants were located, that carried excellent products for sale. I even picked up a lovely hair clasp for my wife. I usually pick up t-shirts from different locales.
Everyone was back on the two motor coaches at 9:15 AM and we were regretfully off again. Truly, everyone absorbed this absolutely stunning place! We drove to different stop points where we could take great camera shots of the mountains and lakes as we continued to our next destination, the National Museum of Wildlife Art.
The structure itself looked like it was from Arizona or New Mexico. It was kept up quite immaculately and is an impressive place to visit. The architecture, the layout and the service were excellent. In fact, we were even well fed in their "Wapiti" room. The only thing that I didn't like was that no photography was allowed of the different paintings. How sad. It would be better exposure (advertising) for them if people could take a diluted picture of the original paintings to show other people. The thinking pattern is just different to different people. I consider it their loss, but it is still a worthwhile place to stop by and visit.
At 1:45 PM we were in Jackson, Wyoming. Cowboy country! The tourists were packed in this area. Our time here was limited, but we still had enough time to do some basic shopping, for that's what this place is set up for. This place reminds me of Disneyland or Knott's Berry Farm from Southern California, except there are no rides, other than the stagecoach. One saloon across the street from the town square uses saddles, stirrups and all, for their bar stools. Quite different, I'd say. I've always wanted to say that I was here in Wyoming!
Everyone was on time boarding our coaches to take off at 3:15 PM headed back to AOE. Our trip back to the trip showed a lot of rolling hills of potato fields. These were huge fields continually fed with water from the Snake River. I enjoyed going through the small villages and towns and still in view of the mountains. A very relaxing scene.
We were back on the train at approximately 6:00 PM (how do these people manage such a tight schedule and keep on time?) and I made a b-line for the Lounge Car while everyone headed for their room to freshen up before dinner. I needed to retake the virtual pictures of this car as the pictures didn't come out very well before. Hopefully they will be good!
After everyone had passed through the car and my picture taking was done, I brought my equipment to my room, freshened up and headed for the diner. I spent some time talking with my table guests after dinner. I think that I'm making up for lost time of not socializing that much in my daily activities.
I eventually went to the dome car and talked and took a few pictures there. I have asked a number of people on board if they would be good enough to submit a travelogue of this, as well as other rail journeys that they have taken, to TrainWeb. Surely, they will talk about their adventure "through their eyes." I would hope that all of the passengers on board would share their experiences with our readers, but that is hoping for too much. However, the more who do it, the merrier.
Two couples on board were given a nice cake to celebrate their wedding anniversaries. Cake for all!! What a romantic place to be for such an occasion. Everyone was very happy for the two couples and I was also happy for the big piece of cake that was given to me. A joyous time!
I later went to the coach car (remember, this is the car with the grand piano, the bar, and a lot of comfortable seating) and mingled with the passengers there. I rarely stay in this car and when I do it's only for a short time as I usually have something to do. However, tonight I'll make the exception.
Bonnie Hackett, the singer/pianist, sang and played her soul out until 11:30 PM. She must have been exhausted! The car became quite full and almost everyone was singing away and we were in "another world." What a sight that must have been when we passed people in the dark speeding away into the blackness of the night. It was like a bunch of kids at a campfire singing their little hearts out to the magic and sparkle of the moment. The more pictures that Bob and I took of everyone, the more they seemed to "go for it." All inhibitions were gone. Even Richard, one of our tour guides, got into it and sang a few songs. Hot dang, but that lad was good! I nearly sang, but I kept my sanity about me. However, I did enjoy watching and listening to everyone ENJOYING LIFE!! It was a great culmination of one "heck of a ride!"
The side motor coach rides to key areas were an important touch to complete the adventures to this episode. Remember, The American Orient Express has many different adventurous routes for you to experience. Just don't forget to mention TrainWeb.com when you link with them. That goes for you people that have already been on one or more of their routes as well. Rest assured, this company will not leave you idling by unless you wish it.
The luxury trains of the world are nothing less than ocean liners on wheels. Smaller, but the quality of service, food, luxurious amenities, change of sights and programs give you all the comfort and luxury that you'd ever want. Don't sell them short, because you're only hurting yourself! Thank you AOE. Thank you for the great time and for the wonderful new friends that I met. By Midnight, we were in Salt Lake City, Utah, where we remained for the night.
Wednesday, July 10, 2002
Breakfast was served from 7:00 AM to 9:00 AM in the Zurich and Chicago Dining Cars. I had a "regular" breakfast this time: Eggs, fried potatoes, bacon and sausage, with a drink. Our luggage was ready to go, so our room attendant took our luggage off the train and had them available for the coach operator to put them into his bus. Everyone waved goodbye to everyone else, (Bon Voyage everyone!) and we were off to downtown SLC at a cost of $5 per person ($10 to the airport). (Remember, my adventure isn't over until I get back home.)
Click on each link to view each set of photos below:
Photos Highlights From The Entire Journey:
Highlights Set #01 / Highlights Set #02
Detail Photos From Every Day Of The Journey:
Wednesday, July 3, 2002
Westin Hotel, Seattle, Washington - Evening Before Departure
Set #01
Thursday, July 4, 2002
Set #02 / Set #03 / Set #04 / Set #05 / Set #06
Set #07 / Set #08 / Set #09 / Set #10
Friday, July 5, 2002
West Glacier to East Glacier, Montana
Set #11 / Set #12 / Set #13 / Set #14 / Set #15 / Set #16
Set #17 / Set #18 / Set #19 / Set #20 / Set #21
Saturday, July 6, 2002
Set #22 / Set #23 / Set #24 / Set #25 / Set #26
Sunday, July 7, 2002
Set #27 / Set #28 / Set #29 / Set #30 / Set #31
Set #32 / Set #33 / Set #34 / Set #35
Monday, July 8, 2002
Set #36 / Set #37 / Set #38 / Set #39 / Set #40 / Set #41 / Set #42 / Set #43
Set #44 / Set #45 / Set #46 / Set #47 / Set #48 / Set #49 / Set #50 / Set #51
Tuesday, July 9, 2002
Set #52 / Set #53 / Set #54 / Set #55 / Set #56 / Set #57 / Set #58
Set #59 / Set #60 / Set #61 / Set #62 / Set #63 / Set #64 / Set #65
Wednesday, July 10, 2002
Arrival into Salt Lake City Utah
Set #66
Ray Burns and the TrainWeb field crew did quite a bit of rail travel from June 9, 2002 to July 11, 2002, especially in Canada. Click on each link below to read the travelogues and view the photos and virtual tours:
Part 1 - VIA's Renaissance Cars and travel (Montreal-Brockville-Toronto)
Part 2 - VIA's Canadian (Toronto-Jasper)
Part 3 - VIA's Skeena (Jasper-Prince George-Prince Rupert-Prince George)
Part 4 - BC Rail's Whistler Northwind

(Prince George-Whistler-North Vancouver)
- BC Rail's Pacific Starlight Dinner Train
- Amtrak's Cascades (Vancouver-Seattle)

Part 5 - American Orient Express Great NW & Rockies Tour

(Seattle-Salt Lake City) <<== You Are Here

Part 6 - Tour of Salt Lake City


Part 7 - Darlene's Trip to Vancouver on the VIA Rail Canadian
Part 8 - Laurie's Adventure to the Rockies on the VIA Rail Canadian
Part 9 - An Evening on the (BC Rail) Pacific Starlight Dinner Train
CLICK HERE
To Read More Rail Travelogues
And View More Photos Of Rail Travel!
Visit our Rail Magazine promotion trading partners:
Click here to add your print rail magazine.