Ray Burns Summer 2002 Rail Travelogues - Part 4
http://www.trainweb.com/travelogues/rayburns/2002f26a.html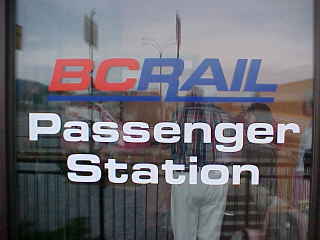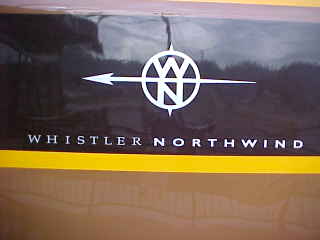 Click Here for a 360x360 Immersion Photos Virtual Tour
of the BC Rail Whistler Northwind and the Pacific Starlight Dinner Train
Wednesday, June 26, 2002
I was up at 5:00 AM this morning so there was excess time to kill prior to meeting in the hotel lobby at 7:15 AM. A motorcoach sent to pick up the passengers at our Ramada Hotel Prince George soon pulled up and we all boarded for our new adventure. Les Walters and his wife, Martina, of London, Ohio, who left Vancouver, BC, on the northward trip on the Whistler Northwind, were very enthused about their return trip on the same route. This was refreshing support to what I already believed.
I enjoyed the bus ride to the BC Rail station as it gave me a little tour of Prince George. The company has a nicely set up station and the trainset was waiting for us there. The color scheme of the trainset was very striking. The trainset was so shiny that it could easily pass for just coming out of the paint shop. The massive windows were very clean as was the interior of the train. It was difficult to envision that others had been here before me as everything looked so spanking new!
One could feel the exuberance of the staff that they were there to serve you. It was obvious that this was not going to be just a regular trip. It wasn't! There was an orderly control over every function of the trip and there seemed to be an overly concern for safety in every aspect. Smart!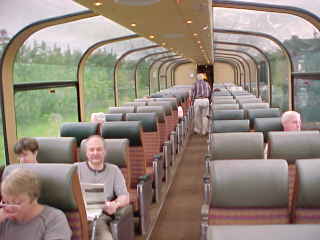 The dome cars were massive!! The looking area was just absolutely huge and because the dome is literally from one end of the car to the other, it gave the illusion that the rail car was much longer than it really was. The seats had a lovely colorful design to them and were wide, tall and comfortable. You will be able to see pictures of these lovely dome cars with their quality seats among the many pictures of the trip.
I met Jean Cullen of BC Rail this morning, as well. Friendly, knowledgeable and concerned for your needs. While boarding, the larger part of the group went towards the front to the "Caribou" dome car, while Robert and I went to the "Caribou" dome car near the rear. The last car was the "Pavillion" lounge/bar car, in front of that was the "Caribou" dome car (where I sat), then came the "Strathnaver"dining car. The next car up was the galley car, "D'Arcy" and the next one up towards the engine was the dome car, "Coastline." The last car open to the public was the lounge car, "Glenfraser." There was then the sleeper car for the crew, only, then the power car and then the engine.
Terrence McGillion, the Train Manager, was good enough to spend some of his time with me to offer options for my photography needs. Smiling Binnie Nastasi, the Beverage Coordinator, was always there to give me the extra information that I needed and Brenna Rudd and Stacy Manning were our gracious Hosts, and what a grand job everyone did for us. The pampering was great!
The train traveled around 25 MPH plus, on the route, so the shaking and rocking of the train was kept at a minimum. The scenery was excellent and the soft and relaxing piped in music made for one relaxing ride. Everything looked and felt brand new. Drinks and snacks were constantly available. Breakfast was served in the dining room and though I wasn't hungry, I did have one of the chef's own cooked bran/raisin muffins. "Hot dang," but was it ever good!
For lunch I had a north area farm salad mix. The choices for main orders were risotto con funghi, chicken pot pie, or halibut. I had boneless west coast halibut fillet on grain molley and vegetable "confetti." I later had a double chocolate truffle cake (white and dark chocolate layered). Lunch was served around noontime and our chef was very artistically skilled. He reminds me of Japanese chefs. The food has to be colorful, placed ever so justly, to look pretty, and to taste as good as it looks. Quality, quality, quality! BC Rail/Whistler Northwind did a good job hiring their staff!
The afternoon was very enjoyable, refreshing and relaxing. The pictures do not do the scenery any justice, but they give you a basic idea of some of the things that I did see. This north/south trip is going to be very enjoyable!
We entered Exeter, BC, around 6:00 PM and everyone boarded the BC Rail motorcoach to take us to our respective hotels. I, along with a few other travelers, went to the "108 Resort" at the 100 Mile House town further out in the country. This site has a golf course and lots of camping and recreation facilities. No, I did not have time to go horseback riding. I had to work on our virtual pictures as well as this travelogue in my room. Our group did eat together at the hotel dining room this night. I had some problems with the mosquitoes.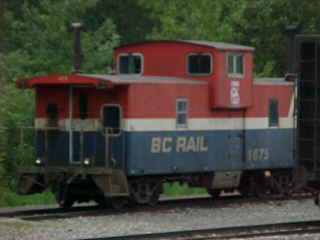 Thursday, June 27, 2002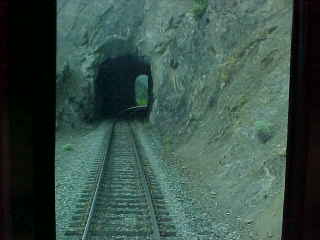 Our bus was at the hotel to pick us up around 10:30 AM. Shawn, one of the BC Rail travel attendants, takes care of everyone and their luggage once they are off the train and also serves the passengers when they are on board as well. In other words, Shawn saw to it that we never bothered with our luggage as it was always waiting for us in our hotel rooms. The motorcoach took our luggage from one hotel to another as it did not travel by train. It was a pleasant ride through the countryside to and from the hotel on the bus. It was good to "shake our legs" and snoop around other corners of the neighborhood after a day's journey by train.
We were off again by early afternoon and within a short time it was time for lunch. Because the meals were laid out so pretty, I always felt that it was a shame to "dig into them." It didn't matter if you were in the dining room, the dome car, or the club car, one could continuously see the spectacular view that surrounded us on all sides. The numerous water falls, the many lakes and raging rivers, the wild animals viewed near the train tracks and the first class service offered by the onboard staff made for a very enjoyable trip that spoiled us all, and we enjoyed every minute of it! It was amazing how much the beauty of the surroundings continued on. One would think that such scenery would be sporadic, but rather, it seemed endless.
The train continued to wind alongside and around the many lakes and mountains through the tunnels and forest to get to our next stop, which was Pemberton, BC. The motorcoach picked us up shortly after we arrived at 6:15 PM and we were off to that magical place called Whistler. Whistler, BC, was truly designed with tourists in mind. It made me think of Disneyland. It was immaculately clean and had absolutely beautifully designed hotels and shops. A village for those with discriminating taste, so bring your wallet with you.
It was a nice bus ride to Whistler and the bus stopped at a few different hotels for the passengers. Obviously, there were different categories of service for the passengers. Every place looked great. I don't think that there is such a thing as a "bad choice" in this village as everything looked absolutely lovely. The bus took those in first class to the Westin Resort and Spa. It is the largest and most recent hotel built in Whistler. Absolutely stunning!
Everyone's rooms were luxurious. In our case, Robert had the room with the queen sized bed, television and large bathroom. I had another room with a king size bed. My bedroom had a living room, a fireplace, television, full kitchen, and bathroom. Coming in, our suite opened up to a full kitchen to our left, a dining room in front of us and a full living room beyond that. Again, there was the television and a large gas fireplace. There was also a patio with chairs that gave a spectacular view from our height. We were pretty excited as this was far beyond what we had ever expected. What a crowning glory for our last night on this trip! We ate some of the goodies that were on the table for our whim. The beds with their wonderful comforters, down blankets and pillows, high quality sheets and etceteras forced us to sleep most comfortably. But we managed!
Friday, June 28, 2002
We woke up to take most enjoyable showers. I wonder if I could handle this standard of living every day. Just think of it, some people do. We repacked our luggage and left it in our room and then went down to have breakfast. The large and spacious hotel restaurant had a buffet that would blow your socks off. I should have had a "go cart" to get from one end to the other. You name it, they had it, and then some. The buffet cost $20 Canadian, but not to worry, our tour included breakfast. What a feast!
Bob Griffiths, of Whistler Northwind, was good enough to join Robert and myself for breakfast. Bob was a key person in building the rail cars that we were riding in. He is constantly looking to upgrade the quality, looks and ride of the cars. I think that he's going to have a hard time, as I saw no negatives. Obviously there is so much going on behind the scenes to make your journey a great one. God bless each and every one of them. That certainly includes Elaine Drever, who took care of Robert and me for all of our booking needs. I'd also like to give a special thank you to Lea Carpenter, who worked with me to make this trip possible. Thank you, Lea!
After breakfast, Bob and I took off to walk around "the village" to see the sights. With those majestic tall mountains in the background it gave you the impression that you were in the Swiss Alps. The ski lifts were in operation, the ATV's, bicycles, kayaks, fishing equipment and you name it, were all available for your discretionary needs. Walking around was good enough for me for the time being.
It was soon time to go, so the hotel drove Robert and me to the train early so we could take some virtual photographic shots of some of the cars with no passengers in them. The station is in a quaint little area with lots of trees, running water with bridges over them and wildlife the norm. What a picturesque setting and a lovely way to depart this fairyland. Judging by everyone's faces, a grand time was had by all.
We left around noon time with a new crew on board. John Temple was the new Train Manager. This staff was just as great as the first, but everyone that I talked to preferred to keep the original crew as they were used to them. It was also a little complicated in regards to tipping. After a little distance traveled, we were soon called into the dining room. I was still full from the huge breakfast that I had, so I ate very little food. I was thirsty, though, so I had a couple of glasses of Sprite to go with my water. Of course I ate the chocolate dessert. I can't be totally rude. We did go through some stunning sights!
The rest of the trip was spectacular and awe-inspiring. You will be doing yourself a great injustice if you do not take this trip. Why take my word for it? Be a doubting Thomas and check it out for yourself! It will be worth every penny you pay for it. The train never goes very fast as the company wants you to absorb the surrounding scenery. In fact, the train almost stops when they are going by a waterfall or over a tall bridge for those special sights. This gives you the chance to take that great camera shot. I can go on and on, but suffice it to say, "This is the place!"
Before ending my travelogue about this trip, I would like to mention the names of a few travelers whose company I was fortunate enough to have had that enriched my life that much more. Don and Tana Olvfield of Tumwater, Washington, Dee Fischer and Pat MacDuff of Lakewood, Washington, Les and Martina Walters of London, Ohio, and Phil and Susan Kuban of Marietta, Georgia. There were others, to be sure, but this is a good sampling.
We were soon into "civilization" coming into North Vancouver around 4:00 PM. It wasn't a long trip and it wasn't a short trip. It was just right!! You can always take it round trip to make it longer. It was like a good meal that had the right amount of herbs to spice a good meal up and change it from bland to exciting and tasty that you would look forward to having again.
It was raining lightly when we arrived to the end of our destination but busses and taxis were waiting to shelter us. Bob and I will be heading to the Holiday Inn, downtown Vancouver, on Howe Street. We bid adieu to the staff and to our friends onboard. A lot of smiling faces to greet us off to our merry way.
I highly recommend that everyone upgrade to first class as the difference in price is well worth it! Everyone in first class was happy that they chose that category of travel. The company has a most excellent and beautiful brochure, but to be there far surpasses anything you can see on paper. If you want to have an absolutely enjoyable time that will give you wonderful memories that you'll never forget, by all means, do take this exquisite journey through the majestic land of the Whistler Northwind.
BC Rail Pacific Starlight Dinner Train
Saturday, June 29, 2002
Bob and I slept in this morning knowing full well that we had the day to ourselves. We got up around 8:00 AM and went to the corner store a block away and bought little packages of laundry soap. The gift shop in the hotel lobby sells it as well, but they were not open until some time later. We came back to our rooms, went down to the basement and washed our clothes.
Bob's very good friend, Joe Kearney, who he has known for a good 30 years, picked us up this morning. After dropping our clothes off at our room we all left the hotel to go to the "SkyTrain." We took it into Surrey which is one of the outlying municipalities and to get there you have to pass over the Alex Fraser Bridge over the Fraser River. This is a most enjoyable ride that you should experience. You will get a good tour of the city for very little cost. A two dollar ticket on weekends will last you for 90 minutes in all zones. In other words, you can get on and off multiple times in each direction, as long as you're within your time perimeter.
We ended up at the Pacific Central train station to purchase two one way tickets on the Amtrak Cascades from Vancouver, BC, to Seattle, Washington. We also purchased two round trip tickets to cover Bob and Joe to take the E&N Railroad which is on contract with VIA Rail of Canada on Vancouver Island. They will leave today to go to the island and stay at Joe's house and then catch the early train that leaves early the next morning. You can read that portion of the trip in Robert's travelogue. They won't be back to the hotel until Monday noon.
The three of us hopped into a taxi cab and headed for our hotel. From there we headed for Joe's minivan and drove to the "All India Sweets & Restaurant" in the "Little Punjab Market" area, at 49th & Main. The food of this vegetarian restaurant was very good. Not too spicy, just right! I have a bad habit of eating too much Indian food at a sitting as it tastes so good!
After we "filled up" we headed back to the hotel. We stayed in our hotel room for another hour before we left for the North Vancouver Train Station. This time I was going on the Pacific Starlight Dinner Train. Bob was also reserved to go on this evening's trip with me, but the E&N Railroad on Vancouver Island took precedence for him. Joe and Robert took me to the station and stayed with me until they were sure I was all set with my main contact person, Dean McClernon, the Guest Service Coordinator.
The people waiting in line to pick up their reserved tickets were put in a lively and exciting mood from the live band that could be seen and heard on the station platform. There was electricity in the air and everyone was glad to be present. It was like one great big party and you have been invited. It was definitely a fun place to be at the time.
Dean came to me in the North Vancouver Train Station and I explained to him that Robert could not enjoy the reception as he had another important engagement to go to. Dean understood, and so when that transpired, Robert and Joe took off on their quest.
Dean and I were very happy to see each other as we had been talking on the phone to each other for some time. He introduced me to Alistair Sim, the Customer Service Supervisor, as well as to other key members of the large staff that it takes to run this program. Dean took me on a tour of the whole trainset and set my camera equipment up in a few places for me so I could take a few pictures that I wanted to take.
Going through the galley and meeting the chef and senior staff relating to food management and passenger security was a privilege not too many people experience. The general public has no idea how intense the pressure is on everyone to produce high quality food in a timely manner. Just appreciate and enjoy! I was also surprised to see so many people on this dinner train to enjoy this lovely experience and how large the staff was to support the passengers.
The rides up and back were on the same tracks that the Whistler Northwind travels on. Most everyone was dressed up so they themselves set the environment. While I was busy taking pictures the passengers were enjoying their wine and starting into their meal. I was seated topside at the end of one of the dome cars facing forward where I had a beautiful view of the trees and waterways.
On this trip I chose chicken with mixed vegetables and mashed potatoes for my dinner. The mushroom gravy was perfect with the succulent tasty chicken. It was refreshing to find that I only needed my fork to cut the tender moist meat. I could not finish my whole meal because I was still full from lunch. However, what I did eat was exceptionally good.
The meandering slow and wide ride to Porteau Cove, located south of Squamish, BC, was relaxing, very picturesque, and exciting. The soft piped in music blended in smoothly with the continuous conversations that everyone seemed to be having with everyone else. There was bubbling activity everywhere, but yet subdued. It made me think of a classy night club.
The long trainset slowed down even more until it came to a complete stop. We had arrived at Porteau Cove. The people slowly started to get off the train and meandered over to the station where the live band was playing. By the time that I got there a number of people had already started to dance. I think that a number of people had been on this trip before and possibly a number of times.
This is a great gift to give to someone. Instead of giving them cash, give them a trip on a nice dinner train. If you do, make sure that you mention TrainWeb to the staff! All of the dinner trains should be advertising with TrainWeb as that way we can keep each other in business to take care of the general public. If they're not with us yet, get on their case and wake them up!
The "baby boomers" are at an age where they appreciate riding by rail. In fact, the majority of people that travel by rail are mid age to senior. Railfans themselves are any age. A train trip or a dinner train is a wonderful gift to give to someone. Mothers Day, Fathers Day, Birthdays, company parties, anniversaries, graduations, and on and on. Dinner Trains usually go slower so there is less rocking, more time to absorb the view outside, and silky smooth music, and a soft relaxed atmosphere to enjoy with your friends and loved ones on the inside.
While the passengers were dancing by the live band I walked towards the engine and followed a parent who brought his five year old son up to the engine compartment with permission from someone that was in there. The boy was introduced to the different buttons, gauges and levers that beckoned him to this magical world of the engineer. I don't know who was enjoying this mini tour more, the father or the son. Either way, they were two happy campers.
The father and son soon left and headed back to the passenger cars, leaving me to talk with Carl DeCiccio. It seems that he works for the Ministry of Municipal Affairs for the Provincial Government of British Columbia. Carl makes spot checks on all of the trains in the Province. No wonder he knew so much and why everyone seems to sit up straight and pay attention when he's around. Very friendly, very knowledgeable with all aspects of rail and rail code, and is even a model railroad fan. A fun man to talk with!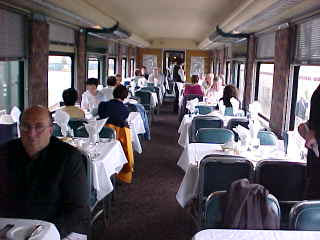 Stephen Batten, who soon appeared, was our good looking engineer that always has a great smile on his face. It was obvious that he knew his stuff as he was constantly aware of his work at hand and performed it. Steve also has a helicopter license, for those who want to try something new. Tim Shirak was the trainman. One of his functions is to switch the tracks when necessary. Steve phoned back to Dean to let him know that I was up in the cab with them so Dean would know where I was at all times.
It ended up that I went all the way back to Vancouver North while inside the cab of the engine. I sat on the opposite side of the engineer, so this would make it the fireman's seat. With the beautiful view, the slow pace, going into and through the tunnels, and communicating with these railroad jockeys, it held for a memorable trip. The Dinner Train was absolutely fabulous and to ride back with a fun bunch of guys in the cab of the engine made for one heck of an experience. Thanks, Dean! Thanks, guys! I won't forget this day!
If you enjoy going to the theatre, you will enjoy this Dinner Train. If you relish going to a grand restaurant, you will relish this Dinner Train. If you want to dance, you will want this Dinner Train, and if you like class, the Pacific Starlight Dinner Train is for you!
Remember, folks, there is still a good exchange rate on the US dollar, so take advantage of it. You can't help but enjoy this trip. Tell them that TrainWeb.com sent you. I heartily endorse rail travel in British Columbia.
We arrived back at the North Vancouver train station around 11:00 PM where all of the passengers were presented with a lovely pen as they disembarked the Pacific Starlight Dinner Train. Dean put me on the motorcoach and I was soon off to my hotel downtown at the Holiday Inn, heading for a good night's sleep.
Sunday, June 30, 2002
Sunday was a day to relax and to catch up on my travelogue. However, I did go downstairs to the hotel restaurant and enjoyed their breakfast buffet. While there, I met John Jennings, the director of Sales and Marketing for this Holiday Inn hotel. It turns out that John is a big rail fan. He had worked for BC Rail at one time and had great knowledge on rail related material. He also knows a number of people that I know in the rail industry. Small world, isn't it?!
Monday, July 01, 2002 (Canada Day)
I got up around 7:00 AM & went downstairs to have the breakfast buffet, this morning. I later went back to my room and work some more. Bob and Joe came in around noon from the E&N Railroad (VIA Rail) on Vancouver Island and we all took off for lunch on 50th & Main. There we went to the (Indian) Himalaya Restaurant and enjoyed their food. We then looked at a few shops selling their prospective wares.
Joe then drove us to Stanley Park. I am told that it is 1,000 acres and a good portion is basically a rainforest. There are wild raspberries growing everywhere for your enjoyment. The cedar and maple trees are absolutely huge and strikingly beautiful. A lot of people go to the park but most hang out around the beach area and the park settings where they barbeque. The three of us walked along the pathways through the forest where very few people bother to go. What a blessing. Clean, fresh, awe-inspiring, natural, real, and you're back in time 100 years. You'll hardly believe your eyes. I consider this one of the great wonders, and it's all free!
We were later back to the hotel and we met John, the Marketing & Sales Director for this hotel. He was offering cake and tea/coffee out on the second floor patio to the guests celebrating Canada Day. Joe came to our room to chat for a while but he did have to leave by 4:00 PM as he had to take off to catch the ferry back to Vancouver Island on time. So, we said our "good byes" and he was off. I dug into my work, trying to catch up. I closed around 11:00 PM and then finished my packing. I slept well.
Tuesday, July 02, 2002
I got up at 6:00 AM this morning and cleaned up and completed my packing. I went downstairs and met Nigel Horsley and Simon Clarke of Rail Power to interview them about their "Green Goat" engine. Click here to read more about the Green Goat Ultra Clean Hybrid Switching Engine at RAILindustry.com.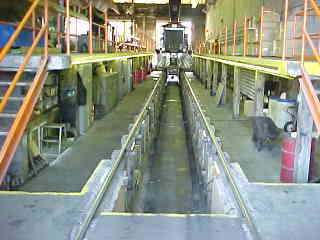 Tuesday, July 02, 2002
Around 11:00 AM Bob and I took off to go to an Indian restaurant about ten blocks from our hotel but the food wasn't that great to neither one of us. We walked back to the hotel and checked out around 1:00 PM. Check out time is at 12 noon, but we asked for and were given an additional hour extension.
A taxi took us to the Pacific Central train station and at 4:30 PM the Business Class passengers on the Amtrak Cascades were allowed to board. We then went through US Immigration and then through security. Now we headed for our car, car #2. The Talgo (Spanish train) has never lost its luster. "She" was always a "classy lady" to me. From the customer's perspective, it is well designed, roomy, pretty, with clean lines, and rides smooth on welded track.
I worked some more on my laptop and within a short while we were at the American border, at Blaine, Washington, and the US Customs officer boarded and did his thing. After that procedure a movie was shown, "The Rookie," an excellent baseball movie. I brought my own light earphones for just this occasion. That's $4 saved. I also used my $3 coupon given to me when I came through the Business Class gate and obtained two 7- UP sodas at the bistro lounge on the train.
The sunset was absolutely beautiful! The people that live in this area, especially by the water, are blessed with this stunning view daily. By the time the movie ended we were coming into the Seattle, Washington, area which was around 10:00 PM. A great ride!
Bob and I picked up our luggage and took a taxi to the Best Western Pioneer Square Hotel. This is the hotel that the TrainWeb staff stays at whenever we come to Seattle. We were given a nice size room overlooking the street with two queen size beds. I worked until 12:00 AM and then "hit the sack" knowing that I had very full and wonderful memories of my journey across Canada and had seen much of its grand splendor.
Click Here for a 360x360 Immersion Photos Virtual Tour
of the BC Rail Whistler Northwind and the Pacific Starlight Dinner Train
Ray Burns and the TrainWeb field crew did quite a bit of rail travel from June 9, 2002 to July 11, 2002, especially in Canada. Click on each link below to read the travelogues and view the photos and virtual tours:
Part 1 - VIA's Renaissance Cars and travel (Montreal-Brockville-Toronto)
Part 2 - VIA's Canadian (Toronto-Jasper)
Part 3 - VIA's Skeena (Jasper-Prince George-Prince Rupert-Prince George)
Part 4 - BC Rail's Whistler Northwind <<== You Are Here
(Prince George-Whistler-North Vancouver)
- BC Rail's Pacific Starlight Dinner Train
- Amtrak's Cascades (Vancouver-Seattle)
Part 5 - American Orient Express Great NW & Rockies Tour (Seattle-Salt Lake City)
Part 6 - Tour of Salt Lake City


Part 7 - Darlene's Trip to Vancouver on the VIA Rail Canadian
Part 8 - Laurie's Adventure to the Rockies on the VIA Rail Canadian
Part 9 - An Evening on the (BC Rail) Pacific Starlight Dinner Train by Douglas Symons


CLICK HERE
To Read More Rail Travelogues
And View More Photos Of Rail Travel!


Click here to visit BC Rail Passenger Services!
Visit our Rail Magazine promotion trading partners:
Click here to add your print rail magazine.