Darlene's Trip to Vancouver
On VIA Rail Canada's Canadian
http://www.trainweb.com/travelogues/viarail/2002f17b.html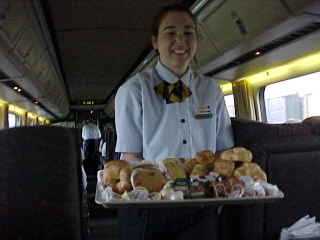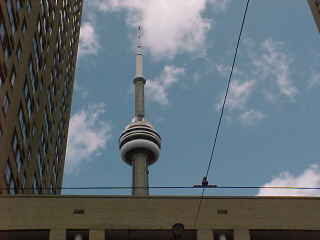 Tracking
Following a trail left by those who came before
The trip I have dreamed of is about to begin. My grandfather was a section foreman in the early days of the railroad. Five of his sons also worked in different capacities for the C.P.R (Canadian Pacific Railroad ) . Thus an early fascination with trains began.
Today as I sit in the Brockville train station awaiting our train to arrive my mind is filled with cherished memories of a time long past. The grandfather I loved so much seems very close. When I visited my grandparents at Bedel station I would wait not so patiently until my grandmother would say 'Its time for grandpa to come home'. I would cross the road under the watchful eye of my grandmother and travel via a well worn path across a neighbours field to the spot known to me as the little red house. This was the small building that stored the handcar that grandpa and his men would board each day to go to the job site for the day. I can at this point sense the scent of the railroad men as they trudged home after a long hard day of work. I looked forward to the treat that was always left in his battered black lunch bucket. I would carry the lunch bucket in one hand and he would gently take my other hand in his large rough hand and together we would walk back to the modest home not far from the tracks.
Memories for a lifetime.
We had planned to take some pictures at the station but the train was right on time and the 'All aboard', sent us scurrying to enter our car. We stowed our luggage and found our seat just as the first shunt of the train took place. The first leg of our journey had begun. What a joy to hear the whistle blow and feel the soothing motion of the train. An especially rainy spring and summer has left a lush abundance of green abounding in vigorous growth. Small creeks are running high and fast that just this time last year had little or no water in them. As I look from the train window I notice the dark clouds that have covered our area for over a week part and the sun begins to shine. A good omen for the ten days ahead I am sure.
The attendant arrives and it is time to order breakfast. A breakfast of an omelette, orange juice, toast and coffee arrive. Breakfast is not only pleasing to the eye but the taste buds tell the real tale, delicious. As if this was not enough a large tray of pastries arrives. I reluctantly had to decline as a full breakfast would not allow for one more bite.
We sat back in our comfortable seats and watched the panorama unfold before us. We quickly moved with stops in Kingston, Belleville, Cobourg and Guildwood to arrive at Toronto's Union Station a short three hours later, right on time.
As you pass through the massive station you cannot help but be impressed by its large ceiling dome and large pillars reaching high above you. Abundant sculpturing in the cement work is most impressive. The sounds of voices as people greet each other has an echoing sound in this large chamber.
Our adventure calls for a one night stop over in Toronto so we find our way to the main entrance to find a line of taxi cabs waiting to take us to our next destination the Radisson hotel on the waterfront. After a short cab ride we arrive at the Radisson Admiral Queensway West. While Ray checked us in Laurie and I conversed with Kevin our friendly Concierge. He had a wealth of information and let us know if there was anything we needed we should just give him a call. We found our way to our rooms and soon had settled in. Our stay was to be a short one consequently we only took what we needed for the night and morning from our suitcase.
It was now lunch time and Ray had decided it was about time Laurie and I be introduced to Indian Food. We inquired at the desk and were told it was about a ten minute walk. From in front of our hotel we took a streetcar and then transferred to the subway. We managed to turn a ten minute walk into a two hour journey. After a few laughs about this I confessed the streetcar ride and the ride in the subway had been my first. I had been delighted to have done both. We walked a few blocks and found just the right restaurant. As we entered the aroma of curry and other spices I could not identify filled the air. A full smorgasbord gave us an opportunity to try a large variety of new taste sensations. We tried just about everything in fact we might just have tried it all. Our beverage was a Mango Delight a combination of mango and cream. Delicious, smooth and 'Oh so good'. I am sure the calories had all been removed. The expression it brought tears to my eyes is true of Indian food as it did this and cleared the sinuses as well. Our tummies saying thank you for a delightful experience. We left the restaurant taking a handful of mixed seeds and spices in hand that we are told will act as a breath restorer. I guess it worked as no one backed away as we spoke to them later.
It was the unanimous decision of all that after this food experience a long walk was in order. A stroll up Spadina Avenue into the heart of China Town was our choice. The street was very busy with many shops and vendors selling their wares. The open stalls on the street offered browser and buyers a large choice of fresh fruits, vegetables, fish, nuts and all kinds of wares. The air was filled with various aromas, colours of the rainbow abounded and the hum of voices could be heard as shoppers bartered for their goods. A few purchases made our trip complete. As we had travelled up one side of the street and down the other the eye was constantly taking in a new picture to file in our memories. The beautiful faces of the children were most appealing to me.
After a much shorter trip back to the hotel Ray presented us with a taste treat of some fruit he had purchased in China Town. The secret of reaching the heart of the fruit was shown to us by Ray and then only did we enjoy a truly unique delight.
Laurie and I decided another walk was in order as we had got just too relaxed. As we strolled leisurely along the lakeshore we found ourselves walking with a number of other visitors who were part of a group tour. It seemed like a good idea to travel along with them . Laughter accompanied us as the tour guide looked back once as we crossed a small bridge and a rather puzzled look crossed his face as he wondered I'm sure who these two interlopers were. We walked as far as their bus with them and then parted company waving goodbye as we left.
We strolled back to our hotel along the waterfront where boats of all sizes and age lined the many docks. From antique cedar strips to the newest and largest ships offered an eye appealing picture. Large mast ships plied the harbour and offered trips out on Lake Ontario for anyone desiring to do so.
We opted to cross the street to what appeared to be a small deli for a snack for supper as we both felt that this was all we wanted. To our sheer delight upon entering the door, one of the cities hidden treasures awaited us. What a find. In a spotlessly clean store you could find just about anything in food you had ever wished to see. You could purchase prepared or unprepared dishes. A wide variety of fresh fruits and vegetables along with all the ingredients to prepare a salad of your choice or take a pre-packaged one are available. After making our choices a small snack turned into a substantial variety of different items.
After about an hour a knock came to the door and we opened it to find Ray cookie in hand. He told us that they are available at the front desk. After taking a bite Laurie and I decided a trip to the lobby was in order. Bob had told us about the deli across the street so we decided to reward him with a few cookies. Cookies in hand we entered the elevator. We exited the elevator and walked down the hall to the boys room. After knocking several times the door opened and an unfamiliar face stared in wonderment at the cookie held high in Laurie's hand. Excusing ourselves two dumb blondes walked back to the elevator to find we are on the seventh not the sixth floor. Who would have guessed the floor plans are identical. After dropping off the cookies to the right room and the guys enjoying a good laugh at our expense we decided we should go to our room and stay there.
Much laughter continued over this most embarrassing moment as we prepared for bed. A vow of silence was made as we did not want anyone back home to know that we went to bed shortly after nine while in Toronto. Nighty night.
Rose 6 a.m. showered, dressed and off to breakfast. The dining room looked to the harbour presenting a most picturesque way to start your day. A huge cruiser docked at the base of the hotel dock and we all gave a guess as to who would own such a marvellous ship. As I ate my breakfast of bacon, eggs toast and coffee I could see a small plane land at the island in front of the harbour. We were not the only early risers.
Time passed quickly as we packed up , checked out and after a short cab ride found ourselves back at the beautiful Union Station. The station is a most impressive structure. You enter a massive hall that is adorned with large cement pillars. To me this beautiful building represents the glory days of rail travel. Our voices echo in this massive expanse.
After some picture taking we found our way to the Silver and Blue waiting area and enjoyed a leisurely coffee while we waited to board for the second leg of this most amazing journey. Soon we would leave the CN tower, high glass towers and busy city of Toronto behind us to enjoy the changing landscapes of farm, villages and breathtaking beauty from our observation car.
It seemed no time until we were allowed to board and with great excitement we found our way to our sleeper car that will be our home for the next few days.
We stowed our luggage quickly so that we could find our way to the Park car and climb the stairs to the Observation car to watch Toronto pass from view. I felt now that our journey had really begun.
I soon found conversations with complete strangers would soon be like talking with old friends.
Susan Friedman a native of New York was a wealth of the most interesting tales of her world travelling. She had appeared very pushy to me at first in the line-up to board the train and then on the train. I soon learned talking with her that her technique was one of survival. In her many trips with-in this continent and also abroad she would have been a formitible challenger in getting from point A to point B successfully. We all listened in awe as she told us about travelling under the most deplorable train conditions to the most elegant ones aboard luxury trains. She travels ten months of the year, spends one month at home and one month with her business associates. She said she would truly miss this contact if she completely retired. I knew we would have some great chats over the next few days. It goes to show you how wrong you can be by judging people too quickly.
Betty Jean Dickerson from Austin Texas had also been a part of these conversations and told us of how there had been too many Betty's in her class and her teacher had found the perfect way to distinguish one from the other hence she became Betty Jean while others received a different name such as Betty Sue etc. The name stuck and so Betty Jean it is.
Todd our friendly attendant had told us we should go to the dining car and make reservations for dinner seating.
I decided to go for our quartet as I needed to take a walk anyway. I made the executive decision that we would go to the first sitting fearful that my choice might be wrong but thought I would risk it anyway. Thank goodness it was a good one as all agreed the choice was the right one.
When the call came for first sitting and we entered the dining car to be greeted by our server Michelle. The dining car was cheerfully decorated with pink tablecloths in a triangle over immaculately pressed white linen tablecloths. White Noritake china and sparkling silverware sat perfectly placed on a white napkin. Fresh flowers of pink and white carnations are placed on each table to complete a perfect setting for the elegant meal that awaited us. Michelle our server was attired in a pale blue Via shirt pressed to perfection and navy blue slacks. Her welcoming smile and friendly 'Hi welcome Aboard 'set the tone for our first meal on the train. It was good to see that the elegance of train dining was still to be had in this fast food orientated world. Leisurely eating was the norm.
The menu consisted of several tempting dishes along with a chef choice of the day. After pondering the selections for a while I decided on the Bison burger, Caesar salad, V8 juice and Green tea. A large dish of ice-cream attractively set off with a triangular wafer finished off my lunch.
As I left the dining car I noticed the etched glass bird motif in the glass at each exit of the car. One glass was placed on either side of the exits. This was the only time all four of us would sit together as we wanted to try to experience dining with as many new people as we could. What a perfect way to meet new people under the most relaxed and pleasant surroundings.
Laurie and I went back to our sleeper just long enough to tidy up and then off to the park car (lounge) we went. In such a short time we knew this was a great place to spend time meeting and greeting our fellow passengers. The atmosphere is most conducive to great conversations. It is uniquely shaped like a bullet with wrap-around windows offering a panoramic view. The interior sides are lined with comfortable seats and you sit across from your fellow passengers so communicating is inevitable. Fresh coffee and beverages are available to you and trays of goodies appear regularly. The Mural Lounge allows the smokers in the group to also sit in comfort and visit as they enjoy a cigarette or alcoholic beverage. From the lower level you can take a few steps up and you find yourself in the Domed observation car. This is the last car on the train so your view is unobstructed.
The first person I talk to is John Doyle (alias Jake when in his clown paraphernalia). He inquires about our Trainweb T-shirts and the conversation begins. He tells me that he is a Shriner clown on his way to Vancouver to take part in a Shriners convention that is expected to attract 30,000 Shriners from around the world. He chose to take the train even though many of his friends would fly out. He wanted to see more of Canada and much like myself had always wanted to go by train along the mountain passage. He proudly points to his watch and states that each time the second hand moves once twenty dollars is raised by a shriner charities. He tells me no one is ever turned away by their inability to pay and that free world-wide treatment is available to all children and is pleased that now with satellite hook-up, expertise can be shared world wide. His journey started in Manchester CT., flying to Toronto he was looking forward to a leisurely train trip to Vancouver allowing him an opportunity to meet people and after his stay in Vancouver he planned to rent a car and visit Shriners hospitals on the way home. He would put on his happy clown costume, smiling face and visit sick children along his route. I did not need to see a picture of this gentle man to know of the passion he had for his organisation and the work they do on all our behalf . To picture him in my mind standing beside a sick child's bed putting a broad smile across their face was an easy thing to do.
People move in and out of the car and every one takes the time to say 'hi' and we chat a bit. Laurie and I had walked the train taking note of the cars and car numbers as many people are interested in these facts. We soon learned this as some fellow passengers could identify passing engines and tell us a great deal about the history of each one. What a great hobby.
Soon the first call came for dinner and we found ourselves in the dining car adorned in a new setting of navy blue tablecloths over white. The menu took on the appearance of one out of a fine restaurant.
A choice had to be made so I decided on the Salmon. It was served with a dill sauce, sweet roasted potato, a medley of fresh vegetables and a fresh dill garnish. Dessert of chocolate cake with strawberry and fresh brewed coffee, to die for, topped off this elegant dining experience. Our dinner companions had been a couple from Pennsylvania travelling to Vancouver to cruise to Alaska. They had flown to Nova Scotia and wanted to see Canada on the ground so had opted for the train as they felt this way they would not only see the countryside but would be free to do so without having to worry about driving.
During the last few hours we had passed from the green of Central Ontario into the rugged, rocky terrain of the Parry Sound, Sudbury area. There is something eerie yet very beautiful as the train makes its way along paths breathtakingly surrounded by towering rocks high above the train on all sides. We soon view once again a change in landscape as an abundance of lakes on all sides appear. I can only guess the beauty that the hardwood trees in this area would produce in the fall. I soon was in conversation with Richard Algona who flew to Toronto from Michigan to take his first trip across Canada by train to Vancouver where he was to meet up with friends who had flown out and board a cruise ship to Alaska. This was just not an ordinary trip by a long shot as Richard talked we all became excited as he so elegantly described his passion for Dixieland/jazz music. His excitement is contagious as he tells us about his world wide travels to personally hear his favourite bands. His passion for this music is now taking him to Alaska to hear The High Sierra Jazz Band out of Three River California. Best in the world he states excitedly.
The conversation goes on with others joining in to talk about different jazz bands and trips they all had taken to pursue different passions such as rock collecting, to bird watching.
It had been a busy day so we decided to call it a day and saying our goodnights went off to our sleeper car.
I knew I would pay for a trick I was about to play on Laurie but at the time it seems worth it. I asked her to go into the bathroom in our compartment while I arranged my luggage and got ready for bed. She was willing to oblige as room was at a premium. I did get ready and into bed as she occasionally inquired as to 'are you finished yet', as I waited to see just how long her patience would last. Soon the door burst open and the laughter began as she saw me comfortable cuddled in under my duvet. I will watch my back for the next few days.
I woke to the sound of Laurie trying to quietly leave our sleeper to have an early shower. The compact area you have to move around in does not leave room for a quiet departure. so I get up and check my watch. four fifteen . It cannot be. I had turned my watch back an hour as we had entered a new time zone. When Laurie came back I informed her of the correct time and once again the laughter of 'so what' filled our room.
I was thrilled and relieved at how well I had slept. The lulling sound and the movement of the train had offered just the right atmosphere for a good nights sleep.
I picked up my VIA guest bag of shampoo, body lotion and fresh towels and headed for the shower. The stainless steel area with change area and divided shower area was an inviting place to start the day.
Feeling completely refreshed I dressed and went to the observation car hoping to get some early morning picture taking. Unfortunately the sky was dark and a gentle mist was falling. As I sat alone at this early morning hour thoughts of how much hard labour and sacrifice had gone into building this magnificent rail line. Forging this line joined our great country in a way no other could have. As I reflect on the way some rail lines have been removed it saddens me to think of the lack of foresight on behalf of those who made these decisions.
In just one day I have talked to so many people who have told us that this train is one of Canada's best kept secrets. With so many people looking for an adventure in travel in a new and safer atmosphere where all of their wishes are looked after with professional expertise and clean safe surroundings what are these decision makers thinking.
My thoughts are interrupted by Pat and Tom Brummett from Canterbury CT. Early risers as well they inform me that Todd has the coffee on and a tray of goodies is ready below in the park car. I opt to wait and go to the dining car as being a farm gal I am used to breakfast as the main meal of the day. This is the Brummetts first trip to Canada as well as their first train ride. They are travelling to Jasper then on to Banff, Whistler on to Vancouver and then a cruise to Alaska. The things dreams are made of. We give each other a short lesson on our own particular areas of the world. What a great way to interact with people in such a relaxed atmosphere.
Before you know it six-thirty arrives and I am off to the dining car greeting the people I meet on the way. The morning may be dreary outside but the spirit of these early risers is one of a cheery 'Hi , how did you sleep? Talk with you later'.
A Canadian cheese omelette, orange juice, brown toast and coffee got my day off to a great start. Mr. and Mrs. Anthony Charlton, Emsworth England had joined Laurie and I for breakfast. We talked about their journey and a trip to Niagara Falls. They had flown over the Falls in a helicopter. They could not believe the expanse of our country and the fact that we are still in Ontario. The conversation of course at one point turns to trains. They talk about a trip they take from Houston to Sterling Castle in England by Moto Rail. Their car travels with them on the train and at their destination they have their own means of getting around. What an interesting chat we had. We bid each goodbye for now and after freshening up in our room head to the lounge.
A large smoke stack looms on the horizon which indicates Sudbury cannot be far away. The landscape in this area is also bleak. Soon an area of birch trees line the fields adjoining the tracks and I feel we must now be getting out of the most desolate looking area. With all its lack of vegetation this area still poses an intriguing appearance as one might assume an early beginning of earth's evolution.
Todd our car attendant introduces us to Murray who he affectionately referred to as Brutes and his wife Olive. He is a rugged looking man with a full black beard and stature of a true northern frontiersman. As soon as he speaks you discover a much gentler side to this impressive exterior. It turns out he is a railroad engineer on the train from Winnipeg to Churchill Manitoba. He and his wife are returning from a vacation in Nova Scotia. Having started working for the railroad at age sixteen he shares many stories with us and most willingly answers many of the questions asked by fellow passengers. Questions ranged from all aspects of his job to the terrain of his train route and the best time of the year to see polar bears. By the way October was the month polar bears are most visible. Murray told us that his family lived in Le Pas Manitoba. He tells us that we will soon stop at Capreol to take on fuel and water. He points out that this stop is a division point for the railroad and the miles again begin at '0'.
In Capreol we got a chance to get off and stretch our legs. The area is rugged and as we leave the area displays countless lakes, streams and bog areas that I am sure must be the home of many moose as it is the same type of landscape described by my husband when he takes his traditional yearly moose hunting trip. When I check out this terrain I know my choice to view this scene from the train not the actual ground is the right one for me. His passion to actually traverse this landscape in search of the ultimate trophy is not one I share but I must admit that the moose meat he brings home after each trip is the best meat I have ever tasted. I even willing listen to the stories of the week the gang spends in the bush over and over again.
The day is still dreary but spirits are high. It still amazes me how willing people are to talk to us and eager they are to check out the Trainweb site when they get back home. A number have said they will send in their travel log to the site and I sure hope they do. I am as interested in reading their journals as they are mine.
We look forward now to lunch as we know again we will share many interesting conversations as with each meal we try to sit with someone new.
As the train slinks as a long twisting snake through a path of green dotted by numerous lakes we pass Gogama. My uncle Garnet had spent many years here while a member of the O.P.P.(Ontario Provincial Police). As I check out the isolated area I find it hard to believe the love he had for this area and the people that lived here. He always had tales to tell the family when he made his rare trips home.
First lunch is called and in the dining coach we sit with Alice and John from Mississauga. They inquired about our T-shirts and are delighted to learn about trainweb. They take their grandchildren to Sudbury each year to the Science Centre and plan to have them send in a written report of their experience as they look forward to this trip all year. Alice informed me that sometimes the children one four and one nine had trouble sleeping on the train. She had a tip to share with us that worked every time for the kids. She would have them repeat their destination Sudbury, Sudbury, Sudbury over and over again to the rhythm of the train wheels. Soon they would be sound asleep. We talked about our families over a lunch of a triple sandwich. Layers of salmon are tucked between another layer of bean sprouts, tomato, lettuce and yet another layer of salmon. An individual white china tea pot serves up two perfect cups of green tea and a delicious triple fruit crumble finishes off a perfect lunch. Life is good.
We retire to the observation dome where around each bend you get an updated weather report. Sunny, rain, cloudy skies and the sun again. When the sun is out the rock cuts and trees are reflected in perfect mirror to the lakes that are still resembling a sheet of glass. As the train rolls along through Horsepayne and Longlac my mind struggles to imagine just how this great rail system was carved out of such a seemingly impenetrable area. With the heavy equipment and expertise available today it still seems like a daunting task. I can only imagine the pick and shovel and back breaking labour that our forefathers faced. I feel a total sense of pride and respect for the men who laid this marvellous track so that I could see this great country from the luxury of 'The Canadian'. An abandoned and neglected train station stands in a most tragic and deplorable state at Horsepayne. You can see that it once had been a landmark in this area. The restoration of this building would add not detract from this train stop.
It probably seems to one reading this that we seem to eat a lot and you would be right. As once again we sit down to dinner of curried chicken tastefully presented on a colourful bed of rice dotted with fresh vegetables and garnished with a sprig of dill. Doing justice to describing our meals is a daunting one as each presents a delight to all your senses. Eye, nose, tastebuds and ears that hear all the hum of friendly conversations are involved.
I sat with a Mr. and Mrs. Moffat who described in detail the sheer beauty of travelling this route in the winter months with a totally different picture presented to us. You imagine this scene draped in new fallen snow and can only hope that one day you might witness this personally. With the mind now full of new visual experiences you reluctantly leave the dining coach to relax once again in the lounge coach.
Edward Wilmot and his mother are sitting with us now. We have a conversation about their many travels and experiences. They explain how to travel with a minimum of luggage. Advice Laurie and I could have used before we embarked on this journey as we find the two large suitcases in our sleeper car a movers nightmare and yet we feel we can not part with them as that one thing we could not live without might be sequestered in the baggage car when we needed it. 'Rubbish', Edward exclaims. He tells us the three things we must take with us are : a pullover, umbrella and flyswatter. we laugh at this suggestion but would live to eat our words.
Brutes who is sitting with us tells us the crew on the train will change at Winnipeg. All employees on the Toronto to Winnipeg run are based in Winnipeg.
Todd our attendant brings forth yet another tray of goodies and beverages and sits down to talk a while. He tells us there are three or four groups on the train. Grand Circle with forty four, Titan with thirty three Jok View ten and Blake international with ten to Jasper. Soon we talk more railroad and discuss how the caboose had been removed from service as a cost saving device. Murray said that some steam had been used up to five years ago. Trains had been iced up until 1981 and that the dining cars had been iced from the ceiling.
We decided it was time to call it a day and saying our goodnights found ourselves going about our usual nightly ritual of silly laughter and teasing.
This has been a most enjoyable and memorable day. I could not have imagined as I started this day that I would meet and talk to so many interesting people who would join in conversations with us and share so many interesting stories.
Once again up early. The clock has been turned back one hour but this does not mean we will take advantage of this but rather Laurie is on her way to be first to the shower. After another great nights sleep I am wide awake and decide an early start is what I want also. As soon as Laurie gets back I head for the sheer delight of an invigorating shower.
Once dressed I head to the observation car for some early morning time alone. To my surprise a few other passengers are moving around as well. The park is a buzz as during the night a stop had allowed a large number of mosquitoes to enter our secure domain. Not to worry.
The gallant Edward Wilmot arrived on the scene and the war was on. With the help of his brave mother Vivian the battle begins. Vivian had rolled two newspapers together one for each hand and bringing the papers together swatted mercilessly at the dive bombing enemy. She said this technique was foolproof as they did not feel the breeze coming at them and pop they went to mosquito heaven. The brave six foot something Edward lean and trim with his red and black flyswatter stood his ground. Long arms reached extraordinary heights as his long legs took strides in all directions. A battle raged for several minutes as Edward even challenged the wrath of Susan our to the point New York city passenger who gratefully told him to swat her at will.
It was a scene that would have been hard to duplicate by a first class Hollywood director.
We all witnessed with great delight this drama unfold. As the victors finally subdued their pesky enemy applause filled the car. Edward and Vivian left the car heads held high in this glorious defeat of one of Canada's winged invaders. As Edward left the car he left Laurie in charge of his swatter. She was first in command until his return. Swatter in hand she took her responsibility very seriously as an occasional buzzing sound would have her spring into action.
She decided that since she was on duty she would have the continental breakfast in the park car as I went off to the dining coach.
Cornbeef hash was the chefs special of the day so I decided this was my choice. Along with a fresh fruit dish, orange juice and coffee I was ready for another day. I enjoyed the company of Charles and Nancy from Pittsburgh PA. They are travelling to Jasper for a few days vacation and travel back to Toronto and take a flight home.
When the train had stopped at Sioux Lookout passengers left the train to take a walk on the platform. Some local residents passed out a booklet which described the areas many services and businesses as well. It was a very informative book with an attractive cover of a wolf family. What a great idea that was. The booklet also told the legend of Sioux Lookout and enclosed a postcard. As if that was not enough a pin which depicted brotherhood was also given. This gesture will be remembered by all.
The weather has once again changed from the early morning bright red sunrise to showers. The expression of red sun in the morning sailors warning red sun at night sailors delight passes through my mind. While we are sitting on a siding waiting for a freight train to pass the ominous black clouds that surround us seem to open and the rain comes down in great sheets. As we start to move and pick up speed , it is as if the train is entering a massive train wash. Water sprays off the sides of the dome and as you sit dry and comfortable inside.You feel yet another truly great experience of riding out a storm in safety has taken place.
Wes Mc Niece a Shriner from Mississauga and I started a conversation about his trip to Vancouver to the Shriners convention. I told him how I had met John Doyle another Shriner travelling with us and he said he would try to hook-up with him on the train. Wes was a school teacher in Toronto. I could tell as we talked his students and their needs are a great part of his life. We talked at length about problem kids and came to an agreement that the problems are not usually the kids but life circumstances that create the problem. Kids that he had been able to get back on the right track ended up being his proudest and most rewarding accomplishment. He was the kind of teacher that I am sure many kids remember as an inspiration in their lives. As so many I had talked to it was his first train trip. Some of his friends had planned to fly to the convention but he chose to see the country from the ground. This was something he always wanted to do and he felt his choice was a good one as he had enjoyed his trip thus far and like the rest of us was anxious to get into the mountains.
Lunch today consisted of a Caesar fruit salad, pot of green tea and for dessert a Carmel cake. The menu offers a large choice but at this point a light lunch seems in order. A couple from Quebec City had enjoyed lunch us for lunch. The gentleman spoke very little English and she spoke only French. Laurie took this opportunity to try her French and between the two of them they accomplished the seemingly impossible and learned a great deal about each other. His English had been learned during his time spent in England during the war and Laurie's French from school and living for a time in Ottawa. Hello and goodbye would be all I would venture trying. With my hands resting at the side of my face as in a sleeping position I received a response 'good' to the unspoken question of 'How did you sleep?' It had been great fun stopping and visiting along the way as we travelled car to car.
We wore our trainweb shirts which had opened doors to many conversations as people would inquire as to what it was all about and soon an interesting chat would begin. One of these most memorable chats was with a family from Los Angeles travelling on their yearly vacation. Each year they closed down their business for thirty days and would take a trip. This is something they had done for many years. You could tell as you talked to this wonderful family that a strong family bond was in place. The father of the family said we may not get rich but we sure are happy.
We could all take a lesson from this family in our busy rush to achieve the sometimes impossible dream. They spent this time together travelling and in the relatively close confines of their comfortable coach area bonded in a way otherwise not possible. They geared down and rested along the way and at their destination could start fresh.
Forest and lake area and the winding track gives way to a straight run as the train speeds up on its run to Winnipeg. We are now in wide river valleys and farms now dot the flatter landscape. I have a feeling of leaving the wilderness and returning to civilised life. I think of how our forefathers must have felt after travelling this long journey on a steam train not knowing what hardships they would face. A couple of farm houses must have been a most welcome sign.
The announcement of Winnipeg in twenty minutes gets us all on the move. We go to our sleeper cars to pick up purses, cameras and freshen up as we look forward to the time off the train to check out the Union Station.
We are not disappointed as we view the stations massive dome. I walk around viewing the station as Laurie takes many pictures inside and out. Time passes quickly and soon it is back on the train having said goodbye to some of the passengers that had Winnipeg as their destination. Brutes and Olive (as they are affectionately known), will leave us now. Their vacation ending , I now can see Murray in the Engine of his train heading northward from Winnipeg to Churchill because of the wonderful stories he had shared with us.
The train rolls along over rivers and the railway bridges giving the photographers a chance for some great shots. Edward Wilmot and Laurie check with each other as we go along comparing shots and you hear 'Laurie did you get that one'. Edward an avid photographer gives Laurie tips and she is a willing student. Vivian had shared with me how on a trip to Switzerland her son had spent two hours to get just the right shot of a duck at the side of a lake. This was after getting up before the sun and climbing down a mountain side to reach the lake. She said this particular photo had received a first prize in a contest so Edward had felt it was more than worth his effort. More great photo opportunities as large, tall brightly coloured grain elevators appear along the route. A new crew has also come aboard in Winnipeg and as we sit down to dinner we are cheerfully introduced to them.
A new enthusiasm has arrived with a fresh crew.
A delicious dinner of lake trout with baby roasted potatoes, fresh vegetables and Caesar salad topped off by chocolate cake and the great company of Sam Brown who spends twenty five days a year at a cabin he and his wife rent at Jasper. It is his Twenty Eighth one way trip on this line and he knows most of the crew by name and looks forward to seeing them each year as they are like old friends and they can discuss changes in their lives from one year to the other. They choose to have no telephone or television at their camp as the space and beauty is what they keep coming back for. Sounds like a total retreat and a good way to recharge.
The evening turns into a fun time as Laurie takes a picture from the lounge car of a distant potash plant. It is truly spectacular and even the critical eye of Edward states that this a suburb shot. The large smokestacks rising high over the large slag piles with an eerie layer of smoke hanging low over this scene. As the sun sets, the sky gave us a surreal exhibition of numerous shades of black and grey orange and red. Even from the distance away you can tell of the enormity of this plant. A second plant appears even more eerie looking than the first. Suddenly the imagination of the group sitting in the car took off and the stories started to flow. From secret space landing pad to top secret God only knows what the tales began. One would describe a space alien with large protruding eyes and transparent head and body to the huge space ships that must be concealed within this mountainous hill. We inquired of some of our British passengers as to their own tales of crop circles and other unanswered happenings and they all willingly joined in. We all laughed and had the greatest time as we sipped on fresh brewed coffee and took advantage of a tray of cookies and cakes. Edward pointed out to us that this place had ironically been called Spy Hill Manitoba.
What great fun this had been.
Knowing that tomorrow would take us into Alberta and the mountains we decided we should turn in for the night. As we left the coach chuckles of 'sleep well', could be heard.
All our tales could not keep us awake as once our laughter subsided the lulling motion of the train had me soon sleeping like a baby. I think it is now Thursday June 20.
Five fifteen and we are up and at it. The clocks are back one hour but our body clocks are not aware of this. Showered, dressed and feeling completely refreshed we head for the observation car.
The whole trip has been completely awesome but I must confess this is the day I have most waited for as I know once again I will see the Rockies. Twenty five years ago I travelled by land to Vancouver and always wanted to come back. This trip offered me this unique opportunity to have a whole new experience. To travel in the air conditioned comfort of an observation dome on a train is the dream of a lifetime coming true. No traffic to contend with and I did not feel I had to help my husband drive as I had so long ago.
The landscape has once again changed from the brilliant greens to a drought like burnt brown. I had heard about the contrasting weather conditions this year in Alberta and we would soon witness them for ourselves. A mist rises from the rolling hills as the sun begins to rise. I can only find words to describe as picture perfect. I find it very hard to put into words but the mental snapshots I am taking will last a lifetime. We decide to have the continental breakfast in the lounge as we do not want to miss a minute of this day. The coffee is great and juice and muffins are all I need.
Soon the landscape changes again and the large grain elevators share fields with pumping wells that indicate to me a producing well. Large herds of cattle graze in fields with these wells and yet the cattle seem to be completely unaware of them.
I should describe the table set out for the continental breakfast as the attendant goes to a lot of work to make it most appealing. An attractive table covered in a pink tablecloth displays two large pitchers of orange and apple juice. A bouquet of a variety of colourful flowers is a perfect backdrop for a tray of muffins and croissants. A large bowl containing fresh fruit is always present and adds even more colour to this magnificent scene. At yet another table a large thermos pot of always fresh coffee and hot water for a tray of instant coffee, tea bags and hot chocolate. This is all placed in front of a mirrored backdrop so it appears doubly attractive. When you enter the coach the smell of fresh brewed coffee greets you and as you sit in the dome the full-bodied aroma wisps upward. You can see that a full breakfast in the dining room affords elegant dining but a continental breakfast in the park coach can also be a most gracious experience as well.
The train crosses a long trestle rail bridge which Edward who always seems to know our location tells me it is the Battle River. Once again I hear Edward inquire ' Laurie did you get that?' and the response comes back 'Sure did', 'good-show'.
We take this time to get some pictures of the station , train yards and once again bid farewell to those who have reached their destination.
Soon we hear 'All Aboard' and back on the train we go.
Returning to the dome I talk with Marjorie Cassimatis not the first female I had talked to on our journey travelling alone. She said it was her first trip on this train and she felt very safe travelling alone as she had talked to many people and soon could freely chat with people who a few days ago were strangers. We travelled together to lunch and are joined by a couple from Surrey England. I tell them of Vivian and Edward also from Surrey and they are very surprised to learn someone from their area also travels so close to them and as yet they have not met. Another of the appealing fruit salad seems in order and tea and dessert of vanilla ice-cream are just what the doctor ordered.
Immediately after finishing lunch we entered Jasper Park. The Athabasca River meanders along the train track and excitement grows as the mountains come into view. From sheer mountain cliffs dropping straight down into the river to areas once again mirrored in crystal clear waters the view is breathtaking. We were soon to learn this was only the beginning.
We arrived at Jasper Station at two ten and helped Ray and Bob take their luggage from the train as they are about to begin their next leg of their journey northward. As we survey our surroundings to locate the hotel the boys will be staying at, two helpful ladies come to the rescue. They ask if they can help and before you know it the boys are loaded into their van, bag and baggage and are scooped away only after a picture taking in front of the Jasper sign. This all happened so fast I could hardly believe our party of four had been reduced to Laurie and I.
Laurie and I take a walk around the quaint shopping area and decide we will shop on the way back as carrying any more packages seems out of the question. We toured an antique shop and then headed back to our train. As we approached the station we meet Ray and Bob. They tell us of there safe arrival at their hotel and the great Jacuzzi in their room. They walk us to the station to say goodbye as we board the train.
Looking back the town seems amazingly small town considering the amount of visitors that must pass through. Stunning views abound. I find myself gazing in disbelief at the glazier capped peaks. It is a postcard come to life in its prime setting with its mountain background. I do not know why but the leisurely pace surprised me. Once again the mind wonders what this enchanting place must look like in the winter.
The tracks climb at what is too hard to really imagine along the rocky face of the carved mountain while the valley below on the other side of the train is lush and green.
When I get home I must learn more about how this railroad was built. It seems an impossible task but here it is.
I believe it was in the Moose lake area that the commentator told the story of a cargo of whiskey being lost in the bottom of the lake. To this Edward told the joke about a gentleman who had said, 'all whiskey should be thrown into the ocean'. Another asked 'Are you a tea-toteler sir'. The gentleman's reply was 'no I am a deep sea diver'.
At the end of the lake the train and the Fraser river run right along the tracks. We suddenly pass through a very long dark tunnel. We had come upon it very quickly and without warning so this unexpected event sent a shiver up my spine. As the train rounded a bend the grandeur of Mount Robson is in full view. The whole dome is silent except for the occasional exclamations of ' I cannot possibly describe this to anyone with words'. I felt the same way. This scene sends a humbling feeling as to how truly small we are in this big picture. The panorama is breathtaking and brings a lump to my throat and a tear to the eye. When twenty five years ago I witnessed my first sighting of the mountains I could only describe it as a religious experience and I must admit the feeling is the same now.
We travelled a long distance with the Mount Robson in view and then took a sharp turn and we started to descend. By looking back the view was spectacular. There are just not enough adjectives to describe this area of our country.
As we go to the dining room for dinner we travel through a flat area.Tonight salmon is again my choice. I never get tired of fish. The distinctive flavour of the salmon on the train has been a taste treat possibly because it is fresh and not what we get shipped to the east. The plate also displays a number of greens below a fresh vegetable medley, small potatoes in a mystery sauce. Dessert is apple crumble. As we sit and talk over coffee the conversations are about the wonderful day we had all just been a part of and our inability to put into words to adequately describe what we had viewed.
The talk in the lounge car was pretty much about the beauty and sheer delight of our day. I sat for a while alone in the dome car counting my many blessings and having had the opportunity to have witnessed this best of all days. As a beautiful sky of all the colours of the rainbow fill the sky Laurie gets her last pictures of this day and after saying our goodbyes to our new found friends we are of to our sleeper car.
Sleep comes quickly as we had to pack up for our departure from the train in Vancouver early in the morning. I'm sure our dreams will be good ones after such a perfect day.
Disembarking at seven fifteen a cab got us to our hotel at seven thirty. After checking in our luggage (could not check in until three thirty) we decided to make arrangements to go to Victoria.
Laurie had tried to make contact with Peter Darroch a former neighbour from our home village only to get his answering machine three times. Undaunted we approached the tour guide/concierge who was very helpful in getting us a bus reservation to Swartz Bay.
Ten minutes and a block away we make our connection. As Laurie's granddaughter Madison would say 'No problem'. Soon we are on the bus for the fifty minute ride to the ferry. The bus driver seemed surprised at our chosen destination and in a while we would find out just why. The bus arrived just in time to make the eleven o'clock connection and we soon are sitting on deck five having lunch. We discuss how well we are doing getting the last two tickets, making our ten minute connection at the Basmarans Hotel, getting to the ferry just in time to catch the ferry, having a most helpful Grey Line coach driver willing to drop us off at the Cordoba Bay highway and offering us many helpful tips about Victoria.
This seemed not to bad for a pair of country bumpkins. My first impression of the helpful people of Vancouver is a most positive one.
The crossing would take about an hour and a half. Lunch for me was a vegetarian sandwich consisting of layers of lettuce, tomato, cucumber and alfalfa sprouts and a large date square for dessert. Fresh and very good. A coke washed the whole thing down. I talked with a couple from Florida as we had lunch. They made an anniversary trip each year. They modestly started out with visits to family and friends. Time brought the ability to take longer and more adventurous trips and this fifty third year was turning out to be their best.
The trip across would take one and a half hours so we took this time to enjoy the view of the many islands and what I'm sure is some of the most expensive real estate around. Once again the day is sunshiny and clear as a bell. The water is completely calm and reflects perfectly the shorelines. As we dock we now can understand why the bus driver had questioned our desire to stop at Swartz bay. A terminal reached by a glassed in corridor is all that is in site. We assure each other that our decision was the right one as if we could not reach Peter by phone we would just take the next ferry back. No Problem.
Luckily after deciding to look up Peters home number in the phone book rather than his cell phone as we had been doing a most welcome 'Hello' was heard. Sharon informed us that Peter had his cell on charge and in about thirty minutes he would pick us up at the terminal.
His van had barely stopped when he bounded out, door left open to grab Laurie and give her a big hug. After quick introductions and the passing of maple syrup carried all the way from Ontario for Peter. Laurie had carried this syrup proudly in one of the ugliest straw bags it has been my displeasure to see in public. This bag should have been carried in a plain brown paper bag. I delighted in tormenting Laurie about this to the point of refusing to carry it myself. All in good fun. I have been told maple syrup is the secret ingredient in Peter`s famous smoked salmon recipe.
We are on our way to Cordoba Bay. As we turn down the road to their home flowers and shrubs of all colours and perfectly landscaped properties greet us. This is one of the things I remember most about my last trip to Victoria. It is not such a surprise to see this trend continues to the suburbs.
A warm welcome by Sharon and the families German Shepherd greet us at the fenced in yard of the Darrochs. Their attractive home in a perfect setting allows us to understand why this is the area Peter came back to to make his permanent home. He had told us he had been here during his time in the service and vowed to come back.
The conversation turned to folks back home and getting caught up on all the news. Peter is to take us on a sightseeing trip of Victoria so we are soon in the van and on the road again.
Our tour begins we a drive through some of the most expensive homes in the area. The perfectly manicured lawns, countless flowers, trees, ponds and Asian gardens abound. Brightly coloured baskets hang from all the lampposts adding striking colours everywhere you look. One property seems to be trying to outdo the next but I know that in this area beautiful properties are a way of life be they large or small everyone has a plot of flowers. Green thumbs seem to abound here.
We travel to Mount Douglas and from this high perch view the breathtaking beauty below.
Travelling yet to another Mountain a whole new magnificent landscape appears.
Beacon Hill Park is our next stop. A sprawling park filled with fountains, flowers, trees and mat green lawns covered with a spattering of bodies enjoying this beautiful day. From here we travel to point zero so that with a few pictures we can document that two little country gals have reached either the starting point or the end of Canada. This small thing seems very important to me somehow.
Downtown is next. Elegance is everywhere from the horse drawn white carriages conveying passengers on a leisurely sightseeing tour to the British influence of the architecture fine living is abundantly displayed. Double-decker buses can be seen everywhere. The pace of the downtown area is one of peace and tranquillity.
The original train station is next. It is like everything else here well maintained. A daily train takes visitors on a run along the coast. Would like to have time to have taken this trip. After more picture taking we work our way back past the Legislative Buildings and The Empress a building in the true British tradition.
A new building being constructed fits right in and upon completion will look like it has also been here hundreds of years. Much credit should be given to the decision makers here as their foresight produces these spectacular results. One of my fears have been set aside as I see this beautiful city remains charmingly the same.
Sharon has a delicious chicken dinner waiting for us on our return and even the invitation to stay over night is appealing we must rush off to get the seven o'clock ferry. Just in time again waving goodbye we rush to catch up with the passengers already boarding.
Once seated back on the ferry we plan our next move. Needing transportation back to our hotel an announcement comes that bus passes can be purchased at a service desk on deck five. Tickets safely in hand we sit back to enjoy the return trip. No Problem.
The bus drops us off a few blocks from the hotel and we enjoy a leisurely walk down Howe Street. Checking in at the hotel we soon find ourselves safe and snug in a comfortable suite.
Everything in the suite checked out including the view from the balcony up and down Howe Street the task of unpacking, showers and into p j`s is just what we want to do.
Jotting down notes ends quickly as such a busy day as left these two travellers in need of a good nights sleep. The usual pillow talk goes on for a while until I find I am now talking to myself as Laurie is asleep.
I wake up at six fifteen to the sound of Laurie getting up quietly. We decide that after showering and dressing we will go to the hotel Laundromat and get back to square one with our wardrobe. Laundry tucked away in our carry-on bags to hide the fact that having left an executive suite we are about to do our own laundry.
To the basement we go.
Washers full we now go to the restaurant for breakfast. A full breakfast of bacon, eggs, toast and coffee will fortify me for a while. Laurie a light morning person has her toast and coffee.
We had left our bags with the great staff in the main laundry room for the hotel. As we loaded our clothes into the dryer we chatted with the girls. They are glad to hear that we acknowledge the fact that they are the back-bone of this great hotel. We go back to our room to catch up on notes while our laundry dries. Laundry back, folded and put away we decide to go for a walk and check out Vancouver.
The walk is most enjoyable along the tree lined streets. Flowers abound and we soon hear music in the air. Luckily for us the Aboriginal Cultural Festival is at the Museum area and our hopes for a possible trolley tour are replaced by one of a day enjoying aboriginal cultures from all over the world. The music, costumes and talents of the participants is second to none. Laurie and I are in awe of the spectacle that unfolds before us. I take the opportunity to get in some video taping which I will enjoy many times over at home.
The time came when we reluctantly had to leave as an evening trip aboard the Pacific Starlight dinner train.
Sunday up at six thirty and decide to do laundry again as it will be our last chance as we head back tomorrow.
After breakfast we decide to take an early morning walk and head in the direction of a trash and treasure store we spotted on our cab ride to the dinner train. It is ten o'clock and we find the store does not open until twelve.
We'll be back.
We walk leisurely along the street that runs along a block behind our hotel. We had not gone far before we knew we are not on a street that we should be and head back to Howe street and our hotel. Returning to our room after picking up our laundry we meet Arthur an employee of the hotel who we keep meeting doing all types of jobs. We have learned that he is in school and I feel he will someday be a great asset to a company because of his cheerful, efficient way of adapting to all circumstances be it carrying luggage to bussing tables in the dining room.
Lunch time arrives and we decide to go back to the trash and treasure store and then have lunch at The Elbow Room a place we had spotted on our morning walk. A sign read 'best hamburger in the world'. I ask you 'What could be more intriguing than that'.
An hour spent clawing through all descriptions of treasures netted Laurie a great find of an Ireland made wooden pieces self framed picture of a mans face. I found a unique ceramic mask of a female face with a musical note over one eye and a tear on the other.
A small clown sitting on a swing his face a piece of art in its self ,ceramic dolls head and the perfect gift for my daughters birthday a large brass parrot perched on a ring of brass.
The bartering is half the fun and we both knew we had done very well so we left the store happy treasures in hand.
Waiting in line at the Elbow Room we knew we are about to enter the world of yet a new experience. The ruddiness of the staff was just too obvious. We laughed our way as time and time again we are stumped by the waitress from hell, as we referred to her, served up one insult after another. I seemed to be the one receiving the most but it was great fun and once again we knew we had stumbled into a cities secret. The faces of many celebrities appeared on the walls. before leaving the rough edge of our waitress gave way to a softer more caring personality as she described how they supported a food kitchen and HIV hospice. I gladly paid my fine for not finishing my lunch. She had earned her good tip and the Hamburg was the best I ever tasted. Laurie and I admitted it was the first time either of us had spent so much for a Hamburger but the experience was well worth the money spent.
By the time we got back to the hotel and packed up it was time to check out. Bags are checked in the lobby as our train does not leave for some time and we want to do some walk abouts.
A trip back to the Aboriginal Festival is a short one as time passes quickly and soon bags in tow we get our taxi to the station.
Heading now to the Silver and Blue boarding we are delighted to find ourselves on a cool shaded platform with a one-man entertaining show. He takes requests and we sip on a beverage of choice. Laurie takes a number of pictures and as we move about a feeling of becoming part of the entertainment takes place as at one point the need to join in on 'I've been working on the railroad' overcomes me and I just had to sing along. All too quickly it is time to board the train and our journey home begins.
What new adventures will we face next?
We go directly to our sleeper to find our baggage had been deposited safely and soon the motion of the train begins. Laurie suggests we do our train walk identifying cars and then we will not have to think about it later. This done we stay in the lounge car as Laurie wants to get some shots out the back of the train. Others start to come along one by one and soon the dome is filled with the sound of many voices. Accents abound as I talk to a couple from Japan. Thank goodness their English is very good as they tell me that this is their first trip to Canada and what a wonderful time they are having. They are going to Toronto to visit relatives and hope they can have time to visit New York City with them as this is a place they also want to see.
We get the call for dinner and I stop and get Laurie. We agree on the trip home we should cut back on these bountiful meals. We then laugh and say,'NOT'. Luckily for us dinner is late as the lunch we had would not have allowed for an early dinner.
The new staff introduced themselves and then took our orders. Never getting tired of salmon it was once again my choice. The chef had prepared it with a crusty exterior which when opened was moist and cooked to perfection. It rested on a bed of rice surrounded by fresh vegetables. Three berry crumble was my dessert choice and a pot of green tea was the final touch I needed.
Cliff and Marilyn our dinner companions had talked about how now they are empty nesters and soon to move into a Condo from a big house. They love to travel so this decision they felt was the right one for them as they could turn the key and take off at will. We said bye for now knowing we would talk again as had been the case on our trip out we kept running into folks over and over.
Back in the park car I talked with an English lady who shares great stories of grandchildren with me. I to might have mentioned mine a few times. I am intrigued as she tells me how she sits before a video camera and talks about life and her hopes for grandchildren as they grow. Just in case I am not there she states, I want them to know I loved them and what I might have said to them on occasion of birthday, wedding days etc.
What a great idea. I hope I have the fortitude to follow this suggestion when I get home it is such a good one. This thought in mind its off to bed.
As I travel back to our room I see four beautiful oriental girls are having so much fun taking pictures of each other. I ask them if they would like me to take one of them all together. They exited accept my offer. They all climb into their separate berths, close the drape and stick their heads out. A cuter scene would be hard to find. I just wish I had my camera with me. They ask about trainweb and I ask them to please send in their travel log. I sure hope they do as they seemed to be enjoying themselves so much.
The coach attendant arrives to tell me the continental breakfast is ready should I choose it. I mention the raging river and am told early spring and summer rains are causing a much greater run off thus the higher faster waters.
I leave the dome just long enough to grab a coffee and muffin and jam from the attractive tray. A fresh bouquet of a large calalily, roses, daisies, and greenery has added a nice touch placed in the corner.
Suddenly from above I here there is a moose in the water and I turn just in time to see the large rack moving across the swift water. The water was running very fast at this point but the animals strength seemed to carry it in a straight path across.
A couple from Kansas City who had just married Saturday sat down across from me. They are heading to Jasper and hope to go fly fishing.Calgary will be their next destination and they will fly home from there. Pam laughs as she tells me about her surprise at finding upper and lower sleeping accommodations in their car.
Laurie and notice the vivid coloured flowers that have lined the track. Upon hearing of our dilemma Sally another English lady describes them to us. Wild flowers had been something she had studied at home and she could call them by name. I wish I could have remembered them as they added yet another dimension to an already colourful scene.
An elk is easily spotted in a lush green meadow.
Eleven o'clock and we make a stop in Jasper.
An hour stop so a little shopping seems in order.
As I step down from the train the breath-taking vista that surrounds me gives me goosebumps. Some how this quaint village seems out of place in this place of such natural beauty. I find a great little shop with so much to see that time seems to fly by. I pick up some natural stone earrings for my daughters and a pair of red with black moose motif lounge pants for my husband and then must hustle back to the train.
Back just in time for lunch. Laurie was already seated with someone so I joined Ron and Vivian yet another couple from England. Ron another Brit. transplanted to Victoria also joined us. Over a Bison burger served with a potato salad much of the talk was about England. Iona an island six miles long and three miles long where a Monastery was used as a retreat held and great history. Sharing these tales delights me to no end.
We spend the afternoon in conversation with many passengers.
Bert a most fascinating gentleman we had met getting on the train in Vancouver sat with me and told me volumes concerning many remedies and cause and effects for ailments that I could not possibly cover in this short space.
Once more it is that time again and off to dinner we go. Lake trout tastefully served with my choice of small herb wrapped potatoes and vanilla ice cream for dessert. Cliff and Marilyn once again sat with us and we talked about their travels our families in general.
After dinner we took my parrot on tour taking picture in different locations on the train. We had a great time as did those we encountered. I guess a prop can add entertainment in many ways I had not thought of. Everyone had suggestions for a name. As of yet it was only known as Polly. Not very original. Polly soon felt tired so Laurie and I decided it was time for us all to say goodnight.
We show up for breakfast too early this morning once again the victims of a time change. We go to the games room and have a coffee and wait for the dining car to open. Cliff is seated here also too early. Time passes quickly as conversations are most interesting.
Laurie and I are seated with Cliff and joined with Ron from Victoria. The discussion this time goes to the best bake shops to be found in Victoria. Cliff who had visited most of these shops agrees that Victoria has the best bake shops in the world. Here we sit discussing pastries as we eat yet again. We all decided to try the porridge not to let one of us get ahead of the other. I followed this up with eggs Benedict, juice and coffee.
I hum away to myself 'this little piggy' now I wonder why that tune popped into my head.
If I visit Victoria I will check out the pastry shops for sure. Our server had a very young face and gave the appearance of being in his early teens. He had blue green eyes and large deep dimples in his cheeks. His broad great smile made each of our visits to the dining car such a delight. I had found out his age last evening. Requesting Laurie ,Cliff and Ron guess his age he stood waiting to hear their reply. The guessing game began. Twenty six was his reply after much guessing. His professional attitude was wonderful to see and this alone should have given us a clue that he was older than the sixteen which was the consensus of us all. The most embarrassing moment he encountered he said had been more surprising than embarrassing. Training for his job was done in a motionless area and when coming on the job a whole new training began.
We left the dining car to thank Renaldo our sleeper attendant for all of his considerations. He would be leaving at Winnipeg and we did not want to miss him.
A tale of emotion greeted us as we came to the lounge car. A search for her roots had taken an English lady to the U S A to the places her grandfather had served as an Anglican minister or when in the US Episcopal minister. She found a man who as a boy had gone to his Sunday School. The fact that this man could remember several stories to tell her led her to believe he must have left an impression on this young boy. A lady who had been married by her grandfather was also found and talked to as well. As she talked of how she had run her hand over his handwriting and felt an unusual touch with her grandfather. Her eyes filled with moisture and we all shared some of her emotion. Her quest had been completed. You know as different we may all may be we are very much alike.
Bert who constantly kept us all up to date informed me it was time to move my watch forward one hour.
Vivian and Ron talked about their five weeks travelling in the US and how they are ready to go home now and will fly from Toronto to Washington. This is the only place they could take the airline of their choice the 777. They had planned their trip using an old outdates VIA booklet but said it was close to the new one and that was all that mattered. Ron said he was the Tour Guide and Vivian had been the Treasurer. Tonight as we go to our sleeper we pick up and pack what we can as later tomorrow we will leave 'the Canadian' in Toronto. Laurie and I talk about the great fun we have had and the wonderful people we have met.
Laurie had been first to the shower again a befitting way to start our last day as this had been her objective from day one. Only once had she had to take second place. Ron our tall English passenger from Victoia had made a point by taking up the challenge and swooped into the shower just seconds before Laurie. This event had given him bragging rights for that day.
Showering next I came back to our room with the knowledge that a great thing had happened here. Two good friends remained good friends after having shared this small space with two oversized suitcases and a parrot. We had worked together to accomplish this and made it great fun in doing so. Maybe we should have some world leaders do the same. Give and take is really not that hard if you work at it.
The sky is dark and rain begins as I move to the dome. the Long Island NY rock hunter sat across. He knew our area well as he travelled to Gananoque to fish on a number of occasions. Ottawa was a place he wanted to visit this fall. We talked about his many trips in search of rock specimens and how a nephew had been inspired by the hobby of and how he and his wife would collect specimens for him, place them in empty egg cartons and look forward to his reaction when he would visit and pick them up.
This dreary weather had covered our area as we left nine days ago and I wondered if it had lasted all the time we had been away. Good weather had been one of the many blessings of this trip.
In the dining coach Ron from Victoria and Bert joined Laurie and I for breakfast. Chatting as I enjoyed porridge sprinkled with flax seed, a glass of orange juice,brown toast and coffee the conversation is most pleasant. Ron is anxious to see his daughter who will meet him in Toronto and Bert talks excitedly about the new train he will ride. When we reached Toronto we would find out the description he had given had been almost as accurate as his description. Bert was a wealth of information.
We say our goodbyes in case in the busy day ahead we missed each other.
As we sit in the lounge passengers read their own books, glance through magazines or newspapers that are always available. Others chat about their nights sleep and plans for their arrival in Toronto tonight. A couple from Terrace BC gain knowledge from those who have travelled to the East Coast before. They are looking forward to their trip to Nova Scotia and will benefit from the experiences of others who have visited already. The descriptions given lead others to discuss possible trips of their own in the future.
One of the interesting train stories we had heard was from Jarvis Doyle from Georgia. His wife had wanted to place a model train around their Christmas tree. This small thing had started him off on a hobby that would soon become his passion. He has outgrown the house and now has a two and a half mile track in his front yard. Now considering himself a real train buff he and his wife are just returning from a trip aboard the Rocky Mountain train. The wonderful time they had, which they described as the best trip yet gained the interest of us all and stimulated a desire to take this trip as well. They still plan three days in Toronto and driving to Ohio to visit family.
I skipped lunch today as a big breakfast had been enough. The afternoon was spent reading the plaques on the different cars. I had wanted to do this and knew this would be my last chance. To you buffs out there here they are:
8708 : Kootney Park Following the crooked finger of the Kootney National Park which gave its name to this car, lies south of Mount Eisenhower, between Banff and Lake Louise. Hot Mineral springs and deep canyons decorate the five hundred and forty three square mile valley.
8322 : Drummed Manor William Henry Drummond FRSC (1854-1907) whose name this car bears, gained fame as a great poet in French Canadian Dialect. A practising Physician in Montreal, he published several volumes of widely quoted verse, notably 'The Habitant', Johnnie Courteau' and the 'Voyageur'.
Burton Manor : Major General Ralph Burton for whom this car is named, commanded the British 48 Th. Foot. He served at the Monongaola, at Louisburg and at Quebec in 1759. Later he was appointed Govenor of the Three Rivers.
8322 : Blair Manor Andrew George Blair (1844-1907) for whom this car is named, served as Premier of New Brunswick (1833-1896) Minister of railways and Canals in the Federal Government (1896-1903) and Chairman of the Board of Railways Commisioners of Canada (1904-1907)
8303 : Amherst Manor This car is named for Jeffery, first Baron Amherst (1717-1797) Commander in Chief of British Forces in North America after the capture of Louisburg. Later Lord Amherst was appointed Govenor General of British North America.
8332 : Laird Manor (1833-1914) for whom this car is named, founded and published The Charlottetown 'Patriot'. Elected to the Prince Edward Island Legislature and, after Confederation, the House of Commons, he was Minister of the Interior 1873-1876, then Lieutenant Govenor, North West Territories.
8318 : Craig Manor General Sir James Henry Craig (1748-1812) Govenor-in-Chief of Canada 1807-1811,for whom this car is name, served in the British Army from 1763-1807. his military service included 'Bunkers Hill' and Saratoga, and African Indian and Mediterranean campaigns.
8327 : Fraser Manor Simon Fraser (1776-1862) a partner of the North West Company, whose name this car bears, explored the river named after him from Fort George, British Columbia, to its mouth in 1808. The Canadian Pacific Main Continental Line follows his journey through the Fraser Canyon in the Rockies.
8341 : Thompson Manor. This car commemorates David Thompson (1770-1857) explorer and geographer, first white man to descend the Columbia River to its mouth. As Hudson Bay Company apprentice and North West Company apprentice and partner, he explored the western plains and Pacific Slope. From 1816-1826 he surveyed on the Canada-US boundary.
8314 : Cameron Manor This car is named for David Cameron (1804-1872) overseer of a sugar plantation in the West Indies before he came to Canada in 1853. He was Superintendent of the Hudson's Bay Company coal mines in Nanaimo and later Chief Justice of Vancouver Island.
8330 : Hunter Manor Lieutentant General Peter Hunter (1776-1805) for whom this car is named. Was the Lieutenant Governor of Upper Canada and Commander-in Chief in Canada from 1799 until his death at Quebec. The 'Family Compact' is said to have resulted from the absences from York necessitated by his dual appointment.
8325 : Elgin Manor This car is named for George Bruce, eighth earl of Elgin, Govenor general of British North America (1847-1854) Lord Elgin's term saw the policy of responsible government put into effect and precedents he created have been followed in general by successors to his high office.
A most interesting walk for sure.
Vivian and Ron sat with me for our last dinner on The Canadian. A gentleman from near Ocala Florida also asked to join us. I inquire of him about the large heavy horse show held in Ocala each spring. A very interesting conversation began with information about all of the horse ranches in the area he lived in and how important they are to the economy. The show draws horses from all over the United States and Canada as well.
The train was running late due to work on the tracks so we all visited in the Park Car. The conversations ran from well known Canadian and English comedians. As Canadian and Americans knew most of the English television shows our British travellers had only seen a couple of our shows while in Canada. Time passed quickly and we soon arrived back at Union Station.
Laurie and I are most surprised while taking a last tour through the train to find our friend Bert smiling at us as we travelled back to our sleeper.
I soon was lulled off to sleep by the motion of the train. We had left a wake up call for five but at three I heard the door open as Laurie headed out. I guess she must have felt she was missing something or just wanted to see what is going on at three in the morning on a train between Toronto and Montreal.
Soon enough a knock came on the door and we would soon arrive at our home destination Brockville.
The staff had fixed us breakfast to take with us but alas we departed without it.
The Journey had ended but the memories to last a lifetime will long remain.
So many wonderful and memorable people.
The stories shared.
Words cannot do justice to the unparalleled rugged beauty you view from your train window.
Food. What can I say' Be it breakfast, lunch or dinner the elegance of fine dining abounds.
Staff ,accommodating, amiable and always ready to communicate and help.
A trip truly to fill and even exceed your expectations in the most positive way.
To once again take time to truly appreciate this great Canada we call home.
Thank you Grandpa and all the many others who created this track across this great country and to those who serve it so well today.
Thanks to those who made this trip possible for me.
Last but not least thanks Laurie it was a blast sharing this experience with you.
Let's do it again some time!!
Photos from this trip: (by Laurie)
Ray Burns and the TrainWeb field crew did quite a bit of rail travel from June 9, 2002 to July 11, 2002, especially in Canada. Click on each link below to read the travelogues and view the photos and virtual tours:
Part 1 - VIA's Renaissance Cars and travel (Montreal-Brockville-Toronto)
Part 2 - VIA's Canadian (Toronto-Jasper)
Part 3 - VIA's Skeena (Jasper-Prince George-Prince Rupert-Prince George)
Part 4 - BC Rail's Whistler Northwind (Prince George-Whistler-North Vancouver)
- BC Rail's Pacific Starlight Dinner Train
- Amtrak's Cascades (Vancouver-Seattle)
Part 5 - American Orient Express Great NW & Rockies Tour (Seattle-Salt Lake City)
Part 6 - Tour of Salt Lake City


Part 7 - Darlene's Trip to Vancouver on the VIA Rail Canadian <<== You Are Here
Part 8 - Laurie's Adventure to the Rockies on the VIA Rail Canadian
Part 9 - An Evening on the (BC Rail) Pacific Starlight Dinner Train by Douglas Symons


CLICK HERE
To Read More Rail Travelogues
And View More Photos Of Rail Travel!
Are you interested in rail travel along some or all of this journey yourself? There are very few travel agents that have the necessary knowledge and experience of rail travel to answer your questions and to book a journey that you will remember for a lifetime. TrainWeb has sought out those travel agencies and rail tourism companies that not only have the knowledge to book your travel, but have gained the required experience through extensive rail travel themselves! Click here or visit RAILagencies.com or RAILexcursions.com for a list of these rail travel providers!