VIA Rail Canada
new Renaissance passenger cars
started service on June 23, 2002
http://www.trainweb.com/travelogues/rayburns/2002f25a.html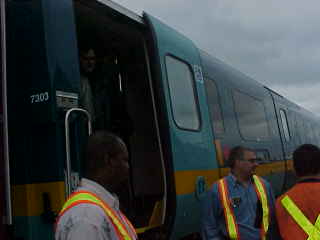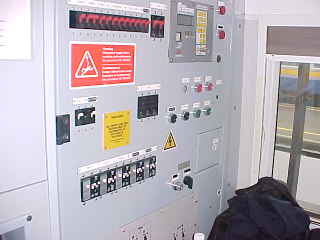 Photos inside the new VIA Rail Canada Renaissance Cars:
Set #1 / Set #2 / Set #3 / Set #4 / Set #5 / Set #6
Click Here for a 360x360 Immersion Photos Virtual Tour
of the Interior of the VIA 1 Renaissance Cars
MONTREAL – VIA Rail Canada began operating its new Renaissance passenger cars on the overnight train between Montreal and Toronto on June 23, 2002. The new equipment is part of the federal government's five-year, $402 million investment in passenger rail, designed to modernize the rail service and bring more trains, faster trains and more frequent services to Canadian travellers.
VIA has purchased a total of 139 new Renaissance cars. By the time they are all in service at the end of 2003, they will expand VIA's national passenger rail fleet by one-third.
The new equipment is first being introduced on the Enterprise trains, which depart from Montreal and Toronto at 11:30 pm. The westbound train arrives in Toronto at 8:20 am, and the eastbound train arrives in Montreal at 8:00 am.
With state-of-the-art technology for passenger safety and comfort, the cars are specially designed to enhance overnight and business-class service. The equipment includes modern coaches; comfortable sleeping cars with private bedrooms and en-suite toilets, some with en-suite showers; and service cars, which include a travelers' lounge area.
The introduction of the new equipment will allow VIA to add new services in the Quebec City – Windsor Corridor in the fall of 2002, and to enhance business and overnight services between Montreal and Halifax/Gaspé next year. As the new equipment is phased into service, VIA will be able to deploy equipment more efficiently across the entire passenger rail network. This will be especially beneficial in Western Canada where the lack of equipment has limited VIA's ability to fully meet the growing demand in recent years.
In keeping with VIA's tradition as a leader in providing accessible transportation, the new cars ensure the comfort and safety of passengers with disabilities. One major step forward is the addition of a fully-accessible suite which can serve as a sleeping compartment or for day occupancy; one of these suites is included in each service car. In addition, one coach on every train will include dedicated facilities (a "wheelchair tie-down" or port) to safely accommodate customers who must remain in their wheelchairs. The Canadian Transportation Agency is currently reviewing the accessibility features of the new equipment, and VIA looks forward to examining any concerns raised by this review, in consultation with groups representing the interests of people with disabilities.
VIA Rail Canada operates Canada's national passenger rail network, with more than 480 trains weekly on 14,000 kilometres of track, connecting more than 450 Canadian communities from coast to coast. VIA trains carried almost four million passengers in 2001.
Malcolm Andrews
Public Affairs
Montreal
(514) 871-6604
Catherine Kaloutsky
Public Affairs
Toronto
(416) 956-7683
Photos inside the new VIA Rail Canada Renaissance Cars:
Set #1 / Set #2 / Set #3 / Set #4 / Set #5 / Set #6
Click Here for a 360x360 Immersion Photos Virtual Tour
of the Interior of the VIA 1 Renaissance Cars
Ray Burns, of TrainWeb.com, recently traveled on a test run of these Renaissance cars. Click here to read Ray's travelogue and for additional photographs.
Visit related pages from this and other web sites:
Click below for pages in the directory of TrainWeb sites: