Amtrak Rail Routes
(RailRoutes.US & TrainWeb.com/routes)
Guides, travelogues and suggestions for each train route. Photos of scenery, stations, trains and accommodations are also featured. The TrainWeb staff has traveled on most of the existing Amtrak routes, most of Canada's VIA Rail routes and some of the tourist railroads in North America. Click on a route name for more information.
Note: Amtrak® is a registered trademark of the National Railroad Passenger Corporation. This is an Amtrak® fan site. Use of any trademarks™ or registered® trademarks on this web site does not imply any affiliation with or endorsement by the National Railroad Passenger Corporation.
The staff of TrainWeb and volunteers to the American Passenger Rail Heritage Foundation have been posting rail travelogues, photos and other information related to Amtrak to these APRHF Train Web Sites since 1996. You should always check with Amtrak for the latest schedules, services, equipment, etc. Information posted on the APRHF Train Web sites might not always be up to date, especially from postings that may be from several years ago.
GREAT AMTRAK RAIL TRAVEL GUIDEBOOKS: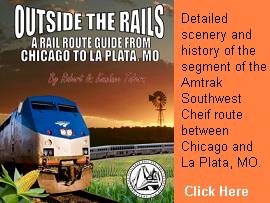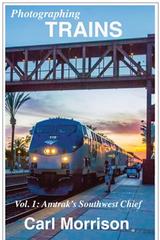 Amtrak Stations
Amtrak Route Maps / Amtrak Cities
Amtrak Route Name/Number Cross-Reference
Retired Amtrak Train Routes and Route Names
Rail Travel Guide To New York State (Empire State Passenger Association)
Click below to see the routes each TrainWeb Correspondent has traveled:
Specific Amtrak Routes
Click on links below for information on each specific route including travelogues and photos:
Unofficial Rail Travel Fan Websites For Each Amtrak Route
Featuring Rail Travelogues, Photos and Other Information:
Unofficial Rail Travel Fan Pages For Each Amtrak Route
Featuring Rail Travelogues, Photos and Other Information:
Click on the links below for Route Guides of various Amtrak train routes:

Commuter Routes that TrainWeb's Staff has traveled:

Canadian Routes that TrainWeb's Staff has traveled:

Other Passenger Train Routes:

Click on the below images to visit our rail magazine promotion trading partners:
(Click here to add your print rail magazine.)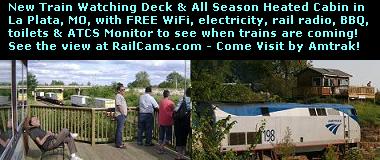 Visit related pages from this and other web sites:
Click below for pages in the directory of TrainWeb sites: