"Romance by Rail"
by Anna M. Runyon
(http://www.trainweb.com/travelogues/saylor/2000d18a.html)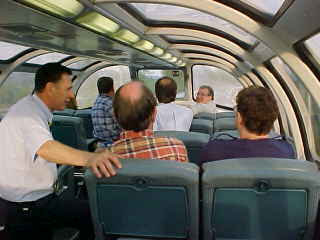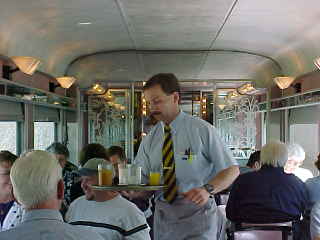 My husband and I arrived at the Vancouver train station about 30 minutes prior to boarding for our "Romance by Rail" trip. A baggage room was available so that bags could be checked in before departure. The station's architecture, especially the high, ornate ceiling, takes one back to a much earlier time; however, the McDonald's and cappuccino bar were bustling with activity and jolted us back to reality. For those desiring to exchange money, a currency exchange was available; a gift/souvenir shop also offered the typical souvenirs.
With the excitement building, we hastened to our car. Immediately, our attendants, Chris and Veronique (her first day on the job), were there to greet us and answer our questions and to offer their services. They directed us to our compartments. What a surprise! The room was spacious, being a double compartment, with a king size bed and two separate toilettes. There was a bouquet of fresh, colorful flowers in the room along with a chilled bottle of champagne in a tall, silver bucket.
As this was a working vacation for my husband, he frequently needed to use his lap top computer. Veronique found a table that could be used as a computer stand. Having some medication that needed refrigerated, I asked Veronique about the possibility of taking care of it. "No problem," stated Veronique. In fact, each evening she would remind me about the medication. This was a service that I had not anticipated.
Once we settled in, it was time for dinner. Our compartment was conveniently located next to the dining car. My first thought went back over 20 years ago to the last time that my husband and I had dinner on the train. What a disaster! Needless to worry about the meals on VIA; they were sumptuous.
The dining room was painted a raspberry sorbet color; the tables were covered with a crisp, snowy white linen topped with a seashell pink linen; there was lovely china with real silverware. Upon entering and leaving the dining car, I noticed the glass panels with etchings of birds -- the sandpiper, magpie, kingfisher, and chickadee. The dining room was bustling with excited travelers, who relished talking about the luxuries of train travel. Our first dining partners included Wendy, the young, history teacher from a girls' school in London, and Sandy and Dick, a couple from Washington, whose last trip had been to India and Nepal.
As all meals were provided for first class passengers, no one was concerned about the cost; however, meals were moderately priced. Each gourmet dinner menu offered 4 entrees: beef, poultry, fish, and vegetarian, something for all tastes. I selected a succulent, maple glazed chicken breast while my husband marveled at his juicy, tender beef tenderloin. The salmon, according to our dining partners, was superb. When the waitress brought out the dessert tray, the ooh's and ah's could be heard. The piece de resistance, a decadent, chocolate mousse cake, simply melted in my mouth.
Having traveled from San Diego that day, I was anxious to return to the compartment immediately. I had a most restful sleep; the king size bed was spacious and comfortable. The riding was smooth; the click-clacking sounds soothed and relaxed me.
Early the next morning, my husband quickly took his shower in the facilities located outside the compartment. The attendants had left a shower bag with the necessary toiletries for both of us the night before. Having dressed warmly as I found the air conditioning to be too chilly for me, I made my way to the dining car. No reservations were needed for breakfast, but lunch and dinner had two/three seatings. My husband chose to have breakfast in the park car, where a continental breakfast was provided (fruit, juice, pastries, cheese, beverages). I ventured into the dining car alone. Being by myself was not a problem; an individual traveling alone need not be concerned. I was directed to a table with three travelers from Canada. The conversation centered on train travel and, of course, the magnificent scenery that we were enjoying. I decided to treat myself to the fluffy pancakes with rich, thick maple syrup and delicious, juicy ham.
After breakfast, I found my way to the dome car. For those wishing to smoke, there was a room out from the park car, which was located near the dome car. I first stopped in the park car and joined in the conversation and also had a quick glance at the newspaper. My French was quite rusty, but I found some reading materials that did not look too challenging. Since directions were given in both English and French, I decided to brush up on my French skills. I then proceeded to the top deck -- the dome car. What an experience! The scenery was resplendent with its snow-cap mountains, pine covered hills, frozen lakes, and wildlife. Although I had brought a book to read, I was mesmerized by the natural beauty. Nothing obstructed my view in the dome car; I could see on all sides.
Our first stop was in Jasper, a rustic, Alpine village with much European charm. Passengers could leave the train to explore and shop on the main street, which was very close to the train station. At The Fudgery, I watched with fascination as the worker made the thick, creamy, chocolate fudge. As there was virtually no traffic in town, the scene was quite bucolic. As the train pulled out of the station and headed east, I could see a huge totem pole, reminiscent of those that I have seen in Alaska.
The short stop allowed time to get acquainted with some of the passengers. Although many of the passengers were retired and had traveled extensively, many were middle aged and much younger. One dining partner was a young 90 year old traveling with a group from New Zealand. Another was the 20 year old with his wife of six months. No matter the age, they all recommended traveling by train for its comfort and slow pace. They were not in a hurry to get to their destination. Many simply wished to revel in the natural beauty of the environment.
As the train sped by, a gigantic elk gazed at us. In our excitement, no one remembered to take a picture. Upon leaving the Jasper area, there were partially frozen lakes and pine forests. Gradually, however, the terrain began to change. Flat bottoms with few pine trees appeared. In the dome car, there was tranquility among the passengers, who were free from noise and traffic jams. Mile after mile of lakes, many still frozen, and trees dominated the scenery. I noticed one solitary bird swimming in the partially frozen lake.
I decided to have lunch at the second seating. My dining partner was a 72 year old, ex-train worker on his way to Winnipeg. As he had traveled to San Diego, we had a stimulating conversation along with our chicken Caesar salad, followed by delectable petit fours and raspberry swirl frozen yogurt.
After lunch, I again returned to the dome car. Many people had chosen to return to their compartments for an afternoon nap, but there were a few relaxing in the dome car: a young man from Germany listening to his tapes on his earphones, a middle-aged lady dozing in the warm sunshine, a couple who were interested in admiring the scenery, and an older man in a bright, royal blue cap gazing out the window. I found solitude at this time of day as it was quiet and tranquil. I brought a book to read, but had too much difficulty concentrating as I much preferred the natural scenery.
The train pulled into Hinton Valley, the next stop after Jasper; the area was remote. Then the train climbed and descended and then climbed again. There were patches of flat plains; then multitudes of leafless trees. The area was so desolate that few houses were seen; a small village with a half-dozen buildings surrounded a tiny, blue church with a steeple reminiscent of the Russian Orthodox Church that I have seen in Juneau. I later learned from a Canadian passenger that this particular area had many immigrants from the Ukraine. The terrain kept changing. We left the snow-cap mountains and entered the flat plains with huge lakes. There was a stark beauty void of color with the exception of the mossy green pine trees.
The next big town after Jasper was Edmonton. Spring had not arrived here. Signs of winter still dominated the landscape -- leafless trees, brown grass, numerous frozen lakes, some just beginning to thaw. What a beauty it must be when the trees are full and the grass green and lakes pristine.
In the late afternoon the attendants served hot, tasty hors d'oevres in the park car. The passengers munched on the appetizers and admired the sights. The land now was flat, much like our Midwest. Bales of hay dotted the fields; occasionally, a herd of cattle could be seen grazing. As the train stayed in Edmonton for only a few minutes, some passengers did get off to enjoy the fresh air.
My husband and I had a 9:00 dinner reservation, much too late for me, but the food was delicious. Both of us chose tender pot roast with grilled vegetables; however, by the time we were served dessert, the one I selected had been the most popular that evening, and I had to take an alternate choice. Therefore, we decided that we would take an earlier dinner sitting from then on.
The day had been wonderful. I had met new friends, viewed glorious scenery, and was satiated with exquisite food. I was now ready to retire to my comfortable bed. Traveling this way was certainly relaxing. I was already anticipating the next day.
I began the second day with a light breakfast; my dining partner was a Canadian minister who was traveling across Canada on a prayer mission. This day was spent primarily in the dome car gazing at the vast prairies. For miles, the land was sparsely populated and uncluttered -- no billboards, no gas stations, no tacky souvenir shops. By noon, the train arrived in Winnipeg where the crew members were exchanged. We said goodbye to Chris and Veronique, our attendants, and welcomed Brian. The Winnipeg station had a dome ceiling with ornate moldings. It was extremely clean; travelers could buy a sandwich at the deli stand; absent were the usual fast food outlets. Walking straight through the station led to an exit to the main street. I walked around the station and imagined what travelers many years thought when they disembarked here. We reboarded the train after a 30 minute stop, just enough time to stretch out legs.
My lunch partners today were Ken and Debbie, who were from Victoria and were on their way to Toronto. Again, one of the best things about train travel was the opportunity to meet such interesting, diverse people and share their experiences. Having finished lunch, I proceeded again to the dome car. I found that I enjoyed this spot most on the train. It was quiet, and the sunshine beaming through the windows warmed and relaxed me.
Gradually, the terrain started to change, from the flat plains to tree-covered areas and numerous, deserted lakes. There was such a variety of landscapes that it overwhelmed me. The train made several stops along the lakes to allow passengers to disembark. I had visions of years past when passengers merely had to stand along the tracks, and the engineer would stop the train so they could board. Imagine this taking place in the 21st century; some things never change. Some of the lakes were partially frozen with big chunks of smoky, black ice. Tiny, rustic cabins were clustered around Paradise Cove. This was such a contrast from the prairies, such unspoiled land.
As we descended, the temperature began to drop. Winter's hand could still be seen in the landscape; patches of snow, huge icicles, partially frozen lakes with their chunks of smoky black ice, surrounded by leafless trees created a sharp contrast to azure, blue skies and bright sunshine. Suddenly, voices began to shout; everyone became excited as they stretched to see a wondrous sight. A large, black moose was spotted racing across the field.
At 5:00, hors de'oevures, crispy pastries filled with spinach and artichoke, were provided in the dome car. Passengers eagerly devoured the pastries and talked about today's sights. Later, we enjoyed dining on a tasty New York cut steak.
We were now on the third day of the trip. We would be leaving this train in Toronto and proceeding to Montreal. I made my way to the park car after enjoying an omelet for breakfast. Gazing out the window, I noticed that the sky was gray; the trees bare -- a gloomy day. However, the passengers were cheerful and talkative. I met a couple from neighboring West Virginia (my husband and I are originally from Kentucky) and several members of the New Zealand tour group. Toronto would the be final destination for many, while others would be continuing to Montreal or Halifax.
Lunch was served earlier today because of the train's estimated arrival time. Although I was not very hungry, I decided the chicken gumbo soup was fitting for this type of day. Our luncheon partners were two young sisters from Montreal, Sultan and Aliyea, who had been vacationing in Jasper and were returning home to work. They highly recommended the Jasper Lodge and the great brunch as a wonderful experience.
Few people remained in the dome and park cars after lunch, but I did meet a writer of children's and young adult's literature, Mrs. Cossi, who was knitting. She casually made a remark about feeling like Madame Defarge, a character in Dickens' A Tale of Two Cities. Being an English teacher whose students were reading that particular novel, I wanted to talk to her. I found her to be a stimulating person, who shared her ideas with us about how she came to write a particular book. This was a fascinating tale. It gave me a glimpse into the way a writer thinks. What a valuable lesson I learned that I could share with my students.
Dinner was early that last evening. We dined with Betty and Ray, who were on a long train trip from Texas. They would be repeating the trip on the return except for their trip home; they would be taking an entirely different train route. Dinner was filet mignon; for dessert, my husband ordered cookies and cream cake and I splurged with the chocolate raspberry torte. There was an exchange of phone numbers and e-mail addresses by many of the passengers. Although we had only been together for three days, we had bonded as a group.
Having arrived in Toronto, we had the porter take our bags to the baggage room, and then we explored the train station as it would be some time before our next departure. Many of the businesses in the train station were closed, probably due to Good Friday. Some time later, we boarded the train to Montreal. The accommodations were similar to those on the previous line. Before going to bed, I informed the attendant that I would be having a continental breakfast in my room the next morning. The sleep was restful; the morning hectic. Montreal was like being in France; everything was in French. We finally got a commuter train to Ottawa. This train was comfortable, clean, and fast. It was enjoyable taking the short trip without the hassle of traffic. I can see why so many use the train rather than drive. Having arrived in Ottawa, we checked into our hotel, and then made our way to the Parliament building. As I enjoy history, this was one of the highlights of the trip. Regretfully, I was to leave this glorious trip and fly home on Easter Sunday, but what a trip!
For those interested in taking the "Romance by Rail" tour, they will not be disappointed. The accommodations were excellent; the attendants, super efficient, who will take care of you as if you were royalty; the food, gourmet and wonderful; the company, stimulating; but best of all, the natural beauty of Canada will overwhelm you. Check TrainWeb for more details if you are interested in an unforgettable travel experience.
Click below to view each set of photo highlights:
Scenery: Set #1 / Set #2 / Set #3 / Set #4
Inside The Train / People / Cities /
Click here for virtual photos of the VIA Rail trainsets!

Additional Photos:
05/29/00:2000d29b / 05/29/00:2000d29a / 05/28/00:2000d28d / 05/28/00:2000d28c / 05/28/00:2000d28b / 05/28/00:2000d28a / 05/27/00:2000d27n / 05/27/00:2000d27m / 05/27/00:2000d27l / 05/27/00:2000d27k / 05/27/00:2000d27j / 05/27/00:2000d27i / 05/27/00:2000d27h / 05/27/00:2000d27g / 05/27/00:2000d27f / 05/27/00:2000d27e / 05/27/00:2000d27d / 05/27/00:2000d27c / 05/27/00:2000d27b / 05/27/00:2000d27a / 05/26/00:2000d26g / 05/26/00:2000d26f / 05/26/00:2000d26e / 05/26/00:2000d26d / 05/26/00:2000d26c / 05/26/00:2000d26b / 05/26/00:2000d26a / 05/25/00:2000d25o / 05/25/00:2000d25n / 05/25/00:2000d25m / 05/25/00:2000d25l / 05/25/00:2000d25k / 05/25/00:2000d25j / 05/25/00:2000d25i / 05/25/00:2000d25h / 05/25/00:2000d25g / 05/25/00:2000d25f / 05/25/00:2000d25e / 05/25/00:2000d25d / 05/25/00:2000d25c / 05/25/00:2000d25b / 05/25/00:2000d25a / 05/24/00:2000d24b / 05/24/00:2000d24a / 05/23/00:2000d23b / 05/23/00:2000d23a / 05/22/00:2000d22c / 05/22/00:2000d22b / 05/22/00:2000d22a / 05/21/00:2000d21b / 05/21/00:2000d21a / 05/20/00:2000d20f / 05/20/00:2000d20e / 05/20/00:2000d20d / 05/20/00:2000d20c / 05/20/00:2000d20b / 05/20/00:2000d20a / 05/19/00:2000d19a / 05/18/00:2000d18a / 05/17/00:2000d17j / 05/17/00:2000d17i / 05/17/00:2000d17h / 05/17/00:2000d17g / 05/17/00:2000d17f / 05/17/00:2000d17e / 05/17/00:2000d17d / 05/17/00:2000d17c / 05/17/00:2000d17b / 05/17/00:2000d17a / 05/16/00:2000d16c / 05/16/00:2000d16b / 05/16/00:2000d16a / 05/15/00:2000d15a
Click here for photos and travelogue of Ray Burns' travel on VIA Rail's Romance By Rail round-trip from Vancouver, British Columbia to Halifax, Nova Scotia, Canada!

Are you interested in rail travel along some or all of this journey yourself? There are very few travel agents that have the necessary knowledge and experience of rail travel to answer your questions and to book a journey that you will remember for a lifetime. TrainWeb has sought out those travel agencies and rail tourism companies that not only have the knowledge to book your travel, but have gained the required experience through extensive rail travel themselves! Click here or visit RAILagencies.com or RAILexcursions.com for a list of these rail travel providers!
Visit our Rail Magazine promotion trading partners:
Click here to add your print rail magazine.