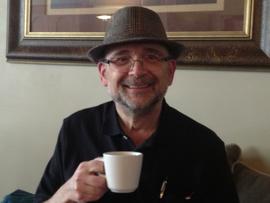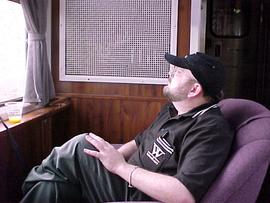 Left: Enjoying coffee at the Santa Fe Espresso in La Plata, Missouri.
Right: In the Pacific Parlour Car on the Amtrak Coast Starlight.
Steve Grande's Rail Travel
My total rail travel is over 300,000 miles,
almost all on Amtrak between September 26, 1996 and today.
"Solitude ... a man traveling by train moves simultaneously in three spheres -- the larger world flowing constantly past outside his window, the smaller more social world of people and coach moving with him, and the infinite world of his own imagination -- and a perfect trip is a matter of bringing all three, each with its own pace and scale, into balance."
-- George F. Scheer III, Booked On The Morning Train
Links to my rail travelogues and photos:

Tuesday, November 16, 2010: I received an email this morning from Russ Jackson of RailPAC.org congratulating me on reaching my 300,000 rail travel milestone. Until then, I didn't even know I had crossed my 300,000 of rail travel miles! Being a bit backlogged as usual, I hadn't recorded any of my rail travel for the last two months. So, I stopped for a moment to record and add all my rail travel over the last two months. Sure enough, I had completed 300,000 miles of rail travel on Wednesday, November 10, 2010, while on my return trip from La Plata, Missouri, to Fullerton, California, on the Amtrak Southwest Chief! On Monday, November 15, 2010, I found I had a round-trip Amtrak ticket to San Diego that I had purchased one year ago and would expire that day. So, I decided to go ahead and use it rather than lose it. It turns out that return trip from San Diego was my 900th rail trip since my first Amtrak trip in 1995! For more information, click here to view my rail travel mileage log.
Visit our Rail Magazine promotion trading partners:








Click here to add your print rail magazine.