Metrolink 91/Perris Valley Line
Dedication Ceremony
Click on each photo below for a larger image.
Friday, December 11, 2015 | 1:00 PM
Downtown Perris Station
Coffee, Conversation & Holiday Carols
Lunch, Provided by Event Sponsors
Welcoming Remarks
Ann Mayer, RCTC Executive Director
Flag Colors presented by California Military Institute
National Anthem Performed by Moreno Valley Master Chorale
Remarks
Therese McMillan, Acting Administrator,
Federal Transit Administration
Jose Medina, Assembly Member, District 61
Marion Ashley, Supervisor, Riverside County, District 5
Commissioner, RCTC / Commissioner, March Joint Powers Authority
Daryl R. Busch, Mayor, Perris / Chair, RCTC / Vice Chair, Metrolink
Andrew Kotyuk, Mayor, San Jacinto / Commissioner, RCTC
Chair, Riverside Transit Agency
Art Leahy, Chief Executive Officer, Metrolink
Golden Spike Ceremony and Photographs
Dessert, Espresso Bar & Metrolink Train Ride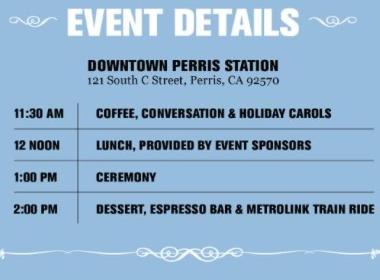 Click on each photo above for a larger image.
The Metrolink 91 / Perris Valley Line will be an extension to the current Metrolink 91 Line that starts in Los Angeles and goes through Fullerton and Corona on its way to Downtown Riverside. This new extension will have additional stations in Moreno Valley, Downtown Perris and South Perris. Service is expected to begin in February 2016. As part of this Dedication Ceremony, a ride on a Metrolink train was provided to VIPs, the Press, and the public for about 6 miles up the line and back on Friday, December 11, 2015.
This extension parallels the busy I-215 freeway. It will provide an alternative mode of transportation from residences to jobs along this growing corridor as well as stimulate further business expansion in this corridor. This new line will also provide a new easier access method for Riverside County residents to bypass the congested 91 Freeway to destinations in Orange County and Los Angeles.
Please click each link below for futher photos and narrative related to this event:
Visit our Rail Magazine promotion trading partners:
Click here to add your print rail magazine.