Amtrak Travelogue & Photos
Fullerton, California to Salt Lake City, Utah
Round Trip with an Overnight Hotel Stay in Emeryville, California
on the Amtrak Pacific Surfliner,
the Amtrak Coast Starlight and the Amtrak California Zephyr
January 18 through 25, 2006, Wednesday through Wednesday

PART 4 - Westbound Amtrak California Zephyr
Tuesday, January 24, 2006

www.trainweb.com/travelogues/stevegrande/2006a24a.html
Click a link below for another part of this travelogue:
Part 1 / Part 2 / Part 3 / Part 4 / Part 5
Please Note: This is a work in progress. Very little has been done in the way of editing and spell checking yet. I'm going to try to update this travelogue while I am on this trip from time to time now that I am able to get online right from the train. Please do check back from time to time to see if I have added any new material since you last checked.
Monday, January 23, 2006, 02:00 AM CT
The westbound Amtrak California Zephyr that I will be taking back to California is not scheduled to depart from Salt Lake City, Utah, until 11:59 PM this evening. The train should already have departed from Chicago, Illinois, yesterday, Sunday, at 1:50 PM Central Time. However, when I attempted to check what time the train actually departed from Chicago on the Amtrak web site at www.amtrak.com, the only answer I get is that the status information for this train is not available due to a service disruption. We are not off to a good start!
I next go to Google News and search for the keyword "Amtrak". Google News refers me to a number of articles that have been posted within the last few hours that explain that there has been a derailment of a Coal Train. The articles talk about a delay for the westbound Amtrak California Zephyr, but don't mention anything about my eastbound Amtrak California Zephyr. My initial guess is that the service disruption will not affect the departure time of my train since it occurred east of Salt Lake City. Even if Amtrak has to turn the eastbound train around early, that will most likely happen in Salt Lake City. At this point, I decided to wait and check the train status again in the morning when more information will probably be available.
Monday, January 23, 2006, 10:00 AM CT
Still no information on the Amtrak web site about the status of my train. Thus, I had to contact 1-800-USA-RAIL to get more information about my train. The agent on the line told me that due to the derailment, the westbound Amtrak California Zepher would be taking a detour through Wyoming and that passengers from some of the stops between Denver and Salt Lake City will be bused to the train. The agent also mentioned that the train had left Chicago one hour and seven minutes late, but the system showed that it should still arrive into Salt Lake City at 11:33 PM on schedule and that there would be no busing from my station. I already knew that the Wyoming detour is actually takes about 3 hours less time than the normal route through the Rocky Mountains, so if anything, the westbound Amtrak California Zephyr could arrive quite early into Salt Lake City!
Monday, January 23, 2006, 09:00 PM CT
My group has tickets to see one more movie at the Sundance Film Festival at 9:30 PM CT. That movie will get out at 11:00 PM at the earliest. Unfortunately, that is too close a call for me since I still have to gas up and return my rental car to the airport and take a taxi to the Amtrak station. That would definitely be cutting it too close for an 11:59 PM departure. However, if the train is running very late, I might still have time to catch this last movie. A quick call to 1-800-USA-RAIL indicates that my train is running on time and will arrive into Salt Lake City by 11:30 PM at the latest. If the train had been delayed for two hours or more, I would seriously have considered attending this last film showing rather than just waiting for the late train at the Amtrak station for a few hours. But, with the train running on time and even likely to pull into the station early, I decided to get down to the Amtrak station as early as possible.
Monday, January 23, 2006, 09:20 PM CT
After returning the rental car and taking the taxi to the Amtrak station, I arrive at about 9:20 PM. There was hardly enough time for me to get out my tickets before the train arrived into the station at about 10:30 PM! The westbound Amtrak California Zephyr arrived just about one hour ahead of schedule. Since I had a nice clean Verizon WAN signal from the train and the train had to sit in the station until the scheduled 11:59 PM departure time, I had just enough time to upload all the photographs that I took at the Sundance Film Festival. There were around 75 photos and the last few were in the process of being uploaded when the train departed the station about 4 minutes behind schedule at 12:03 AM. The upload completed without a hitch.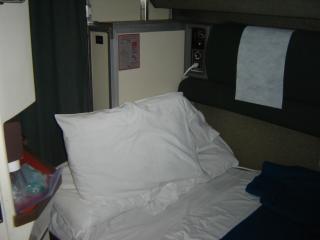 For those of you that have read some of my recent travelogues, you know that I've made some comments about how the Sleeping Car Attendants arrange the bed in the Deluxe Bedroom. Once again, when I entered my room, the bed was already set up with the head of the bed under the windows. Since I like being able to look out the window as we travel through the night, I flipped the bed around and put the head of the bead by the door and the foot of the bed under the windows. With the room completely darkened, I can watch the scenery flow by until I fall asleep.
Tuesday, January 24, 2006, 01:05 AM CT
I decided to work online for about another hour until about 1:05 AM when the WAN connection started to get a bit unreliable. That seemed to be a good time to get some sleep and continue in the morning.
Tuesday, January 24, 2006, 08:15 AM PT
At around 7:00 AM Pacific Time, I woke up just shortly before arriving into Winnemucca, Nevada. The first call to breakfast was made. I think I was already awake when the announcement was made, but I'm not sure. It could have been the announcement that woke me up. The Dining Car usually starts serving breakfast at either 6:00 AM or 6:30 AM, but they don't make their first call on the P.A. until 7:00 AM so that they don't wake up everyone on the train. But, if you are an early riser and would like to beat the crowd down to breakfast, head on down to the Dining Car before 7:00 AM!
Winnemucca, Nevada, is a smoking stop. They make two stops at the station. The first stop is where they change crews (just the engineer and conductors, not the onboard service staff). The second stop is where they let passengers off and on and let people step off the train for a smoke or fresh air break.
Rolf Smeby is my Sleeping Car Attendant. Rolf is the same Sleeping Car Attendant that I had on my last trip on this train when I went to Denver, Colorado. I recognized the name as soon as I saw it as it is an unusual name that is hard to forget. Daniel Chazen, another person that writes for TrainWeb from time to time, also had Rolf as his Sleeping Car Attendant almost six years ago to the day. Daniel had some good things to say about Rolf's quality of service. Click here for that Daniel Chazen's travelogue. Rolf does seem to have everything well stocked and in order. Rolf said he has been with Amtrak 27 years and has been working this train for the last 7 years. Before that, he used to work the Amtrak Empire Builder. We talked a bit about the newly refurbished equipment on the Amtrak Empire Builder. Rolf mentioned that his train was scheduled to be refurbished next and then the Amtrak Southwest Chief and Amtrak Capitol Limited in 2007. I mentioned to him that they already have at least one of the newly refurbished sleeping cars on those trains as I had one on my last trip. If those trains weren't supposed to get the refurbished sleeping cars until next year, I could only guess that it was just a temporary substitution at the last moment for another sleeping car that had been bad ordered.
Tuesday, January 24, 2006, 07:24 AM PT
This westbound Amtrak California Zephyr just departed from Winnemucca, Nevada, about 5 minutes after we arrived, about one our and 11 minutes behind schedule. I was not able to upload this travelogue in Winnemucca, even though the Verizon WAN shows 100% signal strength. I had the exact same problem as the train was going eastbound through Winnemucca. This is the only place that I have experienced in the entire nation where there is a perfectly clear Verizon WAN signal, but I'm unable to connect to the network. When I first went through Winnemucca on my eastbound trip, I thought there was something wrong with my WAN card, but then I was able to connect fine to the WAN a bit futher down the tracks after we got well out of the Winnemucca area.
Tuesday, January 24, 2006, 08:57 AM PT
The train has been moving at about 10 mph to 15 mph for almost the last 30 minutes. The Conductor came on the P.A. and announced that the Union Pacific is having signal trouble and that the crew of this train has been having to get out and throw the electronic track switches manually. The Conductor also announced that we should be able to get back up to our normal rate of speed once we get through this segment of track that is having signal problems.
Tuesday, January 24, 2006, 09:07 AM PT
The Conductor just announced over the P.A. that the Union Pacific must have fixed their signal problem as we just got a green signal and will be back up to our normal speed. Right after that announcement, the train rapidly accelerated and we are now going 72 mpg according to both my GPS and the Track Detector that we just passed.
Tuesday, January 24, 2006, 10:40 AM PT
Finally got out of the defective Winnemucca Verizon WAN cell and into a cell that works great! I was able to get online and upload the latest updates to the travelogue. The train is getting pretty near Sparks, Nevada, about 2 hours behind schedule.
Tuesday, January 24, 2006, 11:45 AM PT
At 11:45 AM, we just highballed Reno, Nevada, about 2 and 1/2 hours behind schedule and an announcement was made that the Dining Car would open at 12:30 PM for lunch. About an hour ago I went down to the Cafe Car and got a Bloody Mark and 2 Tuna Sandwiches. I'll eat one of them for lunch today as soon as I get out of WAN range and can't get online anymore. The other I'll save for either later today or tomorrow. There wasn't much on the Amtrak Dining Car Menu that looked of interest to me for either lunch or dinner. If you've read many of my previous travelogues, you know that my diet tends more to the vegetarian side though I am not a true vegetarian. Pretty much all that I would consider eating from the Amtrak California Zepher menu is the Gardenburger at lunch or the Pasta Selection at Dinner, and those don't sound that interesting. I've had both many times before on Amtrak trains and the Cafe Car Tuna Sandwich is a lot more appealing to me than either of those items. I did try the Stone Fired Supreme Pizza on my eastbound journey on the Amtrak California Zephyr, but that was just because I had never seen that item before on an Amtrak train and wanted to try it. That pizza was quite good, but it isn't something I'd like to add to my regular diet.
Click here to view the Amtrak Dining Car Menu for the California Zephyr
Click here to view the Amtrak Cafe Car Menu for the California Zephyr
The Cafe Car Attendant took out a knife and pierced the plastic seal on one of my tuna sandwiches. At first, I thought she might have done it to both of them, but fortunately she only did it to one. Those wrappers are pretty hard to open with just your hands unless you have some pretty strong and sharp nails. I usually need to use a pen to open the plastic wrap. So, it was considerate of her to pre-open the package. However, I'm glad that she didn't open both as I plan to save one for either later today or tomorrow.
Volunteers from the California State Railroad Museum boarded the train in Reno, Nevada, which I think they almost always do, and give a running commentary on the scenery and the history of this route all the way from Reno to Sacramento, California, the location of the California State Railroad Museum. The volunteers were also on the eastbound Amtrak California Zepher from Sacramento to Reno when I was on my way to Salt Lake City. I think they try to do this on every Amtrak California Zephyr both ways between Sacramento and Reno over the Sierra Nevada.
Tuesday, January 24, 2006, 02:55 PM PT
The train just departed from Colfax, California, about 2 hours and 30 minutes behind schedule.
Tuesday, January 24, 2006, 02:55 PM PT
The train just departed from Roseville, California, still running about 2 hours and 30 munites behind schedule. Another two sets of photos have been added to this travelogue as Set #7 and Set #8. Nothing extraordinary, just some shots of the interior of this Deluxe Bedroom and some scenery from the snow covered Sierra Nevada. This is one of the un-refurbished Superliner I Sleeping Cars. I thought I should get a couple of photos of the interior as hopefully this interior design will soon be history. The interior of this car is from the earthtones that were popular in the 1970's. Although these cars weren't delivered to Amtrak until the early 1980's, the earthtones were popular when the cars were designed. The sink top is Orange and the material in the room is deep green and light beige. The curtains are still the full length green fabric.
Tuesday, January 24, 2006, 04:30 PM PT
The train arrived into Sacramento, California, about 4:30 PM. So, I'm sitting on the train in the Sacramento Amtrak Station right now! If this train can manage to leave by 4:45 PM, we'll still be 2 hours and 30 minutes behind schedule. If we don't leave by then, and it isn't looking good, we'll be falling further behind schedule.
Tuesday, January 24, 2006, 04:45 PM PT
They did it! They got the train out of the station by 4:45 PM, so we are still exactly 2 hours and 30 minutes behind schedule. Checking the schedule, I can see there is at least one hour and 36 minutes of padding in the schedule. If we don't run into any further delays, we should arrive into Emeryville no later than 5:58 PM, about one hour and 10 minutes behind schedule.
The Conductor just announced over the P.A. that his manafest doesn't show anyone getting off at Davis, so we aren't going to stop at Davis. He also asked that if there is anyone onboard that does want to get off in Davis, to please let the Conductor know. Davis is a "discharge only" stop for this train. Passengers are not allowed to board the train at this stop or any other station between here and the final stop of Emeryville. Amtrak will often arrange the schedule that way when there are alternative local Amtrak trains available. The Amtrak Capitols run from Sacramento to San Jose, so any passengers along the rest of the route can take one of those local trains. Skipping any stations where there are no passengers getting off will definitely help us to make up some of the time.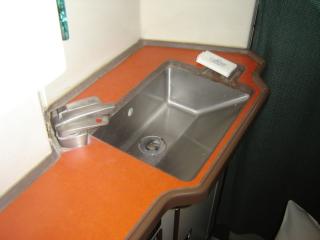 The only complain I have of this trip is that my room has been quite cold the entire time. I've had the heat control turned to maximum heat the entire time, but the heater rarely seems to come on. I suspect there could be a problem with the dial. I've been in Sleeping Rooms before where the cap to the heat control was not put on in the right position. This prevents it from being adjusted to the maximum head setting. There have been times on other trips when I have removed the cap and repositioned it on the stem so that it was possible to set it to the maximum heat setting. This cap seems to be on quite solid and I don't have any tools on me to remove the cap without breaking it. To make matters worse, the ceiling vent seems to be putting out quite a bit of cool air. Shutting the air vent doesn't completely stop the air. Rather, it just seems to divert the air to directly where I am sitting by the window. Less cold air comes my way when I open the vent completely and let it flow in other directions. Opening the door to the room seems to help somewhat as it seems a bit warmer in the corridor, but not much. The cold is not unbearable and it has been keeping me wide awake to work on this travelogue. I could put on my jacket, but it is actually my hands that are most bothered by the cold and I can't wear gloves while typing on the keyboard.
Tuesday, January 24, 2006, 10:00 PM PT
The train arrived into Emeryville, California, at 6:30 PM, one hour and 40 mintues behind schedule. That is better than the 2 and 1/2 hours that we were running behind schedule, but not quite as early that I expected to arrive with the padding in the schedule. Ron Carpenter, my friend that lives in the Bay Area was there with his car to pick me up and give me a ride to the Holiday Inn just down the road in Emeryville. It is walking distance from the train station, but not a pleasant walk with luggage. Before driving me to a hotel, we tried a new Indian Restaurant in Emeryville: Khana Khazana at 4436 San Pablo Ave. The reviews on the web were excellent and the food there really was great. There was nothing fancy about the searing, but it was pleasant enough and the food made up for any lack of atmosphere. If you like Indian food, you might check one of my other websites where I keep track of Indian Restaurants that I have discovered around the nation at: www.IndianRestaurants.US.
So, that ends this segment of my rail journey! Amtrak indicates that the southbound Amtrak Coast Starlight that I am to catch at 8:20 AM PT tomorrow morning is running a bit more than an hour late. It is possible for the train to make up that time, so I will have to be down at the station on time in the morning. I'll check the train status again in the morning before I leave the hotel to make sure it hasn't gotten any further behind schedule.
Additional Photographs:
Set #1 / Set #2 / Set #3 / Set #4 / Set #5 / Set #6
Set #7 / Set #8 / Set #9 / Set #10 / Set #11
Click a link below for another part of this travelogue:
Part 1 / Part 2 / Part 3 / Part 4 / Part 5
Links related to this travelogues:

CLICK HERE
To Read More Rail Travelogues
And View More Photos Of Rail Travel!

Are you interested in rail travel along some or all of this journey yourself? There are very few travel agents that have the necessary knowledge and experience of rail travel to answer your questions and to book a journey that you will remember for a lifetime. TrainWeb has sought out those travel agencies and rail tourism companies that not only have the knowledge to book your travel, but have gained the required experience through extensive rail travel themselves! Click here for a list of these rail travel providers!
There have been
visitors to just this travelogue since January 18, 2006.
Visit our Rail Magazine promotion trading partners:
Click here to add your print rail magazine.