Amtrak Travelogue & Photos
Fullerton, California to Salt Lake City, Utah
Round Trip with an Overnight Hotel Stay in Emeryville, California
on the Amtrak Pacific Surfliner,
the Amtrak Coast Starlight and the Amtrak California Zephyr
January 18 through 25, 2006, Wednesday through Wednesday

PART 2 - Eastbound Amtrak California Zephyr
Thursday, January 19, 2006

www.trainweb.com/travelogues/stevegrande/2006a19a.html
Click a link below for another part of this travelogue:
Part 1 / Part 2 / Part 3 / Part 4 / Part 5
Please Note: This is a work in progress. Very little has been done in the way of editing and spell checking yet. I'm going to try to update this travelogue while I am on this trip from time to time now that I am able to get online right from the train. Please do check back from time to time to see if I have added any new material since you last checked.
Thursday, January 19, 2006, 08:00 AM PT
Ron and I woke up at about 8:00 AM. The train station is less than a 20 minute walk, so we figured that should be enough time to get down to the station before the train departure time of 9:15 AM. Ron would be heading south on the Amtrak Capitol, but that also leaves at around the same time as the Amtrak California Zephyr. There was a lot of construction going on at the Holiday Inn so they didn't put us into the Bay View room that I had reserved. Since the train got in so late and I was just going to go right to sleep, I figured it wouldn't be worth making a fuss over changing rooms. In the morning, the hotel refunded the extra $10 I had paid for the Bay View room.
Though I didn't see it on their website, the hotel had a shuttle van available to take us to the Emeryville Amtrak Train Station. Thus, we arrived at the station by 8:30 AM, a bit earlier than expected. I gave the driver a $3 tip which was a bit of a savings over what the cab fare plus tip would have been. Ron wanted to go over to the shops that are across from the Emeryville station over the bridge on the other side of the tracks. With only 45 minutes until departure time, that was too risky for me. Instead, we went to a Subway Sandwich Shop that is right across from the street side entrance to the station. Ron purchased some type of breakfast sandwich. Then we went to a small shop that was across the street from the Amtrak station's parking lot. I purchased a single serving size of Cherios, non-fat milk and a cup of coffee. They don't serve breakfast in the Dining Car on the first day of travel on the Amtrak California Zephyr and I wasn't sure if they would have one of the healthier cereals that I like in the Cafe Car on the train. I know they have free coffee on the train for Sleeping Car Passengers, but I really wanted a cup before I boarded the train.
Just after we finished cheking out of the store, the Amtrak California Zephyr arrived into the station. That was a bit before 9 AM. We headed to the platform, taking a shortcut around the side of the station. As we were heading for the platform, I saw that the Virginia City private railcar was at the rear of the train. The Virginia City has been one of TrainWeb's sponsors for a number of years. You should check out their website at www.vcrail.com. If you have never traveled on a privately chartered railcar, it is something you should plan to do at least once in your lifetime! If you think that type of travel is out of your budget, you might want to check when shorter group tours are offered. Members of the TrainWeb Staff have traveled from time to time between Los Angeles and Oakland or Sacramento in a private railcar for not much more than it would cost to take the same trip in a Deluxe Sleeping Car room.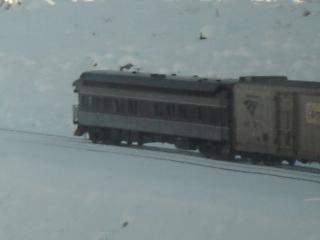 The Amtrak Emeryville Station has an odd shaped boarding platform for the long distance trains. The northbound Amtrak California Zephyr and Amtrak Coast Starlight pull so far forward that only the rear of the train is in front of the actual station building. Passengers have to walk down a very long and narrow platform sandwiched between the tracks and a fenced off parking lot to get to the cars they will be boarding. Since the Sleeping Cars are at the front of these trains, there is a very very long walk down this narrow platform to get to the car you are going to board.
Thursday, January 19, 2006, 09:15 AM PT
On time departure from Emeryville, California! Larry is my Sleeping Car Attendant. He seems very friendly and efficient. When I got to my room, I saw that he had placed two small bottles of water at the seats by the window, plus another 4 bottles on the sink. I'm sure that will be enough to take care of my water needs for this trip!
My room is in a Superliner I Sleeping Car that has gone through one of the earlier refurbishings. It is not one that has gone through the latest series of refurbishing as all of the Superliner I Sleeping Cars have gone through on the Amtrak Empire Builder and some of the Superliner I Sleeping Cars on the Amtrak Capitol Limited and Amtrak Southwest Chief. This car does has the blue fabric throughout for seat coverings and curtains as has been used since the inception of the Superliner II Sleeping Cars. Note, however, that the Superliner II Sleeping Cars use a deep green fabric in the Deluxe Bedrooms whereas the refurbished Superliner I Sleeping Cars use the deep blue fabric througout. The door curtain is of a shorter length instead of the original full length curtains. This is good for maintaining privacy while allowing for more airflow into the room when the curtain remains closed while the door is slid open. The sink is deeper than the original sink, which reduces water from splashing out of the sink, a major problem with the original design. It is not as deep as the newly refurbished sinks on the Amtrak Empire Builder, but it is a definite improvement over the original design of the sinks. This sink still has the stupid faucet levers which are not quite up to the classy look and user friendly functioning of the new sink faucets in the Amtrak Empire Builder. Although the toilet/shower looks new, it appears to still pretty much have the same look and feel as the one that it replaced. There must be a lot of hollow space inside the walls of the prefabricated toilet/shower units. Somehow, Amtrak managed to add what seems like a lot of extra room inside the refurbished toilet/shower units in the Deluxe Bedrooms on that train. My only guess is that they worked hard at eliminated most of the hollow space integral to the prefabricated units and designed the unit so that more of that space ended up available to the occupant of the unit. Whatever they did, it was a major improvement to the toilet/shower in the Deluxe Bedrooms!
I've already managed to leave something behind on the last train, though only a minor item. I have a Coolpad that I take with my notebook computer everywhere that I go. Last night, I put my notebook computer on the floor under the seat to make room on the table. When I retrieved the notebook computer, I must have left the Coolpad under the seat. It isn't a big tragedy as it only costs about $12. It is a nice addition to my subnotebook, but isn't as necessary for this new computer as my old Dell Gateway notebook which used to overheat without adequate air circulation. I was able to pop onto Amazon.com right from the train and order a new one. It should be at home waiting for me by the time I return from this trip. I'm not going to bother with Amtrak Lost & Found as it will cost me more in time and money to retrieve this item than it is worth.
In the above photographs you can see the ongoing construction of the new bridge just outside of Martinez. I don't believe that trains will be using this new bridge at all. I have to assume that railroad traffic will continue to use the old bridge. Once the new bridge is completed, I don't know if the old bridge will continue to serve trucks and autos or if all the traffic will be diverted to the new bridge.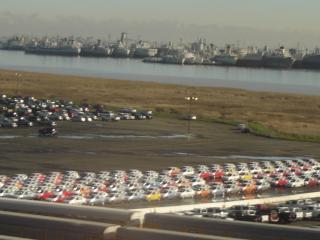 Above is a photograph of the "mothball fleet." These are mostly ships that served during World War II and the Korean War. In the foreground are auto imports. I don't know if it is true or not, but I've heard it mentioned that the ships are sold to Japan for scrap metal which is used to make the autos that are imported to America. Thus, the autos that we drive today might be World War II memorabilia that have been fashioned by Japan from the steel in the very ships that were used to defeat that nation.
Thursday, January 19, 2006, 11:04 AM PT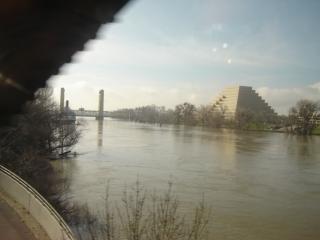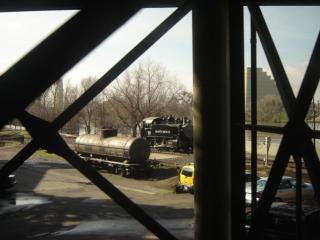 Scenes near the California State Railroad Museum
The Amtrak California Zephyr has just arrived into Sacramento! The Conductor announced that we will only be here for about 10 minutes and that this is the last smoking stop for about the next 5 hours. If the train can manage to leave in not much more than 10 minutes, then we should be pretty much running right on time!
Thursday, January 19, 2006, 11:14 AM PT
To my surprise, we did leave Sacramento exactly on schedule!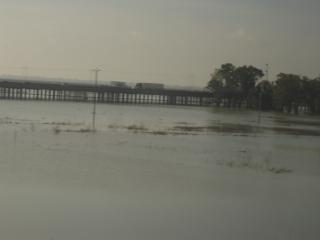 In the photo above, this area is often completely dry with the highway standing on stilts above an empty dry area. As you can see, this area is anything but dry right now. The trees you see are just the very top branches. There is several feet of water on the ground because of all the rain this part of California has received over the last few weeks.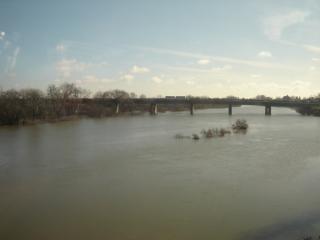 So far, I've gotten a slew of calls this morning from the other people that are flying to Salt Lake City, Utah, to attend the Sundance Film Festival with me. They will all be flying together on JetBlue early this evening. If all goes right, they should arrive before me and have checked into the condo where we will be staying for the next few days.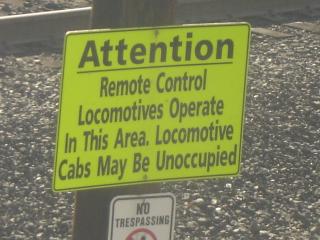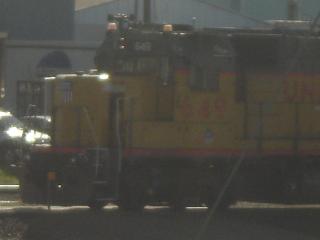 Union Pacific Yard in Roseville, California
Thursday, January 19, 2006, 02:57 PM PT
The Amtrak California Zephyr is still up in the Sierra Nevada. Internet WAN access has been in and out, but mostly out, just like my cell phone reception. As long as there seems to be a few moments of access, I figured I should update my latest additions. Please check above for photographs and descriptions below those photographs that may have been added since you last checked this travelogue. My next update will probably be from Reno, Nevada, sometime after 4 PM Pacific Time.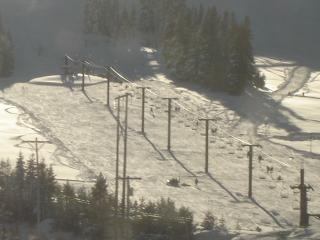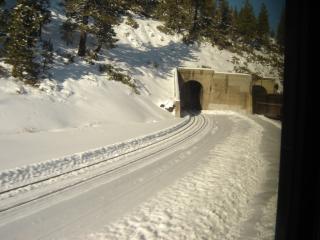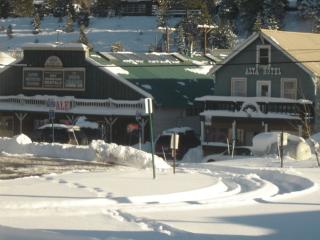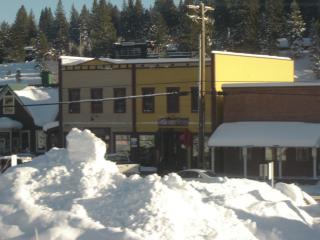 Truckee, California (Lake Tahoe Area)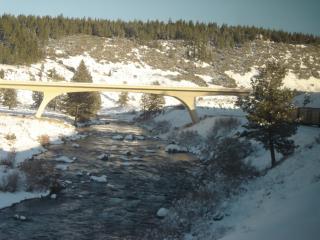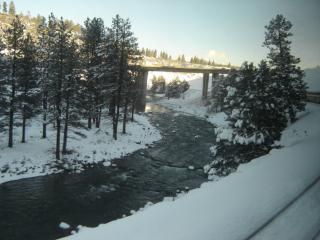 Thursday, January 19, 2006, 05:11 PM PT
The train departed from Reno, Nevada, about an hour and 15 minutes late. This is the first time that I've been on a train through the new trench in Reno. It seemed odd looking almost straight up to see the buildings at street level. I a couple of photos from the trench of the buildings above and the exit of the Amtrak station below that you can see in the photos below. The actual Amtrak Reno Station platform is at the bottom of the trench. From what I could tell from the train, there seemed to be stairs and an elevator to take people down from street level.
I think I've eaten too much today! I had one of my favorite tuna sandwiches from the Cafe Car for lunch, and then went to the Dining Car about 7:30 PM and had their pasta entree. At least I skipped the deserts today. One of the other people that I sat with at dinner is also getting off at Salt Lake City. According to my Sleeping Car Attendant, very few people are getting off at that station this evening.
Before I headed off to dinner, I had the Sleeping Car Attendant make up my bed. I didn't think about asking him which way to orient the head of the bed and he oriented as they always seem to do in my room: with the head of the bed under the windows. After he left, I switched it around so I could face the windows while in bed.
Thursday, January 19, 2006, 09:03 PM PT
The train is now at Winnemucca, Nevada, just about 2 hours behind schedule. If the train doesn't make up any time, that should put me into Salt Lake City at about 5:15 AM, which is a bit better than 3:15 AM.
The Mystery of the "Used Blades". I noticed there is a slot at the sink to insert your "Used Blades." I wonder where they go. A lot of medicine cabinets in homes have a slot for "Used Blades" inside them. Those used blades just seem to fall inside the wall of the house. I assume someone has figured out the house will probably rot away long before the wall fills up with used blades. But, it could be a hazard to any electrician, plumber, or construction worker doing remodeling that happens to tear open that wall. I am just really curious as to where these "Used Blades" on the train go. Do they also fall inside the wall to be transported endlessly between Chicago and Emeryville over the years until the final retirement of the car, like the character in "A Man Without A Country?" Even though I'm sure the weight is very minor compared with the total weight of the car, it seems silly to keep trash to the car to be carried around forever. Is there actually some way that these "Used Razors" are cleared out periodically? Maybe I should write a note and thow it in there for someone to find in the far future, sort of a mobile historical time capsule.
I'm going to turn in now and try to get some sleep so that I'm not too tired tomorrow.
Thursday, January 19, 2006, 03:48 AM MT
The train is about to arrive into the Amtrak Salt Lake City Station any moment now. The Car Attendant came by to ask if I wanted any bags brought down about 5 minutes ago. Seeing that I was still working on my computer, he said that he'd come back when we arrived into the station. At the moment we are stopped, but I think that is because we are waiting for some freight traffic to go by. A locomotive followed by a lot of empty flat cars just started going by my window.
Thursday, January 19, 2006, 05:00 AM MT
The Amtrak California Zephyr arrived into Salt Lake City around 4:00 AM Mountain Time. I think I slept from around 9:30 PM Pacific Time until almost 4:30 AM Mountain Time which is about 6 hours of sleep. Not the optimum amount of sleep that I like to get, but it will have to do for now.
As the Sleeping Cars were pulling by the station, I could see quite a few passengers waiting to board the train. It's amazing that so many people are willing to take the train even when it serves this city at such awful hours.
There was only one taxi waiting at the Salt Lake City Amtrak Station. Since my Sleeping Car was about the closest to where the taxi was waiting, I was able to get it first. There were a number of other people, mostly from the Coach Cars also getting off in Salt Lake City. I don't know if any of them were planning to take a taxi, but my taxi driver called the dispatcher to have more taxis sent to the station. He said there would probably be another 5 or 6 taxis at the station in about 5 minutes. He was almost sorry to have made the call as he hoped that he would be able to drop me off at the car rental at the airport and return to the station to pick up another fare himself. I gave the driver an adequate tip to compensate for the short trip to the airport, even if he didn't make it back to the Amtrak station in time to pick up another fare.
The Salt Lake City Airport seemed pretty deserted. There aren't any passenger flights in or out during the night unless there is a flight delay. The taxi driver mentioned that there are quite a few of freight flights that come and go during the night. The big car rental companies like Avis and Hertz are open all night and each had one person manning their desks. The process of checking in and getting the minivan that I rented was pretty simple and went pretty quickly. I used my GPS to get from the airport to Park City where the Sundance Film Festival is held.
Thursday, January 19, 2006, 06:00 AM MT
From the time that I got off the train, took a taxi to the airport, rented the minivan, and drove to Park City, only a bit more than an hour had passed. I arrived at the reservation center in Park City which I already knew would be closed. Someone was supposed to leave a voice-mail for me to let me know exactly where we were staying, but there wasn't any such voice-mail. So, I called my wife and had to wake her up to find out where the condo that we rented was located. I made it to the rented condo at around 6:30 AM. At that time, I found out that the other people in my party who flew to Salt Lake City hadn't gotten into the condo until around 3:00 AM! There flight was on time, but they had difficulties with the car rental, obtaining the rental documents, and finding the condo. So, while I had managed to get 6 hours of sleep, they had only slept about 3 hours by the time that I arrived! I sure am glad that I came here by train!
So, this is the end of my travel to the Sundance Film Festival. Part 3 of this travelogue will include some narrative and photos from our activities at the Sundance Film Festival.
I've added a number of photos to this travelogue above. If you've been reading this travelogue while my journey was in progress, you might want to look back through this page again to see if you missed viewing any of the most recent photos that were added. All of the above photos and more that relate to this segment of this travelogue can be found by clicking on Photo Set #2. There is a good chance that my next update might not be until I am on the train heading home on Tuesday, January 24, 2005.
Additional Photographs:
Set #1 / Set #2 / Set #3 / Set #4 / Set #5 / Set #6
Set #7 / Set #8 / Set #9 / Set #10 / Set #11
Click a link below for another part of this travelogue:
Part 1 / Part 2 / Part 3 / Part 4 / Part 5
Links related to this travelogues:

CLICK HERE
To Read More Rail Travelogues
And View More Photos Of Rail Travel!

Are you interested in rail travel along some or all of this journey yourself? There are very few travel agents that have the necessary knowledge and experience of rail travel to answer your questions and to book a journey that you will remember for a lifetime. TrainWeb has sought out those travel agencies and rail tourism companies that not only have the knowledge to book your travel, but have gained the required experience through extensive rail travel themselves! Click here for a list of these rail travel providers!
There have been
visitors to just this travelogue since January 18, 2006.
Visit our Rail Magazine promotion trading partners:
Click here to add your print rail magazine.