Amtrak Travelogue & Photos
Fullerton, California to Salt Lake City, Utah
Round Trip with an Overnight Hotel Stay in Emeryville, California
on the Amtrak Pacific Surfliner,
the Amtrak Coast Starlight and the Amtrak California Zephyr
January 18 through 25, 2006, Wednesday through Wednesday

PART 5 - Southbound Amtrak Coast Starlight
Wednesday, January 25, 2006

www.trainweb.com/travelogues/stevegrande/2006a25a.html
Click a link below for another part of this travelogue:
Part 1 / Part 2 / Part 3 / Part 4 / Part 5
Please Note: This is a work in progress. Very little has been done in the way of editing and spell checking yet. I'm going to try to update this travelogue while I am on this trip from time to time now that I am able to get online right from the train. Please do check back from time to time to see if I have added any new material since you last checked. This page is the LAST segment of my rail journey. If you have not yet read the previous segments of my rail journey, please CLICK HERE to go to the start of this travelogue.
Wednesday, January 25, 2006, 08:15 AM
Here we are, already on the last segment of this rail journey! I'm still in my hotel, the Holiday Inn San Francisco / Oakland By Bridge at 1800 Powell Street, Emeryville, CA 94608, (510)658-9300 and (510)547-8166. The room is on the bay side this time and I'm looking out over the bay as I write. I always find it amazing that the Holiday Inn company isn't able to use the web address "www.HolidayInn.com" as the main web address for the entire Holiday Inn chain. One particular Holiday Inn, "Holiday Inn by the Falls", near Niagara Falls, New York, first thought of registering the HolidayInn.com domain name and has hung onto it ever since. The weird thing is, if you go to HolidayInn.com, it is not obvious how to get to the corporate web site so that you can make a reservation at any other Holiday Inn. The corporation is left with the hyphenated version, www.Holiday-Inn.com, for worldwide reservations. It just seems odd to me that the main corporation has either never tried or never been able to negotiate use of the www.HolidayInn.com web address from one of their individual franchisees for worldwide reservations. I'm sure thousands of people go to the wrong web site every day and can't believe that a link to the correct reservations page is either not on that web site or is very difficult to find.
Last night about 11:00 PM I checked the status of my southbound Amtrak Coast Starlight on Amtrak's website at www.amtrak.com. The web site indicated that my train was running around two hours late. Because there is some padding in the schedule on the approach to Sacramento, I set the alarm clock for 6:30 AM. That would give me enough time to get ready in the morning, pack up, and walk to the station even if the train made up an hour or so. The southbound Amtrak Coast Starlight is scheduled to leave Emeryville at 8:20 AM, so it is unlikely to depart earlier than 9:20 AM, even if it makes up an hour.
Sometime in the morning while I was sleeping, Amtrak left a message that the southbound Amtrak Coast Starlight was running about two hours late. When I got up at 6:30 AM, the first thing I did was to get online and checked the current status of the train. It was still running about two hours late. I went back to bed for a little bit longer, but was pretty awake by 7:00 AM. So, I got up, got ready, made some coffee, and packed up everything except my computer and started working on this last segment of my travelogue.
Wednesday, January 25, 2006, 08:40 AM
Here is the current report on the status of the southbound Amtrak Coast Starlight "Estimated arrival: 1 hour and 58 minutes late. As of the last report at 7:18 am between Chico, CA (CIC) and Sacramento, CA (SAC), it was running 2 hours and 46 minutes late." It is now 8:44 AM and the most recent report about the train is from 7:18 AM. There are 3 possibilities: (1) the train has not yet arrived into Sacramento and the Station Agents have nothing to report until the train arrives, (2) the train is in Sacramento right now and the Station Agents are busy taking care of passengers and baggage, or (3) the train has already departed Sacramento and the Station Agents haven't had time yet or have forgotten to enter the departure time. Since the time I plan to leave the hotel is based on what time the train leaves Sacramento, having the updated train status is important to me. If either above case (1) or (2) is true, I don't have a problem as the southbound Amtrak Coast Starlight can't depart from Emeryville less than 90 minutes after the time it departs Sacramento. If case (3) is true, then the train could be getting closer to Emeryville than I am aware and I need to be leaving to walk to the station very soon.
Wednesday, January 25, 2006, 08:55 AM
Still no updates on the train status since 7:18 AM. The safest thing I can do right now is to assume that the train arrived into Sacramento at the estimated 8:13 AM and departed with the minimal amount of time it takes to service the train in Sacramento. 15 minutes would be a record for the southbound Amtrak Coast Starlight to idle in Sacramento, so I'm probably pretty safe in estimating that it would not get out of there until 8:30 AM. Thus, the earliest the train could possibly get into Emeryville would be 10:00 AM -- which matches Amtrak's estimated arrival time into Emeryville.
Wednesday, January 25, 2006, 09:00 AM
Finally an update! "Estimated arrival: 2 hours and 40 minutes late. As of the last report at 8:56 am at Sacramento, CA (SAC), it was running 2 hours and 41 minutes late." They are now estimating a 10:50 AM arrival into Emeryville. Desiring to know more about exactly where the train is right now and if it has departed from Sacramento yet, I use the Amtrak web site to check the status of the train relative to Sacramento (SAC) instead of Emeryville (EMY). By checking on the arrival status into Sacramento instead of Emeryville, I get the following result: "Arrived 2 hours and 41 minutes late - Actual Arrival 8:56 AM." So, now I know that the train is still in Sacramento right now and that the estimated arrival time into Emeryville could be a little soon or later, most likely later, than the estimate based on what time the train actually departs from Sacramento. At present, I don't have to worry about leaving the hotel any earlier than 10:00 AM to be at the station in time to catch the southbound Amtrak Coast Starlight.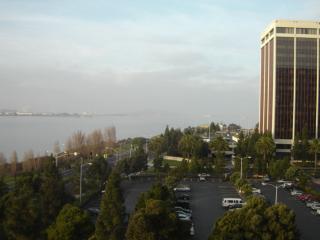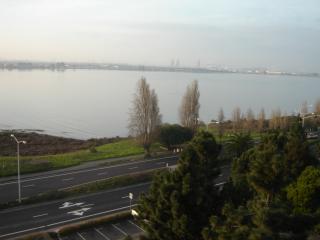 View of the bay from my room at the Holiday Inn San Francisco / Oakland Bay Bridge
near the Amtrak Emeryville Station
Just a little warning: if you plan to stay at this Holiday Inn anytime soon, there is a lot of construction going on right now. I think that is why they ended up putting me into an inland facing room on my outbound journey instead of the bay view room that I requested. They did refund the extra $10 for the room, but it seems that most of the reconstruction work is on the bay view side. There are warnings that the water is turned off in many of the hotel rooms between 9 AM and 3 PM as part of the construction effort. Starting at 9 AM, there was also a lot of construction noise from the room next door. I doubt that just about anyone would have been able to sleep late through all that noise. On the flip side, if you stay at this hotel anytime after this year, you will probably be staying in a newly refurbished room.
Wednesday, January 25, 2006, 10:30 AM
I'm now at the Emeryville Amtrak Station. I last checked the status of the southbound Amtrak Coast Starlight at 10:00 AM and the estimated time of arrival into Emeryville was 11:00 AM. I didn't want to cut it any closer than having an hour to get from the hotel to the station, so I packed up and left my room as quickly as I could. The hotel offers a free shuttle service, but it only operates until around 10 PM. Even if it is running on time, the scheduled time for the northbound Amtrak Coast Starlight to arrive into Emeryville is 10:02 PM. So, if you are coming north to this city and your train is running pretty much on time, you might want to call the hotel to see if they will still send a shuttle van to pick you up. Heading southbound to Emeryville on the Amtrak Coast Starlight or arriving on the California Zephyr or most of the Amtrak San Joaquins or Amtrak Capitols shouldn't be a problem. The Holiday Inn will provide you with free van shuttle service to and from the hotel. But, if you arrive after 10 PM, you can either take a short taxi ride or walk from the station. If you take the short cut over the tracks using the pedestrian bridge, it isn't too far a walk to the hotel.
Wednesday, January 25, 2006, 10:51 AM
The latest estimate is that the southbound Amtrak Coast Starlight will arrive into Emeryville at 11:23 AM, "Estimated arrival: 3 hours and 13 minutes late. As of the last report at 10:48 am at Martinez, CA (MTZ), it was running 3 hours and 14 minutes late." It is ideal for me when this train is running about 90 minutes late. Because of schedule padding, running 90 minutes late puts the southbound Amtrak Coast Starlight into Los Angeles with just enough time to transfer passengers and baggage to the connecting southbound Amtrak Pacific Surfliner. Since that is the last southbound Amtrak Pacific Surfliner of the day, passengers heading south of Los Angeles are usually bused if the southbound Coast Starlight arrives any later than about 10:00 PM. It looks like I will be bused from Los Angeles to Fullerton tonight. The bus ride itself is pretty short, especially at that hour. But, for some reason, it seems to take much longer to transfer passengers from the Coast Starlight to the buses than to the connecting train. I think it may be because, unlike the train, the buses don't have to try to keep to a schedule. It doesn't matter what time the substitute buses leave Los Angeles to take the connecting passengers south and that seems to be reflected in the pace and urgency of getting the passengers and baggage loaded into the buses. When I've left my car in the garage in Los Angeles, I've managed to drive all the way home and be in bed before the buses have left Los Angeles with the connecting passengers. That is why I often drive to Los Angeles and leave my car in the garage there rather than take the connecting Amtrak Pacific Surfliner trains. Looks like I should have driven and left my car in Los Angeles this time too.
Wednesday, January 25, 2006, 11:05 AM
An announcement was just made over the P.A. system that Train #11, the southbound Amtrak Coast Starlight, has just left Martinez and is expected to arrive into Emeryville between 11:25 AM and 11:35 AM. The Amtrak Station Agents gave detailed information about Sleeping Car Passengers boarding directly in front of the station and Coach Passengers boarding about 7 car lengths down the platform. For the northbound Amtrak Coast Starlight this arrangement is just the reverse with Coach Passengers boarding closer to the station and Sleeping Car Passengers boarding way down the platform. The Amtrak Station Agents also provided information for those passengers that will need assistance boarding the train.
An eastbound Amtrak corridor train just arrived and departed from the station. That was soon followed by a westbound Amtrak corridor train. Minutes afte that, another eastbound Amtrak corridor train arrived into the station. Several Amtrak Capitols that run between San Jose and Sacramento and Amtrak San Joaquins that run between Oakland and Bakersfield serve this station every day. I can't tell the difference between them by just looking at the equipment as they both use Amtrak California Cars. A virtual photo tour of the Amtrak California Cars can be found by clicking here.
A virtual photo tour of the Emeryville Amtrak Station can be found by clicking here. Actually, virtual photo tours of many of the Amtrak stations up and down the west coast and throughout the nation can be found by clicking here.
Wednesday, January 25, 2006, 11:20 AM
The Amtrak Emeryville station is stocked with more current Amtrak schedules and information brochures than I have seen at any other Amtrak station throughout the nation. They have schedules for pretty much every Amtrak train in the nation and plenty of them. They also have various informational Amtrak brochures that I've never seen anywhere other than this station. This station is not only staffed by diligent Amtrak Agents, but they also are served by the "Station Host Association of California." There are flyers in the station advertising for people to volunteer their time to help assist Amtrak's guests and station staff. If you are interested in volunteering you can contact the Station Host Association of California at P.O. Box 99841, Emeryville, CA 94662-0841. Just write to them and request an application to be a Station Host.
Wednesday, January 25, 2006, 11:29 AM
The southbound Amtrak Coast Starlight has just pulled in. I've got to close up and board the train!
Wednesday, January 25, 2006, 11:30 AM
When I boarded the train, the Sleeping Car Attendant said that there was already someone in Room E and that I should instead take Room A. I don't have a problem with Room A at all but many people do. Because Room A is at one end of the Sleeping Car, a small amount of space needed to be shaved off Room A to make room for the corridor to curve around to the door between cars. That made it necessary to change the configuration of Room A. Instead of the toilet/shower door opening toward the single seat in the room that is by the window, the toilet/shower door opens by the door to the room. That means that the entire toilet/shower/sink unit had to be moved closer to the single chair leaving almost no room on either side of the single chair. The single chair thus ends up in a small cubby space where the back of the toilet/show is on one side and the outside window on the other side. When you open the table that is under the window, the single chair almost becomes a completely surrounded space. There is also very little space to open the door to get into the toilet/shower. If you are a large person, make sure that you do not get assigned to Deluxe Room A when you make your Amtrak reservation. There are people that would have difficulty getting into the toilet/shower in Room A because of the different configuration of this room. A large person might also have difficulty getting in and out of the single seat when the table is opened up. Since I personally don't need much space to maneuver, the configuration of Deluxe Room A doesn't give me much of a problem.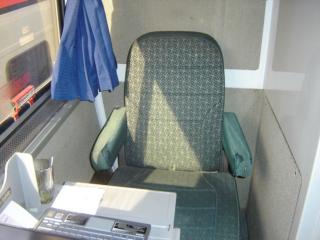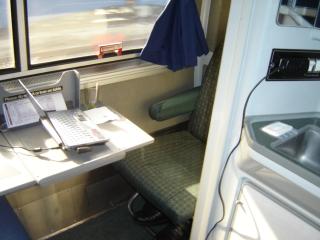 See how the single chair is in a cubby like space in Deluxe Room A
The first thing that I saw when I entered Deluxe Room A was a gaggle of ladders stuffed around the single seat in the room. I've been in Deluxe Rooms where the ladder was missing, but I've never been in one with so many extras! Usually, each room has one ladder and it is kept on the upper berth that is folded away during the daytime. I folded down the upper berth to see if I could store the ladders up there, but found there was already another ladder up there! Instead, I temporarily moved all the ladders by the door to the toilet/shower room. The Sleeping Car Attendant soon came by and took all the extra ladders away. The second thing I noticed was that there were plenty of extra pillows on the sofa. I almost never use the pillows on the train except when I lay down to sleep, rest or read. So, I stored three of the pillows away on the upper birth and left one of them out on the sofa.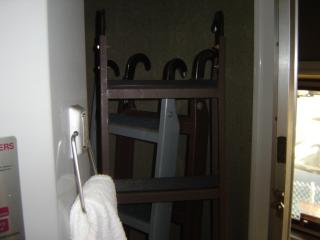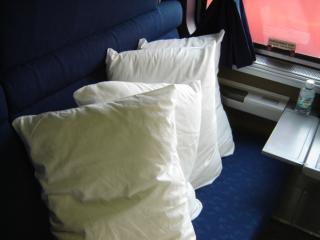 Left: Lots of extra ladders - Right: Lots of extra pillows
It turns out that one of the Deluxe Bedrooms in Car 1131 was sold onboard earlier and that person was placed into a Deluxe Room that had already been sold to a passenger boarding down the line. When that second passenger boarded the train, they could not be put into the room indicated on their reservation since someone was already in that room. Instead, they were placed into Room E in Car 1130, the room that I was suppose to have starting in Emeryville. So, when I boarded, they placed me in Room A since the manifest showed that room as vacant for the rest of the journey. I do know some people that would have blown their stack over this change and demanded that they be placed into Room E. Some people actually work real hard at making sure that they do not obtain a reservation for Room A and would have been very upset with the change. Fortunately, I don't have any issues with Room A, especially when travelling alone.
Wednesday, January 25, 2006, 12:15 PM
The train departed Emeryville at 11:36 AM, three hours and 16 minutes behind schedule. We arrived into Jack London Square, Oakland, at 11:56 AM and departed at 12:13 PM, three hours and 23 minutes behind schedule. So far, it looks like we should be getting into Los Angeles around midnight if we don't fall any further behind schedule.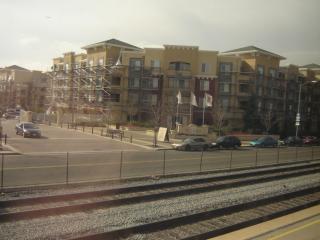 More condo construction across from the Amtrak Jack London Square / Oakland Station
One thing great about Room A in Car 1130 is that it is just 3 steps away from the Pacific Palour Car! As soon as the Conductor collected my ticket, I went to the Pacific Parlour Car and purchased a Bloody Mary. I didn't have to worry about spilling any as it is just a few steps from the Parlour Car to my room! This location also makes it easy for me to be one of the first ones into the Parlour Car when they announce the Wine Tasting or into the Dining Car if I wanted to be in the first lunch seating. This is always true for anyone booked into Room A of the 30 car in either the northbound train #14 or southbound train #11 Amtrak Coast Starlights.
Wednesday, January 25, 2006, 01:34 PM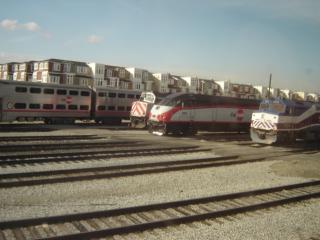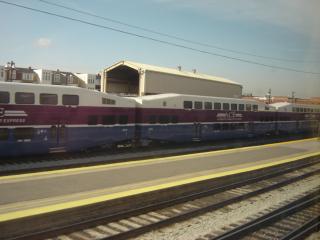 ACE, CalTrain, and new housing at the San Jose Amtrak Station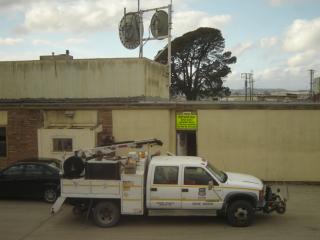 Wednesday, January 25, 2006, 03:03 PM
This southbound Amtrak Coast Starlight just departed from Salinas exactly three hours and fifteen minutes behind schedule. I just headed down to the Pacific Parlour Car to see if I can get one of the big swivel chairs to sit in during the afternoon wine tasting. No announcement has been made for the wine tasting yet, but they usually never start it later than 4:00 PM. Otherwise, some passengers would still be in the middle of the wine tasting when the first call for dinner is made at around 5:00 PM. The train is not very crowded on this trip so I was easily able to obtain one of the big swivel chairs. Only two of the chairs were occupied when I entered the Parlour Car.
Since the TomTom GPS that I brought along is also battery powered, I took it with me to the Pacific Parlour Car and set it on the shelf by the window. The batter power on this sub-notebook computer can last more than four hours, so no problem there either. The most wonderful thing is that I can hop onto the internet from just about anywhere, so it doesn't matter whether I'm in my room or in the Parlour Car. I can get onto the web just as easily from either location!
I was going to eat the Amtrak tuna sandwich for lunch that I had purchased on the Amtrak California Zephyr yesterday. However, on my way back from the Pacific Parlour Car with my Bloody Mary this morning I noticed they were also featuring a chocolate chip brownie type cake in the Parlour Car. I'm not exactly sure what you call it. It had the texture of a brownie, but the color and taste of a chocolate chip cookie. Ever since I ate one of those with my Bloody Mary this morning, I haven't been very hungry. So, I'm going to continue to save my Tuna Sandwich and will maybe have it for dinner.
Wednesday, January 25, 2006, 03:18 PM
As the Pacific Parlour Car Attendant went by, he removed the empty glass from my Bloody Mary that I had brought back into the Parlour Car with me. He asked if I would like another one and I replied that I'm just going to wait for the Wine Tasting. When I asked him what time that would be, he said it would be at 4:00 PM.
A real nice feature about these swivel chairs in the Parlour Car is that I can swivel around to avoid the sun from reflecting off the screen of the notebook computer. No matter which way the train turns, I can just swivel in a different direction and get the sun off the screen.
Wednesday, January 25, 2006, 04:52 PM
The train just departed from Paso Robles, California, still about 3 hours and 15 minutes behind schedule. I think I'll be able to remain on the internet until at least San Luis Obispo. Somewhere south of San Luis Obispo as the train gets to the coast and goes through the Vandenburg Air Force Base the Verizon WAN connection vanishes for an hour or two. Once that happens, I won't be able to provide any further updates until the train gets a bit closer to the Santa Barbara area.
Wednesday, January 25, 2006, 09:09 PM
Just some minor status updates: This train departed from San Luis Obispo at 5:55 PM and departed from Santa Barbara at 9:05 PM, two hours and 48 minutes behind schedule. We are two hours and 33 minutes from Los Angeles. Without further delays, we could make it into Los Angles by 11:42 PM. That still means that buses will be waiting for us, buses that might not depart from Los Angeles until close to 12:45 AM. So far it looks like I won't be getting to Fullerton until well after 1 AM and am lucky to be in bed by 2 AM.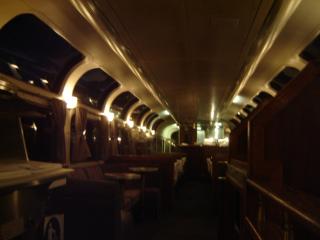 Wednesday, January 25, 2006, 10:45 PM
The train just departed from Simi Valley three hours and seven minutes behind schedule. Looks like we lost some more time. My estimated arrival time into Los Angeles is now 11:53 PM.
Wednesday, January 25, 2006, 11:41 PM
This has to be a first! I'm uploading live from the interior of an Amtrak bus! The train arrived into Los Angeles at about 11:30 PM. I didn't hear any announcements over the P.A. about connections, but I did notice that some of the Conductor announcements that could be heard in the corridors were not coming into my room even though I checked the various channels. So, maybe the Conductor did announce something.
Just assuming there would be a bus connection since the train arrived so late, I started heading to the bus loading area. On my way down the tunnel, I heard what sounded like a boarding announcement for a train to San Diego. That got me a bit confused and I started looking around to see if the last southbound Amtrak Pacific Surfliner had been delayed. After checking around, I confirmed that it would be a bus. The bus so far seems only about half full. Each person is taking a pair of seats. It is definitely more pleasant riding a bus when it is only half full than when it is packed with every seat occupied.
Hopefully, with the light load of passengers, this bus will be out of here before midnight and not still be loading at 12:30 AM. The bus driver has started to collect tickets, so that is a hopeful sign!
The bus driver is not checking to make sure that all the checked baggage has been loaded onto the bus. Some people check their bags only as far as Los Angeles rather than to their final destination. Those bags do not get transferred to the bus. They have to be picked up at Baggage Claim in Los Angeles. Some passengers don't realize this and end up at their final destination without their luggage. The bus driver just had some of the passengers go check the storage area under the bus to make sure their bags have been loaded onto the bus.
Now the bus driver is checking on some of the differences between destinations on the tickets of various passengers versus where they really want to go. One person has a ticket to San Diego, but they rather get off in Solana Beach. Another couple have tickets to San Diego, but they want to get off in Oceanside. This isn't important when taking the train since you can get off the Amtrak Pacific Surfliner at any station that comes before where you are ticketed. But, on this substitute bus, the bus is only going to go to the stops that passengers want to go to and skip all the stops where there are no passengers getting off.
Wednesday, January 25, 2006, 11:58 PM
The bus is on its way in record time! I guess with half the passengers it takes half the time to get the bus loaded up and ready to go. I'm going to have to stop writing for now. Unlike working on the computer on the train, I think I'm going to be sick if I continue to try to work while riding on the bus. I'm going to sign off for now and this may be the end of this entire travelogue. The bus should arrive into Fullerton in less than 30 minutes.
Additional Photographs:
Set #1 / Set #2 / Set #3 / Set #4 / Set #5 / Set #6
Set #7 / Set #8 / Set #9 / Set #10 / Set #11
Click a link below for another part of this travelogue:
Part 1 / Part 2 / Part 3 / Part 4 / Part 5
Links related to this travelogues:

CLICK HERE
To Read More Rail Travelogues
And View More Photos Of Rail Travel!

Are you interested in rail travel along some or all of this journey yourself? There are very few travel agents that have the necessary knowledge and experience of rail travel to answer your questions and to book a journey that you will remember for a lifetime. TrainWeb has sought out those travel agencies and rail tourism companies that not only have the knowledge to book your travel, but have gained the required experience through extensive rail travel themselves! Click here for a list of these rail travel providers!
There have been
visitors to just this travelogue since January 18, 2006.
Visit our Rail Magazine promotion trading partners:
Click here to add your print rail magazine.