Depot Inn & Suites
La Plata, Missouri
Info From TrainWeb
TrainWeb.com/depotinn/home.html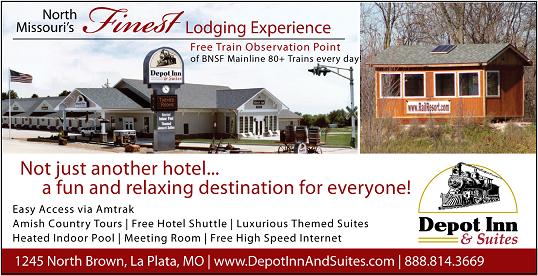 An Amtrak Rail Travel Destination !
---
Click Here for Train Watching Lookout Point Photos & Info!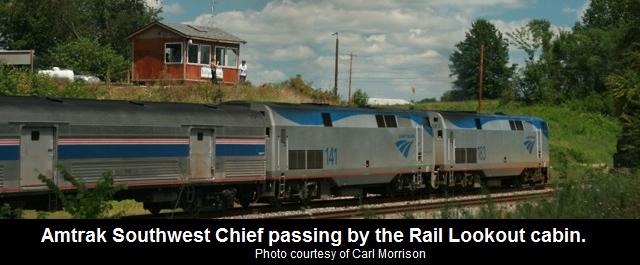 ---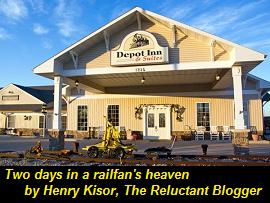 ---
TrainWeb often receives e-mails asking us to suggest Amtrak train journeys. Often these e-mails are from people who are planning to take their very first train ride on Amtrak. Sometimes these emails are from people that have taken Amtrak before, but are just looking for some ideas of interesting places to go by train.
Here is a different idea for an Amtrak travel destination that we are sure that everyone that loves trains will really enjoy: The Depot Inn & Suites in La Plata, Missouri ! We know what we are talking about as La Plata, Missouri, is the new home town of TrainWeb.com ! You can see our new building from the platform at the La Plata Amtrak Station: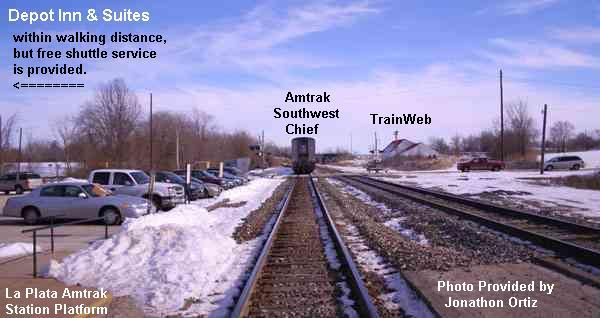 Since you are probably more excited about your anticipated Amtrak train journey than any particular destination, let me go into a bit more detail about that first. These details will vary depending on where you will be starting your Amtrak journey. Please click on one of the following links before returning to read the rest of this page.
Where will you start your Amtrak journey?

AT THE HOTEL: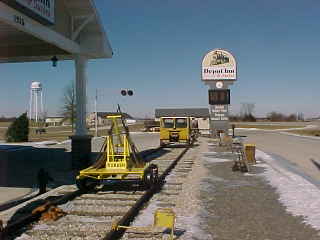 Many of the photos on this page were provided courtesy of Chris Guenzler & Jonathon Ortiz.
Unlike most other Amtrak destinations, you are in for a real treat during your stay in La Plata, Missouri! The Depot Inn & Suites is themed after an 1800s railroad depot and is located on the historic Wabash Line property. If you enjoy historical railroad artifacts, you will find the Depot Inn & Suites to be a small railroad museum in and of itself! Some train enthusiasts spend hours examining the extensive collection on display inside the hotel. Outside, the hotel is landscaped with many railroad-related antiques including a handcar, a motor car, and authentic luggage carts.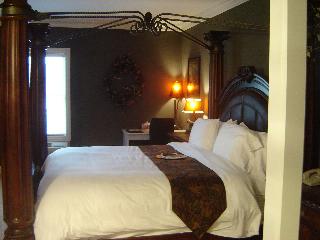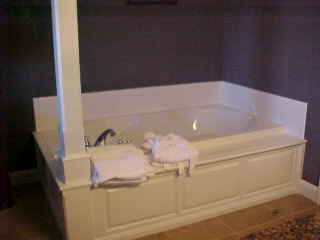 Whether you reserve a railroad themed suite or a regular room, you will be staying in a quality accommodation, especially for the economical room rates. All rooms feature a refrigerator, microwave, coffee maker, hair dryer, iron & ironing board, luxurious linens and free local calls (including Kirksville). All rooms also feature high-speed wireless internet access and a desk or workspace. Standard rooms feature rocker recliners and 27" flat-screen televisions. All themed suites include a fireplace, a 2-person whirlpool tub, a 47" flat-screen television with DVD player, a king size bed with memory foam mattress and a leather queen size sleeper sofa. Plus, just turn to Channel 43 in any room and watch 24/7 live video and sound of trains on the BNSF mainline from a camera mounted at the Rail Lookout Point! The camera is infrared so you can even watch the trains in the middle of the night from the comfort of your room!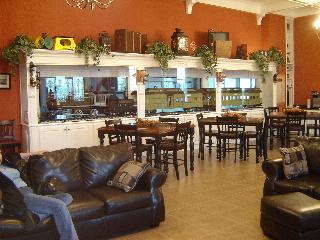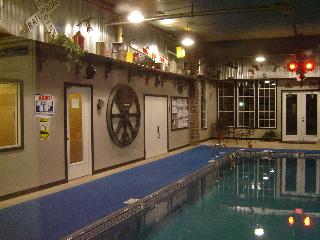 In addition to your own in-room coffee maker, fresh brewed coffee is also available in the hotel lobby around the clock. The Depot Inn & Suites features a 16' x 40' heated indoor pool with a "steam engine" water feature! There is also a large patio complete with BBQ grills, tables, chairs and umbrellas, a secured fenced play area for small children, jungle gym and play train, bicycles, putting green and basketball net. A pool table and game tables are provided free in the large hotel lounge. The hotel has a 24 hour Gift Shop & General Store that includes a variety of pre-packaged refrigerated items as well as personal goods and souvenirs. There are also soft drink vending machines, a guest laundry, and convenient in-house movie rentals. Arrangements can also be made to pick-up and drop-off rental cars at the hotel. Free shuttle service is provided to the La Plata Amtrak Station and the nearby Kirksville Regional Airport.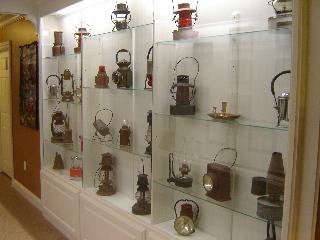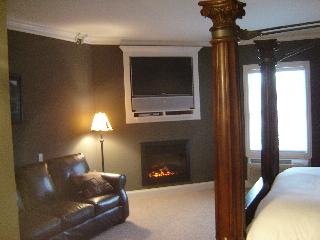 Nearby recreational facilities include an excellent 18-Hole Golf Course plus fishing and water sports at La Plata City Lake, Santa Fe Lake, Long Branch Lake, and 1000 Hills State Park. Seasonal Hunting is available at the Hidden Hollow Conservation Area. Dining is available next door within walking distance at the Red Rooster Restaurant serving 6 AM to 9 PM every day.
BEYOND THE HOTEL:
Within a short distance of the hotel is an excellent lookout for watching trains, the "Chris Guenzler Millionth Mile Lookout Point." The hotel provides free Golf Carts for you to transport yourself to the lookout. The walk from the hotel to the lookout is not too far for those of you that would rather walk.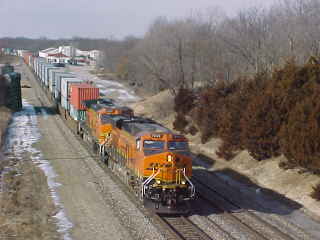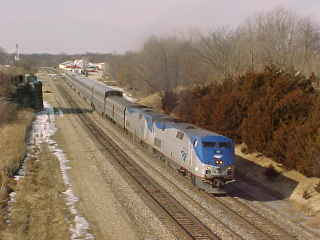 The lookout is atop an old bridge abutment where the historic Wabash Line used to cross over the BNSF mainline. In addition to the two Amtrak trains, more than 70 freight trains roar below the lookout every day! Click here for more information about the train watching lookout point.
Click on any of the below photos for larger images: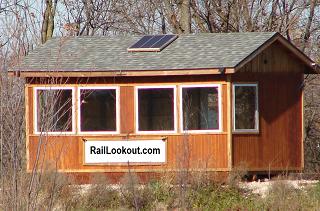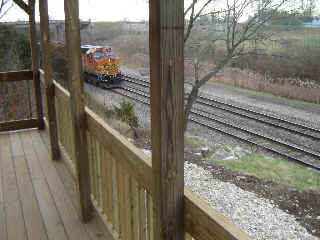 Photos of the Train Watching Lookout with a BNSF train passing below.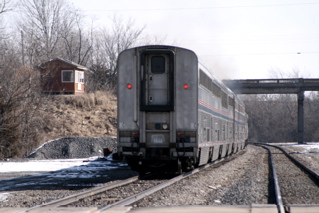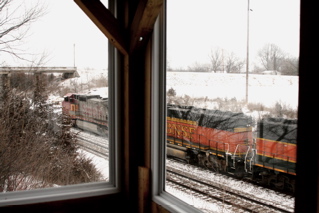 The Amtrak Southwest Chief passes to the right of the Train Watching Lookout
(above to the left in the photo).
Escorted van tours are available of nearby attractions on some weekends. Dates will soon be posted on this page or contact the hotel to have your e-mail address added to their mailing list for upcoming events. These will include a tour of (1) the many historic railroad artifacts throughout the inside and outside of the hotel itself, (2) a walk through the "Exhibition of Amtrak History", (3) a visit to the restored historic La Plata Santa Fe (Amtrak) Depot, (4) a brief drive through Downtown La Plata and a view of the historic Victorian homes: the McLorn House and the Doneghy Home, (5) a drive through Amish farmland with a stop at the Amish Country Store, (6) a extended stop at the Walt Disney Hometown Museum in Marceline housed in the restored Santa Fe Depot including a look at the original Santa Fe 2546 Steam Locomotive in E.P. Ripley Park, (7) a stroll down Main Street Marceline, the inspiration for Disney's Main Street USA and (8) dinner at the Pear Tree Restaurant (food & beverages not included). Information about escorted van tours to other nearby attractions will be posted to this page at a later date.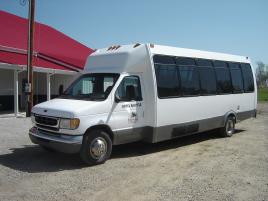 Depot Inn & Suites 22 Passenger Shuttle & Tour Van
You can also tour most of the above attractions in your own rented car. Contact the Depot Inn & Suites to arrange to pick up and drop off a rental car at the hotel. In addition to the above, there are many points of interest less than an hour drive from the hotel. Information about these other attractions is available in the hotel lobby.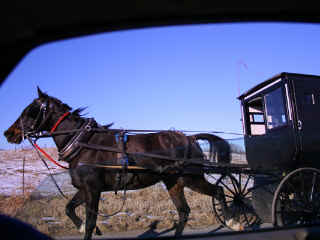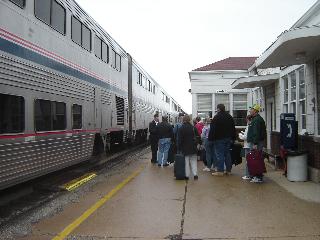 SILVER RAILS EVENT CENTER:
THE FUTURE:
READY TO BOOK YOUR AMTRAK JOURNEY?
Click here for information to help you research your trip, find the best fare, book your tickets and get the most out of your Amtrak experience. Click here when you are ready to book your room at the Depot Inn & Suites online or call 1-888-814-3669 toll-free.
MORE INFORMATION FOR:
RELATED LINKS:
---
DEPOT INN & SUITES / SILVER RAILS RESORT / LA PLATA, MISSOURI
More Photos: Exterior / Interior / Rooms / Train Watching / Amtrak Exhibition / Event Center
For Travel Arrangements & Info e-mail: travel@SilverRails.net or call: 877-459-5900 (toll-free).
---
THINGS TO SEE IN & NEAR LA PLATA, MISSOURI:
SILVER RAILS RESORT CONCEPTUAL PLAN:
OTHER RELATED LINKS:
2009d01a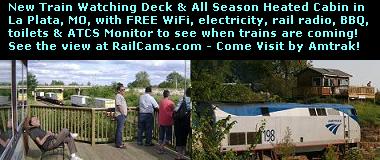 Visit related pages from this and other web sites:
Click below for pages in the directory of TrainWeb sites: