Chris Guenzler Achieves One Million Rail Travel Miles!
www.trainweb.com/chris1mm.html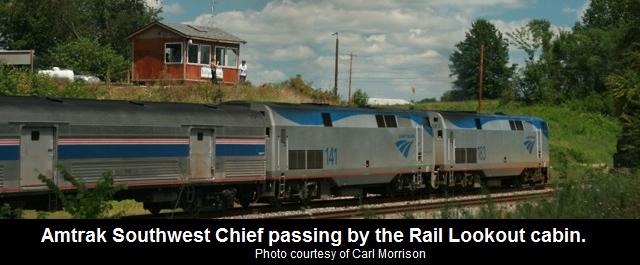 Click on the above image for more info about the lookout point.
---
Chris Guenzler Became First Passenger to Achieve
One Million Amtrak Miles on Monday, April 07, 2008
as he arrived on the eastbound Amtrak Southwest Chief
into La Plata, Missouri!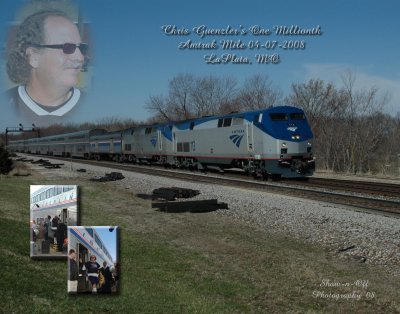 Click Here for information on purchasing the above
Chris Guenzler Millionth Amtrak Mile photo
from Show-N-Off Photography and DJ Service.
Click on each photo below for the story and photos: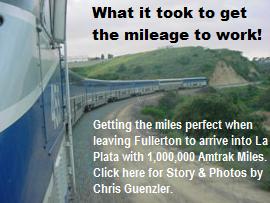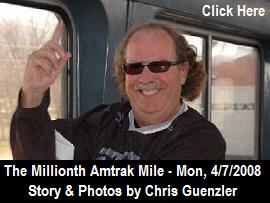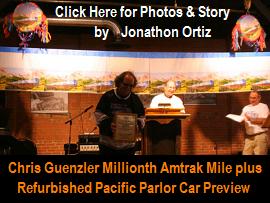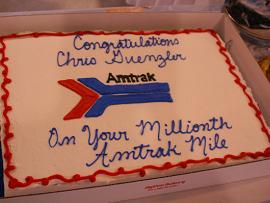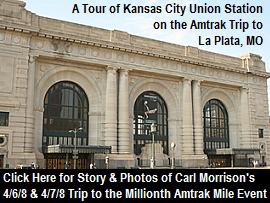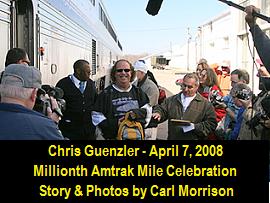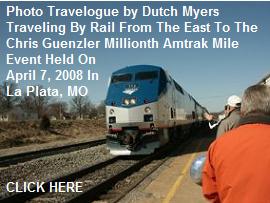 Click Here for Feb 7, 2008 Photos from Steve Grande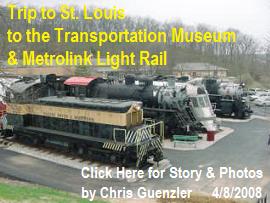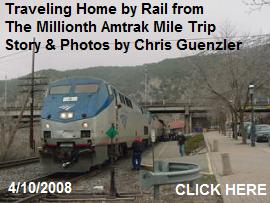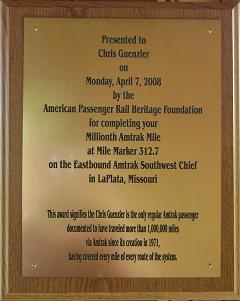 Click Here for Story & Photos Announcing This Event
---
Chris Guenzler Achieves One Million Rail Travel Miles
on Saturday, April 27, 2007 in La Plata, Missouri!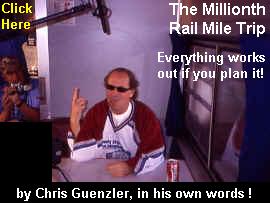 CLICK HERE
to listen to "The Ballad of Chris Guenzler," The Million Mile Rail Travel Man,
by Kenny Marshall
Click here to listen to Chris Guenzler interviewed on LetsTalkTrains.US !
Once you are on the LetsTalkTrains.US Showlist page,
see the description under "Train #042807" and then click on MP1441 through MP1449.
Click each of the links below to view television coverage of the event:
Chris Guenzler on ABC KTVO-TV: Man logs one million miles of rail travel
Chris Guenzler on NBC KOMU-TV: A Million Miles to Sobriety
(Be sure to click on "KOMU ON DEMAND" to see Chris and Carl on TV!
Use Internet Explorer as a plugin might not be available for other web browsers.)

Click each of the links below to view newspaper coverage of the event:
Orange County Register: Who'll Stop The Train?
Los Angeles Times: Last-minute deals on Amtrak train sleeper upgrades
Chicago Tribune: Gambling on an Amtrak roomette on the cheap
(LA Times article not event related but published simultaneously and based on an interview with TrainWeb staff.
The Chicago Tribune article was published on Sunday, May 13, 2007, but it is the same article.)
Click on either photo below for a larger image: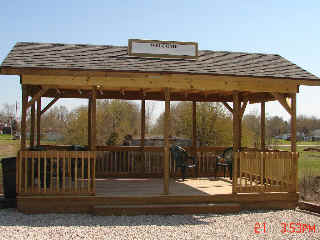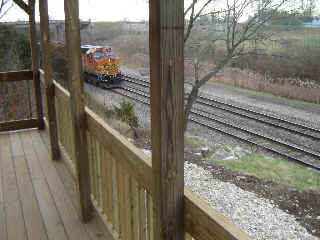 Photos of the Train Watching Lookout with a BNSF train passing below.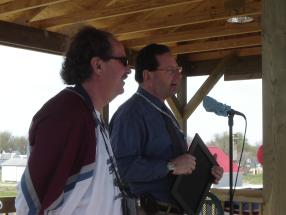 Chris Guenzler being presented award by Marc Magliari on behalf of Amtrak President Kummant
More Photos of Other Award Presentations Coming Soon!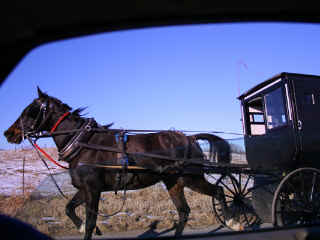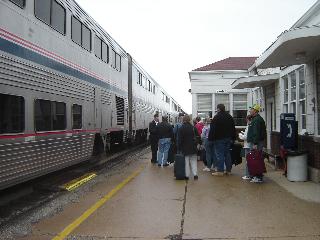 Click here to read the media invitation
Click here to read the Full Version Press Release
Click here to read the Short Version Press Release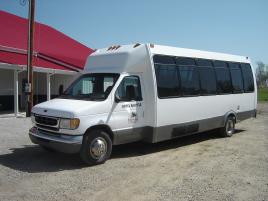 New 22 Passenger Depot Inn & Suites Shuttle & Tour Van
---
DEPOT INN & SUITES / SILVER RAILS RESORT / LA PLATA, MISSOURI
More Photos: Exterior / Interior / Rooms / Train Watching / Amtrak Exhibition / Event Center
For Travel Arrangements & Info e-mail: travel@SilverRails.net or call: 877-459-5900 (toll-free).
---
THINGS TO SEE IN & NEAR LA PLATA, MISSOURI:
SILVER RAILS RESORT CONCEPTUAL PLAN:
OTHER RELATED LINKS:
2009d01a
Visit related pages from this and other web sites:
Click below for pages in the directory of TrainWeb sites: