Amtrak Train Travel
to the Depot Inn & Suites in La Plata, Missouri
www.trainweb.com/depotinn/elsewhere.html



Route of the Amtrak Southwest Chief (click here for a larger image)
Click here to view the entire Amtrak system as a PDF.
If you are starting from outside the United States or Canada and would like to travel to the Depot Inn & Suites in La Plata, Missouri, by Amtrak passenger train, there are many options.
If you would like the shortest trip by Amtrak, just fly into Chicago. You should arrange for a morning arrival so that you have time to take a taxi to Chicago Union Station where the westbound Amtrak Southwest Chief departs at 3:15 PM every day. After about a 5 hours rail journey when the train is running on schedule, you will arrive into La Plata at 8:06 PM. A free shuttle will transport you to the comfort of your room at The Depot Inn & Suites from the La Plata Amtrak Station. There is no need to worry if your train is running late. As long as the hotel knows you are arriving by Amtrak, they will be there to pick you up when the train arrives.
If you would like a longer trip by Amtrak, the best place to fly into would probably be Los Angeles. There is a shuttle bus that runs between Los Angeles Airport (LAX) and Los Angeles Union Station (Amtrak Code: LAX) about every 30 minutes. The eastbound Amtrak Southwest Chief starts from Los Angeles every evening at 6:45 PM. This train arrives the second morning after your departure from Los Angeles into La Plata, Missouri, at 9:57 AM. A free shuttle will be waiting to take you to your room at the Depot Inn & Suites when you arrive!
If you are starting from anywhere else within the United States, there are many ways to connect to the Amtrak Southwest Chief to reach the Depot Inn & Suites in La Plata, Missouri. Your best bet is just to click here to go to Amtrak's website, enter the city nearest your home under "Departs" and type "LAP" (for La Plata, MO) under "Arrives." The Amtrak website will automatically figure out a route for your train travel.
Click here for exact schedules and fares from the above cities and Amtrak travel options from other cities not covered above.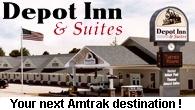 Visit related pages from this and other web sites:
Click below for pages in the directory of TrainWeb sites: