Rail Travelogue To Churchill - Canada
Hudson Bay, VIA Rail's Most Northern Station
By Ray Burns Of TrainWeb.com
(http://www.trainweb.com/travelogues/rayburns/2001a25a.html)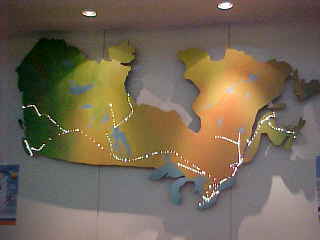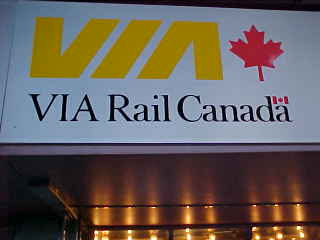 Part 4 - Winnipeg to Ottawa, Ontario, Canada
on Canada's VIA Rail
Winnipeg to Toronto
Thursday, January 25, 2001
Robert and I got up around 6 AM and went into the diner. I had cold cereal with a glass of apple juice. I was not hungry, so VIA offering a continental breakfast coming into Winnipeg from Churchill, worked out for me. We brought our bags downstairs, picked up our large bag, and rechecked everything back in, as our Winnipeg to Toronto train leaves at 12:10 PM. Bob took off for the mall and I went out front to grab a taxi. The taxi driver was from Russia and liked to play classical music on his car radio. I enjoyed that. He took me to FedEx, where I shipped all my pictures and my travelogue to Steve Grande at TrainWeb. Then I had the driver, who waited for me, take me to the mall behind the train station.
I soon met up with Robert. When the stores opened up at 10: AM, we both picked up a few minor knick knacks to bring home.
We went back to the train station at 11:20 AM, picked up our carry on luggage, and waited in the first class section. About a dozen other people were waiting there as well. This time we had room B in car 8330, the Hunter Manor.
6453 F40PH Engine
6448 F40PH Engine
8609 Baggage
8106 Coach
8507 Skyline Dome
8408 Dinier (Empress)
8330 Sleeper (Hunter Manor) [my car]
8337 Sleeper (Osler Manor)
8314 Sleeper (Cameron Manor)
8710 Dome/Sleeper (Prince Albert Park)
I had broccoli/cheese pie for lunch with a delicious date square for desert soon after the train departed Winnipeg. Robert and I noticed our good friends Lee and Jinny Sinclair at a table with their son Jonathan. These are the people that we met on the train when we left Toronto going to Winnipeg last week. They went on to Vancouver where they met up with their son. We all happened to be on the same train coming back. What a pleasant surprise for all of us. Of course we were back and forth to the dome car, taking pictures. It is so fascinating to meet so many interesting people from so many walks of life introducing oneself and talking with people as if we all knew each other for some time. A train isn't as roomy as a large ship where people have room to be alone. A train is less roomy so people are kind of forced to meet other people. Once they do, they usually open up and find that communication isn't so bad after all and that the people that they meet are very pleasant to chat with and sometimes end up longtime friends. Of course, those people that are extroverts have no problem meeting strangers anywhere.
For dinner I had soup and salad with chicken as the main course. A short while later, David Hong, our room attendant, put our beds down, as per my request. Bob and I went back to the dome car to talk with our old and new found friends. Jinny, Lee and Jonathan were playing cards and the two men didn't appreciate being thrashed by the card shark. I wouldn't like it if my wife beat me all of the time neither. The men were too honorable to cheat so they braved her relentless streak of good luck. That's all it was, only luck! Bob told me that when we pulled into Toronto, Jonathan had at last won. Good old tenacity. I guess it's not too bad losing to Jinny when she gives you that sweet smile that kind of says "Oh dear, I guess I won again." I went back to my room and I was on the last leg of completing a paperback that Bob had picked up for me to read "The Last Battle," by Cornelius Ryan. This is the same writer who wrote "The Longest Day" of which a movie was made of it. After finishing it, I hit the hay. I slept pretty well this night.
Friday, January 26, 2001
We got up in time for breakfast today. I had raisin bran cereal with a small glass of apple juice. That was it for me! Robert and I later went back to the dome car enjoying the scenic vistas as we took some pictures of the train as it snaked around curves slithering this way and that. Later on I went to my room and put in a few words into the travelogue.
For lunch we sat with the Jinny and Lee Sinclair, our good friends who were on the same Silver and Blue when we were going west. Here we are going east and we happened to be on the same train. Isn't that a hoot! I had crab in a croissant. I wasn't really hungry so I thought that I'd just pick at it, but it was very good. I ate the whole darned thing. It was just enough to more than satisfy me.
Bob and I had taken their son Jonathan's seat at the table, so when he came in he had to sit with two pretty gals and keep them company. Poor guy!
Bob and I went in for first seating and I had breaded pork for dinner. We met a nice couple who were returning to London, Ontario after visiting Vancouver, BC. It seems that this gentleman spent 20 years working for a small railroad company that has a long proud and successful history that operated in the Windsor/Detroit area picking up a lot of products from the incoming ships. It seems that he knows the retired president of that railroad company who just happened to be an avid railfan. He said that he'd pass my card on to him. With his knowledge of that particular Railway, I thought how appropriate for him to put all of this great history in a website and have it hosted at TrainWeb. TrainWeb has over 400 other rail related websites hosted on its server that we are proud to have as being part of the TrainWeb family. Look at it as strong team effort where TrainWeb does some things and each individual site does other things. We help each other to serve the general public. TrainWeb wants each of these individual sites to get many visitors as there is a wealth of information that they offer. The people that put their website together have put much work and effort into their website and are more than willing to communicate with the public to answer any questions that they might have. The rail related websites of these individuals and non-profit organizations are under the www.trainweb.org section of TrainWeb.
Fortunately we went in for first seating for dinner, as now we had more than ample time to pack our bags up with no real rush on our part. Eventually, we entered the Toronto area and it was soon time to get off. Our room attendant had taken our bags out by the doorway so they could be taken off before anyone departed the train. This is an orderly way of doing things as the people did not have to drag their bags down the corridor but rather just picked them up from the neat pile waiting for them as they stepped off the train. Everyone said their goodbyes, and we were off!
We went down the escalator to the lower part of the station and waited about fifteen minutes for our luggage. After picking it up, we went outside and got in a taxi and went to the Colony Hotel.
Sure enough, the hotel had us already listed and the friendly bellhop helped us to our nineteenth floor room. We gave him a two dollar tip. The room was extremely inviting to me and I jumped into the shower as soon as I could. I called Steve Grande at TrainWeb, and sure enough, he did receive my former travelogue material from FedEx. It was great hearing his voice again! We were both worried about Shivam Surve, our senior programmer that went back to India to visit family. We weren't sure if his area was affected by the great earthquake in India that killed thousands. I sure hope that he is okay as he is family to us. We all work as a team, here. (Via e-mail communication, we did find out later that Shivam was several hundred miles from the epicenter and that the earthquake had little effect on the area in which he was staying in India).
Toronto to Ottawa
Saturday, January 27, 2001
I slept in late today and enjoyed every minute of it. I got up at 9:45 AM, got ship shape and we then went downstairs to check out. The checkout went smoothly and a cab was hailed for us by the doorman. The cab took us directly to the train station. The cost was $4.50. We gave the driver a tip.
At the train station we went straight to the first class lounge and relaxed. I got myself a little ginger ale, read some of the local newspaper, and prepared for our departure. Leaving the first class lounge I noticed a long line of people in coach class waiting to board. The first class clientele go straight to the front of the line and take the escalator up to the main floor where our train was waiting for us. We went to the first car behind the engine, boarded, put our luggage away and went to our predestined seats. The car was fairly full. Consequently, I had to rearrange the luggage to get ours in.
I really enjoy the first class treatment on this trainset. The first thing they did was to pass out a menue as to what is available for lunch. I had Chateaubriand with Vegetables Bouquetiere. It was served with Bearmaise and Burgundy wine sauces. Dessert was Chocolate Orange Cake. We were also served red wine of which I gave my brother in return for his chocolate cake. Everyone was happy. The food was good, the service always excellent, the trip smooth and fast and relaxing, the scenery great, and the world was my oyster!
I later took out my laptop and dug into catching up on my experiences. I called my sister Lorraine, that lived in Brockville, Ontario, and let her know that we'll be coming by her small city soon. It is always great talking with my favorite sister. We will soon be coming into Ottawa and Anne Marie, my sister in law, should be there to pick us up at the train station. Another chapter completed.
Saturday, January 27, 2001 - Approximately 11:30 AM.
Once off the train, Robert wrote down the numbers off of the difference cars on our trainset. I took a few pictures and then we both headed down the escalator and under the tracks toward the station and up the escalator that took us to the main floor inside the Ottawa train station. Roberts wife, Anne Marie and daughter, Catherine, were waiting for him. After getting in their mini van with them, we all were shortly back at Bob's home where his other daughter, Genevieve, was waiting for everyone. I'm sure that Robert was quite happy to be back with his family.
Sunday, January 28, 2001
I had set the alarm for six, but I got up at 5:AM. Everything was prepared the night before so everything went pretty smoothly. Robert got up later and then took me to the Ottawa train station. The ticket agent said that there was no first class on the eight o'clock train so I took coach alongside a group of hocky fans going to Montreal to watch a hocky game between Ottawa and Montreal. The coach seating from Ottawa to Montreal is CN $41. one way.
Now let me tell you of a wonderful little experience that I had here. First off, I had a lot of luggage with me. Remember, I left January 5 and I get back on February 20. That equals a lot of clothes, regular and special cold wear, then the camera case, laptop computer gear, with an additional bag with goods to carry plus I had a box to deliver to VIA in Montreal. I would put any traveling woman to shame. I was really loaded. Well, now, this man behind me, John and Elly Caron, of the Ottawa area, were going to Montreal to support their Ottawa hocky team. I was trying to figure out how to juggle all of my luggage to the train, as I had to go down an escalator and up another one to get to the trainset. This man, John, obviously feeling sorry for me offers to help me carry my goods. Elly, his wife, carried my laptop bag (it isn't as light as you think, folks) while John carried the heavy camera bag (it is heavy) and carried the box in the other, all the while carrying a backpack on his back. I rolled my large suitcase with my carry bag on top. They carried everything all the way into the train. Now this guy John is no spring chicken. That makes it even more so for me truly appreciating this good Samaritan. Of course he is not going to stand idly by and leave me like a fish out of water when I get to Montreal. They both grab armfuls of hardware and help me out of the car and up the stairs to the main lobby of the Montreal train station. It was no fun lugging that big suitcase up those stairs, but we all made it. My good friend Alan Seers, the husband of my cousin, Linda, was waiting for me at the top of the stairs, recognizing me immediately. I thanked John and Elly, and they were on their way. I hoped that they had a fabulous day!
While on the trip to Montreal, I found out that John was with the Canadian Army Peace keeping forces that were in Vietnam in the 1963 era timeframe. He traveled between Saigon, Cambodia, Laos and Hanoi. Being a Marine in Vietnam myself during the 1960's, and also being a Canadian citizen at that time, we had some things in common here. There was an instant comoraderie between us! Lots to talk about, as there were MANY Canadians in the US military supporting the US government. I could be wrong, but I believe that those who survived did not get any military benefits when they went back home to Canada from the war. It would have been nice to spend more time with John. We were probably totally boring to his wife, Emilly, but if so, she would understand if she would have experienced our situation at that time. All veterans have this bond. It's just there!
Alan took me through a maze of corridors to eventually find the prize, his parked car. The trip to Linda's home, winding through the city streets was quite enjoyable for me. Of course our meeting is always special. My aunt Thelma and her two daughters, Karen and Linda, have always treated me royally. There has always been a good bond between us. The girls were always sincere, Aunt Thelma being the catalyst. When I arrived at their home, Linda, her friend, Louise, and Alan, made great conversation for the next hour. Linda had once had twenty eight birds in the house and four dogs. When I arrived she was giving her three lovebirds (the last of the birds) to her friend Louise. There are still three dogs in the house but they will be keeping them. Lots of laughs all around. Alan then brought me over to aunt Thelma's home and it was like old times.
It was now around 2:30 PM and I was having a late lunch, a great home cooked meal. It not only tasted great, it was very colorful. That was a nice touch. Alan was going to take me out for dinner but I was truly stuffed. That was enough food for this day. Thanks anyway, Alan!
Needless to say, my aunt and I talked until midnight. That evening, Karen, my other cousin and her husband, Lucien, called me and we talked on the phone for a while. They have been very busy on a project they are working on so maybe some day I might write about it. I know that no one would be able to guess what it is. It is very unique and I am sure that you would find the subject matter very interesting. It was great hearing their voices again as they have always treated me extremely well both on the phone and in person. They are also a joy to be around!
Dora came in and was happy to see me. Cora is a live-in that helps my aunt keep things in order. She has been here for quite a few years now and is just like family. It was just after midnight before everyone called it quits and went to bed. I had a good nights sleep.
Monday, January 29, 2001
I woke up at 7 AM and was downstairs by 8: where Dora had prepared a huge beautiful pancake for me. I said that I could only eat half of it, so she cut it in half for me. The gals could eat a whole one, each. They had a good appetite, and that is good. I had a couple glasses of orange juice with my pancake, and that was it for me. Lucien had sent his friend, Mr. Delile (or is it Deliel or Deleil?) to pick me up at 9 AM. That saved me taxi fare. Thank you, Lucien! I said my goodbye's to the girls, packed all my luggage into the large Crown Victorian, and we were off. Again, I was enjoying the ride through the town as I was a tourist. Mr. Delile talked about the Bush/Gore vote counting fiasco. I said that will always be a great embarrassment to the American people. Even the poorest of third world countries were laughing at our circus of politics. I also notice that a lot of Canadians seem a little worried about Bush. I told them to forget about the media and give it a little time and chances are things will come out pretty good after it stops snowing.
Mr. Delile certainly has been around the block as he was quite knowledgeable. I think that too many young people think that older people don't know much. Everyone obviously knows a lot from life experiences. Not that many of us have been shoved into a box for decades where we learned nothing. That's another great thing about train travel. On a whole, I would think that most train travelers are adults over forty years of age. This myriad of tremendous life experience gives a wealth of interesting knowledge to you when you talk to these people. The train relaxes you and you enjoy great conversation with great people. Nothing can be perfect, but on a whole, it is a great scenario that is hard to beat. Try it, you'll like it!
I had a 10:AM appointment with Guy Faulkner of VIA Rail at the Montreal train station. Mr. Delile made sure that I had plenty of time. I got there with no problem and brought my goods inside. I parked my luggage near the baggage check-in department and then went around the station taking some pictures, always back and forth checking on my baggage. I know that the security at the Montreal station is very high, so between them and myself, I wasn't too worried about my goods. Guy did come downstairs and met me with no problem, and it was very good to see an old friend once more. We do send each other e-mail quite a bit and do talk on the telephone quite a bit as well. He's as good as they get! He checked all of my bags into the baggage room and then we went to one of the many restaurants in one of the underground tunnels. With his coffee and my soda, we relaxed and enjoyed each others' company.
Guy was receptive to look at the VR (Virtual Reality) pictures that I took, so we went upstairs to his office. He has a nice set up with fancy red seats. With the large picture windows, one gets to look down at the Montreal metropolis. One could even see the Canadian flag fluttering from one of the buildings.
I showed the VR pictures to Guy, and he liked them. A few pictures need to be made brighter, but I can take care of that later. Guy then said: "Well you showed me some of your pictures so now I'll show you some of mine. These were pictures of the new trains that VIA purchased from a private firm in England. These trains were used for the Chunnel crossing between France and England. I didn't expect to be excited to see the pictures as I figured that once you see one, you've seen them all. How wrong I was and how wrong anyone is to believe that. There is a strong effort by companies to outdesign other companies for the best product. Trains are no different!
The pictures were very impressive and I was enjoying them immensely. I was thankful that Guy did share them with me. Possibly he will send a copy to TrainWeb so that we can share them with you. I can promise you that you will be impressed. There is the possibility that some things will be redesigned, but I think that it will be minimal. To my understanding, these new trains, when put into service, will run between Montreal towards the east and back. It will be exciting times when they begin the run of these lovely trainsets. Keep your eyes and ears open with TrainWeb and we'll let you know when they are going to start their runs. That way, you can order your VIA tickets and go for a great ride on something new in this hemisphere.
While with Guy, Jean'Guy Dusablon entered his office and we both remembered each other from last February when he and Bernard Aubin came to meet me on the VIA "Romance By Rail" car in Montreal headed to Halifax, Nova Scotia when my wife, Maria, was with me. It was good to see him and I remember him well. Shortly after, I left Guy and took the elevator downstairs, and who should get on the same elevator with me on the next floor down? Bernard Aubin, who was with Jean'Guy that same evening when they visited me in the "Romance By Rail" car in Montreal last February. Isn't that a coincidence that we were on the same elevator? We didn't recognize each other at first, but we were friendly to each other and the next thing we knew, we realized that we had indeed met before, one year ago! I was having fun!
Downstairs, I got to my equipment and put the VR camera parts together. I then went out to the main promenade and commenced taking the special immersion photographs. I knew that Security was informed beforehand that I would be taking these pictures, so I knew that I would not be given a hassle. The pictures came out quite good so all in all, my day went very well. My train to Brockville, Ontario was leaving the Montreal, Quebec station at 6:15 PM and would get to Brockville in about two hours. Fortunately I had met a number of the VIA employees on the main floor and they all made me feel at home. I'm telling you, a lot of these Canadians are a friendly lot.
I had called my cousin Karen and her husband, Lucien, on the phone a number of times, but I kept missing them. I went into one of the tunnels and went to one of the many restaurants there and had one of those famous French Canadian meat pies. Let me tell you something, my friends, if you have never had one, you are missing out. They are great, and it will be a taste that you will never forget! So, if you ever get to Quebec, make sure that you try some of their tortoise. If my spelling is incorrect, you know that I mean meat pies.
I picked up my luggage, went to the escalator, and went downstairs to the lower lever, went to the last train in the trainset, and boarded. There was less than a dozen people in the car. As usual, the crew were more than wonderful in their treatment of passengers. Marketing has done a wonderful job for the company. They, and the staff that deals with the public, are exceptional. I pulled out my laptop and started into my work again.
When Robert and I traveled first class from Ottawa to Toronto, the armrest between the two seats is what housed the two plastic tables that flipped out for your meals. On this train, this car had the outside armrest for each seat hold the flip out table for your meals. I had a hard time finding them. So, if you can't find your tables from the center armrest, remember, check the outside armrest. Watch out for these Canadians, they have some pretty tricky things up their sleeves!
There was salad for dinner, with some kind of pasta for the main course. I really wasn't hungry tonight, but I did want to get as much work done as possible. The car attendant was constantly trying to serve me this and serve me that, so he kept himself pretty busy. He even offered me a slice of lemon for my Pepsi. Curious, I tried it. Coming into Brockville took no time at all. The young attendant helped me off with my luggage when we stopped and I was soon walking towards the station. My sister, Lorraine, came out to meet me and I felt great to be here. We walked over to her minivan and we met her husband, Doug Symons, waiting for us. It took fifteen minutes to get to their Algonquin country store and home. Like my aunt Thelma, Lorraine and I talked until near midnight. Lots to talk about. Well, time to hit the hay knowing full well that tomorrow I can truly sleep in with no reservation.
Tuesday, January 30, 2001
Boy, did I ever sleep in! It was 10 AM. I like the day so far. I washed up, washed my clothes, and then I went next door to the quaint country store that Doug and Lorraine run and we got into our chit chat. Doug, who used to be a bank manager, prefers this life much more than his formal past. A good honest man with no strain on his conscience.
They both enjoy the relaxation of the countryside and the people that live in it. One of the neighbors is a retired United Airlines pilot who built his house and wears simple clothes. It is surprising who some of your neighbors are. One man came into the store and my sister introduced him to me, and he, Stu, was THE top executive for Dupont up here. In fact, he just came back from California. All friendly, informal, down to earth, friendly, people. Sounds like "Green Acres," doesn't it? It probably is! In fact, Steve Mack, a designer that TrainWeb works with on many projects is a neighbor, down the way.
Laurie made me a very delicious egg sandwich. I was surprised that it was as good as it was. Later, Doug baked lasagna for dinner and was it ever good! Extremely filling. A home made chocolate milkshake and a bowl of chocolate ice cream. You can tell that I'm on a diet. Linda, my cousin, and her husband, Alan called me and we had a great conversation. Laurie and I stayed up late talking and then we drug our limp bodies off to bed at 1 AM.
Wednesday, January 31, 2001
I awoke up at 5 AM today and got up at 6. I went into the store at 7 AM to talk to Laurie. Doug was outside snowplowing the snow off of the driveway. It was snowing and it was beautiful. Obviously, I'm not the one shoveling. I later called Marie, my wife, and felt bad that she was down with the flu. Later, I made myself an egg sandwich for lunch and had some extra toast, threw an extra log into the cast iron wood stove that they use to heat the house, and caught up on my travelogue. Nice wood smell. I think that I'll call Guy Faulkner at VIA, today.
Guy was running around taking care of loose strings in regards to his mother's recent passing. They were pretty close so it is hard on him. Last year when my sister Laurie was on VIA's "Bras D'Or" trip, one elderly woman on the train was telephoned and told that her sister had just passed away. My sister and the other Laurie consoled this woman and became good friends and communicate to this day. It certainly is good to hear nice stories like that.
Laurie is cooking salmon fillets with scalloped potatoes with lemon butter along with cheese and mushroom sauce. The leftover lasagna is if I want seconds. I hope that I have room for the home made apple pie. I hear that we're going to have turkey on Sunday. Turkey, here I come! What a way to end the day! The train got me here so who is to say that this is not part of the adventure?
Thursday, February 01, 2001
I woke up early, but got up late today. I heard some scrapping noise outside and looked out of the window and there was Doug with some device scrapping snow off of the roof. Interesting! This was a lay back day for me. I was very fortunate in that I found the phone number of an old school friend of mine. Philip Tom and I have known each other since the 6th grade. It's a good thing that I like Chinese food as he fills my face with it every time I visit him. I'll call my brother Robert to see what his schedule is and hopefully I will meet Philip when I return to Ottawa.
I used my sister's computer to check out my few hundred e-mail messages waiting for me! Doug, her husband, bought a pretty nice system. I'll use it later tonight to get as many messages out of the way as possible. They only have one phone line so I have to use it sparingly during the daytime. Tonight will be no problem. Lorraine later took me to their Brockville mall and, thanks to my sister reminding me, I bought my wife, Maria, a Valentines Day card. A couple of little teddy bears will be stuffed into my suitcase that will be presented to her when I get back.
I took a picture of a loaf of bread while in the store. "Now why would you do that," you ask? Well, I have never seen two different loaves of bread stuck together as one loaf. It's the darndest thing I ever saw. Being a bread lover, I found it quite unique and worthy of taking a picture of it. Half of it is whole wheat and the other half is white. The picture might not be that great, but I can tell you that it tasted better than it looked, and it looked pretty good! Squishy soft, too!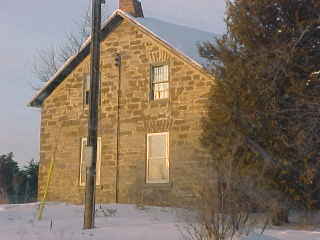 Laurie (Lorraine) then drove me around the neighborhood and I saw a number of lovely little stone homes along back country lanes. They are very picturesque and all are certainly over 100 years old. She wants an old stone house and I want a new log home. Nice to dream. Maybe someday we can both make it a reality. We drove back to her home and I managed to slither a number of soft fresh bread slices into my eating machine. Yum, yum!
We had yesterday's leftovers for today, so that means that supper was great. Steve Mack, who works with TrainWeb, came over to see me around 8 PM and he showed me some pretty inventive products that he is preparing for TrainWeb. I expect Steve Mack and Shivam Surve to go a long way with us. Steve Grande, in California, told me that Shivam has e-mailed him from India so fortunately the terrible earthquake in that country did not affect him nor his family. We were all worried about him. Thankfully, he was spared.
We do expect some exciting things to come through VIA. I also think that Amtrak is also in their war room preparing good news for train travelers. We look forward to share that news with everyone when it becomes available. Until later, keep posted with TrainWeb!
Click on each link below to view every photo from this travel segment:

Click here to return to the main index page of this rail travelogue.
Click here for the previous segment of this rail travelogue.
Click here for the next segment of this rail travelogue.

Visit related pages from this and other web sites:
Click below for pages in the directory of TrainWeb sites: