Rail Travelogue To Churchill - Canada
Hudson Bay, VIA Rail's Most Northern Station
By Ray Burns Of TrainWeb.com
(http://www.trainweb.com/travelogues/rayburns/2001b19s.html)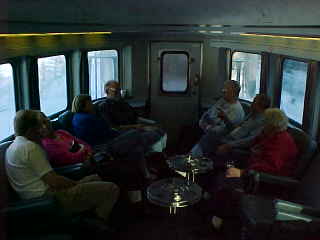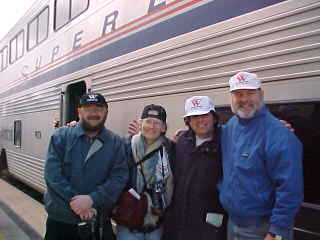 Part 5 - Ottawa, Ontario, Canada to Fullerton, California, USA
on Canada's VIA Rail & the Amtrak Coast Starlight
Friday, February 02, 2001
My nephew Dale, my sister's son, was going to take me snowmobiling on his Skidoo, but he had broken his foot in a freak accident a little prior to my arrival in Brockville. So, he offered me to go it alone. I was a little intimidated by it, but fortunately, Doug, my brother-in-law, came out and he helped me out. Darn, but that machine is powerful. We each took turns driving the beast out in the back fields. I took it up to 60 MPH a few times, knowing full well that it can easily do over 100 MPH, but I was more comfortable around 35 to 40 MPH. I knew that I could go faster but I don't have the stomach for it. Just think of it, I believe that some of them can go around 150 MPH. I have driven motorcycles before but this power gives me second thoughts. I think that it's my old age - or my common sense. Real great for puttering around in the snow, though. After an hour of running around I called it a day. I'm used to power steering. At one time the snowmobile stopped on me out in the middle of the field. I walked back to our starting point and told my brother-in-law that we are out of gas. He said that's impossible as he had filled the tank up. He walked out there and drove it in and told me that somehow I had pushed in the "kill switch" that turned the motor off. Don't ask me how I did it as it's on the dash. He said that if he pulled the start cord a hundred times with the kill switch on - he'd be tired too. At least I didn't have to carry gas out to it.

One of the nice relaxing things that I like about this home is that they are tuned into a radio station that plays Irish and Scottish music. Very relaxing and therapeutic. Another thing that I notice about Canada, the people are very affectionate with their animals. I have never seen a stray dog, I mean not even one, running around loose in any neighborhood. They are prized and are usually considered one of the family.

We had cream salmon today. With what my brother, sister, aunt and VIA feed me, I would say that this is quite the holiday. In the evening I use the family's computer to access my e-mail and try to get as many out of the way as possible. Steve Mack came over and showed me some unique things that he's going to do and put up on TrainWeb later. I admire his enthusiasm and enjoy his friendship.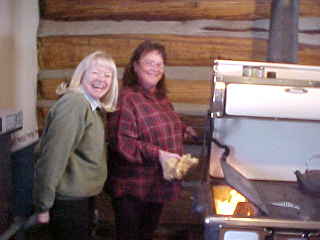 Saturday, February 03, 2001
Well now, today is going to be a little special. Lorraine is taking me to visit Laurie Irving. Well now, who is she, you may ask? Well if you would have read "The Two Lauries Train Adventure" you would know pretty well who she is. This is a story of two middle-aged women who went from Brockville, Ontario, Canada to the big city of Montreal, onward, ever onward, to Halifax, Nova Scotia, and even further on east to Sydney, Cape Breton. Now these two gals didn't mature, they ended up giggling all the way up and all the way back. They had not had so much fun for years. It seems that the VIA staff had just as much fun and had as good a sense of humor as the two girls. They said that they went by an area that had more bald eagles than were in the whole country of the United States. They said that they might write a follow up to their travelogue that should give much more information about interesting facets of the territory. If you would be interested in this information, send me some e-mail showing interest and I will pass it on to the girls. That should put a fire under them.

Laurie Irving lives way out in the country. She is a real country girl who loves all of her pet animals. Leaving the main road you drive along a long dirt road with a row of trees on both sides of the road that constantly gives shade to the visitor. A large German Shepherd dog came out to greet us while the horses, Diamond and Thunder, curiously watched us drive up to the house. I was glad that the Billy goat watched us from the other side of the fence. Now this is an old log house and there were many very old original artifacts in the area. I saw an old toy steam shovel that had to be made no later than the 1940's, as well as so many other curious antique objects.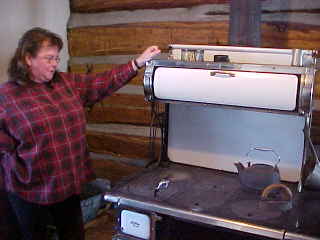 Laurie knew that we were coming and gave us a very warm welcome. The huge log wall behind her original old Elmira cast iron cook stove really gave the place an original warmth to the room. Like my sister's Elmira cook stove, it was wood fueled. A few years ago when this area was prisoner to an ice storm, those people that had such a device in their kitchen not only kept warm and washed with hot water, but also cooked warm hearty meals for the household.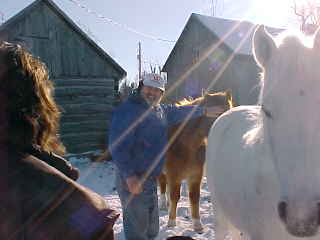 Laurie was brought up on the farm and was told by her father, "never be too far from the land, as it will take care of you in time of need." Going through the Depression years, her father knew what he was talking about. As she was showing us around her property it was obvious she knew how to handle a farm. The animals loved her, including her pet chicken, Beauty. My sister told me that this is the only place that the animals have an attitude! This is a good wholesome place for her three teenage sons to grow up at. I took a few pictures of the area while here.

She said that she was having a little problem with an owl and was afraid for her cat and chickens, so she stuck a fake owl on the fence, and seeing as that all animals/birds are territorial, the owl left them. We were wondering if we could put some of the wild teenage kids out there for the owl. Lots of laughs!
In due time we had to leave, but I was glad to meet my sister's friend. I'm glad that they have very good memories of the "Brador" trip and met so many wonderful people on their adventure. Train trips tend to do that to people.

My sister barbequed pork tenderloin out on the porch for this evening's meal. She said that it's quite common for the locals to barbeque in the winter. I got a big kick out of that. Dale is the barbeque king of the family. He just has the knack for it. Needless to say, the food was delicious. I later went in and caught up on more on my e-mail through the Internet. Later, my sister's granddaughter, Madison, who is four years old, showed everyone her new movie "Chicken Run" in the family room. For those who enjoy a good hearty laugh, I unhesitantly recommend you and your whole family watch it.

Sunday, February 04, 2001
It's kind of fun getting up early in the morning and putting some wood into the stove to heat the place up. The furnace is on minimally so that keeps the heating bill down. This morning we drove "out in the sticks" to look at an old stone house that my sister had not seen yet. Hopefully they'll get one, one of these days. My sister said that tomorrow I am going to make a pie, of my choice, so that should be fun. Guess who's going to get the biggest piece?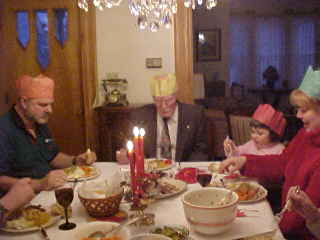 Today we are preparing lots of food as we are having a full Christmas dinner including Christmas crackers (the poppers with little gifts and paper crowns inside). Arthur Symons, my brother-in-law's father, usually drives down to visit his son's family the first Sunday of every month. It is always a special treat for Doug and Lorraine. We had met a number of times many years ago. His lovely wife, Sara, remembered me from way back, as well. It is really an honor to meet them as they are always so gracious. He showed me a video of a fishing trip that he took at the Great Slave Lake, way up north, a few years ago. To hear the water of the lake lapping against the rocks certainly brought back cherished memories. On this trip they had caught a number of twenty some pound trout and the Indian guides cooked it for the small group, which included Kent, another one of Arthur's sons. Let me tell you, those Indians know how to cook fish! The sea gulls got what was not used. Nothing was wasted.

Sara is just like a Southern Belle. Always the lady! She used to be very involved with the art of ballet. I was, like my sister and her husband, very happy to see them again. My sister has told me that she admires her father in law tremendously. He must be very special. People are like stew: leftovers are much better the next day. Time brings out the best in people. Len and my niece, Tracy, make a great pair. Always laughing, always the good heart. Two good-looking people. What surprised me was that everyone enjoyed the Christmas dinner as much as I did. I really ate too much, but I didn't care, as the food was just too delicious. My brother Robert couldn't make it because of prior commitments. Other than that, company and conversation was great, it was the perfect evening! Everyone went to bed happy this night.

Monday, February 05, 2001
Today, I was offered to take the snowmobile out again, but I thankfully declined. I went into a new website that Steve Mack made for Sotere Torregian (www.SoterreTorregian.com), who is a writer. The first phase should be up very soon. What an excellent job for a very basic website. On the main page I can't tell if it is lights from a train or ceiling stage lights. I think that you'll enjoy this website as it is a poet's trip across the US on the Zephyr. I'm sure that you'll enjoy his refined writing and how Steve Mack designed the website for his book.

Dale ordered "suicide wings" in the afternoon. They were pretty hot, but being used to hot Mexican food, I could eat them with no problem. It was a nice treat.

Tuesday, February 06, 2001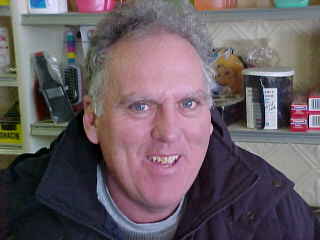 I met Reeve George Vail of the Augusta Township in my sister's store, this morning. No, Reeve is not his first name and it is not a misspelling. It is a title, like "mayor," for a small community. It surely must come from England. There is also a Deputy Reeve. A more populated community would have a mayor. Augusta township, where my sister is located, has a population of around 7,200 souls. That comes out to approximately 3,000 homes within an area that is approximately ten miles square. Because of the size of the populace, the Reeve can communicate with the locals on a more personal basis. George certainly has a great sense of humor, and like so many other people in the area, is always open for a good laugh.

Something like 6,000 rail cars go by the community every day. That's probably in the area of 60 trainsets. There are many people (I think that is everywhere) here who do love trains, so I think that the quaint little country scene that hardly anybody knows exists, is a great place to live with peace and contentment with the general passing of the locomotive whistle to keep them company. In fact, George mentioned to me about one gal in her sixties who lives alone say that she appreciates hearing the train whistle in the middle of the night, or whenever, as she then doesn't feel alone. That old train a'blowing, just keeps on a'rolling, along.

Wednesday, February 07, 2001
A quiet day today, though, Laurie did take me to Hall's Apple Orchard. It was great seeing many different kinds of apples and all of them had their own brilliance to them. What I am saying is that they were not covered in wax to give them a bright shine. I have always believed that there is more than just wax covering the apples and I do not want to digest it adding to the pollutants that already are in so many foods. Maria remembers being there last year and asked if I would pick out some apple chips for her. Done! They are certainly more healthy than regular potato chips and they do have a nice taste to them.

I shipped a box of my excess clothes back to the office as I needed the room in my overpacked suitcase. This move will make it more bearable for me. Steve Mack came over to visit me this evening and we had a great time just chatting about everything in general. He makes a nice addition to the TrainWeb staff. I am glad that we are working together.
Thursday, February 08, 2001
I noticed the Canadian army on maneuvers in this neck of the woods this morning. Interesting! Another most interesting occurence is that Henry Kock, Interpretive Horticulturist from The Arboretum, University of Guelph, located in Guelph, Ontario, came to visit us early afternoon. He confirmed my belief not to use Canola oil. I wonder how my brother will receive that?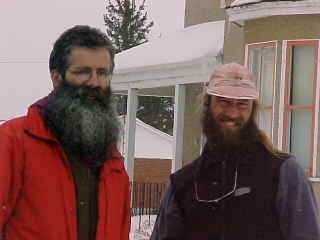 Doug Steele, who is an independent tree arborest, was here as well, to work with Henry. Doug and Lorraine have a very large Elm tree beside their home and fortunately these two men spotted the tree. Henry asked permission to cut a few samplings for their work, and of course, Lorraine approved. This is a thirty-year project, of which they are into their third year. Let me start at the beginning.

Elms were once a significant and very important tree of forests and cities. Few other trees can tolerate the exposure and harsh street conditions as well as the elm. The most common elm, the one that once arched over the streets of eastern North America, is white elm, also known as American elm. It's characteristic "V" shaped, umbrella-like crown made white elm easily identifiable and much admired.

The rapid spread of Dutch Elm Disease (DED) led many to believe that all of the elms would die. While few in number, some individual trees have resisted the disease and are still found growing in rural and urban landscapes. However, they are often too isolated to breed with each other. These elms have trunks almost to 16 feet in circumference. The tree on this property is around 10.5 feet in circumference. The Arboretum collects cuttings and graft new trees from many of these potentially resistant individuals. Genetic resistance traits will be verified by the University of Toronto's Faculty of Forestry forest pathology researchers. Candidate trees will then be selected to be maintained in a seed-producing orchard as part of the Gene Bank at The Arboretum. The seed orchard will begin to produce resistant seeds in 12 to 14 years, at which point, genetically diverse DED resistant seeds can be distributed to growers.

Twenty-five years after being planted, the fast-growing and sturdy white elm can reach trunk circumferences of about 4 ¾ feet and be 50 feet high with a crown spread of 40 feet. Obviously, in a relatively short period of time these trees could make a significant contribution to the urban and rural landscape again. Now we're not just talking about Canada folks, we're talking about everywhere.

DED likely originated in Asia. The target of the elm bark beetle which carries DED is white elm, slippery elm and rock elm. Fortunately, a number of white elm trees show resistance to or tolerance of the disease. The goal of the Elm Recovery Project is to set up a seed orchard of proven resistant trees to produce large amounts of resistant seeds.

Dutch Elm Disease was first identified in 1918 in Belgium by a Dutch pathologist who observed the fungus disease spreading through northern Europe. Infected logs were likely shipped there from eastern Europe and some were inadvertently exported to North America for the furniture industry around 1930. The destruction since that time has been catastrophic. Here and there, the few survivors that were resistant to the infection are now the hope and the future for a rebirth of this marvelous marvel. Did you know that a tree, in fact plants in general, have way more genes in their system than humans do? If we follow nature, we should survive. If we go the way of Dr. Frankenstein, God help us! If you want to help in this grand project, donations are welcomed and certainly tax deductible for Canadians. If you would like more information on this project, send Henry Kock an e-mail message at hkock@uoguelph.ca or call him at (519) 824-4120, ext. 6443. Do more than just plant a tree. Save a species!

Tonight I had salmon and spaghetti. A lot of Canadians tend to like fish. Makes sense with all these lakes here, including salmon on the east coast and west coast as well. Robert came by around eightish and we all talked for a few hours. I bid goodbye to my lovely sister and "curly," her husband, Doug, and we were off! It's a good two hours drive to Ottawa so we got in after midnight. We were both beat, even though Robert was the only one driving. Sound sleep for the two of us.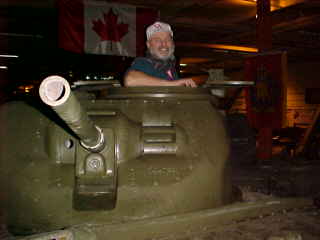 Friday, February 09, 2001
Bob took his wife, Anne Marie, to work this morning and then came back to pick me up. We went to the Canadian War Museum Vimy House. It is one of Canada's closely guarded secrets. It is located at 221 Champagne Avenue North, Ottawa, Ontario. Most Canadians don't even know that it exists. It works in conjunction with the War Museum on Sussex Blvd. In Ottawa. This is a large warehouse that is filled with Army, Navy and Air Force material, such as tanks, artillery, you name it, that comes from many countries of the world. Some of the equipment is actually in operating condition. Now I understand that many of you gals out there probably won't care that much to see this original equipment, but probably many of the guys would appreciate a looksee. It is open on Saturdays between 10:00 AM and 4:00 PM during the winter months and starting in June, it is open seven days a week.

Rachael Porrier, who is the Director of Vimy House, allowed my brother, Robert, and me to come in and take pictures. Much gratitude and thanks, to you, Rachael. This was a treat that Robert and I won't forget. I also want to give special thanks to Mike Miller and Harry Martin. These two men were walking encyclopedias on the equipment and armament inside. Obviously, ex military, with additional studying, on their part. I learned things that I have been curious about for decades. It was like finding a goldmine. Things you always wanted to know about, but didn't know where to go to find the answer without a tremendous amount of digging. Here, it was given to me on a silver platter.

They have outside speakers who come in from the USA and other countries to educate and entertain the public that comes here. It is just like many Rail Museums in that there are many volunteers who donate their time to preserve history so the future doesn't forget the past. We learn from our past. Or at least we should! Vimy House is very limited on funds, so your generous donations will help them continue their great service to the general public. I believe that in 2004, in the Rockliff area (that's in the Ottawa region), they will have a new large museum to house many of the products that they have. I will certainly be looking forward to that opening. Don't forget to invite me for the grand opening, Rachael. I'll certainly do my best to come up and attend and do a report on it. Who is to say that a tank doesn't have a large diesel engine that is surrounded by steel that is on wheels and runs on tracks? If I was thirty years younger I would be much more agile to see everything the way I would really want to see it, but it was still a memorable five hours very well spent. Sometimes the best things in life are free!

Today it was an unusual day in Ottawa. It was freezing rain! It was quite a scene, with ice being everywhere. It was not as bad as the ice storm that they had a few years ago, but it was still beautiful, and dangerous. Car antennas enveloped in ice and icicles hanging from the bottom of the vehicles as well as their windows smothered in ice. Huge icicles hanging from houses, and ice literally everywhere, making it very hazardous for people to walk on the skating rinks once called a sidewalk. If it wasn't for the salt and sand on the roads, vehicle driving might have been more than an adventure. A dangerous condition for everyone.

After leaving the museum, Robert drove me past the house where we used to live at 470 Lisgar St., Ottawa, when we were kids. I shot a few pictures of the house. Good memories. We then went to the General Hospital to pick up Anne Marie, who is a dietician there, and we all headed home. Bob showed me a simple sandwich that was very delicious. I "nuked" (microwaved) a skinless spicy mesquite smoked beef sausage that was saturated with black pepper on a slice of bread with lots of mustard. I know that it might sound morbid, but it really does taste pretty good. Then I showed the movie "Chicken Run"(that my sister gave me to show Maria) to my nieces and their little friends. Lots of giggling.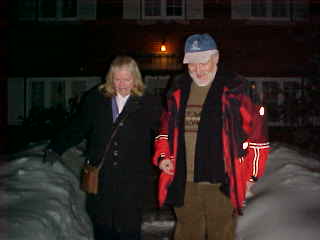 My brother and I were at the home of my cousin, Joanne, by 7:00 PM. This meeting was set up a few days earlier. Now Joanne is my first cousin on my father's side. My first cousins in Montreal are on my mother's side. Her husband, Robert, showed up soon after. He had just left his work as a medical doctor at the local hospital. He looks like Ernest Hemingway. A very low key, very likeable, easy going person. A friend to all. Not like their little Scottish dog at all. She'd as soon bite your ankle off if you made the wrong move. Needless to say, I walked on eggs at their place.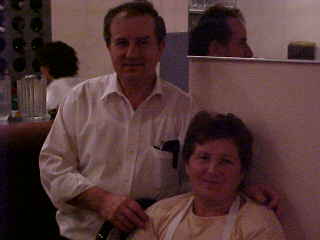 Robert Glinski drove our little group to a very lovely restaurant called "Dalmacia." This is an old hangout for them as well as other members of the family who was inside waiting for us. Kata & Sime Malenica cook and serve the European Cuisine. It is at 1702 Carling Ave., Ottawa (613) 728-0000. Now I don't recommend that you go there unless you are very hungry or want to entertain guests. Why? Because they give you too much food!! These people don't want anyone leaving hungry. The food is super excellent, as Kata, the wife, is cooking in the kitchen. The waitresses help the husband, Sime, serve the food. My veal, with noodles and sauce with colorful and tantalizing vegetables, was tender and delicious. This is another one of those jewels where you are home, away from home. The apple strudel with ice cream was absolutely fantastic for desert. I couldn't eat all of my meal or all of my desert. I mean, it was a lot of food. I drank water, everyone else had wine. "Gawd," what a meal! When you go there, tell them you're a friend of Ray Burns of TrainWeb. Who knows, they might give you less food.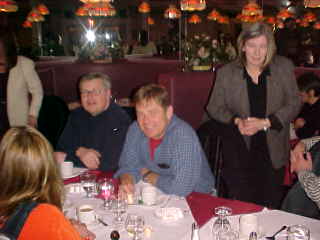 As we entered the restaurant, I could feel all eyes on me, and, well, you know the feeling. Some of us were strangers to each other, and others, well, it's been a long time. I was in good company here and very welcomed. I was very thankful for everyone's friendliness and warmth. It was a real homecoming. This was as much for Robert as it was for me. In fact, it was for all of us. It was a family get-together for the "Burns" clan. Patricia (my cousin) and her man Dick Cooper (one of the top "shakers and makers" in the Ottawa region) with their ten-year-old son, Chris, then there was Valerie Harvey (my cousin) with Bruce Rafter (a gentle giant of a man), then Mike Glinski (Joanne's son) who is a programmer for one of the local high-tech firms, with his pretty French sweetheart Marie Gingras, and then Gary Burns (my cousin), the handsome brother of the three girls, with his French blonde Valentine Danielle. Robert and Joanne Glinski, with my brother Robert and myself bringing up the rear, took up the last chairs of the group. Enjoyable conversation, lots of laughter, and genuine friendship. These Canadians seem to like that, eh? Robert Glinski is an avid photographer with his digital camera, so between the two of us we took a bunch of great shots of the gang. Everyone is welcome to look at them and enjoy them with a smile, just as much as the group themselves.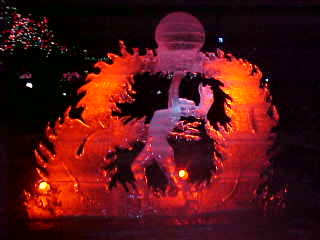 As you all know, all good things come to an end, unless you're in heaven. We soon parted and went our different ways. Joanne's husband took us downtown to Parliament and then to Elgin Street where there were many beautiful lit up ice sculptures. The ones at Parliament was pretty well covered up because of the rain that we had during the day. It had pretty well stopped by now - I guess it was around 11:00 PM. I did have enough film left to take a number of pictures, but by no means did I even come close to taking a picture of most of them. The four of us were slipping and sliding everywhere as everyone had to walk on ice in the Ottawa valley. This year the theme was Australia. Last year it was the United States. I believe that the ice sculptures are more beautiful to look at in the evening because of the colored lights that shine through them. They look like huge colored crystal. Pretty amazing feats by truly talented artists. It is well worth coming up to Ottawa just to see this artwork. Don't leave the locals ignorant, tell them TrainWeb sent you. Let's make more railfans.

Now if that isn't what you call a full day, I don't know what is. We went back to the Glinski home and talked some more, and Robert went upstairs and printed me out some glossy pictures from some of the pictures that he took. They are absolutely stunning. He has a sharp eye for more than just a scalpel. What a nice gesture to finish off a wonderful day. Thanks a million, Robert!! This evening was a memorable event that will be long remembered. Maybe this is a reminder for you people out there to get with your family members while you're still around to enjoy each other's company. Marilyn (my cousin, their sister) was the only person missing, as she is somewhere way up north in "Indian country." There was obviously no way for her to make it, but we talked about her (it was all good, Marilyn). Joanne had always kept the lines of communications open on this side of the family. My brother, Robert, was the other good Samaritan that fed the life line keeping us "alive." We reluctantly said our goodbyes and Robert and I hit the road one more time. Good old Robert, always there (well, almost) to take you hither and thither. Pretty well the "do gooder." I am thankful for a kind brother and his hospitality. It was after 1:00 AM and we were very tired. I could sleep in while he had to get up early and take his vehicle into the shop to check if something might be wrong with it. Talk about a full day! I was beat!

Saturday,February 10, 2001
I got up quite late, groggy, but rested! Anne Marie fixed me some breakfast and gave me some of her mother's famous home-made strawberry jam. Her father, Monsieur Emanuel Ledoux, goes out in the sticks, picks sweet wild strawberries, and brings them home where his wife, Marie, makes the jam. I really think that they're the best in the world. That's a heavy statement, folks! Later, I sat down and caught up on my travelogue and rested. A great vacation, err, I mean, business trip.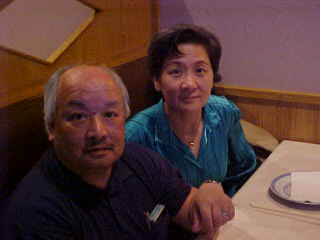 Sunday, February 11, 2001
After getting up late (I better take advantage of it now because I certainly won't be able to do it when I get back to the office), my friend, Philip Tom, called me and asked for directions. He picked me up around 10:30 AM. It was very good to see him again after all this time. His wife, Rebecca, and brother-in-law, John, were also in the car. It looks like she never aged at all. Trim too! How did she do that? We went to a Chinese restaurant that they said served quality Chinese food. And we ate just about everything that they offered. It's been a long time since they had gone out so it was just as much a treat for them as it was for me.

We then drove to their place in Nepean, "The Hungry Wok" Restaurant, at 2730 Iris Street, Ottawa (613) 828-0828. Yes, I did give you the name and address of my friend's place because of our relationship, but also for something very unique that I found out when we had dinner at his place. I have been to many Chinese restaurants around the world and have been in Hong Kong thirty-five times with an average stay of at least a week, and with all the Chinese food that I have eaten, I have never had "General Tso's Chicken." He was a famous Chinese general that liked to cook. Anyway, if you like hot and spicy food, you will more than likely make this your new favorite Chinese palate. It is their biggest seller. I know that Mexican people would enjoy this number. When I started to eat it, I was shocked that I had never tasted this scrumptious meal before. Don't sell me, or yourselves, short, folks. It is THAT good! Well worth mentioning and well worth going out of your way to try it. Here I was, thinking that my taste buds had tasted everything. Tell Phillip that Ray Burns of TrainWeb sent you. You'll get more than a smile. Phil has been in the restaurant business helping his dad when he was a kid. He has been in it ever since, and his cook has been with him for well over a decade. We've been friends for close to five decades. We both remember when we went to see Elvis Presley when he came to Ottawa that one and only time. Ahh, those were the days.

I went with Phil when he would deliver his take-out orders. We had a lot to talk about and our time was short. Fortunately it was a cold Sunday so the walk-in trade was minimal. That gave us more time together. He closed up at 10:00 PM and we were on our way. It was a great way to close the final chapter on this magnificent trip. May everyone have just as grand an adventure as I had. In no time at all I was at my brother's house and we said our goodbyes. I then stayed up later watching television with my brother. I knew that I would sleep in tomorrow.

Monday, February 12, 2001
Today is the day, everyone. This afternoon at 4:30, I will be pulling out of the Ottawa train station on VIA, First Class, to Toronto. I got my breakfast and then laundry out of the way and am now preparing everything for my departure. Everyone at the different locations has treated me very well and now that I am "full," I am ready to head home. I wonder how the return trip is going to turn out, as there is usually a surprise or two around every corner.

Bob took me to the Ottawa train station at 4:10 PM. We looked into each other's eyes, knew that we were going to miss each other, in our own way, and said our goodbyes. I went straight for the lounge and the attendant said that my large bag would be put on the first-class car for me. I was directed to go to gate 2 and go down the escalator to the ramp going up to the Toronto train. I noticed a lot of people waiting in line for the trek to coach on the Toronto train. I went straight to the escalator with my three pieces of luggage and, alone, made my way to the train. A VIA attendant was waiting upstairs at the end of the ramp to make sure that I was getting on the correct train and was indeed going into first class. I was directed to the first car behind the engine and as I was greeted to the car as I was about to climb the stairs, I had noticed that there were a lot of people in this car. There would be more to come later, as well.

Today I was in seat 31, sitting by a full window. I kept my laptop and camera with me as I figured it would be easier later if it was a full car. I was right. The train left at exactly 4:45 PM, and so, I was riding the rails once more. A little later, the gal came around and collected everyone's tickets. About twenty minutes later they asked each of us whether we wanted to eat at 5:30 PM or at 7:00 PM. I opted not to eat at the latter. I ordered roast of lamb as I knew that I would rarely be eating it when back home. I think that I should have had the herb chicken. There was a little appetizer and I had my Seven-Up to help out. I called my sister, Lorraine, who lives in Brockville, Ontario, just as my meal was brought to me. Fortunately, the gal who had originally served me had noticed that my china containing my meal was chipped when she was on her way back to the front of the car. She took my meal and said that she would bring another one. I had originally cut the meat and I found it tough. The lamb on the second tray of lamb didn't seem very tender either. Very little mashed potatoes. An ample supply of asparagus and small round onions completed the main dish. I didn't think that the bun was today's fresh slice bread. The appetizer was a few different kinds of beans in light sauce with a nice size of cheese. Pretty good. Dessert was great, as was the quality chocolate that is served.

I asked the gal if I could have some soda pop but she was busy serving the wine and said she would bring it later. I did not eat all of my meal, but I did eat. After my tray was taken away I waited for my drink, that never came. I eventually took out my laptop to keep on top of the travelogue. As I was writing, they were already passing out the meals for the 7:00 PM run. I asked the same gal for my drink but she was now busy, but again said she would bring it. She did bring my Seven-Up a little later. Now that my laptop was using up my little table, I was forced to balance my drink on my hip between me and the seat with my elbow in the top part of my container to keep it "under control." That way I could type and drink when I wanted to. Kind of awkward, though. Who said that train travelers don't rough it? I think that if a Russian read this he would get a good laugh!

We are really flying down the tracks now, at 7:40 PM. We must have passed a lot of roads as the train horn was really blowing. We just slowed down and stopped for just a minute here at Kingston, and now we are taking off again. The attendant is going down the aisle with the cart, serving liquor, now. I'm glad that I never got used to that stuff. However, when VIA and Amtrak add up their yearly total, I'm sure that it helps to pay for some things. Every little bit helps. The two gals must be very busy having a full car. Cobourg is the next stop and coming up in ten minutes. We are now at that station as I write and the stay here is only for a few minutes. We're off into the darkness again, with the engineer's horn blazing away.

Time seemed to go fast as Toronto kind of "sneaked up on me." There was no escalator going downstairs once I departed the train, so I had to lug all of my baggage downstairs. VIA is going to be renovating the whole downstairs area so I hope that they put in escalators. I know that it's expensive to put in moving stairways, but those passengers who do not have such negative experiences are more likely to return as happy customers and speak to others as well about how smoothly their whole trip turned out to be. However, over all, I am still quite impressed with VIA.

After working my way out to the street in front of the Toronto train station, I hailed a cab. Wouldn't you know it, I got a surly cab driver. He asked me if my large suitcase was heavy, and I retorted, "absolutely, it's very heavy." Then I got into the cab. Does he take passengers that are only carrying their wallet? When he took me to The Colony Hotel, I gave him a US $5. He made a nice tip so he managed to squeak out a "thanks."

The hotel lobby was under renovation but the person at the desk was very pleasant. After checking in I brought all of my baggage to my room on the 11th floor and then went down to the bar and ordered a sandwich that I took back to my room to eat. My wake up call was set for 6:00 AM and everything was ready for tomorrow. Time to get some sleep.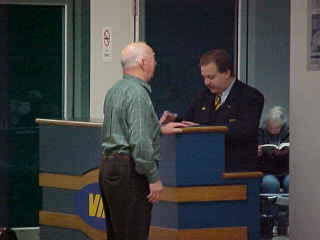 Tuesday, February 13, 2001
My wake up call woke me up and I was into a taxi and at the train station by 7:15 AM. I checked my large suitcase in for the baggage car and took the rest of my baggage with me. I look forward to the day when VIA renovates their section of the Toronto station as it should then have a nice lounge for the Silver and Blue passengers. There is a lounge now that is fine, but possibly someday it will be upgraded like those in the Ottawa and Montreal station. We'll see. One thing that is nice, they always seem to have enough people in the right places to guide people to their proper place.

It looked like a lot of people were getting on "my" train. In fact, a tour guide brought on a bunch of people. First class started to board at 8:15 AM. I was in car 120, room 3. After putting my gear in my room, the attendant stopped in to see me. I then made a beeline for the end dome car. There I picked up a cup of apple juice, a cherry pastry, and a banana. I went up to the dome and had a seat while I consumed my little breakfast. People were starting to come in now. I went downstairs, picked up an apple, and then went back to my room and made some calls with my cell phone. Once I left the Toronto area, my cell phone will be inoperative until I get to Vancouver, BC.

I went for the last call for lunch as I knew that there would be a rush of people for the first and second call. I had a miniature vegetarian pizza, and I must tell you that it was very good. A sweet butter tart was for dessert. There were not many people in the dining car for the third call. Gary Main was my partner at the dining table. He hailed from New Jersey and was on a nice relaxing trip to Vancouver as he retired six months ago. He was originally born in Ontario, Canada but has been in the US for many years. Our backgrounds seemed to be quite similar in many respects. He is a very interesting person to talk to and he also has a great liking for train travel. This was his sixth trip up through Ontario. Coincidentally, it was my sixth, as well.

I stayed in my room this afternoon catching up on some reading and working with the laptop computer. I went in on the second call for dinner. One person was a young man from England touring Canada, another person who was a miner for twenty-five years was on a contract with a gold mine company for six months. He was a smoker and he said that between him and his wife up in the Northern Territories, they spend $700 a month on cigarettes. The last of the group was a pretty, blue-eyed, blond, French gal, from Quebec City. She was on her way to Edmonton to stay with her aunt for a while.

I had Ontario trout with roasted potatoes and vegetables. I had pea soup to start it off, and the buns were warm and fresh. No mistake there. It was very difficult for us to hear each other because the dining room was full, and did those people ever talk! Too many people were talking too loudly, and it sounded like a very busy cafeteria in a large city, rather than a dining car. People obviously were having a good time. The breaded trout with the lemon, et al, was very good. I had bread pudding for dessert, but I like mine with raisins in it. I purchased a ginger ale to take back to my room with me. Back in the room I continued to work with my computer until 9:15 PM. It seems like I was catching a little cold, again, so I started taking some liquid herbs that I took with me, just for such a situation. They seem to work pretty well. Getting tired, so I set my watch back one hour and prepared my bed for the night. Talk to you tomorrow.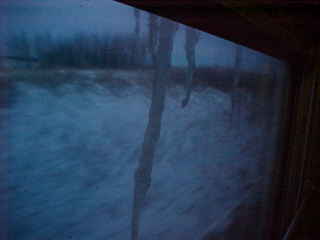 Wednesday, February 14, 2001
I knew that I would sleep in this morning and enjoyed every minute of it. The train had been stopped since 7:00 AM this morning and didn't start to move until around 10:30 AM. There was some kind of derailment about 30 miles ahead of us. There was actually a third call for breakfast and it was well after 8:00 AM, so I figured that if they are still serving breakfast this late in the morning, then what the "hey." I had raisin bran cereal with some toast and jam along with a glass of apple juice. That was enough for me. One of the people at my table was originally from South Africa, spent a couple of years in England, and now resides on Vancouver Island, BC. Then a gal with her husband who could both speak some English, were from Quebec. They were on their way to The Pas and other areas north of Winnipeg towards Churchill to get information on former US military bases that were once based in those areas. Quite interesting.

As the train started to back up at early noon, the voice on the PA system said that we were backing up to the small town of Armstrong to pick up two CP (Canadian Pacific) engineers and we would be transferring from CN (Canadian National) to CP tracks up in the Thunder Bay area. We would then continue around Nippon Lake up to Thunder Bay and then over to Winnipeg and back onto CN tracks. This is expected to be a 12-hour delay. What I am saying is that this trainset is going on a route that is only used in emergencies for VIA as it is strictly a freight route. I know that Steve Grande would do anything to be on this ride, as well as many other railfans out there. Those people that are not railfans must understand that this is part of the adventure and you will be riding a route that has not seen scheduled passenger service in many years (This CP main line used to have daily passenger service! -- Daniel Chazin). Oh, to have the luck of the Irish! First call for lunch in the dining car just came and it is 12: noon. 12:10, I can hear out in the corridor that it is standing room waiting. I'll wait for the second sitting.

Lunch for me consisted of a broccoli/potato/cheese pie. The salad, with vegetable soup and lemon cake, did just the trick. My table consisted of a couple, Alex and Joan Skiba, who were retired and were returning to the Vancouver area. This lady had Marshall Augustine, her father, with her, who was retired Army, her husband was retired Navy, and her brother was retired Air Force. All from the Canadian Armed Forces. A very happy group.

The consist for train 1 "The Canadian" out of Toronto is:
Car# Line# CarName Employee

6443 F40PH Engine - D. Gobin
6449 F40PH Engine
6311 F40PH Engine
8605 Baggage - M. Prokopetz
8129 102 Coach - D. Bonnefoy
8125 103 Coach
8515 Skyline Skyline - B. Bonner
8340 123 Stuart Manor
8409 Diner Fairholme

L. Klassen - SC
V. Moreira - Cook
S. Williamson - SA
B. Hogue-Burzynski - SA
A. Bertrand - SA

8335 120 MacKenzie Manor - Farzen Mohammed - SA
8305 121 Bayfield Manor
8302 122 Allan Manor - B. Smith - SA
8702 139 Assiniboine Park - D. Todd - SA
Three toots on the horn meant that the train was taking off. I looked at my watch and it was 3:00 PM. That means that the train crew had found a store to purchase the necessary supplies to feed everyone until we get to Winnipeg. I forgot to check my watch when we pulled into Armstrong, but I was eating in the dining car at that time. When I was back in my room I noticed a single VIA engine was going toward the back of the train. I am pretty sure that one of the engines up front disconnected and was hooking up at the last car to pull us backwards, rather than push us. Hey, I better go get a few shots of that. See you later!

Sure enough, there was an engine pulling us from behind. What I could photograph was limited, but you can tell that the engine is just outside the rear window. The people that were in the lounge car were having a great old time joking about the delay. The staff good humoredly were making everyone laugh, so good times were being passed around here. It's nice to see lemon being turned into lemonade.

Again, I catch up on some reading as well as more work on the laptop. I am very fortunate to have it with me as it would be no fun going over my notes back in the office trying to make a mental picture of what my notes state. Sometimes the train would go quite fast and at other times it would go around 30 MPH. Today I skipped dinner. Just a little note. If you miss going to the dining room when your time is called (first, second, or third call), though it makes it more convenient for the dining staff to know the number of people coming to eat at that time, you can still go to eat at another time. I went to bed after 9:00 PM as my eyes were pretty tired.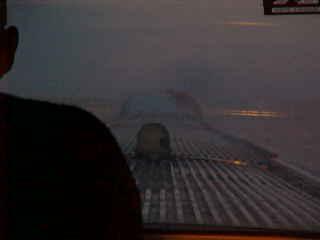 Thursday, February 15, 2001
Usually I wake up periodically, and today it was no different. There were a few times that the car rocked pretty heavily, but as a whole, the tracks were in good shape. At 2:45 AM I was wide awake. I noticed that the train wasn't moving again so I slid open the curtain and looked outside. Just then a long freight train pulled in near to us, so with the light available outside, I took a few pictures. I washed up and was ready by 6:00 AM, but knowing that nothing was really functioning yet, I went back to bed. I woke up at 8:00 AM, went to the dining room a few hours later and picked up two apples for breakfast.

About 11:30 AM the senior staff member came by my room and told me that lunch would be late as the provisions that were picked up yesterday was for this morning's breakfast only. So now, because they keep getting later in their schedule, they have to pick up more provisions. That freight train that derailed yesterday had sixty cars off of the track, from what I was told. It is extremely rare when a passenger train has that kind of problem. Consequently, this rerouting was the most logical way to go. In fact, even CN is using CP line tracks because it will take a few days to repair the damage to the tracks resulting from the accident. Don't forget that CP uses these tracks.

Remember, freight trains are extremely heavy, and especially in winter, the rails take their toll from the stress. Passenger trains are very light by comparison. The Federal government, in the US, anyway, spent billions of dollars, and continues to put billions of dollars into the freeways, and let the rails crumble. If it wasn't for the private rail companies who maintain the tracks, we would all be in dire trouble. If it wasn't for the intermodal freight, the rail industry might well have crumbled. The Feds have put tons of money into our freeways, it's time they now build another one, two, or even three sets of tracks around the country, as this will help freight tremendously, it will help passenger travel tremendously, and it will make it feasible for high speed rail to make its way into our country. Remember, trains are by far the least polluting of any transportation and the least petrol guzzling of all, as well. The more freight and passengers that are moving across the country by rail, the more money that will be infused into the economy. Products will be delivered faster, and in larger quantities. It will lighten the load off of the city streets and highways of so many tractor trailers. It will not eliminate them, only reduce their numbers somewhat and certainly lessen the fuel that the trucking companies are forced to purchase and lessen the pollution that we are all forced to breathe. It will also create new companies to cater to the rail industry. With more tracks, passengers wouldn't have to go through these delays and wrongfully blame VIA or Amtrak. Think of that for a moment, and then call your representative to make sure that he/she strongly supports rail for their constituents.

At 11:30 AM we were going by Vermillion Bay and I must admit, I have never seen so many animal tracks in the snow as I have in this area. One could even see tracks going over to a beaver lodge, and then continuing on. In one place I noticed that the train tracks that were near us were at least twelve feet lower than the tracks that we were on. In another area, they were twelve feet higher than our tracks. Interesting area. People must do some hunting out here as I see footprints in the middle of nowhere. Beautiful ice formations are hanging from the rocks that are by the tracks. Wonderful scenery. At 12:30 PM, one of the dining car staff came by and offered me an apple, which I thankfully accepted.

Around 1:30 PM the first call for lunch was made. I decided to go out on that one. I had a pastry with mushrooms. I usually use hot sauce on just about everything, so the Tabasco gave it the "tang" that I was looking for. The vegetable soup was great as was the apple pie. Oh yes, they also served champagne to everyone. A nice touch and gesture from the staff. My table companions consisted of Geoff and Suzanne Gorringe, of Manchester, England, and Hugh Moncrieff, from Winnipeg, Manitoba. Hugh was on his way home from Toronto and got sidetracked with the rest of us. While dining, we came into Kenora. A very lovely place with a scenic lake and a river nearby for traveling aways. Fortunately, he knew this neck of the woods and was our guide for a nice little section of track. In fact, we even went by where his boat is docked in Keewatin which is very close to Kenora. His cottage is up this way, so that is why this is familiar territory to him. Geoff is an airplane engineer for British Airlines. A very soft spoken person who has "been around the block."

It's 2:45 PM now and the second call for lunch has gone out. It is snowing now. A very picturesque place. It is absolutely stunning in its wild atmosphere. Even Hugh was impressed with the area this time of year and from our vantage point. That's saying a lot from a "local." I enjoyed some more reading and work on the laptop.

We at last entered Winnipeg around 5:30 PM. I planned to bring my three bags over to the other trainset that we were transferring to and then go downstairs to make a phone call but after I got off, one of the VIA staff said that we were leaving in a few minutes and that there was absolutely no going downstairs for anything. Needless to say, we left half an hour later. "Grrrrr!" Well, at least I was on a train that was filled with provisions and was raring to go. Everyone went to the same room that they had in the former trainset.

Car# Line# CarName Employee

6448 F40PH Engine - Maurice Desaulniers - SMT
6440 F40PH Engine
8609 Baggage
8106 102 Coach - Diane Garth - ASC
8127 103 Coach - Kevin Williams - ASC
8507 Skyline - Lori Hokan - SSA
8410 Diner Fairholme

Mohammed Musaddiq - SC
Gordie Morrison - CF
Barry Johnston - SA
Colette Lavallee - SA
Andriana Demchuk - SA
Laura Hazlitt - SA

8330 120 Hunter Manor - John Matthews - SA
8337 121 Osler Manor
8303 122 Amherst Manor - Doy Valenciano - SA
8716 139 Tweedsmuir Park - Lesley Burch - SSA

I went in for the first call for dinner. Being in the first sleeper car from the dining room it was easier for me to get to the diner on short notice. I sat with Rick and Ruth Cholette of Sudbury, Ontario. Within a few minutes, Art Barnsley who is the tour guide for the British tourists sat down next to me. Art is from Vancouver and I was pretty shocked when he mentioned that he is a heavy eater of hot peppers. I can eat hot peppers, but I think his stomach is made of iron. He is like me, he puts something hot with everything that he eats. He has been all over the world, so I imagine that he picked that habit up in his travels. I don't think that he gets too many colds. This evening I had dumplings with something inside with a light sauce and sprinkled with parsley flakes and two large pieces of toasted bread. I put some tabasco hot sauce on it. They gave me quite a bit and I could only eat half of it. I did have room for apple pie and ice cream, though.

After dinner I went over to visit Tim McCaskill in his roomette. Tim is a true railfan in every sense of the word. He left Edmonton, Alberta and went to Halifax, including the major stops in between. He has been on this trip for a few weeks now and is presently on his way home. I told him about the Amtrak Cascades and the Coast Starlight that is on the west coast of the United States. He is looking to going to a model train show next week.

Rick Cholette is one bubbly person. When he and Gary Main of New Jersey get together, well, that's when funny things start happening. Rick's wife, Ruth, must have a great sense of humor to be his wife. Very funny people! Rick is retired from Inco out of Sudbury, the largest nickel mining company in the world. Rick was even born in Sudbury. He and Ruth are going to Edmonton to be with their daughter-in-law who is going to give birth to a child any day now. Ruth is trying to get to the delivery room to be with her (the second time, now) in time for the childbirth. Their son must be going nuts because the arrival of the train has been changed many times (we ended up getting to Edmonton, AB, at 10:30 AM 2/16/01).

I later went into the rear lounge and rested a bit. While there, I chatted with Tessa Sampson of Newcastle, England. A very friendly and enjoyable gal to talk with. She will be going to Jasper, tomorrow, and staying for a few days, and then she's off to Vancouver for another few days before she departs for England. Tessa has traveled to Colorado last year and umpteen places before that. She is going to Italy next year so she is a world traveler who enjoys educating herself and conversing with the locals wherever she travels. Go for it, Tessa! A little later, around tennish, I called it quits, and retired for the night.

Amtrak Cascades Talgo Consist:

Train #763
90220 F40 Cab Control Car
7105- Baggage
7420- Coach (10)
7421- Coach (09)
7422- Coach (08)
7423- Coach (07)
7424- Coach (06)
7425- Coach (05)
7522- Coach (04)
7504- Coach (03)
7305- Bistro
7804- Dining Car
7554- Business Class (02)
7454- Business Class (01)
7905- Power
466-- F59PHI Locomotive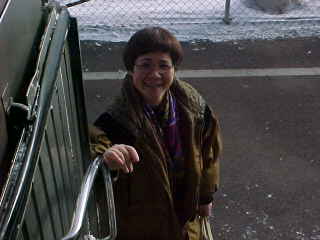 Friday, February 16, 2001
The tracks were a little rough a few times last night, but what the "hey." It's all part of the journey. One woman was complaining to the room attendant, but surely she realizes that these things do happen. Would one complain that a ship rocked too much in the ocean, or that an airplane hit too many air pockets? Train companies are no different. They try their utmost to make things as comfortable as possible, but nobody controls mother nature. We must use maturity and understanding when such irritants occur. Yes, sometimes the train does go fast, but at a speed that the dispatcher tells them they can go at. High-speed trains go much faster and will continue to go faster, as technology progresses.

I got up around 6:00 AM and went to the parlor car in the rear. Yes, I know that the Canadians and Europeans spell it "parlour car." Their continental breakfast was fine for me. They actually had quite a bit out there this morning. A raisin bran muffin with a banana and lots of apple and orange juice was just fine. I left the croissants alone today. Chris Crawford of England was also one of the Brits over to check Canada out. A very sociable fellow who I hope has a bashing great time with his holiday. With Gary Main and Rick Cholette at the helm again, we were all chuckling away. Chris was no exception. Two people who can make a "funny" out of nothing. Thanks, guys, I know that everyone appreciated your company.

Come around 10:30 AM we were pulling into the Edmonton train station. I wished Rick and Ruth well and we said our goodbyes. While they were embracing their son outside, I made a beeline for the station to catch a telephone. I caught the last available one and left a message for Steve Grande at the TrainWeb office. We should be into Vancouver somewhere between 3:00 and 7:00 AM tomorrow morning. The station is closed, I think, at 11:00 PM, so I heard that they're going to let us sleep on the train until a reasonable time in the morning. It looks like I won't be going to the hotel in Vancouver, tonight. Oh well, as long as I catch my Amtrak Cascades on time to bring me to Seattle tomorrow. I have always liked that Spanish Talgo trainset. I am glad that Amtrak purchased it. It is a very comfortable and beautiful trainset. Another thing. Amtrak has their style of cars and VIA has theirs. You should definitely ride on both to enjoy the two different styles of cars. I believe that VIA and Amtrak have a program where you can go from one country to the other so you should go to the companies that sponsor us and check with them as they are very knowledgeable on these issues. Buy your ticket while you're at it, if it suits you.

I left a message for my dear special friends, Giao and Diana Nguyen (pronounced "when") as well. As soon as I got off the telephone, I got a tap on my arm, and who would you think it was? It was Diana, with a very big beautiful smile! What an extremely happy moment. If we would have gotten in a few hours sooner, her husband Giao, whom I knew back in the sixties, in Vietnam, would have been able to come over and see me as well. However, because of time constraints, he had to be at work. We chatted while we could and we went to my room in the car where she dropped off some gifts for me and my wife, Maria. I took a few pictures, and then it was time to depart. We said our goodbyes and we both felt sad that the three of us couldn't have gotten together, I am sure, for a couple of days. I caught a glimpse of her standing at the station watching out for me. Goodbye for now, dear friends!

Well, Gary is still on the train until Vancouver, I think that I'll go to the parlor car later as that is his "old hang out." I know that he'll cheer me up. At 10:30 this morning, we went over a spectacular bridge. I never had time to grab my camera and take a picture of the freeway that went over the gorge. I'm sure that the train must look super fantastic going over its bridge at this location.

First call for lunch, so I went for it. I had broccoli cheese soup with chicken pot pie that came with a salad and a melon piece. For desert I had German chocolate cake. I wouldn't say that it was good, but I would say that it was very delicious. In fact, lunch was exceptionally good. David and Mary Elford of Lincolnshare, England were my table partners today, as was Al Mapes from the cold city - Winnipeg. I got quite an education from David and Mary about England, in general. Later, I went to the dome car and it had filled up pretty well as we were soon enough going to be coming into the Rocky Mountains.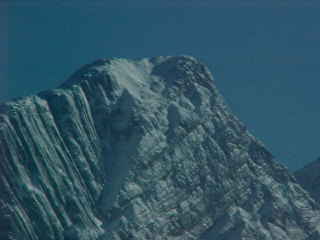 At 1:45 PM we arrived at the Jasper station and the tour group of Brits debarked at this time. A fun group of people. Those of us going on to Vancouver also got off to look around. I telephoned Steve Grande again, and left another message. Gary Main and I then went for a little walk around the tourist part of the city. We took a few pictures and then boarded again at 2:45 PM. The train departed at 3:00 PM. I went to my room and worked on my travelogue. I did take quite a few pictures of the Rockies as they were such good pictures with lots of sunshine for the shots. I later watched a movie on the TV/VCR.

When the movie was over, I went to one of the bedrooms in that same last car. I stopped in to see a very friendly trio whom I had the pleasure of sitting with in the dining car the other day. Marshall Augustine, the father, and Alex and Joan (the daughter) Skiba. They had a double stateroom and the two men have been playing cribbage. These men have been playing cards together every day for the last five years. Always joking, the lot of them. The father is sharp as a tack, so you have to be very careful if you play cards with him. You can see their room in a few of the pictures down below. Very hospitable people!

Early dinner was called at 5:30 PM and I went for that sitting. I had roast beef with garlic potatoes and string beans. They passed out wine for everyone, so that was a nice surprise. Pumpkin cheese cake with caramel sauce was for dessert. Al Mapes, who lives in Winnipeg was my eating companion this evening. He is on a relaxing trip to Vancouver for a few days to visit old friends. A very sharp person. He mentioned how he found so much on the VIA website, including the fantastic Virtual Reality pictures of their trains. It was nice to hear people compliment those pictures. I just happened to be one of the people by him when he commented so enthusiastically about them. I am sure that if more people found them they would agree with Al. I later went to my room and worked on my travelogue and prepared for tomorrow morning and turned back the time on my watch by one hour.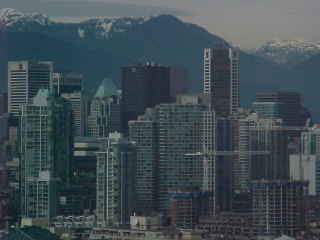 Saturday, February 17, 2001
I woke up around 5:30 AM and made sure everything was ready to go. I went to the parlor car in the back and sure enough, there were a lot of people there. I drank some apple juice and picked up an apple and then went upstairs to the dome. I went to the front seat in the dome car so I could talk with Gary and enjoy the scenery coming into the Vancouver area. I think that Vancouver is one of the majestic cities. The temperature always seems fine, and you can see the lovely mountains behind the city high rise structures.

We docked at the Vancouver Train Station at 7:30 AM. Gary met me inside the station and as he had to be somewhere at 10:00 AM, we bid each other adieu for now. My train, the Amtrak Cascades, does not leave until 6:00 PM. Check in time is at 4:30 PM. I called the hotel about the room I was supposed to be in last night and they said that it is still in my name. I could go with a good shower and rest in a large bed with no problem. I went outside, jumped in a taxi, and went to the Plaza 500 Hotel that is 500 12th Avenue. A taxi costs around $5 from the train station. When traffic is heavier it will probably cost around $6.50.
The receptionist remembered me from when I came up to Vancouver from Los Angeles for this Churchill run. They treated me very well. I had a nice large room on the tenth floor with two queen beds with large glass windows overlooking the Vancouver City Hall and a large portion of the rest of the city. The hotel is situated on a hill so it gives you an excellent view over the rest of the city. A fantastic view in the daytime, and another fantastic view at night. I made a beeline for the shower. I love great hotel rooms.

About 11:00 AM I went downstairs to the Remington's Restaurant. This is a contemporary atrium restaurant offering breakfast, lunch, and dinner. There is also a Sunday brunch. When I was here last time, it was on a Sunday, so I had their great buffet. Today they also had a breakfast buffet. I mean, this is pretty good food, folks. My imagination couldn't have asked for more. I would also like to state here that the hotel staff took real good care of me. They understood that my train came in late (just one of those things) so they let me stay in until 3:00 PM. I really appreciated resting on the bed for that period rather than waiting in the train station.

Steve called me from his cell phone when he was on his way to Seattle via Amtrak. We had a lot to talk about. We will both arrive into Seattle coming in from different directions around the same time. Who ever gets to the Seattle station first will wait for the other, then we'll go to the hotel together in the same taxi. Pretty neat, eh!

I checked out of the hotel around 3:00 PM and a taxi took me to the train station. The hotel does not have pick up service. I wanted to visit my friends at the Rocky Mountaineer Railtours Company that is up on the first floor from the main floor of the Vancouver Train Station, but today is Saturday so the people that I wanted to say "Hi" to and take a few pictures of were most likely at home.

At 4:30 PM I checked in with Amtrak and then filled out the customs form that was given to me and required going into the United States. When completed, I went into the customs area and showed proof of my US citizenship. The agent was very courteous and it only took a moment. I then checked in my baggage to go in the baggage car and then went outside for my first look at the train that I was going to get on to take me to Seattle. I took a few pictures and also wrote the car numbers down for those who have an interest in that. The train took off at 6:00 PM and we were not going very fast. The ride was fairly rough for a little while, so I guess that this section of track is not welded.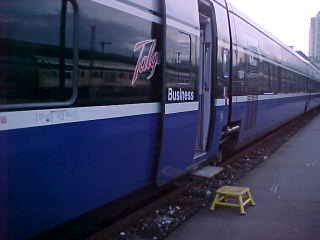 I am in car number 2 and it is almost full. The movie tonight is Fantasia 2000 and the earphones sell for $4 each. People are more than welcome to bring their own earphones to plug into the jack in their armrest. Paul Appenbrink, the assistant conductor, came by to get my ticket and I knew that I recognized him on runs in the San Diego - Los Angeles area. Sure enough, he said that he saw my partner, Steve Grande, last Sunday at the Fullerton train station. I asked him if he had this run and he said "just on Saturdays." Paul, by the way, is also a member of the Amtrak Historical Society. He is a "train man" through and through. We later met in the bistro and chatted for a while, while I picked up a soda.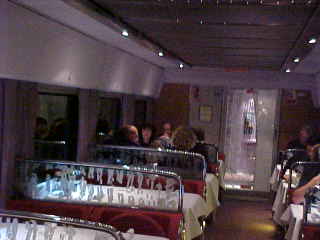 Dinner was being served starting around 5:30 PM. The food on the Amtrak Cascades is precooked. The dining car attendants heat the meals up for you when you make your order. I must confess, the Talgo dining car is probably the most modern dining car in the United States and can surely compete as one of the most beautiful and most functional dining cars in the world. I am glad that the state of Washington saw fit to purchase the Talgo trainsets for this area so people can see and travel on a different trainset than the ones that they are accustomed to. It is a worthwhile project (to take a ride on the Amtrak Cascades) to look forward to. The service from the onboard staff couldn't be better. The "Amtrak Cascades" do have their act together. It only costs $10 more to travel Business Class and they give you a $3 voucher for anything in the Bistro or the dining room, so that means that it only costs $7 more than coach. The restrooms are huge, so no more cramped quarters. The floor is seamless, walking from one car to another, so you folks who are a little worried about that part of the train when it is moving, well, fear no more.

About thirty minutes out of Seattle our train stopped because a freight train five miles or so up ahead had a mechanical problem. We were originally supposed to be in Seattle at 10:00 PM but we arrived by midnight. I was still very happy to be on the train coming into Seattle late, rather than by bus arriving earlier. I took a taxi to the Pioneer Square Hotel (a grand old 75 room hotel that has been refurbished that Steve and have gone to for a number of years now) and went up to room 324 where Steve Grande, my partner, was. Of course I woke him up from dragging all of my luggage in, but fortunately, he understood my situation. I made a beeline for that bed and savored the moment, and then the rest of the night.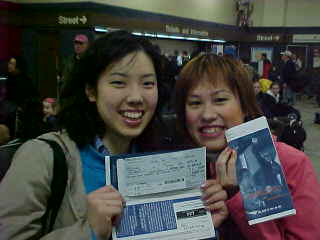 Sunday, February 18, 2001
I woke up at 6:00 AM this morning and cleaned up. Steve was already working with his computer when I came out of the washroom. We both went downstairs and had the continental breakfast that the hotel offers every day for their guests. Cereal and bagel with cream cheese including juice did just the thing. We later went back and got our luggage, then checked out and then waited for our taxi to take us to the train station for our 8:45 AM departure. Eureka, we had a great taxi driver, so we left him a nice tip. He deserved it!

In the train station it was bedlam. The station was full and the people were lined up to purchase train tickets and get in line for either coach or first class. I checked my large suitcase into the baggage car to take it to Fullerton, California (where my final stop is) and while there, I met a couple of pretty Japanese girls who were making their second trip to the United States. They were going Amtrak coach to Los Angeles. They loved Los Angeles! Their names are Keiko Kogawa and Leiko Sato, and their pictures are below. Eventually the first class people were allowed to board, so Steve and I made our way to car 1131, room 3. Our room attendant was Hakto Hung. A very kind and friendly person whom I had the pleasure of meeting before. This is the same staff that Steve had when he came north to Seattle.

A very unique phenomenon occurred on this return trip. There are a total of fifteen (15) people who traveled round trip in first class, which is the sleeping cars, on the Coast Starlight. That does happen periodically, but we have never known it to happen with so many people at the same time. There were five separate couples, one group of four, and one person by himself. (Click here for names and photos of the people that made that 4-day round-trip on the Amtrak Coast Starlight!) This can easily become a trend and grow. How can anyone in their right mind say that the Parlour car does not attract business. Some people would never take such a ride if the Parlour car was not present. I have overheard people on VIA Rail up in Canada talking to other people stating how the Coast Starlight is the flagship of the Amtrak routes. Steve and I have said that for years.

It is in the Parlour car that so much enjoyment is had. That is where many people meet other people and jokes are made for all to enjoy. VIA has their dome cars for their fun area, and with a great car attendant, they can have the group laughing and having a great time enjoying their trip. The staff that I had today was the most potent that I have seen on Amtrak to date. Laughter and interesting history and conversation abounded all around. The person controlling the helm on this one is Russ Settell, Chief of On Board Services for this run. He really "carried the torch" for his company.
Luis Penya is the chef on this run. This man should be congratulated from the highest levels of the company. The best meals that I have ever had on any train were the ones that I had today! I am looking forward as to how the meals will be tomorrow. Let's see if chef Penya can bat 100. Steve told me that there is a female chef on this same run a few months ago that could compete with chef Penya for the same quality food. I am sure that there are a number of chefs with Amtrak that could qualify as culinary masters, but I have never eaten the food from one until today. I mean, this guy was good! Let me repeat that. I mean this chef was really good!! I'm going to talk with him tomorrow.

Steve and I boarded and unloaded our baggage in our room and then went to the Parlour car. There were already close to a dozen people there. We sat at one of the tables and then I went and picked up some fruit for us. Steve ordered a Bloody Mary and with my cranberry juice, we were set to talk business. We had a lot to talk about and this was a great place to do it in. I was pretty busy meeting all of the fifteen people that made a trip, stayed overnight, and were now heading back home. Eventually, more and more people will be doing this and it won't always be people who have an actual need to get from point A to point B that will take the train, it will also be many people that will do it just for the sheer enjoyment of it, like people who enjoy walking in the park for sheer relaxation.

As the seats were filling up, Bill Cohon and his wife Rebecca Ringer from Seattle shared our booth with us in the Parlour car. They were going to a conference at Sea World in San Diego. Blossom Cohon, their daughter was investigating the rest of the trainset with her good friend, Christine Fimia-Mor. Everyone seemed to be enjoying themselves.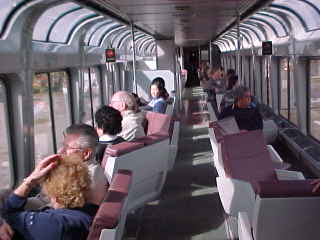 Later, we met a group from Reno, Nevada: Earl DeCastro, Jonathan Dockery, Tom Martinelli, and his pretty wife, Sharon Martinelli. This is one group that was out to have a good time. They really seemed to enjoy themselves. It didn't take much to make them laugh and just enjoy the day. A very fun group who'll make friends with anybody. We then went into the observation car for a looksee.

Steve and I went to our room and a good part of the morning was talking business. Come dinner time we were fortunate to have Ken and Edwina Wogomon sit with us at our dining table for lunch. Alicia served our table for lunch. Ken and his wife hails from Diamond Bar, which is only a few miles from our TrainWeb office at the Fullerton train station. Ken takes the Los Angeles Metrolink commuter train south to work every day to San Juan Capistrano. One of the couples who came up to enjoy the ride on the Coast Starlight to Seattle and back. Pretty good for a person who takes to the rails almost every day.
We came into Portland, Oregon around 1:40 PM and as we were gliding into the station, I noticed out on the platform was Chris Fussell who lives in an apartment directly across from said train station. Chris came in to visit us at the TrainWeb office a number of months ago. Fortunately, our room was on the same side that he was filming the train from. Chris has a great website specializing in rail in the Portland area. Chris regularly rides the MAX Light Rail system in Portland, and he's created a comprehensive website that tells you about this wonderful transportation system. You might want to check out this website (http://www.maxlightrail.com), which features many outstanding photos of this light-rail line and provides useful information, including a detailed map of the entire line.

When Steve and I departed the train, Chris came over and I introduced him to Steve. The three of us then went inside the station and then into the Metropolitan Lounge. The Amtrak employee checked that I was indeed on the Coast Starlight that was outside the station. I hope that Amtrak lets the Business Class customers on the Talgo into the lounge, as well. I showed Chris around the lounge as his apartment is just across the street. Chris showed us some vantage points to take good shots of the front of the station. We then talked for a while and said our goodbyes while he was filming us.

(Chris Fussell also runs the following websites: http://kriswood222.tripod.com and http://maxtrain.tripod.com. After our return from this rail journey, Chris and TrainWeb collaborated to place a RAILcam facing the Portland Amtrak Station from Chris's apartment. click here to view that RAILcam now!)

About this time, Steve was talking with Jim and Beverly McIntosh of Murrieta, California, who were making a round trip to Seattle. Steve had met them on the train coming north. Jim is a railfan from way back and has a special passion for Canadian trains. Fortunately, Beverly has a liking for them as well. Steve and I talked with this couple a number of times during our trip down to Los Angeles. Always interesting conversations

Later, Steve was having his wine tasting with Jim and Beverly in the Parlour car, and I went over to the next table and visited with Charles Consti, his lovely wife Erica and their little train-loving son, Pierce. This couple took their son north on the Coast Starlight and was bringing him back home, all just for the exciting ride. Now that's looking out for their young `un.'

Later still, I went over and talked to Bret Wiener and his close friend Sara Franklin, a pretty redhead. This couple is from Camarillo, California, and were also taking a round trip to Seattle. Isn't this unique how so many people from different directions, who do not know each other, are coming together for the same reason.

At dinner time, David and Jenny Schmidt graced our table with their company. Tonight, I had New York Steak, and I cannot help but make another major statement, "It is the best steak that I ever had in my life!" I've got to meet this guy with the magic hands. David is an engineer in high-tech, and Jenny is also associated with the high tech industry. A nice young couple who seem to have a good handle on things. David is an avid railfan and Jenny is due this coming September. Casey served our table this night.

Steve and I later retired to our room and worked on our travelogue. We both hit the sack around 9:30 PM. A real full day for both of us. Hopefully tomorrow will fare just as well. We'll be looking forward to what the day will bring.

Monday, February 19, 2001
I arose early and brushed up. Steve and I then went to the Parlour car for our cereal and some fruit. Prior to eating I saw the two twins that also were on a round trip for the enjoyment of it. These were the last two people that I knew of that were part of the group of 15 people who went up north for a fast round trip that was just a trip for the relaxation of it. Carol Young from Monterey, CA, and Katie Young, her twin sister from Santa Rosa, California. Two pretty blondes that seem to be pretty happy with their surroundings.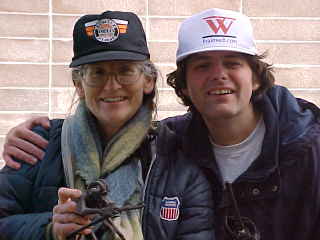 We arrived into Oakland just around 11:00 AM, and sure to their word, Daniel Monroe and his mother, Margaret, met us at the station. We have met them a number of times in meetings regarding rail advocacy. That was pretty nice for them to think of us like that and meet us at the train station. We look forward to seeing them again at the next meeting.

After finishing our cereal, Steve and I talked to Jim and Beverly McIntosh for quite a bit. We later went back to our room and worked with our computers for a while. Nearing lunch, we went back to the Parlour car to be ready for the first call for lunch. When we did go in, Jeff Geldner and Rod Diem were our table partners. Jeff seemed to be a walking encyclopedia of train information. He also had a lot of excellent photos of his train travels with him. Rod also seemed to be into trains. He was also returning home to Southern California to return to work tomorrow. Alicia was our server.
This afternoon, Russ Settell, Chief, On Board Services, set it up for me to talk with the senior chef on the train, Luis Pena. Luis is originally from Columbia, did a heavy stint with Delta Force in the US Army in Vietnam, survived, and made the US his new home. He then went to a number of culinary schools, such as the Culinary Institute of America and the Culinary Arts Institute of Chicago. He worked on a number of cruise ships that traveled around the world and also for the Marriott Hotels as well as other large well known hotels in the US. Sixteen years ago Luis joined Amtrak and has been serving their passengers ever since. He has won 3 stars for Excellence in Service from Amtrak and will more than likely be awarded more as he continues forward. I am sure that he could write a very interesting autobiography about himself. I would also like to mention that he is proud of his assistants, William Haley and Carlos Del Carpio, as these men also take pride in their work. I was fortunate to be served by this particular Amtrak crew, as these chefs were excellent in their skill. In fact, I might add that it seemed like all of the Amtrak staff on this run were excellent PR personnel for the company. This was one happy trainload of customers. What a great way to end my trip!
With the great service that VIA tends to provide, and this final lap of great food and service from this Coast Starlight crew, it makes for one very "happy camper." I wish only that you readers will also be so fortunate.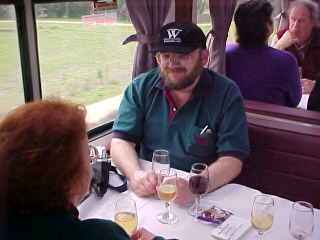 Steve was enjoying his wine tasting extravaganza, so he was in a good mood. Shortly thereafter, the first call for dinner went out. Casey served our table. Our eating companions tonight were David and Judi Hendrick from the San Diego County area. They were returning home from a little trip to visit friends up north. Dave is an agricultural consultant and Judi runs a school. They are a very friendly couple, and I know that if I had befriended them earlier, they would have let me have some of that great homemade apple pie that a friend of theirs made for them. Like most people running a business, the trip was a great break for them, and the train made their return trip more relaxing. Everyone that I talked to and overheard, thought the food was great. That is what thoughtful planning and care will accomplish.

This has been a long and exhausting trip for me. However, it has also been very enjoyable and very educational as well. I have met old friends, new friends, and family. I have seen wonders of nature, and man. I have truly enjoyed myself in two beautiful countries by helpful and friendly train staffs. I have gone on an unscheduled route and saw a part of Canada that is usually closed off to passenger trains. I have gone to wonderful museums and saw and touched history. This marvelous adventure is now a part of my past that is now part of me and will forever be part of my great memories. Train travel tends to bring out the good things in life. Let TrainWeb know when you have any train travel experience to share with others so they can be educated and dream, as well. Until next time, I bid you adieu.
Click on each link below to view every photo from this travel segment:

Click here to return to the main index page of this rail travelogue.
Click here for the previous segment of this rail travelogue.

Visit related pages from this and other web sites:
Click below for pages in the directory of TrainWeb sites: