Rail Travelogue To Churchill - Canada
Hudson Bay, VIA Rail's Most Northern Station
By Ray Burns Of TrainWeb.com
(http://www.trainweb.com/travelogues/rayburns/2001a14a.html)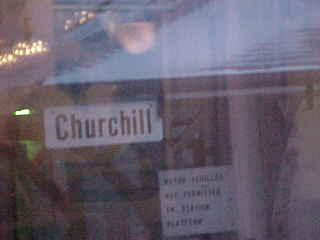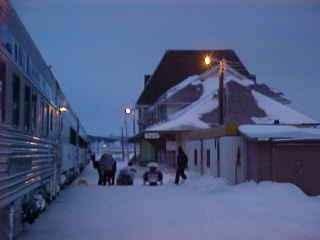 Part 3 - Ottawa, Ontario to Churchill, Manitoba, Canada
on Canada's VIA Rail
Ottawa to Toronto
Saturday, January 13, 2001
I noticed the cold when I got off the train, but for an "outsider" this was part of the adventure. I noticed that VIA Rail had put up a demo of the inside of their dining car inside the Ottawa train station. It looked great! Just like the one at the Montreal train station. Great marketing! I am sure that it will entice the general public who see it to try out their cuisine on those dining cars, as the demos do look pretty good!
Anne Marie, my sister in law, picked me up about twenty minutes after I entered the station as I was talking to my sister on my cell phone. She and her husband, Robert, live in Orleans which is a pleasant suburb with all the necessities of a modern township on the eastern outskirts of Ottawa. I did take a few pictures of their house, where I was staying for a few days.
That first day I concentrated on cleaning my laundry and preparing for the days ahead. The next day, Friday, I had a 1 PM appointment with security at the Parliament Buildings. After going through them, I was led into the House of Commons and took my 360x360 Virtual Reality (VR) immerson photos as well as some shots with my regular digital camera. After finishing in there, we went to security again before going into the Senate. In the Senate chamber, I took some VR pictures as well. These are the ONLY Virtual Reality pictures in the world of the Canadian Parliament Buildings. The workers in that room were generous enough to take their work temporarily to the back room until I had completed my photo session. Everything went as smooth as clockwork. Once we have them posted, it will be very well worth your time to look at these photographs. You are right in the center of the room and up close to where the general public never gets to be. I am sure that you will enjoy them. These pictures are truly an addition to the adventure of this trip.
Saturday night, Robert drove me to Brockville to meet my sister, "Laurie" Lorraine, and her husband Doug Symons. He was on a diet program that he stuck to and I could see the difference in him. It's just a matter of changing one's lifestyle, and most of us want to stay in our comfort zone. I also met Steve Mack, who lives down the street from Doug. Steve Mack does many projects for TrainWeb and is a good person to design your website.
Sunday, January 14, 2001
Robert and I were preparing for tomorrow morning's departure. We will be together when we take VR pictures of the lovely Toronto Union Station as well as some more VIA rail cars. I am a little worried that my insulated boots will not be sufficient to maintain the day in Churchill. If that's the case, I'll just have to be outside less. I called Steve today and he said that one of our readers was already up in Churchill. He sent e-mail to Steve saying that he will be leaving a day or two after Robert and I arrive up there and that he will meet me at the train station in Churchill, Manitoba. Now that is a nice twist! I'll be looking forward to meeting this nice stranger.
Monday, January 15, 2001
My alarm was set for 5:15 this morning and the alarm did wake me up, but man, was I tired. My brother Robert came in and woke me up at 6:30. I knew that buffer was there if I was to fall back to sleep. Everything was totally packed the night before, so the lost time did not affect anything. I grabbed an apple for some nutrition and met Manuel, Robert's father-in-law, who was there to bring us to the Ottawa train station.
We went into the lounge where I took some VR pictures, picked up some free name tags and Clamato juice. All the juice, soda, coffee and newspapers are free in the lounge room. With their thick leather couches, it makes for comfortable waiting. The call went out for our train about twenty minutes before departure. I walked over to gate #4 where one of the VIA employees greeted us, which had a line of coach people waiting in line for the VIA 1 customers to enter their car first. Here, there was an escalator that takes you down one floor, where you walk under the first set of tracks, then about another fifty feet, and then you go up the escalator that takes you to the second set of tracks. At the top of the escalator there is another VIA employee that greets you and your VIA 1 (First Class) car is right there, waiting for you. They really go out of their way to stroke the First Class riders. It would be smart for coach riders to go First Class, at least once, just to experience the difference.
After bringing all the luggage inside and placing it into the racks, we went to our assigned seats, 27 and 28. I asked Jacinthe, the pretty VIA car attendant, if we could sit by the full window if space was available. Our seats had more curtain than windows space, and there was a wall behind the window! She said "no problem," so we were off to a good start! She had a lovely smile that was friendly and genuine. "Great!" We seated ourselves and she took our tickets. One of the VIA workers came into the train carrying a brown suitcase and asked if I was Mr. Hanson. I said "no," he looked around and then went out the way he came in, taking the suitcase with him. A few moments later, Mr. Hanson came in from the opposite direction, walked over to his seat across from me, and sat down. I asked him if he was Mr. Hanson and he said that he was. I explained to him what happened and that he should check on his luggage. He did and found out that it was not on the train. Eventually the train started to move forward. We are now going into the third phase of our travelogue. The train left on time and everything was in order, except for Mr. Hanson's luggage. It will be coming on the train behind us. This elderly gentleman was going back home to Toronto from visiting his son in Ottawa. He said that he'll pick his luggage up tomorrow morning. The porter should have stayed just a little bit longer and possibly left the luggage on the train. Then again, who is to say what is right or wrong?
As the coffee was being poured I asked for a Clamato juice, which one of the car attendants soon brought me. I enjoy it when they talk French as it's more "exotic" than the usual English that I speak and am used to. I usually understand people when they speak French, but there's the odd sentence here and there that I just can't make out. When I am in Japan, Vietnam, or whatever country in which a foreign language is used, I always enjoy listening to the language being spoken even when I don't understand the conversation. Since many people are bilingual, you are usually covered when you do need to converse.
My brother, Robert, sounded pretty excited, and that is good. I think that by the time that this trip is over, he'll be "hooked." He and his family will benefit, VIA will benefit, and the country as a whole benefits. There are no losers. By the time that we got to Brockville, I phoned my sister Lorraine on my cell phone to let her know where we were. (Did you see the "Bras D'Or" travelogue of the Two Lauries?) Of course she was very happy for us and could tell by Robert's voice that he was very happy and eager to go. Robert is the type who savors his wine, reads the newspaper or book, relaxes for a moment and enjoys it all. Yes, he will enjoy the trip! We made a station stop in Kingston. In fact, I noticed that a reasonable amount of people got on the train from the last two stops. VIA 1 Class was a little more than half filled up by this point. We just came into Napanee station. Only a few people getting on and off here. It's around nine degrees below zero. A bit nippy for me, but these hearty Canadians are used to it. I hope that my face doesn't fall off when I get into Churchill! I believe that it is thirty below zero there today.
Robert and I had enjoyable conversation with Mr. Hanson. I'm sure the pleasantries overcame any temporary loss of his luggage. I gave him a TrainWeb card with instructions so he could find our site and travelogues. Upon arrival in Toronto, we said our goodbyes and we went our separate ways. Robert and I went downstairs to the luggage area and then walked back up the stairs to the central area of the station where all the ticket agents are. We found out where Beverly LaBlanc, VIA's Marketing Representative for the Toronto region, was, and dropped in on her. Beverly and I had talked on the telephone before, being introduced by Guy Faulkner, Marketing guru in Montreal. Beverly gave us a warm welcome, brought us back downstairs to meet Mr. Smith who let security know that we were going to take VR pictures. She then introduced us to Brian Casey, who is arranging everything for us to get on the train early to take VR pictures inside VIA's "Silver and Blue" Class sleepers. This way, I will be able to take pictures without anyone getting in our way. Perfect for our needs!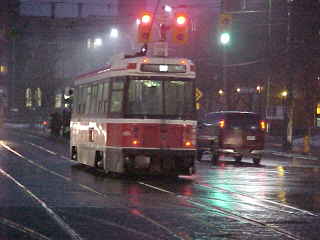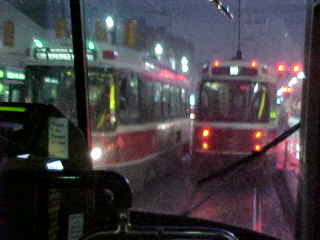 We then took a taxi and checked into the Radisson Hotel, put our gear in the room and then took off to eat. We took a streetcar to Chinatown and chose one of the many Vietnamese restaurants in the district. The food was okay. I wouldn't give it a better rating. We left one third of our food on the plates. I also note that Toronto is an expensive city. I don't have all the facts as to why. I believe that it has a population of around three million souls. We took the streetcar back to the hotel. It costs $2 for a one way ride. These cars are pretty, well designed, and I enjoyed them immensely. I think that it costs $80 for a monthly pass. Our streetcar broke down on the way back to the hotel! Everyone had to get off and board on the next streetcar. Fortunately, it wasn't too cold outside. It's all part of the adventure, folks; all part of the adventure! Back at the hotel, I put the camera chip into the computer, checked out all of the VR pictures, caught up on my travelogue, and called room service for early morning breakfast. I will go to bed early tonight, as tomorrow we plan to be at the train station before 7 AM. Brian Casey will get us on the train early to take the VR pictures of the rooms that need to be shot.
Toronto to Winnipeg
Tuesday, January 16, 2001
My alarm clock woke me up at 5:30 AM today and the wake up call from the front desk came a few minutes later. Bob and I got up and our meals came in around 6:20 AM. We ate, had the hotel desk clerk call a cab for us, came down, checked out, jumped into our cab, and were at the Toronto Union Station by 7:00 AM. Brian Casey met us at our predesignated meeting place shortly thereafter. Off we went to the train to take our VR photographs! The train wasn't going to leave until around 9 AM. We placed everything except the camera equipment in our room on the train and followed Brian to the different cars. Brian introduced us to the car attendants so that they would know that it was okay for us to be there doing "our thing." We went to the dome car and took the pictures needed, then to the dining car, and then to the sleepers. By the time we almost finished, passengers were boarding.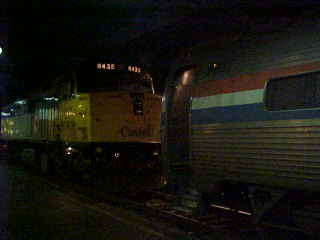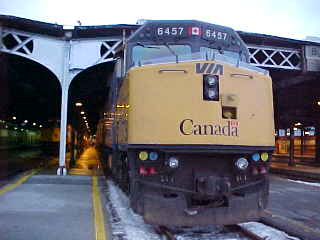 I noticed that the VIA engine that came in next to our trainset was pulling an Amtrak engine with its cars that was marked "Amtrak Northeast Direct Service." The engine then unhooked from the Amtrak engine and separated. I heard that VIA leases cars from Amtrak for the Winnipeg to Churchill run. That is not confirmed, by the way. I then went outside and took the car numbers down from my trainset for those that are interested.
F40PH Engine 6457
F40PH Engine 6446
F40PH Engine 6445
Baggage 8605
Coach
Skyline Dome 8504
Diner (Palliser)
Sleeper (Mackenzie Manor) [Mine - Room C]
Sleeper (Rogers Manor)
Sleeper (Allan Manor)
Dome (Assinibome Park)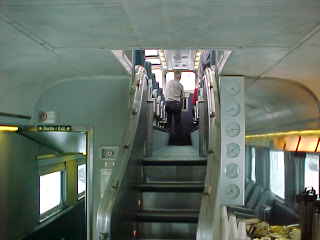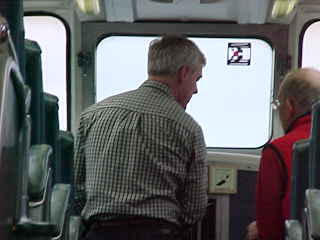 I took a few pictures while outside and noticed the GO Transit commuter trains that were coming in were packed with passengers, standing room only. I mean, one after the other. When finished, we went inside the dome car on the tail end. This was the first time that Robert had been in it. Fruit with pastry and juice were put out and all was in order. No breakfast was served, as it was after 9 AM. Our room attendant in car 220 was Brenda. I always enjoy coming through Canada as I like the scenery up here. The snow gives it that sparkle and spice to make it that much more pleasing to the eye.
Robert and I went into the first seating for lunch. There we met Lee and Ginny Sinclair, from Pennsylvania. They also got on in Toronto and were going to Vancouver. They were enjoying the trip as well. They, like so many others on the train, are so friendly and sharing. Goodness, VIA had great lemon cake at this meal! At this point, I should add that some of the pictures will not look too clear, as they are a little too bright. This is actually fine snow that is thrust up by the motion of the moving train.
The pasta that I had for lunch was very good. T'was enjoyable showing Robert around. I soon headed back to my room and was checking my work out and catching up on my duties. For dinner, I had trout that was smothered in corn meal. I used lots of lemon. Not one bone was in my meal. I also had pea soup with that. Steve Grande and I are great pea soup aficionados. I thought of him when I was eating it. Yes, Steve, it was good! Robert had pasta. The young man at our table, from the province of Saskatchewan, was going back home from visiting relatives in Toronto.
Back to the room for a little more work and then up to the dome car with Robert. There were a few railfans on this trip. One had his scanner with him with his ear phones continuously on. Around 8 PM I excused myself, as I was very tired, and headed back to my room. We had asked Brenda earlier if she would set up our beds, so they would be ready when I walked into the room. Ahh, I needed that! The beds looked very inviting and I lost no time in hitting the sack. I tried to read a bit but I was just too tired. The staff informed everyone to turn our watches back one hour as at midnight we would be in the next time zone. Great, I could use the extra sleep!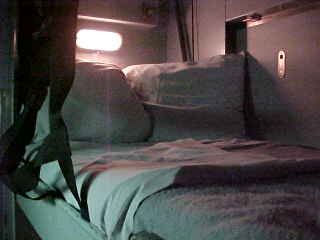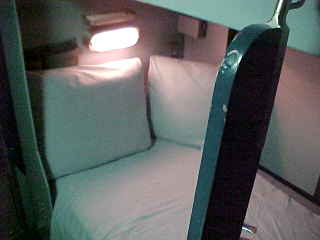 Wednesday, January 17, 2001
I slept fine, but woke up around 3:20 AM and that was that! I got up around 6:30 AM, as did Robert, and we went to the dome car to look at the sunrise.
A little after 7 AM we went into the dining car and we both had eggs with hashed brown potatoes and wheat toast. I had my apple juice and Bob had his coffee. Joe Cyer of Winnipeg was returning from visiting his grandkids in a hockey tournament in Toronto. Joe had not only played semi-pro hockey in his heyday and traveled around the US and Canada playing this sport, but was also a coach. In addition to that, he was also a boilermaker for CNR for thirty years. He is retired now but certainly isn't in slump condition for a retiree. He looks like he's ready to go in and have another go at hockey. A very knowledgeable and very friendly person. In fact, we had seen each other on the Canadian, this same train, when we were both going east to Toronto. Joe also mentioned to Robert and I about the Winnipeg Rail Museum, which is right at the train station. I'll give them a call at (204) 942-4632. We're staying overnight in Winnipeg so we'll see if we can visit them tomorrow.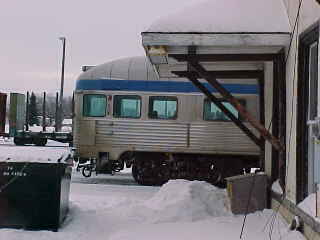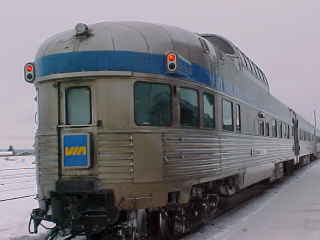 We have made a few stops along the way, but I did get off at Capreol. I had my jacket wide open, as I had been too hot. Bad! Later that night I could tell that I was developing a cold. Fortunately, I had purposely brought some liquid herbs specifically for colds and flu. I have been taking them a number of times and it seems to be keeping the cold from progressing any further.
After breakfast I went over and sat down with a great couple going back to Alberta. Lester and Jackie Simser make up a very jovial couple to talk with. They lived in Ottawa for thirty years, moved to Alberta, and love it. She loves Texas. She is originally from England. A fun couple! More of the dome car, a little reading, and back to my room for a little rest.
For lunch, I had vegetable soup and a deli sandwich. Bob had the pasta. The sandwich was quite good. We were fortunate to have the company of Woody and Eva Coombs, a couple who shocked me when they told me they were in their early seventies. I thought they were in their late fifties or early sixties. I think that this couple is the most interesting couple that I have ever met in my life. I really wish that we could have met years ago as I am sure that we would have been long term good friends. We talked about industry, politics, organic farming, "apples," and you name it. They were sharp as a tack!! Great humor, great knowledge and intelligence, and down right good people! I hope that they send me e-mail someday.
Robert went back to the dome car and I went back to my room to do a little more work and rest. A lot of good scenery along this route. Thankfully, I have a large window in my room. We came into Winnipeg early, around 4:20 PM. We bid our adieu to our newly made friends, departed the train, and went downstairs to get our luggage that was in the baggage car. Joe Cyer was at the baggage pickup area as well. We picked up our luggage and put it on a pushcart that is provided free for VIA customers. We went to the front of a station where there was a telephone to call directly for a taxi. The taxi did take a very long time to get to us. I guess that it's a busy occupation in this neck of the woods. Though it was pretty cool outside, it was nowhere close to what I experienced here before. So far, we have been lucky with the weather. Our taxi eventually came and took us to the Norwood Hotel. A $6 trip from the train station. After checking in, I went across the street and bought a few postcards with "International" stamps, plus a few SoBe drinks for use in the hotel room. The pretty gal at the desk was very friendly and the room was nice. I set up the computer, caught up on my travelogue, took some more herbal medicine for my cold, and watched a little of the "History Channel" on television. I hit the sack at 10 PM, looking forward to a good nights sleep.
Winnipeg to Churchill
Thursday, January 18, 2001
I got up at 7:30 AM, though I was awake considerably earlier. After Robert got up, he dressed warmly, as it was 17 degrees below zero. He then went across the street to buy the same postcards that I had bought yesterday. I filled out my postcard, one to my wife, one to Steve Grande, and one to another friend. Robert was soon back, so we went downstairs to breakfast. I had Eggs Benedict with rye toast, and a SoBe grapefruit drink. The waitresses were very jovial and friendly. We noticed that the food is very reasonably priced. We wondered why Toronto should be so pricey compared to smaller cities. With competition, one would think that the prices would be less. We later went to our room and watched television for a while and prepared our luggage for the next section of travel. Come noon time, we brought our luggage down to the lobby for the staff to watch for us while we went into the hotel restaurant for lunch. Bob and I split a quesadilla. It was okay, but I think the Southern states of the US make better ones. We then checked out of the hotel and took a cab to the train station. It was around 17 below, according to the news. It felt like it too. The wind is nasty! We checked our luggage in with VIA, went out the back door, and walked a block's distance over to the "Forks Shopping Centre." I found this place to be unusual as it is comprised of three structures. You have to walk outside to get from one to the other. Very inconvenient if it's raining or very cold out. Uses more space as well. Oh well, it was different.
We went upstairs to a little shop on one of the corridors, called Shekhman Furs [(204) 254- 8021]. Alex and Eugenia Shekhman, originally from Russia, emmigrated here nine years ago and set up their business. He was a furrier in Russia, making as much in one day as his wife did in a month as a pharmacist. There was very beautiful mink, as well as blue and arctic fox. Of course they had rabbit, beaver, etc. I bought a nice pair of moccasins with mink fur for my wife (okay, so it's not a mink coat, but one has to start somewhere), as well as an amber bracelet that was made in Russia. She gave me a pair of beaver earmuffs as a gift. I made good use of it and it DID come in handy. We looked around the other shops, and of course, there were many other great products to purchase. You really had to ration yourself! Not only do I have to think of my budget (what budget?!), I also have to think of room in my suitcase.
On the way back to the train station the wind was in our face. Thanks for the earmuffs, Eugenia. I thought my face was going to fall off. We checked with VIA to make sure that everything was in order and then we braved the outdoors to make it to the next shopping mall building. To the locals I probably seem like some "wimp," but you people must understand. When you are accustomed to palm trees and bikini-clad senoritas eating bananas and mangos, one tends to get a little soft. TrainWeb is a heck of a place to work! And that's just me; you should see Steve's lifestyle (If you believe that, you'll believe anything)!
Boy, I was glad to get inside. I told Bob, if this is what it's like in Winnipeg, what the heck are we going to do in Churchill?? We felt like doomed soldiers going to war, like a moth to light. Why do people climb mountains? Because it's there! When there is some hardship, one is more appreciative of their achievement. We were looking forward to this trip. It is a journey one doesn't forget easily. When you consider all the people of the world since the beginning of man until the end of man, how many people will see the Northern Lights and possibly a Polar Bear in its natural habitat? Robert and I consider ourselves to be among the lucky ones. We'll laugh in the future when we talk about the cold winds up here. They'll bring back good memories. We'll periodically go to TrainWeb and look at the photos that we took to relive our adventure.
The other mall structure had a little museum in it and a few of the items were a stuffed Polar Bear and a Bison. I wouldn't want to tangle with either one if they were alive, as they were huge. There were some more nice shops. We stopped into a billiard hall, and it was a Pepsi for me and a beer for Robert. After good conversation and resting our feet we went through the rest of the building and then went to the former building that we were in and had some Sri Lanken food. It was pretty good, but it went right through me. No problem for Bob, though. After finishing up there we went back to the train station, took out our light luggage, and I started on my travelogue once more.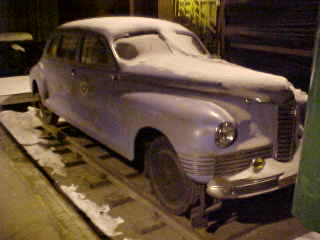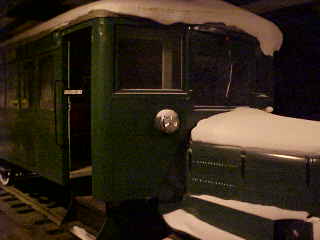 By the time that twenty minutes had passed, Daryl Adair with the Winnipeg Railway Museum came by and talked with us. The next thing I knew, we were all going upstairs to the museum. They have quite a collection up there. I took some pictures, but only a small sampling of what they have to show the public. Donalene Davidson, their Treasurer, as well as a few other members, was there as well. They gave us the grand tour and were very generous with their time and knowledge. As with all rail museums, you are more than welcome, as they do want to share their passion with anyone who will listen. When someone is sharing their heart with you, you know that it's the real thing. There is a lot to see and appreciate here. People should take advantage of the tremendous mass of information that is available to the general public at all the rail museums that are in all the states and provinces. Many men and women donate their time and sacrifice much to keep our heritage alive, with an extremely fascinating history that is part of all of us. Once you go into one of these places and get "into it," you might never let go. To your advantage! These are wonderful places for kids of all ages. There is nothing fake about these historical gold mines. They are the real thing, and Disney, eat your heart out!
F40PH Engine 6304
F40PH Engine 6302
Baggage 8601
Coach
Coach
Diner 8415 (Princess)
Sleeper (Chateau Roberval)
We left more knowledgeable than when we went in, and rushed to get on our train. It was easy for the staff to know if we were on or not as we were the only people in the sleeper car, though there were a few people in coach. The chief steward was there to help us and our luggage aboard and we were soon in a warm room just waiting for us. After everything was put away, the train smoothly rolled out of the station headed into the mysterious night of the frozen northern tundra where our destiny awaited us. There was no turning back (as if we wanted to!). Later, Robert and I went forward to the coach car, then back to the dining car, and relaxed as best we could. While there, we talked to Reg Yaremchuk, who was with CNR for 23 years. He retired as a CNR Engineer, and has lived in this neck of the woods, in Endeavour, Saskatchewan, since birth. Endeavour has a population of 300 souls. Reg owns a thousand acres of land that was passed down by his grandfather, who homesteaded their property. For the brave of heart, one can still homestead.
I turned in around 10 PM, but as usual, woke up a number of times during the night. Robert was complaining about the smell of cigarette smoke. I smelled it shortly after. It must have been coming through the ductwork somewhere.
Friday, January 19, 2001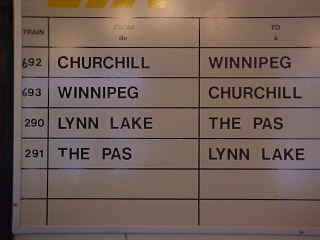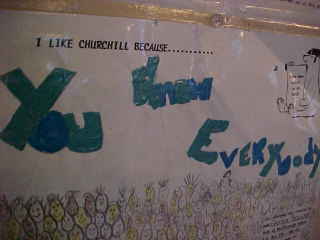 I was surprised that I slept in the next morning. I got up before 9 AM. Shortly thereafter, we made a stop for a half hour or so and I got off. I went into the train station where I took a few pictures. I later got on the train and went into coach and talked with Ed Haughney, who is from Baltimore, Maryland. He is also going up to Churchill, but leaving later that evening on the same train. He's another person with an interesting adventure to tell. Someone mentioned that it is dark twenty two hours of the day up here at this time of year. We'll see! I later strolled over to and talked with Gilbert Ducharme, a young Cree Indian, with his young daughter, Tessa. We had some very interesting conversation as we were going over tundra territory. He actually lives in Winnipeg and was visiting his brother up north. He was also going to play in a hockey tournament up here. I wished him luck!
At noontime, Robert and had the same thing for lunch: A scrambled egg sandwich with potato salad and delicious coleslaw. The garlic bread was quite good. I asked for hot chocolate and I was brought a teapot full. That gave me two full cups of the hot brew. I appreciated that. The senior person on the train was also my room attendant and waiter. Very good service from an all-around guy. We had apple pie with ice cream for dessert. Just a note here, the lounge is the front part of the diner.
After lunch, I went to my room, got my laptop, came back to the lounge/dining car (1/2 & 1/2), and plugged in. Looking out the window now, 3 PM, it looked pretty cold. You can tell by looking at how much snow stays on the tree branches. I had taken a few VR pictures of this trainset. It's always fascinating to see the many animal tracks there are everywhere. I don't know one from another but I am sure that they are small to medium in size. The train will go as slow as 30 MPH in some areas. I'm sure that the rail workers can only do so much in this neck of the woods.
We just made a stop. I see someone running towards the train. He either wants to catch the train or cross the tracks. This ten-minute stop was "Thicket Portage." The VIA passenger train that was going south to Winnipeg passed us slowly by at this point. I now moved forward to seat 7C in coach, where there was an electrical outlet, and plugged my laptop in. A fold down table from behind the seat in front of me was swung down to hold the equipment. I like the seating in coach. The heaters keep the place pretty comfy as well. Ed Haughney from Baltimore was in coach all the way and Robert liked to come in and converse with him.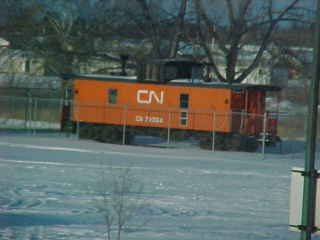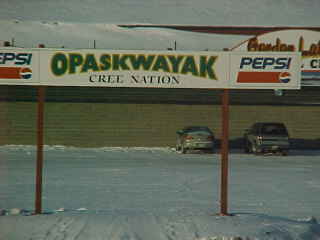 Ed, Robert and myself went in to the dining car for dinner that evening, where Robert and I had "Tundra Burgers." This was bison meat, which was a little different. We had chicken noodle soup as well. To finish it off, we had apple pie and ice cream. The three of us talked for a while and then I excused myself to go to bed. That night the train was really rocking and rolling. Fortunately for Robert and myself, our beds were facing from one side of the car to the other (left to right). The people in coach must have had a grand old time during this night. It felt like a boat in rough water. A very uncomfortable night! However, it was only one night, and that's part of the adventure.
Saturday, January 20, 2001 - Churchill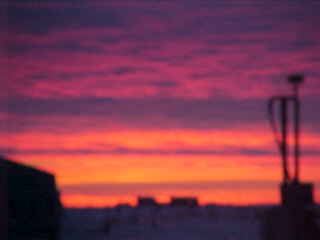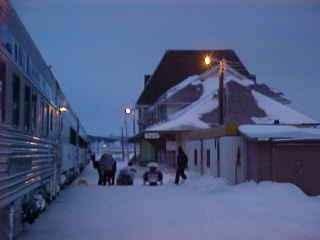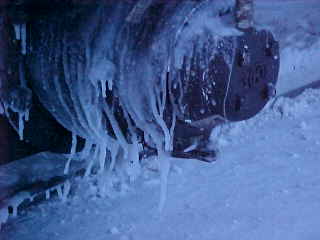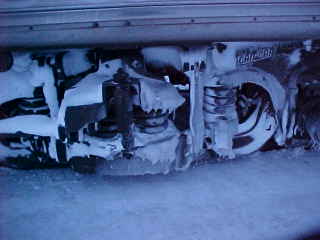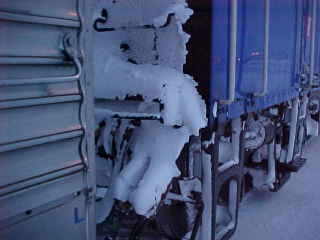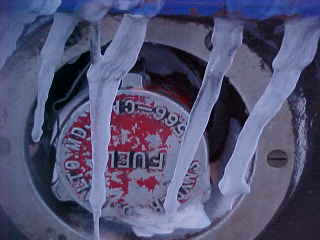 We were very fortunate as it was only a few degrees below zero. None of this thirty to fifty degrees below zero jazz. I was happy for that. The taxi, a Suburban, eventually came back to pick us and our luggage up. No problem, as it gave us more time to take more pictures of the train and surrounding area. We were taken to the Churchill Hotel & Motel, owned by Steve Bosnjak, where the VIA personnel stay. It is a pleasant little place where you are received very graciously. Friendly people! Our only gripe was that someone had smoked in the room before. Maybe it's coming through the walls? Other than that, everything was fine. It was great having a comfortable bed that didn't move. Smokers must find non-smokers a real pain in the ear, but they might not take into consideration that it's a two edged sword. Even as I am in my hotel room typing this in, I probably wouldn't be talking about it if I wasn't constantly smelling it! Leona Tkachyk, who runs things for Steve Bosnjak, came in to put fresh towels in our room on Sunday, offered to move us to a non smoking room. She had no idea of our concerns when we first came in. We just assumed that she knew in advance.
Eliot Haycock, from Houghton, Michigan, which is south of Lake Superior, was the individual who visits www.trainweb.com on a regular basis and it was he who sent the e-mail to Steve Grande to let him know that he would be in Churchill when I arrived. Sure enough, he dropped in like he said he would. He had been up here many times so he is no stranger to the north winds. He finds it very exciting to go where very few people have been, especially by train. I am sure there are many others who feel the way he does. A very friendly person with lots of knowledge to share.
The first thing that we did when we left the hotel was finding someplace to eat. We went over to Gypsy's Bakery, just a few blocks from the hotel, and had Arctic Char. With Robert's beer, my soft drink, and two of their great pastries, the bill came to around $45 Canadian. However, the Arctic Char was out of season. Other than that, I think that their food overall was reasonably priced. The food was certainly good!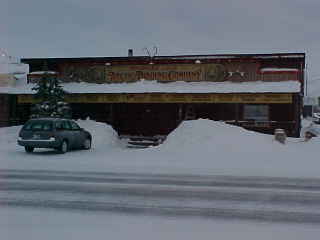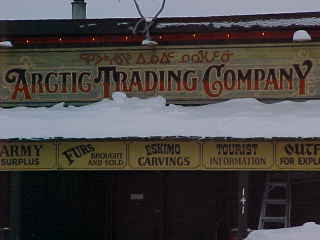 Right across the street from our hotel is "The Arctic Trading Company," and that's where we headed next. This place seems to have it all. Lovely coats and boots, and all kinds of lovely art work from the native artisans, are there. Lots of fur, too. We took some great photos in the store. There are other stores in Churchill that offer some similar products as well, to be sure. Then we went two doors down to "Northern," a grocery and dry goods store. Some of the items were offered at a good price while some items, like canned goods, were rather pricey. Cucumber prices were in the stratosphere. However, I'm sure the businesses are not gouging, but rather have to adjust their prices after everything is shipped in. Remember, everything is shipped in by train, as there are no roads that come this far north.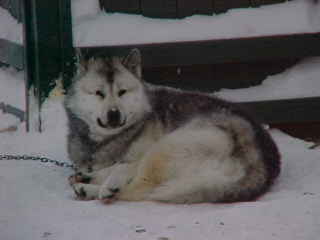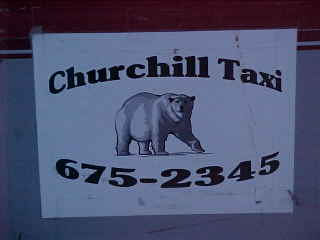 Next was the Town Centre Complex. This is a combination of a high school, a hockey rink, one curling rink, a children play area, a library, a restaurant, a hospital, city and provincial offices, and a swimming pool (I know that I've missed something here). In fact, I even managed to get on to that great web site "TrainWeb" on the Library's Apple Macintosh computer. We then walked over to the Eskimo Museum run by the Catholic diocese. Both buildings were very impressive. The museum had a wealth of information, and a visit is certainly time well spent. Everyone in town is very friendly, in fact, even the dogs are very friendly. We took pictures of large Eskimo dogs. They are larger than Huskies. Beautiful animals! We walked through the neighborhood for a while and went back to Gypsy's, where I picked up an egg salad sandwich. We then headed back to our room.
Ed Haughney, whom we met on the train coming to Churchill, dropped in to say "goodbye." We had a nice little chat and he was on his new adventure back to Baltimore. We wished each other good luck and "bon voyage" and he was off. Within two minutes another knock rapped on the door and who would you believe? Eliot Haycock, who had visited us earlier, had also come in to bid us "adieu." He might take his wife on his next trip up here. Another railfan who likes to travel to unique destinations. Possibly there was a little bondship between the four of us as we are all outsiders to the area. We all said our goodbyes. Eliot had to run as well, as his train was leaving in less than thirty minutes. Bob and I watched a little television (they have satellite in the area) and then we both did some reading before we called it a day. T'was nice to slip under the sheets.
Sunday, January 21, 2001
We both got up around 8 AM, and soon after were headed for Gypsy's Bakery, but they are closed on Sundays. We then went over to the restaurant at the Town Centre Complex and I had a toasted tomato/bacon sandwich. Did you notice that I did not say "lettuce?" We then went for a good walk around the town to get a "feel" for it. Again, all the dogs are friendly. Never saw any Chihuahuas. Good! One thing that I noticed, all the dogs are tied up. They have a fair length of chain or rope for them to move around, but you never see a loose dog anywhere. There is a well-knit order here.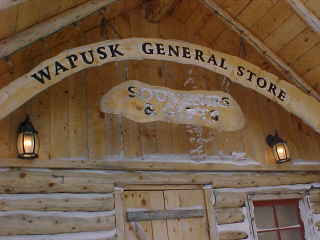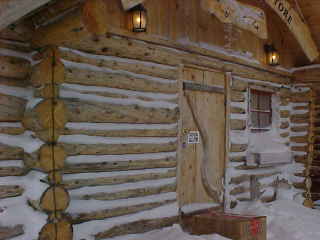 Then I saw something that I am very fond of: A log home! The inside front portion was turned into the "Wapusk General Store," which sells souvenirs and gifts. Very nice items available inside, with a wood fireplace blazing away to greet everyone. We were unsure if the place was open or not, being Sunday, but I tried the latch and "voila," the door opened. It was a real log structure alright. I was in heaven! Valerie Daley, the woman of the house, saw us in the store and mentioned that they are closed on Sundays. But after I explained where we came from she knew that our time was limited, so she invited us in. Thank goodness she didn't take a broom to us. Dave, her husband, who built the log home himself, came in a few minutes later. They also run "Wapusk Airboat Services." It's just like the airboats used in Florida. Drop in and visit them, ya hear! If anything, just to look at their beautiful structure. The Arctic Trading Company is similar inside but the outside is different. Dave and Valerie's place was a solid log structure through and through.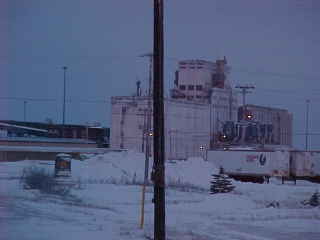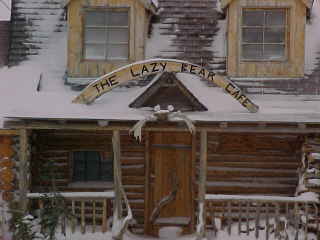 We got back to our room at about 12:30 PM and I started to catch up on my travelogue. Around 2 PM, Leona, the manager who wears many hats, brought our fresh towels and had us switch to a non-smoking room. She then offered us some soup that contains saurkraut, garlic, carrots, bacon, and who knows what else. Darn, but it was good. We had some of her homemade bread to complement the soup. It tastes as good as it looks. This gal used to be a cook in lumber camps. In fact, when she was young, she used to cut the limbs from the trees. Her jovial personality had you laughing in no time. When our soup was finished, she gave us homemade lemon pie with ice cream. Bob washed his down with a beer and me with a Pepsi. She really enjoys the company of her customers, and when they get to know her just a little bit, they surely like her even more.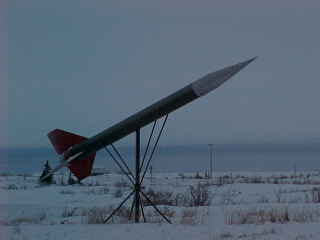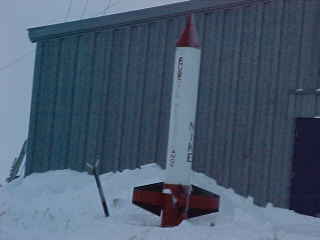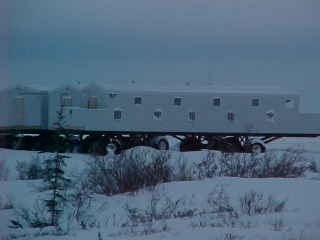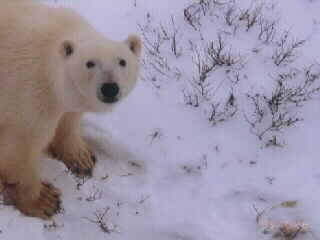 Later, we then went back into our room and continued with our travelogue. A little later on she asked if we would want to go for a drive and see the area. Not only does she get to get out for a little bit but she can show us around as well. Leona drove the one ton van and Edna Prince, her friend, sat in the front with her. Bob and I sat in the back seat and went for a great ride out of town. We were near the edge of the airport, we saw the former military bases, and also where they fired the missiles. The population used to be around 16,000 souls before, now it is less than 1,000. It almost doubles in the summertime for the seasonal work. The bases are completely abandoned now. So, if an attack ever came, I guess it's the civilians who have to offer the first line of defense. It makes me think of that comedy movie, "The Russians Are Coming."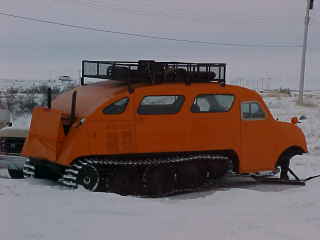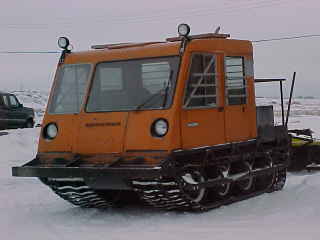 Robert and I picked up some pretty good pictures on this run. Check them out! We went on a side road to go to a particular site but then decided to turn around and get out of there because of the road condition. I own a one ton van so I offered to maneuver the vehicle around. It took all of us to make it work out smoothly and we lived to see another day. I drove back to "civilization." Driving up here isn't really a big thing, but for someone from Southern California, it's nice to do something that most people will never get to say they did, like drive around in Santa Claus's back yard.
We arrived back at the hotel around 4:30 PM and I went straight to my laptop. Leona dropped by shortly later and offered us to join her and others for supper. I can truly say that the Manager of the Radisson Hotel in Toronto didn't come to our room and offer to bring us down for a good meal in their restaurant. That's the nice thing about little places like Churchill. At this place, anyway, you are treated like family. C'mon up, y'all and enjoy the hospitality!
Bob found out from Leona that supper will be ready shortly and that it's a spread like one has at Thanksgiving. I'm feeling pretty guilty at this point, but I can't dissapoint her. I shall force myself to sup this night. It's 7 PM now and my writing is caught up to this point. "Oops," there's the knock on the door. Well, "Ta-Ta," I have to run now for an important meeting. Talk to everyone later.
Edna Prince, Tom Tait, Charles Austin, as well as Leona, were already at the table, as Bob and I were a little slow. A grand setup of salad, mashed potatoes, beef stew, home made bread, and on and on. It was a good hearty meal, very filling, with lots of good conversation and laughter. Everyone seems to have a good sense of humor up here. Leona always came out with funny things to say or was laughing. She, by the way, was also the cook. We all adamantly agreed on one thing, and that is about taking herbs to cure the body rather than the chemicals that are pushed in front of us. The rest of the conversation was light and hearty. A gracious host, offering a great time, a fun evening.
Around 8:30 PM Bob and I came back to our room and watched a little television and then read some books. For some reason the thermostat doesn't work properly and we were VERY warm. With our door propped open the temperature was fine, but when we closed it, "whew!" This night we slept on top of the blankets.
Monday, January 22, 2001
Light seemed to come up late. Maybe it only seemed that way because it has been overcast ever since we came. Once in a while the sky seemed to open up some, but only some. There is an elegance about the area. No smog, that's for sure. Robert wanted to go to the complex for breakfast but I preferred to go to Gypsy's Bakery instead, so we parted ways. Gypsy's made a great egg salad sandwich and had great home made butter tarts, so by taking them back to my room, with the door propped open, I can catch up on my travelogue. It worked out just fine. I had bought a few nice postcards on Saturday so I will fill some of them out today and mail them out from here.
In July to August the white Baluga whales are in the area. In October through December, the Polar Bears are here, and in January to February, this is the best time to see the "aurora borealis," the northern lights. Of course you are going to need clear skies at night. You know something? Everything that these people offer up here is original! There is no "Betty Crocker cake mix" here. Everything is natural. The mammals, the animals, the fantastic lights in the sky, the environment, the "everything," is God made, and in its natural habitat. I don't recommend that you attempt to pat a Polar Bear, but these big beautiful dogs will enjoy it. Go for a dog sled ride or a snow mobile ride. Do make reservations as more and more tourists are starting to find out about this place. With over 40% to the positive to the American dollar, it helps offset the expenses. It's neat to walk down the street and no matter who you pass, you always say "hi." One gal said that since she has been up here, the pain in her arthritis has gone. A pretty neat little place.
Leona called us in for dinner. It is not only us that are invited in, but just about everyone. The restaurant is open during the summer months but January through April she invites people, including locals, into her kitchen and living room to be just one of the family. I have seen some of the lovely letters of appreciation that she receives from people from all parts of the world. Like the others, I can attest that half of the enjoyment being up in this place is being invited by her to sup. She used to be the camp cook for the lumberjacks and miners all across Canada, so she is a great cook, and likes to talk. You can't help but enjoy her company.
Her friend Edna cooked a white navy bean soup for everyone today. It was great, and the remainder that was left for tomorrow was even better. For dinner we had lasagna that had some great spice to it with mashed potatoes and vegetables. All the other goodies went with it as well. Bob was always given beer and I had my soda. Lots of coffee and tea. The conversation just flowed. Always laughter and good will. I felt pretty much "at home," by now. There was a blizzard outside and the few people that were outside had to really lean into the wind. Taking a picture of it doesn't give the ferocity of the weather any justice. The last couple of days that we were here it was quite mild, but now the area was back to its old self. Fortunately, our room was at a comfortable temperature. We weren't sweltering nor cold. A pleasant night was to be had.
Tuesday, January 23, 2001
Pretty cold outside. Today we were in for another nice surprise. We were invited to wash and dry our laundry using the hotels washers and dryers. My gosh, we didn't even have to get the soap. They really do want their guests to lay back and be one of the family. We were called in for lunch and that bean soup was great! This PR that the girls offer brings people back time and again. They are genuine! No faking here. I went across the street to exchange some American money for Canadian dollars. I then went to Gypsy's to pick up some cookies that I thought quite good, for my wife, but they sold out last night. Time to lean into the howling wind again and struggle back to the hotel. Just think, to the locals, this is normal.
I was very happy that I had special winter clothes for the area as today was one of those days when it was absolutely necessary. I had fur on the back of my gloves and had it against my face to prevent my face from freezing. The rest of me was protected okay. Of course I wouldn't be able to stay outside very long as my bare face was exposed to the element and it needed protection. With a small opening where my eyes could squint a peek to guide me in the direction back to the hotel, I eventually managed to make it back safely. The skin around my eyes was burning as if I had sunburn. The skin was pretty red as well. These down gloves with the fur backing did their job well. Fur does make a difference. It is soft and gentle to the skin and it will keep you warm. Man made material is okay, but you don't want it rubbing against your skin, especially in severe cold weather. When you are in the elements like this, logic and survival go hand in hand, and being "politically correct" is flushed down the toilet very fast!
Robert and I prepared everything for departure and then we were called in to dinner. If you like garlic, and plenty of it, then this is the place for you. Leona made meat loaf and that garlic certainly made such a difference! No pretty gal was going to talk to me, or any of us, this day. Great stuff against colds! Again, the food was too much, very tasty, and lots of good conversation. Always laughing and good will. Very special people here.
Leona and Edna took Robert and myself to the train station at 8 PM. It was pretty cold outside but at least the wind wasn't howling. We unloaded everything from the van and took it up the stairs and into the station. It was warm in here. We checked our luggage in but kept our light baggage with us. Probably around eight people were getting on, possibly more.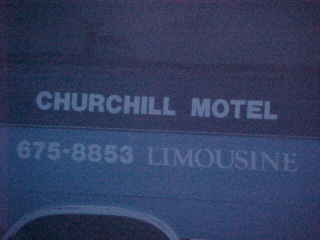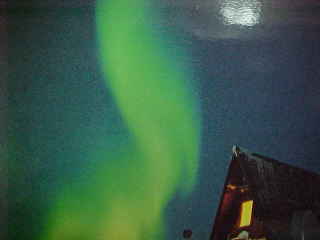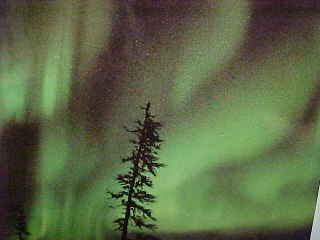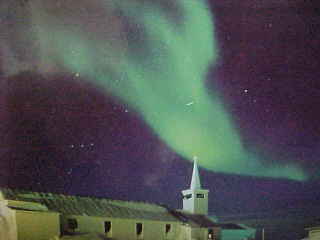 Edna called us outside, and would you believe, there it was, in all of its glory, in this clear starlit sky, the aurora borealis! Of course for the girls this is "old hat," but for us "out of towners," this was magical. It was as grand as I imagined. My face was burning because of the cold, but I knew that I had to keep watching as there might never be another opportunity to see this splendid dance of light and color. It was like a giant snake slithering across the cold clear sky that was ever changing form, and as it silently and constantly moved, it took your breath away. It was huge, a gift from God, one of the great wonders of the world. You will see some pictures of the aurora borealis, the northern lights in the photographs. To see it in person is better than watching fish in an aquarium. (that's a joke).
Churchill to Winnipeg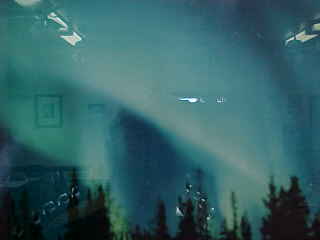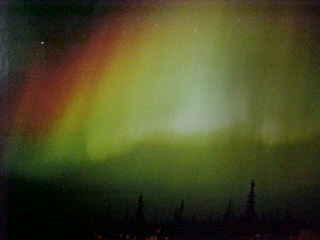 We soon said our goodbyes to the girls, gave them hugs, boarded the train, and at 8:30 PM we were off. We watched the northern lights from the train. As the train made turns we got to look at the lights from different angles. The lights constantly change in shape and color. I don't know how many miles it stretched forth in the sky, but it was magnificent. One never got tired of watching it. Originally I saw it as one long finger, then it changed into three and then four, then one end of it seemed to look like it exploded. All the while, constant movement, including straight colored lines facing up and down as if it was going to rain color. Then on one end it was in a circular form, like a large cinnamon roll. Eventually it disappeared. Like Leona said, you never know when it will come or leave. It is like the weather that can be upon you in a few moments with no warning, and be gone just as quick. What a fantastic experience. Not only did I see it from Churchill, but also from a moving train.
Coming to Churchill in the summertime means that the train will probably be full. The hotels will probably be full as well, so make your reservations. Check the sponsors who relate to this business at TrainWeb and they'll get you set up. The meals on VIA rail are supplied if you have a room, just like on Amtrak. However, on the trip to Churchill and return from Winnipeg, the meals are not included with the room. You will be charged for them. I believe that the prices are kept as low as they can be and you will only be charged what you use. Most of the locals go coach. Remember, this is a lifeline to the locals. Tourists will help offset VIA's expenses, but the main purpose of this line is to supply the different communities in this vast expanse. This is like going back in time one hundred years. I am certainly glad that I came in January as it seemed like my own private train. Leona made our stay very special, as well. In fact, the VIA personnel also stay at her hotel so you get to meet everyone.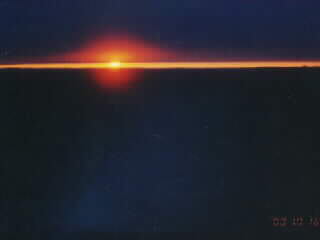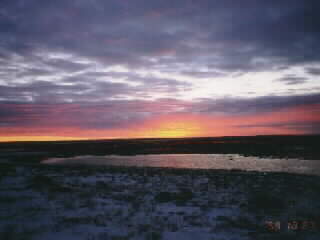 From Churchill to Gillam, to Wabowden, to The Pas, to Winnipeg. There are many more places in between, but I believe that these are the main stops. Ralph Schipper is the Service Coordinator Manager, Arthur Jurkowski is the Assistant Coordinator who served us in the dining room, Steve was the cook, Maurice Watts (who looks like Bruno in the Popeye movie) is the engineer, as is Wes Jones.
F40PH Engine 6308
F40PH Engine 6457
Baggage 8600
Coach
Coach
Diner 8418 (York)
Sleeper (Chateau Cadillac)
Wednesday, January 24, 2001
This morning I had Raisin Bran cereal, apple juice, and two eggs with sausages, hash brown potatoes, and toast. I couldn't finish my potatoes. Later, I did a lot of reading. A luxury for me that I totally enjoy. Steve Grande is an avid reader. That man can really gobble the print up. For lunch I had a toasted tuna salad sandwich. I ate the sandwich but not much else of the cole slaw and potato salad. Apple pie, ice cream, and a ginger ale topped it off. Again, back to the room for more enjoyable reading. For dinner, I had pot roast. Very tender, exceptionally well done. The mashed potatoes and gravy were quite good, as were the vegetables. In fact the whole plate was very colorful. I took one slice of garlic bread but gave the rest to Robert. A ginger ale topped it off, as there was just no room for dessert. Time to work on the travelogue as I'm going to try and send it out by FedEx tomorrow morning to Steve at TrainWeb in California. I'll send the many disks with the digital pictures on them as well so he can add the pictures to the story. We get into Winnipeg tomorrow morning around 8 AM and I will have a few hours before I catch my next train to Toronto, working my way back to Ottawa and then on to Montreal. But that's another day and we'll talk about that later.
Click on each link below to view every photo from this travel segment:

Travelogue of Daniel Chazin's train trip to Churchill.

Click here to return to the main index page of this rail travelogue.
Click here for the previous segment of this rail travelogue.
Click here for the next segment of this rail travelogue.

Visit related pages from this and other web sites:
Click below for pages in the directory of TrainWeb sites: