Rail Travelogue To Churchill - Canada
Hudson Bay, VIA Rail's Most Northern Station
By Ray Burns Of TrainWeb.com
(http://www.trainweb.com/travelogues/rayburns/2001a08a.html)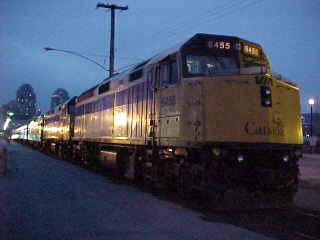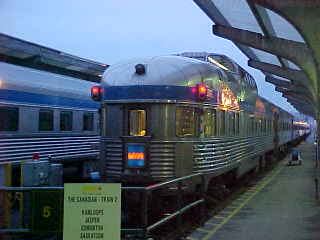 Part 2 - Seattle, Washington to Ottawa, Ontario
on Canada's VIA Rail
Saturday, January 6, 2001
The train (train 14, the Coast Starlight, which we had boarded the previous day in Los Angeles) slipped into Seattle passing the terminal and unloaded the freight cars that it pulls on the tail end. Then it backed into the station and unloaded the passengers. Steve and I said our goodbyes and then went into the station to wait for my large suitcase that was brought up in the baggage car. After picking it up, Steve helped me with some of my luggage out to the Trailways bus that was waiting for passengers destined for Vancouver, British Columbia, Canada. I was the last one to board, there being eight passengers going further north. It was a very modern, clean bus, with large windows for excellent viewing. After my luggage was put aboard the bus, Steve and I bid adieu to each other, I boarded, and I was off. I felt a little sad as Steve is the perfect traveling companion. He, on the other hand, prefers to travel alone. However, we both do enjoy company when we're in a restaurant or dining car.
Being late at night, the traffic was not a problem, so we were moving pretty good through the streets and along the freeway. The bus pulled into a "duty free" site just prior to going to customs. I bought some reading glasses as I had a very difficult time reading anything. Then we moved on to Canadian customs. This is always the most fun part of any Canadian excursion. "NOT!!" However, it was "livable" this time around. I was the only one that they sent through immigration. Possibly it was because I was staying for so long. Either way, for me, it is usually a distasteful experience coming through Canadian customs, and what is so sad is that it really doesn't have to be. I would think that everyone is mature enough to know that you watch your "p's" and "q's" whenever you go through customs of any country. In case you're not, my advice is to never smart off to them or else you probably will wish that you never went on the trip at all.
At last I got out into the fresh air and the rest of the drive to the downtown Vancouver train station went without a hitch. Vancouver city is very beautiful at night. Here it was 1:AM in the morning and the city was like a circus. Lights were on everywhere and it was actually quite colorful. It was 1:15 AM by the time that we got to the train station. It closes at 1:AM. Fortunately the security guard had gone out of his way to telephone for some taxis to come when he saw the bus roll in. Now isn't that something! I'm sure everyone could have kissed him. My taxi driver took me to the Plaza 500 Hotel, lickety split! Security helped me bring my luggage in, I checked in, and was headed for my room up on the sixteenth floor. I had a very lovely suite with a king size bed and even a patio. Man, it was straight to bed for me. I really needed the "z's."
Sunday, January 7, 2001
I woke up at 11:AM. I told you I was tired! I got cleaned up, my batteries for cellular phone and camera were recharged, and rearranged my suitcases. I went downstairs just after 12:00 noon, checked out and checked my baggage in and then went into the Remington's Restaurant that is inside the hotel. Wasn't this my lucky day! Sunday is the day that they have a buffet and I just happened to stumble in on this day. A few pictures were taken of the hotel and the buffet, but I can assure you, there was a lot more selection to eat than what you will see in the pictures. Click here to view photos of the hotel and the Sunday buffet. Good atmosphere, good service, good food. What can I say? A very nice place to rest and a palate entertainer at the same place. A nice place to start my journey in Canada. I then called Steve down in Seattle who was enjoying his stay there and catching up on his work as well. Everything was going just fine for both of us so far. Every day, every hour, is an adventure, because, who knows what will happen just around the corner? Isn't this part of the spice of life? Life is an adventure, get out there and enjoy it! Meet people, become involved as part of other people's adventure, give them pleasant memories as well as to yourself. Become part of the mystique!
Many of you have traveled by train before and will continue to do so, while some of you never have done so. Get out there, ride those rails, write about your experiences and e- mail your travelogue to TrainWeb. We will share it with others. I don't care if you write about a trip that was some time ago or if it is something that is coming up soon. Everyone has their own style of writing and spelling. Most of us are forgiving, so don't worry about high quality. We just want what's from your heart. Let others enjoy your personal adventure with you through your own "eyes." We will never take your travelogue down as it is good family entertainment and good for the travel industry. There are no losers here and you are the hero/heroine in the story. Let us hear from you!
I picked up my luggage from storage and then had a taxi called for me. The drive to the station from my hotel is CN $6.30. I gave the taxi driver CN $10. See, Americans aren't so bad. Actually, the Canadian/American relationship has always been quite good. The politics that our governments play with each other is another matter. The train station was fairly busy with people bustling about. I was there around 3:PM. I checked into the ticket counter and had the first segment of my trip from Vancouver to Toronto taken care of. I then went over to the baggage room and checked in my large suitcase. I read the Washington Times while I waited for my time to "move."
Around 4:30 PM I asked one of the VIA representatives if I could board the train early so I could take some of the pictures that I had to take for VIA. Permission granted, so I was off and away. I went to car # 222 which was the second car from the tail end, and put my baggage in room # 2 - my roomette. It is a small room but more than adequate for one person. A little cramp for two people, I think. There is another roomette across from mine and the corridor is between the two rooms. There is a sink with, of course, hot and cold running water, a large mirror, a ceramic toilet bowl with a thick plastic seat and a heavy duty stainless steel padded cover that swings down from it's latched position on the wall that can then be used as a seat or a table. "Oh yes," with a sign that says "Please Do Not Flush When Train Is In Station." Let me tell you that these toilets do flush very well. Nothing "Mickey mouse" here. Two electrical outlets and three lights, each individually controlled. Of course, I have my own large window, luggage rack for carry on bags, and luggage will fit under the seat. An adequate amount of toilet paper, Kleenex tissue, paper cups, and towels are stocked in each room. I have my own oscillating fan and my bed is in the wall waiting to be let down with a twist of the handle. There is ample coat hooks with a couple of coat hangers in the room, a curtain in the doorway that can be closed with a heavy duty zipper that binds both halves together, and a heavy door that slides into place and locks, if you wish. I have a ventilation adjuster, a temperature control unit and the button for summoning the attendant. Each room also has a toiletry bag consisting of two towels with soap, shampoo and etc., that you can take to the shower rooms in each sleeper car.
After securing my baggage, I left the train to take some outside photos of the train and jot down the car numbers. I have listed the numbers and names on each car in the trainset below along with the names of passenger service staff in each car:
6445 F40PH Engine
6440 F40PH Engine
139. Dome Car - Tweedsmuir Park
8610 Baggage
8124 Coach (202) Diane Garth
8118 Coach (203) Carmen Lenehan
8517 Dome Car - Skyline (smoking) - Ian Wakefield
8411 Dining Car - Imperial -
Rawli Bhaggan, Herve Boisliveau, Natalie Marcoux, Fred Sanderson
8303 Sleeper (124) Amherst Manor - Lloyd Connel
8305 Sleeper (221) Bayfield Manor
8316 Sleeper (222) Christie Manor - Leo Petrov
8715 Dome Car - Tremblant (smoking at designated times) - Karim Abdulla
Service Manager: John Seamchuk
Click here to view a few photos from both outside and inside the train.
After finishing outside I went back to my room and set up my other camera equipment to take Virtual Reality (VR) pictures in the dome car. (The Virtual Reality 360x360 Immersion Photos will not be posted until I have returned to the TrainWeb office in late February after the end of this entire rail journey. Links will be added to this travelogue, to "What's New" at TrainWeb, and to http://www.360360.com at that time). After taking a couple of pictures and the equipment was put away, I sat in the last car and had enjoyable conversation with the people sitting in the vicinity. At this point Steve Grande called me from Seattle and we reported to each other the things that had transpired. The second call went out to dinner and though I had not intended to eat any dinner, I thought maybe a bowl of soup. Well now, I not only had my bowl of soup which was some kind of vegetable/chicken soup, but also a vegetarian pie with green beans and mashed potatoes as well. I did take a picture of it but it does not give the real thing any justice. It looked great and tasted as good as it looked. I am very impressed. I had a fruit bowl for dessert. Can you believe it? Yes, they do serve chocolate milk! The waiters were extremely pleasant and I felt so much at home that I forgot to leave a tip until I got back to my room! I was so relaxed that I forgot that I was in a public dining room. Oh well, I'll find that person in the morning and give him his tip then.
While back in my room I commenced work on my travelogue. Later, I went to the dome car to get a soda, which cost CN $1.50. While there, I watched a funny movie. So I enjoyed my drink in the lounge while I had some good laughs. I came to my room when the movie was over and prepared my bed for the night as it was 11:20 PM now. The bed was quite easy to pull down. Like the instruction states, just turn the handle, then you pull on the handle and lower the bed. The base of the bed rests firmly on top of the toilet cover and snaps securely into place by a latch at the base of the bed near the window. To raise the bed, there is a lever at the foot of the bed that unlatches the bed, swing it up and push it into the wall until you hear the click of the latch connecting. "Voila!" By the way, Leo Petrov who is my Service Attendant between Vancouver and Winnipeg was also my room attendant from Winnipeg to Vancouver when I was on VIA's "Romance By Rail" tour. That travelogue is available for those who would like to read it, as well. Click here if you would like to read that travelogue.
The height of the bed is just below the window level so basically you are looking straight out into the night. With all of the lights out it is quite easy to see the trees and mountains outside. Quite a spectacular sight. What is really impressive is when you see the train go around curves and also going into a tunnel in the mountain. Remember, you can see the headlights swing against the mountain and around and into the tunnel when the engine points in that direction. Many lights were on from the car windows and the dome lights were on. It gave an eerie feeling to know that this was not an elaborate electric trainset, but was actual reality. I wonder if God looks at these trains as his little trainsets? Either way, I was soon off to sleep. About 3:AM I was a little cold so I threw on an extra blanket.
Monday, January 8, 2001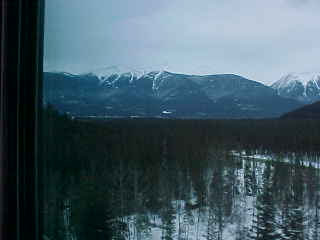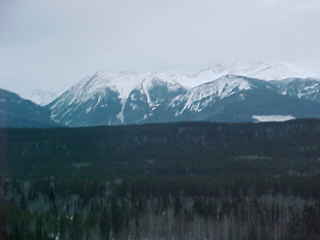 Above: Morning Views of the Canadian Rockies
I awoke at 6:AM and went to breakfast at 7:AM. Breakfast is open between 6:30 AM to 8:30 AM. There were only eight people when I entered. The table that I sat at had George and Carole Royer who are from Michigan and Florida. George is a retired Medical doctor who, with his wife, Carole, travels all over the US and Canada by train. They do take other modes of travel, but they do enjoy their train travel. George is sixty three now and the two of them have been doing heavy traveling for the last five years. I think that if they would be willing to share some of those experiences with TrainWeb's readers, I am sure we would be all that more wealthy because of it.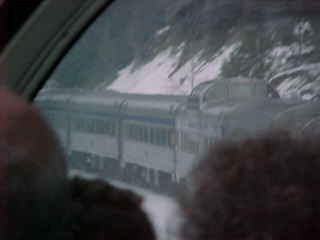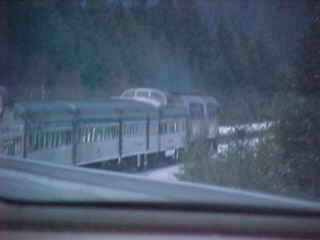 A view of the rest of the train from one of the dome cars.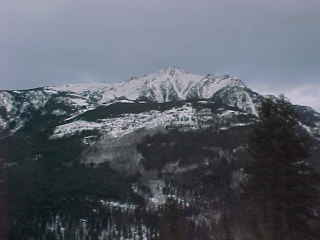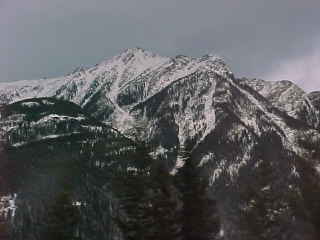 More views of the Canadian Rockies from the train.
I had bacon and eggs with hashed browns, V-8 juice and wheat toast. The pleasant conversation that I had with my gracious couple started my day off right. As expected, the food was very good. I went back to my room and worked on my travelogue and later went to the dome car to take pictures of the snow capped Rocky Mountains. After taking some pictures I went back to my room and caught up on my work. We'll be coming into Jasper Alberta in another twenty five minutes and we'll be there for a little over 30 minutes, as the train leaves at 12:25 at noon.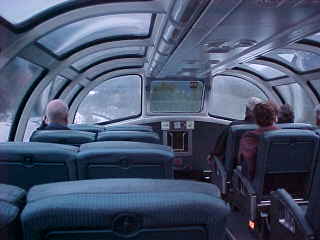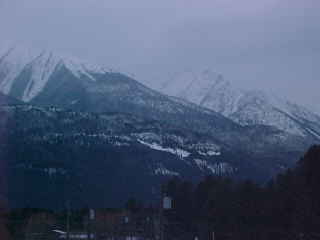 Left: Upstairs in the Dome Car. Right: Views of the Canadian Rockies.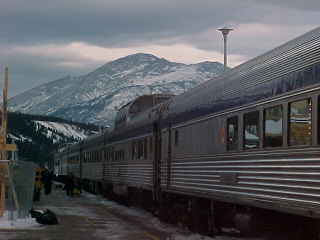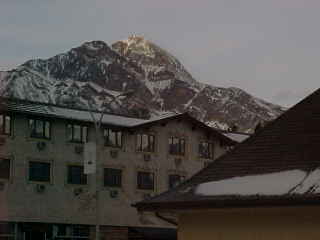 Our train in Jasper, Alberta, Canada.
After I finished checking my VR pictures I went to the station as the train had stopped in Jasper, Alberta. It was pretty cold outside (for me) so I was happy that the public telephones were inside. I called my friends, Diana, and her husband Giao, to see if they would be at their train station in Edmonton, Alberta. They would be waiting for me at the train station. I took a few pictures while in Jasper, not too many. My main thrust here was to make that phone call. I got back on the train and went to my room and tinkered around with my computer. After the train left Jasper and was out about a mile or so, I noticed six elk relaxing in the snow. At last I had the fortune to see animals in the wild.
It was around 1 PM so I went to the dining car for lunch. I had a lovely looking and tasting broccoli and cheese pie with salad. You'll get to see half of that meal as I forgot to take the shot before I started to eat. Please excuse my (burp), manners. My table companions were Roger Maes from Colorado and California, and Valerie Wright from Ontario, Canada. They are to be married very soon. He has been retired now for a few years and Valerie will be retired this year. Both plan to go on many more trips such as this one. All the best to a great couple. I had blackberry mousse and a date square for dessert. Both were great, as was my chocolate milk!
After lunch I took my VR camera and took another set of pictures. This time in the sleeper car. I then put the equipment away and then got back on to my computer and kept up with my travelogue as well as check the quality of the VR pictures taken from the chip that was inside the camera.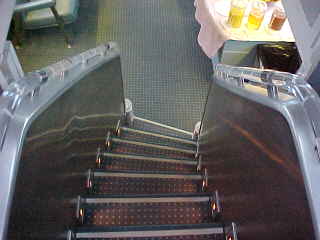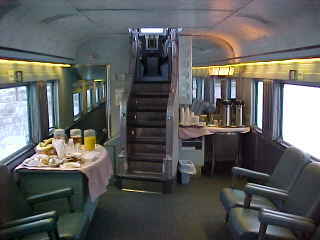 Down the stairs to the lounge area in the dome car.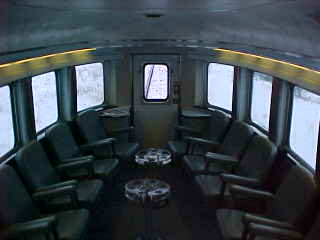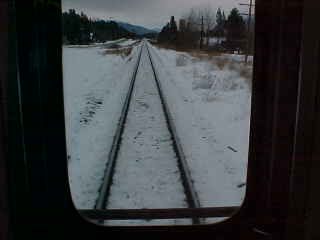 Above: The trailing dome car has a wonderful lounge where you can sit and talk to your fellow passengers, or just look out the rear door window to see where you have been!

It is now about 5 PM and I can see Edmonton, Alberta, ahead. I got off the train to look for my friends but they didn't come in for another fifteen minutes. What a great thrill to see them again. It is always so special to meet those special people in your lives. Even if it is only for a short while. We all boarded the train so that I could show them what my room was like, and then I took them into the dome car so they could experience that. They had a cup of coffee and relaxed in the lounge in the dome car and were sold on taking the train. They had never gone on a train, but now they will start planning to eventually take a VIA train ride to go to eastern Canada. At least to Ottawa and Montreal. I had our good chat, took some pictures, and then, time was gone. When you're having fun, time flies. We said our goodbye's, and we were off. I went up to the dining room to have my dinner.

The table that I was sitting at had Frank Peebles who is a staff writer for the Prince George Free Press that is in Prince George, BC, Canada. Frank and I had met earlier on the train but now we would be able to talk without too much interruption. Frank is writing about his travel experience across Canada by rail. Prince George is a nine hour drive north of Vancouver. He will be taking VIA Rail all the way to Halifax. The newspaper is going to have a series of his travels as it would be too much to put up at one time. He will also have it up on a website so by clicking on his name you will go directly there so that you may read his material. By being on that particular website, that means that the material will stay up, so that means for you people that were not "on top of it," not to worry. All in all, the four of us at our table had a lovely time. Everyone liked their food because no one left any food on their plate.

Back to my room and back to my work. I was up pretty late last night, that is why I slept in this morning. We arrived into Winnipeg late morning and everyone got off while the crew serviced the train. I took a few pictures and waited to board once more. Shortly after we boarded the first call for lunch came out. Seeing as that I didn't have breakfast, I went in for the first seating. We filled up every table in that first sitting. I had my broccoli/potato pie with a date square for dessert. Rather than telling you how succulent everything was, I'll just say that my plate was cleaned off pretty good. When one goes to a restaurant you normally have your own private "protected" territory. On a train you are generally seated with others. Someone usually strikes up a conversation, and away you go. For those introverts out there, this is a good way to gradually break the habit. It is good therapy for the mind and the soul.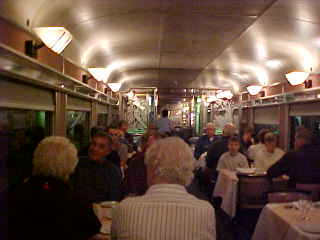 That afternoon I enjoyed the dome car and my room for my work. Taking a picture here and there. For dinner I had veal with tomato sauce. A little bit too salty! Pretty good peach cobbler with ice cream for dessert. Nice conversation with the lady at my table. She also happened to have her room across from mine. She was coming back to the Toronto, Ontario region from visiting her children in British Columbia.
Tuesday, January 9, 2001
I went to bed late again last night and skipped today's breakfast. I had salmon salad for dessert and passed up the brownie and whipped cream for dessert. Put my VR camera together and went to the dome car just forward of the dining room. I took some pictures of the card room and then a few of the lounge section of the dome car as well. There were too many people in the dome car itself. After going back to my room I put the camera chip into my laptop and checked out how the VR pictures came out. One picture of the card room came out okay and the other one was too dark. The two pictures of the lounge came out a little too dark. I have to go back and take some more at different settings now. I took another set in the card room that came out okay, but there were too many people in the lounge. I'll have to try another time.
In the last car of the trainset, the dome car, I had a nice chat with a number of people. Robert "Jack" Grill, from Mississippi, is an old train buff and has a special love for traveling by rail up in the Canadian northland. If you could see the spectacular scenery, you would understand why. Jack might share his travelogue with our readers. When you see his photograph, the caption should read "Do I like trains?" Another interesting person who travels by train a fair amount is Jannie Schafer. A good looking blonde from Northern California. She and her Canadian husband also own a house in Ontario, Canada, so she travels up here to stay for a few months out of the year. A nice arrangement! Jannie has an interest in writing so hopefully she will share her travelogues with us as well. She does take notes, so let's hope. Then there is Matthew Wheeler who is traveling with Frank Peebles, the staff writer Matthew is a freelance artist, and a very good one, I might ad. He also does photography. VIA Rail uses some of his pictures and the quality is extraordinaire. He truly has the eye and the magic touch to take some breathtaking sharp pictures. If we're all good little boys and girls, he might share some of those pictures on TrainWeb. I'm sure that you will find it a treat. If luck holds out, Matthew might also share his travelogue with us. With Frank sharing his work with us and a number of other people as well, it seems that you avid readers out there will get a good dose of people's experience from this rail adventure. It certainly has turned out to be very enjoyable with a great bunch of wonderful people!
I went in for dinner's first call today and had salmon with rice and cabbage. It looked good and it tasted good. A raspberry pastry with ice cream was for dessert. Back to my room to catch up on my material and to make sure that everything is packed and ready to go as Toronto is just about one hour away. I think that I'll go to the dome car and enjoy it while I can. The train was now into the city of Toronto and my cell phone operates in the Toronto/Ottawa/Montreal area, so I now called Steve Grande and gave him an accounting as to what was going on. The train just stopped in the station, talk to you later.
The Toronto Central Train Station is a very impressive structure. Very similar to the one in Chicago. Lots of marble and architecture that is reminiscent of a grand bygone era. Thank goodness they didn't destroy this beauty. I said goodbye to all my new found friends and went down into the bowels of the station to resurge my large suitcase that was checked in Vancouver. Went out front and grabbed a taxi and was off to the Radisson Hotel that wasn't very far from the station. A six dollar taxi ride.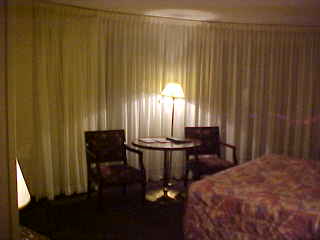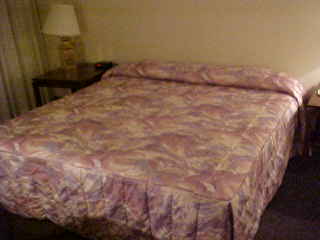 My room at the Radisson Hotel in Toronto, Ontario, Canada.
The hotel was very nice giving off an atmosphere of being on a schooner. A lot of rich mahogany and old looking ship lanterns. I had a corner room on the fourth bed floor with a king size bed. The six foot high windows went almost from one end of the room to the other and was curved in the center rather than a 90 degree corner. A very impressive setup. A large restroom complimented the package.
Steve called me and gave me some good news. He was just notified by e-mail from the World Intellectual Property Organization (WIPO) in Switzerland, that a challenge to our ownership of the liberty.com domain name has been resolved in our favor. WIPO rightfully ruled that we have a legitimate interest in the liberty.com name and did not register the name in bad faith. We were the first ones to register the liberty.com domain name in the early 1990's and have had it in active use ever since. TrainWeb itself is a decendent of The Liberty BBS, one of the largest and most popular Bulletin Board Systems in the early 1990's. We operated under the name "Liberty" even before we connected our BBS to the internet. Thus, we were operating nationally under the name "Liberty" before we even applied for the "liberty.com" domain name. Everyone, including ourselves, were surprised to find that the domain name was not already taken! But, that was back in the days when domain names could be registered for free, but you had to justify in writing why you needed a domain name. The Liberty BBS evolved into an Internet Service Provider (ISP) called the Liberty Information Network before we eventually decided to drop the dial-up ISP side of our business and concentrate our web efforts on the rail sector. But, to this day, a good deal of our online operations are still active on the liberty.com server.
A large worldwide firm in England contested us on the ownership as they have used the name "Liberty" for their company since the late 1700's. The British have landed to take their rights away from the Americans but were repulsed by the "yanks" tenacity who will fight for their Liberty!! Thanks for the good news, Steve, and a job well done. I might ad that Steve, who is definitely not an attorney, did all the paperwork necessary to defend and save our Liberty!
I called my brother and had a good talk with him. Anne Marie, his wife will pick me up at the Ottawa Train Station. I then called my wife, Maria, and let he know that I was thinking of her. The bed was as comfortable as it looked, and after I closed the large curtains I slipped into bed for a good nights sleep.
Wednesday, January 10, 2001
My alarm woke me up and 5:14 AM and the wake up call rang one minute later. Oh, how I wanted to sleep more. I dragged myself out of bed and within a half hour I was down in the lobby. Nothing to eat as the restaurant wasn't open, so I had the hotel staff call for a taxi. One nice thing about early morning is that traffic is light. I went into the welcoming massive structure and the warm air was a welcome shelter to me. VIA ticket agents are open to the public at six, so I had a few more minutes to go. Then it dawned on me that something was wrong. I was missing one bag. I went back outside and got into a taxi to take me back to the hotel and had the cab wait for me as I went inside. The hotel staff saw me coming and met me as I entered the hotel and handed my camera case to me. The taxi took me back to the station lickity split and I was back inside that lovely station once more. There was no baggage check to Ottawa for me so I went to Gate 10 and waited for my train. I called my sister Lorraine who lives in Brockville, Ontario, one of the stops where my train will go through on the way to Ottawa. My nephew, Dale, answered the phone as he was on his way to work. He said that the train should take around three hours to get to Brockville. He would leave a note for his mother letting her know that I would be coming through the neighborhood, as she was asleep. "Good enough."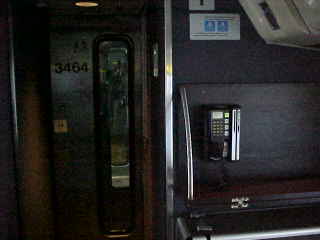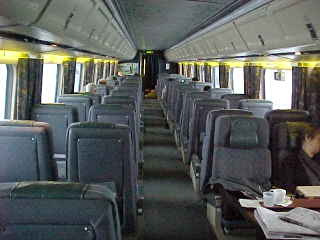 Interior of VIA 1 Class on the train from Toronto to Ottawa.
I took the escalator up to the next floor up where the trains were for the train going to Montreal as there was only a stairway up to the train for Ottawa. I certainly didn't want to lug that big heavy suitcase up a steep set of stairs another floor up. Once up on the next level I made a u-turn back to my train. Fortunately it was very close and the VIA 1 Class was right behind the engine so I was in the right place. I managed with a little help to get my goods in where it belonged and grabbed a seat. I think that there were twelve people in this car. Andre Laurent, the attendant in VIA 1 Class that was taking care of us was something else. He was in and out, back and forth, constantly getting everyone what they asked for and needed. A pleasant smile that looked genuine. This was a perfect functioning machine. This guy was good. I tip my hat off to him for exceptional performance. Thank you, VIA!
I had cereal with yogurt with a fruit plate and a glass of apple juice. Just what I needed as I was pretty dehydrated this morning. The train ride is smooth and fast. I have my laptop out completing this portion of my travelogue that will be copied to disc and sent off by FedEx in Ottawa, or some other carrier to Steve at TrainWeb in California, to put up in the travelogue section of our website. Possibly I should say "your" website as it is there for you. Without you good people to support us we would not be. We do appreciate your patronage and do ask for your continued support as there is so much to see at and through TrainWeb. Pretty soon we will have a program that will reward you good people that check out our material. Our way of saying "Thank You," for being part of us.
I expect to get into Ottawa just before noon so I will try to take a few pictures on the train while opportunity exists. Steve called me again just now and told me that it is pouring rain in his neck of the woods in Southern California. Heck, the weather is great up here! Seeing as that the weather looks great, I think that this will be a nice jaunt across southern Ontario's heartland. It certainly is picturesque.
We did about a five minute stop at Brockville where my pretty sister was sitting out on a bench in front of the train station, waiting for me. No one was getting on or off but Andre did open our car door and let me wave to her to come to me. I managed to take a few pictures while she was walking towards me. By the time she got to the us, we had to seal the door. We said "hi," but that was about it. I felt so sad, but I'm sure she understood. At least I managed to get a few shots of her. She sure looked good. I was happy for my brother in law, Doug. I'll give her a little time to get home and then I'll call her on my cell phone. I took a few more VR pictures now and checked them out on my laptop computer. This time I had a few that came out okay. Andre was busy again passing out snacks for the passengers. I just love that guy. Well, we'll be coming into Ottawa shortly, so I'll put everything away now. Until the next round after my brother Robert and I come back from Churchill, I bid you all adieu for now, good health, and hope that I have some interesting fare for you in my next report.
Click on each link below to view every photo from this travel segment:

Photos mostly by Robert Burns, Ray's brother:

Click here to return to the main index page of this rail travelogue.
Click here for the previous segment of this rail travelogue.
Click here for the next segment of this rail travelogue.
Visit related pages from this and other web sites:
Click below for pages in the directory of TrainWeb sites: