Rail Travelogue To Churchill - Canada
Hudson Bay, VIA Rail's Most Northern Station
By Ray Burns Of TrainWeb.com
(http://www.trainweb.com/travelogues/rayburns/2001a06a.html)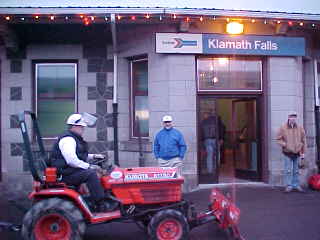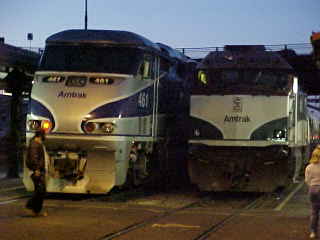 Part 1 - Fullerton, California to Seattle, Washington
on the Amtrak Coast Starlight
Friday, January 5, 2001
Friday morning in Fullerton, California, was around 72 degrees. The last week or so shed hot summer temperatures. Here I was, leaving the hot Southern California temperatures, going to the cold Canadian North, where the wind chill factor can get to 50 degrees below zero. Why? Well, why not?! I've always wanted to see the Northern Lights, the Aurora Borealis. Robert Burns, the famous poet, my brother, is also going with me to assist me with the camera equipment and write a travelogue as well. I will be meeting Robert in Ottawa, Ontario, Canada, the area where he lives, and we will both leave from there going west to Toronto, then northwest to Winnipeg, and then north, up to Churchill, at Hudson Bay. There are no roads up to Churchill. Weather permitting, ships and airplanes can get in, but the train, the infallible carrier of man and beast in all kinds of weather, the iron horse that stretches from one seashore to another, the instrument that binds nations together, was the only mode of transport in and out of the far off North. This is the place where one can still flag down a train to get on, or let the conductor know that you want to get off in the middle of "no man's land." If you want to "rough it" like in Jack London's "Call Of The Wild," then this is the place for you. Of course you could do what I am going to do: Stay on the train and enjoy the scenery.
Steve Grande and myself were at our office around 7 AM this morning and finalized our preparation procedures. Our office is upstairs at the historical Fullerton Amtrak station where we were going to start our adventure from. Eureka! I found my passport. I was going bonkers searching for it previously. To my understanding, Canadian customs will accept your passport or birth certificate.
Shivam Surve, the senior programmer at TrainWeb, grabbed two of my bags and hauled them downstairs and out to trackside for me. Steve and I carried the rest and followed. After being at trackside for a few minutes, a southbound Metrolink commuter train arrived and Matt Melzer, another one of our programmers, showed up. He got in just in time to see Steve and me off. Within five minutes, our northbound Amtrak train, Pacific Surfliner 769, showed up. Steve and I jumped on, left our heavy baggage downstairs in the appropriate place, went upstairs, and found some seats. The train seemed fairly full. The next stop would be at Los Angeles Union Station. I waved adieu to our faithful friends as they waved to me in recognition. It was 8:15 and we were off!!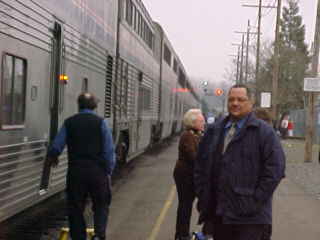 Ron Harris, Amtrak Sleeping Car Attendant
Steve and I had a lot of business to talk about on our way to Los Angeles, so that kept us pretty busy. Once in LA, we just crossed over and boarded the Coast Starlight that was alongside the Surfliner, the train that we had just gotten off. Ron Harris was our room attendant and he did his job well. Remember, good PR is part of a room attendant's function. We were in car 1431, room #3, the second car from the Parlour car and third from the Dining car.
We put our luggage away in the luggage rack downstairs and hung our jackets in our room. We immediately went into the Parlour car and had a light breakfast snack of cereal and some Danish pastry. It is always enjoyable to look at the scenery between Los Angeles and Santa Barbara. Going through the rocky hills and tunnels between Chatsworth and Simi Valley, as well as alongside the beaches farther north (the Santa Barbara coast is the prettiest).
For lunch I had Amtrak's famous Coast Starlight Chicken Pot Pie, the old reliable. Steve had flatbread, which he liked. Dee served us for lunch as she did for breakfast. Everything looked good as we worked our way up the coast to San Luis Obispo, which is another one of the many pleasant communities that we go through. We then took out our camera that takes 360x360 Virtual Reality pictures and took a few practice shots and then put them in the computer to make sure that they came out okay. We wanted to make sure that everything worked fine when I got onboard VIA Rail once in Canada. Everything worked fine!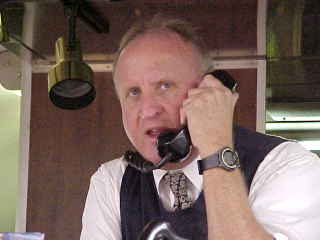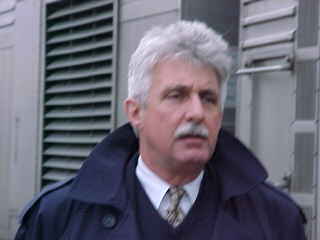 Left: Larry Chaleff, Pacific Parlour Car Attendant
Right: Gerard J. (Gerry) Griffo, Chief of Onboard Services
Of course we attended the famous wine tasting that the Coast Starlight is so famous for. They not only serve wine from the different wineries of California, but also from other states such as Oregon and Washington, as well as from countries such as France, Australia, some of South America, and others. Larry Chaleff was the Pacific Parlour Car Attendant. This position needs a very special person to cater to everyone's whim. Larry is certainly up to snuff in his duties. This position needs someone who is informative, full of wit, jovial, entertaining, and gracious. Gerard J. Griffo is the Chief of Onboard Services for this run of the Coast Starlight. He makes sure everything is running smoothly. A strong PR person, Gerard was always assisting Larry to make sure that everyone received their wine in appropriate time. This is Steve's favorite time!
We had lunch early so we could have dinner early. Salad and a bread roll started things off. I had the Coastal Classic - Grilled Pork Chops. I try to limit how much meat I eat, especially pork, but this time I'll make an exception. I had garlic potatoes and red potatoes. I chose that rather than some other vegetables. I enjoy potatoes done any which way. Caramelized apples were served with the chops. I had two Pepsis as I was pretty thirsty. That's it; I was stuffed!! Steve had lasagna and that filled him as well.
After pleasant talk with a passenger from the Seattle, Washington, area and the other person was from the Los Angeles region, Steve and I waddled down to the Parlour car for a little while. Steve went to his room to rest and I went downstairs in the Parlour car to the threatre room to watch "The Perfect Storm." After watching that movie, I definitely wanted to go to bed, as the movie is so realistic that you are tired when it is over from the stress of watching it. So, it was 10 PM and I called it a day. The heat was on so I wasn't going to freeze.
Saturday, January 6, 2001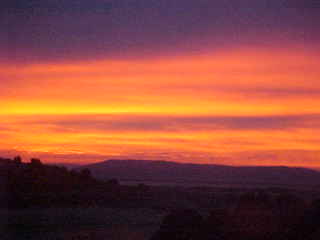 Sunrise on Saturday morning.
I woke up around 6 AM today and took care of the necessities. Both Steve and I had a good sleep. The heat was a little much, though. However, better a little too warm than too cool, especially with snow outside. Steve and I went into the Dining car for breakfast and I had two eggs over easy with potatoes and biscuits with no gravy (they didn't have any). Steve had cereal. When finished we went back to our room and recharged our batteries for equipment use.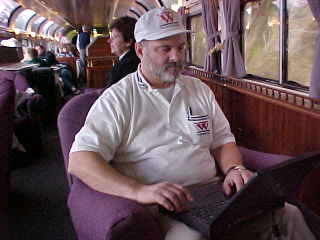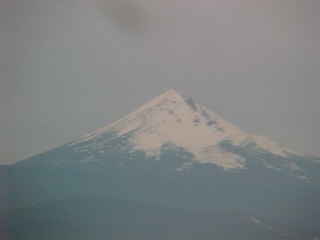 Left: Ray Burns writing this travelogue on his computer in the Pacific Parlour Car
Right: Snow-capped mountain in Oregon
Steve and I brought our laptop computers to the Parlour Car and we then started our travelogue as we were going though beautiful Oregon. A few nice pictures were taken that morning and the pretty snow was there to greet us. At about 9:51AM the train ran over something. We suspect an elk. The crew needed to change one or two air hoses, as they were damaged in the incident. We were stopped for an hour in the middle of nowhere. Pretty outside, but pretty cold too! Steve took out his scanner and listened in to the conversations of the crew. This took place at milepost 486, just north of Klamath Falls. The freight train behind us looked to see what we ran over but could see nothing. They also offered their help but the Amtrak crew had the tools to change the air hoses. No one ever did find out what it was, but we did hit something. Maybe it was the ghost of the mountains? The view is always spectacular, especially in the snow. The wheels are really squealing now since we are making many turns. Well, lunch is coming up now, so I'll talk to you later.
Steve had the Gardenburger and I had the Poached Salmon Nicoise. We each split 50/50, including our dessert, caramel apple granny. A great meal with great company. It seems that the couple at the table with us (or us with them, however you want to look at it), Richard Emlaw and his wife, are also avid train enthusiasts who enjoy traveling by train. In fact, Richard has quite an extensive history relating to trains. The relaxation brought on by the train can bring on great conversation between just about anyone.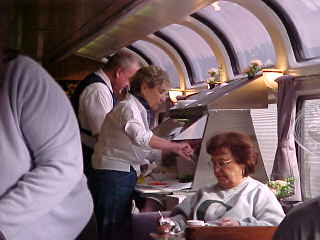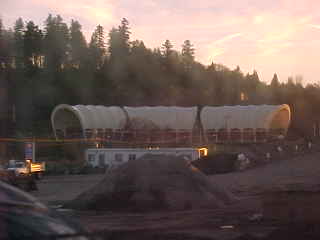 Left: Cheese, crackers, & fruit served at the Wine Tasting in the Pacific Parlour Car
Right: Calistoga Wagon historical buildings
Steve and I went for our wine tasting this afternoon, and it's always a fun time for the wine aficionados. I enjoy digging into the cheese and crackers. We also took down the numbers on the different cars on this trainset. They are:
115..... P42DC Genesis engine
90...... P42DC Genesis engine
1231.... Baggage car
39023... Superliner Transition Sleeper
32115... Superliner II Sleeper (Washington - 1431)
32110... Superliner II Sleeper (Tennessee - 1430)
39974... Pacific Parlour Car
38057... Dining Car
33028... Superliner Sightseer Lounge Car
34072... Superliner I Coach Car (1411)
34512... Superliner II Kiddie Coach Car (1412)
34081... Superliner I Coach Car (1413)
34101... Superliner I Coach Car (1414)
71064... AMTK Roadrailer (Silver)
410155.. AMTZ Roadrailer (Red/White/Blue)
465076.. SWFZ Swift Roadrailer
465087.. SWFZ Swift Roadrailer
465092.. SWFZ Swift Roadrailer
465022.. SWFZ Swift Roadrailer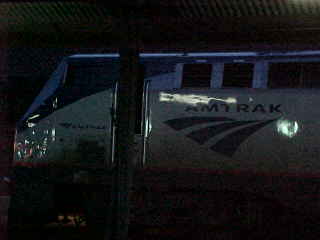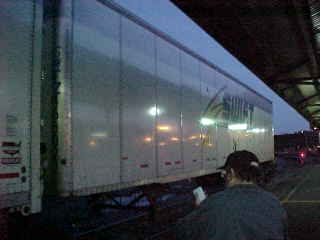 Left: One of Amtrak's new Genesis locomotives
in new corporate brand identity color scheme at Portland, Oregon
Right: SWFZ "Swift Company" roadrailer trucks at the end of our train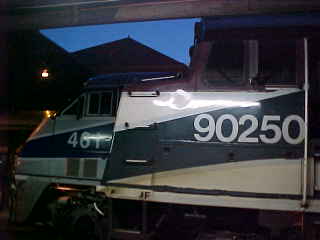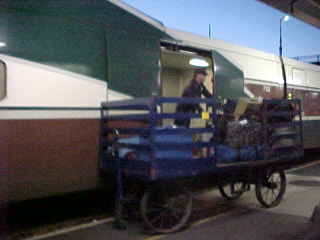 Left: F59PHI (461) in Amtrak West colors and
F40 (90250) converted to "cabbage" car (no engine) in Amtrak Cascades colors
Right: Baggage being unloaded from Amtrak Cascades Talgo that had just arrived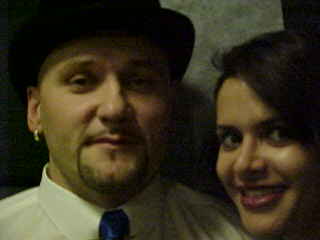 Newlyweds Tim Rector and Marian Nella
This afternoon, I met a young couple from Seattle, Washington who were on their way home after being on their honeymoon in Reno, Nevada. You'll find Tim Rector and his new bride Marian Nella among the pictures taken on this trip. If you can't make out who they are, you need another pair of glasses. I wish them well, as I'm sure you all do.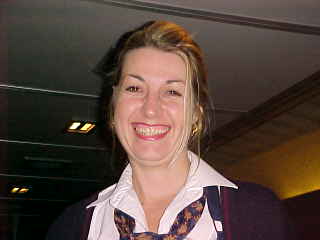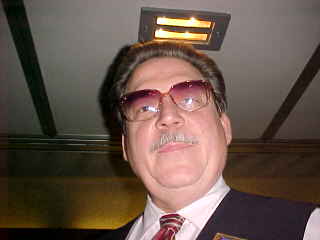 Left: Sheila Albanese, Dining Car Attendant
Right: James Roush, Dining Car Steward
Dinner was great, of course. Sheila Albanese served me my Red Snapper. James Roush has been the dining car steward on this trip. Eugene Wilder was the chef of this voyage, as well. No dessert tonight; the meal was enough. We came directly back to our rooms after dinner so we could finish our work up to this point. Glad to get the homework off of my back.
Click on each link below for additional sets of photos:

Click here to return to the main index page of this rail travelogue.
Click here for the next segment of this rail travelogue.

Visit related pages from this and other web sites:
Click below for pages in the directory of TrainWeb sites: