Amtrak Acela Express
Inaugural Revenue Run On Dec 11, 2000
Travelogue of Ray Burns of TrainWeb
TrainWeb.com/travel/raylog/2000l11x.html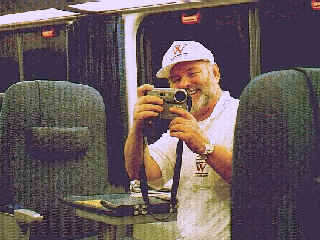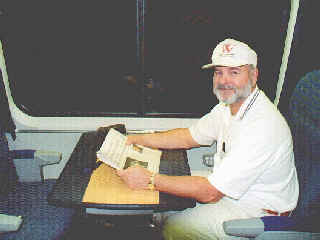 Ray Burns of TrainWeb (Photos courtesy of Gene Poon of Rail Travel News)
My Canadian trip will have to wait until January 5, 2001, but today, Sunday, December 10, 2000, I am going to Washington, DC for an historic appointment. I am off for the inaugural run of the Acela Express high-speed train. The very first scheduled high-speed run for revenue passengers in these United States! History was in the making and I had a date with fate!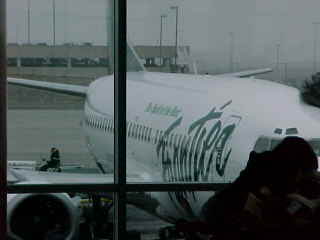 My Frontier Airlines flight #640 left Los Angeles at 7:00 AM, departing for Baltimore-Washington International Airport, with a short stopover in Denver, Colorado. I got up at 4:00 AM for this jig, so as to be sure that I had enough time to cover myself just in case there might be some problems. My flight went off without a hitch, and I couldn't help but notice the choice words that the company was using to express how much they appreciated our business rather than using their competitors' services. It's nice to be appreciated, even though you are just one of many! I'm sure that Amtrak will have a higher retention of customers if all their employees, starting at the ticket window and going all the way to the onboard staff and up, would treat customers as if their jobs depended on it. The truth of the matter is -- they do! A large percentage of Amtrak employees do give that extra effort to assist people to be in a comfortable environment, but ALL Amtrak personnel should have that attitude in order to enable both their company and themselves to reach new heights in customer service. Amtrak's supervisors have to make this point over and over, driving it home to their employees!
After landing at BWI Airport, I took a shuttle bus that stopped at an Amtrak sign in front of the airport door entrance to the BWI Amtrak station. I walked into the station and asked the ticket agent if I could get on an earlier train, which left an hour prior to the time marked on my ticket. The agent took my ticket and made me up another one. Gene Poon, my travel agent for this trip, was wise enough to book a reservation for me on a train that left an hour after I'd probably arrive at the station, just in case there were unexpected problems -- which often do occur. Gene is a good friend of everyone at TrainWeb and knows an awful lot about the rail travel in general. He writes for "Rail Travel News" and also operates "Sheehan's Travel Service" out of Rohnert Park, California. It was he who managed to get me a first-class ticket on the Acela Express. Thanks, Gene!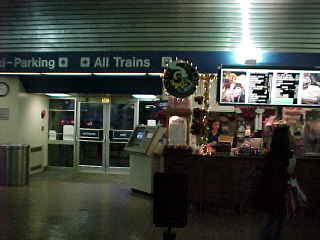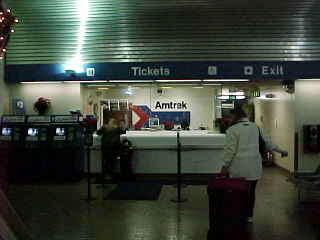 BWI (Baltimore Washington International Airport) Amtrak/Marc Station above and below.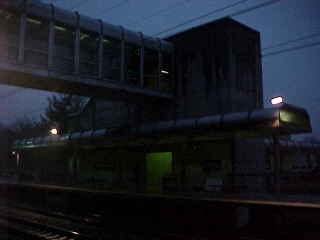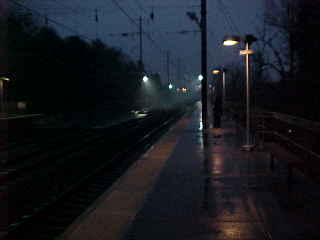 The cost of a one-way coach trip on Amtrak from this station to Washington, DC is $21. If you take the commuter rail (MARC) train from the same station to Washington, DC, then the cost is only $8. However, the MARC commuter trains operate only on weekdays. (Similarly, Metrolink, which operates commuter rail service in the Los Angeles area, provides very limited weekend service.) I guess they only want to deal with large numbers of people, not with the lesser numbers that would use their service on the weekends. Since today was Sunday, MARC was not an option.
On the other hand, a taxi would cost much more than Amtrak. A bus would cost less, but it would be slower, less comfortable and less convenient. Amtrak was the way to go! I had less than ten minutes to catch my train now, so I took the elevator up to the pedestrian footbridge, walked across to the other side, took the elevator down, and waited only for a few moments before my Amtrak train pulled in.
The train into Washington, DC was comfortable and not too crowded. Once into the station, I followed the crowd into the main center of the concourse and looking downstairs I noticed that one of the fast-food services specialized in Indian food. "Hmm, I like Indian food quite a bit," so I surmised that I would go straight on to the Washington Court Hotel, which was just a few blocks from the Amtrak train station, get settled in my room, and come back here for dinner. But when I returned to the train station, it was 6:20 PM, and the Indian eatery had closed up at 6:00 PM, as had the health juice booth and a few other fast-food outlets as well. I have to give this place credit, though, as I have never seen so many fast-food establishments in one place as I did in this Amtrak Washington, DC train station. Bottom line -- I ended up getting two slices of pizza and a slushy. It tasted great, but my stomach gave me hell all night!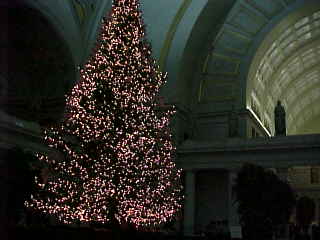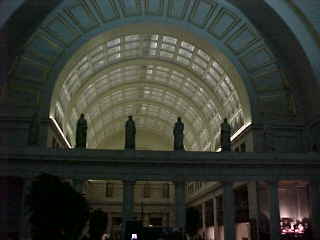 Click here for a virtual tour of Washington Union Station!
The hotel was lovely, the atmosphere was lovely, the bedroom and bathroom were lovely, and the people at the desk were lovely. How could they destroy a perfect "100" by charging me $1.00 for an 800 # phone call?? How irritating! Nice hotel, though.
I was bone tired when I got back to the hotel. I asked for a wake-up call at 3:00 AM. I also set my alarm for the same time. My stomach was giving me some problems, and I couldn't sleep. I took a shower before I went to bed so I wouldn't have that to deal with it at 3:00 in the morning. Now I really couldn't sleep! I know that it was after 2:30 AM before I finally picked up a few winks. My alarm went off just before 3:00 AM and I slowly dragged my limp body through the morning ritual. It was only a few blocks' walk to that majestic station and I did find everything around me quite majestic. At 3:30 in the morning I could easily envision the horse-drawn carriages of the eighteenth century clip-clopping through the neat rows of streets that encircle this grand area. It must have been beautiful in those days. It certainly was no less impressive to see the majestic lit-up dome of the Capitol building as I briskly walked the few blocks through the crisp cool air.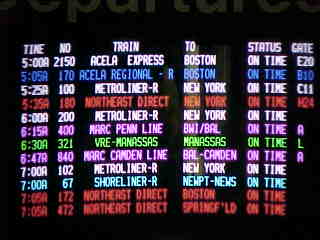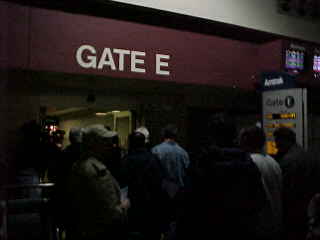 Click here for a virtual tour of Washington Union Station!
I was glad to get into the train station, as it was pretty nippy outside. I made a beeline for the Acela gate and, to my surprise, there were a few people there already. Two were talking to each other, and three were sleeping in their seats. Of course, everything was closed, but I took the available time to look around at the shops in the building to see what they had to offer. I eventually went out to the train platforms to take a few pictures of the trains, with the hope that the Acela would be out there, but I didn't see it. The first-class lounge opens after my train departs at 5:00 AM, so I sat by Gate E that led to Track 20, from where the Acela Express would be departing. About twenty minutes later, TrainWeb's good friends Gene Poon, Alan Feinstein and Daniel Chazin showed up, full of life. It was good to see good friends again! Shortly afterwards, more of the general media showed up and tickets were checked. The gold rush was on!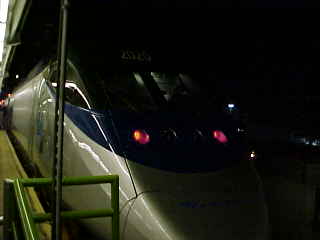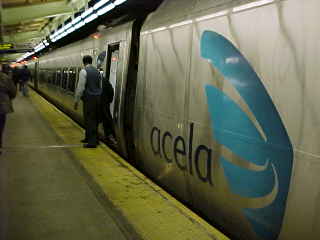 Click here for photos of the passengers and staff on this inaugural revenue run!
I had a difficult time taking pictures outside with a digital camera, as it was still dark out. The overhead lights did help, though. One thing I will make very clear up front, and that is that the Amtrak staff held themselves high! Everyone was pleasant and sociable. None of this "I'm doing you a favor" attitude. I truly hope it's because they had their heart into it and not because the media and the "big wigs" were present. If they continue this way, their attitude can be habit-forming and contagious. A wonderful thought! It made the trip so much more pleasant.
Like an airplane, if you are in first class, you are assigned a particular seat. Mine happened to be facing in the direction that we were going in. Another single seat facing me on the other side of the table that was between us was my companion for the whole trip.
One person who boarded the train in New York refused to accept his seat assignment, as he was not facing in the direction that the train was going in. I offered to exchange seats with him, but he wouldn't have any of that. He was eventually put in a forward-facing seat by himself in the last row of seats at the end of the car. Now, don't tell me that the attendants in the first-class section didn't take care of that customer!! Being as irate as he was over literally nothing, it would have been a joy to throw him off of the train, but Amtrak made a happy camper out of him, and another customer was saved. This is the kind of customer service we need from everyone at all times. The Acela might be starting a new trend in service! Again, don't get me wrong. Many Amtrak employees do what is right, but there are still others that need to change their outlook on life. On this trip, everyone was working like a team!! I tip my hat off to them all!
John Gallagher was the engineer that took the train into Boston. I am not sure if he took over his duties in New York City, or somewhere in between. Was there one, or more engineers on this run? Someone let me and the readers know! This baby purred like a kitten, and I was fortunate that I just happened to look outside after we started to leave, as I had no idea we were moving!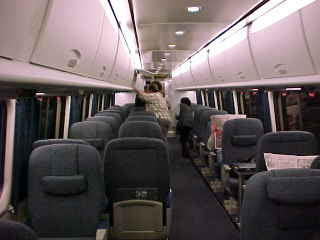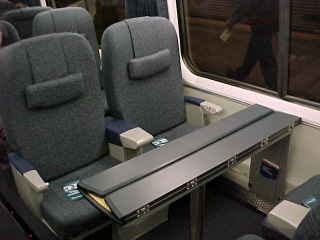 Click for more interior photos: Set 1 / Set 2 / Set 3 / Set 4 / Set 5 / Set 6
At last, I stepped into this cutie. There's lots of room in first class. No squeezing when you walk down the aisles. On one side of the aisle, there are two seats side-by-side, with another two seats opposite, and a table between them. (If you're confused, look at the pictures). Then, across the aisle is a single seat, with another seat facing it, and a table between them as well. So, you have only three seats from side to side in first class -- two seats on one side of the aisle, and one seat on the other side. Business class has the standard four seats across, with the aisle right down the middle of the car. All of the seats are wide and quite comfortable, with an attached adjustable pillow at every seat. Business class has footrests as well. The curtains are very easy to slide open and to close. There are enough 110-volt outlets for everyone and plenty of lighting -- maybe even too much! There won't be a problem being too dark on this trainset. There is a breakfast, lunch and dinner menu that changes according to the time of day, and you can choose the most delicious food "pour manger" (French for "too eat"). The menu changes every two weeks. Even though the food is exceptional, I have to admit, even good food gets to be passe after awhile, so the change in the menu selection is great!
The media was buzzing all over the place, and George Warrington, the President of Amtrak, and Earle "Stan" Bagley, the President of the Northeast Corridor -- as well as all of the other VIP's that were on the train -- had their hands full representing the company. All were to be commended for a hard day's work. I usually give credit to the front-line soldiers, but everyone was in the fray and swinging this day.
It was fascinating to watch the stations go by as the train was at high speed. I wonder what was going through the minds of the people at these stations as they saw us zip by. A few people, such as Gene Poon, brought their scanners aboard so we can hear the engineer and other crew members and dispatchers talking. Consequently, those who were listening to these scanners knew in advance when the engineer was going to rev this baby up to, say, 150 MPH! You could feel the surge! No car is going to race these darlings. Now, from my little experience, I would suggest that it is best to be in your seat when the train is slowing down to a stop from a high-speed run. The brakes seem to work quite well! The Acela might not stop on a dime, but you better pay attention if they are coming into a stop and you just happen to be walking about. Remember, these people are out to save as much time as possible, and they're going for the gusto!
From what I have heard, the Acela can take a crash test much -- and I do mean much -- better than the Japanese or European high-speed trains. The foreign trains are much lighter, so they can be more severely damaged. The Acela is a much heavier trainset and has stronger body armor, etc. There is no reason to anticipate a crash, but even in such an event, every effort has been made to minimize injuries to passengers and damage to property. They are willing to sacrifice speed for increased safety. Doesn't that say something for Amtrak and the Acela group?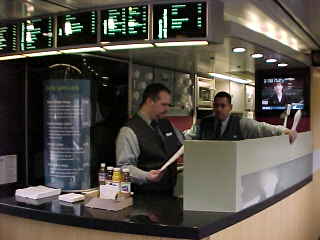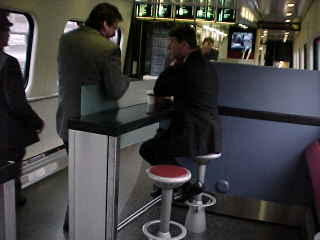 Click here for more photos of the Acela Express Cafe Car
Walking through the packed business class car and then into the well-laid-out cafe car showed me that the designers used their skills well. The bathrooms were a joy to behold. Now, big people don't have to suffer any more. The color theme is a pleasing blue/gray. The overhead luggage bins were roomy, and their doors swung up and stayed up until you swung them down to a solid click. I understand that Bombardier of Canada, who designed and built the Acela trainsets, has formed a partnership with Alstrom to oversee the maintenance of these trainsets for Amtrak.
The numbers of the cars making up the trainset were:

2009 - Front Engine Power Unit
3409 - Business Class
3546 - Business Class
3305 - Cafe Car
3543 - Business Class
3541 - Business Class
3207 - First Class
2020 - Rear Engine Power Unit
I would like to take this opportunity to thank Daniel Chazin and Skip Howard for being good enough to share their reports of their experience on the Acela Express inaugural run. We hope to have more reports from these rail enthusiasts in the future, so keep tuning in for more material as they take additional Amtrak and other train trips! Perhaps a few others might share their reports with TrainWeb and our readers as well. You will be able to find Gene Poon's report in Rail Travel News.
I did not get everyone's name and picture, but here are a few people that I would like to mention. Jim Langen, Alan Feinstein, David Leuter, Gene Poon, Skip Howard and Daniel Chazin, all avid Amtrak travelers and supporters of rail passenger service. Tom Szachacz, Service Manager for Acela who is based in New York, worked with his crew to make everything "just right"! Lynn Bowersox, one of Amtrak's media relations powerhouses, was there guiding the media to do their thing. Star Plumber was the Assistant Conductor out of Washington, DC. Great smile, Star!
Special thanks are due Rick Remington, Director of Media Relations for the Northeast Corridor, and his boss, Jon Tainow, Vice President of Operations. Why? Well, if it wasn't for these two gentlemen, none of you would be looking at the pictures of the engineer's console. Now you know who two of the good guys are! Fred Bayles, a reporter for USA Today, sitting across from me, was one of the many reporters covering this event. If the two cameraman whose pictures I took ever let me know their names, I'll include them in the trip report.
Click here for photos of the people mentioned above!
Overall, the trip was pretty smooth and fast, and I enjoyed it fully. It does save you valuable time -- you arrive at the station right in the center of the town, and you are relaxed! People, take advantage of what is now available to you! If you are a tourist, take the ride for the uniqueness of it. It is nice to do something different once in a while. Tell them that TrainWeb sent you, and if they don't know what TrainWeb is, educate them and give them our web address. Let's get everyone educated!
The Acela Express left Washington, DC at 5:00 AM and dropped me off at South Station in Boston a bit after 11:30 AM. I believe that everyone was a happy camper! This is when Rick Remington allowed me to go into the front power unit to take the special pictures for the readers at TrainWeb. Possibly, the Acela VIP's will want us to take Virtual Reality pictures of the Acela, just as we did for Amtrak West. That way you will REALLY get to see what it is like inside this beauty, with you being able to decide exactly which parts of this magnificent trainset you want to see!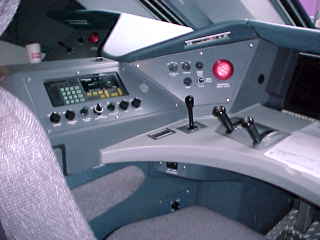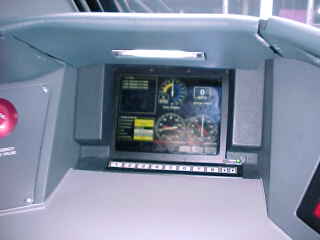 Click each of the following for more photos of the Acela Express Power Unit: Set 1 / Set 2
Click here for TrainWeb's Virtual Tours of other Amtrak trainsets (not Acela Express)
After I finished with my photos of the Acela, I went into the Boston station and took a few photos inside the station. I then went downstairs and paid $1.00 to board the subway, operated by the Massachusetts Bay Transportation Authority, known simply as the "T". You can go anywhere using this subway system for that one price until you "leave" the system. Then you pay again when you come back in. In the mid-sixties, the Boston transportation system allowed you to ride for only ten cents, and you could, at that time, transfer from bus to subway and back, thus permitting you to travel all over the city. For a dime, that was pretty neat!
I took the Red Line at South Station and went one stop to the Orange Line at "Downtown Crossing." There, I got on the Orange Line and went one stop to "State/Aquarium." I detrained at "State/Aquarium" and transferred to the Blue Line, which I took three stops to the "Airport" station. Even though I was traveling in the middle of the day, not during the rush hour, there were a fair number of people riding the trains that I took. Subways are a blessing for those cities that are fortunate enough to have them.
Steve Grande had kindly provided me with a color print-out map of the Boston subway system which I referred to while riding the subway. I was surprised to observe that many people were staring at and commenting on this print-out that I was holding in my hand. These people were impressed by and fascinated with my map. You, too, can obtain a copy of this excellent map by going to www.mbta.com/schedules_and_maps/subway/. It got me through an unfamiliar locality without a hitch.
When I arrived at the "Airport" station, I went upstairs to the main door, looked for the sign where the shuttle buses were congregating, and got on the bus when it drove up. It took us to the other areas of the airport. I needed to go to Terminal "A" for Frontier Airlines. Evidently, the airport shuttle bus goes to every airport terminal except Terminal "A"! This bus took me to its final destination, and I then had to transfer to the bus in front of the one I was on to get to Terminal "A." Once the second bus dropped me off at my destination, I went to the Frontier counter, where their representative literally killed me with kindness. Boy, these people really go out of their way! I hung around there for a few hours until my plane took off at 5:35 PM, heading for Denver, CO. I was lucky not to be in Chicago, as they were getting snowed in. We arrived in Denver on time and we had to wait an additional two hours for our connecting plane that was coming in from La Guardia Airport in New York.
From what I understand, the delay was not Frontier's fault. In fact, every flight from La Guardia is usually two hours late. Why? Well, the airport has only two runways, with no room to build any more. Moreover, it is operated by overworked, understaffed crews. As a result, airplanes from all over have to circle overhead in a "holding pattern" and wait for their turn to land. I believe that this has been going on for five years, and yet no one is doing anything about it. "Hmm." Do they make money off of each plane that lands there? Is the FAA really accountable to the public? LaGuardia Airport -- a little, rinky-dink place -- is responsible for 20% of the late arrivals in the entire country!! So, don't blame any airline for being late if your plane happens to be coming from that airport. Of course, I could be wrong, but do you think that the bottom line is greed? Let's get some more high-speed trains running to help relieve the congestion at that poor airport! As a result of this annoying delay, I lost two hours of much-needed sleep that night.
Finally, my Flight #419 left Denver, and everything went fine until we started descending for our landing at LAX. I thought my eardrums were going to burst! There should be some way to alleviate this terrible discomfort. I have been on other flights where small babies were screaming their little lungs out as they went through that painful experience. I was glad there were none on this flight! Other than that nasty ending, I really liked Frontier Airlines. You know something, that has never happened to me on a train!
Since I had only my carry-on luggage, I went right out to call the shuttle that would take me to the parking lot where I had left my vehicle. Once I arrived at my car, I knew that this trip was finally complete (other than getting home safe and sound), but I would always remember this special adventure. I am glad that I took the trip, and I hope that my story has enabled you to vicariously experience this enjoyable ride.
Photos of Acela Express Locomotive Inside & Outside
Acela Express Inaugural Revenue Run - Passengers & Crew
Set #1 / Set #2 / Set #3 / Set #4 / Set #5
Set #6 / Set #7 / Set #8 / Set #9 / Set #10
Click each link below for additional travelogues of the Acela Express Inaugural Run:

Click here for additional information and photos of the Amtrak Acela Express!
Visit our Rail Magazine promotion trading partners:
Click here to add your print rail magazine.