Acela Express Inaugural Revenue Run
New Haven - Boston
December 11, 2000
By Skip Howard
(http://www.trainweb.com/acela/travelogues/2000l11y.html)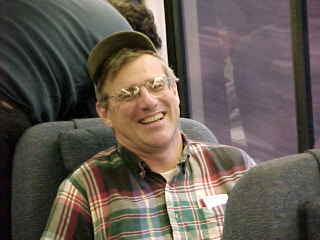 Today, December 11, 2000, I rode on the first regular revenue run of the Acela Express.
I have been looking forward to this for a long time. Originally I thought about going to Washington D.C. and going the whole length however time constraints and other commitments would have made this difficult. Riding the New Haven - Boston segment was the best alternative.
I left my home in Easton, Mass. at 5 a.m., drove to the Quincy/Adams T station and got the Red Line (or Rattler as the old timers call it) to South Station. I took Acela Regional Train# 131 to New Haven. Departure was on time at 6:15 a.m. with arrival in New Haven at 8:40 a.m. Only three minutes off the schedule. I was so absorbed in thinking about the Acela Express that I neglected to write down the consist of 131.
The last time I was in the New Haven station it was in the tunnels under the platforms. I found that the old station had been renovated some time ago. I was quite pleased with the appearance of the station. It has a central concourse with a vaulted ceiling that is decorated with gold leaf bas-relief figures. The concourse itself is used as a waiting area with the traditional high backed wooden benches. To the left side (track side) of the station is a row of ticket offices for Amtrak, Metro-North, and Shore Line East. On the right is a newsstand, Dunkin' Donuts and Subway sub shop.
The Station started filling up with press around 9 a.m. This was to be a very news worthy event and I was there to witness it. A young reporter from Cannel 8 New Haven asked me if I was a train nut and would I agree to be interviewed for TV. Of course I answered affirmative to both questions. The interview was short, basically where I was from and why I was riding the Acela Express.
The train arrived with much fanfare. We boarded and departed at 9:30 a.m., three minutes late. I had seat 7F in 1st class.
First Class is just that. The seating is three across. The seats are very comfortable. They recline of course and have lumbar support and comfortable armrests. There are power outlets at each seat and controls for audio programs and reading lights. The seats in Business class are the same but with four across seating. There are several conference tables that can be reserved so that people can conduct business while enroute. At seat food service is available in 1st class. This being morning there were three breakfast entrees available. They were Swiss cheese and tomato omelette with red skin tomatoes O'Brien and grilled Canadian bacon, pancakes with cranberry compote with maple syrup and chicken apple sausages or a continental breakfast of yogurt, cold cereal and banana and assorted breakfast breads. I choose the omelet with apple juice and coffee. It was served on real china with silverware and glass. The plates, glasses and silverware are marked with the Acela brand. A very nice touch. The meal was delicious. Our attendant, Errol Ellis, treated us like royalty. I cannot say enough about the excellent service.
The ride is the smoothest and quietest I have ever experienced. It is very hard to tell you are hurtling along at over 100 miles per hour. After enjoying breakfast I walked the train. The café car was crowded with media and PR types. Rather than describe the layout I refer you to the Acela website at www.acela.com. There are photos at that site which as the old saying goes, "One picture is worth a thousand words". We slipped through New London slowly with tight curves and stopped at Mystic for less than a minute for a signal and then sped into Providence for a brief stop across Southeastern Massachusetts at high speed and into Route 128 and Boston. We arrived twelve minutes late, which Amtrak for book keeping purposes considers on time. On arrival we were greeted by the news media, large number of railfans and just ordinary people curious about the train. All in all a great experience. I can say that I rode the first Acela.
I hope that this is the Renaissance of rail travel in America and the birth of high speed trains in this country.
Consist of Train # 2150 December 11, 2000:

2009 Power unit
3409 Coach
3546 Coach
3305 Café
3543 Coach
3441 Coach
3207 First Class
2020 Power unit
Click here for additional information and photos of the Amtrak Acela Express!