Amtrak Acela Express
Inaugural Revenue Run On December 11, 2000
Rail Travelogue of Daniel Chazin
(http://www.trainweb.com/travelogues/dchazin/2000l11z.html)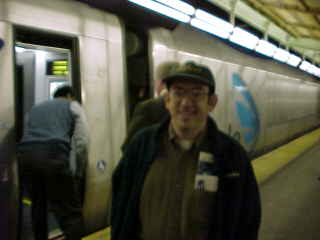 It's 4:30 a.m. on Monday, December 11, 2000, and I've just arrived at Washington Union Station, where I will be boarding the inaugural run of the Acela Express train to Boston. Last night, I took the Metroliner from Newark to Washington and stayed overnight at the Phoenix Park Hotel, only one block from Union Station. I got out of bed this morning about 3:40 a.m., took a shower, then signed online to check my messages and send out the story of my trip last night. (I even talked online to my friend Chris Lee from Portland, Oregon!) Then, at 4:25 a.m., I checked out of the hotel, crossed North Capitol Street (with its view of the magnificent dome of the U.S. Capitol lit in the distance) and walked over to Union Station.
At this hour, of course, the streets were virtually deserted, and there was only a single cab waiting in front of the station. I walked into the Great Hall, where the electronic display indicated that my train would be departing from Track 20. (Not all of the electronic display boards were programmed to include this new train, and there were printed notices giving the track number next to some of the boards.) Upon my arrival at Gate E, I found Gene Poon, who handed me the First Class upgrade to my Business Class ticket (which I had purchased through him), and Ray Burns of TrainWeb.com. There were many representatives of the media present, with video and digital cameras. We soon noticed Don Phillips, the transportation columnist of the Washington Post, who also writes a monthly column for TRAINS magazine. (Don mentioned to me that he had hoped to travel incognito, but that is nearly impossible for such a well-known columnist whose picture appears in each issue of TRAINS magazine!) Quite a few of the waiting passengers were obviously here for the experience of riding the first Acela Express train.
The initial boarding call, for First Class passengers, was made at 4:40 a.m. As I walked over to Track 20, I noticed that the train on the track opposite us, Track 19, was the same consist that had been on my Metroliner last night, except that it had been wyed and was now facing in the opposite direction, and the Beech Grove official car had been added at the rear (next to the First Class car). On Track 18, I noticed that car 9800 was at the rear of the consist parked there. That car is unique, having been custom-fitted with a conference room at one end and several private rooms, with the remainder of the car containing regular First Class seats. A maintenance worker informed me that that trainset was being used to transport a sports team on a special chartered run.
I walked over to Track 20 and boarded the Acela Express First Class car, the last car on the train. (Gene had thought that the First Class car would be in the front of the train, but it turned out to be in the rear, instead.) This car features very spacious seating, with two seats on one side of the aisle, and one seat on the other side. Some of the seats are arranged in rows; others face tables (in those instances, of course, half of the seats face backwards). While seating in Business Class is first-come, first-served, in First Class, each "guest" is assigned a specific seat. I had been assigned Seat 3F, a single backwards-facing seat facing a table. However, the opposite seat, 2F, was unoccupied, so I decided to move there instead so that I would have a forward-facing seat. As it turned out, no one ever turned up to claim Seat 2F, so I had the entire table and the two facing seats to myself for the entire ride to Boston (this, despite the fact that First Class had been sold out almost since the tickets were first put on sale). I found the First Class seats very comfortable (at least, once you adjust the movable headrest), and the table was a very nice amenity. Indeed, this set-up was probably the most comfortable and luxurious accommodation I've ever had on a Northeast Corridor train! I also sat for a time at other tables in the First Class car, and found that they provided a very comfortable way to carry on a conversation with a fellow passenger.
Before we departed, I walked through the train, which is composed of a power car at each end, four Business Class coaches, a cafe car and my First Class car. The First Class car was quite full (although there were a few empty seats), but the Business Class cars were less than half full. There were quite a few Amtrak officials aboard, some in the First Class section, and others in Business Class.
I was not at all impressed with the cafe car. One half of the car contains the food service counter, while the other half features hard, uncomfortable stools at a counter. The design of the car appears to be an overreaction by Amtrak to the phenomenon that currently occurs on many conventional trains, in which one passenger often appropriates an entire table to himself. But, to use the proverbial expression, I believe that the cure is worse than the disease. The seating that has been substituted is so uncomfortable that few passengers will want to use it. (Well, at least I won't! To be fair, I should note that during subsequent walks through the car, I did notice a number of people sitting on the stools at the counter in the cafe car.) And the ironic thing is that so much room is taken up by these stools and counters that seven four-person tables could be fitted in the area occupied by these seven stools! I found the seating in the cafe car to be one of the few poorly designed features of the Acela Express train. What should be substituted, in my opinion, are a number of small tables with only one or two comfortable seats per table -- similar to the arrangement found in the dinettes on the California cars.
Another aspect of Acela Express that I found somewhat problematic is the positioning of the food-service galley for the First Class car -- on both sides of the aisle leading into the car from the Business Class section. As a result, several crew members are often working in this area preparing food, posing an obstacle to passengers who want to pass by. Of course, that was a greater problem on this trip than it would ordinarily be in practice, as most business travelers (unlike the railfans on today's train) would have no reason to walk from car to car, and would instead be content to remain in their First Class seats for the entire trip.
At 5:20 a.m., we pulled into the BWI Rail Station, our first stop. The doors did not open until two minutes later, and we departed at 5:23 a.m., three minutes late. On the scanner, I heard the crew commenting that we had departed four minutes late because of insufficient time in the schedule. Similar delay reports were broadcast at all other stations. I also heard a comment that the media boarding in Baltimore should board at the first coach, which has been designated the media car. (It appears that media representatives were invited to ride this inaugural run free of charge!)
Soon, Gene Poon mentioned to me that among the dignitaries aboard were George Warrington, the President of Amtrak, and Stan Bagley, the President of the Northeast Corridor. (It seems that they both boarded at BWI.) Indeed, I noticed both of them sitting at a facing pair of seats towards the front of our car, and subsequently George moved to the first Business Class car, where he was interviewed by a reporter with a video camera. Then he returned to our car, where I had the chance to talk with him for a few minutes.
My questions -- along with those of a few others standing nearby -- were directed primarily to Amtrak's long-distance service. George began by commenting that this country spends $1 billion each year cleaning up roadkill and $1.5 billion spreading salt on highways, yet Amtrak has to beg Congress for "table scraps" -- the minimal $500 million funding now provided to run a nationwide rail system. In response to a question of mine as to whether Amtrak has any plans to order new equipment for long- distance service, George replied that he would gladly order such equipment if Congress appropriated sufficient funding, and he implied that if the High Speed Rail Improvement bill passes, some of that funding would be used for this purpose. He also implied that, at this time, there are no immediate plans to order new long-distance equipment. He stated: "It's a matter of money. We have to convince Congress that we need a railroad that we can be proud of." With regard to the Network Growth Strategy, he stated that he expects all of the announced new services to be operational within the next six to 12 months, and that the reason for the delay in implementing these services was primarily the negotiations with the freight railroads. He later stated to me that he believes that there is a future for long-distance passenger service, repeating his earlier comment: "It's all a matter of money." Whether he really believes in the future of long-distance passenger trains remains to be seen, but it is at least encouraging that he is giving lip-service to the concept.
In a subsequent interview with a reporter at a seat opposite mine, Warrington stated that Amtrak now has 70% of the New York- Washington market (including intermediate points), with about 50% of the market for travel from New York all the way to Washington. He commented that he expected Acela to break "the physical and psychological barrier of New York" so that people will now travel, for example, from Metropark to New Haven on Amtrak, since they will now have excellent through service the whole way.
The attendants had been going through the car taking breakfast orders, but they didn't get to serve me breakfast until about 6:30 a.m. I ordered the continental breakfast, which consisted of a bowl of Corn Flakes with milk and a banana, orange juice, coffee, a cup of yogurt and a danish. Most of the items were served on china, but the danish was served on a plastic plate. Subsequently, I ordered a cup of tea, but the water was only lukewarm. I drank that cup, then ordered another cup -- which again was lukewarm. This time, I complained, and I was promptly given a cup of hot water. Overall, I was not particularly impressed with the food and beverage service in this First Class car, but that's not the reason I rode the train. (I overheard one passenger, who had obtained a "breakfast sandwich" in the cafe car, complain to George Warrington that the quality of this selection was poor, and that one could obtain better food at McDonald's.)
At 6:35 a.m., we arrived on Track 3 at the 30th Street Station in Philadelphia, and we departed three minutes later. We had arrived on time, but were now three minutes late. On the scanner, I heard the dispatcher CETC-5 questioning the reason for the delay in Philadelphia. The conductor stated that it was a combination of passengers and media boarding and detraining, and a passenger in a wheelchair who was getting off the train.
As we proceeded north towards Trenton, it began to get a little light out. It was rather misty, too, but it was not raining. A crew from KYW-TV in Philadelphia had boarded in Philadelphia, and they did some filming in the seat opposite mine. Interestingly, I heard the reporter stating for the camera that he was being served a complimentary meal, since he was in the Business Class car. I then corrected him, pointing out that he was in the First Class car -- not the Business Class car -- and he not only thanked me for correcting his mistake, but had the whole scene reshot with the corrected statement that he was traveling in First Class!
After stops in Trenton and Newark, we arrived on Track 9 at Penn Station, New York at 7:48 a.m., four minutes late. Here, George Warrington and some of the other top Amtrak officials aboard detrained. The train is not scheduled to depart until 8:03 a.m., so I detrained and walked upstairs. The departure board had not yet posted the track for our train, but soon an announcement was made that the "Acela Regional Express" would be boarding from the east gate of Track 9. I found it rather interesting that even the announcer at Penn Station couldn't state the name of the train correctly! Then I went back down to the platform and reboarded the train, and we departed on time at 8:03 a.m. As at most other stations along the way, there were a number of Amtrak police on the platform, along with quite a few photographers from the media.
As we proceeded across the Hell Gate Bridge, I looked over towards the Triborough Bridge from where a friend of mine was supposed to be taking pictures of our train. Unfortunately, it was very hazy out, and you could barely see the bridge at all. I don't know whether he made any attempt to take pictures of our train and, in any event, I doubt that they would have come out if he tried. (Subsequently, I learned that he did in fact go onto the bridge to take pictures of what he described as the "eerie" scene of our train crossing the bridge.)
During our ride to New Haven, I made several trips into the Business Class section. I observed that the first three coaches were relatively full, with at least one person sitting in most pairs of seats. The rear coach was about half empty, though. I discovered that quite a number of the Business Class passengers were also railfans (although there were at least a few passengers on the train who were actually riding for business purposes!) One rather conspicuous railfan was Chris Blaise of Edison, N.J., who came equipped with track charts and detailed atlases, and who was recording the time that the train passed by every minor station or other feature. (Chris was featured in the story on the Acela Express that appeared in Tuesday's Boston Globe!) Had I spent more time in the Business Class cars, I probably would have gotten to meet a number of other interesting people, but I wanted to spend most of the ride in the luxurious First Class accommodations which I had paid for.
Gene Poon had pointed out to me that, above each seat, there is a one-line electronic display which is supposed to indicate the passenger's destination. The operation of this system, though, is apparently dependent on the use of hand-held devices by the conductor to scan each passenger's ticket and thereby input his destination into the electronic display. These devices are not yet functional and, as a result, the displays are not operational. The accepted method of indicating to the conductor each passenger's destination is by putting seat checks, coded by destination, above each seat occupied by a passenger. But it seems that this procedure is considered too "tacky" and "old- fashioned" by Amtrak, and thus not in keeping with the upscale image that they want to project on Acela Express. (Moreover, there does not appear to be any place to put such seat checks, anyway.) So the conductors on the Acela Express trains have been barred from using this method (this was confirmed by a conductor on today's train). As a result, there is nothing displayed to indicate how far each passenger is going, and after each major stop, the conductors would often come by to question the various passengers where they got on and how far they were going.
The ride from New York to New Haven is the slowest part of the trip, with the maximum allowable speed being 75 miles an hour for all but a few miles of the line, and actual speeds for most of the way being even slower. Indeed, it was apparent that we were proceeding much slower than 75 miles an hour for most of the way to New Haven. On the scanner (which I listened to only intermittently), I heard something about a disabled Metro-North train on one of the tracks. I subsequently found out that the Metro-North train ahead of us on the express track had broken down near Bridgeport, and that we had to slow down to 45 miles an hour to cross over to the local track in order to bypass the stalled Metro-North train. As a result, we did not arrive at the New Haven station until 9:32 a.m., five minutes late.
When we pulled into the station, there were two trains on the opposite platform. The first train -- consisting of two Amfleet coaches, bracketed by an F-40 diesel engine at each end -- was Train #495, a Springfield-New Haven shuttle, scheduled to arrive in New Haven at 9:25 a.m.; the second train, with an F-40 in front, was Train #95, bound all the way to Newport News, Virginia. After Train #495 had discharged all of its passengers, it pulled forward, and over the scanner I heard instructions for Train #95 to pull towards the front of the platform, where the F- 40 would be taken off and an electric engine added. We spent two minutes at New Haven, and when we left at 9:34 p.m., we were seven minutes late.
There is a dramatic change in scenery when you depart New Haven. Between Penn Station and New Haven, the route passes through a succession of commercial, residential and industrial areas, with the Connecticut Turnpike closely paralleling the line and often crossing it. But east of New Haven, the line goes through a much more rural area, with the tracks running in places right along the shore of Long Island Sound. The electrification of the line has somewhat affected its scenic beauty, but -- especially from the train -- it is still a magnificent ride, marred only by ugly chain-link fencing installed along the tracks in some areas. Fortunately, most of the route is, at least as of now, untouched by this very unattractive fencing. The large windows on the Acela Express cars facilitate viewing of the scenery, representing a vast improvement over the relatively narrow windows on the Amfleet I equipment.
At 10:26 a.m., as we were crossing the Mystic River just west of the Mystic station, we came to a sudden stop, paused only for a second, and then continued moving ahead. The conductor explained that we had suddenly encountered a restrictive signal, although he did not know why. I had noticed some maintenance workers on the bridge, and as soon as we passed the bridge, I heard over the scanner that Track 2 (which we were on) was now out of service, presumably so that maintenance could be performed on the bridge.
The scenery around Mystic and just east of it is particularly beautiful, with quaint ships visible on both sides of the tracks. Soon, though, we proceeded inland, passing the small station in Westerly and continuing through a wooded area. We zoomed by the Kingston station -- with quite a few onlookers watching -- at 10:45 a.m. I then walked down to the cafe car, where the door to the conductor's office was open. The office contains a digital speedometer, and we all watched as the train's speed finally reached 150 miles per hour, at which point an announcement to that effect was made on the loudspeaker. I believe that this was the fastest authorized speed (maybe even the fastest actual speed) that a regularly scheduled passenger train has ever achieved in the United States! We then slowed down somewhat, and we arrived in Providence at 11:02 a.m. There appeared to be a problem with the doors (I later found off that a media person had forgotten to get off, and the doors had to be reopened to permit him to detrain). and when we departed at 11:06 a.m., we were 16 minutes late.
A passenger who boarded in Providence sat down in our car on the other side of the aisle. He told me that had been a pilot for Pan Am and had flown the first 747. He made it a point to ride this train because, he said, he believes that high-speed rail is the future of transportation in the United States. He mentioned that he has ridden express trains all over the world and is proud that we finally have such a train in the United States. Indeed, he explained that he would like to see a major international airport built in Rhode Island, with high-speed trains running from there to points throughout the Northeast! Interestingly, although he boarded the train after 11:00 a.m., he was served the same breakfast meal as everyone else. Apparently, the onboard crew of the Acela Express is geared to serve only a single meal to all First Class passengers -- breakfast in the morning and dinner in the evening.
East of Providence, we again speeded up, and although I did not check the speedometer in the conductor's office again, it seemed like we must have been going about 150 miles per hour.
One of the highlights of the trip for me took place at 11:23 a.m., when we crossed the venerable Canton Viaduct. This stone- arch viaduct was built for the Boston and Providence Railroad in 1835, and -- along with the Thomas Viaduct on the Baltimore and Ohio Railroad, built the same year -- is considered to be one of the outstanding landmarks of early American railroad engineering. In his recent book, Landmarks on the Iron Road, William D. Middleton quotes a article written in the Boston Advertiser when the viaduct was constructed, stating that the viaduct "is a stupendous work [that] will stand for ages, an enduring monument of the high talents and high attainments of its accomplished engineer." Middleton continues: "Indeed, it was all of that and more, for no one then could have visualized just how enduring and adaptable a structure McNeil [the engineer] had built." After explaining the relatively minor upgrades that have been made to the viaduct since it was built, he concludes: "Surely, few engineering works from the dawn of American railroad history have stood the test of time so well."
So it was, indeed, a thrilling experience when we zoomed across the viaduct at a speed which I estimated must have been at least 120 miles per hour -- so fast that you barely noticed that the viaduct was there! The builders of the viaduct in 1835 couldn't possibly have dreamed of such speeds -- or, indeed, of trains as heavy as those operated today -- yet their structure still remains in active use by Amtrak high-speed trains in the 21st century, while highway bridges constructed a mere 50 years ago or so -- and for loads not significantly lighter than those commonly found today -- are said to have reached the end of their useful life and are continually being replaced!
After crossing the Canton Viaduct, we passed the newly reconstructed Canton Junction station and soon arrived at our next stop, Route 128. When we departed at 11:27 a.m., we were only 11 minutes late, having made up five minutes since we left Providence.
We would soon be arriving at South Station in Boston, our final destination, so I took down my suitcase from the overhead luggage bin (the Acela Express, like airlines, features enclosed storage bins above the seats) and put away my belongings. After a brief stop at Back Bay, we pulled into Track 9 in South Station at 11:43 a.m. We were 12 minutes late, but -- other than the slight embarrassment of Amtrak's not being able to run the train on time for its inaugural run -- I don't think anyone really cared. The nearly seven hours that had elapsed since we departed from Union Station in Washington had gone by very quickly. This was undoubtedly the most enjoyable train ride on the Northeast Corridor that I have ever taken. Indeed, as a whole, both the equipment and the ride exceeded my expectations. I certainly hope that the Acela Express serves as a catalyst for the improvement of rail passenger service in the United States!
Click here for additional information and photos of the Amtrak Acela Express.
Many more rail travelogues for you to read:
Dan Chazin / Other Writers
Visit our Rail Magazine promotion trading partners:
Click here to add your print rail magazine.