Amtrak Texas Eagle/California Service
Inaugural Run On Friday, February 6, 1998 !!!
TrainWeb.com/texaseagle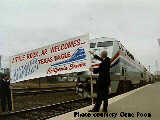 Click on the above image for a larger photo.
Photo courtesy of Gene Poon.
The inaugural run of the Amtrak Texas Eagle/California Service left Chicago on Friday, February 6th and arrived in Los Angeles on Monday, February 9th, 1998. This was the first Texas Eagle to run direct from Chicago to Los Angeles via Texas in many years with no switching of cars or passengers in San Antonio. This "through train" will depart Chicago for Texas and California every Friday and make the return trip from California every Monday. Three other trains will continue to operate on this route each way each week, but coach and sleeping cars will be switched with the Amtrak Sunset Limited in San Antonio, Texas.
I was onboard this inaugural run and provided live coverage and photos along the way using my notebook computer and a cellular modem. A "Blow by blow" description of events events is provided below. The above photograph was provided courtest of Gene Poon of Rail Trave News.
Please select each of the following for more information on this event:


Updates from the All-Aboard List Server:

The train was sold out early. Amtrak added several cars just to handle the large number of people, press and other VIPs that were on this inaugural run. The train leaving Chicago had 21 cars making it the longest Texas Eagle that Amtak had ever assembled!
Visit our Rail Magazine promotion trading partners:
Click here to add your print rail magazine.