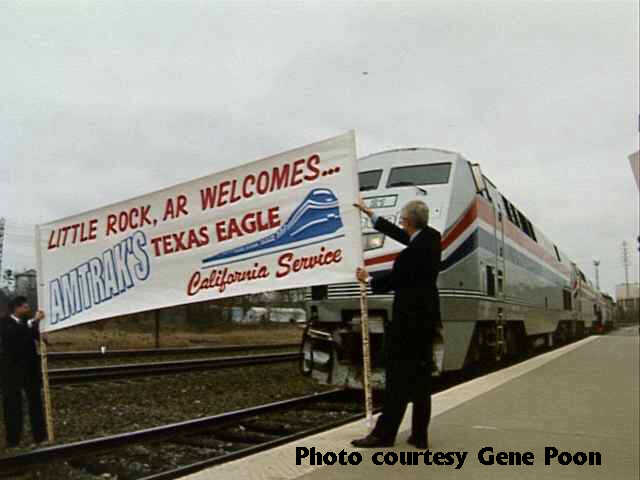 Inaugurating the
Texas Eagle
California Service
by Gene Poon
I almost did not go.
When first announced, the Texas Eagle's inaugural trip to California seemed lacking. This was not a new route; no new stations were being served, and no new trackage was supposed to be traversed. The train bore no new number, and even the name, "Texas Eagle", did not seem to reflect anything more than a routine expansion of a service which already existed.
Yet the Texas Eagle is unique in being a long-distance Amtrak train which was saved by the tireless efforts of countless rail travel advocates and local volunteers from along its route. In those dark days early in 1997, when the Eagle was one of three Western trains about to vanish, the many who labored for its survival showed that hard work and spirit can, indeed, triumph.
Ray Dunbar of Longview, Texas, who with many others championed the Texas Eagle through its revival and now its expansion, describes rail advocates as being among the smartest and hardest-working folks around. This trip would be their celebration; so how could I miss it?
Friday, February 6.
A larger, more vocal crowd than usual is present in the Metropolitan Lounge in Chicago Union Station. The popular Western trains which usually pack the lounge with customers have already departed, and the departures of the Lake Shore Limited and City of New Orleans are still over two hours away. Still, the atmosphere is expectant and exuberant. Instead of lounging comfortably in overstuffed sofas, many gather in little groups, conversing in reminiscence of rail travel of the past, and in anticipation of journeys to come.
Lounge attendant Jera Slaughter is heard to say that the consist for our train #21 should have been spotted at the gate by 5:00pm; it is 5:30 when the first call to board is made. In a way it is appropriate that our first sight of the train, through the boarding gate at the far east end of the South Concourse, is of a silver Amtrak express boxcar, #71036. Success of Amtrak's mail and express development staff has brought lucrative contracts to the route of the Texas Eagle. One major shipper, Stroh Brewing, which makes Lone Star, Schlitz and Old Milwaukee beer, is participating conspicuously in inaugural festivities.
The train is a long one, though not up to the eighteen-car monster California Zephyrs of a few years back. The normal consist of one sleeper, diner, lounge and two coaches for the through Los Angeles service is swelled by two more revenue sleepers, two VIP sleepers, a VIP lounge, and four VIP coaches. The boxcar, bound for San Antonio, and a mail car bound for St. Louis bring up the rear.
It is a long walk to my sleeper. Line number 2130 was the only sleeper on the consist when space for the train was opened up last autumn, and it is at the front, just behind the transition- sleeper-dorm. The car is Superliner II sleeper 32093, the "Missouri". The remaining sleepers are Superliner IIs, too...and all bear names of states along the Texas Eagle route: Arkansas, Texas, Arizona and California. Our three P42DC Genesis locomotives are consecutively numbered 21, 22 (the train numbers of the Eagle) and 23.
My wife is the organized member of our family, but she could not get time off for the trip, so it takes me longer than usual to settle into Room D. Though there isn't time to get off and get the complete consist, Assistant Conductor Chris Aviles says she'll get it for me. As the inaugural Texas Eagle to California slides away from the platform, exactly on time, she returns from the crew lounge in the dorm car with the information as promised.
Almost immediately, the dining car steward is taking reservations for dinner. The first seating begins at 7:00pm; as usual on the Texas Eagle, the diner is behind the revenue sleepers, coaches, and lounge. The ride on Illinois Central is rough as passengers make their unsteady way through the cars to the diner. I have visions of my scanner and luggage in a heap on the floor of Room D.
The diner crew is friendly and efficient, as they will be the entire trip. This is no handpicked crew; they got the assignment through normal crew rotations. Once seated, I share the table with Steve Grande of Trainweb and Gary Anderson, a rail enthusiast from Phillips, WI. We take three of the New York steaks: one rare, one medium, one well done. They arrive during the station stop at Joliet; we are pleased to see dinner served on Corelle dinnerware, though we hear that the plastic plates which have been in trial use on the California Zephyr are being used for snacks and hors d'oeuvres in the VIP lounge car. The steaks are done as or- dered, and pecan pie finishes off a very fine meal. The ride has improved, too.
The VIP section of the train is behind the diner, but the door is open, since many invited guests are in the revenue sleepers. A portrait of Texarkana native Scott Joplin decorates the VIP
lounge; his music will later be played by one of the musicians accompanying the inaugural train. On the upstairs service bar, a large Lone Star Beer banner declares the company's support of the "Amtrack" Texas Eagle. Many politicians and invited dignitaries from online communities will join us tomorrow; the press kit describes banner-breaking ceremonies at seven enroute cities. Tonight's relative calm provides a good chance to make acquaintances of many Amtrak officials on board...Lee Bullock, president of Amtrak Intercity; Don Cushine, Intercity General Manager-West; Ed Ellis, vice-president, mail and express; Rob Dellinger, who has taken the place of the ailing Debbie Hare as media representative. The vivacious Joy Smith, Texas Eagle product line manager, and her assistant Shiela Ready seem to be everywhere, very much in charge of the onboard celebration. Many invited guests wear Texas Eagle/California Service inaugural T-shirts, adding to the cameraderie among the passengers. Downstairs, hors d'oeuvres and refreshments are offered by a specially selected lounge car attendant whose credits include the 1997 Amtrak Christmas party in Chicago.
Back in sleeper "Missouri", I chat with Ed von Nordeck, RTN reader and contributor, and we are only aware by the commotion outside that we have arrived at St. Louis. A look outside reveals a large crowd waiting to board. Rick Eichhorst of the Association of American Railroaders, specializing in unique rail tours, leads a group of nine onto our sleeper. To the rear, the mail car is detached after a trip of only 282 miles; ironically, its mail will be transferred to a truck to be driven to Fort Worth, which is on our route! "A leftover trucking contract," I am told. This is the first Friday since 1993 when the Eagle will run south of St. Louis, and the mail will continue by truck until the contract expires.
Even with the switching of the mail car and an extra spotting of the long train to water its rear cars, the Eagle is underway on time at 1:00am. I pause and exchange pleasantries with a few of Rick Eichhorst's tour group, and turn in. Saturday will be a busy day, with celebrations in online communities, and many guests riding the train. I hang out my coat and tie and go to bed, while light rail cars rattle past outside.
Saturday, February 7
There is no rest for the weary tonight. I have left my scanner on, sleeping through the routine radio traffic, just as I do through the steady rhythm of the train as it glides through the eastern foothills of the Ozarks. But at 2:45am, a dispatcher asks the crew to awaken Tom Mulligan, a Union Pacific official on board. Her voice has more than a little apprehension to it, and this is enough to jolt me awake. Minutes later, I hear the conductor on the radio. Mr. Mulligan's cellphone is not getting through, so whatever he needs to know will have to come over the radio.
The news is bad. A coal train has derailed 26 cars on the line ahead of us, at a location called "Hig", which I surmise from my map as being Higginson, AR. There is talk of a detour from Poplar Bluff to the ex-Cotton Belt at Dexter, MO, but this would require both a UP pilot crew and UP engines to pull our train backwards. The dispatcher then suggests a detour on the Memphis Subdivision from Bald Knob, AR. to the Cotton Belt at Fair Oaks, AR.; either detour would next run our train to Pine Bluff on the Cotton Belt main line, then on the Monroe Subdivision to Little Rock and our original route.
I'm following all of this on my map, when the conductor calls the engineer:
"Do you have a map of the Cotton Belt and all these other lines? We can't figure out where all these places are!"
The train is very quiet at this hour, so the conductor in the crew lounge expresses surprise as I enter this off-limits area. Surprise changes to gratitude when I offer the crew and Tom Mulligan the use of my map. I am then gratified at being invited to stay and watch how an Amtrak detour is arranged.
Union Pacific has been accused of being arrogant in the handling of its merger with Southern Pacific. Mulligan will have none of this, even though the former Cotton Belt lines which we will have to use are still under the control of ex-Southern Pacific managers and dispatchers. "These are professionals," he says. "We'll just let them sort it all out."
It is not just a matter of switching tracks and running the train. Pilot crews have to be called out, and since we will be traveling on both ex-Missouri Pacific and ex-Cotton Belt lines, the crews must be qualified on each separate line. A new Amtrak crew will have to relieve the one we have now, since the detour will take them over the legal 12-hour limit before the crew change point of Little Rock. Additional complications involve the blockage of the north wye at the Cotton Belt interchange at Fair Oaks, and the express car on the rear of the train, which will prevent our Amtrak engines from pulling the consist in reverse. And, "the Memphis Sub is clogged," says Tom Mulligan. "We've got freight trains already starting to detour around the derailment."
Meanwhile, the Eagle continues on time, pausing at Walnut Ridge to pick up the mayor of that Arkansas town. An hour later, just past 7:00am, the conductor knocks at my door with the news, "It's almost showtime!"
At 7:15am, our three locomotives veer to the left, pause to pick up the pilot crew, and lead our Superliners onto the Memphis Sub at Bald Knob. Soon up to track speed, the Eagle is now on a line which has not seen scheduled passenger service since the mid-1950's, according to John Mills, retired Amtrak station agent who opened the Little Rock station when the Inter-American debuted in 1974. John's memories go back further than his Amtrak career; later in the lounge car, he will proudly show us his photos of the very first Missouri Pacific Texas Eagle, on its own first run in 1948, fifty years ago.
Today's Eagle will run past the junction with the Cotton Belt at Fair Oaks so that the consist can be turned at Wynne. Allowing over an hour for the fifty miles to Wynne, I quickly go for breakfast, finishing French Toast and sausage just as the train clatters over the Cotton Belt crossing, where a string of ballast hoppers prevents our use of the north wye. Wynne is about 12 miles further, a sleepy village with a Missouri Pacific caboose on display, the Saturday morning flea market seemingly the only activity in town until Amtrak rumbles in. A wye connects the Memphis Sub to an ex-MoPac line to the north; it takes fifteen minutes, and a UP signal maintainer to manually throw the track switches, before we are headed back toward Fair Oaks, pointed the right way to take the interchange track onto the Cotton Belt.
We lose another twenty minutes while the timed interlocking switch clears, then snake through the interchange. The first five sidings on the Cotton Belt are occupied by freight trains which have cleared the main line for us. Railfans, disappointed at the cancellation of a 1997 excursion on these tracks, are now delighted to be riding on this line, whose Lone Star Limited passenger train last ran in 1958. It seems too short a time, but it actually takes about two hours for the detouring Eagle to cover the 100 miles into the one-time headquarters of the Cotton Belt: Pine Bluff, Arkansas.
A stop in the massive yard allows a new pilot crew and our relief Amtrak crew to board. Moments later, while volunteers watch in amazement, the Superliners are swaying past the Arkansas Railroad Museum, located in the former Cotton Belt shops. John Mills is especially happy: "In all my years, I've never ridden this line before!" The Monroe Subdivision finally has us running directly toward Little Rock.
But there is one more detour which we must make. Little Rock Junction is located south of the station, and the track layout forces the southbound Eagle northbound past the station, dropping off Amtrak officials and a few selected guests for speeches and inaugural festivities. After turning in North Little Rock, the train returns to the platform at the end of celebrations. Bill Pollard of ArkRail shares the honors on the inaugural banner with Amtrak Intercity's Don Cushine as Train 21 with engine 21 bursts through.
If the morning's five-plus hour rare mileage excursion belonged to the railfans, the afternoon and evening belong to the lineside communities and their citizens who welcome our inaugural train. Malvern and Arkadelphia board members of their chambers of commerce. At Texarkana, bunting, banners, balloons and a horse-drawn carriage greet us; a new station sign shows distances to both Chicago and Los Angeles. Every stop adds more passengers, some for a short ride, others destined for a round trip to California. All are welcomed to live music and refreshments in the lounge car. Marshall, Texas shows off the restoration of its fine old brick station; at Longview, the Kilgore College "Rangerettes" celebrate our arrival. Night falls before the Texas Eagle pulls into Mineola, whose rail-activist mayor can take much credit for saving the train.
Another honored guest joins us at Mineola. Zeb Love, who retired from the Texas Eagle as a conductor on the Texarkana-Dallas run in 1988, was so much a part of the MoPac-Amtrak legend that his train was dubbed the "Love Train." For this trip he is given the title, "Honorary Conductor." Hundreds of passengers are soon wearing labels proclaiming, "I Am Riding the Love Train." By coincidence, it is also Zeb's birthday. Meanwhile, in both VIP and regular lounge cars, passengers pass the evening entertained by the musicians which Amtrak has engaged for this special trip.
The stop in Dallas is brief, even shorter than the timetable allows. Without time to return to my own car, I board the VIP coaches on the rear and find them almost full with invited guests. One Stroh Brewery executive, delighted at the spacious seating, wonders aloud as to why this accomodation is not called "First Class!" Before long, we are backing past the now-closed Tower 55 into the Fort Worth station, to a crowd awaiting the scheduled news conference. There is no loss of enthusiasm despite the delay; Lee Bullock, on behalf of Amtrak, accepts several awards, among them a Texas Eagle sculpture. As he did in Little Rock, Lee announces Amtrak's intent to restore triweekly through sleeping car and coach service to Los Angeles with the spring timetable change, and daily service to San Antonio within a year. Finally, Joy Smith, with enthusiasm befitting her name, proclaims that for those riding the train tonight, the fun will go on, "All the way to San Antone!" The party in the VIP lounge continues well past an 11:25pm departure.
But not for me. This has been a very long and busy day, one imbued with the spirit and energy of those who worked so tirelessly to save their Texas Eagle. As I get ready for some much-needed sleep, I glance out the window. The baggage truck outside bears a sticker, reading "Support an Expanded Amtrak in Texas!"
Sunday, February 8
The southbound Texas Eagle has a new route into San Antonio. Previously the train would enter town on the former MoPac, to be pointed eastward at the station, ready for departure to Chicago. But our train is running through to Los Angeles, so it uses the ex-Katy line, and backs into the station pointed westward. Here, we say good-bye to many of the invited guests, returning home to Texas and Arkansas points, their VIP coaches coupled to the northbound Eagle, Train #22. With a goodly chunk of our delay now absorbed by shortening the four hour, thirteen minute dwell time in San Antonio, the Texas Eagle leaves at 8:02am.
Sunday morning is a time to relax on the Eagle. Coats and ties have given way to shirtsleeves and blue jeans. In the lounge, the atmosphere is subdued, with many Los Angeles-bound riders still asleep after the previous night's partying. But the press kit proclaims "Music All the Way", and by midmorning a jazz keyboard and clarinet duet resumes their rousing revue.
Outside, the Southwestern desert of West Texas has replaced the woods and grasslands of the previous day. For me, it is hard to think of this train as anything but the Sunset Limited, even thought this is the first time in twenty-eight years that this route has seen more than triweekly service. The dispatcher even refers to us as both "Amtrak train #1" and "Amtrak train #21." Old ways will take time to change, especially in the seemingly timeless territory we are traversing.
Lunch, as it was on Saturday, is the "Texas Eagle Barbecue," a fixed-price, limited menu featuring barbecued beef and chicken entrees, served on styrofoam plates and red-and-white checked tablecloths. The casual atmosphere makes the plastic plates seem appropriate, and food quality has suffered not at all. Simplification of food service has been made necessary by the need to control costs in the dining car; this is a successful effort.
I pass an hour in the afternoon with Ed Ellis, Amtrak vice-president, mail and express. A bona-fide passenger rail fan, he admits that he has spent hundreds of nights aboard passenger trains. About Amtrak's late Broadway Limited, which last ran in September 1995, he remarks, "That wasn't the real Broadway!" Motioning to his three young children, he explains that he came to Amtrak from RailTex "so that kids like mine will have passenger trains to ride on." He honestly fields questions on topics as diverse as the embargo on his 1400-class Material Handling Cars, to the incremental costs of adding service (the Silver Palm and the proposed Pennsylvanian extension are specific examples). In an industry where controversy is so often denied or ignored, Ed's frankness is refreshing. So is his statement that his job is important only in its support of Amtrak's core business.
My last of three dinners on the inaugural Texas Eagle/California Service is roast chicken, tender enough to be eaten with knife and fork, yet succulent and moist, not dry or stringy in the least. If more home and restaurant cooks could roast a chicken this perfectly, the words "rubber chicken" would have no meaning. It is a fine meal. This diner crew, both at tableside and in the kitchen, truly deserves ample credit for their performance through two breakfasts, two barbecue lunches, and three dinners, especially given the very large ridership.
The train has steadily made up time all day. Sunday is a light day for freight traffic on the Sunset Route, though three westbound intermodal trains waiting for crews at Sierra Blanca suggest problems ahead. Sure enough, approaching El Paso, the Eagle stops at Alfalfa behind two freight trains which have no place to go. Every minute we have made up is lost again, and more. We take 48 minutes to go seven miles, and are later when we finally leave El Paso than we have been since San Antonio, even though we only stay for seventeen minutes instead of the scheduled twenty-seven.
In the darkened VIP lounge, one female jazz vocalist serenades passengers, while in the regular lounge car, a country-western songfest is underway. Outside, rain falls in torrents as the Texas Eagle races across the Lordsburg Subdivision, appropriately nicknamed "The Stormy." Overnight, we make up time again, but the ride is so smooth that I don't know it until checking my watch at station stops.
Monday, February 9
Dawn comes at Palm Springs. Due to the late running, passengers are treated to the sight of giant windmills in the desert, and a passage over Beaumont Pass in daylight. There's no breakfast service in the diner, so the lounge car becomes the social center, where passengers drop in for coffee and danish, and to say good-bye to friends who had begun the long trip as strangers. I say one last farewell to Zeb Love as we pass in the hallway of sleeper "Missouri."
Just minutes from Los Angeles Union Station, we pause while an eastbound Metrolink train clears the single track line at El Monte. As they take siding, the Metrolink crew expresses surprise at seeing Amtrak on a Monday morning:
"What train are you?"
"Number 21, the Texas Eagle. Brand-new train!"
"Beautiful. That's a fine train you've got there!"
...And a fine trip it has been. I'm glad I went.
Consist
Locomotives: #21, #22, #23 (P42DC)
Baggage Car: 1215
Transition Sleeping Car (Dorm): 39010
Superliner II Sleeping Car: 32093 Missouri
Superliner II Sleeping Car: 32071 Arizona
Superliner II Sleeping Car: 32073 California
Superliner II Coach: 34138
Superliner Coach-Smoker: 31519
Superliner I Sightseer Lounge Car: 33020
Superliner Dining Car: 38065

Behind this point was the VIP section of the train, although many invited guests were in the revenue section above.
Superliner II Sleeping Car: 32072 Arkansas
Superliner II Sightseer Lounge Car: 33026
Superliner II Sleeping Car: 32111 Texas
(Following four cars off in San Antonio, to Train #22)
Superliner Coach #4 (2112): 34061
Superliner Coach #5 (2113): 34010
Superliner Coach #6 (2114): 34032
Superliner II Coach #7 (2115): 34131
Express Car To San Antonio: 71036 (silver, no stripe)
Mail Car To St. Louis: 1718 (mail for Ft.Worth, trucked STL-FTW)

Connect-the-dots map of TXEagle detour:



                                                  St. Louis  *          *E. St. Louis, IL

  
                                       Poplar Bluff    *              *  Dexter Jct.


                                  Bald Knob    *   
                                                                                   Fair Oaks
                                          Hig    *                       * 
                                                                                                Wynne
                                                                                          *
                                                                                                     *  Memphis

                  Little Rock   *                         

                                                               *  Pine Bluff

                              *   To Texarkana   *
            UP (ex-MoPac)                  UP (ex-Cotton Belt)

1. Connect  St. Louis, Poplar Bluff, Bald Knob, Hig, Little Rock, Malvern and
    to Texarkana (ex-MoPac)

2. Connect E.St.Louis, IL, Dexter Jct., Fair Oaks, Pine Bluff, and to Texarkana
     (ex-Cotton Belt)

3. Connect Bald Knob, Fair Oaks, Wynne, and Memphis.

4. Connect Little Rock and Pine Bluff.

The result will look like a leaning and distorted two-rung ladder

---
The above article appeared in Rail Travel News and was provided courtesy of Gene Poon and Rail Travel News. Copyright &copy 1997 by Message Media, PO Box 9007, Berkeley, CA 94709.
---
Visit our Rail Magazine promotion trading partners:
Click here to add your print rail magazine.