THE ONE THAT GOT AWAY ...
a fishing trip with Doug and Kent.
http://www.trainweb.com/travelogues/viarail/2001i05b.html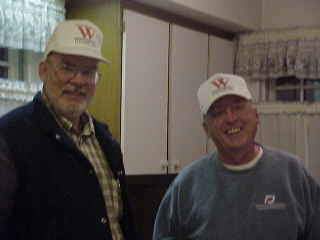 Cliquetez Ici Pour Le Francais
Click on each link below to view each set of photos:
Set #01 / Set #02 / Set #03 / Set #04
Set #05 / Set #06 / Set #07 / Set #08
Set #09 / Set #10 / Set #11 / Set #12
Set #13 / Set #14 / Set #15 / Set #16
The strident noise coming from the alarm startled me from a deep sleep. I groggily rolled over and read the alarm's LCD read 04:00. This morning, two old friends were going on a fishing trip to Northern Quebec.
The old friends are Doug Symons, a retired bank manager and Kent Weatherilt, a retired school administrator. We have looked forward to fishing, trains, and fishing in Northern Quebec for some time, now.
Laurie, Doug's wife was already up and dressed. She was driving us to the VIA train station in Brockville, Ontario. At the station, we were surprised to be greeted by a lady who doubled as the baggage tag agent and a taxi cab driver in Brockville.
The overnight train, which had been parked for about forty-five minutes just west of Brockville, moved into the station at exactly 05:30h. The two fishers boarded Train 50 (Toronto to Montreal) without mishap. The complement of cars was Engine #604, Car 4121, Car-Chateau Laval, Car-Yoho Park, and Car-Chateau Bienville. We set off on time and arrived in Montreal twenty minutes early. It was a quick and pleasant trip. The train's Service Manager Michael Wolfe took our tickets. When he saw our Trainweb.com hats, he was intrigued with our task at hand. Michael is a thirty-two year veteran of CN and VIA Rail. He has been on this run for about ten years with his early experience in Western Canada. This gentleman went about his job of waking the fifteen passengers who had to get off in Cornwall. He was a man who was proud of his work with VIA Rail. We later discovered that he was the Great-Great Grandchild of the British hero of the Battle of the Plains of Abraham (Quebec City) in 1759, Major- General James Wolfe. The train arrived in Montreal's Windsor Train Station twenty minutes early.
On arrival to the station, a red cap (porter) took our bags and placed them directly on the next train. He also provided us with the gate and time of boarding. We walked around the station and then up to the street level. It was pretty busy and the weather was beautiful.
As we prepared to board the train, the two VIA attendants at the gate humourously told us that they would like a couple of trout each on our return. Obviously, it doesn't take long for information to get around to each employee. We went down the elevator to the train.
As we were walking toward our car, Benoit LaPorte, Product-Marketing Manager for Eastern and Northern Quebec, met us. He brought along a large package of interesting material on the area and places we were going to see. Along with Benoit were the two engineers and the two service managers who would be taking the train on its first leg.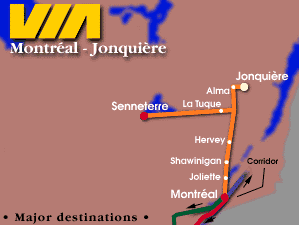 Train #601 consisted of six cars: two engines #6307 and #6413, two baggage cars #8608 and #8145 and two passenger cars #8146 and #8119. This train is split into two at the Hervey Junction Station about 217 kilometres north of Montreal. At that point, one section would go to Jonquière while the other section would to Senneterre. Our train staff was Clement Martin (engineer) and Ricky Kulak, the service manager.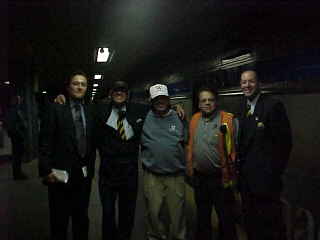 Benoit LaPorte, Ricky Kulak, Kent Weatherilt, Clement Martin, Rejean Martineau.
We had no sooner sat down than two men seated beside us introduced themselves. Richard Morin, a semi-retired VIA employee and his friend, David Robitaille, a psychiatrist, were going on a weeklong canoeing trip in the area, which we would be exploring. Richard has been an employee of VIA for twenty years and is an avid railroad fan. His romantic descriptions of how he felt about boarding a train and riding the rails was truly inspiring. He was like a young child in a candy store. He was excited telling us about the line, his job and the history along the way. We were given a guided tour through the city and suburbs of Montreal.
Years ago, this train would have started its travels north by going through the tunnel under the City of Montreal. However, due to the diesel fumes and other pollution/health concerns, the train now leaves the station heading west and then east before starting its northbound route. This portion of the trip takes about an hour whereas if we were to take the tunnel it would have taken about 10-15 minutes. Shortly after our departure, Ricky, the service manager, noticed that one of the engines was not producing power for the lights, air conditioning and coffee pots on the car we were travelling on. As neither he nor the engineers could remedy the situation, Ricky called the service department and their "SWAT team" to come and assist us. Their truck roared to a stop at a station in the east end of Montreal where we waited for them. The service people had the problem rectified in a few minutes by replacing a relay switch. We were on our way once again.
The photos show some of the smaller stations near Montreal. They have been literally covered by graffiti. It is a shame people do such things and destroy others' properties.
Doug got off the train momentarily at Shawinigan, the home of the Prime Minister of Canada, Jean Chretien. While he was taking some pictures, the engineer, M.Clement Martin, beckoned to Doug to join him in the cab. This really pleased Doug. He travelled about forty kilometres in the cab. He said that it gave one a whole new perspective of travelling by train. As well, he remarked the engine noise was almost deafening. When Doug ran out of film, Kent joined him up front with fresh film. The engineer attempted to converse in English and most of it was successful. However, it was fun listening to him start in English and finish off in French with Doug providing a simultaneous translation for Kent.
As a passing note, we have all heard the horror stories of English-speaking people passing through Quebec and being spoken to only in French. However, everyone we met tried very hard to address us in English. Many said that it was one of the few times they actually had a good opportunity to practice their English. It is amazing how some stereotypes get started.
At Rivière à Pierre, we saw that construction crews were literally chopping off the top of a local mountain. This being prime Canadian Shield, the granite is chopped into three metre by five metre blocks. Beside the rails, there were trucks loaded with these stones. We were told that they are used for facades....tombstones.
We later passed through St-Tite that is reputed to hold an annual western festival (http://www.festivalwestern.com) that attracts more than 400,000 people every September. The westernized facades of the businesses and Town Hall, the typically western clock and an illuminated fountain are constant reminders of this great event throughout the year. It is called the biggest western show in eastern Canada. As we passed the cattle yards we only noticed about 20-30 bulls for the event. Later as we returned home, we noticed that there were hundreds of camping trailers parked everywhere. People had them parked on their front lawn, in their driveways, and their back lawns. As well, all the major parking lots throughout the town were loaded with more trailers.
As there was no full food service on this train, we had some delicious submarine sandwiches and soft drinks for lunch.
We continued to travel through kilometres of muskeg swamps, Canadian Shield and forests. The train stopped every so often along the way at a station, a crossing, or by literally being flagged down. This is what made the trip so interesting. It was the backbone of transportation in this country much like the way it was earlier in the century. The Service Managers knew most people and asked appropriate questions of their family and friends. Ricky told us it was not unusual to be asked to drop off people at a bridge they might cross over and asked to remember to pick them up five days in the future. Ricky did say that he would try to remember but they had to flag the train down just in case.
As we went along we were shown another side of this very interesting man. He brought us some pictures and we were quite astounded at what we saw. It seems that a moose calf less than a few days old had got tangled in downed telephone wires and could not escape. It would have met his doom with the local wolves if the situation had not been rectified. He and another passenger went to help the animal. The doe moose, a formidable foe, was lying nearby. While they kept an eye on the mother, the two set to work attempting to free the calf. Finally, the baby was loose but it was so tired from all of its struggling and sheer fright of the incident couldn't or wouldn't move. The passenger then picked the calf up in his arms and carried him near his mother. They then backed off rather quickly. After a few minutes of nursing, the two got up and ambled back into the woods. Some who saw this actually saw the doe wave a thank you but others say it was the happiness of the tail that they saw. What great pictures! What humanity!
After 5.5 hours, the train was flagged down at our first stop, Triton Club. Triton stop is about 330 kilometres north of Montreal. The train arrived about two hours late due to the faulty relay switch as well as the normal hold-ups by crews fixing the track after a derailment the day prior as well as normal track maintenance.
A lovely young lady met us and guided us down a hilly and narrow path through the woods to a small tributary of water. There awaited a pontoon boat. Along with us was a group of eight older people who were visiting the club for the evening; we travelled about twenty-five minutes by boat. The going at first was very slow, as the water had receded during the unusually hot and dry summer. As we rounded another corner of dense bush, there stood the magnificent La Seigneurie du Triton on a hill in the distance.
The view of the Seigneurie from the water was breathtaking. The transportation of materials presents some very costly and difficult problems to build a building today let alone some 100 years ago.
An American railroad engineer, by the name of Alexander Luder's Light, founded the Triton Fish and Game Club in 1893. At the time of its construction, the Triton Club had over 200 lakes on its territory. The golden age of the club came in the mid-twentieth century when the Triton welcomed such illustrious club members as the American Presidents Theodore Roosevelt and Harry Truman, members of the Rockefeller and Molson families as well as British Prime Minister Winston Churchill, to name a few. Today, La Seigneurie du Triton, member of the Federation of Quebec Outfitters, is famous for its fishing quality, outdoor activities, food and for its particular warmth. In 1989, the Seigneurie was a national tourism prizewinner. Further information on-line can be found at http://www.pourvoirietriton.com.
On our arrival at the main lodge we were met by Nick Tremblay, a son of the present owners, who gave us a grand tour of the building as well as going into great detail of who had stayed here over the years. The main lodge holds up to fifty guests. We were then showed to our room in another adjacent building, the Pavillion that provides accommodation and meeting facilities for an extra fifty people. The Seigneurie is presently building additional accommodation which will be winterized and have in-room facilities.
Our rooms were very clean and spartan. The room looked out on the lake that sparkled all the time. There were two double beds, two single beds, two chests of drawers and a hanging closet. The facilities, including toilet and showers, were at the end of the hall about ten metres away.
Before we met for a pre-dinner drink in the lounge, Doug went for a walk on one of their nature trails, which was called La Champignon. He said he counted at least seven different kinds of mushrooms in a very short while. Each trail was well labelled albeit in French. It still made reading and learning easy. Kent watched a class of beginners in the backfield learning how to fly fish. The teacher was very patient and moved the adult students every ten or fifteen minutes to another activity or location. The next day would be their time to put their newly honed skills to the test.
We met in the lounge for drinks. The room is extremely dark due to the colour of the wood panelling as well as the small propane lights. The room has windows that look out on the front veranda and the lake. The walls are adorned with two huge mounted moose heads. (Click here to view photographs). These animals would have been close to eight feet at the shoulders. As well, the room was crowded with antiques chairs and couches of various size and shapes. Throughout the room, there were stuffed examples of some of the animals of the area. A beautiful stuffed Golden Eagle and a Snowy Owl were of great interest to Kent as he carves all sorts of wildlife as a hobby. We both sat in the rocking chair that Winston Churchill used to sit in when he was here. We are not sure if some of his greatness rubbed off on us.
Dinner was served in a very bright and warm room that looked out on the vast forests surrounding the place. Our waiter, a transplanted Parisian who has completed the necessary course in hospitality and hotel management presented each course of the meal with a truly French flair. The meal d'hote this evening started off with onion pie which is sort of an onion quiche. The next course was a beautiful cream of leek and potato soup. The entrée for the evening was veal with a nutmeg sauce, baked mash potatoes adorned with slivered almonds, and fired zucchini. For dessert, we had custard with a very sweet glaze. It was a great ending for a delightful meal.
We finally succumbed to sleep about 21:30h. It had been a long day with many new and wonderful experiences. It would be said that we slept very soundly.
Thursday
We awoke about 07:15h. The morning was sunny but very cool. The lake was covered with a fine mist. Activity was in full force around the property. A big smile and Bonjour! greeted us at breakfast. The breakfast menu consisted of many choices. However, we decided on eggs, bacon, and toast, as we wanted to get started on the trek for the big one.
About 09:00h, we met Isabelle Gomphe who was in charge of Outdoor Activities at Triton. They provided us with everything from life jackets to cushions. And most important, they provided us with a creel to hold all of the caught trout.
We took a short boat ride and then a fifteen-minute overland route to Lac Charitié. The lake was small about 1500 yd X 500yd and about 6 feet deep. It had been stocked with a variety of trout. Our guide, David who was very French, greeted us but his English was more than passable. He forewarned us that fishing had not been very successful due to the air temperature and water levels. However, we would not be deterred. He showed us the hot spots on the lake then we were on our own to investigate the lake. David did come by every so often to check our luck and then he would return to his fly-fishing. Watching the gracefulness of an experienced fly fisherman, made us both desire to learn the technique. The silence was rejuvenating. Our guide returned to say all he had was nibbles. But, the eternal optimist in him said that we would have much better luck.
And now, comes the Fish Story. Kent was the first to draw blood. It was a beautiful speckled trout. It was truly a magnificent animal, a definite keeper. Doug placed it in the creel and then into the lake. Shortly after, Doug hit pay dirt with a lovely brown trout. He immediately told Kent that it was quite a bit larger than the one he had caught. Again, the new fish was placed in the creel and then into the lake. The two continued to fish. Catching a few that were too small to keep, they were returned to the lake. After a while, David returned and asked about our luck. Doug said he had a couple of beauties. He lifted the creel to show him the fish. But when he pulled it out of the lake all he saw was an open top and lots of water. Whose fish was the larger? Some people will go to any lengths to win.
Feeling sorry for us, David shared a couple of trout with us. For lunch, a shore lunch had been organized. In a clearing at the lake's edge was the site for a complete outdoor kitchen and eating area. The food was all cooked on an open wood fire. Our chef, Sebastian, immediately apologized for his poor English. However, it was anything but poor. We understood each other very well. The meal consisted of a tasty vegetable soup, chicken breasts wrapped in bacon, home-fried potatoes, salad and most importantly, our fried trout. We learned that the staff cleans and prepares for cooking or freezing all caught fish. This was followed with choice of cold or hot drinks and brownies for dessert.
About thirty other guests of the club joined us at lunch. Some had been fishing on adjacent lakes. Others had just finished with a two and a half day work seminar and were taking the afternoon to fish.
After lunch, we returned to the lake for some more fishing and meditation. As well, the antics of three Bufflehead ducks and an Osprey diving into the lake for its dinner entertained us. During the afternoon, we had an unexpected visitor, a local pilot and his plane. It was very interesting to watch it land and take-off. We continued to fish for a couple of hours and returned to the lodge to relax and prepare for dinner.
We relaxed onshore and wrote up our notes before dinner. We had a pre- dinner drink in the lounge now full with guests excitedly talking about their success on the lakes.
About 19:00h, we went for dinner. We were in for a real treat. This evening started with a full smoked trout with onions and capers for each of us. They get a mild sweet taste by smoking it with maple sugar. The next course was freshly caught baked trout. Doug had a speckled trout and a rainbow trout while Kent had two speckled trout. A flavourful cream of celery and potato soup followed this. The main course for the evening was a roast of pork with a dainty peach flavoured sauce. Boiled potatoes, squash, accompanied this and brussel sprouts. The dry red house wine complemented the total effect. Merveilleux! Dessert was a chocolate mousse cake with a raspberry topping.
We finished dinner around 21:30h. Bedtime came fast after a day outside fishing followed by that meal. We closed our eyes about 23:00h.
Friday
After another filling breakfast, we packed our bags and prepared to go on to our next stop. About 10:00h, we were told that our ride had arrived. We said our farewells and took our luggage and equipment down to the boat. We were taken back to a car parking area just a short way from the train stop. Valerie and Melanie from the St. Maurice Outfitters' Association met us there. Valerie, the Association's Marketing Director, advised us that there had been a change in the itinerary. It seemed that the place where we were scheduled to go had lost their only English speaking staff member and with regret they could not take us. We would now be going by train to Clova in NW Quebec on the Senneterre line.
We were driven to a small city of 13 000, La Tuque to meet Rollande Savoie, the Director of the Outfitters' Association. Rollande is a vivacious lady and very likeable. She made us feel at home quite promptly. We were to go for lunch at a nearby restaurant. At lunch, we met her husband, Jean Paul, who works for the pulp and paper mill in La Tuque. There we learned that the whole office staff with their significant others were going away together for the weekend to fish. They were all ready to party. They would travel part of the way with us.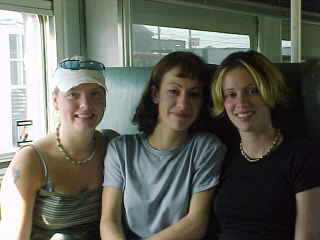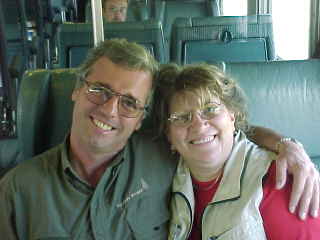 Left: Sophie, Melanie and Valerie *** Right: Rollande with her husband Jean Paul
We were to leave at 13:00h. We left about 14:30h and we would arrive at 19:30h. This is not unusual for Friday trains to be late as it may stop to drop-off or pick-up a passenger at any point along the way. Yes, we mean at any point.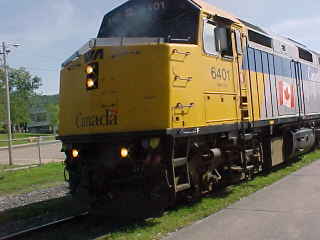 The trip to Clova, a distance of 270 km would take about five hours. The train was made up of Engine #6401,Baggage #8623, Passenger #8146 and Passenger #8119. The coach today was extremely warm. Today, the weather was very warm considering the time of year. It was like a summer day. We, unfortunately, could not take too many pictures, as the heavy growth of trees is almost adjacent to the tracks. And when there was a clearing, we were not able to fire up the camera before losing the view. We went by kilometres of old burned forests, large stands of cut timber ready for shipping to the mills, piles and piles of wood chips which would be shipped out to the pulp and paper mills and first growth forests.
We travelled to Windigo with the group from the Outfitter's Association. They were obviously ready for a party weekend. They were a fun group. As they disembarked, they reminded us to look for them on Sunday.
Nearing the end of today's trip, we started to see more and more lumber roads but we hadn't seen anyone for miles.
A vibrant Roger Morin, owner of the Walleye Club at Pointe aux Dorés greeted us in Clova at 19:30h. The club is located on the south bay of the Gouin Reservoir. This bay is also called Lac Bureau, the original name of this body of water before the construction of the Gouin storage dam, which now covers more than 100 km by 60 km (60 miles by 40 miles). These waters are renowned for their exceptional pickerel (walleye) and northern pike fishing. We loaded our luggage in the back of the truck and climbed into the truck. We drove for about forty-five minutes on the gravel lumber truck roads at 100 km/h. What a great ride. He did make us feel better when he told us that we wouldn't run into a logging truck because they had started their weekend. This trip was followed by four kilometres of bone shattering bouncing down his new road. He has owned this club for three years and has already made a number of positive changes. Having this new road saved us a two-hour boat ride. We came to the end of the road. A boat awaited our load and we were off again. A very quick five minute boat ride in the dark brought us to the lights of the camp on an island. Further information can be found at http://www.pointe-aux-dores.com.
The cabins were very rustic. All cabins included all necessary housekeeping facilities. Outhouses were always close by. As well, there was a community washroom with showers, a kitchen and dining room for those guests who wanted the American plan.
Jean Marc, his ten-year-old son met us with the ATV and trailer for our luggage, which was quickly loaded and taken to our cabin. We were introduced to his wife Pauline Nadon. We had already been warned that she was an excellent cook, which we were to soon find out. For dinner tonight, we had a salad, rice with beef and vegetable stir-fry. This really filled us as we both declined a great looking dish of apple crisp and ice cream. Around the kitchen/Dining Room were pictures of guests with their catches. In one picture there were at least fourteen Walleye (Dorés) that all appeared to be in excess of two kilograms (about 4 lbs. each. On our trip back to our cottage, Roger told us of a guest who had caught a Northern Pike that weighed in at just less than 12 kilograms (about 26 lbs.) and measured 1.1 metres (41 inches) in length. The fish finally, gave up the fight after forty- five minutes. Roger continued telling us that his hot spots for fishing were always chosen in the morning after he knows the direction of the wind. This he told us is where the fish will be biting. The Walleye are, at this time of the year, in about 30-40 feet of water but the depth of the lake can be 80 feet or more.
Jean Marc had just bought a book of survival in the woods. And he had set up the fire according to the directions. After dinner, he was setting up a makeshift lean-to to sleep in overnight. They both felt that it would be a good thing for him to try. He was quite excited about the whole idea. He is taking English at school this year and was able to say a few things in English.
Once again our eyes were quite heavy and rest came quickly to both of us before the generator went off for the day. Now that is one way of getting people to go to bed.
Saturday
We had a late breakfast this morning as we both slept in and did some reading. Doug had gone blueberry picking and had a pot of large juicy berries waiting for Kent. After breakfast, we decided to take a little time for ourselves and put our thoughts down on paper. Eventually we did take a walk around the island where this camp is located. The weather is very warm for this time of the year. It looks like the island is just an outcropping of sand, as are all the islands in the area. The beach is some ten to thirty feet wide and at one place juts out into the lake some one hundred fifty feet. On the North side of the island, Roger has started to build a stonewall which he hopes will eventually surround the island and keep the erosion at bay.
As we mentioned, the day was very warm and the clouds started to roll in. But the sun kept fighting through the clouds and by afternoon, it was clear and bright again. In the western hills, you could hear the chatter of arguing Bald Eagles. It is a beautiful site here. The leaves are just starting to show a hint of what is to come.
We had a light lunch at noon due the anticipation of a great fish fry this evening. The generator that supplies all the electrical needs goes off between 13:00h and 16:00 h. We liked this, as everyone seems to have a little siesta.
Roger has decided that this is the time for us to go out fishing. Off we went checking his favourite fishing holes. Doug was the first to land a keeper...a doré (walleye-pickerel). This time we had a wet box on board to keep the fish. If we didn't have a bite in a couple of casts Roger would say to Doug, "Mr. Anchorman, time to pull it up." This always seemed to happen when Doug had just cast. Finally, we got some real action, just off the campsite. While we all caught some fish, Doug and Roger were obviously on the correct side of the boat. And I think that Roger was going to teach these guys from Ontario about fishing. Roger would no sooner put his line in the water and he would get a hit. He would shrug his shoulders and say, "Come on, it is time for you guys." Then a big hearty laugh would come from him and he'd be back at it. A beautiful sunset preceded our return to land. We had caught over thirty fish but kept only nine for dinner. Each of these beauties weighed in at about two pounds. This was a very enjoyable experience. We think Roger would have liked us to get more but it was great fun anyway. Interestingly, he noted that it was fun for him because he could get to practice his English. And, that he did at every occasion.
When we arrived back at camp, the other guests were also returning with equally abundant catches. There was quite a camaraderie at the fish cleaning station.
This camp was an extremely enjoyable part of our trip. Roger and Pauline were truly genuine hosts.
Supper was served about 20:30h it consisted of: what else? Fresh-cooked pickerel with Swedish meatballs, baby carrots, mashed potatoes, with freshly baked bread. The dessert was slices of two freshly cooked pies, a blueberry and a raspberry with ice cream. It was obvious that Pauline had been very busy picking blueberries and cooking while we were out enjoying ourselves. Also, a long-time family friend, Mario, cooked all the fish and joined us for dinner. He had had come up for a couple of weeks to help paint the cabins. We finally left the kitchen after an evening of great food, a lot of good fun and a great feeling of fullness.
Sunday
A hearty, Good Morning, Breakfast is ready! from Marc Andre, started our Sunday morning. Breakfast was pancakes and ham with real maple syrup. We packed up to prepare for our tip to the train in Clova. Pauline and Jean Marc went home to Maniwaki (a 5h drive) on Sunday afternoon and return the following Friday evening. Marc Andre goes to school and Pauline works for a Caisse Populaire (bank). In the late autumn, Roger returns to Maniwaki to work in the mills as a wood grader.
We left at 11:30h as the trip will take a little over an hour. Today we all packed our luggage on the barge to go to the mainland. This barge is used for all of the heavy lugging in the camp. Joining us is one of their hard workers, Red who was going home for a week and then he'd return for the hunting camps that would be coming in then. By the end of the day the camp will be empty save for Roger and Mario. They have a small group coming into fish on Tuesday for three days.
On reaching Clova, we walked around to discover the small town. We stocked up on soft drinks for our next place. Kent met quite a different friend outside the General Store in Clova. The picture is very revealing.... Check it out !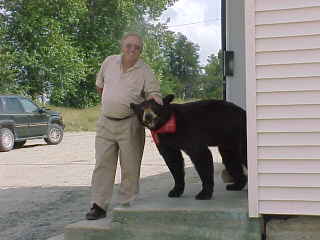 The train from Senneterre arrived in Clova about 13:00 h about five minutes late. Train #604 consisted of Engine #6401, Baggage #8623, Passenger#8146 and #8119. The engineers were Louis Arsenault and Andre Boulet and the Service Manager was Christine Simet.
The run down to McTavis was a rather uneventful run. All the children who got on today had to have their sugar fix, including both of us. Our travelling group from La Tuque arrived, a little worse for wear after their weekend. It would be back to work for them tomorrow to get a little rest. The two canoers from earlier on in the week arrived just as we were getting off at Mactavis. It looked like they had a great time on their trip as well.
We arrived at McTavis at 16:00h. Mr. Donald Ferrar (http://www.oscar-farrar.com/) met us at the railway and loaded our luggage into his boat that was fifty feet from the railroad stop. Before we started out, he wanted us to see the main lodge at McTavis. The three-story log-built Chalet was set back from the tracks but faced the lake. It had 10 double rooms, 2 wash rooms with showers, and a wide living room on the second floor. It was completed in a Scandinavian, which is a six hundred year old style of building. He told us he had to use many antique tools to get the desired effect. He started building it at age seventeen and after two and one half years the building was completed. This chalet is truly a work of art.
We then set off for our cottage. Donald's boat had a 4-stroke 150hp motor attached to it that made the next 25 kilometres ride go by in a very short time. We passed our red-roofed cottage on the run and went another three or four kilometres further. This was Donald's home where he outfitted us a boat (9.9 hp) that Doug drove back to our cottage. Donald showed us our cottage and left to get on with other business. We were situated across from a number of vacant cottages. The silence was deafening. We unpacked and put the groceries for the next two days.
Our wooden log cabin consisted of a large combined kitchen, dining and living room. There was a bathroom with shower, and two bedrooms with two singles or a double bed and a single. A wood stove was prominent in the living room area. At the front was a lovely covered deck that looked out on the water. We started to unwind from the rail and boat travels of the day. We did a little reading. We noticed the Scotch was getting low. Doug started dinner at about 19:30h. We gorged ourselves on steak, browned potatoes, raw and cooked vegetables and a fresh loaf of crusty bread. A bottle of wine from our host, Donald Farrar complimented our meal. Our shopper in La Tuque had a sweet tooth as we had brownies, Mae West's, butter-pecan tarts, and cookies. The brownies were excellent. We were so full; there would be no dishwashing this evening. The small propane lights were very weak so we could not do much reading. We were asleep by ten o'clock. Only to be awaken shortly after by the sounds of an outside attack of an army of chipmunks trying to get into the cabin. Well, it sounded like an army. After a few well- placed fists to the wall, we slept soundly.
Monday
Doug was up and out early this morning while Kent let the inside of his eyes relax a little more. Doug went off and explored the series of trails around the cottage. The sunrise foretold of weather to come but there wasn't a cloud in the sky and the lake was as smooth as glass.
Breakfast was a hearty meal as we cleaned-up the bacon and the eggs. And then, Kent dug into the dishes. About 09:30h, we were ready to get out to fish.
On our way out this morning, on the opposite point of land, a lady was trying to get our attention by yelling and waving a towel at us. These were our only neighbours for miles. We had seen her and someone else fishing earlier in the morning. We made right for her as fast as the little 9.9 hp engine would take us. These were our neighbours. When we got there a frustrated young lady joined us and told us she couldn't get the boat started. It was tied up on the other side of the point. The three of us went over to check it out. Kent hopped into the boat and immediately noticed a quantity of gas on the water's surface. It had been flooded. With a number of tries, he finally got it going. Ah yes, we had achieved hero status.
Doug had no sooner cast his line in the water than it had a resounding hit. He was able to wrestle an eighteen-inch Northern pike to the side of the boat. But just as he was going to land him the line broke and he disappeared. Even Kent would say that this was a beauty. Immediately, Doug realized that he had the wrong line on his reel. It was the six-pound test line he had used for catching the trout.
We quickly re-grouped and were soon ready to give the fish another scare. Little did we know that it had worked? The scare, that is. We tried a number of Mr. Farrar's favourite spots but to no avail. The wind had freshened up considerably by this time. The skies were looking more foreboding. We found a beautiful little river that fed into the main body of water. It was a delightful place to fish. Unfortunately, we brought up more logs than fish. About 14:00h, we went in for a little lunch just as it started to rain very lightly.
After lunch, and without any further warning, the skies opened up. It rained so hard that it looked like snow. Doug decided that it was time to go for a swim. Kent sat on the deck, read, and enjoyed this early autumn deluge. After about an hour, it stopped as quickly as it started. It was not long before we were back into the boat. Doug landed another pike a lot smaller than the first one. It was too small to keep so it was returned to the water. About 16:00h, the cold front that was associated with the weather started to go through the area. There was a noticeable change in the warm temperatures we had been enjoying. Since Doug was still in his swimming apparel, he was getting cold. So he went back to the cottage and Kent continued to fish.
This would have been the time for another fish story, but alas, not this time. Dinner would have to be without the fish we were supposed to catch today.
Just before Kent returned to shore, he met the two neighbours out fishing. They had just returned from Donald's place. The older lady was feeling a little better now. Donald had placed an additional motor on the back of their boat to be used....just in case.
Kent returned to the cabin to find it toasty warm. Doug had started a fire in the wood stove. The two great fishers dined on spaghetti and meat sauce for their last dinner. After dinner, we went down to the beach and watch the heavens pass us by. The stars and other celestial bodies were brilliant. What a great way to end a fabulous trip.
We had another early night to bed. The fire broke the chill throughout the night.
Tuesday September 11,2001
Doug was up early to start the fire this morning. Damn! It was cold. We had breakfast and cleaned the cottage. Before we left, we had been noticing these birds that flew in very close to us and were not timid at all. They regularly flew in and sat on the deck quite close to us when we were reading outside. Kent went out with a few pieces of bread and held them in the air. Before long, the birds would swoop in and perch on Kent's wrist and eat the bread. We later learned that these birds were Grey or Canada Jays, a relative of the Blue Jay and the Crow.
We were on the river to Donald's home by 09:30h. From Donald's home, we travelled down the Flamand River past our cottage and then on to the train station where he had started just two short days ago. Before we arrived at the dock, Donald showed us where the Flamand River joined with the St. Maurice River and where the new river flowed south to the St. Lawrence River. The waiting area at McTavis is a small building in total disrepair. There is a small wood stove which is to keep people warm as they wait for the train in the dead of winter. Unfortunately, the chimney pipes are rusted and full of holes. This is one accident waiting to happen.
The train pulled in about 10:35h. (Engine # 6401,Baggage Car #8612 and Passenger Cars #8119 and #8146) This time we had a new somewhat outspoken service manager, Ron Langevin.
It wasn't until we arrived at La Tuque that we learned of the death and destruction created by the terrorist attacks on New York City, Washington, and rural Pennsylvania. At this point, all we could rely on was word of mouth as there were no radios or newspapers with any information. We arrived at Hervey Junction and the two trains were joined together and we met up with Ricky Kulak, the service manager from our trip north on Wednesday of last week. He brought us more news of the world happenings.
After the usual stopover, we were told that a freight train had derailed just a few kilometres up the track in front of our train. We wouldn't be moving too soon. It would probably be a couple of hours before we would be leaving. This delay would mean we would miss our connecting train and it would be midnight before we would get home.
It was at this point that VIA decided that the four onboard who had connecting trains would be best served by taking a taxi to Montreal. At this point, the two service managers and the engineer requested our TrainWeb hats and T-shirts. As a thank you we acquiesced. They were very impressed and wished us luck.
After a short delay, the van arrived and the four of us plus two train employees climbed on board. The two train employees were dropped off and we raced to Montreal. Doug was up front with the cab driver and the other passenger and by the end of the run he felt his French had improved remarkably. Kent talked with a young lady who lived in Gatineau (near Ottawa). Her mother owns a Bed and Breakfast in La Tuque. Kent was then tested on his comprehension of the language as the brochure was totally in French. This recitation received a great deal of chuckles. Kim was returning home and was excited about the prospects of having her modelling portfolio shot the following weekend. As we parted, Kim said that she would call Kent when she became famous. We arrived in Montreal about ten minutes before the train would have arrived if it were on time. A Red Cap took our luggage directly to the train.
We went directly to the VIA 1 Lounge to check in. Everyone there was huddled around the televisions, trying to get as much up-to-date information as possible about the calamity south of the border.
We boarded our train to find that we were seated adjacent to a VIP, who we later discovered was the Lieutenant-Governor of Ontario, Hillary Weston. She and her entourage (aide and security detail) were already seated. She was obviously on the train due to the day's events. It was interesting to watch the people and employees who made their way to her seat to have a few words. We figured this was their touch with greatness. Her presence on board perhaps compounded the problems that were to occur.
VIA 1 is the first class train that has a good reputation of great service. Unfortunately, today's run would not live up to what is expected in coach class on this last leg of the trip.
Doug's wife, Laurie, was waiting to drive us home when we finally disembarked at Brockville, Ontario.
Overall, this was a most interesting trip. We had succeeded in getting our share of fish, meeting a number of very interesting people and having a great time. Our VIA Rail service, with the exception of the VIA 1 trip on the last leg from Montreal to Brockville, was excellent. The VIA staff we met on the Northern Quebec runs were exceptional and great representatives of the organization. The three outfitters we visited were superb. We have already planned to return one day soon.
Links To Further Information:

Click on each link below to view each set of photos:
Set #01 / Set #02 / Set #03 / Set #04 / Set #05
Set #06 / Set #07 / Set #08 / Set #09 / Set #10
Set #11 / Set #12 / Set #13 / Set #14 / Set #15
Click Here For
More Travelogues & Photos
Of Rail Travel In Canada!
Are you interested in rail travel along some or all of this journey yourself? There are very few travel agents that have the necessary knowledge and experience of rail travel to answer your questions and to book a journey that you will remember for a lifetime. TrainWeb has sought out those travel agencies and rail tourism companies that not only have the knowledge to book your travel, but have gained the required experience through extensive rail travel themselves! Click here or visit RAILagencies.com or RAILexcursions.com for a list of these rail travel providers!