Amtrak Travelogue & Photos
Round-Trip Fullerton, California to Sacramento, California
via the Amtrak Pacific Surfliner and Amtrak Coast Starlight
January 27 through 29, 2006, Friday through Sunday

www.trainweb.com/travelogues/stevegrande/2006a27a.html
The purpose of this trip was to attend the Annual Meeting of RailPAC at the California State Railroad Museum on Saturday, January 28, 2006. I traveled north on the Amtrak Pacific Surfliner and Amtrak Coast Starlight from Fullerton to Sacramento on Friday, January 27, 2006, scheduled to depart Fullerton at 8:16 AM and arrive into Sacramento at 11:59 PM. I traveled south on the Amtrak Coast Starlight on Sunday, January 29, 2006, that was scheduled to depart from Sacramento at 6:35 AM and arrive into Los Angeles at 9:00 PM. Because the train arrived into Los Angeles well behind schedule, a bus was substituted between Los Angeles and Fullerton for the final segment of this Amtrak rail journey.
For more information about RailPAC, the California rail advocacy group that sponsored the meeting that I attended, please click here to visit RailPAC.org. Click here for notes from the Saturday, January 28, 2006, RailPAC Annual Meeting that was the purpose of this trip.
Friday, January 27, 2006, 10:39 AM PT
I talked with Fred Dunn and Ross Moore, Jr. at the Amtrak Fullerton Platform this morning. (For those of you that read an earlier verson of this travelogue, I mistakenly identified Ross Moore, Jr. as Winston Walker. I have a good memory for faces, but a terrible memory for remembering the names that go with those faces! Thanks to Ken Ruben and Chris Guenzler for finding and correcting some mis-identifications in this travelogue!) Ross had intended to take a ride on the northbound Amtrak Pacific Surfliner that departs Los Angeles at 7:30 AM and goes to San Luis Obispo. When he found out that Amtrak was substituting a bus for the train, he decided to not take that trip. I can't blame him for that. A bus ride is no substitute for a train ride up the coast! Ross assumed there must be some trackwork going on and that is why the train was cancelled. But that got us both thinking about the Amtrak Coast Starlight. Would they be substituting a bus for that train too?
Ross rode with me from Fullerton to Los Angeles and pointed out a number of areas where BNSF is working on track improvements along the way, including some areas that will be upgraded from double to triple track. Since Ross wasn't going to be able to take the earlier train to San Luis Obispo, he was going to take this northbound Amtrak Pacific Surfliner as far as Santa Barbara. Ross was riding on a special feature of the Rail-2-Rail program that allows Metrolink Monthly Pass riders to ride up and down the coast on the Amtrak Pacific Surfliners on weekends at no additional cost.
I said goodbye to Ross at Los Angeles and stepped off the train. Everyone went down the tunnel to the station waiting room except for me. I headed down the platform to where the Sleeping Cars would be boarding for the northbound Amtrak Coast Starlight. I tried sitting at one of the benches in the shade of the Metrolink building, but found that it was too cold. So, I moved to the closest bench in the sun , pulled out my subnotebook computer and started working on this travelogue.
To my surprise, at about 9:30 AM, a single level trainset pulled into Track 10, the customary track for the northbound Amtrak Coast Starlight. I recognized it as the trainset that is normally used for the Amtrak Pacific Surfliner that leaves Los Angeles at 7:30 AM every morning bound for San Luis Obispo. An announcement was made over the station P.A. system that this would be the trainset for the northbound Amtrak Coast Starlight! The announcement also said that Sleeping Car Passengers would be able to transfer to their rooms when this train reaches Oakland where the regular Coast Starlight equipment is waiting for us.
Normally, I'd be pretty upset about this development, but I really took it in stride. I had planned to work on my notebook computer for this entire trip catching up on work I had fallen behind on during my recent rail travel. Now that Amtrak has upgraded the single level equipment with electric outlets at every seat, I'd be able to work on this all-coach train just as well as in my room on the Amtrak Coast Starlight. This was actually better than travel in the Coach on the Amtrak Coast Starlight as I don't believe they have yet upgraded the Coach Seats with electric outlets. In worst case, my subnotebook computer can operate on more than 4 hours per battery and I have 2 batteries with me. I'd be fine for the next 8 hours. That would get me as far as Salinas even if there wasn't any AC electric power on the train.
Another reason why I'm not upset about the substitution is that I'm riding on a "free" ticket that I obtained by using my Amtrak Guest Rewards points. I wonder if and what the compenstation is for Amtrak Guest Rewards points when a passenger ends up riding coach instead of in a Deluxe Sleeping Car Room? I certainly hope that the passengers that paid for Sleeping Car rooms on this train get a significant credit for having to ride coach. They haven't mentioned a word yet what they are going to do about lunch and dinner and the wine tasting, all of which are included in the price of the Sleeping Car accommodation. Will they be providing free lunch and dinner from the Cafe Car? The Cafe Car is definitely not equiped to provide the types of meals that Sleeping Car passengers would be expecting to receive with their accommodation. Even if they do provide free meals to the Sleeping Car Passengers, those passengers still would deserve compensation for the downgraded service and quality of food provided. I don't imagine they are going to have the Wine Tasting at all, but we'll see.
A third reason I'm not upset about the substitution is that this has become a new experience and adventure for me. I have never riden a single level train between San Luis Obispo and Oakland. I've been in dozens of Superliner Sleeping Cars over those rails, I've been in a private railcar, and I've even been in the Holland America McKinley Explorer Dome Cars as they were being delivered over those rails to Alaska! But never before have I been in an Amtrak single level trainset over those rails.
Amtrak had all the Sleeping Car passengers sit in the next to last car of the train. I guess there are enough seats in one single level coach car, about 80, to handle all the passengers from 2 Sleeping Cars. The Amtrak Coast Starlight normally runs with two Sleeping Cars except during peak travel periods.
Friday, January 27, 2006, 11:24 AM PT
One of the crew members from the train just went through and made a count of everyone in this car. I think it might have been one of the service crew members rather than one of the Conductors. Maybe they are getting a count to figure out how much food they need for the passengers.
Friday, January 27, 2006, 11:29 AM PT
The train just departed from Simi Valley, about 6 minutes behind schedule. My only concern is that I be able to keep the seat next to me open so that my friend, Ron Carpenter, who will be boarding this train in San Jose, will be able to sit with me on the train. I actually have a ticket for him for all the way from Fullerton to Sacramento and back, so I guess he is certainly entitled to the seat all the way from Los Angeles. Right from the beginning, we planned that he would just join me on my ride from San Jose to Sacramento and back as he lives in the San Jose Area. It is just that it is easier to put a second passenger down for the whole trip rather than just for a segment of it when redeeming Amtrak Guest Rewards points. Since there is no difference in the number of points needed for one person or two people in a Deluxe Sleeping Room whether going from Los Angeles or San Jose to Sacramento, it made sense to just go ahead and obtain tickets for him for the whole trip. With the Deluxe Room on the train, he would have just been able to board the train in San Jose and enjoy the remainder of the trip in the Deluxe Room. Now, every person that boards the train alone between here and San Jose considers whether or not to select the empty seat next to me. I have some things in it to make it look a little less appealing.
I haven't quite figured out if only Sleeping Car Passengers are in this car or if they have also seated any coach passengers in this car. I think they have reserved this car exclusively for Sleeping Car Passengers. In Simi Valley, I did notice they were sending some boarding passengers up through this car to the next car. Maybe those were coach passengers, or maybe the Conductors feel this car is full enough and are sending new boarding Sleeping Car Passengers into a different car.
I went down to the Cafe Car around noon time. I guess that was the wrong time to go as the line for service was quite long. But, I wanted to go before the train arrived into Santa Barbara. Even though there only seem to be Sleeping Car passengers in my coach car, I get a bit uncomfortable leaving my computer and all my belongings at my seat unguarded. I feel a little better leaving them unprotected for a short while if we aren't stopping at a station while I'm gone. I just have this fear of someone grabbing my computer and stepping off the train while I'm gone. It seems less likely someone would do that if they are trapped on the train and the perpetrator of the theft might easily be uncovered.
I purchased a Tuna Sandwich and a Sam Adams beer for lunch. That will probably be all that I eat until the train gets to Oakland. It doesn't look like there is going to be any dining service on this train other than sandwiches from the Cafe Car. There isn't even any effort being made to deliver the equivalent of Amtrak Pacific Surfliner Business Class services to the Sleeping Car passengers on this train ... no free beverages, snacks or newspapers.
Friday, January 27, 2006, 01:12 PM PT
We just departed from Santa Barbara, 24 minutes behind schedule.
Friday, January 27, 2006, 01:23 PM PT
I'm not sure why we have now stopped at Goleta. This is not a scheduled stop for this train. Maybe they are trying to get an Amtrak Pacific Surfliner turned around ahead of us. This is the last stop for most Amtrak Pacific Surfliners that run north of Los Angeles other than the two each day that run all the way to San Luis Obispo. There was an Amtrak Pacific Surfliner parked just north of the station before the wash racks. There were also quite a few people waiting at the station for the next southbound Amtrak Pacific Surfliner. It is very difficult to take photos from the windows on this train, especially when the sun is shinning on this side, since the windows are so dirty.
Friday, January 27, 2006, 03:56 PM PT
The train departed from San Luis Obispo at 3:56 PM PT, just 13 minutes behind schedule.
Friday, January 27, 2006, 04:40 PM PT
The Conductor called my name over the P.A. system and asked for me to go to the Lounge Car (Cafe Car). He also read out one or two other names. It turns out that he wanted to give me the portion of the ticket back that he had collected. He said that I should go into the station in Sacramento and they will issue a refund for my Deluxe Room for the portion of the trip from Los Angeles to Sacramento. I don't think the Conductor looked carefully at the ticket to see there is no value on it. Usually the Station Agents aren't able to do anything with tickets that are issue by Amtrak Guest Rewards. Normally you have to contact Amtrak Guest Rewards directly to get credit on a ticket. I'll check with the Amtrak Ticket Agents in Sacramento, but I bet they will refer me back to Amtrak Guest Rewards to get credit for the trip.
On my way down and back from the Lounge Car, I emptied my trash and purchase a Bloody Mary. I saw the Cafe Car Attendant prepare a couple of them for someone else earlier in the day and was tempted because of the way he prepared them. I noticed that he didn't just add Bloody Mary Mix to a shot of Vodka but also added the Tabasco and extras. The Conductor announced that we will be stopping in about 6 minutes in Paso Robles. So far, we are running only 15 minutes behind schedule. If we don't lose any more time, we could depart from either Salinas or San Jose on schedule.
Friday, January 27, 2006, 05:00 PM PT
The train is in Paso Robles now. The person sitting in front of me also has a Sleeping Car reservation. They are talking on the phone and explaining that they really like this train. They like the way it sways and you can hear the train going over the tracks. That is something she has in common with my partner Ray Burns at TrainWeb.com. He also really likes these older single level trains. He especially likes the way you get to climb up the stairs into the train. All I can say is that I like these trains a lot more now that they have refurbished the interior with new seats and added electric outlets at every seat. I guess they are a bit historic. This is the only single level trainset that still operates anywhere in California. All the other Amtrak trains in California are newer double level trains, whether they are Superliner Cars, California Cars, or Surfliner Cars. Once these single levels are gone, that will be the end of an era for California. This is certainly the longest trip that I think I have ever taken in a train set made up of single level Horizon cars!
Half of the Cafe Car is made up of tables and the other half is made up of luxury business class seating. The seats are arranged 2 on one side and 1 on the other in the business class section. At first I was wondering why they didn't seat the Sleeping Car passengers in this section that is normally used for passengers traveling Business Class on the Amtrak Pacific Surfliner between Los Angeles and San Luis Obispo. Then I realized that there isn't anywhere enough seats in the Business Class Section for all the Sleeping Car Passengers on this train!
Friday, January 27, 2006, 07:48 PM PT
The train just left Salinas and our expected arrival time into San Jose is 9:03 PM. A number of Sleeping Car Passengers have already left the train. It apprears there are less Sleeping Car passengers on the train now than there were when we departed from Los Angeles unless the Conductors have started placing newly boarding Sleeping Car passengers into other cars. That could very well be possible. Unlike when I first started riding Amtrak in 1995, it is not rare anymore for someone to book a room in a Sleeping Car that isn't going to be on the train overnight. When I used to book a Sleeping Car Room to San Jose or Oakland back in 1995, it seemed to be a rare event. A number of Car Attendants and Conductors pointed that out to me. Today, it is a very common thing for people to do on the Amtrak Coast Starlight. I've seen people book trips as short as between Los Angeles to San Luis Obispo in a Sleeping Car Room, but I would not be surprised if there have been times that people have booked it for as short a distance as Los Angeles to Santa Barbara. A number of Sleeping Car Passengers have gotten off this train in San Luis Obispo and Salinas and I know there are more that will be getting off in San Jose, Oakland, Sacramento and other stops in between. None of those are an overnight trip on this train. People just like the luxury and ammenities of traveling in a Sleeping Car, especially on the Amtrak Coast Starlight, even if they won't be spending the night on the train.
Friday, January 27, 2006, 09:18 PM PT
The train arrived into San Jose at about 09:12 PM. My friend, Ron Carpenter, had picked up some take-out Indian dinner for us at Spice Hut near his home and brought it down to the station. He was waiting at the station platform when the train arrived. Ron had a little difficulty parking at the San Jose Amtrak Station as I had his tickets in my possession. He had the Amtrak Ticket Agent look up the reservation number as evidence that he was ticketed for this train so they would issue him a parking permit. We decided to wait until we got to our room on the regular Superliner train set before eating the take out food. If we opened the containers of Indian Food on the train, the strong aroma from the food would probably either annoy the other passengers or make them very hungry ... depending on their affinity for Indian food. The train departed San Jose at 9:18 PM in record time, just about 6 minutes after its arrival.
Friday, January 27, 2006, 11:59 PM PT
The northbound Amtrak Coast Starlight single level train got into Oakland / Jack London Square about 10:30 PM. The regular Superliner Coast Starlight equipment was sitting right across the platform on the next track. Thus, the Amtrak Coast Starlight was between our train and the station. Everyone getting off at Oakland had to go in one door and out the other door of the Superliner Coast Starlight equipment in order to get to the station building. Most of the people who were continuing north on the Amtrak Coast Starlight could just directly board their coach or sleeping car by walking across the platform from one track to the other.
Since the Superliner equipment was terminated in Oakland, the train was not turned around. Thus, it was backwards from its normal configuration and now had the Sleeping Cars at the rear of the train. The platform on the station side is long enough to accommodate the entire length of the Amtrak Coast Starlight, but the middle platform is not. Since we were now standing on the middle platform between the two train sets, my Sleeping Car 1431 was beyond the end of the middle platform. Amtrak frowns highly on having passengers get on and off the train in the "dirt" for safety reasons. Instead, they had us walk in one door of Sleeping Car 1430 and out the other to the main station platform. Then we walked down that main platform and boarded our Sleeping Car 1431. We were greeted by a very friendly Sleeping Car Attendant and Room E was all fresh and ready for us.
Saturday, January 28, 2006, 01:35 AM PT
Since we hadn't had dinner yet, we opened up the take-out Indian dinner that my friend had purchased from Spice Hut. The Pacific Parlour Car was still open so we purchased 2 half bottles of wine, red for me and white for my friend. The wine went great with the Indian food. After dinner, Ron and I talked for a while as we headed for Sacramento. I at by the window in the single seat in the Deluxe Room while he layed down on the long sofa. We must have both dozed off for a while as there came a time when I was looking out the window waiting to arrive at Davis and instead saw that we were crossing the bridge across the Sacramento river that is just before the Sacramento Amtrak Station! We quickly gathered up our things and headed for the door. The train arrived into Sacramento at about 1:35 AM on Saturday morning, January 28, 2006.
Saturday, January 28, 2006, 02:00 AM PT
Everyone was let off the train onto one of the middle platforms in Sacramento. They all headed towards the ramp that leads to a tunnel to the main station. We walked the other way to the far end of the station past the rear of the train. There is a shortcut to Old Town Sacramento on that end of the platform. We crossed over the tracks our train was on and headed down the shortcut under the freeway. We continued to walk down the main street of Old Town Sacramento past the California Station Railroad Museum until we reached the underpass that goes right under the freeways and leads to the rear entrance of the Holiday Inn Capital Plaza right by the entrance to the Capital Plaza Mall.
So, that was it for our northbound trip! We checked in and slept till about 10 AM PT. That was a long and different trip up the this time!
Saturday, January 28, 2006, 10:00 PM PT
Having gone to bed so late last night because of the late arrival of the northbound Amtrak Coast Starlight, I slept until about 10:00 AM PT. That didn't leave a lot of time to get ready, go our for lunch, and still make it to the RailPAC Annual Meeting at 1:00 PM PT unless I just wanted to grab a quick bite. I decided to forgo that and just look forward to having an early lunch-dinner after the meeting that was scheduled to end somtime betweeen 3 PM and 4 PM.
I had been looking forward to having either lunch or dinner in one of my favorite Indian restaurants in California, Kaveri Madras Cuisine, (1148 Fulton Ave, Sacramento, California, 916-481-9970). They serve an excellent Indian buffet at both lunch and dinner time, 7 days a week. If you haven't realized by now, I am a real fan of Indian food, probably just as much as I am a fan of rail travel. As I discover new Indian restaurants throughout the nation, I add them to a web site at www.IndianRestaurants.US. The only problem with the Kaveri Madras Cuisine Indian restaurant is that it is about a $30 cab fare from the hotel, or almost $60 round-trip. I've been to this restaurant a few times. One of those times, we took a bus to get there. However, we did not leave in time to catch the very last bus heading back to Downtown Sacramento. It seems the buses stop running early on weekends. I don't think it was even 6:30 PM when we attempted to catch a bus back to Downtown Sacramento. We ended up taking a taxi that we found cost almost $30 to get back to town.
This time, we checked into the cost of renting a car from Old Town Sacramento. It turns out the lowest rate was to rent from a Hertz office that is just a dozen blocks from the hotel. This was the Hertz that responds to the courtesy car rental phone at the Amtrak station. They have special rates for Amtrak passengers that start from just $20 per weekend day and they will pick you up and drop you off at the Amtrak station at no charge. If you arrive after the Downtown Sacramento office is closed, they will arrange to have you taken by taxi to their airport location and reimburse up to a $20 taxi fare. Even though we were already at the hotel, I made the reservation online and specified that I had arrived by Amtrak. If they needed proof of arrival by Amtrak, I still had my Amtrak ticket stubbs to show them. I also put in a CDP discount code that I had from Alaska Airlines, but that just gave me one additional dollar off the rental making it $19 per day. I opted to rent just a little larger car that could hold 5 adults instead of one that could only hold 2 adults and 2 children (or 2 squished adults in the back). I wasn't sure if anyone else might be joining us at any time and I liked the safety of being in a car that was a little bit larger. That was only an extra $5 per day. After taxes and such, the total came to $26.60 for the day. We then called the car rental office, gave them our reservation number, and they sent a driver over to the hotel to pick us up.
For the rest of the evening, we used less than two gallons of gas. In addition to going to the Indian restaurant, we also toured about the outskirts of Sacramento. So, instead of paying $60 in round-trip cab fare to the restaurant from the hotel, we only paid about $32 to rent a car including gas and had the freedom to get around town for the rest of the evening. The only real catch is that the hotel charged $15 to park the car for the night which brought the total price tag up to $47, still cheaper than the $60 taxi fare with a lot more flexibility. We could have returned the car the same evening and saved the $15 overnight parking fee, but my friend Ron was planning to stay in Sacramento until about noon. Even though I have a return ticket for him to travel with me on the southbound Amtrak Coast Starlight, he has no desire to get up this early in the morning to catch a train. There is no money lost on the Coast Starlight ticket as the Amtrak Guest Rewards automatically entitles two people to travel in the Deluxe Room at the same cost as one person. Instead, he will be purchasing a ticket on a southbound Amtrak Capitol for about $22 that departs Sacramento just a bit after noon and goes all the way back to San Jose where his car is parked.
Sunday, January 29, 2006, 06:17 AM PT
The latest status report from Amtrak about the southbound Amtrak Coast Starlight Train #11 that I hope to board shortly shows the following: "Scheduled Arrival: 6:15 AM Actual Arrival: 7:22 AM (estimated). Estimated arrival: 1 hour and 7 minutes late. As of the last report at 4:49 am between Redding, CA (RDD) and Chico, CA (CIC), it was running 1 hour and 54 minutes late."
Since the station is only a short walk from the Holiday Inn Capital Plaza, I figure I should get to the stationin plenty of time if I leave here at 6:30 AM PT. It is 84 miles from Chico to Sacramento and a train running on schedule would take almost two hours to cover the distance between those two particular stations. Thus, if the southbound Amtrak Coast Starlight hasn't reported out of Chico yet, it probably won't be into Sacramento until 8:17 AM PT. An estimated arrival time of 7:22 AM PT is mighty optimistic. Then, it takes an absolute minimum of 15 minutes to service the train in Sacramento and that is also a very optimistic estimate. It would take a miracle for my train to depart from Sacramento any earlier than 8:30 AM PT. However, there is always the possibility that the train has already departed Chico and that report has not yet been put into the system. That is pretty much the only fact that could create an error in my estimate and result in the southbound Amtrak Coast Starlight ending up a lot earlier into Sacramento than I'm estimating. To be on the safe side, I'll head for the station not much after 6:30 AM PT to be down there well in advance of the currently estimated 7:22 AM PT arrival.
Sunday, January 29, 2006, 06:36 AM PT
On the Amtrak web site (www.amtrak.com) there is a new updated to the southbound Amtrak Coast Starlight Train #11 status. The train has left Chico. "Scheduled Arrival: 6:15 AM Actual Arrival: 8:01 AM (estimated). Estimated arrival: 1 hour and 46 minutes late. As of the last report at 6:30 am between Chico, CA (CIC) and Sacramento, CA (SAC), it was running 2 hours and 38 minutes late." A little further research shows that the train departed Chico at 6:26 AM PT, 2 hours and 36 minutes late. This makes it even more certain that the train will not depart from Sacramento any earlier than 8:30 AM PT. However, I'll just update my plans to leave the hotel by 7:00 AM to make sure I am at the station well in advance of the updated 8:01 AM PT arrival.
Sunday, January 29, 2006, 07:01 AM PT
There are no new status updates for my train on the Amtrak web site, so it is about time for me to pack up and head down to the station. Stand by for more updates later ...
Sunday, January 29, 2006, 07:40 AM PT
This is odd. There is only one other person waiting inside the station. Two more people just walked in. Usually, there are a lot of people in the station waiting for the train at least 30 minutes before its originally scheduled departure as they have failed to check the updated scheduled departure time. I wonder if more people now know to check the train status before coming to the station or if there just aren't that many people boarding from Sacramento today. Quite a few people left the station just as I was arriving to board a southbound Amtrak Capitol train to San Jose.
I left the hotel at 7:12 AM PT and arrived at the station about 7:35 AM PT. I made it a very leasurely walk and took a lot of photos along the way, especially of Old Town Sacramento. It seemed like a great time to take photos. There was plenty of light, the streets were totally empty with all the shops still closed, and the streets had that very clean look after it had rained last night. Click here if you would like to view those photos of Old Town Sacramento now. The photos document my walk all the way from right outside the Holiday Inn Capitol Plaza to the Sacramento Amtrak Station, including some photos inside the station.
Sunday, January 29, 2006, 08:33 AM PT
The southbound Amtrak Coast Starlight arrived into the station at exactly 8:30 AM PT just as I had estimated and a bit later than the official Amtrak web site estimate. It didn't take me long to pack up my computer and head through the tunnel to Track 3 where the train was waiting and arriving passengers were still getting off the train.
A passenger must have just gotten off in Sacramento that was in Deluxe Room C of the 1130 car as the room wasn't ready for me yet. The Sleeping Car Attendant had me put my luggage in Room C and then go to the Pacific Parlour Car to wait. So, that is where I am now siting! While I'm here, I grabbed a Raisin Branch Crunch and a spoon. Unfortunately, there doesn't seem to be any milk or Parlour Car Attendant in sight. I'm sure the Parlour Car Attendant will show up soon and I'll be able to obtain some milk for the cereal and some coffee. Car Attendants are often busy with other duties when the train is in a station where the train gets serviced, such as taking out the trash or restocking the supplies.
Sunday, January 29, 2006, 08:59 AM PT
We departed from Sacramento at 8:59 AM. The Pacific Parlour Car Attendant, Dan Lopez, came by at about 8:40 AM with milk for my cereal and coffee. When he noticed my web browser was on the TrainWeb.com web site, he said that is a good site for trains. We talked a bit about TrainWeb. He said that someone from TrainWeb traveled on his train about a year ago. Chris Guenzler called me a bit later in the afternoon to let me know he was the person from TrainWeb that rode with Dan about a year ago. Chris Guenzler also writes quite a few travelogues for TrainWeb that you can read by clicking here.
Sunday, January 29, 2006, 09:30 AM PT
Evidently, my Sleeping Car Attendant, Freddie Adams, was looking for me to let me know that my room was ready. I'll probably be heading back to the room in a few minutes. Other than working on this travelogue, I've been spending my time talking to Dan Lopez, the Parlour Car Attendant, and another one of the Sleeping Car Passengers. Dan Lopez says he'll be doing the Wine Tasting around 3 PM and will probably do a bit of railroad trivia.
When I went to my room, I found that Freddie Adams, my Sleeping Car Attendant, had done an A+ job at getting the room ready for me! The table was covered with a linen cloth with mints, chocolate, 2 bottles of water and a fancy platic cup all laid out! Shortly after I went into the room, he approached my door to make sure everything was in order and to see if there was anything else that I might need. There were also four pillows set out for me. Above is a photo of the way I found my room layed out as I entered.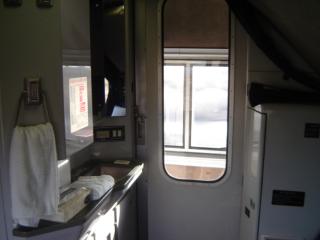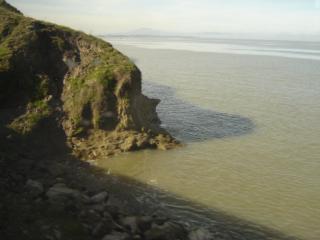 Left: Vanity and doorway out of my Deluxe Sleeping Car Room
Right: A view from the train
Sunday, January 29, 2006, 12:33 PM PT
The southbound Amtrak Coast Starlight is right now sitting a bit north of San Jose. The train is operating at least two hours and thirty minutes behind schedule. We've been running into some traffic waiting for other Amtrak trains, including the eastbound Amtrak California Zephyr to leave the Amtrak Martinez Station, and for freight trains.
I thought I had explained earlier in my travelogue why Amtrak did not use the regular Superliner train set on my northbound journey on Friday. What I heard was that the southbound Amtrak Coast Starlight was running 12 to 14 hours late. Thus, if Amtrak had run that train set all the way to Los Angeles, it would have arrived after the time that it should have already left for the northbound journey and there wouldn't even be any time to service the train. So, Amtrak just terminated that southbound train in Oakland on Thursday, January 26, and substituted buses to send the passengers and crew on to their destinations. The Coast Starlight trainset could then be serviced in the Oakland Amtrak Yard and would be ready to head north again as soon as the passengers and new crew arrived. Although passengers came up on the substituted single level set, the onboard service crew was sent up on the Amtrak San Joaqin and arrived into Oakland several hours before the scheduled departure of the northbound Amtrak Coast Starlight out of Oakland. The supplies arrived to the train about an hour before its schedule departure, so the service crew had to scurry to get the train ready before the arrival of our single level trainset into Oakland.
Sunday, January 29, 2006, 02:15 PM PT
I read an e-mail from Margaret Monroe about 15 minutes before we arrived into San Jose saying that she might come down to greet the train. She actually wrote the e-mail earlier in the day, but I just got to it as I was catching up on reading my e-mail. It is a good thing I got to it when I did or I would have missed them in the station! I went down to the door as soon as we arrived in the station and they were waiting right outside the door.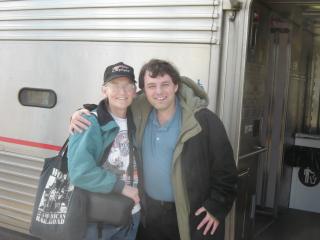 Margaret Monroe with her son, Daniel Monroe
Sunday, January 29, 2006, 02:50 PM PT
This southbound Amtrak Coast Starlight hasn't quite gotten to Salinas yet. We were supposed to depart Salinas at 11:48 AM, so we are running at least three hours behind schedule. Looking at the Amtrak on-time performance reports that were available at the RailPAC meeting yesterday, the Amtrak Coast Starlight showed the worst on-time performance for the previous fiscal year with only 2% of trains arriving on schedule! No wonder the nickname of this train is the Amtrak Coast Starlate!
Sunday, January 29, 2006, 05:05 PM PT
We just departed from Paso Robles running about 3 hours and 20 minutes behind schedule. I met a number of interesting people during the Wine Tating. I met Al Ingersoll who has traveled more than 250,000 miles by rail in just the last 3 years! He knew of Chris Guenzler and asked me to say hello to Chris. I also saw James Smith and his wife during the wine tasting on my southbound Amtrak Coast Starlight trip. James is Southern Vice President of RailPAC and I saw him at the meeting in Sacramento. I also spent some time with Matt Melzer and Ken Ruben while I was at the RailPAC meeting in Sacramento. They both took earlier trains out of Sacramento on Saturday. Matt Melzer has written quite a few travelogues for TrainWeb and those can be found by clicking here. Matt Melzer just finished an internship with NARP, the National Association of Rail Passngers, and is in his last semester at UC Santa Cruz. During the Wine Tasting I also met Tyson Verse of Great Train Escapes and Alki Tours. Tyson was taking a group of 20 or so people on a tour that included round-trip on the Amtrak Coast Starlight to southern California, a night on the Queen Mary, and a four day cruise to Mexico.
Sunday, January 29, 2006, 09:14 PM PT
The train just departed Santa Barbara at 9:14 PM, about 3 hours behind schedule. However, with any luck, we should be into Los Angeles about 11:00 PM due to about an hour of padding in the schedule. I'm not holding my breath. Either way, it looks like a bus again from Los Angeles to Fullerton. I'm going to be signing off for now as I'll probably try to take a little nap for a couple of hours just to be awake enough to drive home from Fullerton.
Sunday, January 29, 2006, 11:15 PM PT
Well, that was a little rest. My southbound Amtrak Coast Starlight arrived into Los Angeles Union Passenger Terminal (LAUPT) at about 11:10 PM. Since I've done this so many times before, I knew exactly where to find the buses. I headed straight to the bus loading area and I was the first one to reach the bus at least 2 or 3 minutes before the next person came along. Hopefully, it won't take too long to load up this bus and head on out. So far, it looks like there is only one bus for all the passengers and all the stops. The train made up a little bit of time by skipping Simi Valley. There weren't any passengers ticketed to get off at Simi Valley, so they announced the train would not stop there unless any passengers brought it to the attention of the crew that they wished to get off in Simi Valley.
Sunday, January 29, 2006, 11:20 PM PT
Another bus just pulled in and they are starting to board passengers onto that bus. Usually, the have one bus serve Fullerton, Anaheim, San Diego, Irvine and San Juan Capistrano while the other bus leaps ahead and serves Oceanside and all stations south of there. That gets the people that are going south of Orange County to their destinations faster than if they had to make all the intermediate stops in Orange County.
Sunday, January 29, 2006, 11:40 PM PT
The other bus did head out ahead of our bus at about 11:35 PM. Our bus headed out right after that at 11;40 PM. They didn't take too long to load up the luggage and collect the tickets. We are now on I-5 heading for Fullerton. We should be to the station in about 30 minutes, around 12:15 AM and I'll be home in bed around 1:00 AM after getting to my car and driving the last 14 miles home from the station!
Additional Photographs:
Set #1 / Set #2 / Set #3 / Set #4
Set #5 / Set #6
Links related to this travelogues:

CLICK HERE
To Read More Rail Travelogues
And View More Photos Of Rail Travel!

Are you interested in rail travel along some or all of this journey yourself? There are very few travel agents that have the necessary knowledge and experience of rail travel to answer your questions and to book a journey that you will remember for a lifetime. TrainWeb has sought out those travel agencies and rail tourism companies that not only have the knowledge to book your travel, but have gained the required experience through extensive rail travel themselves! Click here for a list of these rail travel providers!
There have been
visitors to just this travelogue since January 27, 2006.
Visit our Rail Magazine promotion trading partners:








Click here to add your print rail magazine.