An Amtrak Journey
Round Trip From Syracuse, NY to Fullerton, CA
via the Amtrak Lakeshore Limited and Amtrak Southwest Chief
January 17 - 30, 2006
http://www.trainweb.com/travelogues/darlene/2006a17a.html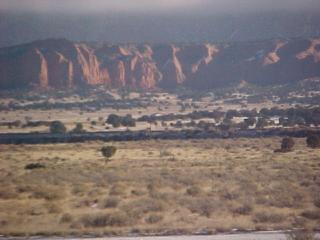 January 30th, 2006. I arrived home after a most welcome trip to California aboard Amtrak's Lake Shore Limited. As always I approach these trips as an opportunity to have yet another adventure, an occasion to meet new and always interesting people and this time leave the cold, snow and bleak skies behind in search of the sun and warmth of California. I was not disappointed on all counts. I'll back up now and take you on my journey.
January 17th. 2006. I wake to be greeted by yet another bleak cloudy morning. I find it hard to believe that the day has arrived when my friend Laurie and I leave for Fullerton California. The weather report is quite threatening with a call for freezing rain. I put the forecast to the back of my mind as I must concentrate on my last minute packing. The day passes quickly and soon my husband arrives home and we pick up Laurie and Doug at 3.30 and begin our two hour drive to Syracuse N.Y. The roads are wet but bare but with the temperature hovering around zero I felt the need to offer Ken an ongoing check of any temperature changes as the onboard thermometer changed. We arrived at the Transcontinental Station at 6.30 without incident. With luggage inside we decided to get something to eat. "Subway", was a good choice. The weather being a consideration the guys decided to leave right away for their trip home at 7.15.
Laurie and I sit back to look forward to our call to board. Laurie takes a number of pictures, we watched the news on CNN and soon the call to take the elevator to the platform comes. We hurriedly gathered our luggage and head for the elevator to the platform and find our car"331", right in front of us. You have got to love this. We are only ten minutes off schedule. I have heard all kinds of horror stories, "49 never on time", "48 is always late". On this particular trip I found these warnings to be grossly false. We ran on time all the way to Fullerton and back. A few times we were minutes behind but the time was always made up. We are greeted, with a smile by George who helps us aboard and stores our luggage in the lower level rack. We then are escorted to our compartment and given a safety exchange as to how to respond to any possible emergency.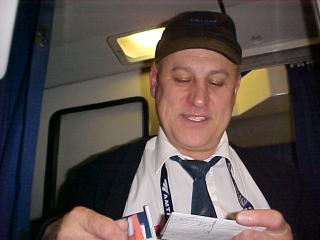 George takes his leave after taking our tickets and informing us that if we need anything he will be just down the aisle and with a "have a great trip" disappears. We take a walk into the Dining Car and Lounge then back to our compartment.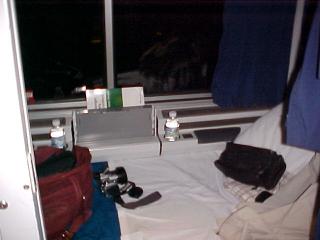 "Compact but Comfortable", I recall this description given us last year by Kitty on the American Orient Express thus we will make the best of our limited space for the next few days.
Laurie gives me space to change into my PJ's by stepping into the aisle. I place one foot onto the closed toilet seat -up with the other foot to the closed sink which now doubles as a step and with the help of a hand rail I am securely in my top bunk. Laurie is now free to have space to change and take her favorite spot in the lower berth. I am relay pleased to see that I have a window and as it turns out I did not sleep that well. My body senses when the train comes to a stop and my natural curiosity makes me sit up on one elbow and check out where we are. With my head elevated on two pillows I leave the curtain pulled and with the view and motion of the train soon drift off to sleep again only to have my eyes pop open at the next stop.
January 18
I wake up at 6.30 to find Laurie has already up and dressed. She is off and looking for that most important cup of coffee. This gives me ample room to get myself together in comfort. Now the confusion began. I head for the dining car for breakfast where I expect to find Laurie. When I am approached by the steward to take my order I state, "I'm waiting for Laurie", to which she responds, "Laurie is here". I make the wrong assumption that Laurie may be in the washroom and proceed to order. French toast, coffee, orange juice and a dish of fresh fruit arrives about the same time I am joined by a young man Chris. He places his breakfast order and after a quick introduction we chat about his first train trip from Syracuse to Chicago. He had also not slept well. I expressed my thought that the first night is usually the restless one. When Chris found out I was Canadian he expressed a desire to travel to Canada some day. I informed him of a great way to see Canada was by Via Rail. He could cross the country from Toronto to Vancouver aboard the "Canadian" or Montreal to Halifax on the "Ocean". In answer to his further inquiring I told him about my experiences traveling from Brockville to Vancouver. From Dining cars, mid train Dome cars, where you sit above the train and have a total view in all directions this would be a really special experience. The Dome car is a great place for not only viewing the passing panorama but also picture taking and meeting your fellow passengers. The rear dome lounge also has a similar viewing area but also provides all the amenities of a first class lounge. He feels this would be a vacation he would like to investigate for a future trip. I had to restrain myself as I could have gone on and on about one of the most memorable trips of my life. I bid farewell to Chris and returned to our room. No Laurie. I decide to go looking for her and meet her in the lounge car. Apparently I was to meet her in the Lounge car, where she was waiting for me. The dining car closed for breakfast and I had caused her to miss breakfast. She said not to worry as she had coffee prepared by George. We have traveled through Pennsylvania, Ohio and are now in Indiana. The sun is just coming up as we pass La Porte.
I have been following the handy route guide which gives you a snapshot on the history of the area as you travel through.
Soon we reach Gary Indiana. The magnitude of the importance of the railroad to the area is evident by the number of box cars & flatbeds lined up on all sides. I notice a number of CN cars parked on the siding as well. I chat with our neighbor Greg who knows the area well. One of the best parts of train travel is the fascinating people you have an occasion to meet along the way. Everyone has a story or information of meaning to me. Greg, like so many others I talk to is very concerned about the future of Amtrack. Passenger service is all important to him as he uses the train regularly for business and pleasure. In no uncertain terms he laments about the millions of tax dollars poured into highways and airports while the rail system tries to survive without similar investment and help. "Railroads built this country, just watch out the window as you go west", he states, "all the smallest of towns and large cities that located along the tracks". "Boarded up factories that once flourished and provided good paying jobs gone - gone forever". "Damn politicians". "They'd better smarten up before it's too late, we don't need to give up something so positive to our way of life". I tell him, "I couldn't agree more". The announcement that, "Chicago thirty minutes", brings our conversation to an end. I gather my things together in preparation to de-train.
Arrived in Chicago about nine thirty. The air is cool so we hurry to get inside the station. We are directed to the "Metropolitan Lounge".
The spacious, lounge offers all the services one needs to feel right at home. You are greeted as you enter and told that if you wish you can stow your luggage and given a slip to re-enter should you choose to tour the station or do a tour of Chicago. A time to be back at the lounge is written on your stub so that there is no excuse to be not on time for your departure. Laurie's first stop is for a coffee and muffin. Remember she missed breakfast. I also have a glass of cranberry juice and a muffin. We do a little bit of re-packing and then stow our luggage.
We begin our walkabout with a tour of the Great Hall. It is very striking with its huge marble pillars and vast open space. The odds and ends left to be taken down from the Christmas season challenges the mind to think about just how nice it must have been during the holiday season.
I walked to the top of the staircase with its brass handrails to get a better view of the sight below. I was surprised to see the indentations in the marble steps. How many travelers' footsteps up and down and how many years had it taken to cause this phenomenon? As my thirteen year old granddaughter would say if she sees something very impressive "Awesome".
From the Great Hall we proceeded to the food court to allow Laurie to pick up some now famous barbeque sauce she had heard was only available from a vendor in the Chicago station. It only took a minute there when she had zeroed in on just what she was looking for. She has an amazing knack for finding just that special something be it flea market, auction or any venue. The air is filled with the distinct fragrance of tasty delights being prepared. Laurie succumbs to the enticement and we stop while she has a scrumptious looking sandwich while I enjoy one of my favorite pastimes "people watching. The large order of toast for breakfast and muffin at the Lounge had left me unable to have another snack, no matter how small. The Lounge had filled up considerably when we returned. We participated in a conversation with Don a young man from Cleveland. He had developed a love for trains while working in Ohio on a steam train. His knowledge of trains kept us completely occupied as he talked about his frequent trips, the trains he traveled on, and the many adventures he had along the way. Knowing of his love for train travel his exceptional wife had given him a ticket for a trip by train for their tenth anniversary. She does not share his enthusiasm therefore she insisted that he traveled alone so as not to be distracted by her lack of interest. I neglected to ask him what he had gotten her. I hope it was something very out of the ordinary as she sure sounded like a special lady. Time had passed quickly for all of us and soon he bid us goodbye and was off to continue yet another adventure on the rails. Three thirty and we moved to the rear exit door to move onto our own next adventure. Train # 3 Southwest Chief, "ALL Aboard". As we pass our luggage up to a smiling "Pinky" who greets me with a "hi welcome to my home" I know right away that this gal loves her job and it is a first-rate car to have been lucky enough to have been located in. My first impression was totally accurate as the next couple of days she did indulge us like visitors in her own home.
A trip like this which takes you from point A to B can be very uneventful if you confine yourself to your assigned area. The train trip, on the other hand can give you a unique opportunity to meet, great people who are either traveling or there to serve you. The lounge car, dining car, or coaches provides just such a setting. Even the sleeping car passengers get to know and visit back and forth if they choose to do so. When you sit down in the dining car the staff will ask you if you mind if someone joins you. If it's your choice to have this happen you will usually find yourself engaged in excellent conversations of shared pleasure. Train travel also allows you to get a lot of work done as you prepare yourself for that next meeting or conference. In the afternoon and evening some passengers gather to enjoy a movie. The choices are many.
We are traveling in a roomette. At the end of the aisle you find a washroom and on the lower level three more washrooms along with a shower. Our luggage is stowed just adjacent to the shower area. This is very handy for acquiring a change of clothing or placing articles that are no longer needed back into your luggage. The compact yet comfortable roomettes do not offer much room for such tasks. At the rear end of the sleeping car you can find an area where the car attendant usually has a pot of coffee brewed or water etc. As you can see if you are traveling any distance a sleeping car is a most comfortable way to travel. I should mention that bedrooms with private lavatories and showers are also available if your budget allows.
I was disappointed to find that the "Trails and Rail", program was not available. It would have added a lot to know just what areas we pass in the course of our trip and some of the history of the region. I follow the route guide provided to help expand an insight as to a bit of the history of the passing towns and cities. Raton Pass the train slows to a laborious climb the panorama is ever changing from the window of the train. I check the pictures I have been taking but the many curves and canyons can not be displayed due to hindered visibility not being able to shoot on a very good angle. Glorieta Pass and through Apache Canyon and we arrive at Lamy. We make a quick stop in Lamy where a few passengers get off while a few more get on. We continue our scenic trip now heading for Albuquerque.
Upon reaching Albuquerque we had an opportunity to detrain and take a welcome walk on the platform. We would have the train serviced, which gave Laurie to get her first opportunity to get some pictures of the trains exterior. She had to wait until the fueling up was complete before she could approach the engine area. A few people have a smoke break as thankfully the trains are now smoking free. Vendors sold their merchandise along the platform.
Crew #9 has been mighty fine. They are adding to the enjoyment of our trip be it in the dining, lounge or sleeping car. The meals have been tasty and nicely presented. It is to be hoped this will continue with the rumors of cut backs in most services.
Back on the train it's not long until the call to dinner. Meal time is one of the most enjoyable times on a train trip. Good food, good company, good conversations, and good service what more could you ask for.
On our last night before Fullerton we stop to talk with twin sisters who have been spotted here and there on our trip. Smiles and "hi", as we passed on our way but tonight we visit for a long period and become mutually surprised by each others stories. They are working as they travel to a speaking engagement. Virginia & Harrietta, twin sisters not only in birth but also in desire to improve the lot of children in how and where they can be educated made a strong awareness inside me as to just what can be accomplished if you persevere. Virginia refuses to take credit for the ability to have legislation changed and credits the fortitude of parents to stay the path with the successful change to American ruling. If you are interested in this process a book, "Voices, Choices and Second Chances" written by Virginia will explain the journey. I told you we always meet great people on the train. You feel a direct connection with people during your trip that is missing in the rush and speed of air travel. The girls express their view as to how much work they can get done as they travel from meeting to meeting. Off to bed now as morning will get us to our destination in Fullerton California early and I'll hear time to get up rise & shine.
We are up and ready for an early breakfast that has been made available for us. It sure has been a great trip across made extra special by the courtesy shown us by the superior staff. Despite the fact that we are told we will arrive about an hour late in Fullerton we have had a more or less flawless to scheduled time crossing from Syracuse N.Y. to Fullerton. Something must have detained us during the night. I sit back and enjoy our final arrival. The sun shines welcomingly, as I have felt very sun deprived the last few weeks. Our wintry weather has been abnormally warmer with barely any days of any sign of the sun. When I see the splendid homes hovering on the sides of hills that look a tad unstable I can't help but speculate, "Would I feel truly safe living there"? Maybe the distance I'm viewing from is the reason it looks so ominous. The call to get prepared to detrain and a dash to collect my luggage bring me swiftly back to reality. Soon I exit the car with a farewell to our gracious attendant and feel the warmth of the California sunlight on my face. Taking a swift look about me I spot Ray our host for the next week at the far end of the train. After a few warm good wishes we start for his van pausing only to check out the station one time again. Trainweb has moved its office from the station so we go a couple of blocks to check out the new location.
It is all about trains. From the exterior a festive appearance invites you to come in and look around. Plan a Train party. A logical evolution to a provision which provides an opportunity for big boys to express their love of all things trains to a new generation in the form of supplies for the perfect birthday party. I can just picture the absolute delight of a little guy or gal celebrating that special day surrounded by the site and sounds of a railroad experience. In the offices to the rear of the showroom the real business of Trainweb takes place. This is a real merge of the better of two worlds business and pleasure. After spending about half an hour visiting with the staff it's time to go to Ray's home and unpack. I must have mellowed since my last trip to LA the freeway drive seemed actually enjoyable. We weren't long at Ray's until Maria informed us that the swap meet was on today if we thought we'd like to go. Within minutes we load up into the van and we are off.
Walking in the warm sun the air is filled with simply wonderful smells, sounds and colour. The vendors entice you to buy in all sorts of sale pitches. After a few hours we leave with a few purchases that will seem small in the week's worth of shopping ahead of us. One thing we both agreed to on the trip down was shopping would be the last thing we wanted to do. So much for good intentions. Our week in California was a most pleasurable one. Visiting, eating, shopping, touring and just plain having a marvelous time. All too quickly the time passed and our last day was spent getting our clothes ready for our anxiously awaited trip home. I'm sure we had tired Ray out with our many journeys here and there. Neither Laurie nor I felt confident enough to venture out into traffic behind the wheel thus poor Ray became our chauffeur on our daily jaunts. We decided to give him the last day off by doing our last several hours of shopping in Fullerton giving him the option of being able to go to work. I'm sure he enjoyed this reprieve. He picked us up shortly before six o'clock and we traveled to the station to have supper before boarding the train. The area bustled with activity. Finding a parking place took a while so we decided a quick snack would probably be better than a restaurant where we would have to be served in a manner that would take longer. Yum Yum burger and fries large Pepsi. Who could ask for more?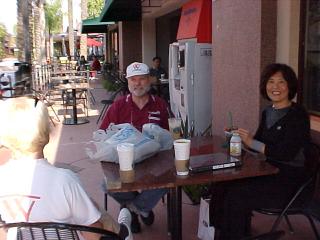 Deciding to leave the van parked where it was parked made good sense since parking was at a premium. The walk was the last time for a while that I would enjoy the warm evening breeze so I savoured the time while sitting on the platform as well. It was a very relaxing time watching one train come in and leave. A few people gathered on the area above the tracks to watch the train come in. The shouts of children calling, "look dad here it comes", jarred us to hurriedly gather our larger amount of luggage and prepare to leave. The best laid plans can quickly come unraveled.
"Oh-Oh" we are on the wrong side of the tracks!! Ray shouts out a command to "Laurie," "You take the stairs to the other side and hold the train while Darlene and I take the luggage and elevator". There was no way we could have made it any other way. Laurie had the surprising good sense to push for the elevator as she passed it so it arrived for us just as we got to the door. When we reached the other side an exhausted Laurie had successfully accomplished her mission. Bob, our attendant greeted us with a glad you made it and helped us with our luggage. No time now for long goodbyes it is a quick "thanks for everything, Ray" and we are off with a couple of quick blasts from the trains whistle its all aboard. We are safely aboard so Laurie and I can now laugh about our close call. Ray had always told her to never miss a train and this is the closest we have ever come to doing just that, even with having been at the station in plenty of time. Bob tells us we can have dinner if we wish. We decline but have a coffee which he has prepared for us in the car. Bob tells us he will be out of the car having his dinner and asks if there is anything we need before he leaves. Crew ten will take good care of you so just sit back and relax. That is exactly what we did. We visit with Jennifer a young girl traveling alone. She had gotten on at our Riverside stop and Bob is busy filling her in on the location of shower etc. After a last day of shopping we ask Bob to turn down our bed and I am delighted to get settled for a hopefully good nights sleep.
I was up, showered and dressed by the time we reached Flagstaff, Arizona around six a.m. I have to now mentally change my internal time clock as we now gain our first hour on our way home. For what ever reason I tend to leave my watch set to the time it would be if I was at home. Immediately after breakfast I go to the lounge car to contentedly sit and for the next few hours watch the world go by. I would like to come back some time and visit some of the interesting places that now I see only for a fleeting moment. The highway which travels alongside the train route most of the way is busy as well with what seems like an endless chain of transports. One truck catches my eye is Knight transport. My maiden name was Knight and many of my ancestors remained in the United States when my grandfather came to Canada. I have never traced our American connection and I immediately speculate could a bloodline of mine be traveling side by side while I'm on this passage.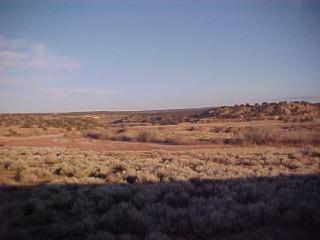 The area is very dry and you can't help but observe the many animal tracks in the bare canyons where animals must have traveled in search of water.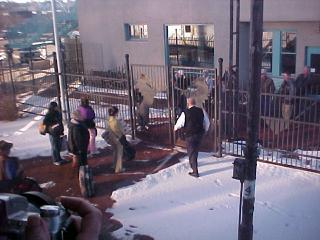 Our arrival in Gallup was met with a problem getting the gate open to allow passengers to board and detrain. There is snow on the ground and the passengers look a little cold. This is a sign of what I will soon experience when I get home. The conductor soon comes to the rescue, unlocks the gate and everyone scurries on board. Two quick blasts from the train and we are on our way.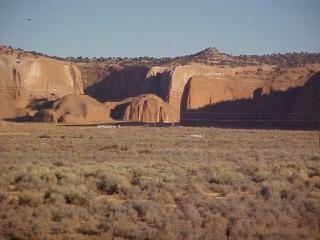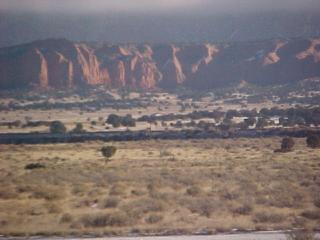 On The Way To Albuquerque, New Mexico
When we arrive in Albuquerque we are told that we will have a two hour layover and that if we wish we can detrain and take a walk. Laurie the official train photo op person decides to get the pictures she wants of the trains' exterior. I join a few fellow passengers and leave the station area to do a little sight seeing. A large clock tower tells us the time but also the temperature 32 degrees. The wind is also blowing driving the wind chill factor to a much lower temperature I'm sure. My walk turned to a bit of a jog as I decided to get back to the warmth and comfort of the train. I had an opportunity to view some of the beautifully painted murals but that was about all. Laurie had also completed her picture taking and we decided to go for lunch. I sat comfortably having lunch and lingered over a hot cup of tea watching our fellow passengers return to the train. We sat with a couple who had a great account of a famous artist father who had recently passed away. He worked mainly in wood and jade and had created many museum quality pieces. We would get an opportunity later to examine a great number of photos of his works and they really were amazing.
I went to the lounge once again and was joined by our car neighbours Barb and Joe. Joe would be a wealth of information as we traveled through the miles ahead. After departing Lamy we entered really stunning countryside. We began to climb, passing a number of canyons and we begin our ascension to Glorieta Pass, over the Pecos River and around the famous S curve and on to Raton where the elevation is 7,588 feet. It has been a stunning view all the way. The sky was filled with large fluffy clouds, constantly changing shapes and intriguing to watch as well. With so much to gaze at the hours of daylight passed very quickly.
After yet another enjoyable dinner with a couple from Riverside California we decide to go to the lounge car and watch the evening movie. A romantic comedy, "Must love dogs", was enjoyed by all who attended. Leaving and going back to our car we visited with Barb and Joe for a while and then decided to turn in for the night. It had been a relaxing and most satisfying day.
I am up and off to breakfast at 6.30. It is once again going to be a bright and sunny day. Laurie was already seated so I joined the couple from Riverside and Tracy a young lady from Arizona. She spends a part of her vacation each year hiking in the Grand Canyon. She feels that it is the most moving and awe inspiring place in the world. The train arrives in Kansas City while I am still enjoying a most pleasant breakfast with my new acquaintances. We leave Kansas City on time as most of our trip has been. It is amazing to me how we so often hear all the negatives about all most everything when so many positive things are happening. Passenger train service is already threatened so let's accent the positive. My trip across the United States in both directions was a very positive experience. I traveled in comfort, cared for by excellent and attentive staff. Leaving Kansas City we soon crossed the high steel trestle bridge over the Missouri River.
I will tell my husband about seeing the fields being worked already. It will be late April or early May before he will begin his field work at home. The farming area (as seen from the train) seems to be doing quite well. As the train passes Newborne I watch cars arriving at a small brick church and I am reminded that it is Sunday. I once again am fortunate to be sitting with someone who knows the area really well. Bud is a retired truck driver whose job had taken him all over the United States and into Canada. We talk about many subjects as I watch the ever changing landscape take me closer to home. The time has come, all too quickly to take a last minute check that all of my belongings are once again packed up for our departure to what I now of the comfort of the Chicago Metropolitan Lounge. I sit in our car awaiting the call to detrain - I reflect on my trip to California and back on the Southwest Chief. It definitely exceeded my expectations. How else could I have traveled through eight states, enjoying fine meals, observing a panoramic view of ever changing landscapes, being looked after by considerate team of employees, meeting new acquaintances, sharing fascinating conversations about so many diverse topics in a most relaxed and safe environment? Air travel may be faster but I would have missed the opportunity to see and feel the atmosphere only travel by train can give you. It is time to leave and await our connection to the Lake Shore Limited and our last overnight to Syracuse.
Back inside the Lounge with our luggage stowed securely, it is time to sit back relax, have a snack and watch some T.V. in the sanctuary away from the hustle and bustle of the station. We are escorted from the rear exit of the lounge to the waiting Lake Shore Limited. Much to our surprise the rear car on the train turned out to be the Scottish Thistle cars. No time to take pictures (much to Laurie's disappointment). Maybe when we get to Syracuse she will have time to take a few pictures at the station before the train pulls out. We quickly board and soon find ourselves on the last day away from the end of our adventure.
When we got settled in our car the decision was made that we would have a quit dinner and settle in early. There was a little problem with our luggage as we were told there was no place for it. After a bit the attendant informed us that there was an empty cabin and we could put our luggage there. Great news indeed as the sleeping area is small enough and definitely no room for the two large suitcases we had brought on board with us. We soon started talking with our next-door neighbors a young librarian from Rochester N.Y. and a gentleman from Chicago traveling to Rochester to visit an ailing father. Maybe it was the fact we were all tired, maybe we just truly enjoyed each others company but be as it may we managed to laugh our way to the point that our attendant was heard to say, "you guys are having away too much fun". It could have been something in the air I guess because during dinner the whole car was filled with the same sense of pleasure. The first trip by train would be remembered as a most pleasant experience for our librarian fellow traveler. She had flown to Chicago and decided to take the train home. She had not even dared talk to her fellow passenger in the seat beside her as when she had said," Hi", to her she had received a mere grunt in response. Time to say goodnight and very quickly I was off to sleep.
Up at six feeling great after a good nights sleep. Laurie and I discuss our trip as we share our last breakfast on the train with good company and good conversations. I sure hope the rumors we have been hearing about the demise of Amtrak passenger service on this route is just as unfounded as the talk of always being late had been. We had said our goodbyes to our compartment neighbors as they detrained in Rochester and soon we heard our Syracuse next stop called. We received help with our luggage and stood on the platform in the all too familiar cold once again. Laurie was prepared and rushed camera in hand to get the photos she so much wanted of the Scottish Thistle. Two short blasts of the train whistle and we watched the train move out of the station. Mixed emotions come to the fore of our most enjoyable trip being over and soon being home to family and friends. The old expression of good to get away but great to get home holds very true. Come up to Canada some time. If you want to see the country and its people try a trip across on, "The Canadian". We'll be glad to show you around and you won't be disappointed.
Photos
Click on each link below to view photos related to this journey:
Set #01 / Set #02 / Set #03 / Set #04
Click here for a travelogue of this same journey by Lorraine Symons!
Click here for more American Orient Express travelogues and photos!
Click here for more travelogues and photos by Darlene Banning!
CLICK HERE
To Read More Rail Travelogues
And View More Photos Of Rail Travel!

Are you interested in rail travel along some or all of this journey yourself? There are very few travel agents that have the necessary knowledge and experience of rail travel to answer your questions and to book a journey that you will remember for a lifetime. TrainWeb has sought out those travel agencies and rail tourism companies that not only have the knowledge to book your travel, but have gained the required experience through extensive rail travel themselves! Click here for a list of these rail travel providers!
Visit our Rail Magazine promotion trading partners:
Click here to add your print rail magazine.