Amtrak Coast Starlight : Oct 11 - 13, 2002
Los Angeles to Sacramento, California (Round-Trip)
http://www.trainweb.com/travelogues/stevegrande/2002j11a.html
Click here and select one of my other trips.
Northbound Amtrak Coast Starlight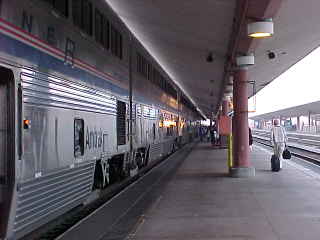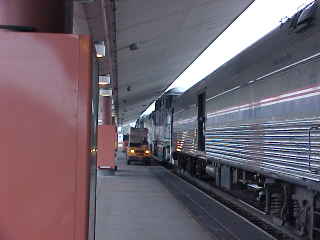 Los Angeles Union Passenger Terminal (LAUPT)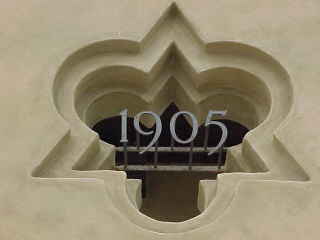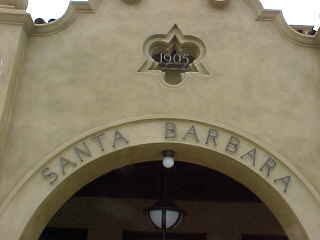 Amtrak Santa Barbara Stations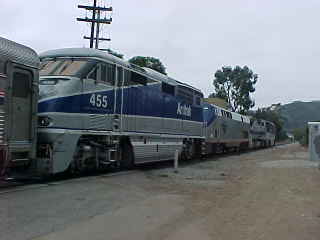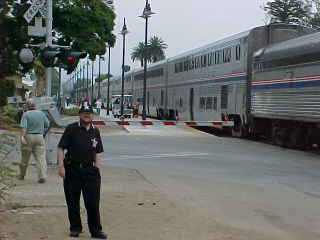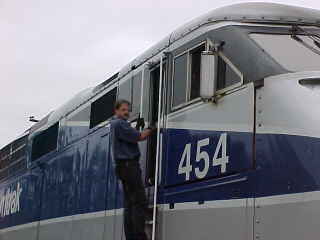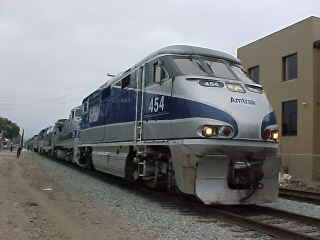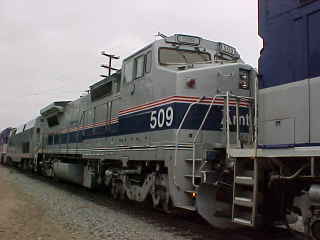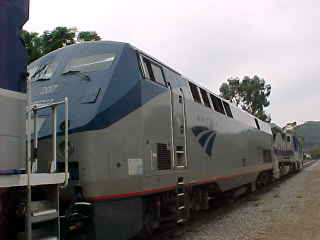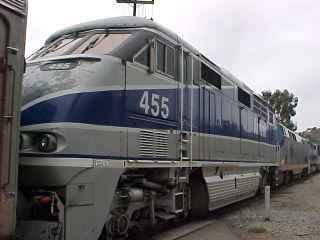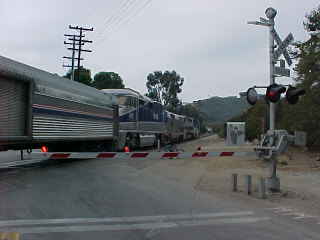 Unusual sequence of locomotives - photos take in Santa Barbara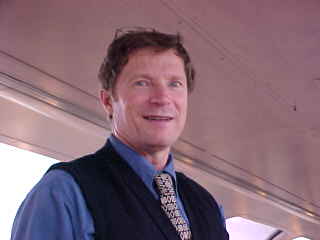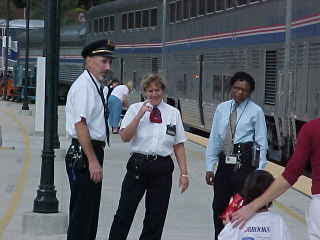 Left: Roger Keilbach, Car Attendant of the 1430 Sleeping Car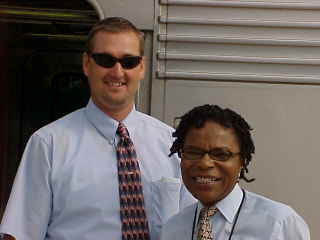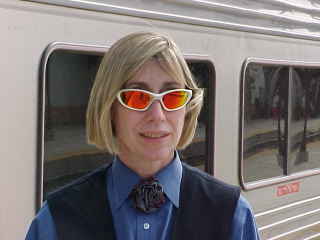 Left: Todd Hood, Asst. Conductor and Karen Munday, (Conductor Karen or Train Princess!)
Right: Angela Lancaster, Our Sleeping Car Attendant (1431 Car)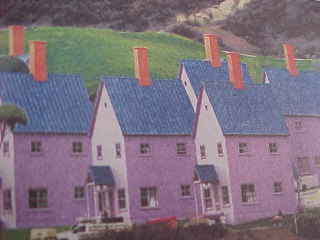 "Dr. Seuss The Cat in the Hat" movie set can be seen from the train in Simi Valley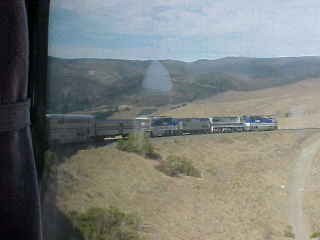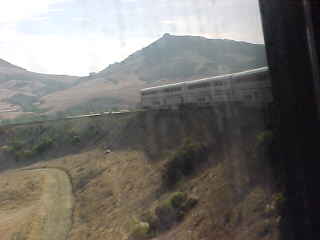 Front and rear of our train climbing the grade.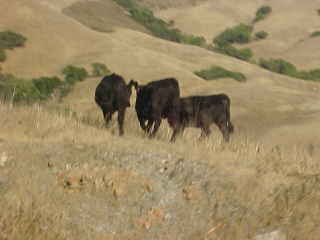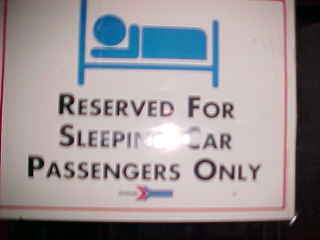 Left: Cows that blocked our train until they moved off the tracks.
Right: Sign on door at end of Dining Car closest to the Sleeping Cars.
Northbound Amtrak Coast Starlight Consist:
455-- F59PHI
207--
509-- Genesis (isolated)
454-- F59PHI (isolated)
1717- Baggage Car
39024 1410 Superliner 2 Transition Sleeping Car (Crew)
32082 1432 Superliner 2 Sleeping Car (Indiana)
32111 1431 Superliner 2 Sleeping Car (Texas)
32106 1430 Superliner 2 Sleeping Car (Pennsylvania)
39973 Pacific Parlour Car
38056 Superliner Dining Car
33028 Superliner Sightseer Lounge Car
34111 1411 Superliner 2 Coach Car
34512 1412 Superliner 2 Coach Car
34102 1413 Superliner 2 Coach Car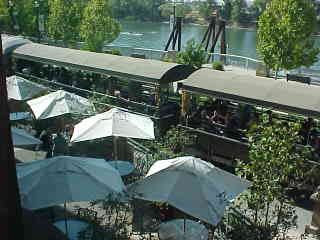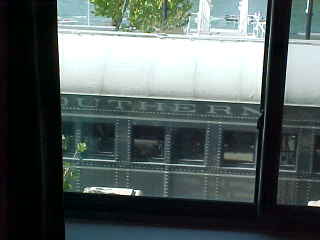 View From Our Sacramento Embassy Suites Hotel Room 205!
14th Annual Trainmaster Reception & Dinner
California State Railroad Museum and Foundation
Reception
5:30 - 6:00 p.m.
Sierra Scene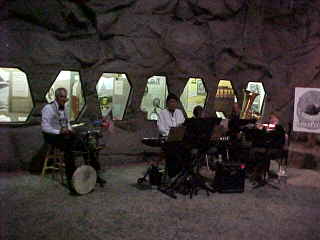 Porcupine Ragtime Ensemble
Hosted Wine Bar
Hors d'oeuvres
6:00 p.m.
Program: Past and Present of Railtown 1897 State Historic Park
Museum Theater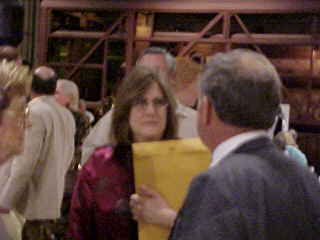 Catherine Taylor, Museum Director
Welcome and Opening Remarks
6:15 p.m.
Rail Town at the Beginning: The first years of Railtown 1897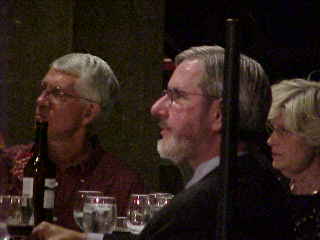 Walter Gray (former CSRM Museum Director) was a frequent visitor to what is now Railtown 1897 State Historic Park during its earliest years of public operation. Walter will discuss his experience at "Rail Town 1897" in 1972, when regular steam-powered excursion train service was getting started.
6:30 p.m.
The Movie Railroad: Movies on the Sierra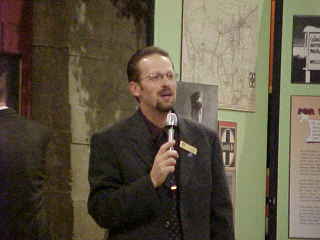 As a long time Sierra Railroad historian, Kyle Williams Wyatt (Curator of Technology) will take a brief look at the role of this Mother Lode shortline and its equipment used by the movie industry, including our movie star locomotive, Sierra No. 3.
7:00 p.m.
Dinner
Museum Roundhouse
Porcupine Ragtime Ensemble
8:00 p.m.
Jim Cullen, Associate Director, CSRM Foundation
Paul Hammond, Director of Marketing and Development
Operated by California State Park since 1982 and with the assistance (since 1996) of CSRM Foundation, Railtown 1897 State Historic Park has seen a number of improvements and changes during that time. The newest initiative is a recently launched fundraising campaign to restore the Sierra No. 3 to operation.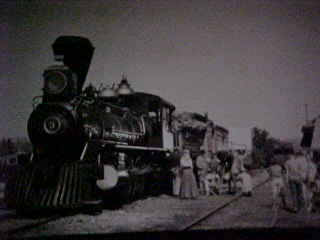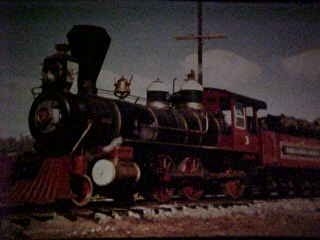 Sierra No. 3 from "Back To The Future", "Peticoat Junction", and many other movies
Tonight's event was made possible in part by a generous donation from the
Sonora Winery and Port Works
California State Railroad Museum Foundation
111 "I" Street, Sacramento, CA 95814
Phone: 916-322-8485 Fax: 916-445-5982
24 Hour Recorded Info: 916-445-6645
www.CaliforniaStateRailroadMuseum.org
Southbound Amtrak Coast Starlight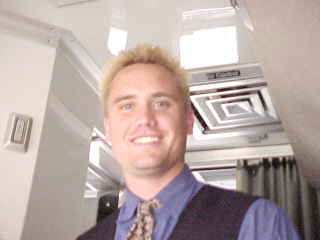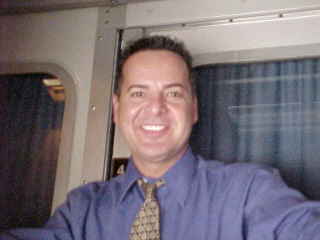 Left: Aaron Astrup, Dining Car Steward
Right: Cruz Madrid, Our Sleeping Car Attendant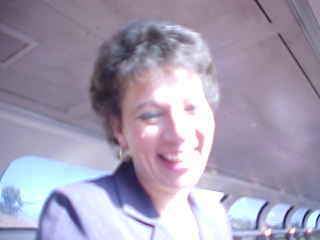 Meg Collins, Onboard Chief
Southbound Amtrak Coast Starlight Consist:
141-- Genesis
117-- Genesis
1701- Baggage Car
39035 1110 Superliner 2 Transition Sleeping Car (Crew)
32093 1132 Superliner 2 Sleeping Car (Missouri)
32072 1131 Superliner 2 Sleeping Car (Arkansas)
32118 1130 Superliner 2 Sleeping Car (Wyoming)
39970 Pacific Parlour Car
38064 Superliner Dining Car
33030 Superliner Sightseer Lounge Car
34077 1111 Superliner 1 Coach Car
34510 1112 Superliner 2 Coach Car
34113 1113 Superliner 2 Coach Car
Click on the below links to view each set of photos:

RECENT STATEMENTS CREDITED TO AL QEADA LEADERS
AND BROADCAST BY AL JAZEERA ON SUNDAY, THREATEN
ATTACKS AGAINST US ECONOMIC INTERESTS.
THE FOCUS ON ECONOMIC TARGETS IS CONSISTENT WITH
AL QEADA'S STATED IDEOLOGICAL GOALS AND LONG-
STANDING STRATEGY.
THE FBI URGES US TO CONTINUE TO BE ALERT TO ALL
INCIDENTS OF INDIVIDUALS ATTEMPTING TO GAIN AN
UNDERSTANDING OF OUR RAILROAD OPERATIONS BY
ASKING WHAT APPEAR TO BE INNOCENT QUESTIONS.
EMPLOYEES SHOULD NOT PROVIDE INFORMATION TO
INDIVIDUALS AND SHOULD REPORT ALL ATTEMPTS TO GAIN
INFORMATION TO RMCC
CLICK HERE
To Read More Rail Travelogues
And View More Photos Of Rail Travel!

Are you interested in rail travel along some or all of this journey yourself? There are very few travel agents that have the necessary knowledge and experience of rail travel to answer your questions and to book a journey that you will remember for a lifetime. TrainWeb has sought out those travel agencies and rail tourism companies that not only have the knowledge to book your travel, but have gained the required experience through extensive rail travel themselves! Click here or visit RAILagencies.com or RAILexcursions.com for a list of these rail travel providers!