Ray's Trip to McGregor, Iowa
http://www.trainweb.com/travelogues/rayburns/2002h05a.html
Monday, August 05, 2002
This is going to be one of those unusual trips for me. The first leg of my journey is to fly to Boston to visit some old Vietnamese friends that I have been very close with since the 1960s. I took ATA from Los Angeles Airport around Noon, flew into Chicago for a few hours stop, and then changed to another plane to Boston. I was in by midnight.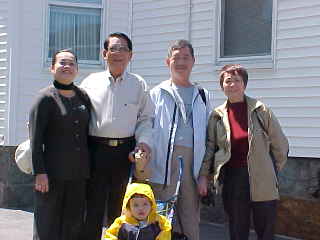 I will have taken all of my flights with ATA on this trip. I stayed in Boston all week and had a very refreshing time with my friends Mr. Nguyen and Mr. Hung and their wives, Diana and Lisa, respectively. We drove to New York City to see the Statue of Liberty (which reminds me of a liberty related website operated by TrainWeb: www.Liberty.com), see the big "hole in the ground" (Ground Zero), and go to Chinatown. In Boston, we went fishing, caught three nice size stripers, and ate those delicious morsels that night along with crab and lobster. Some feast!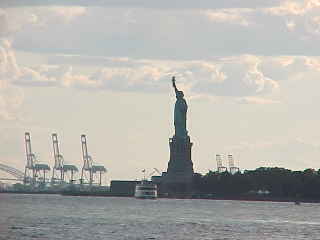 Monday, August 12, 2002
When I left Boston I flew to Chicago and got on a two-engine prop plane to Moline, Il. I enjoyed that ride. This is where Bill Eckhardt, the owner of the American House Inn based in McGregor, Iowa, came from to pick me up. This is a two hour car ride, so why would I take the time to come way out here to some place in the "middle of nowhere" with no passenger rail service and bother writing an article about it? Curious?
TrainWeb has opened up another website called RAILhotels.com, so we are interested in finding hotels where railfans can watch trains right from their rooms. The American House Inn is such a place. What really made the clincher for the story is when I talked to Bill Eckhardt on the telephone a few months back, he told me about many different interesting places to see just within a twenty five-mile radius of his historical inn.
To some people, Iowa is the land of soybeans and corn. I didn't even know that. I knew nothing of Iowa and the surrounding area. I was pretty impressed by all the historical sites up there and the programs that are enacted in the area, according to Bill. Maybe there is more to this than meets the eye. Bill sounded quite genuine, and he and his wife Pat had even come out to Fullerton, California, to meet me. So, the people of McGregor have to give this couple an "A" for effort, on trying to sell me that there IS a lot to see and do within a short distance from the historical American House Inn in McGregor, Iowa. This Inn across the street from the railroad tracks with the Mississippi River a few yards from the other side of the tracks and other fascinating background of the area is the target of this travelogue.
It's always great to have a guide when you are in a strange place and I was thankful for mine. The rolling hills out in the countryside were very pretty to look at, and sure enough, there was a lot of soybeans and corn. Oddly enough, I never got tired of looking at it. Iowa is known as the land between two rivers -- the Missouri River and the Mississippi River. 85% of the crops in this state are corn and soybeans. That's a lot!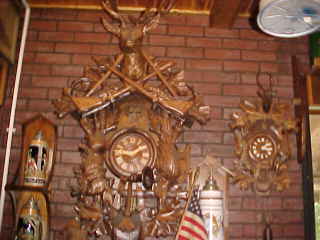 We came to Balltown and ate at the Brite Box restaurant. From the outside it could pass for an old country store, at best. It is original, alright! The inside is filled with old country lanterns, tools, you name it, to give it that old country charm. They do offer a buffet for lunch, and if you like American food, then you will like their buffet. Very old fashioned, lots of strong old wood everywhere, and a friendly staff. A neat place to go to.
It was always interesting to see what would be over the next hill. The quaint looking farms truly attract the artist's brush. McGregor is in Clayton County, Iowa, so this is the area that I'll be concentrating on. Clayton County is located among the awe-inspiring bluffs of the majestic Mississippi River and their picturesque hills and valleys. Clayton County is often called the "driftless" area as it was missed by the glaciers that flattened most of Iowa. The Great River Road follows the curves of the Mississippi through the county offering beautiful scenery as a magnificent backdrop. Lots of trees, lots of birds and animals, with great fishing abound.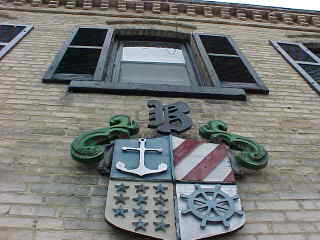 Be prepared to slow down your pace as you travel the area as Clayton County is recognized as the only Iowa county with NO stop lights. Sure enough, I didn't see any! I guess this is the state's great secret. When we arrived at our destination, the American House Inn in McGregor, it was surreal seeing this historical inn in person rather than seeing a photograph. I took a number of pictures of the inside and the outside of the building, but the pictures cannot do this lovely place justice. I know that there was a lot of love put into restoring this structure.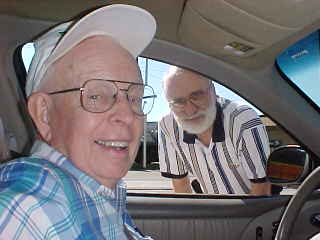 There is a small elevator outside, near the rear of the building, that the previous owner of 31 years, John Bickel, installed. Needless to say, his background is a story in itself. His grandfather being almost penniless, through constructive entrepreneurship eventually became quite wealthy selling fresh water pearls to dealers in New York City. J.D. Bickel, his grandfather, made his fortune selling butter, eggs, and poultry, and was the first person to mass produce ice cream. John, who grew up on a small farm, worked his way up into a little real estate empire. A real down to earth guy who enjoys getting his hands dirty.
After a short drive down the bluff from Pikes Peak, you'll find McGregor, which began as a ferryboat landing established by Alexander McGregor and Thomas Burnett in 1837. The city blossomed to a population of 5,500 in the 1870's. The railroad was an important part of the local structure at the time. It got to be that there were 60 passenger trains a day at the turn of the century.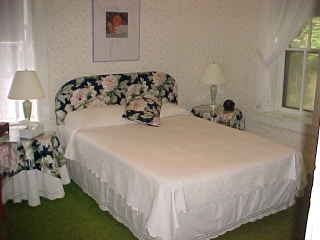 The American House Inn was built in 1854 and is on the National Register of Historic Places. There are only two suites here. One has 3 beds and the other has 4 beds. General (President) Grant was believed to have slept here, as did Mark Twain. Mr. Twain had given a speech at Triangle Park, in town, on July 4, 1875. Lucy Hobbs, our nation's first woman dentist ever, lived in this Inn for some time. People crossing the mighty Mississippi used this hotel as their lodging, in fact, at one point, the ladies of the night kept this place bustling, and a near lynching of a railroad official by unpaid workers took place here as well. Pat and Bill Eckhardt have lovingly restored this place to pristine condition. He made the "mistake" of purchasing expensive mattresses for the beds. Needless to say, when you go to sleep in their beds, you sleep sound and comfortable! No "mistake" for his happy customers. The wallpaper, lamps, furniture, flooring, you name it -- these people did it right. A first class job that you will appreciate when you see the details put into it.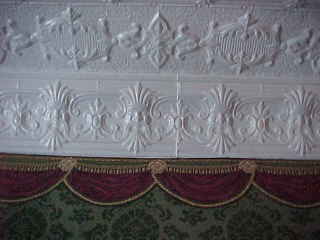 The American House Inn is not a bed and breakfast. You must take care of your own meals. One suite has its own spacious kitchen, living room, and dining room. The stone walls are very thick which makes it very quiet inside. Well furnished with an aura of being back in time. Fans and air conditioners with a few other modern conveniences make it very comfortable. You will like Bill, especially when he dresses for the period! He looks sharp and dresses the part to keep the flavor in motion, plus he enjoys it. Book your reservations now, as only a lucky few get in. Prices are very affordable to boot!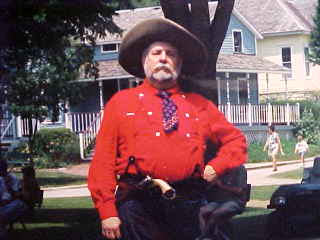 It seems that a number of people in this town like to dress the part. Bill's neighbor, Melany Petrie dresses in a flashy red dress relating to the dance hall girls of the Old West. I'm sure that her husband, Fred, appreciates that. His store sells the player pianos that we all enjoy listening to. Jim Boeke, who has been running the River Junction Trade Co. for the last 29 years, is REALLY into it. In fact many people around the country purchase their clothing of mountain men, old cowboys (Mexican or American), Union army, Southern army, women's clothing, hats, spurs, you name it. All authentic designs, all quality material. Jim always dresses the part and I'm sure, lives it.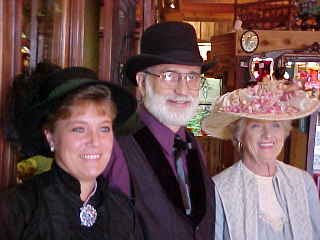 Another place that you must go see is Diamond Joe Trading. Bruce and Pat Dillman have a true antique emporium which is also listed on the National Register of Historical Places. Real genuine heavy goods in here. I even got to take a picture of Pat in her grandmother's (or was it her great grandmother's?) wedding dress. Hat, "parasol" and all. Sherri, one of her employees, dressed up in one of the black outfits. If you browse through the photo sets at the bottom of this page you will see them all dressed up in their grandeur.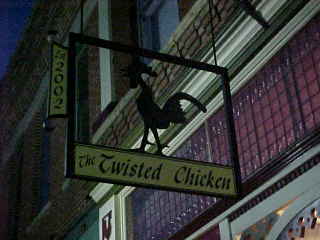 Some other great people that I met in McGregor were Bob Eggan, Roy and Stanley -contractors, and Keith Hering, City Councilman. A new restaurant called The Twisted Chicken recently opened up in town and Bill and I went in to savor their juicy morsels. Tom Griffin, the chef, was scurrying around trying to keep up with the orders but gave me a moment for me to take his picture. Kim Hayes and Heit Retty are the owners. The place was impeccably clean. The food was notoriously exquisite and could easily do well in any of the big major cities of the country. McGregor is fortunate to have them choose this town to offer their cuisine. The service was exceptionally pleasant. What more can you ask for?
Well-known eateries in the area are White Springs Supper Club, which was formerly a brewery, well-known for its ribs, and Mr. McGregor's Beer and Brahs Garden, which are locally known for their German Sausage and are right across the street from the American House Inn. They are also beside the local marina right on the Mississippi River where Bill has his boat docked and pontoon boats can be rented. By the way, there are many more places to eat so there is a healthy choice of selections.
Now I am going to give you a list of tidbit information that I picked up here. Some of it was from printed material and some of it is hearsay. Other than great access to the Mississippi River, there is much to see in this county. McGregor is also the birthplace of John Ringling who later in life became known as the "King of the Circus." He and his family owned the Ringling Bros. Circus. Fact is, the first circus was actually held by the brothers when they were young, in the downtown area of McGregor. His birth home still stands today.
McGregor, Iowa, is central to Minnesota, Chicago, Milwaukee, Des Moines, St. Louis, and Omaha. Moleen, Minnesota and Waterloo, Iowa, are considered home to the famous John Deere tractor company. Maytag is headquartered in Newton, Iowa. Cedar Rapids and Iowa City produces more high speed printing presses than anywhere else in the country. Iowa, I'm told, is the most literate state in the Union. There is a higher education per capita here than the rest of the country. There are three state Universities, a "ton" of colleges, and the biggest state export is educated people. No dumb farmers here!
Iowa has more Carnegie Libraries than anywhere else in the country. Gypsum, limestone and lead are what are mined here. A lot of coal in the state, but there is too much sulphur in it, so the "clean" coal has to be brought in from neighboring states by train. There are a lot of large insurance companies in Iowa. Between Lansing, Harpers Ferry, and Marquette, Iowa, in Allamakee County, there are a lot of Mississippi River canoe trails, and the Big Spring Trout Hatchery in Elkader would be an interesting place to visit (well, at least for the guys).
The village of Froelich is 8 miles west of McGregor. Why do I mention Froelich? Well Mr. Froelich built the very first traction engine that could go forward and backward, in 1892. This tractor was the forerunner of the John Deere Tractor as we know it today. A working detailed replica is on display there. Froelich is credited with having invented many products such as the washing machine, the dishwasher and the dryer, the mechanical corn picker, and the mounting of a gasoline engine on his well drilling outfit. It was this invention that led him to modify a gasoline engine for a tractor for threshing. The village has been since preserved and is called "Tractor Town USA." It is now a small tourist town.
This area is considered the most underdeveloped area of the whole Mississippi. Oh, there are hospitals and air care that can get you to a large hospital very quickly, and the area has modern conveniences with food and drink to suit your palate, but considering this area to the rest of the river stretch, the area is sparse of industry. A lot of interesting history here with people proud of their heritage, with a friendly "Come on over, ya hear!"
Bill and I later went to Pikes Peak. Only a few miles up the bluff from McGregor, just north of Guttenberg, up the Iowa Great River Road, you'll come to Pikes Peak State Park, the highest bluff on the Mississippi river which offers an impressive view of the confluence of the Mississippi and Wisconsin River Valleys. Pikes Peak is named in honor of Lieutenant Zebulon Pike who, in 1850, explored the Mississippi River Valley to determine potential locations for military posts. Mind you, this is a grand view of the river and Wisconsin (remember, Wisconsin is on the east side of the river) with some view of McGregor and a pretty good view of Marquette, and the bridge that crosses over to Wisconsin. The park is absolutely gorgeous, with wooden walkways through the forest so you don't end up getting lost. Stay on the walkway and you'll do fine. If you like trees and forests, manicured grass and impressive vistas, you'll like Pikes Peak. There's even a gal out near here that sells her "homemade" honey. I already liked this place before I arrived.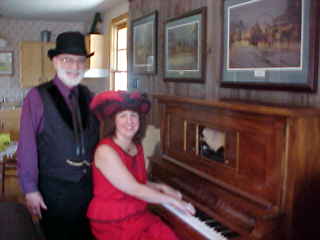 Bill and I ended staying up late and having interesting chit-chat together. I'm sure that he slept as comfortably and as sound as I did that night. It was great!
Tuesday, August 13, 2002
Up at 7 AM and met Bill around 8 AM. We had a filling breakfast and then went to see the local community as well as the surrounding neighborhood. Marquette is one mile north of McGregor and was originally known as North McGregor. The community began as a railroad supply station. By 1920, when Marquette took its present name, it was the largest railroad terminus in Iowa. Today Marquette is the home port of the Isle of Capri Casino/Hotel, and features the Railroad Museum/Depot/Information Center, several quaint shops, restaurants and taverns.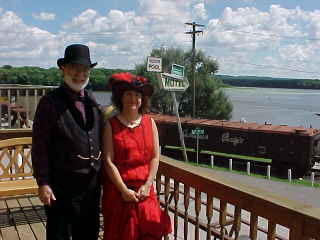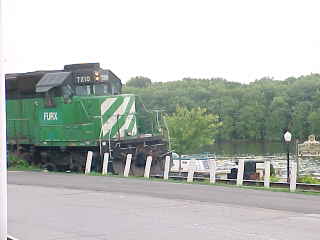 Left: Photo taken from the porch of the hotel. Notice the train car in the background.
There are several places that I did not have time to go to and one of them was Spook Cave, which is seven miles west of McGregor. Here there are daily guided boat tours that tell the history of the cave area. The stories of this area are quite fascinating. If you like to watch trains, you can watch them from your room at the American House Inn or even outside on either side of the street, as there are many trains that come by every day. There are no more passenger trains here any more, but a lot of freight trains do go by every day. Railfans will like this place, a lot! From this Inn you can see trains, boats, planes and trucks.
Marquette and Joliett "the fathers of waters," "discovered" the north Mississippi River in 1663. Of course the American Indians were here first, but as far as the "white man" is concerned, these explorers were the first outsiders in the area.
There are much deer, wild turkeys, bald and golden eagles, falcons, raccoons, fox, coyotes, lots of martins and other birds. In fact, the Audubon Great River Birding Trail has extensive maps that cover birds of the Upper Mississippi River in pretty good detail. You can pick those maps up in town here. The city is adjacent to the Mississippi Wildlife Refuge.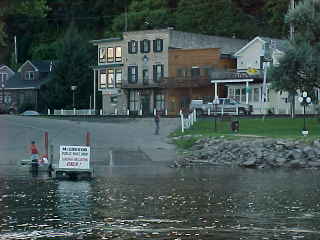 Of course, everyone wants to come here in the fall when the maple trees are in full color. For the fall, you better call a year early to get a room reservation. However, if you prefer to come when there are not many people around, call and ask Bill Eckhardt when that time is best. Who knows, prices might be cheaper then. You can check out his website at www.AmericanHouseInn.com. The American House Inn is located at 116 Main St., McGregor, Iowa 52157, (563) 873-3364.
There are many Arts and Crafts Festivals here, such as "Jubilee Weekend," and "Rendezvous," which is the third weekend in June. Apples are part of the feasts with apple cider, apple dumplings, apple pie, apple this and apple that. Same goes for Maple syrup. If you like dressing up in clothes from a bygone era, then this is the place for you.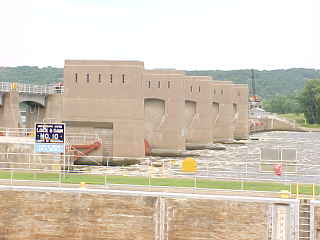 The local lock and dam was built in the 1930s and barges are still widely used and interesting to see. Quite relaxing watching the huge barges being pushed up and down the river by powerful boats. One tidbit of information that caught my attention is that the evaluation of the written and scored testing of almost all individual students in the US education systems is done in Iowa City by two companies called the American College Testing (ACT) and the other is National Computer Systems (NCS). Now you know where all of that paperwork goes.
A couple of great bookstores in town are "Rivertown Fine Books," owned by John and Diane Malcom, and less than a block away is the "Paper Moon," operated by Jen and Louise. There is nothing like a good book to keep your mind occupied when your body wants to take a rest. There is also a lot of good literature and books at each of the different historical sites in the area.
At Prairie du Chien (French for "Prairie of Dog," though I tend to believe it is "Prairie Dog"), Wisconsin, just across the bridge from Marquette (which is on the northern border of McGregor), Villa Louis is a must see. A French fur trader by the name of Hercules Dousman made his fortune here trapping muskrat and beaver and selling the hides to the British for their top hats. The mansion that he built is not only beautiful in itself, but the surrounding landscape was impeccably designed and kept up. He even built a racetrack for his horses. It is located on the mound of St. Feriole Island, where it has remained protected from flood waters for centuries. You can be kept pretty busy by looking around within a six mile radius from McGregor, Iowa.
Wednesday, August 14, 2002
I always tend to "sleep in" at the American House Inn because the bed is so comfortable and the place is pretty soundproof. I guess there's not much dust in the area as I never see any dust on anything. Bill and Pat keep the place pretty pristine.
Today, Bill will take me to the outlying towns and cities to get more of the "flavor" of the area. Whether you have a guide to drive you around or if you're investigating the surroundings on your own, you will enjoy the pleasant scenery and the low key atmosphere of the area.
The first place that we went to was "Effigy Mounds National Park." This is quite an extraordinary place. It is a museum dedicated to the mounds made by the local tribes eons ago that had the shape of bears and sometimes birds. These were very large mounds, of course all done by hand, and there were many of them. They are all over the entire area, so at the time it was certainly something of significance, which still holds today. The museum was well laid out, had good videos on the subject and the Rangers were very accommodating.
I have to admit that one place I really enjoyed was a store called Cabela's in Prairie du Chien, Wisconsin. This company is a well organized business that caters to the outdoor enthusiasts. A few things make this well-stocked store quite unique. First off, their whole property is really huge. The store itself is quite large, very solidly built, modern, but with that rustic log home look. They have many, let me repeat that, many, stuffed big game animals as well as wild turkeys and birds of different size, color and shapes, placed in very realistic surroundings, in fact, they have one area of the store that is called "Conservation Mountain" that has a multitude of these great animals and birds all over it. Lots of lovely scenery with great clothing, hunting and fishing gear available. Don't worry about purchasing anything as looking is free. I really enjoyed the place immensely. We later went to Lansing and had a good lunch on their special of the day.
To me, looking at the different styles and ages of homes and property is part of the natural scenery. I really enjoyed that here. The only thing that stuck out like a sore thumb to me was that in MacGregor, a public restroom was put out by the main street. (What? All of the restaurants and hotels don't have enough to take care of everyone??) Maybe this town of a few hundred people is trying to be like Paris, France? The other quirk is that they put up a fence along the sidewalk (so people don't fall off??) That means that when you park your vehicle by the sidewalk you have to walk, sometimes up to 60 feet in the hot sun (possibly dragging your heavy luggage) until you find an opening to get up on the sidewalk. Remember, eventually you have to get back to your vehicle. Don't worry about getting smacked by a train, as you're far enough from the tracks. Just keep an eye out for the tractor trailers and other vehicles coming around the blind curve into town. As little money as a small town gets, it's a shame to see their pennies blown in such a frivolous way. Of course it's not for an "outsider" to squak about their local community, but if they want me to spend my money in their town, please, think about your visitors and your local businesses to make life a little easier. Other than that, I liked it great!!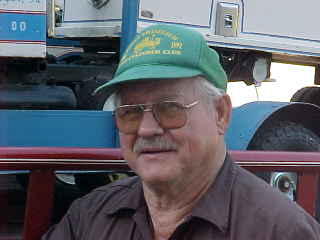 One very unique thing that I saw here in McGregor was the vehicles that Jim Cowel, master welder, built. One is a working replica of a tractor trailer, another is a jeep, and then there is even a smaller version. I believe the large one is 1/5 scale. You get in through the roof and you drive that baby away. He uses them in parades. The jeep is also motorized and is driven by a youngster. The smallest one is radio controlled. A nice man who does nice work. Bill knows all of these people. I guess that's one good thing about a small community.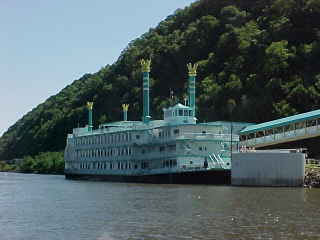 Back in McGregor we visited a few of the local stores and then Bill retired to the Inn. I drove a mile up the road to Marquette where the Isle of Capri Casino is located. Now I'm not one for gambling, but what caught my attention was when Bill told me that you can go on for free boat rides. I would recommend that you call them first at (800) 496-8238 www.IsleOfCapriCasino.com and see if the "paddlewheeler" is leaving in the morning or the afternoon. The State states that the boat must be away from the dock 100 hours a year so that means that the boat usually takes off for around two hours a day. So, they are not doing it out of the goodness of their hearts, they are doing it because they are obligated to do so. That means that you get the free boat ride. If you want to gamble or get a drink, just go downstairs and do your thing. If you want to enjoy the lovely scenery of the majestic Mississippi River, that's there for you as well!
Karen Trotter introduced me to Steve Kolbach, both of the Isle of Capri Casino. Steve was kind enough to not only show me around the boat but also bring me around the local area and give me good history information on the neighborhood. He has a love of history, just like Pat and Bill Eckhardt of the American House Inn.
If your family is with you the only places the kids can't go, of course, are the gambling areas. There is a souvenir shop and a video arcade to keep them happy. The whole topside of this large boat is for anyone who wants to use it. It is very immaculate in workmanship and the crew members keep it well maintained. The Isle of Capri was built in 1994, is 238' long, 50' wide, has a depth of 30' and holds a total of 1,400 passengers and crew. The company also has a hotel and restaurant/buffet on shore. A modern spiffy operation!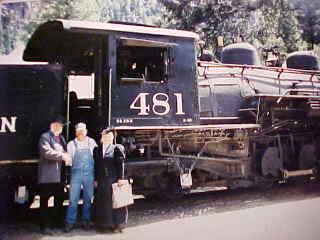 Steve and I went over to the Welcome Centre & Rail Museum in Marquette. We did get to go inside the place but the museum portion was locked up at the time we were there. Too bad, I could have offered more information if it had been open. Suffice it to say at this point is that this was a very important rail town at one time!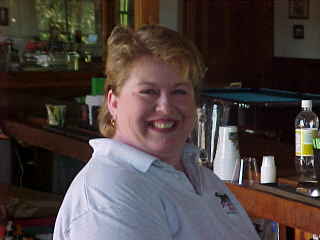 We then crossed the bridge over to Wisconsin to the St. Feriole Island Train Depot in Prairie du Chien. The Depot was originally built in 1864, has been full restored and now houses a bar and deli. A good job they did, too. Linda Jones, "Jonesy," runs the show here, and talk about a "bubbly" person. She's a fun person to talk with, a real doll!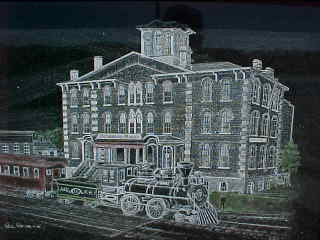 Steve then took me over to the Dousman House in Prairie du Chien which was purchased in July of 1994 by Blair Dillman, a local resident of the city for restoring it in preparation for the summer of 2004 Grand Excursion and beyond… Its restoration will be further documented as phases of the restoration are completed.
In 1857, four years after its organization, the first train of the Milwaukee and Mississippi Rail Road Company arrived at Prairie du Chien. The first two hundred years of Prairie du Chien history, canoes, Indians and Military trails were the only means of transportation. Rob Roy 1 was the first ferry boat on the upper Mississippi, making the port of Prairie du Chien for the first time in 1836. Eventually, many years later, when a pontoon bridge was constructed across the river, the ferry's days were numbered. Since the business center of the village was in Lower Town, the Company constructed its station and elevator there.
By the early 1860's the Company's business had outgrown its facilities. Reorganized as the Milwaukee and Prairie du Chien Railway Company, the western terminus of the railroad had a dual location: Prairie du Chien and McGregor. The small station and elevator could not handle the tons of wheat coming from the west, and the river was low. The wheat could not be transferred from boats to railroad cars, so a massive expansion at Prairie du Chien was begun.
The location of the Railway's buildings was moved to the old Main Village. First a grain elevator was built, followed by a freight house. Next to be constructed were platforms and facilities for ferry and steamboat landings. Once the needs for the freight business were fulfilled, the Company then directed its concern to accommodating passengers.
Hercules L. Dousman, a Director of the Railway, acquired a piece of land not too far from the new elevator and landing. This he donated to the Railway and on part of the land, the Company built a passenger station. The Company had already begun laying track in Iowa for what would be the McGregor Western Railroad, and the officers knew passengers traveling on this line would need a place to stay during the layover at Prairie du Chien. So it was decided to build a hotel next to the passenger station on the rest of the land donated by Mr. Dousman. The American House Inn was already in operation at this time but not large enough to accommodate everyone.
Construction on the hotel began in the summer of 1864 and when it opened to the public the Company called it the Railway House. It soon was hailed as one of the most impressive hotels in the Midwest. Of course there is more to mention about this structure, but possibly that is for another time.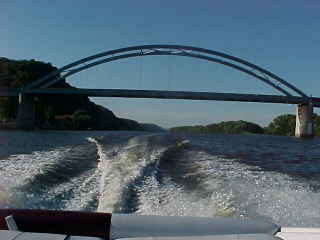 I later went back to the American House Inn, when Bill brought Melany Petrie, his neighbor, and I across the street to the marina where his boat was docked. He then took us out for a boat ride up and down the Mississippi River. I saw a wild turkey along the shoreline just outside the city of McGregor, proper. I had never seen a turkey out in the wild, before. Very few people ever get to see them, now I was even happier that I took the boat ride. It had been a while since I was out on a boat ride so it was nice to enjoy the refreshing breeze again.
After eating out, Bill and I retired to the Inn and called it a day. Again, we had good conversation before we hit the sack. Another full day seeing the sights and yet I know that I just scratched the surface. "Ho-hum!" All I care for right now is to enjoy this great mattress and let my body enjoy the surroundings. See you tomorrow.
Thursday, August 15, 2002
I slept in again, enjoying one of the great pleasures of life. Relaxing! I had already taken the photo shots of the Inn so I knew that there was no urgency for that. We did go through the town again to see a few more places but soon it was time to go. Bill happened to mention that Paul Harvey and Jimmy Carter were at the American House Inn at one time as well.
We left for Moline, IL for the airplane to take me to Chicago and then transfer to another ATA plane to fly me to Los Angeles, CA, around noon. We stopped in Dyersville, IA, and ate at the Country Junction Restaurant. This is the place that the movie "Field of Dreams" was filmed. There is a National Toy Museum here and also a Catholic Basilica that is an absolute Must See!! The church itself seems kind of large for this size of population, but the real dramatics are when you go inside. I have been in a lot of Catholic churches and seen some pretty ones, but this one takes the cake. The detail is absolutely stunning and very elaborate. Absolutely beautiful!! I did not take any pictures inside because it is a church of worship but if you take the time to visit, you will not be disappointed with what you will see. It looks as if they finished the work yesterday as everything was so immaculately done. Put it on your places to go to. Only 45 minutes from McGregor and it's free.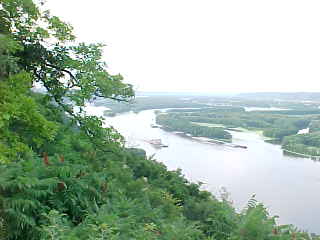 We made it to the airport on time and after doing everything but strip search me, I got on my plane on time and flew to Chicago. Within a few hours I took off from Chicago and landed in Los Angeles around midnight. My wife was there to pick me up and soon enough I was home in the security of my bed. Glad to be back. I've been on the road for some time. I was glad to find out about that historic Inn. I was glad to find out about McGregor, Iowa. I was glad to experience that adventure! Yet, so much more to see.
Click to view each set of photos below:
Set #01 / Set #02 / Set #03 / Set #04 / Set #05
Set #06 / Set #07 / Set #08 / Set #09 / Set #10
Set #11 / Set #12 / Set #13 / Set #14 / Set #15
Set #16 / Set #17 / Set #18 / Set #19 / Set #20
Set #21 / Set #22 / Set #23 / Set #24 / Set #25
Set #26
CLICK HERE
To Read More Rail Travelogues
And View More Photos Of Rail Travel!
Visit related pages from this and other web sites:
Click below for pages in the directory of TrainWeb sites: