A Weekend of Green Mountain Railroad Excursions
Part 1: Green Mountain Flyer, Bellows Falls-Chester, VT
From Essex Junction via Amtrak's Vermonter
August 13, 2004
By Matt Melzer of TrainWeb.com
http://www.trainweb.com/travelogues/mattmelzer/2004h13a.html
Click on photos below for a larger image: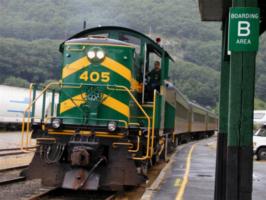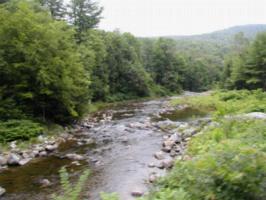 Spending the summer in Burlington, Vermont, I knew I had to take advantage of the unique opportunities for rail travel offered in one of the most sparsely populated and most beautiful states in the Union. The Green Mountain Railroad Corporation (a subsidiary operator of the Vermont Rail System in charge of their passenger excursions), is offering three distinct tourist excursion trains this summer. I determined that I could ride all three in one weekend, or three consecutive days. Today I will be riding the Green Mountain Flyer (GMF), which operates between Bellows Falls and Chester. Taking Amtrak's Vermonter round-trip from Essex Junction would allow me to ride the entire GMF's operating day, two round trips, with an hour to spare at both ends of it. Tomorrow I will take all four round trips of the new White River Flyer between White River Junction and Norwich. Amtrak's Vermonter also allows me to do this with an hour to spare at the beginning and end of the excursion train's operating day. On Sunday I will ride two round trips of the Champlain Valley Flyer between Burlington and Shelburne. Burlington Union Station is within walking distance of where I'm living for the summer, so transportation there will be a snap.

I awoke at 5 AM. After having the breakfast of champions (a Kashi bar and a can of Red Bull), I was soon out the door for a ten-minute walk to the Chittenden County Transit Authority's Cherry Street bus terminal in Downtown Burlington. There were only a few passengers there at this early hour. At 5:45 AM, I caught the number 2 bus towards Essex Junction. Although the bus was an older-style, high-floor RTS bus, at least two decades old, I was impressed by how impeccably clean the bus's interior was. I guess this is the difference between transit agencies in big cities and small towns! Normally, it takes ten to fifteen minutes to drive to the Amtrak station in Essex Junction, but the bus takes a circuitous route, making the trip in forty minutes. During rush hour, the bus serves the sprawling and well-secured IBM campus, a major local employer. Three passengers deboarded there, two of whom appeared to be service workers. I overheard the bus operator express worry to one passenger about how is daughter is at the final Phish concert this weekend! To most music fans, Phish is an obscure jam band, but in Vermont, Phish is nearly a religion. This band that's about as old as I am is breaking up permanently, and is having their final concert ever with an outdoor festival in the tiny hamlet of Coventry. Thousands of fans, many of whom paid over a thousand dollars per ticket, are descending on Coventry for a concert that is already shaping up to be as environmentally inclement as Woodstock was.

Indeed, Vermont has been pounded with a tremendous amount of rain recently, thanks to the same jet stream that's bringing Hurricane Charley into Florida. The remnants of Charley will in fact hit this area within a day or two. The weather is far from ideal for rail travel, and especially photography, on this lucky Friday the 13th. But I have to make do with what I have because, like a train's schedule, the weather is not in my control! My bus arrived at the Essex Junction Amtrak station at 6:25 AM. I went inside to chat with the station's caretaker, Jim, who is extremely knowledgable about local rail operations on the New England Central, Guilford, and Vermont Rail lines. Train 55, Amtrak's southbound Vermonter, arrived at 7:06 AM, one minute late, and I boarded along with about a dozen other passengers. I was the only one, however, in the cozy Business Class car, which, as expected, was a refurbished Amfleet Club-Dinette, 48156. Amtrak is apparently refurbishing some Club-Dinettes with leather seats, which I am eager to see sometime.

Click on photos below for a larger image: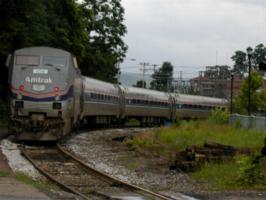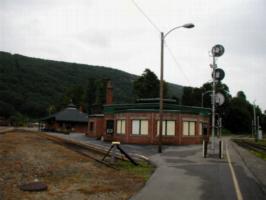 I soon purchased a breakfast sandwich on a bagel from the friendly cafe attendant, and received a complimentary sparkling water. The sandwich was surprisingly tasty. We rolled south through the towns of Richmond and Bolton, departing Waterbury at 7:37 AM, four minutes late. The gently rolling green mountains were very picturesque, with low clouds gently covering their tops and flowing around them. As I predicted, however, the rain made it very difficult to take pictures out the window. A sizeable group of passengers boarded at Montpelier Junction (which joins the line from the now-defunct Bombardier plant in Barre that assembled the Acela Express trainsets), but only one passenger was seated in Business Class. We departed at 7:52 AM, five minutes late. We stayed equally late through Randolph, but arrived into White River Junction early. One more Business Class passenger boarded here, and we departed on-time at 9:10 AM. Eight minutes later, our train passed a delapidated covered bridge to the right. Yet another single passenger boarded Business Class at Windsor, from which we departed at 9:35 AM, seven minutes late. We soon passed over the Connecticut River, past the famed Windsor covered bridge, into New Hampshire. After a small handfull of passengers boarded at Claremont, we were on our way at 9:46 AM, still seven minutes late. After following a scenic gorge of the Connecticut River, we passed over it again (near former hydroelectric-generating locks), back into Vermont, arriving at Bellows Falls at 10:10 AM, nine minutes late.

I walked into the beautiful depot to the Green Mountain Railroad ticket counter, where I was greeted by Gayle Bellows, Passenger Services Coordinator for Vermont Railway. She had graciously arranged my itinerary for this weekend and cheerfully sent me on my way with my tickets for the day. After taking some photos, I waited to board the three-car excursion train, which backed into the station around 10:30. As the crowd gathered to board, I noticed that every single party except myself was a family with children! That instilled in me tremendous hope that a new generation of Americans raised in otherwise auto-centric communities may understand that there is indeed more to good mobility and community vitality than rubber and pavement. Even if these train rides are slow and nostalgic novelties, they undoubtedly plant seeds of diverse thought in the children's minds.

Click on photos below for a larger image: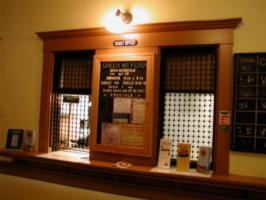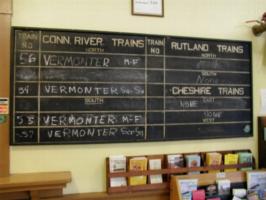 I found GMRC's operating frequency, AAR channel 83 (161.355). When I boarded the train I took a seat in the lead coach. My car had tables and snack bar service, while the others were basic commuter coaches. There are no restrooms on-board, presumably because FRA-compliant retention toilets would be very expensive to install and maintain. Our train departed Bellows Falls for Chester at 11:01 AM, one minute late. Passenger Representative Brian was on hand to point out historical and natural details of the route over the PA. Bellows Falls used to have a two-story depot that stood from 1850 until it burned in 1923, and was replaced by the current structure. We backed out of the station and onto the former Rutland line, beginning our twenty-six-mile round-trip. We crossed over the Bellows Falls Canal, where a work crew was installing new steel girders on the trestle. We followed the other bank of the Connecticut River, getting much closer and more scenic than the Vermonter does. After going over a causeway, we passed the Clarendon and Pittsford #203 and Riverside yard, rejoining the Connecticut for a couple more miles. We went over another causeway through the protected wetland of Herrick's Cove, then turned inland through rock cuts and lush forested areas. Interstate Highway 91 passed high overhead as we followed the small Williams River. We crossed the river over the sixty-foot-high Rockingham Trestle.

Click on photos below for a larger image: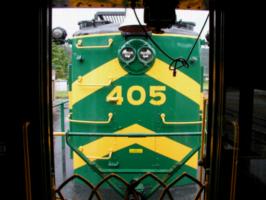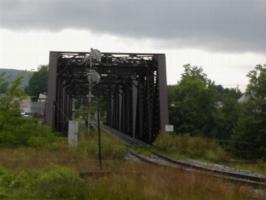 Wayne, one of two Passenger Representatives, sat down with me to discuss the heritage of today's equipment and other scenic highlights. The engine, Alco/GE RS-1 #405, rated for 1000 horsepower, is the only Green Mountain engine to have never left the Rutland Railroad property since it was built in 1951. It was modified when restored to include a Nathan air chime whistle and a double headlight. The coaches were all New Jersey Central commuter coaches built in the 1920s and 1930s by Harriman and Wagner. My car had every other row of seats removed so that tables could be installed, plus a few additional rows removed for the snack bar, where sodas, snacks, and candy were sold. Today's train did not feature the Rutland 551 "Classic Coach" built by Osgood-Bradley, for which passengers are charged a $4 to ride. Wayne informed me that it had been bad-ordered due to brake problems, but might be added to the 2 PM run.

Click on photos below for a larger image: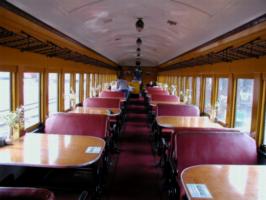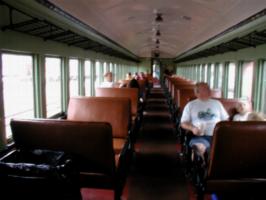 We slowed to cross the over-hundred-foot-high Brockways Mills Trestle, which featured a view of a beautiful waterfall and rocky gorge. I soon noticed that some foliage was already starting to turn to their autumn colors. We passed the rustic, sixty-foot-long Worrell Covered Bridge, the Bartonsville one-room schoolhouse, the Bartonsville Depot Covered Bridge, and the foundation of the old the Bartonsville Depot. The covered bridge has been in continuous service since 1870, and there were indeed cars inside it waiting for us to pass! After going through some cornfields, we passed the old stagecoach route (the Green Mountain Turnpike), and an original stagecoach inn on the route's original alignment! We soon pulled into Chester, whose depot was built in 1872. This was the only station still open when the Rutland Railroad ceased operation in 1961. We arrived into the tiny town of Chester at 11:55 AM, ten minutes late. I watched the engine use the escape track behind the station to run around the train and attach at the other end for our return trip, long hood forward. I returned to my car, which became the last car. Waiting behind us on the mainline was a through freight led by a leased engine.

Click on photos below for a larger image: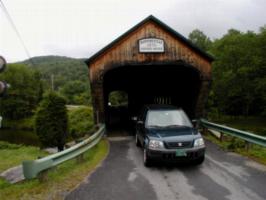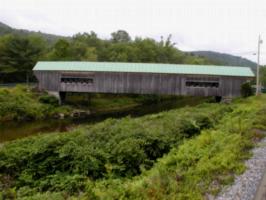 Click on photos below for a larger image: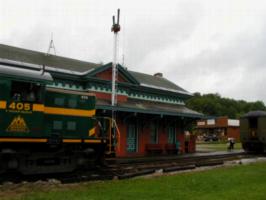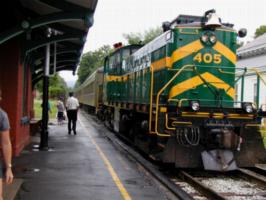 A few new passengers joined the train in Chester. We departed at 12:17 PM, two minutes late, and Brian continued his commentary. After returning to Bellows Falls just after 1 PM, the trainset disappeared to the yard, and I checked out the Depot Square Gift Shop. I purchased a Green Mountain Railroad t-shirt and a bumper sticker that says, "Old railfans never die, they just lose track." Gayle Bellows informed me that the Rutland 551 would indeed be added to our train! A history of the 551 that Wayne provided to me says that the car was built by Osgood-Bradley (later part of Pullman) in Worcester, Massachusetts, in 1913 as a smoker coach for the Rutland. The fifty-one-ton, sixty-one-foot wooden coach was built on a cast-steel underframe and seated seventy-two passengers in leather seats. It was taken out of regular service in 1936, used briefly during World War II, and in 1946 was stripped of its interior appointments. It was a work car and then a bunk car for the Rutland. Along with car 260, it was purchased in 1963 by F. Nelson Blount for service on the new Green Mountain Railroad (engine 405 is named after Blount). The interior was refurbished with cloth seats purchased from Canadian Pacific, and was again renovated in 1983.

Click on photos below for a larger image: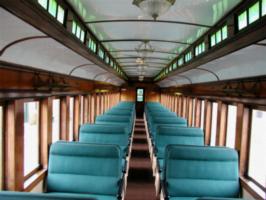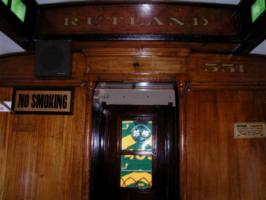 With seven other Classic Coach passengers and a hefty load on the train as a whole (almost a hundred passengers for the day), we departed Bellows Falls again at 2 PM and had a very rainy trip to Chester. After arriving at 2:55 PM, ten minutes late, I walked to a nearby deli to get an egg salad sandwich to eat on-board. The rain stopped briefly as we departed at 3:19 PM, nine minutes late, but became absolutely torrential once we were following the Williams River again. Brian said the tracks will have to be closely monitored and inspected before tomorrow's operating day because a flood watch is in effect for the region today. When we passed the Bartonsville Depot Covered Bridge again, two young ladies were getting drenched standing under it on the far banks of the river. Brian quipped that travelers sought refuge from bad weather with the bridge, but that usually meant going inside of it! Wayne mentioned this weekend's Phish farewell concert, and that 70,000 tickets were sold. He first asked if anyone was attending. I didn't hear any cheers (which came as no surprise, given the demographics of the train's clientele). He then bestowed pity upon anyone having to travel north on I-91 tonight, given the outlandish traffic that will be expected (and south on Sunday). We arrived into Bellows Falls a few minutes after 4 PM, ending the Green Mountain Flyer's operating day. I took a picture of the crew and thanked them for their service, then headed into the station to wait for train 56, the northbound Amtrak Vermonter.

Click on photos below for a larger image: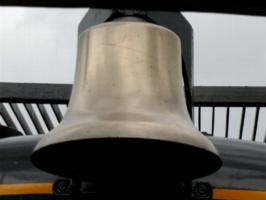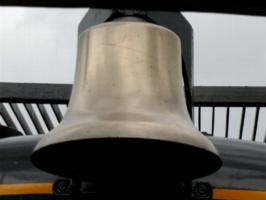 Today's Consist:
Alco/GE RS-1 #405
Rutland Classic Coach #551 (2 PM round-trip only)
GMRC Coach/Snack Bar #1312
GMRC Coach #1306
GMRC Coach #1313
Today's Crew:
Engineer Bruce
Conductor Sam
Passenger Representative Wayne
Passenger Representative Brian
I passed the time reading, and train 56 didn't arrive until 5:50 PM, fifty minutes late. I promptly grabbed a seat pair in refurbished Club-Dinette car 48157, in which I know I traveled once before. Neither conductor lifted my ticket, presumably as a goodwill gesture in light of the train's tardiness. Both, however, asked me where I was going after seeing that I didn't have a seat check! After doing more reading, I purchased an entree salad of albacore tuna over romaine lettuce and cherry tomatoes with beans and spanish rice. The taste was a little bland from refrigeration, but it filled me up. For dessert I had a Red Delicious apple, which came packaged with a thick slice of Cabot Vermont Sharp Cheddar Cheese. That was certainly a nice touch. I helped an elderly man with his baggage as he and many other passengers detrained at White River Junction. When we departed there at 6:50 PM, we were still fifty minutes late. After Montpelier Junction, I was the only passenger left in Business Class. We departed at 8:04 PM, forty-seven minutes late. With forty-five minutes to get to Essex Junction, it looked doubtful that I would be able to make my 8:48 PM CCTA route 2 bus back to Burlington, and would have to wait until the last bus at 10 PM (keep in mind that I came in on the very first bus this morning, making for quite a long day, with another ahead of me). But the conductor informed me that no one would be detraining at Waterbury and we would thus skip that stop, cutting our running time! Sure enough, we passed through Waterbury at restricted speed, then charged through one last fierce storm on my home stretch to Essex Junction. Lucky for me, we arrived at 8:42 PM, forty-three minutes late, giving me six minutes to catch my bus to Burlington. It worked out perfectly, given that I would have had to have waited for the same bus even if we were on-time. I got home by 9:20 PM, ending a long but exciting day of experiencing integrated multimodalism at its best.
It is self-evident that connecting modes of transportation benefit from each other. Yet my biggest critique of the services I rode today is that, to the average traveler, they are barely visible to each other. Because I'm a train and transit enthusiast, I was able to figure out that I could take the bus from Burlington to Essex Junction to connect to Amtrak, which could take me to ride the Green Mountain Flyer. But the operators of each of those services, as far as I could tell, do not engage in active cross-promotion. CCTA needs to encourage more travelers to use their route 2 bus to get to and from the Amtrak station, to augment modest local patronage. Amtrak needs to tout transit connections at their stations, as well as advertise the Green Mountain Railroad trains as tourist destinations in the towns served by both. For its part, Green Mountain Railroad would do well to engage in more targeted advertising to prospective Amtrak customers. It's a good start that their Trains Around Vermont brochure is available in Amtrak stations in the area, but it's only a start. CCTA, Amtrak, and the Green Mountain Flyer are all precious economic and social assets to their respective communities, and provided me with excellent service today. I hope that they may continue to thrive for generations to come. Thanks again to the employees of the Green Mountain Railroad in Bellows Falls for making today possible!
Click on the below links to view each set of photos:
Set #01 - CCTA Bus, Southbound Amtrak Vermonter
Set #02 - Green Mountain Flyer
Set #03 - Green Mountain Flyer
Set #04 - Northbound Amtrak Vermonter
Click here for the next segment of this travelogue:
Part 2: White River Flyer, White River Junction-Norwich, VT
Questions? Comments? E-mail matt@trainweb.com .
CLICK HERE
To Read More Rail Travelogues
And View More Photos Of Rail Travel!

Are you interested in rail travel along some or all of this journey yourself? There are very few travel agents that have the necessary knowledge and experience of rail travel to answer your questions and to book a journey that you will remember for a lifetime. TrainWeb has sought out those travel agencies and rail tourism companies that not only have the knowledge to book your travel, but have gained the required experience through extensive rail travel themselves! Click here for a list of these rail travel providers!
Visit related pages from this and other web sites:
Click below for pages in the directory of TrainWeb sites: