Final Run of the Amtrak / VIA International
April 22 - 23, 2004
By Matt Melzer of TrainWeb.com
http://www.trainweb.com/travelogues/mattmelzer/2004d21a.html
In this process, no station stops lose service, and no fewer trains would be operated. In fact, the only tangible loss of service is over the stretch of track between Port Huron and Sarnia, which are less than two miles apart. However, the loss of this border crossing is devastating to many regular International passengers. Even with no station abandonments, dozens of possible city pairs are instantly eliminated. Amtrak justifies ending the service by citing the fact that ridership has steadily decreased since its peak in 1997, falling by eleven percent in fiscal year 2003 alone. But over a third of the International's passengers cross the border every day. Amtrak also points to the allegedly slow border-crossing process, which has become even more difficult since September 11, 2001, causing long delays to the train. Many insiders who know better, though, have noted that most of the International's deteriorating on-time performance (and subsequent loss of ridership) has been caused by dispatching problems on the Canadian National's Grand Trunk Western Line. If Amtrak was to end every train that runs tardy due to faulty host railroad dispatching, few routes would remain at all.
The Amtrak Blue Water name comes from the train which operated from September 1974 until the International began running in 1982. Like before, the modern Blue Water would originate in Port Huron early in the morning and return from Chicago mid-afternoon, allowing Michigan residents day trips to Chicago and same-day connections to many long-distance trains (the International schedule precluded either). Amtrak made similar changes a couple years ago to the Chicago-Grand Rapids Pere Marquette, and ridership increased twenty-two percent during fiscal years 2002 and 2003. However, rail advocates opposed to the impending changes point out that the International was started because the Blue Water route failed the first time! Besides, the two corridors are apples and oranges. The Pere Marquette did not lose such a significant market (or any city pairs at all), which the Blue Water will after replacing the International. Amtrak's primary motivation for the service change is likely an additional annual subsidy it will receive from the Michigan Department of Transportation for operating state-supported routes: Instead of $5.7 million annually, Amtrak will now receive $7.1 million per year (starting with the current fiscal year), in exchange for ending the International, starting the Blue Water (and strongly marketing it), as well as reinstating station agents at East Lansing, Flint, and Port Huron (those positions were discontinued by Amtrak under George Warrington in 2002).
This strategy may or may not work. There has been much outcry from rail advocates and the public over the proposed changes, but few gestures of support except from Michigan DOT. The International has been heavily patronized by students at Michigan State University in East Lansing; it's unclear how that will change with the Blue Water. Either way, the traveling public is clearly being done a disservice. Chicago and Toronto are two of the most important centers of culture, commerce, population, and transportation in that part of the continent. They also happen to be sister cities. In a perfect world, perhaps the Blue Water would go overnight to Toronto with a sleeping car and a day train could continue operating via Detroit and Windsor, or the other way around. But considering the increased post-9/11 consciousness of the now painfully obvious need for redundancy in transportation, cutting corners like this is unwise. The Adirondack, Maple Leaf, and Cascades are now the only remaining cross-border trains between the US and Canada, two industrialized nations that are supposedly intimate partners in trade.
What happened to NAFTA? Wasn't that intended to strengthen the North American economy? Of course NAFTA was hardly a transportation bill. But why can economic planners outside of the transportation industry not take a more holistic approach? Perhaps they could see that the NAFTA dream might be more easily realized through secure, robust, redundant means of transportation (both passenger and freight) across the Canadian-American and American-Mexican borders. Otherwise, perhaps we should move to a protectionist economy. My point is, the obvious institutional disregard for the less obvious aspects of a united continent is hypocritical and disgusting. No one can be blamed for this. But as citizens we can acknowledge that we've failed to hold lawmakers accountable for being consistent and thorough in their policies and the ways in which they're implemented.
Wednesday, April 21
My marathon itinerary from Santa Cruz, California to Toronto began at the Santa Cruz Metro Center, where I attended the inaugural meeting of the new Santa Cruz Metro Advisory Committee, a local citizens' transit feedback group. Just after 7:30 PM, a Santa Cruz Airporter shuttle van picked me up to take me to San Jose International Airport (which is officially named after Norman Y. Mineta, US Secretary of Transportation, who has not only taken a grim position towards Amtrak, but recently got his facts wrong about passenger rail at a Congressional hearing). On my way, I received a call from the automated EasyUpdate system of financially beleaguered United Airlines to tell me that my flight would depart on-time. By 8:40 PM, I was at Terminal C at San Jose to catch United Airlines flight 434 to Chicago O'Hare at 10:50 PM. This was my first time traveling out of the dated, quaint Terminal C, used by all airlines except Southwest and American, which enjoy the sprawling, modern Terminal A. I had already printed out my boarding pass using United's EasyCheck-in online, but since there was no line at the ticket counter, I obtained a new boarding pass for an exit row seat. At the security checkpoint, I was the only passenger in sight, with about six federal screeners standing with little to do! I noticed that I was not checked for identification at either the ticket counter or the checkpoint, yet ID is required to board at San Jose. The reverse might seem more logical, but there remains too much inconsistency in security policy at US airports.
San Jose's Terminal C is so old that there are no jetways; passengers must walk onto the tarmac and board stairs to the plane. It was not a difficult climb aboard the Airbus 319 that served my flight, and I soon settled into my spacious EconomyPlus exit row seat 11C. I was delighted to have the entire row to myself, and even happier that United flight 434 departed at 10:48 PM, two minutes early. I noticed that Hemispheres (United's corporate inflight publication) advertised that the Verizon Airfone service which usually costs $3.99 per minute for domestic calls is only 69 cents per minute for Verizon Wireless customers. Amazingly, this is what I would spend per minute to roam with my Verizon phone in Canada! It made me wonder that, if Verizon could manage charging that little to call from the air, must they truly charge that much for a cell phone to roam? Obviously, it's whatever the market will bear, with customer loyalty nominally rewarded.
Thursday, April 22, Earth Day
I spent almost the entire flight with my eye mask on, attempting to sleep. But it's very difficult to get me to sleep on a red-eye flight (or any other, for that matter), and this time was no exception. Fortunately, the flight went by quickly, and we arrived into Chicago O'Hare International Airport at 4:36 AM, eleven minutes early. Eating a Kashi GOLEAN energy bar to tide me over until I could find breakfast, I walked the rather long walk necessary to get to the CTA station. I purchased a farecard and boarded a Blue Line train, which departed around 4:50 AM. The two-car train (which was rather aged after a 1990 refurbishment at New York Rail Car in Brooklyn, NY) soon filled with blue collar workers heading to the grind before dawn. By the time I reached Clinton Street near Union Station around 5:40 AM, light began to break.
I walked through the cool air to Union Station, which was mostly deserted save for a few homeless persons. While I was taking a few photos of signs near the closed Amtrak ticket counter, I was approached by two Metra Railroad Police officers dressed in military-style fatigues. One of the officers had a bomb-sniffing dog. I asked the officers if I could help them, and one reciprocated the question. I showed him my press pass to demonstrate that I didn't mean any harm, but he nevertheless gave me a hard time for standing around the closed ticket counters. This was the first time that I had ever been questioned for taking photos of railroad facilities. As absurd as it may seem, I wasn't anywhere near a train or even any railroad tracks; I was taking pictures of posters! While I understand that transportation law enforcement officials may be on edge after both 9/11 and 3/11, it is nevertheless disconcerting to be treated with suspicion by any government official, especially police officers.
This was my first time visiting Chicago Union Station in which I was not eligible to utilize the Metropolitan Lounge (after ten previous visits), so I went to take a seat in the completely empty Amtrak South concourse boarding lounge. There, I was approached by an Amtrak customer service agent who asked me where I was going. I explained to him that I would be traveling on final International to Toronto. He told me that I was (obviously) extremely early, and I replied that I couldn't help when my flight arrived! I asked the gentleman if he could allow me to board the train slightly early so that I could take some pictures for my story, and he gladly obliged. However, after being questioned by three different officials about my business in just a matter of moments, I donned my necklace press pass so that I could have the first word if anyone else decided to question me.
I found a seat where I could plug in my computer and do some work. I saw my train in the distance waiting on track 20, ready for departure three and a half hours early! If only Amtrak could get all of its trains serviced and in the station in such a timely fashion. From the other side of the lounge, I listened to local television news, which was reporting a series of violent and fatal tornadoes in rural Illinois, a sober reminder that nature's wrath isn't always apparent in California. After picking up tickets for future Amtrak travel, obtaining Amtrak's new system timetable, and grabbing breakfast from Corner Bakery, I overheard Amtrak agents discussing the impending arrival of Amtrak President and CEO David L. Gunn, who would be arriving on train 29, the Capitol Limited, from Washington, DC. I knew he would be in the area to ride the inaugural Blue Water, but it remained to be seen if I might cross paths with him. I knew it wouldn't happen on this day, but perhaps the next.
I sat near Gate E to await boarding my train. I sat across from a woman from Minneapolis who was on her way to see her daughter in London, ON. Nearly in tears, she explained that Amtrak was the only cheap, feasible way to see her daughter. Fortunately, she figured out that she could take Amtrak to Detroit and a shuttle van the rest of the way in the future. Still, it would obviously be more expensive and less convenient. At 9 AM, passengers eligible for preboarding train 364, the final eastbound International, were called to the forward boarding area of the concourse through Gate E. There were upwards of fifty senior citizens in the preboarding group alone! As it turns out, thirty-two of them were women in a group participating in an architecture and design tour of Chicago through Ryerson University in Toronto. I spoke with the group leaders, Beverly and Norma, who explained that they would have traveled one week later were it not for the International being discontinued. On their inbound trip on train 365, the group couldn't sit together in one car, and one of the car's toilets had malfunctioned. They also mentioned that there were railfans both riding and chasing the train because of its soon-to-be historical nature. Overall, the group was happy to take the train, but would've been much happier with a full-service train with a real dining car. As one of the leaders said, "Amtrak should take a lesson from VIA!"
At 9:25 AM, preboarding of train 364 began, but not without incident. Three Amtrak police officers milled around until they pulled aside one of the ladies from the group for allegedly assaulting another passenger in the restroom by "bumping" into her. I overheard an officer give her a stern lecture about committing a crime on federal property and risking arrest and prosecution. However, she was apparently allowed to board. I boarded promptly and was directed to the first car, where passengers bound for Canada (and some for Michigan) would sit. Thankfully, our train was equipped with Superliner cars, and the consist was as follows:
P42DC #35
Superliner I Coach #34062
Superliner I Snack Coach #35002
Superliner I Coach Baggage #31007
The International had a very interesting mix of equipment over the years. Apparently, Amtrak and VIA once alternated providing equipment for each day, and the cars VIA used were ex-Amtrak 3500-series LRC cars. The train ran with VIA F40 engines until VIA's engineers became certified to operate Amtrak's Genesis engines in 2000 or so (of which VIA would soon purchase their own). For most of the 1990s, Amtrak equipped the train with Superliners, occasionally inserting a refurbished ex-Santa Fe Heritage hi-level coach. However, as Amtrak's backlog of deferred Superliner maintenance reached critical levels in 2002, the train often operated with high-density, 84-seat Horizon coaches, which are completely unacceptable for the thirteen-hour trip to Toronto (then again, these cars have also found their way onto some eastern long-distance trains). Fortunately, Superliners would carry the final run of the International. I took my seat in seat 15 of the first car, which was next to one of only two electrical outlets on the upper level (the other having been blocked by the seat to which it was adjacent).
As we passed through Chicago's 21st Street Yards, I noticed several Horizon coaches sharply painted in Phase VI paint, which I had not previously seen. When one of the conductors lifted my ticket, she only took the ticket from Chicago to the Canadian Border (Amtrak issued separate tickets from there to points in Canada). I also had a third ticket from Sarnia to Toronto issued by VIA. She assured me that, after the VIA operating crew boards in Port Huron, they would take both my other Amtrak ticket and my VIA ticket. I took my first walk through the train, as the tour group thanked their leaders for a great trip and showered them with presents. The group even openly joked about the incident with the police. At that same moment, we stopped to allow Mr Gunn's train 29 to pass. It had Amtrak's business car 10001 (Beech Grove) on the rear along with what looked like a Heritage Dorm-Lounge. We had barely left Chicago and train 29 wasn't due in for about another forty minutes; obviously this day's passengers had something to do with that!
I went downstairs in the snack coach to see that the attendant was a VIA employee and the food stock was supplied by VIA. Prices were quoted in Canadian dollars (with American amounts being quite lower). I had been told that on some days VIA would handle the food service, and on other days Amtrak would. After returning to my seat, we stopped again for a reason unbeknownst to me. I noticed that the Chicago Skyway Toll Bridge was still under heavy reconstruction as it was in 2003. I got into very interesting conversation with the passengers across from me, Bruce and Margaret, who had happened to be seated together. Bruce, a middle-aged academic and knowledgeable railfan from Skokie, Illinois. He was employed with Kinko's and had incidentally done some document work for Amtrak! He was heading to London to visit his brother, who lives just blocks from the VIA station there. Margaret, who was somewhat older, spoke with a heavy accent reflecting her heritage of living in northern Ontario. She was going home from visiting her sister and brother-in-law in Joliet, Illinois, which had just been devastated by the tornadoes. Her sister's home sustained a few broken windows and downed branches, but luckily no one was hurt. The house next door took heavy damage from a tree that had fallen on it. So, the day was obviously already quite a bit for her. After getting to Toronto, she would still have to drive two hours to get home.
We soon left the Norfolk Southern (ex-New York Central) main line at Porter, Indiana for Amtrak's Positive Train Control (PTC) system-equipped Michigan line, which also once flew the New York Central flag. Though we made no stop in Michigan City, a few railfans were there with cameras in hand. We stopped short of Drawbridge to obtain permission from both the bridge operator and the road foreman directing maintenance-of-way work at the time. We crossed the bridge, passed a stop sign, passed a flag-protected grade crossing, and actually went into an out-of-service siding to allow train 351, the Wolverine, to pass us. We soon backed out of the siding over bridge and soon proceeded forward with a 30 mph speed restriction for the next two miles. I noticed several old Amtrak Material Handling Cars stored on the north side of the tracks.
Our train passed a CN autorack train at Cedar, but it was fortunately a nonstop meet, the way it should be on a double-tracked portion of a CTC railroad. At East Lansing, dozens of Michigan State University students were waiting on the platform, most for a tardy train 365 which had yet to arrive. I saw the VIA service attendant bring the engineer his beverages. Just when I thought we were about to depart, one of the conductors disappeared into the station for a minute. We departed East Lansing's small station at 3:17 PM, forty-four minutes late, soon passing the old Grand Trunk Western station. The MSU campus appeared to be massive, continuing for a few minutes even after we reached considerable speed. At 3:30, we passed train 365, which appeared to have an identical consist to ours. As we passed through Perry, the engineer reported to a nearby CN signal maintainer that a truck had knocked a light off of a crossing arm at the town's Main Street grade crossing. I soon saw a short, squat mammal running in the forest. It appeared to be a beaver because of its well-endowed tail, but I couldn't be sure because I had never seen one in person before! If it was indeed a different creature, I hadn't seen one of those, either! (A TrainWeb reader later pointed out that I most likely saw a groundhog.) We soon stopped to wait for yet another CN freight, giving credence to the hypothesis that the border crossing cannot be entirely, or perhaps even mostly, blamed. After taking another delay of fifteen minutes, we were underway again.
Only cars 1 and 2 were opened at Durand's beautifully restored Union Station, which we departed at 4:09 PM, exactly one hour late. We soon passed a CN general merchandise train nonstop. A seemingly endless see of autoracks marked our passage of CN's yard at General Motors' Flint truck and bus assembly plant, perhaps the only GM facility that apparently survived the terrible economic devastation that this city suffered over the past two decades. This started long before the much-bemoaned dot-com 'offshoring', before there even were dot-coms. Local housing and infrastructure showed obvious signs of neglect and widespread poverty, conjuring up my memories of the gripping documentary "Roger and Me" and making me want to visit this rust belt town for myself. As for Flint's Amtrak station, it was equally uninviting: An Amshack with the platform fenced off with a barbed wire gate. We departed Flint at 4:32 PM, fifty-four minutes late. We then passed yet another general merchandise train without stopping. At 4:55 PM, we departed the decaying wooden station at Lapeer exactly an hour late. Next to the grain silos across from the station, I noticed an old switcher lettered LIRR! I wondered how it had gotten there from Long Island, New York. (Several TrainWeb readers subsequently informed me that LIRR also stands for the Lapeer Industrial Railroad, though neither that company nor the Long Island Rail Road seem to have LIRR as their official reporting marks.)
Sarnia's Mayor, Mike Bradley, is said to be very pro-rail, and is apparently unhappy with any service cuts that befall his city. In fact, he wants VIA to substantially increase their frequencies to Sarnia. Apparently, there was a time when Mayor Bradley was in office that Sarnia had double the amount of passenger rail service than it has today. The loss of the Canada's only through train to Michigan will surely not help matters from his perspective. A gentleman who reseated in front of Bruce and I explained that he had just discovered this week that he could take the train between Chicago and his home in Stratford, and didn't realize until today that today is the final run! Irony of ironies. I cannot count how many regrets I heard on the trip so far about the route being cut. Not one person with whom I spoke endorsed the changes. In any case, our train departed Sarnia at 7:25 PM, exactly on-time for the first time since departing Chicago. Of course, in 1991, the International ran almost 2 hours faster than it does now, with padding having been added east of Port Huron. After the rest of my tickets were collected, I went to the cafe car and purchased a dinner of the last Gardenburger from Amtrak's stock, oatmeal raisin cookies, and a Molson. As daylight began to fade, I admired the gentle countryside, but knew I wouldn't be missing much once the sun went down. We stopped for a few minutes to let westbound VIA train 83 pass, which screamed by with a VIA P42DC and a few LRC cars. As a result, we departed Strathroy at 8:13 PM, seven minutes late. Sadly, Strathroy's stone station (which was surely once beautiful) had burned down. I overheard the service manager say that the fire had been within the preceding month. Hopefully an exact replica can be built on the same site.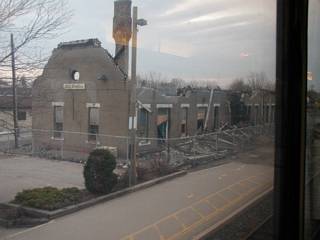 After joining the line from Windsor, we paused for several passengers to detrain at London, which is an impressively large city considering the isolated areas by which it's surrounded. London's recently-refurbished station is one beneficiary of VIA's current capital improvement cycle, generously funded by the Canadian taxpayers. We departed at 8:39 PM, nine minutes late, and diverged on the route to Toronto that goes via Kitchener. Owned by RailAmerica, the Goderich-Exeter Railway is one of the few short lines over which mainline passenger trains operate in North America. Until the late 1980s, the International had traveled a more southerly CN route via Brantford (which is still served by VIA). I soon fell asleep, waking up briefly for each station stop. I was up for good after Kitchener, counting the moments until I could enjoy sleeping in a real bed. From what I had heard, several railfans were present at many of the stations to photograph our train. Around Guelph, we passed another westbound VIA train with LRC cars, but I could not find its number in the limited schedules of VIA trains Amtrak provides in its system timetable. At Georgetown we once again entered CN trackage and passed the GO Transit commuter rail yards. Train 364 arrived into Toronto Union Station for the final time on track 8 at 11:42 PM, fifteen minutes late.

Walking onto Front Street, my breath was taken away by Toronto's cosmopolitan charm which I had not seen at night. Perhaps my tired eyes were simply overwhelmed by the twinkling lights across the skyline and on the street. I caught a taxi to the Bond Place Hotel on Dundas Street to enjoy a brief stay in a decent room (which even had a view of TTC's Victoria Streetcar line). Though my thirteenth floor room was designated smoking, it didn't bother me at the time and I too worn out to complain. (The next day, however, I noticed quite clearly that my clothes smelled somewhat of smoke.) I was in bed by 12:45 AM, but amazingly, it took me forty-five minutes to finally get to sleep. My very long day finally ended exactly thirty-six hours after I had awoken in Santa Cruz. The last time I had been up for this long traveling was four years previous, when my school group had to take three flights (incidentally, also on United) and a seven-hour bus ride to get from Los Angeles to a remote town in Ukraine for a three-week exchange. Even then, I had taken more naps than on this occasion! (I later recalled that I stayed up for almost that long traveling to last year's National Corridors Initiative Conference, but I got to enjoy a full night's sleep after that first day.)

Friday, April 23

I was roused from my sleep by a 5:45 AM wake-up call, and I was downstairs, checked out, and in a taxi back to Union Station fifteen minutes later. It was by far my briefest hotel stay ever! I arrived at Toronto's magnificent Union Station just after 6 AM to get in line at track 10 with the twenty or so other passengers waiting to board train 365/85. A VIA agent asked to see my tickets, and remarked that my name, birthdate, and citizenship information were not on the manifest to be given to US Customs and Immigration! I made sure that the situation was rectified so that I wouldn't be given undue trouble at the border. At 6:20 AM, passengers were called to board the very final Amtrak / VIA International train 365.

Although the consist was obviously the same as before, our train was also towing a VIA trainset of an F40 engine and three LRC cars, to make up today's first consist of VIA's first independent operation of this train from Sarnia. I was surprised, as VIA had advertised that vintage Budd cars would be used on the route; however, such short trainsets of coach cars are probably interchangeable and depend on what the yard crew decides to do on any given day. In any case, this would probably be one of the only times in the history of Amtrak and VIA in which their passenger cars would be coupled together, compounding the historical nature of our train. The VIA service manager directed me and all passengers for the US to car 1, so I wound up in the exact same seat as before, dirty window and all! I had no other choice if I was to sit by an electrical outlet. I finally discovered that the frequency used between the service manager and the engineer was channel 66, but it dismayed and frustrated me to have not heard anything on that channel after departing Toronto.

A few railfans greeted the train at Kitchener, where a large handful of passengers boarded. We were four minutes late upon departing the brick station at 8:27 AM. I asked the service manager if US passengers can be expected to disembark at Port Huron for inspection. She replied that, while business is usually handled on-board, on some days Customs decides to make all passengers exit with their baggage to x-ray the articles in a minivan (the US Custom and Immigration office at Port Huron is a small modular unit, which is presumably for administration and not the screening of passengers). Of course, after this day, no federal agents would be needed at Port Huron anymore. I managed to plug my single-piece AA battery charger into the outlet, which was partially obscured by the armrest of the seat in front of me. The unit itself is almost as wide as the gap, so I had to have the retractable prongs partially open to finesse them into the outlet. Alas, my cell phone charger is slightly wider, so those few centimeters caused it to not fit when I tried.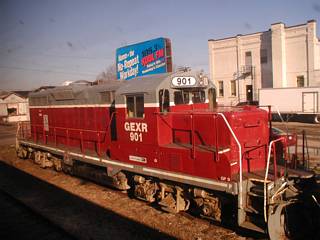 We made an unusually long station stop at Stratford considering the few passengers that boarded there (all of whom were local). We departed at 9:13 AM, twelve minutes late. Walking through the train, I estimated the first two cars to be about forty percent full, with the service manager having the last car to herself. East of Saint Marys was a fenced-off stone structure, apparently an old station. Near it was a nicely painted Grand Trunk Western caboose on display with the safety message, "Chances shorten lives." After passing over a picturesque river crossing that provided a panoramic view of the town, we rolled through Saint Marys' brick station (which appeared to be a replica) without stopping at 9:30 AM, eleven minutes late.

Jim Wallington of America by Rail Tours, who had ridden the final eastbound International from Battle Creek to London, sat across from me. He corrected me in that the inaugural Blue Water celebration would take place the day before the inaugural revenue run, not after. So, while the schedule indicates no train on April 24, there will indeed be a train, but restricted to VIPs only. Thus, Amtrak President and CEO Gunn would likely ride April 23's truncated train 364 to Port Huron in order to catch it the next morning. He was provided this information from the Michigan Association of Railroad Passengers, of which he's the group's secretary. After leaving London, we briefly followed the aptly-named Thames River, as Jim pointed out. I purchased a ham and cheese sandwich for an early lunch before the cafe closed until Port Huron. The attendant said that new Amtrak supplies would be brought on there. Jim later told me that the attendant would return to Toronto from Chicago by taking Amtrak to Detroit, then a taxi to Windsor to catch VIA there. The VIA service manager soon came through the train to distribute US Customs forms. One passenger detrained and four boarded at Strathroy for Sarnia. We departed Strathroy at 10:34 AM, thirteen minutes late.

Jim told me that not only will he ride the inaugural Blue Water for 2004, but that he also rode the first Blue Water from Kalamazoo to Chicago when it began in 1974! It was powered by a vintage E8 and featured a club car and a full dining car. MARP is on record as officially supporting the new Blue Water, putting them at odds with the smaller, grassroots group Save Our Trains Michigan, which had been vocal in the local press in its opposition to the changes. I asked him about the condition of the tracks between Port Huron and Detroit, and he replied that it was substantially upgraded when CN took over the Grand Trunk Western. In fact, one proposal for the Blue Water was to run it via Detroit! Jim also gave me some interesting background about railroading in the Sarnia and Port Huron area. Before the Saint Clair River Tunnel was built, a rail ferry was the only rail connection across the water. The ferry only ended within the past decade! Port Huron has a historic station once used for that service. The station is now known as Edison Station because Thomas Edison grew up very close to there. While the building had fallen into disrepair, it is now fortunately open as the Port Huron Museum.

I chatted with the conductors about the life and death of the International, which may be even more intentional than meets the eye (for reasons I cannot even publish).The assistant conductor asked me, "You came all the way from California for this?" I replied yes, indeed, specifically to expose the second-class citizenry enjoyed by the passengers and crew of stepchild trains such as the International, whose demise was almost a self-fulfilling prophecy thanks to chronic neglect on the part of both Amtrak and Canadian National. I would feel remiss in my duties as a journalist of passenger railroading if I didn't shed light on the darkness. It is specifically the fear of confronting injustice that perpetuates it, more than anything else. Most of the mainstream media is guilty of encouraging this phenomenon every day. I could have decided to cover the inaugural Blue Water instead, like the news cameras likely will, and as Amtrak and Michigan's media relations would rather have preferred I did. But I would then have implicitly subscribed to their squeaky clean spin on how the service change came to fruition in the first place (which most news outlets would probably not challenge). Don't get me wrong, TrainWeb has been honored to cover the inaugural (and final) runs of several Amtrak routes over the years. We have also attended countless other events intended mainly for the media. The circumstances in this case, however, were quite unique, with a supposedly inferior route being replaced with a supposedly superior one. Perhaps I could have covered both events. With time constraints, though, I had to choose between the version of history that the establishment wants everyone to see, and the version of history they would rather forget. In the spirit of an honest historical record, I'll take the latter any day.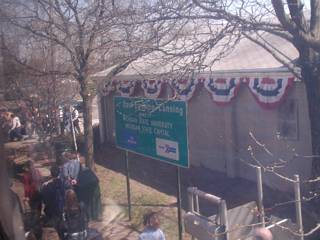 A massive crowd of MSU students was waiting to board when we arrived at East Lansing. They were wisely sent to fill the empty rear car. The East Lansing station was draped in red, white, and blue banners, presumably in preparation for the Blue Water celebrations. When we departed East Lansing at 3:29 PM, the train was an hour and one minute late. Padding helped reduce our delay to forty-two minutes once we departed Battle Creek at 4:24 PM with five more passengers. Entering Norfolk Southern territory, the International was permanently liberated from being at the hands of CN dispatchers, whose tactics have surely caused many Amtrak passengers over the years to say 'never again'. We diverged onto Amtrak's Michigan line before arriving into Kalamazoo. Another large group of college students was waiting to board there, this time from Western Michigan University. Our train departed Kalamazoo at 4:54 PM, forty minutes late. It occurred to me that the Blue Water schedule would put college students in Michigan going home to Chicago for weekends at a terrible disadvantage. With the westbound International having served Michigan college towns in the afternoon, students could attend class on Friday and be home the same evening. Now students will have to miss class on Friday or spend only Saturday night at home. Fortunately, the Blue Water's afternoon eastbound departure from Chicago will probably prove useful on Sundays for returning to school.

Soon after entering Indiana (and Central Daylight Time), we slowed down while passing through the work zone of Amtrak's state-of-good-repair tie and track replacement project. We crossed over the Michigan City Drawbridge, past the Northern Indiana Public Service Company's generating plant, and over a South Shore Line interurban branch. Just before 5:30 PM, at Porter we diverged onto the NS mainline, the home stretch into Chicago. This part of the route in Northern Indiana is infamously characterized by some of the most collectively polluting industrial plants in the world. As foul of a sight and smell it may be, such scenery is rare. There are only a few places in the world with such a heavy concentration of factories, mills, and plants as egregious as the ones found here. I can only imagine how the area looked sixty or so years ago. As we passed through Whiting, I caught a brief, hazy glimpse of the Chicago skyline across Lake Michigan. Going through the Hammond-Whiting station without stopping, we were about twenty minutes from Chicago, barring any further delays. We soon passed train 30, the Capitol Limited, then train 354, the Twilight Limited. Around 40th Street in Chicago's South Side, I gathered my belongings and went downstairs to beat the inevitable crunch experienced while detraining from a crowded Superliner car. Against the evening rush, train 365, the final Amtrak / VIA International, arrived into Chicago Union Station for the very last time at 6:31 PM, forty-six minutes late (on track 16, I believe). I thanked the conductor, and he replied, "I'm not sure I really helped you!" Through the haze of diesel exhaust from idling trains, I briskly walked into the station, through the Great Hall, and onto Clinton Street towards the street's eponymous CTA 'L' station.

I caught a Blue Line train for O'Hare, arriving about 50 minutes later. I went to the airport's bus and shuttle center (in front of the Hilton) to wait for my shuttle to the Hampton Inn O'Hare, which came after almost a half hour. With three other passengers, I was taken to the nearby Hampton Inn in Schiller Park. By the time I got there, it was already well past 8 PM. Among the other passengers was a young Russian couple. At the hotel, the gentleman held the door for me, and I had a rare opportunity to exercise one of few expressions in my very limited Russian vocabulary: "Spaciba!" ("Thank you!") Surprised, he asked me if I spoke Russian, and I said, "I wish!" Check-in was fast and easy, as my keycard had already been prepared for me. I noticed that the lobby was lined with photos from what looked to be the immediate post-WWII era. Many of these photos were of New York Central trains and stations!

I was given a second-floor room directly in front of the elevators, ice, and vending machines. I was amazed at my accommodations given the very cheap rate I paid. The spacious king room was as attractively decorated as one could expect a hotel room to be. A complimentary bag of Oreo cookies (which, unfortunately, are loaded with partially hydrogenated shortening) sat by the bed. On the bed was a very nifty lap tray for food or laptop computers. The room's desk was large, and featured an ergonomic work chair. There was also a large easy chair with an ottoman. The bathroom, too, was spacious, and the shower head was a Waterpik Shower Massage. Every room in the hotel also featured free wireless high-speed internet access, which worked great for me. I had looked into staying at the famed Hilton inside the airport for its obvious convenience, but such a premium is placed on the location that the lowest rates I found were double what I paid to stay at the Hampton Inn! I'm also sure that the room amenities would not have been much better, if at all. It would be worth my money to stay at a hotel inside a rail terminal, but I am not a serious enough aviation fan to justify the cost in this case.

My relentless travels left me rather hungry, but also too tired to take the hotel van to area restaurants. Fortunately, several Italian restaurants in the area delivered, and that's the exact cuisine I craved. I ordered dinner from Grand Stand Pizza in nearby Franklin Park. It arrived in less than a half-hour, which was great for a Friday night. My lemon garlic chicken pasta arrived piping hot, along with a salad, a large roll, and a soda. The food was excellent and satisfying, especially for the price. It also happened to be my first real meal since my girlfriend Krista had taken me out for lunch on Wednesday. I spent the rest of the evening reading, taking care of online business for the first time since Wednesday, and catching up on the news. The Port Huron Times Herald (which has had the most extensive coverage of the Michigan route changes among local press) had run a story about the International's demise on Thursday. It featured Richard Bieniasz, who was my cafe attendant on today's final train! Just as at the Bond Place Hotel, it took me a long while to get to sleep in the strange (though comfortable) bed. I believe I fell asleep just after 1 AM. I might add that I paid about the same rate at the Bond Place Hotel, which was inferior to the Hampton Inn in every way. That is, of course, comparing apples to oranges, as the former is located in the middle of a very large city, and was a tremendous bargain in that context.

Saturday, April 24

Around 5 AM, I received an automated call from United Airlines' EasyUpdate informing me that my flight would depart on-time. It was deja vu when I had to heed my 5:45 AM wake-up call, just as I had done the day before. I quickly got dressed and packed, and my receipt was already waiting for me by the door. I went downstairs to turn in my keycard and enjoy a complimentary continental and hot breakfast before catching the hotel shuttle back to O'Hare at 6:30 AM. I sat next to an adorably affectionate elderly couple headed for Puerto Vallarta, Mexico, which happens to be the only resort destination I've visited multiple times (four). I was soon inside United's Terminal 1, quickly obtaining my boarding pass from an EasyCheck-in kiosk. The wait to get through security was about ten minutes, not bad at all for O'Hare. Once I reached the familiar Concourse C, I had a customer service agent change my seat assignment to an exit row seat. I boarded United flight 187 to Oakland through gate C29 at 7:45 AM (identification was not required, as IDs are checked at the security checkpoint at O'Hare).

I had originally planned to fly back to San Jose. Actually, since I was traveling on a capacity-controlled United MileagePlus award ticket, no flights were available to San Jose when I booked my reservation in February. I thus had to settle for San Francisco. Then, less than a month later, space had opened up on a San Jose flight, so I was reticketed. Then, about a week later, I began my classes for Spring quarter at the University of California, Santa Cruz. One of my classes, (Agri)Culture in California (a student-led discussion seminar), had a series of field trips planned for the quarter. One such trip, to the People's Grocery cooperative in Oakland, was scheduled for April 24! I had to change my itinerary yet again. My United reservation, at some point before I traveled, had me arriving at all three of the Bay Area's major airports! Fortunately, I was never assessed a change penalty because, like most airlines, United considers the Bay Area to be one destination in its fare rules. The plan for this day was to fly to Oakland and take BART to West Oakland (it actually turned out to be Ashby), where I would be picked up either by a classmate or by my instructor Jason (who is himself a student).

As our plane descended over Nevada, I switched to seat 10A to get pictures of the beautiful scenery for the duration of the flight. After passing over the Sierra Nevada range, the Central Valley, and the Coast Range mountains, we turned north along the San Francisco Bay at Fremont, approaching Oakland from over the water. We arrived at 10:28 AM, sixteen minutes early, and I soon caught the AirBART bus to the Coliseum / Oakland Airport BART station. Like the International, my long journey to ride it was history. While I wish Amtrak and the people of Michigan nothing but great success for the Blue Water, may we never forget what happens when a train route is discontinued. May we mourn the loss of such an invaluable public service as our tax dollars continue to be shoveled into the seemingly bottomless pit of unsustainable road transportation. Perhaps the madness will end when there are no more pristine lands over which to pave, and when there is no more oil to feed our cars and our addiction. And on one happy day, hopefully in my lifetime, North America will once again be blanketed with the safe, extensive, reliable, passenger rail service that will provide the security of redundancy to those who can drive, and a very essential service to those who can't. Until then, let's get the word out that people can and should ride trains today, lest we not be able to tomorrow.

Click on the below links to view each set of photos:
Set #01 - United flight, Chicago Union Station
Set #02 - Final Eastbound International departing Chicago
Set #03 - Final Eastbound International through Niles
Set #04 - Final Eastbound International through Battle Creek
Set #05 - Final Eastbound International through Durand
Set #06 - Final Eastbound International through Lapeer
Set #07 - Final Eastbound International through Port Huron
Set #08 - Final Eastbound International into Toronto
Set #09 - Final Westbound International departing Toronto Union Station
Set #10 - Final Westbound International through Guelph
Set #11 - Final Westbound International through Stratford
Set #12 - Final Westbound International into Sarnia
Set #13 - Final Westbound International in Sarnia
Set #14 - Final Westbound International through Flint
Set #15 - Final Westbound International through Niles
Set #16 - Final Westbound International into Chicago
Set #17 - Chicago O'Hare Airport
Set #18 - United flight to Oakland


Questions? Comments? E-mail matt@trainweb.com .

CLICK HERE
To Read More Rail Travelogues
And View More Photos Of Rail Travel!