American Orient Express
The Great Transcontinental Rail Journey
by Lorraine Symons

Photos
Click on below links to view each set of photos:
Set #01 / Set #02 / Set #03 / Set #04 / Set #05 / Set #06
Set #07 / Set #08 / Set #09 / Set #10 / Set #11 / Set #12
Set #13 / Set #14 / Set #15 / Set #16 / Set #17 / Set #18
Set #19 / Set #20 / Set #21 / Set #22 / Set #23 / Set #24
Set #25 / Set #26 / Set #27 / Set #28 / Set #29
Tuesday, March 15th, 2005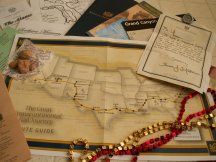 Darlene's husband, Ken, drove us to the Ottawa airport to catch our 12:00 noon flight to Toronto, our first stop on the way to L.A. An hour later after retrieving our luggage we trudged through the slowly moving custom line, myself with a big bag which was now minus a foot and not sitting very level, a bulging satchel and a large canvas bag containing three one-quart bottles of maple syrup for the guys in the Trainweb office. We finally made it through the security line, went for a bite to eat, then waited in the boarding gate area and just "people watched" while we waited for our 4:40 pm flight to Los Angeles.
The plane was on time landing shortly after 7:00 pm L.A. time. (10:00 pm eastern)
Ray was there to meet us and before long had the luggage in the car.
This was Darlene's first visit to Los Angeles and I was looking forward to hearing her thoughts of the L.A. freeway. Other than the barely audible sound of her occasional little gasps, she was unusually quiet. After arriving at Ray's place she told me that she prayed the whole way. Ray remembered my first time in freeway traffic, clutching my seat with "a deer in the headlight" wide-eyed look of terror pasted on my face. I guess it's just something you have to experience to understand.
By the time we arrived at the house it was well past 8:00 pm. His wife Maria greeted us and we all sat around catching up on news, but the long day and late hour was taking a toll. We excused ourselves and called it a day.
Wed. Mar. 16th, 2005
We left for the Trainweb office early as Ray had some work to do before he could show us around town. Darlene and I walked over to the Rail Restaurant for a cup of coffee, then walked around Fullerton Station before heading back up to the office. While Ray was finishing up, Shivam came in and we had a chance to ask about his wife, Kranti, whose first baby was due any day. It was great to see him again and catch up on news, and we received an invitation to dinner for the following evening.
We had a busy day of shopping and sight seeing. Two places I especially enjoy shopping at when in L.A. are the Tuesday Morning Store, and Little Saigon, a roughly six-block neighbourhood that is part of the Westminster area in Orange County. In one dress store an employee gave us a demonstration of how the silk and velvet material was decorated. We had a snack in a Vietnamese bakery and bought some of their croissants. When Vietnam was under French rule, they learned the art of baking great bread and they've brought it to this country. Absolutely the best croissants you can buy.
Thursday, Mar. 17th, 2005
Ray drove us to San Diego where we saw the retired aircraft carrier "Midway", then we continued on to Mexico where we followed the picturesque winding coastal highway to the town of Ensenada.
We dined at a wonderful little seafood restaurant before heading back to Tijuana and those long line-ups at the U.S. border.
Friday, Mar. 18th, 2005
While Ray went to the office Darlene and I went to a few little antique shops around the Fullerton area. The rest of the day was busy, ending with dinner at the Hometown Cafe, one of my favourite spots when I'm in the area. The evening was spent doing up laundry and packing up for our adventure tomorrow.
Saturday, Mar. 19th, 2005 - Los Angeles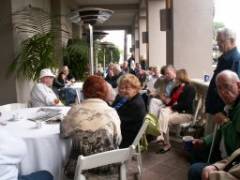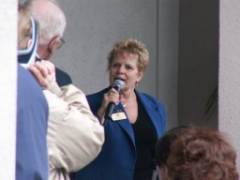 After checking in at the Ritz Carlton Marina del Ray, we spent the hours between 11:00 am and 2:00 pm touring the area, enjoying a leisurely lunch and relaxing by a fireplace in comfy, overstuffed chairs in the hotel's salon.
When we arrived at the meeting area, some people were chatting with old friends but most were anxiously awaiting the orientation. Refreshments were readily available while we awaited the official welcome by an A.O.E. co-ordinator/guide named Kitty.
Kevin, another guide, also talked about the trip and I remember him asking, "what is the difference between a train passenger and a hitchhiker"? "About five minutes." In other words, when you are off the train make sure you are back on at the specified time because the train waits for no one.
Wayne, the on-board lecturer, rounded out the dialogue with a short description of some of the areas we would be seeing and some of the discussions we would be having on board.
We were enroute to the L.A. Union Station by 3:45 pm and Kevin provided commentary while pointing out some of the historical sites.
We arrived at the station at 4:40 pm and inside we located the staff representative for our assigned sleeper car, the Washington, and proceeded to board in an orderly manner departing the station at 5:05 pm.
We were in room H of the Washington car, a vintage Pullman style room with an upper and lower berth. During the day the upper berth is folded away and the lower one converted into a nice soft bench sofa. A well-designed feature was a full sized drawer under the bottom berth, which was soon filled with everyday stuff that would save us the aggravation of pulling down and rooting through suitcases. Each bedroom had its own private water closet, which meant it only contained a toilet. There was a sink and vanity as part of the room. My large bag was put on the upper shelf while Darlene's fit nicely under the bottom berth beside the drawer. The closet, only four inches wide, held a few pair of pants and a few blouses. Shampoo, cream rinse and body lotion were provided as well as nice large, snugly bathrobes. There was always bottled water provided in the room and everything just sparkled, it was so clean.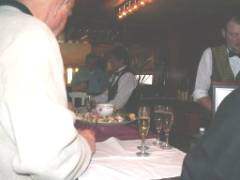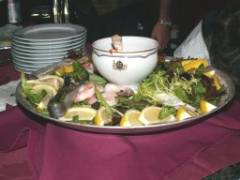 After depositing our luggage we decided to explore the train and partake of the Champagne Reception being held in the Seattle Club Car and the New York Observation car.
We decided on the New York car just four cars away. This car is always at the end of the train and we thought that it would be the least busy.
A nice display of fresh fruit, jumbo shrimp, cheese wrapped pastry, coffee tea and of course, champagne was available. All drinks were complimentary during the reception.
There were no reserved dinner seating times so we went to the diner at 6:00 p.m. hoping to beat the crowd. There were two other couples seated so we took a single table thinking we'd leave the double tables for larger parties that would come later.
The Zurich diner looked beautiful. The tables were covered with white linen, the A.O.E. china, silverware and crystal sparkled in the glow of the little table lamps and the fresh flowers on each table lent a cosy atmosphere to the room.
Our server tonight was Allaine. I chose the oven roasted Celeriac (celery) soup, Chilean sea bass, fresh cheese and herb bread and chocolate turtle cheesecake. The soup was the best celery soup I had ever tasted. The sea bass was very flavourful and cooked just right however the portion was rather small, but the chocolate cheesecake was very decadent. Two cups of fresh brewed decaffeinated coffee completed a most satisfying dinner.
We finished eating at 7:00 p.m. and went back to the Copper Canyon dome car. There were a few people seated and one couple playing cards, but we just wanted to relax a bit before heading out to bed.
This was the first chance to truly relax since this morning and I was very excited about going to the Grand Canyon tomorrow. It has been on my "to do" list for more years than I like to admit and I honestly never thought I'd get the chance to see it first hand. I've travelled the east and west coasts of the U.S. numerous times, but have never visited the central or southern states.
Alex, our porter on this the Washington sleeper, had the beds ready for the night. He inquired about a wake-up call and a shower reservation time. He explained that sometimes it can get pretty hectic with everyone wanting to shower at the same time so, to ease the congestion and keep things flowing, he reserves the shower times, usually 20 minutes apart. I requested a 5:30 wake up and shower time.
Each evening a detailed daily itinerary is placed in the room showing the schedule of events for the upcoming day. It tells you what city we will be in, what time we detrain and even gives the weather forecast for the following day.
We were both in bed by 8:15 p.m. and by 8:30 p.m. I was sleeping.
Sunday, March 20th, 2005 - Williams, Arizona
It might have been the sound of the train racing along the track that first woke me at 1:00 am, but it was the excessive back and forth motion of the car that allowed only fitful sleep till 3:00 am. I felt like a running shoe in a dryer, and at times actually braced myself against the wall. Because of the turbulence, sleep evaded me the rest of the night, so at 5:00 am I shot out of bed and took my shower. It was a quick one, as the train lurched so vigorously I thought if it derailed, I didn't want to be found in the shower. Darlene then followed and I dried my hair and dressed before she returned. It's kind of a ballet for two people to get ready in a tiny room, but co-operation and consideration go a long way toward making it happen. It was just before six so I made my way to the New York car hoping the coffee might be ready. The coffee was indeed prepared as well as the very appetizing looking continental breakfast. The choices included fresh homemade tea biscuits, muffins, toast, butter and a variety of jams and jellies, a large platter brimmed with fresh sliced fruit and berries, as well as a big basket of apples, oranges and bananas.
The coffee was delicious and I couldn't resist a tea biscuit--heavenly. Mike was in charge of this car and I would come to realize, over the course of the next few days, that you could set your watch by him.
Back at the room Darlene was ready so we went forward three cars to the diner for breakfast. Carl and his wife Kathryn from New York were already seated so we sat at the table beside them. Theresa, our server this morning, was a very pleasant girl with a wonderful smile. I ordered oatmeal porridge and the A.O.E. breakfast that consisted of two pieces of toast, two eggs, bacon and potatoes. I did not care for the porridge, it was too creamy, but Darlene stated that it was the way that she preferred her porridge. The rest of my breakfast was just perfect, and Theresa was around for coffee refills.
Wayne, another early riser sat with us this morning, and talked a bit about the canyon and vegetation of this area. He was very knowledgeable and readily pointed out the Juniper, Ponderosa pine and scrub brush. He really surprised me when he explained that all of the hills around here were actually volcanic in origin.
Back in our room we rifled through our belongings looking for something warm to wear. The temperature was in the 40's, it was cloudy and there was a wind that looked biting. All we had brought with us was summer clothing, never imagining that we would require anything too warm. I wore a pair of summer pants, blouse, a sleeveless hoodie, a sweater and my raincoat, not much protection from the cold but I would not miss the Grand Canyon. Darlene suggested we wear the bathrobes and we had a good laugh over this, but later on when we were out in the cold the robes did cross my mind.
The sun seemed to be peeking through and it looked like those clouds might be parting. The terrain was very flat with lots of scrub brush, Juniper and Pinion Pine trees, but the Ponderosa pines were thinning out. There were very few dwellings to be seen and just the odd scattered cow and a goatherd.
We detrained and boarded the motor coach for the half-hour ride to the Yavapai observation station; there we would begin a 1 1/2-mile hike to El Toar. Those that didn't wish to hike would stay on the bus and continue on to Mather Point, a photo stop.
Water bottles were passed around with a warning not to become dehydrated, something that could easily happen at high altitudes. Grand Canyon elevation is 6837 feet.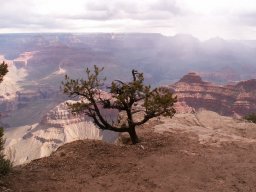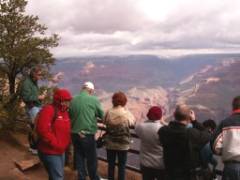 While we waited to head out it started to hail, and then the wind picked up. The extreme cold was most uncomfortable and my hands were freezing. After ten minutes the hail stopped, the sun came out but the wind never let up.
Nothing could prepare me for my first glimpse of the canyon. The word spectacular would detract from the magnificence of this wonder. I was not aware of its enormity or the different brilliant red and brown shades of the granite, limestone and sandstone. Sunsets must be breathtaking.
Darlene's suggestion of leaning over and snapping a picture while she held onto me was... ...declined.
For the next 1 1/2 hours we walked the pathway along the rim while the guide explained how and when the canyon was formed. He pointed out the caves, explained the different rock layers and told about the mule ride. But all we wanted to do was look, then look some more. A short paragraph in the Grand Canyon guide tells it best,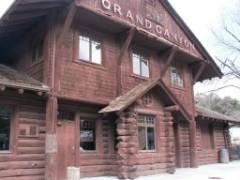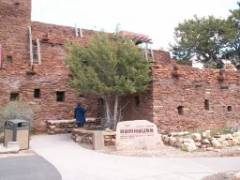 "This canyon is a gift that transcends what we experience. Its beauty and size humble us. Its timelessness provokes a comparison to our short existence. Its vast spaces offer solace from our hectic lives."
We finished the tour at 11:45 am and boarded the bus for a short ride to the Canyon Cafe. The food was buffet style with plenty of hot selections that helped warm us up.
We had free time now to do our own exploring and we started out at the old Grand Canyon Railway Station, the oldest log cabin train depot in the United States. Next we followed the Rim trail to the old Hopi House and spent some time looking at the arts and crafts. We started to walk around the Angel Lodge but we were tired so decided to head back to the bus to get out of the cold.
The bus was 3/4 full of tired people like us. We still had almost a two hour wait and thought it would have been a good idea if plans had been made for one of the busses to return early, maybe stopping at the town of Williams for those who liked to shop, or even going straight to the train. It might break up an otherwise long wait. However, if the weather had been warmer it would have been so enjoyable walking around and exploring a bit longer.
When the bus pulled out, bottled water and snacks were passed around and we watched a very entertaining film about mule rides down into the canyon. After seeing it, Darlene and I both agreed that we would have loved to take it.
We arrived back at the train station at 5:25 pm. I think it was called the Williams station, a very attractive looking and clean one. My re-chargeable batteries were not recharging properly so I went into the gift shop and bought a few packs of regular batteries. The train pulled into the station at 5:35 pm for boarding then departed to a siding at 5:45 pm. It finally left the siding at 7:20 pm.
I inquired at the passenger service desk about earplugs. Yes, they would be delivered and placed on our pillows when the beds were put down for the night.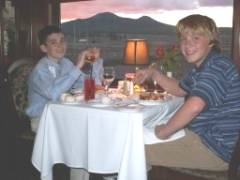 Tonight we selected roasted butternut squash soup, Caesar salad, marinated grilled flat iron steak served with horseradish mashed potatoes and haricot vert. For dessert I enjoyed mini Key lime pie. All was excellent. The meat was so tender, but again the portions were small. Both lunch and dinner meals offered a selection of home made breads made by the pastry chef each evening.
Sitting across the aisle from us tonight was Chris and John, two thirteen-year-old cousins from Florida. They were well-mannered young lads and people on board were enjoying their youthful exuberance. Tonight they were savouring pizza and Hamburgers. The chef kindly offered to make them something special if they didn't want to choose from the regular menu. They had also discovered Shirley Temples, and John highly recommended them to me.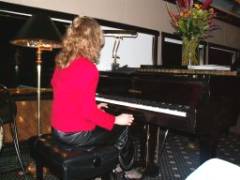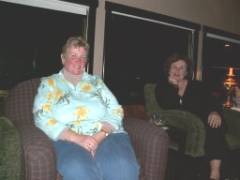 Theresa was back with coffee refills.
We walked to the Seattle Club car to hear Debra play the piano; we had heard such nice reviews about her. What a lovely car this was with a bar, a grand piano, and a small library. Debra wasn't there but we did meet Al Davis from Virginia who told us that this was his second Orient Express trip. Al explained that one of his passions was playing the piano and he admitted to being a rail-fan. We met Maureen and Leslie, two long-time friends from California who had booked this adventure after Maureen found it on the net and convinced Leslie that it would be fun. They were enjoyable company but had to leave for dinner. We would see them often on this trip. A few people came in to sit and shortly Debra sat down at the piano and began playing a medley of songs, then asked for requests. She was a very talented pianist and before long people were singing and humming along. This was a good icebreaker as I had noticed people were holding back, probably being thrust into a train-full of people from all over was a bit intimidating. Oh well, one person at a time. We were both exhausted from the day's events so bade everyone a goodnight and journeyed to our room. All I remembered was plugging in the earplugs and turning off the light.
Monday, March 21st, 2005 - Albuquerque, New Mexico
We were both awake about 5:30 am and realized we had no shampoo. Darlene volunteered to find Alex and request some, and it wasn't long before she returned with enough to last us the week. Because, as she says, I'm high maintenance, Darlene let me go first and just as I finished the power went off. She wasn't quick enough, when I returned, and had to return to the room when someone else beat her to the shower. By this time the power was flicking quite frequently.
I went to the New York car to give Darlene some space to get ready and to enjoy a cup of coffee. Charles, of Birmingham Al. was enjoying his coffee while reading the morning paper. Of all the accents on this train, I enjoyed Charles and his wife, Betty's, the most. To my ear they possessed the quintessential southern intonation.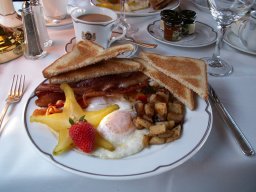 Because of our late start, our usual dining area was full, so we went forward to the next room of the Zurich diner. Our server was Rachael this morning. Again, I enjoyed the A.O.E. breakfast with a double order of bacon, fresh orange juice, and coffee completed my hearty first meal of the day. All of the servers on board are first class. Meals are brought promptly, they just seem to know when you require a re-fill and are there to offer one. Salt and peppershakers are always topped up, and something I've noticed was the linen napkin folded differently for each meal. A playful touch.
After the meals were finished the tables were re-set for the next mealtime and on many occasions when walking through the dining area between mealtimes I noticed the servers polishing the glassware.
At 9:00 am we detrained and boarded the motor coaches for the hour-long drive to Santa Fe, the capital of New Mexico.
Our tour guide this morning was Joel, who told us that Santa Fe was over 400 years old. The area, he said, was in the sixth year of a supposed twenty-year drought. Many water restrictions were in place, such as no car washing, and watering your lawn was prohibited. They were very thankful for the bountiful snow falls they had in the mountains this past winter, as it would help ease the drought-like conditions they had been experiencing.
The elevation of Santa Fe is 7,000 feet and it lies in the foothills of the Rocky Mountains. Joel also mentioned the San Andreas Mountain Range on one side, translated means watermelon.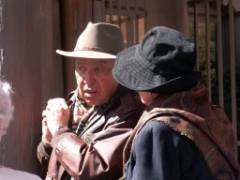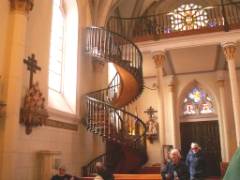 The Pueblo Indians were the original settlers, but when the Spanish colonists came they named the place The Royal City of the Holy Faith of Saint Francis. He also pointed out the Chemisa (sp) bush, meaning rabbit foot, which grew wild along the freeway.
Arriving in the city, the quaint charm of the adobe houses made me smile. I couldn't help but feel each residence possessed its own distinct charisma.
Tourism is the chief industry in Santa Fe with many artists, musicians and writers living and working there. It is home to many museums and has its own Opera House as well.
There were plenty of movie stars living here and Joel went on to name a few, Julia Roberts being one of the landowners.
It was biting cold and very windy as we left the bus. Joel took us on a walking tour showing us some of the historical locations and pointing out various interesting architectural details of some of the older buildings. We toured the beautiful St.Francis of Assisi Cathedral and watched as the organist practiced his music. (He loved an audience)
We also saw the famous, some say miracle, circular staircase in the Loretto Chapel.
He pointed out the local shopping square where the wares are guaranteed to be authentic, local native crafts.
At noon we stopped for lunch at the La Casa Sena restaurant located on Palace Avenue.
Any meals we had off the train were all arranged by A.O.E. and were inclusive.
Because of the large number of us converging on this restaurant, they offered only two lunch selections. One was salmon and the other was a tortilla with black beans and two other ingredients. Those who chose the red salmon declared it absolutely wonderful, and my Mexican dish was spicy delicious and warmed my insides. I was really too full for dessert but will give A.O.E. credit for choosing this restaurant with it's fine cuisine and spotless establishment.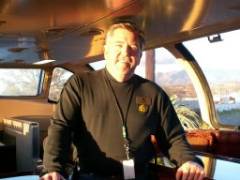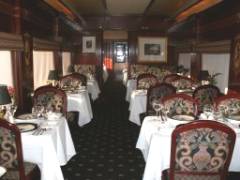 After lunch we meandered through the different shops buying a few articles then met back at the bus at 3:30 pm. We left Santa Fe for the hour-long drive back to our train, stationed at the Alvarada transportation centre in Albuquerque.
The staff was all out to greet us upon our return. It was 5:45 pm and the train was due to pull out at 6:00 pm.
In the dome car we talked to Bob, the train master. He was in charge of all aspects of running the train. He explained that Amtrak engineers must operate the two Amtrak units and there must be an Amtrak conductor on board as well. I asked why the intermittent power this morning and he told of the troubles that the trailing unit, which supplies the power needs to the train, had been experiencing, but it had been corrected.
My appetizer tonight was the Southwestern crab cake, (it was so good I should have ordered five) followed by wonderful French onion soup, Halibut with roasted red potatoes, and for dessert, chocolate panna cotta with raspberry sauce. Coffee or tea to completed the dinner. Everything was scrumptious.
I really enjoyed wandering into the diner to eat at whatever time we chose. Maybe if the train was running at full capacity, I believe there were only 81 passengers on board, they would have to adhere to an allocated seating time. The plus side of an allocated time is being seated with strangers for a meal and there is no better way to get to know someone than by breaking bread with them. I missed that aspect and found that most people fell into a routine of occupying the same table for every meal.
We retired to the dome car to catch up on notes, Darlene and I wanted to keep a low profile as we had promised to lead a sing- along tonight in the Seattle car. All the fresh air today left me feeling a cold coming so I left Darlene there and I was in bed by nine.
Tuesday, March 22nd, 2005 - enroute to San Antonio, Texas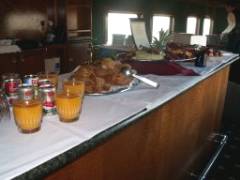 Awoke at 6:00 am this morning and felt I had enjoyed a good sleep. The rocking had awakened me a few times and the speed had brought me to my senses a couple of times but overall I had slept well. Went to the New York car for breakfast, as we would be on the train all day and I felt like a change of venue. Mike had the continental breakfast all set up. Coffee always starts my day and this coffee was very good. Two pieces of toast with jam, and a banana contented me. I went back to the room; Darlene had already gone to the diner for breakfast, to put away stuff so that Alex could make a clean sweep of the room. It makes it so much easier for the porters if clothing and stuff is put away so they can do their job. Alex was a great porter and anytime we asked for something his answer was always "right away". After every shower he wiped down the stall and laid out fresh towelling for the next person. It was a long day for them as I saw him in the hallway at 5:30 am and he probably didn't finish putting down beds until 8 or 9 pm. All the porters slept in the two transition crew cars at the head of the train. There was a night porter on duty every night in the Copper Canyon passenger service area. Every morning when we walked forward for breakfast, she always greeted us with a chipper "good morning".
The train stopped in Alpine for half an hour then left at 8:30 am. Someone mentioned that we were now on what was once called the Southern Pacific Line.
All of the cars on the Orient Express have been greatly refurbished. They bring you back to a time when rail travel was king. All walls and hallways have rich red mahogany paneling that is polished to a high lustre, and all cars are kept immaculate at all times.
I took my camera and notebook to the dome car to check out the scenery and get a seat for the morning lecture by Wayne Ranney, entitled "How the first people came to America".
It was a beautiful sunny morning in the state of Texas. I just couldn't believe I was looking at Texas.... that's T-E-X-A-S ...the big "T".
John and Chris were here as well as their mother, Carolyn, and grandmother, Joan. There was a good turn out; I recognized many, but was surprised to see a few faces I hadn't seen before. This lecture was a good idea; it got people out and about.
John asked me this morning if I was a Canadian. I was taken aback with his raison d'être when he said, "You say "eh" sometimes". I explained that "eh" had different connotations when used with tone nuance, and gave him a few examples. John was like a dog with a bone, he practiced over the next few days until he could use "eh" in conversation like a native Canadian.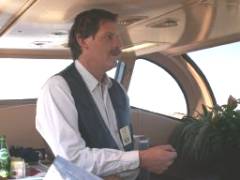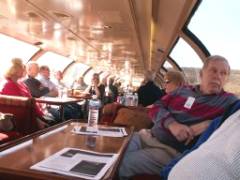 Wayne began his most informative lecture on the different theories of when and how the first people came to America. He invited us along on an imaginary trek from the European continent to present day Alaska, traversing the ice fields of Canada then finally the Plains.
Wayne interjected from time to time to point out our location or to identify an interesting form of vegetation. Desert marigold, a type of daisy, prickly pear, the yucca plant and, most interesting to me, the mesquite bush, considered a pest plant in Texas. When you can find them, mesquite barbeque briquettes are my husband's favourite, but unfortunately, are not always available where I come from. We had passed through Longfellow, west Texas, and were now speeding through the Chihuahua desert on the Union Pacific line.
Wayne concluded by telling us that all of the land in Texas was privately owned, a fact that surprised many of us.
Leaving the dome I tottered to the New York observation car for a photo shoot out the back window. By now I had learned to walk the corridors with hands up at the ready as a precaution to the sudden swings and unexpected lurches of the train. It had been a rough ride so far, some areas rougher than others and I wondered about some of the anxieties the more elderly people on this train might be having.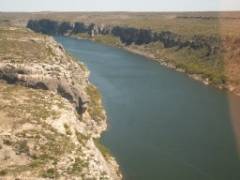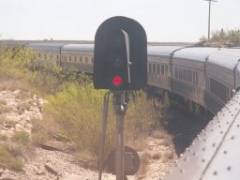 Smoking was allowed on this train at anytime, but only on the vestibules between the cars. Wall mounted ashtrays were provided and the windows in these vestibules were open most of the time offering great ventilation and a good place to take pictures if you didn't mind the airflow.
It was quiet in the car as I took a few pictures of the landscape. Mike was busy preparing the lunch that was offered daily in this car, probably for people who desired something less filling. A huge platter heaped with a variety of sandwich meat, turkey, ham, pastrami, and roast beef, coleslaw, potato salad, and cheese, sliced tomatoes, mayo, and a basket of white or dark bread. There was always a big bowl of fresh fruit and the ever-present coffee and tea.
Our usual spot in the diner was full so we went forward and had Marita as our server. I ordered the Ciabatta sandwich with smoked pepper turkey, spicy mango mayo, sunflower sprouts, Swiss cheese, tomato, field greens, and a smattering of potato chips. I thoroughly enjoyed the filling sandwich and the raspberry poppy seed buckle with cream for dessert.
My note taking needed attention so I sought solace in the dome car. Sitting across from me was Edmund and Janet playing a game of cards. It was obvious that he was loosing but he seemed a good sport.
People were slowly assembling in the car, ready to hear the second lecture by Wayne on Mexico, Texas and the Alamo. Again the talk was very informative. I never realized what an erratic history Texas had before becoming part of the United States.
And just the mention of the word "Alamo" brought memories of my childhood hero, (courtesy of Walt Disney) Davy Crocket.
Wayne pointed out the changing vegetation of the Texas landscape. The dry, arid sparsely vegetated areas of west Texas had given way to the greener pastures of central Texas and there were small trees now rather than brush.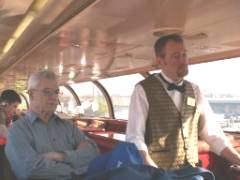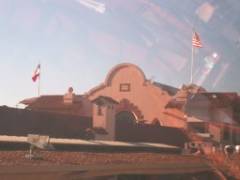 The train pulled into San Antonio Texas around 5:00 pm. We had made plans to detrain tonight with Leslie and Maureen to get some fresh air and exercise.
We went for our usual early dinner and I ordered smoked tomato soup, Almandine Trout over Mascarpone Polenta with a vanilla white butter sauce. The fish was cooked to perfection and the mango cheesecake with fruit salsa seemed the perfect accompaniment to my meal tonight.
We met the girls and detrained at the Istanbul car with instructions from the staff to knock on the window of the Copper Canyon car on our return. This was to alert the porter so the steps could be lowered to allow us to re-board. When the train was parked for the night, all entrances were closed up tight so that no intruders could board after dark.
Maureen led the way; she was taking us on an excursion to the River Walk for a short tour and a drink at one of the cafes.
It was a warm evening and the air felt good. The River Walk was very busy (school break) but we managed to find a table and enjoy the sights around us. We got a little lost going back and stumbled upon the Alamo. What a sight, all lit up at night. Maureen was the only one with a camera and a stranger appeared who graciously offered to take our picture together in front of it. I hope it turned out.
It was just around nine when we returned so we knocked on the window to announce our arrival. I think I headed right to bed, my notes ended here.
Wednesday, March 23rd 2005 - San Antonio, Texas
Slept like a log last night and after showering and preparing for the day I sauntered to the New York car for the continental breakfast so that Darlene would have more room to get ready. When both beds are down the floor space is very limited.
Mike had everything set out so I made some toast and enjoyed a few cups of coffee while reading one of the newspapers provided on board.
Announcements were made every morning over the P.A. system by Kitty, who informed us of the day's events and let us know what time we would be departing the train.
Today at 9:00 am the busses would take us to the Riverwalk first and then we would either walk or take the bus to the Alamo.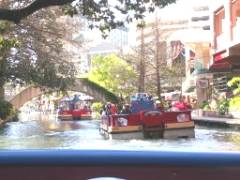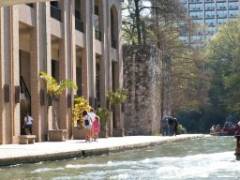 We enjoyed the hour-long ride on a river barge along the very scenic river route. The Riverwalk encircles the heart of the downtown area with numerous shops, restaurants and even an open-air amphitheatre lining the meandering riverbank. Our barge operator pointed out the historical sites and kibitzed with people he knew along the walkways.
We walked the few blocks to the Alamo, often referred to as "The Cradle of Texas Liberty."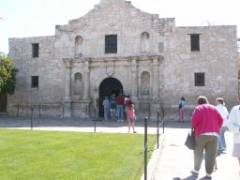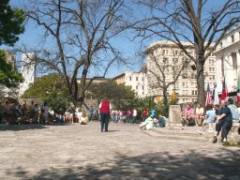 There was a small line-up out front but once inside it was jam-packed. No picture taking was allowed, and I found myself inching along, following the people ahead of me wondering where the line led. An announcement was made that a lecture would start in the garden so we scrambled to escape the chaos and found a seat on one of the benches.
We sat spellbound in the courtyard as the lecturer, a young woman, led us on a journey into the past. She directed us through the events that led up to the siege of the Alamo, and when she raised her voice and quoted Colonel Travis's declaration "I shall never surrender or retreat" we all felt as if we were back in the year 1836.
She reminded me of a concert conductor as she stood in centre court and pointed to the different locations where events had taken place within these walls. In rapid-fire she turned on her heel and pointed, "there was where Davy Crocket and three Texans took a stand", "that cannon was put atop the east wall," then her arm would arc in the air as she showed us the "direction of the enemy fire". Her voice lowered as she walked us through the final stages when the ammunition was running low, then rose with the "final assault". Silently, all eyes followed her direction to the corner wall to watch, as the Mexicans were about to scale it. It was a wonderful half-hour lecture and Darlene and I waited our turn to tell her just how much we had enjoyed it.
We stopped in the gift shop and I picked up a few souvenirs before we made our way back to the train. It was close to 12:30 pm so we packed away our purchases then washed up for lunch. In the diner, Theresa inquired how our day in town went and asked what we thought of the Alamo. She knew our food preferences better than we did. She knew, without asking that I liked my eggs over medium and I preferred white toast. If I forgot to specify how I liked my meat cooked, she would order it medium well, just the way I liked.
The chicken salad on mixed greens was a light alternative today and the train departed the station at 1:35 pm just as I was enjoying my apple-berry crisp with vanilla ice cream.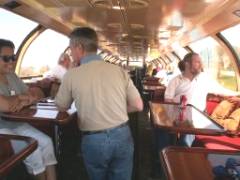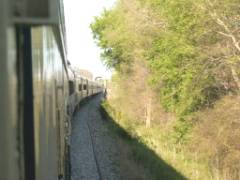 I spent the afternoon in the almost full dome car watching the Texas landscape turn a lusher green the further east we travelled.
Ed, from Springfield VA, who had eaten dinner with us a few times and who was a great conversationalist, was there.
When talking to Leslie, I mentioned her Lance Armstrong bracelet. She told me of a difficult yearlong journey she had been on, but was now living strong. We talked of teen times and laughed at her recollections of her teen years and some of her past friends. Maureen, she said, was lying down, as she'd not been feeling the best today.
This morning Alex brought me a box of tissues for my purse, as I've had a nasty head cold since yesterday, and Carolyn and her mother Joan have had a case of laryngitis to go along with the cold they picked up at the canyon.
The uncertainty of the first few days had given way to a more relaxed ambiance on board and people seemed more open and genuine in their greetings. Of course John and Chris with their youthful, uncomplicated, sometimes candid approach had been sociable with everyone from day one
We walked back to the observation car to enjoy a few hors d'oeuvres. We sat down for a while to chat with Betty and Charles from Alabama. They told of a few antique shops that they liked to visit in New Orleans.
For dinner tonight I ordered the black bean soup. Now I had never heard of black bean soup but so far the soups had not let me down and had been a very enjoyable part of my dining experience. Tonight's selection was no exception, and was followed by most tender prime rib with roasted potatoes and sautéed broccoli, and for dessert I chose the thoroughly scrumptious orange cinnamon crème brulee.
I was in bed by 7:30 pm and although I awoke a few times during the night, I had a pretty good sleep.
Thursday March 24th, 2005 - New Orleans, Louisiana
Showered at 6:00 am this morning and decided on the continental breakfast. My head felt twice its size and my nose was totally plugged. I hadn't packed anything for colds, but thought I might be able to find a drug store and pick up something. I ate my toast and sipped my coffee while watching the sunrise, sitting on the giant overstuffed ottoman at the back of the train. I couldn't believe that I would be visiting New Orleans, often claimed to be America's most interesting city, and where it's said that there's no such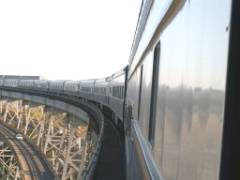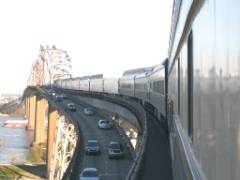 thing as bad food.
We passed the Jefferson water tower and just ahead, spanning the mighty Mississippi, was the Huey P. Long Bridge the longest and highest steel railroad bridge in the United States. It was a beautiful sunny morning as I waved to people from the open window of the vestibule. We arrived early at the Union Station. The train pulled in at 8:00 am. My one quest today was to purchase a few Mardi Gras beads to be used as an ornament on my Christmas tree.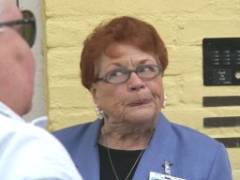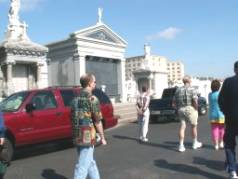 At 9:00 am we detrained into the warm mid 70's sunshine to find three mini tour busses waiting. We chose the one that had a short red haired woman, wearing oversized Easter bunny earrings, standing in the bus doorway.
Her name was Katheryn Young (Kate) and she was an animated Estelle Getty with a Louisiana accent.
As the bus pulled away she asked if anyone had any suggestions on how to get rid of a forty-year-old son who still lived at home. Here was a lady who enjoyed people, and as we soon found out, loved her city of New Orleans.
You could hear a pin drop as we gathered around Kate in the St. Louis Cemetery in the French Quarter district as she went on to explain why the bodies were buried above ground. "Think of St. Louis as saucer shaped" she said, "some areas were below sea level so that when it rained, the city had problems with floating bodies". Kate's narration was animated and personable.
The solution was to build tombs, or mini mausoleums that were actually natural crematoriums. After three years there were only ashes remaining so many generations of a family could be buried in these family tombs. There was a peaceful ambiance to this setting and although we didn't venture too far into the cemetery, as far as the eye could see were pathways of elegant well maintained vaults.
We continued on the bus through the Garden District, one of the city's oldest and most beautiful neighbourhoods. Here we saw the majestic old mansions and lovely gardens brimming with spring foliage and early blooms. She pointed out the thousands of Mardi Gras beads hanging from the tree branches and overhead wires, leftovers from the parades, and told of some of the more risqué anecdotes that had us all tsk-tsking in delight. Kate took us back in time as she talked about the area being under different rule in the past, but in a positive sense. In her opinion, the Spanish, French, Irish and English influence had all together shaped the character of New Orleans into what it is today.
We left the bus and continued on a walking tour of the French Quarter with Kate at the lead. She identified where Tennessee Williams had lived when he wrote his famous play, "A Streetcar Named Desire", and told of the annual "Stanley-Stella Shouting Contest" where contestants shouted out their best "S-t-e-l-l-a impression to celebrity judges.
She mentioned local Cajun artist, George Rodrigue, most famous for the "Blue Dog" series of paintings.
Many other historical residences were identified as she asked us to pay special attention to the intricate detail of the lacy iron grillwork on the balconies.
We stopped on a narrow side street as Kate directed our attention to the roof area of a three-story house. She began a tale of intrigue about a beautiful young girl who spent the night on that very roof as an act of faith to prove her love to a "cad" and how her frozen lifeless body was recovered the next morning. As I looked around the group I noticed that complete strangers had joined us to listen to Kate tell the story.
The time had flown by and before we knew it she was leading us to "Muriel's Restaurant" to enjoy some New Orleans food for lunch.
She shook each one of our hands and thanked us for being such an attentive audience.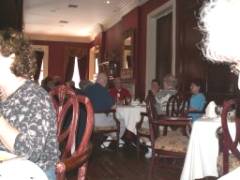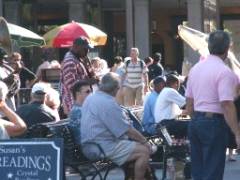 The dining room at Muriel's Jackson Square looked more like a ballroom with its period furniture and beautiful rich brocade drapes.
The service was great and what a culinary delight, sampling some authentic New Orleans fare. The food was absolutely delicious and the portions were generous.
Our lunch consisted of
-Muriel's salad-mixed seasonal greens with sweet onion extra virgin olive oil reduced sherry wine vinegar and goat cheese
-Pecan Crusted Puppy Drum, with oven roasted pecan and crawfish relish and lemon butter sauce.
-Crème Brulee with fresh fruit
-Tea and coffee
We had two options for the afternoon, a visit to the D-Day Museum or free time to explore the French Quarter. We decided to explore as many of the shops as possible and find the antique shop on Royal Street that Charles and Betty had told us about.
Many of the stores still had beads and beautiful masks left over from Mardi Gras, but after four or five they really were a repetition of the store before. In one little place I found some small porcelain covered balls that chimed when shaken. On we sauntered until we found an antique store. It was obvious, upon entering that we couldn't afford anything in the place, but we walked around enjoying the museum quality pieces. The uniformed guard smiled and tipped his hat when we left and it wasn't until later I realized, the reason for his smile as we left was the relief that the two females with the oversized canvas bags didn't have to be watched anymore.
The rest of the afternoon was spent wandering along looking at the sights, smelling the piquant aromas and enjoying the sounds of an occasional impromptu jazz band.
At 4:00 pm the busses picked us up at a pre-arranged location and returned us to the train, which was a good thing because Darlene and I couldn't have lasted much longer.
As we were about to board the train, there must have been panic in my voice as I remembered out loud that I had forgotten to pick up some beads. Malina, the porter on the Istanbul car overheard and offered to give me one of hers. Deep inside I really wanted those beads, but did not want to take hers so I gently refused her offer.
A while later when I went to my room, a gold and red necklace was hanging on my door. It was such a generous offer on her part that I searched for Malina and gave her a pair of those chiming balls I'd picked up. She said she really liked them. I hope so because I just loved the beads.
We had a different server at dinner tonight. Lyndsay, like the other servers on board, was very pleasant and efficient and seemed sincerely happy to be serving us.
I had thoughts of skipping dinner tonight but Darlene persuaded me to re-consider and said a bowl of hot soup might make me feel better.
She was right, the gumbo with andouille sausage warmed my insides and was definitely comfort food tonight.
I retired early, thankful that Alex had prepared the beds. I was in bed shortly after 7:00 pm. and hadn't even heard when Darlene retired for the night.
The room phone rang about 9:30 pm. It was the office, Leslie had dropped off some cold tablets that she thought might help, and asked for them to be delivered to my room. A porter delivered them immediately.
Within five minutes of swallowing them, my sinuses cleared and I heard nothing until I awoke at 5:00 am the following morning.
Friday, March 25th, 2005 - Enroute to Savannah, Georgia
It was either the Tylenol cold caplets, or smoother riding rails, or a combination of both, but I had enjoyed the best sleep of the trip so far.
We showered and readied for the day then made our way forward to the diner. Carl and Kathryn were waiting in the lounge area of the Copper Canyon for the diner to open. Being from New York we shared the same time zone, so like us they were always the first ones up and about. The night porter (unfortunately I never got her name) was the first to greet us every morning and informed us that we were now in Alabama.
A heavy low lying mist lay on the fields but the sun was now shining, having broken through the cloud layer. It looked like it was going to be a gorgeous day.
After breakfast I found Alex and asked him if he could leave one bed down today, as we would be on the train the whole day and I thought I might want to snooze a bit later on. No problem he said.
At 8:30 am I had been sitting in the Dome car watching the back-wood scenery and listening to, or feeling the power of the engine as it slowly strained up a long gradual incline.
Wayne would be giving his final lecture this morning on the Ice Age and Global Climate change, and until it began, we chatted with some people we had become quite friendly with.
My mind fought Wayne the whole time he spoke this morning, and it wasn't until the end of his lecture that I kind of understood his theory of Global Climate change and the facts that supported the theory of our entering another ice age. In Canada the talk is always of global warming and ozone depletion
John stood up and gave a short talk on a book he had read by Michael Craeton, on Global Climate change.His teacher, Mr Sawyer had recommended it and John said he had thoroughly enjoyed it.
Wayne and John seemed of one mind on this subject, so I'll have to do my own research, maybe think outside the box.
A light lunch was served today, but it was filling and most delicious.
Panzanella salad dressed with (homemade) croutons, yellow tomato, onion and cucumber with caper garlic and red wine vinaigrette.
Lemon pie for dessert and a cup of coffee completed my meal.
Sitting in the dome car after lunch we started talking about the different accents on board this train. It was agreed that Californians were the only group that had no detectable accent. We were discussing this with Leslie, Delores and Harland Feicht and Vera and Mike Pontrelli. When we found out that Mike's ancestry was Italian the talk turned to food. He explained to me the secret of making good spaghetti sauce, and how he simply loved to cook, especially for the grandchildren.
At 2:30 I excused myself and went to the kitchen to talk with Elisa, the pastry chef. She was putting the finishing touches on some of the goodies to be served at the afternoon tea, and she invited me inside, where I took a few pictures. Elisa had been up all night baking those lovelies as well as her regular output of tea biscuits, muffins and those delicious homemade breads as well. Her day usually started about 4:00 pm helping with the evening meal, then in the evening she started baking for the next day's meals, sometime working through the night to have everything finished.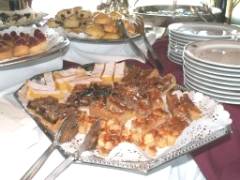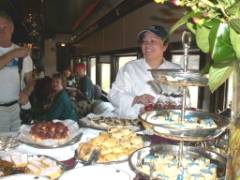 Elisa was an important component of the fabulous on-board dining experience, and I looked forward to sampling some of those treats.
The Afternoon Tea was a huge success with what appeared like a full turnout to sample Elisa's treats. A wonderful selection gracefully displayed on the linen draped grand piano, and Elisa gave a brief introduction to the art of the Afternoon Tea. Three different tea blends were available and I noticed Chris and John seemed to be enjoying themselves.
We left to make room for others that were coming and ended up in the dome car. This seemed to be the favoured assembly site for many on board to converse, or watch the passing scenery, or just soak up the sun's rays.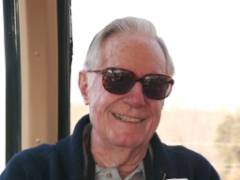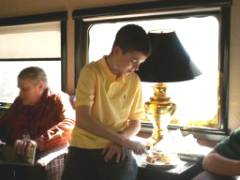 We were in Georgia now and the soil had a very distinct red tone. Someone remarked that those trees in full white bloom were Bradford pear trees and somewhere in Fort Valley I took a picture of a train spotter. I hoped he was having better luck with his camera than I was with mine. For the last three days I could only take three or four pictures at a time then the film would lock up. After ten minutes I could take a few more and so on. I also had trouble recharging the batteries and even after a 20-hour stretch they were not fully recharged. It might have had something to do with the power kicking off and on, I wasn't sure.
Edmund from California was sitting across from me and I asked him about his afternoon in New Orleans. He told me he had thoroughly enjoyed his visit to the D Day Museum, and how touched he had been by a young girl of maybe thirteen or fourteen who came up to him and said "Sir...I want to thank you for saving our country". Edmund was so moved that a person of such an age would know anything about the war let alone D-Day. He talked of his service in Burma during the Second World War, and of an extraordinary family he had met, while in Paris, who had taken him into their fold. He pondered out loud that he might even try to look them up, after all, he had a computer now.
Kitty was knitting away as she chatted with people, but I suspected that after she had ripped it out for the second time, it was indeed a sanity blanket, and not the scarf she claimed it to be.
Carl talked of an unusual incident that had happened the previous day. He was walking by the storage closet at the end of the car that held the water bottle supplies, and just when he passed, the door flew open and the bottles fell out on him.
I told of an experience the first morning on board when I had opened up the storage drawer under my berth to retrieve my hair dryer. When I finished with it, tried to put it back, but the drawer would not open. I reported it to Alex who called maintenance and they managed to pry it open.
Kitty said that she had heard stories of "unusual" happenings on the Washington car and over time the name Isabella had been given to the phenomena.
I never did tell Darlene of the night I had been awakened twice because our bedroom door was wide open, and both times I had made sure it was locked.
The rest of the afternoon was spent enjoying the scenery and conversing with our fellow travellers.
Edmund told boyhood stories of he and his brother spending summer holidays at a distant relative's farm to (most likely give their mother a much-needed rest) expand their horizons. The tale of jumping into the grain bin and the account of the hired farmhand showing them how to roll their first cigarette, and of them smoking in the haymow so they wouldn't get caught, sent shivers up my spine.
Other tales of his exploits left me wondering how he ever reached his eighth birthday.
The soup today was roasted carrot and ginger with spinach infused oil. It was my favourite to date. I would never think of "Campbell's Soup" as "mmm mmm good" anymore. This was followed with a very flavourful Fettuccini Alfredo, one of my preferred pasta dishes, and the pear tart with whipped cream for dessert was first-rate.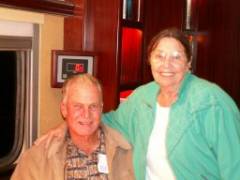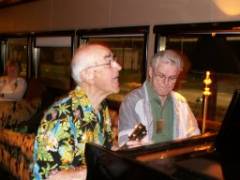 There had certainly been no let-up in the quality or diversity of meals thus far.
In the forward Seattle club car Al on Piano and Mike on banjo played some toe-tapping music while we sang along with them. They were two great guys and I couldn't help but think, as I'd watched the camaraderie develop over the past week, that they'd be best "buds" if they lived in the same town.
We were back at the room by 9:00 pm and readied for bed. We would be de-training at 8:45 am, earlier than normal and we wanted to be all set, ready to go.
I woke up once during the night thinking it must be almost 5:00 am, but when I checked my watch it was only 1:00 am. Guess I was excited about Savannah.
Saturday, March 26th, 2005 - Savannah, Georgia
The showerhead could not be adjusted this morning, and the water streamed out in one forceful jet. I thought of the phantom Isabella. My eyes felt pushed into their sockets when I rinsed my face, (whoa, that woke me up) and as I rinsed the shampoo I fanned my fingers to dissipate the force of the flow on my head. I could envision new part lines being permanently etched all over my head.
Darlene was surprised to see me back so quickly, but she had to return to the room when someone was quicker to the punch. Alex was obviously riding shotgun over the shower this morning so she put herself on his list.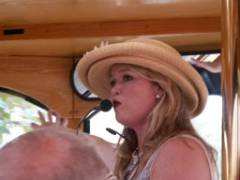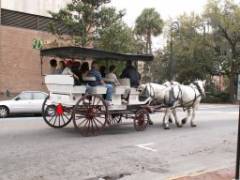 At breakfast, Carl told a tale of having maintenance down early that morning to replace the shower door handle (they had a private shower en-suite) which fell off when he tried to use it. He said the whole mechanism had to be replaced, and yes, he had been thinking of Isabella.
We detrained at 8:45 am into the Savannah sunshine and humidity. I could feel my hair wilt as we walked across the platform to the waiting trolley busses. We boarded the second one and Tara was our Southern Bell tour guide.
We started touring some of the lovely squares of Savannah. The city is very unusual in that it was originally comprised of communities built around central squares, there were twenty-four in the early days. The lots on the east and west sides of the square were for public buildings and churches, and the lots on the north and south sides for private dwellings. The squares themselves were beautiful, well-maintained parkland areas some with monuments and water fountains amid beautiful lush gardens and huge, mature trees.
Tara took us past Chippewa Square where Forrest Gump had sat on the bench waiting for his bus, with his box of chocolates.
Pride in this city was evident everywhere we toured, as beautifully preserved and restored residences gave an air of old world charm.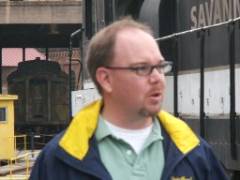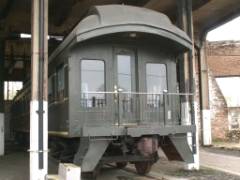 Mid morning some of us were dropped off at the Roundhouse Railroad Museum, while others continued on to Cockspur Island to explore Fort Pulaski.
About ten of us left the trolley and met up with David Bird who gave us a wonderful tour of the premises. David told us that this was the oldest, most complete railroad repair shop in the U.S. I was very surprised at the size of the roundhouse, with an actual operating turntable, and surrounding buildings. We saw the oldest portable steam engine in the U.S., and an exhibition of shaft and belt driven machinery. The massive smokestack, he said, was 120 feet above and 110 feet below ground. A lot of time was spent enjoying the HO scale model of Savannah, maintained by the Coastal Rail Buffs, I'm sure.
This tour had been so interesting that Tara had to come looking for us. We had five minutes to check out the gift shop and make a few purchases and this was where Darlene had misplaced her camera. (Later in the day it had been found and returned)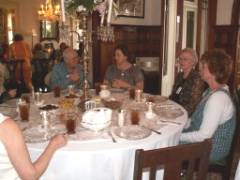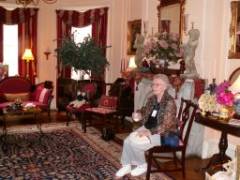 At noon we made our way to Dr Metts house, a beautiful old Victorian residence, for a refreshing Mint Julep, and a homemade dinner of typical Southern fare.
To have sat in the grand dining room, surrounded by such opulence, was a thrill I cannot describe. The chandeliers, silver centrepieces, fresh cut flowers, I could go on forever with the many fine details that completed the sensation.
There were many "firsts" for me at this lunch. The Mint Julep contained liquor, surprise! I always pictured it as a kind of lime-aid. The fried chicken was soooo lip smacking (but I didn't), as well as a steak that was cooked differently but very tastily. I had never sampled okra or greens but found them to be very flavourful. Black eyed peas, mmm mmm, sweet potatoes, yuck, but I didn't like them back home either, and the macaroni, and tea biscuits were delicious as well.
"Mandy", a character from "Midnight in the Garden of Good and Evil," was on hand to speak about what locals refer to as "the book." She was very entertaining and kindly obliged a song for us.
After lunch we waddled a short distance to the 1800's home of Marcia Thompson, the granddaughter of the famous Mrs. Wilkes.
We were welcomed inside the lovely home and served a very rich homemade chocolate cake, and a wonderful banana pudding. We were invited to eat our dessert and sip our tea in the parlour, dining room, or side-porch in the garden, wherever we felt most comfortable. This had been a remarkable episode, where we all experienced the embrace of true Southern hospitality.
Bravo American Orient Express for organizing this great adventure in Savannah. All of the days so far had been noteworthy, but this one had been remarkable.
We continued on with the tour seeing more of the beautiful sights of Savannah. We stopped for an hour or so to do a bit of shopping. Darlene and I proceeded to a shop that specialized in Irish wares and purchased a few items including umbrellas. It had looked for a while like it might rain, but we knew tomorrow's forecast called for plenty of precipitation.
Back on the trolley on the way to the train we received some lessons on Southern manners and Etiquette, and were taught the "language of the fan."
What a unique opportunity we had experienced today. I thoroughly enjoyed Tara's anecdotal commentary while we toured the beautiful city of Savannah. The efforts of Savannah's restoration project to refurbish the stately older homes and re-establish the central squares had truly set the city apart by attitude and style.
We arrived back at the train around 5:00 pm. It had been overcast most of the day and I thought that it might be a good time to take a few pictures of the two units that were hauling the Orient Express. I ran into Bob, the train master, and did get a chance to climb aboard the lead unit and take a few pictures. There were two genesis P42 engines on this trainset, almost the same as freight locomotives, he said. The lead unit hauled the train and the trailing unit supplied the electrical needs of the train. Each engine had 4250 horsepower.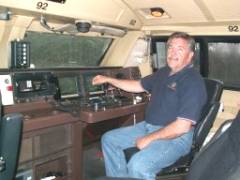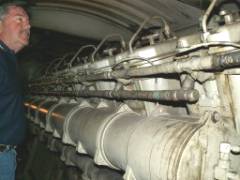 Bob opened a narrow doorway leading to the engine room. I couldn't help but think of Darlene's husband who is a heavy machine operator. He would certainly appreciate the size, power and sound of this engine and would have had many questions. Bob pointed out the different features and explained the general workings of the unit.
When I asked his opinion on train whistles, he didn't hesitate with his reply that they are intended as a safety feature and should be sounded.
I had enjoyed my tour and thanked Bob after climbing down. There was a light drizzle so I re-boarded at the Seattle car and enjoyed listening to Debra playing the piano.
We set out for the diner shortly after 6:00 pm and were joined by Maureen and Leslie.
We enjoyed a very leisurely dinner talking about all things, great and small. Over the course of the last eight days we had dined together a few times and had welcomed their company on many different occasions. These were two individuals with very distinct character qualities. Leslie was very mother-like, and soft-spoken, someone who had a remedy for what ailed you. Maureen was more of a leader, a take-charge person. I told her that she would be an intense competitor on the "Great Race." They had a genuine concern for each other's well-being and I could understand why they were best of friends.
We called them "our train sisters."
After dinner we went to the dome car to catch up on our notes and to join in the different conversations around us or merely listen to the chatter. A friendly, civilized discussion on American and Canadian politics led to the conclusion that both sides harbour disappointment in our respective Governments. After such an adventure packed day, we welcomed an early bedtime.
Easter Sunday, March 27th, 2005 - Charleston, South Carolina
I enjoyed a great sleep last night but awoke at 4:00 am when the train started up for Charleston.
Alex surprised me on the way to the shower with his "Happy Easter" greeting.
We walked to the Copper Canyon lounge and when Carl moved a pillow in order to sit down, he found an Easter egg. Edmund arrived and told everyone that there was a golden egg to be found that entitled the finder to a free A.O.E. trip but of course we knew he was fibbing.
Leslie and Maureen joined us at breakfast. There were buckets everywhere around the car catching the rainwater that somehow managed to find those little openings. It had been pouring for some time now. The train arrived in North Charleston at the old Naval Base area, the only place large enough to accommodate the length of the A.O.E.
We donned anything that would hopefully keep us dry and detrained at 8:45 am. The staff was all lined up holding umbrellas so we would be protected from the rain as we crossed over to the motor coach.
At this point I must mention Ned. He was often in the background but he seemed to be the one organizing everything. Whether in the diner during meals or up in the dome car making sure drinks were available, disposing of stuff or watering plants, he was quietly visible everywhere on this train. Early one morning, in the dome car, we talked about the "joys" of wearing contact lenses. He had had laser eye surgery and had never regretted it, in fact wished he had done it earlier.
I'm sure he was the decision-maker on this train and was the one who kept things running smoothly.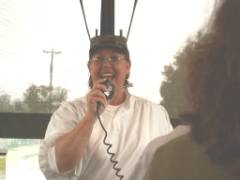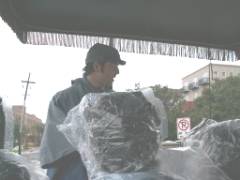 Our tour guide on the motor coach was Kay, and when she smiled you just forgot it was a gloomy, rainy day. She pointed out the Ashley River to the right and the Cooper River on our left but warned us that if we were talking to a native of Charleston it would be pronounced "Cuppa."
She told the most interesting story about the HL Hunley, the first submarine to sink an enemy ship. (The HL Hunley was a Confederate sub that sank a Union ship)
The year was 1864 and the location was the Charleston Harbour.
It was a daring underwater mission that did succeed but at the cost of all crew on board.
The HL Hunley, lost at sea for 137 years, had been recovered in 1995.
Kay spoke of the "Friends of the Hunley" who were slowly solving the puzzle-like mystery, one piece at a time. Everyday they come closer to understanding why the Hunley never came home.
We passed the Citadel Military College, enroute to some very grand houses.
We finished the coach tour and it was now time for our much anticipated carriage ride.
We were in the midst of a downpour and there was nothing to do but get wet.
We sat on blankets and were given some to cover our knees to keep out the dampness, but they actually absorbed water and in the end it felt like I was sitting on a wet sponge. Darlene, in the middle of the carriage, didn't get too wet but the rest of us on the out-side seats weren't as fortunate. However, that didn't ruin the thrill of exploring Charleston in a horse drawn carriage.
Our driver mentioned the "diaper" that the horse was wearing. "Before any of you ask," he said, "allow me to explain." A law had been passed in 1971 that stated the people of Charleston had the right to walk barefoot. "The only exemption was the Mounted Police," he said, but I'm sure he meant their horses.
Despite the terrible weather, we had a wonderful tour as he took us to the old part of town and down the narrow one-way streets.
We ended up at the old covered market district where we only had a half-hour to shop.
Being Easter Sunday there were very few vendors and those all had similar inventory. While waiting for the bus, John offered me a piece of salt-water taffy and I traded him one of my rocks collected at the Grand Canyon.
Our bus had arrived to shuttle us back to the train for lunch. The staff was waiting with open umbrellas to welcome us back.
The cream of tomato soup took the chill off my bones, and the Penne Pasta with Bolognese topped with fresh Parmesan was quite tasty. I finished with a slice of rich moist carrot cake.
At 2:00 pm we once again boarded the bus via the umbrella brigade, on our way to tour the home and gardens of Magnolia Plantation.
Chris and John elected to pass on this trip and stay on board. Theresa was lending them her laptop to watch a movie.
Barriedel, B.D. for short, was the guide on this leg of the tour. I paid close attention as we crossed the Cooper River and sure enough she identified it as the "Cuppa River."
B.D. talked about Charleston, and then we were shown a short film clip on Magnolia Plantation.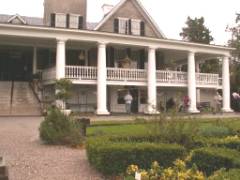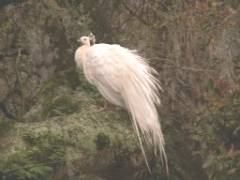 Moss draped the stately oak trees that lined the driveway leading to the house. Our attention was directed to a few small, whitewashed houses some distance from the main house. These were the old slave quarters.
The house looked grand indeed with its massive wrap-around porch. Leslie and I went to the back veranda to enjoy the early blossoming trees.
Because of the large size of our group, we were divided into three or four smaller parties of fifteen to twenty people. By the time I made it into the first room the tour had begun but I did hear that it was used as an everyday sitting room. When everyone filed out, I turned to take a picture just as someone hollered, "tell that girl she's not allowed to take pictures." I hadn't realized my mistake but felt relieved when one of the ladies on our tour sidled up to me and said, "Don't feel bad; she told me to get rid of my chewing gum." It wasn't long before Darlene was scolded for being on the other side of the line so she left the tour and walked outside to explore the grounds. We spent the rest of the tour being careful not to break any more rules before being dismissed.
I enjoyed a brief walk while looking at various birds and ducks. The miniature horses delighted me as they galloped around their compound.
They had a wonderful gift shop chock-full of interesting, reasonably priced souvenirs and by the time I purchased a few items; it was time to leave for the bus.
The on-board staff was waiting with umbrellas once again. It was almost 5:00 pm and we washed up and went to the New York car to see what treats Mike had presented this evening. We sipped champagne while chatting with Betty, Charles, Geraldine and her daughter Julia, and Ed with whom we had enjoyed some first-class discussions.
A special dinner had been planned for tonight so we set out for the diner. Our regular area was full so we went forward to find a table. We had hoped to sit in Theresa's section to thank her for the attentive service and let her know what a great person we thought she was.
The soup tonight was potato leek with sour cream and chives. Darlene had the Breast of Pheasant, and I enjoyed my coldwater lobster tail served on mushroom risotto with sautéed carrots and bourbon infused beurre blanc.
The dessert of choice tonight was the Red Velvet cake with chocolate and fresh berries. While we lingered over coffee, the chefs, culinary team and kitchen staff were brought out for introduction. They received a well-deserved ovation for the tireless effort put into preparing and serving culinary delights.
Although Theresa was busy, she delivered a lovely note to us and we replied with our appreciation.
On the way out we stopped at Joan and Carolyn's table to let them know how much we had enjoyed the boys. The staff had taken Chris and John under their wing, entertained them on a trip that might otherwise bore them, served special treats and handed out generous doses of good-natured teasing.
Of course it also helped that both boys were very well mannered.
We went to the room to pack up. We had already voiced our good-byes to many people as the last day is always so hectic and many "thanks" don't get said.
Mike, our banjo-playing friend, had summed it up best one evening in the Seattle car after a gig with Al. "This was the greatest trip; this is just like family."
We retired for the evening on this our last night aboard the train.
Monday, March 28th, 2005 - Washington, D.C.
Awoke at 5:00 am and after getting ready we packed the last minute stuff and had everything ready before we went to breakfast. We were early so sat in the lounge with Carl and Kathryn, then Edmund came in and had a coffee with us.
We enjoyed our last breakfast in Theresa's section; Carl and Kathryn, like most travellers were looking forward to arriving home.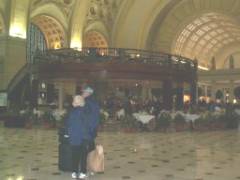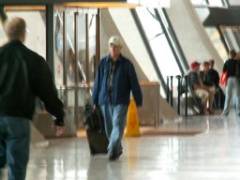 We sat in the dome looking at the Virginia landscape. We talked in general with others who were packed and ready. The train arrived at 11:30 am and as we stood waiting in the vestibule we had a chance to thank Alex for looking after us. We detrained and took the escalator into the Washington station, the most beautiful train station I had ever seen. We were shoved along so I only had time to snap a few pictures as we made our way to the front of the building to claim our luggage.
A pre-arranged airport shuttle to Dulles airport ($15.00) was supposed to be waiting but we couldn't locate it. With hope fading, we waited out front by a huge pillar, and had resigned ourselves to hailing a cab. From out of nowhere Al grabbed my arm and said, "Come on let's go, the shuttle can't wait any longer." He had located the shuttle right away and knowing that we were also booked, had convinced the driver to wait an extra length of time hoping we would show up. When the driver said that he had to leave, Carl made a quick dash to try and find us. What a lifesaver he was.
Traffic in Washington is very fast paced. Al drew our attention to a few points of interest and when we arrived at the airport, sent us in the right direction. We must have looked perplexed because he told us to take care then gave us each a big hug that felt "just right."
Witnessing one of the seven natural wonders of the world as part of a rail excursion was truly a significant element in this adventure.
I tried to absorb as much of the transfixing ever changing terrain of the southern States as possible, and at times found myself getting goose-bumps when I recognised an actual living landscape scene of one of my picture books.
The local tour guides played an important role in the success of this trip for it was through them that we were able to see and feel the local character and spirit of the many different sites we encountered along our journey of discovery.
High praises for the onboard staff who truly went the extra mile to make you feel welcomed, and ensured that your comfort and well-being was of the uppermost importance.
As always, I met some of the most interesting, "salt of the earth" individuals, who truly do feel like family after a while. Although, we were from all different backgrounds, the one invariable is our love of trains.
Photos
Click on below links to view each set of photos:
Set #01 / Set #02 / Set #03 / Set #04 / Set #05 / Set #06 / Set #07 / Set #08 / Set #09 / Set #10
Set #11 / Set #12 / Set #13 / Set #14 / Set #15 / Set #16 / Set #17 / Set #18 / Set #19 / Set #20
Set #21 / Set #22 / Set #23 / Set #24 / Set #25 / Set #26 / Set #27 / Set #28 / Set #29
Train Consist
800321 - New York Observation Car
800741 - Savannah Sleeper
800768 - Santa Fe Sleeper
800740 - Denver Sleeper
800258 - Washington Sleeper -(haunted)
800297 - Istanbul Sleeper
800743 - Copper Canyon Dome Lounge Car
800301 - Zurich Dining Car
800308 - Chicago Dining Car
800310 - Seattle Club Car
800231 - Monte Carlo Sleeper
800753 - Bar Harbor Sleeper
800050 - San Francisco Sleeper and crew dining car
800668 - Grand Canyon Crew Sleeper
800755 - Yellowstone Park Crew Sleeper
800715 - Los Angeles Laundry-tools-freezers
3 - Trailing Unit
92 - Lead Unit
Click here for more American Orient Express travelogues and photos!
Click here for more travelogues and photos by Lorraine Symons!
Visit our Rail Magazine promotion trading partners:
Click here to add your print rail magazine.