Amtrak Travelogue & Photos Round Trip Pennsylvania to California by Dutch Myers www.trainweb.com/travelogues/dutchmyers/2005k06a/index.html
Once having made the decision to journey by train, the increasing anticipation resembled a kid looking forward to Christmas morning under a twinkling tree. The highlight of my trip would be riding of the Southwest Chief, no doubt about it! However, other trains were ridden as well. Listen! If you have a little time, climb into the coach seat next to me while I tell you all about it.
My wife and I had flown round trip from Pennsylvania to California in May to visit my son in southern California. The flight was OK - don't get me wrong, and Southwest Airlines gave us a pleasant trip. Nevertheless, I just felt - well - shouldn't there be something more to a long distance excursion? You know what I mean, to experience the countryside. Hey! Anyone can fly over it in a matter of hours, right? The famous writer Louis L'Amour said: "The thing to remember about traveling is that the trail is the thing, not the end of the trail. Travel too fast and you miss all you are traveling for". There's a lot of truth in that. Oh sure, the end of the trail is the thing if you have to get somewhere quick for business and slip right back. However, too many people are in a hurry most of the time and their attention never touches the flowers awaiting notice along the way. When feasible, we have to fight such thinking and I was about to do so on the next cross-country trip.
This trip to California was for pleasure because my son was getting married in November. The whole family now had to travel to the west coast for the wedding because he had disregarded every girl in the East looking for that special someone. However, I have to tell you, the search was worth it because he did indeed discover that wonderful girl in California. What can I say? He gets his good taste from his dad! I had volunteered to stay for house and dog sitting while they were on their honeymoon. Upon returning, they asked me to stay a little longer and that was OK with me.
The rest of the family was in a hurry or had to get back quickly and therefore went by airplane. Having just retired after 41 years on a freight railroad, I was in no particular hurry and was about to fulfill my long time dream of traveling across the USA by rail. Checking the Amtrak website, it was surprising to learn that it was only a matter of about 2-1/2 days by rail. Traveling from Harrisburg, PA to Fullerton CA would actually mean three nights on the train (with an early morning final arrival) - one night on the Capitol Limited and two on the Southwest Chief. In all honesty, that would mean a person would probably need two weeks vacation since the better part of a week would be spent in round trip travel. My return trip was also by rail, but I had learned a few things about train travel and made some changes coming back. We'll talk about them later.
Searching the Internet for information on the Southwest Chief, I quickly stumbled upon http//travel.meetup.com/309/ , an Internet Rail Travel group.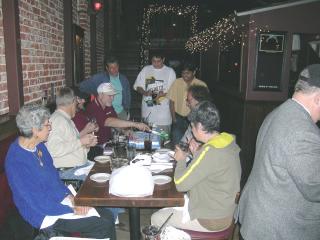 I believe they are also members of TrainWeb.com, which I've been told is the largest on the Internet. I logged in and joined the Internet meet-up group and, it turned out to be a good move. Once in California, I received an email to attend their November meeting at the Rail Restaurant in Fullerton. I decided to go and met 14 of the nicest people anywhere, and felt that they were friends away from home. Due to a power failure of some kind at the restaurant, we actually ended up meeting in the restaurant/café next door (can't remember the name). I don't know anything about the food in the Rail Restaurant, but the food and service next door was excellent. Someone decided that they would pay for my dinner since I had come from so far away. That was very thoughtful, but if I had known, I would have ordered the filet or lobster. Only kidding, it was a very nice thing to do. I met Carl, Steve, Chris and of course, having met so many people at one time I can't remember all the names. But thanks go to all for making me feel welcome. At the end of the evening, several of the members rode the same Amtrak train at Fullerton station that would take me to Irvine. It had been during dinner that I was requested to write this travelogue. Now here is my disclaimer where I warn you, I have never done a travelogue and am not an experienced train passenger, so forgive me for any blunders. I did not keep a log of my arrival and departure times and failed to make many notes. I did keep a journal of sorts on the way to California and then promptly lost it somewhere in the golden state. Thus, it is necessary to complete this work by memory.

I learned a few things on the train, like you can't simply snap photos through the window of the train, you have to keep a frame-by-frame list of where and what for photo information. A beautiful view at the time turns later into - "was that in Arizona or New Mexico"? Having been involved in photography for many years, I already knew I would be on a moving train and would need to remember several things. Don't point the camera straight out parallel to the moving train or it could end up a blur. Point toward the coming scene or the one just past when possible. Keep the lens close to the window to avoid glare and don't use a flash as it could reflect from the window glass into the lens. In most cases, a high shutter speed is necessary. I had a newer digital camera with me and chose the sports mode most of the time to allow for a moving target. Still, window glare was a constant companion.

During the trip planning process, I ordered a video of a trip on Amtrak's Southwest Chief, then lost track of how many times I watched it. Oh man! This was for me! Pictures of the Santa Fe's war-bonnet engines on the old Super Chief climbing over the Rocky Mountains, danced in my head. The Southwest Chief, descendent of the Super Chief, would carry me along the Santa Fe Trail. The same trail that saw early day conquistadors, Native Americans, trappers, prospectors, wagon trains and more. It would also be the same train route chosen by those stage and screen stars, politicians and others, famous into the 1950's and part of the 1960's, before air and auto travel prevailed. In fact, I traveled on the same sleeping car with a movie star from that era on the westbound Southwest Chief. Jane Russell passed me a time or two in the aisle. She was traveling with a friend or relative and seemed very pleasant, nodding a hello. I looked up her birth date on the Internet and let me tell you, she still looks good in her 80's.

However, I have gotten way ahead of myself; I told you I was a novice at travelogues. My trip began in Harrisburg, PA when my wife dropped me off at the Amtrak Station on November 6, 2005. Prior to ordering tickets on the Internet, I had looked at the maps and figured the straight route across Pennsylvania to Pittsburgh then Chicago for the Southwest Chief looked like the best choice - well it wasn't. It was a rocky start as the train to Pittsburgh called the Pennsylvanian was filthy dirty. The trash containers were full and all the lavatories were loaded up with un-flushed toilet paper. Somewhere west of Pennsylvania's capital city, the trackage seemed to worsen. The train rocked back and forth at an alarming rate and much of it along the side of mountains (who wants to roll down a mountainside!). However, the time did go quickly as we rolled by Lewistown, Huntingdon, Tyrone, the Altoona Curve about 4:30 PM (where a trailer train was coming the other way and completely blocked the view), Johnstown, Greenburg, Pittsburgh and many other smaller towns. I remember going through two tunnels and ears popping as we exited one apparently near the top of a mountain. I had promised myself a congratulatory drink for this cross-country journey, and thus early in the trip, headed to the cafe car for a whiskey and soda. The cafe attendant gave me a lesson or two on how to avoid unwanted telephone calls while I mentally toasted myself, sipped and listened to his expert advice. Once back at the coach seat I resumed my conversations with a girl met at Harrisburg waiting for the train. She was in her early twenties and her mother asked me to keep an eye on her since we were both going to Pittsburgh. The conclusion being her mother said that because either I had an honest face or that I have achieved "old geezerhood" - naturally, the logical choice was the honest face. Anyway, we enjoyed talking and someone from her school was waiting in Pittsburgh with a ride.

As for myself, I was happy to disengage from the unimpressive Pennsylvanian and wander into the Pittsburgh station. Actually, it was only a small under-part of the former station. Apparently, the rest of it had been sold-off for some other purpose. Learning that the CAP (Capitol Limited to Chicago) wasn't due until 11:45 PM, nearly a five-hour layover, I took a walk outside with three other people to look for eats. How that long layover was missed when making my plans was a mystery, but it was too late to worry about it. We left our baggage with the Amtrak ticket person. As we stepped out the door into the dark night, elephants were stamping down the street to board a circus train. An unexpected sight to be sure, or perhaps an omen not to forget our "trunks" when we left on the CAP. We did find a MacDonald's open on that late Sunday night and considered ourselves lucky. While waiting in line to order though, I noticed that the guy who puts the burgers together and wears a plastic glove to do it, was looking somewhat ill. Worse yet, he was using that same glove to wipe sweat off his brow! Pointing this out to the others made no difference, as they were famished. When my turn at the counter came I asked for a cup of coffee (boiling should kill the germs huh?) and an apple pie (which comes safely shipped inside of a container). I didn't want to make a big deal out of it. However, getting sick at the beginning of my journey on the way to my son's wedding was not high up on the priority list. Whether my three companions keeled over from eating the sweat-laced burgers somewhere later in their travels, we will never know - but I do wish them much luck if they became attached to a porcelain bowl at some point. As we returned to the station, we were most impressed peering up at the towering beauty of the original station.

The Capitol Chief arrived and we passengers scrambled up the escalator to the platform. They were apparently changing crews here, because the new personnel were waiting near us. Once on the train, we had to awaken sleeping passengers who had taken it upon themselves to sprawl across two seats while only paying for one. It was not long before I learned to be a seat stealing "sprawler" myself. The fellow I asked to make room got up and faded into the darkened car. Since most seats appeared to be filled, I can't imagine where he went but made myself at home in the same two seats. I had made the decision not to get a sleeping compartment the first night since we were due into Chicago Union Station early in the morning - not allowing much sleep anyway. With the two seats to myself, reclined with footrests up, it was comfortable enough, yet sleep eluded me. The ride on the CAP was much cleaner and smoother than the Pennsylvanian had been. This is where I learned a lesson, deciding to stay on the Capitol Limited on my return trip with a sleeper, rather than get off at four in the morning to ride the Pennsylvanian from Pittsburgh back to Harrisburg on a dirty, rocking train. The eastbound CAP ends up in Union Station, Washington, DC. After that, it would not be much trouble to catch one of the many trains going north from Washington to 30th Street Station, Philadelphia then change trains west to Harrisburg. There was a bit of a problem with this plan at the end of the return trip that I will tell you about later. The rest of the night on this westbound CAP though, was uneventful as I peered into the darkness through Cleveland, OH (saw Cleveland Browns stadium)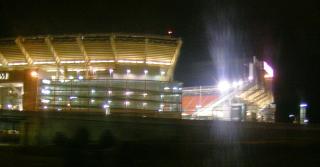 Toledo, South Bend (the home of Notre Dame) and finally into Chicago (White Sox stadium)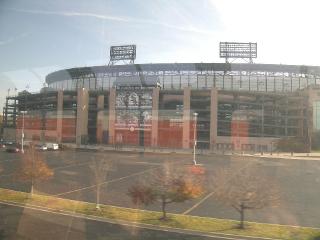 at 8:30 AM Central time zone. It was difficult to believe that it was a new day already after 5-1/2 hours on the Pennsylvanian and 9 - 3/4 hours on the Capitol Limited. Real sleep had been fleeting but figured I would catch up tonight on the Southwest Chief.

The last and longest part of the trip would begin at 3:15 PM that afternoon when we pulled out of town on the Southwest Chief. It was a long layover in Chicago to be sure, nearly seven hours. However, as it turned out, it wasn't nearly enough time as I took the bus down to the Navy Pier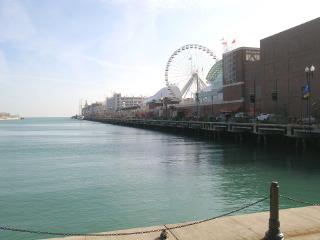 plus seeing the 110 story Sears Tower and other Chicago sights. A woman from the CAP train, who has made the trip many times, was a good tour guide as she showed the way around town. Her train was leaving for Seattle before my train to Fullerton so we returned to the station a little early. We had checked our bags at the Metropolitan lounge deep below street level in the station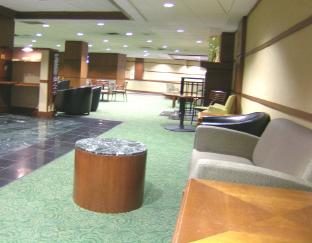 First class passengers can relax in comfortable chairs and sofas instead of using expensive lockers and sitting around the station. Pouring into one of the comfortable chairs, lack of sleep caught up and I dozed right off, sitting straight up. Some time later when I looked up, she and her train had gone. I felt bad, as I had wanted to thank her for the kindness of showing me around the city. No doubt, she hadn't had the heart to wake me. I guessed this was what the travel gurus mean when they speak of people entering and leaving your life like the proverbial "ships passing in the night".

Before long, the loudspeaker voice was calling to board the Southwest Chief! OK, now it was time to get excited. Having read and heard much of this train, the expectations were high as I pictured silver gleaming cars and powerful locomotives. It was time to start the best part of the whole rail journey. The westbound Chief left Union Station, Chicago on November 7th with the best darn crew and I want to give them accolades here. The engineer, conductor, dinning car personnel, club car and especially my own sleeping car attendant did a top-notch job. The food was exquisite and the dinning car staff professional. However, most of all it was the work and personality of our sleeping car attendant Joann Lindsey. That car was full of passengers and she had plenty to do, but she somehow always had time to make everyone feel special. She was the glue that made the passengers in that car feel like a family away from home. The trip back to Chicago in early December on the Chief was fine and the personnel great, but there was no topping the trip west.

We headed west out of Chicago through the suburbs and across the flatlands of Illinois passing through Naperville, Aurora (birthplace of the CB&Q railroad in 1849), Galesburg (Carl Sandburg's birthplace and they had a Lincoln-Douglas debate too)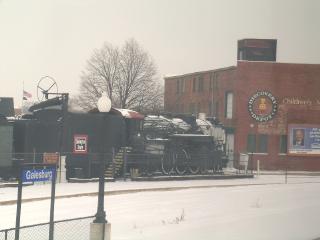 then across the Mississippi River into Iowa on the 3,347 ft. long bridge. This bridge is known as the world's largest double-track, double-decker swing span which pivots out for river traffic.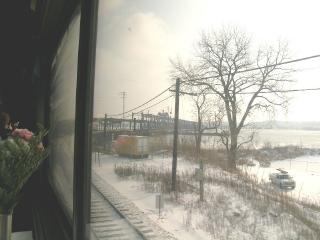 The only stop in Iowa was Ft. Madison as the Chief then crossed into Missouri at the Des Moines River. We passed through the town of Marcelene where Walt Disney lived as a child, before crossing the 135-foot high steel bridge over the Missouri River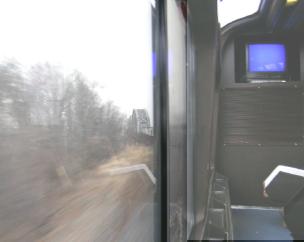 We arrived at Kansas City late at night. It was not possible to appreciate fully many of these sites, as it had gotten dark early due to the time of the year. The dark outside the window prevented photography now, but I was able to take photos of these same sites on the return trip by daylight.

I only had a two-bed roomette,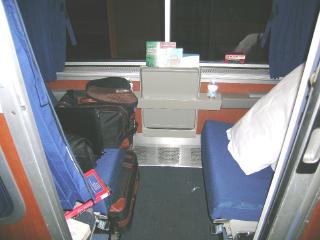 yet for those who don't know, your meals are included when traveling in a sleeping car. I hadn't given any thought to food quality on the train. The memory was still strong of a train trip from Philadelphia to Nevada back in pre-Amtrak 1970. It was one of those old milk run trains that stop often, and I can still remember looking bleary-eyed through a dirty window at Lima, Ohio. The seats were horribly uncomfortable and the food consisted of sandwiches loaded with butter, even bologna and cheese - yuck! I didn't realize at that time that the decent trains started west from Chicago, so had de-trained there and made a beeline for the airport. The Penn Central, like other railroads at the time, were experts at discouraging passenger business.

Therefore, you can imagine the sweet surprise when a most impressive steak dinner was enjoyed at this first meal on the Southwest Chief, certainly different from the old days. Much time was spent in conversation at the dinner table with a couple from my own state, and then I retired a bit early due to sleep scarcity the night before. Returning to the roomette, Car Attendant JoAnn Lindsey had thoughtfully prepared the bed and I hit the hay. They were showing movies in the observation and club car but I was too tired. However, sleep was not to come easily with the new experience of being jostled back and forth by the motion of the train. I supposed it was a forgotten skill until I learned later that the train picks up speed during the night as it zooms through Kansas making for a bouncy ride. The following night though, I slept quite well. Amazingly, sleep was no problem through this same section of track on the way back home. Was I becoming a rail travel pro? That first night on the Chief, I just dozed as we passed through Lawrence KS, Topeka, Newton, Hutchinson, Dodge City (which saw the likes of Wyatt Earp, Doc Holiday, George Custer, Bat Masterson and other westerners), and Garden City. Up for breakfast about 7 AM the next morning, we came into LAMAR, Colorado.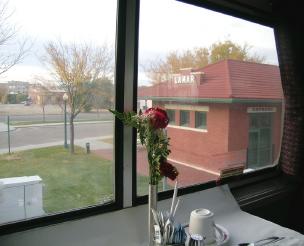 There had been a complimentary copy of the newspaper USA Today at my doorway. It was quickly becoming apparent at all the meals, if you went away hungry you were either a glutton or it was your own fault. Fresh flowers always at every table was a nice touch. Choices for breakfast included eggs, pancakes, French toast, cereal, fruit or yogurt. Although croissant or biscuit were choices, they never offered toast. As a joke I mentioned to a tablemate that it might be that it is more difficult to cook eggs for yoke dipping than scrambled eggs, especially on a moving train. No toast encourages dipping customers to order scrambled. There is probably a better reason, but it works for me. Lunch choices included a tremendous Angus beef burger, turkey & swiss sandwich, salad or gardenburger with all the trimmings. Dinners usually ran broad choices of steak, a pasta dish or fish. Was there a chicken special as well? The chefs knew their business and I do not recall hearing any complaints from other diners except: "oof, I'm stuffed"!

As the landscape took on more of a "western" look, I could not help but think of those early settlers who traveled this same route along the Santa Fe Trail. Especially at night, when a person can gaze into a cold, forbidding landscape from the comfort of a warm bed in a train speeding along ribbons of rail. Those wagon train members were camped in blackness without warm lights of nearby homes or street lamps. They were far from any help while in danger from the attacks of wild animals, desperados and sometimes-unfriendly Indian tribes. Add to that the suddenness of illness and injury and we can appreciate the courage of our ancestors.

About an hour after Lamar, we came into LA JUNTA station, with an ATSF caboose across the street that housed a bank with an ATM sign next to it.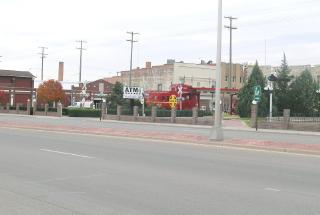 One hundred miles north of here is Pike's Peak and east is the restored Bent's Old Fort where Kit Carson had worked. I found myself wishing I had the time to stop and visit many of the historic and friendly looking towns visited by the Southwest Chief. By the time we reached TRINIDAD, Colorado about 10 AM, I had met a number of other passengers in our sleeping car. John and Gail were in the room right across and the three of us hit if off right away. Poor John was suffering from a terrible cold but was holding up valiantly. We talked across the aisle of many things including the beautiful Sangre de Cristo Mountains. I opted for a late lunch so that I could get off the train at Raton for a look around. We passed by the Purgatoire River and as we were climbing steadily into the mountains, we saw Uncle Dick Wootton's Ranch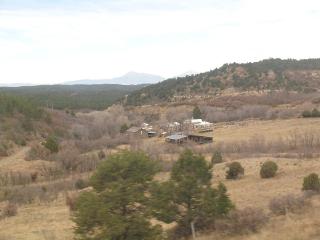 Everyone's ears were popping often as we went over the high point of the route at Raton Pass, 7,588 feet above sea level and through a short tunnel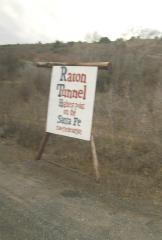 This is the state line between New Mexico and Colorado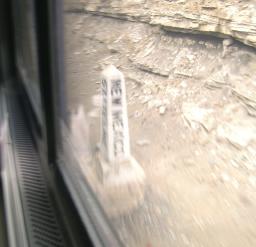 The town of RATON was reached about 11 AM and many passengers got out to enjoy the fresh mountain air. This is the stop for the Philmont Boy Scout Ranch. Joann the sleeping car attendant took a short break from her constant duties to take a photo with me and talk with passengers. The sun was shining and it was a most enjoyable stop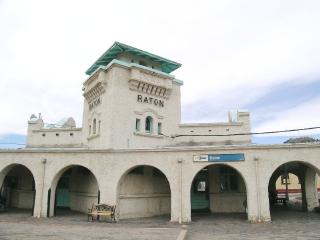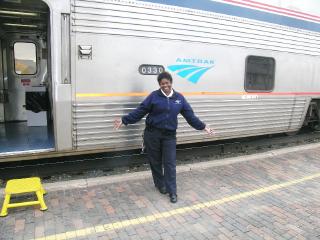 Left: Amtrak Raton Station - Right: Sleeping Car Attendant JoAnn Lindsey
On the way to LAS VEGAS, NM we passed by the Wagon Mound landmark and Shoemaker canyon where Indians traveled to trade in the old days. At Las Vegas, right outside the window was the old Castaneda building,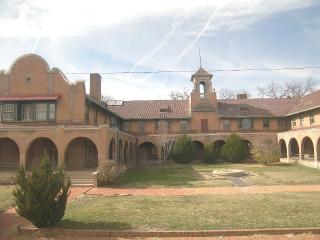 once a Harvey House and annual meeting place for Teddy Roosevelt's Rough Riders. It looked deserted but still in very decent condition. We were then on our way to LAMY, NM running just a little behind schedule but due in about 2:30 PM. On the way, we passed a flat mesa called Starvation Peak where it is said 30 Spanish settlers starved to death while surrounded by Navajos. A double S-curve down the track allows one to grab a quick photo of the front of the train. We also passed Glorieta Pass and Apache Canyon where the side of the mountain almost touches the side of the train.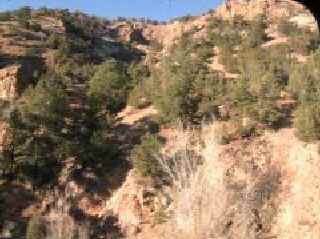 Lamy is nearly a ghost town and I was able to take photos of an old Catholic Church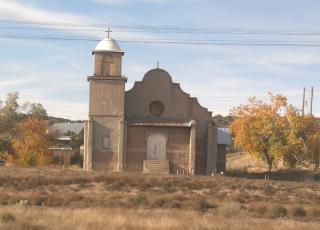 that looks to be a long time boarded up. At Lamy, people can get transportation to Santa Fe where there is plenty of shopping available and culture to experience. I would love to visit there some day.

A short time later, the train pulled into ALBUQUERQUE. We were here for about two and a half hours. I was told that the Chief normally stops for about an hour for service. Here passengers can walk to the platform and buy jewelry plus other hand made items from Native American vendors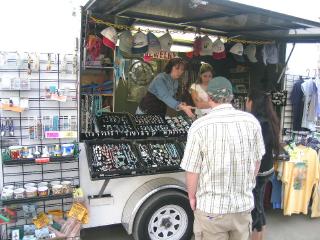 Now it may be crazy but I feel I had something to do with the delay. While we were traveling the night before and in the morning, I mentioned to one of the attendants that something sounded wrong with a wheel under my car (my roomette was even on the upper level). No one said anything further so I forgot about it, thinking I had just spent too many years working for a freight railroad. However, when we arrived at Albuquerque they cut out the sleeping car in front of mine because it had a flat spot on one of its wheels on my side. Now did that sound travel through the metal of the cars and rails to my ears in the next car? Did someone mention to the conductor what I had said or did they find it through a normal inspection? I would say it was normal inspection. My wife doesn't listen to me, why should anyone on Amtrak pay attention? Still, it was a neat thing to consider. The best part is that it gave me plenty of extra time to spend money on Indian jewelry and explore out to the streets in front of the station. Joann had mentioned she liked banana ice cream. Across from the station was an ice cream parlor so I brought a dish back to her. It provided a good laugh when her eyes lit up on the first spoonful. By the way, I found the wares sold by the Native Americans to be very well made, attractive and at reasonable prices. It was possible to get something nice for each member of my family without going broke. The vendors are very polite with just the right amount of salesmanship. I highly recommend a traveler to get off the train here and take a look. With the passengers in the front sleeper moved to our sleeper, it was time to depart Albuquerque for Gallup, across the state line into Winslow, Arizona.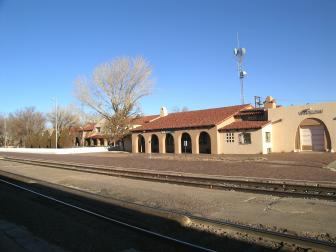 We had crossed the Continental Divide where the water flows east to the Atlantic and west to the Pacific Ocean. Between New Mexico and Arizona, we changed into another time zone and it was now two hours earlier than the start of the trip. When arriving into California it would change yet a third hour. Just north of Flagstaff are the San Francisco Peaks at 12,000 feet. Further along at Williams Junction is a place I would very much like to visit one day. At the small stop, you can arrange for the Grand Canyon Railroad hotel to provide transportation for a short trip to lodging. At a very fair price, the hotel provides overnight lodging, two meals and a ride on the Grand Canyon railroad to the Grand Canyon itself and return. The next day you can get onto the next Southwest Chief to continue the journey. Of course, one would have to make the stop off arrangements with Amtrak but I think it would be worth the extra trouble. We spent a little extra time in this area when an older gentleman had to be removed to a waiting ambulance during the night.
After Kingman, AZ, and the Colorado River, we headed into California in the wee hours of the morning and were running late due to the Albuquerque delay and the ambulance problem. I had gone to bed early the night before but was fortunate to awaken when we stopped at Williams Jct and some of the other sites. Curiosity can be like an alarm clock. Just the same, sleeping was very comfortable that night. I was up early the next morning to see California as we went through the Cajon Pass and stopped in San Bernardino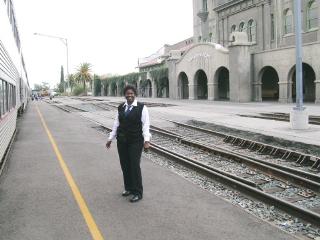 where the first McDonald's hamburger stand was started.

Finally, at Fullerton it was time to disembark and catch the Amtrak train to Irvine. As luck would have it, that was where our crew ran out of time or as they call it on the freight business - "they blew up". The law does not allow the engineer and conductor to work more than a set number of hours for safety reasons. The Southwest Chief sat right there in the Fullerton station until the relieving crew arrived to take the train to Los Angeles. It sounds crazy to do this for such a short distance but that is the law for the safety of all. It was thought for a while that the Irvine train would have to use the track on the other side. I would then need to cross over the tracks via the walking bridge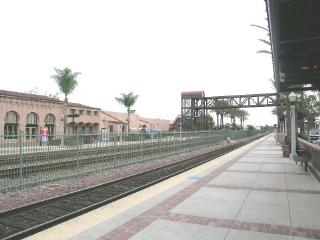 However, in a short time the new Southwest Chief crew was there, taking over quickly and it was on its way - very professional. The Amtrak train to Irvine was impressive, being swift, clean and efficient.

After 30 days in California, it was time to travel east. After 41 years of working to become retired, it was nice not to have to rush back.. However, rather than fly back, I took the Southwest Chief again since it had been such a fun experience. It produced another great trip on the return, although I was not as impressed with the dinning car personnel or the food. It was good, absolutely, but just not as good as on the way out. I tried to remember that my frame of mind was low compared to the expectations of the westbound trip. When my son dropped me off at the Irvine station, emotion suddenly choked my throat and I could hardly speak. Spending that time with him had been wonderful, but now it was time to head home. We shared a good hug, then I turned and walked toward the station.

It was a quick train ride from Irvine to Fullerton to wait for the eastbound Southwest Chief on December 4th. I noticed huge crowds starting to accumulate on the platforms. I felt sure the town of Fullerton was not here to see me off. No, it seems a Christmas Train was about to arrive and was decorated with lights. The local fire company was there to give gifts to the children and there were even a couple of local beauty queens present. Unfortunately, the Christmas train was scheduled to arrive after the Chief and so I never did get to see it. I could not help wondering if any of the members of the rail meetup group were in the crowd to see the Christmas train. The Chief arrived a little late and I boarded car number 0430 for roomette number 10. I went to dinner at 8 PM and when I returned to my room, Vic the attendant had the bed made up. Vic was very organized and friendly. At some later point, I was looking through the window and saw a sign that said Route 66 Café and realized we must be paralleling the famous Route 66. Then there was the silhouette of a mountain ridge against a darkening sky before we plunged into the dark of night on the desert.

Near Flagstaff the next morning, we stopped while the train crew went to work on a frozen switch with the outside temperature at one degree. Through Missouri, Iowa and Illinois it was nothing but snow on the ground as the result of a Midwest winter storm the week before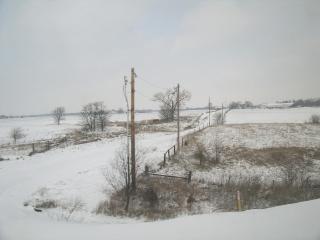 Just after we crossed the Mississippi River bridge I could see a railroad pickup Hi-rail truck coming up a siding. We passed crews cleaning snow from tracks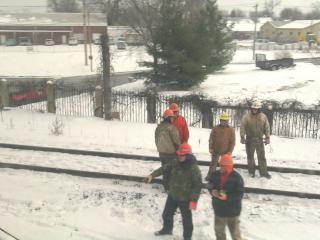 and two men clearing snow from the roof of a caboose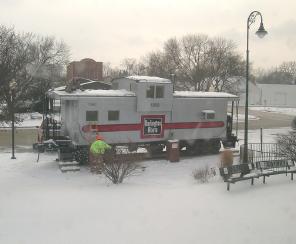 We arrived in Chicago a half hour early and I boarded the Capitol Limited a couple of hours later. I had purchased a roomette to Washington to avoid the Pennsylvanian from Pittsburgh to Harrisburg.

During this travelogue, I didn't spend much time on meals, as they were all good and plentiful. I had no complaints and believe the menus can be found on Amtrak's web site. In addition, I didn't mention many of the people met as they were too numerous and varied. It would have taken too long to describe the conversations with the lady and her son from Australia, another mother traveling with her 6' 6" son who had just come from the graduation of her grandson (his son) completing training for the Marine Corp (thank you for serving), or the lady who lived with two dogs, two cats and a boyfriend, or the famous writer Slim Randles of Albuquerque, NM whom I liked right away. I am determined to read some of his books. It seems when traveling on a train you meet so many people and share their lives that you could write a book. (Click here to visit his website).

The CAP was no Southwest Chief, but it sure beat the Pennsylvanian. The food was decent enough but I only saw my car attendant a couple of times. My sleeping car did not have many travelers. When I boarded and found my roomette covered with tiny red sparkles like pixie dust, I had to wonder if anyone had cleaned or checked it. The sleeper wasn't crowded so the attendant moved me to another room. After dinner he couldn't be found and so I made up my own bed after a while. With a little experimenting, I was able to get the seats together and found the bedding in the top bunk. In the morning, I could not find towels for a shower or him even though I pushed the call button a couple of times. A passing conductor told me that the clean towels were in the luggage rack. The luggage rack? He did show himself at some point and was friendly enough, but he was no Joann Lindsey, the car attendant on the way west. We ran late the whole time but I did get a good night's rest. I don't want this part to sound like a bad ride. There were no major problems and it was a good trip, everything considered, I enjoyed traveling through towns like Elkhart, IN, Alliance, OH, Connellsville, PA (where it started snowing to beat the band), Cumberland, MD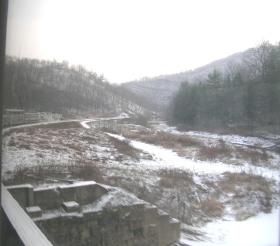 Martinsburg, WV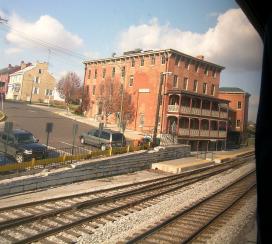 Harpers Ferry WV (Civil War country)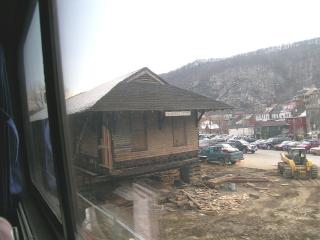 and the nation's capital at Washington. By arriving an hour and a half late (1:30 PM instead of 11:59 AM) into Union Station, Washington, DC, I missed the couple of trains to 30th St. Station that I had counted on making. This started a sequence of events and the first of any problems the whole excursion. If one of these trains had been caught, I would have arrived home only a couple hours later than riding the Pennsylvanian across Pennsylvania. It would have been worth it to ride the nicer train. As it was, one thing led to another and I finally caught the 3:05 PM to Philadelphia. It was to arrive at 5 PM and that would have allowed me to catch the Keystone west toward Harrisburg at 5:30 PM out of Philly. Later than hoped, but still not too bad. However, when it rains it pours and just before Wilmington, Delaware, our train from Washington stopped. It had been zooming along nicely up to that point. The loud speaker said there would be a short delay while the conductor gets off the train to check a minor mechanical problem. A couple of minutes later the air conditioning and lights went off as we lost power. Knowing a little about trains, my first thought was that I hoped someone remembered to throw the switch behind us. Those 140 mph bullet trains would need a track to go around. Smashing into the back of us would tend to ruin everyone's day. That thought had no sooner occurred than a train whistle sounded, approaching from the rear. The seconds ticked by and suddenly - whoosh!!! - an Amtrak train flew by on the track to the right of us looking indeed like a speeding bullet. At this point, knowing that the switch had been thrown, I was hoping that the conductor had not been standing on that side of the train. We sat there for about 20 minutes or so until the power came back on and we were off again. At this point, I knew it was going to be a mad dash in Philadelphia to get off this train, race up the steps to the station, check the giant board for the track number of the 5:30 Harrisburg train, then race down another stairs to board in time - all the while dragging my heavy suitcase.

We arrived exactly at 5:30 PM and I was the first one off the train. People waiting on the platform must have read my expression for they quickly moved out of my way. When screeching to a halt before the giant board, I could see there was no mention of my next train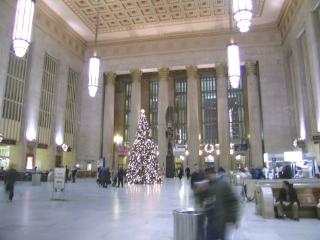 I asked at the info booth and he said, "that one's gone". It made for a close call, but luckily, there was still another train I could make an hour and a half later. Otherwise, I would have spent the night wandering around William Penn's Philadelphia. However, I made the next train and as Shakespeare said - "All's Well that Ends Well." I did have to shake my head in bewilderment though. Having traveled coast to coast and back, nearly 6000 miles in all, the only real problem came when I was close to home. By the way, when I left southern California they were having a cold snap at 67 degrees and sunny. The night after arriving home in Pennsylvania, I was greeted with 17 degrees and seven inches of snow. But hey, that was last week, and as I finish writing this, it is five degrees outside and another snowstorm is due tomorrow. That's OK; I have plenty of warm memories of a wonderful train trip and sun filled days in California.

END

Additional photos from this trip: Set #1 / Set #2 / Set #3

CLICK HERE
To Read More Rail Travelogues
And View More Photos Of Rail Travel!

Are you interested in rail travel along some or all of this journey yourself? There are very few travel agents that have the necessary knowledge and experience of rail travel to answer your questions and to book a journey that you will remember for a lifetime. TrainWeb has sought out those travel agencies and rail tourism companies that not only have the knowledge to book your travel, but have gained the required experience through extensive rail travel themselves! Click here for a list of these rail travel providers!
Visit related pages from this and other web sites:
Click below for pages in the directory of TrainWeb sites: