Cruising on the American Orient Express
By Darlene Banning
Photos
Click on below links to view each set of photos:
Set #01 / Set #02 / Set #03 / Set #04 / Set #05
On March 28th: I returned to Canada after having spent ten days on a great transcontinental rail journey on the American Orient Express.
I refer to this trip as cruising because of the similarity to an ocean cruise. One important difference is you are on land & not water. Travel is by train not ship. Ports of call are some of the most historic cities in the USA & travel is from beginning to end through some of the most stunning landscape dotted with a variety of interesting & sometimes unexpected views. Be it from the privacy of your vintage Pullman (in my case), dining car, upper-level glass enclosed dome lounge car your view is ever-changing. A trip like this gives you a brief overview of what at a later date you might come back to appreciate for a longer visit at your leisure. Leave the navigating to the capable Captain & Crew. The stress of traffic, finding first-class restaurants & high-quality hotels, gone all you need do is sit back & enjoy the pampering.
The American Orient Express has all you desire & more. The Passenger Services Office operates on a 24-hour bases dedicated to seeing your every need is met. The Train Master, Hotel Manager, Tour Leaders, Lecturers & Executive Chef oversee an enthusiastic staff whose job it is to see that all your needs are professionally met.
"All Aboard".
It is going to be very difficult for me to fully describe & compress ten days full of adventure but I will try my best to give you a few "snapshots" from a picture too big & at times to personal to share By personal I refer to the feelings that must be experienced as words and pictures can never completely do justice to such things as standing on the rim of the Grand Canyon and coming face to face with the world's deepest chasm.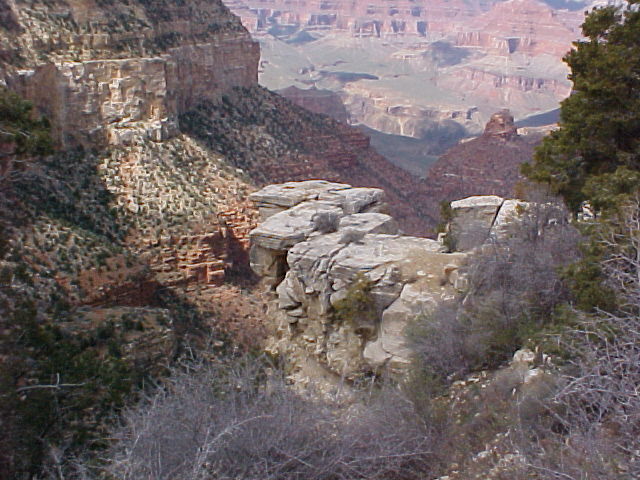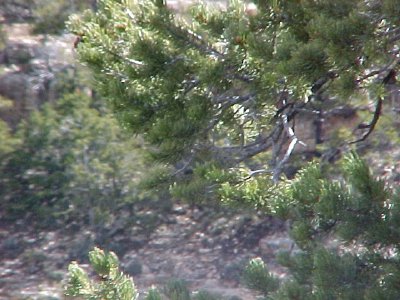 Once again Laurie, a longtime good friend is my traveling adventurer. We have left our patient husbands at home to hold down the fort until our return.
March 15th Ken (my husband) drives us to the Ottawa airport for our 12.00 departure to our Toronto connection to Los Angeles. All flights on time we arrived in L.A. at 19.09.
The next three & a half days would be spent being entertained by Ray & Maria who would ably see that I enjoy my first visit to California. A trip to Mexico & tours of L.A. made for a very busy three days. What can I say about L.A. traffic? I now completely understand the lines from the song, "L.A is a Great Big Freeway". Ray, an excellent driver maneuvered us through what seemed like an orchestrated maze of freeway, organized confusion. I always felt the urge to kiss the ground each time we arrived at our destination. Laurie sat in the co-pilot's seat & I often watched the animated gestures from the back seat of the van with the knowledge that she thought she had her own brake & steering wheel.
At this time I must mention one of those unexpected moments that occur when you embark on any adventure.
We arrived one lunch hour, at a gem of a restaurant near Fullerton Station named appropriately "The Rail". We are two gals who appreciate a good meal at any time & a good cup of coffee to start our day is a must. We made small talk with the owner and left thinking maybe we'd come back again for breakfast. Sure enough the next morning we sat again talking with Sandy Rish the owner. Much to my astonishment we discovered her late father-in-law had been a friend of mine. He had run a small diner in upstate New York. The past year this super guy had passed away. He had been a very important person in her life teaching her the restaurant business and many valuable life skills. As we chatted it brought us both to tears of fond memories. Two strangers many miles apart yet kindred spirits brought together to share these few minutes of very touching memories. Small world!
When I get home I will be sure to contact Joe's family to report on this accidental meeting. He was the type of person who was full of fun &loved a good joke. He sure would have enjoyed this strange, chance meeting. Or was it????
Saturday March 19th: Los Angeles
We embark on day one of our excursion.
After a goodbye lunch with Ray & Maria we head to the Ritz-Carlton Marina del Ray for a welcome, introduction & briefing by the American Orient Express staff. A light shower had moved the gathering from the Rose Garden to the verandah area of the hotel. The area is somewhat confining so getting acquainted with other travelers is limited. A luncheon of pastries, coffee's tea etc. is tastefully presented & soon our guide Kitty begins a briefing & introduction of some of the staff. "Compact but comfortable" is how she wants us to refer to our accommodations for the next few days. She does not want us to stand in the doorway saying, "Oh my God" when we view the size of our cabin. She also explains AOE not only refers to American Orient Express but also refers to, "Another Opportunity to Eat". Do not be alarmed when you feel the train go backward. Kitty explains that there will be times when the train must back up but it does go backward & forward & that as long as it doesn't go sideways we are alright. Two engines & thirteen cars make a one & a half mile long train that will be our home for the next ten days. Eighty-three passengers will be aboard. Basic rules are reviewed for our information.
The refurbishing of the train has delayed our leaving the hotel.
Kitty takes this opportunity to introduce Wayne Ranney who will be our lecturer & onboard resource as we travel to Washington. We will also have an opportunity to get a brief introduction to part of the crew.
Wayne decides to give a talk on the Grand Canyon as this is our destination for tomorrow.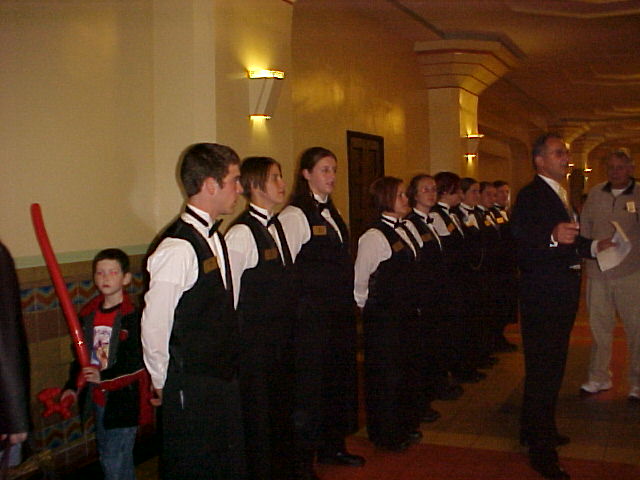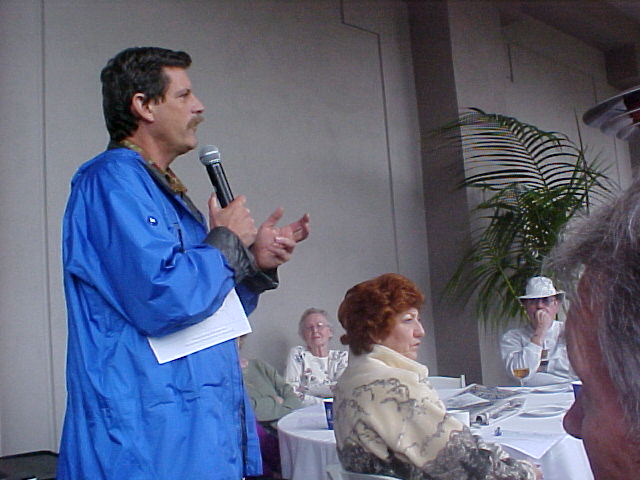 He will try to answer the most asked question as we go along, "Where are we"??? We are reminded to drink lots of water as traveling at such high elevations he does not want anyone to become dehydrated. The lecture is very informative & I feel better prepared as to what to expect tomorrow. His talks will make an enjoyable learning experience as well as giving us a better appreciation for "Where we are".
About an hour late we board the motor coaches to travel to Los Angeles Union Station. Due to the crowd on the veranda I unfortunately missed saying goodbye to Ray & Maria.
Hors d'oeuvres & champagne are served in the Seattle Club Car & the New York Observation Car as a complementary welcome aboard.
Laurie & I go directly to our Pullman as we want to get settled in. Remember "Compact but Comfortable" as we remind ourselves we won't spend much in the cabin. Lower berths will be converted into a comfortable sofa during the day should we wish private time to read or just watch the world go by from the large picture window.
We came with minimal luggage this time & after Wayne's talk feel a few more warm clothing should have been in order.
We find our Pullman is located two cars forward to the dining car & three cars from the New York Car & "this is a good thing". A welcome aboard dinner for me is light -- Pan seared Chilean sea bass surrounded by a roasted Roma tomato coulis, garnished with fresh fennel bulb slaw &truffle oil garni.
For dessert I choose chocolate turtle cheesecake & seasonal fresh fruit. Many teas are offered. I choose my usual green tea.
Laurie & I talk about going to the Seattle club car to enjoy Debra McKinnon on the piano but decide tomorrow will be a full day thus we opt to turn in early. Our porter Alex has our beds down with tomorrow's itinerary & two chocolates on the bottom bunk. Traditional the top bunk is mine. As the train moves over the tracks, we settle in for what we hope will be a restful night as we make our way to William's Arizona.
Sunday March 20th. : Arizona & the Grand Canyon to-day.
Wake up call 5.45. Laurie, "her mission in life is to be first to the shower", is up & out. Bad tracks, caused a so-so nights sleep, or was it the first night on the train that caused the restlessness?
We are each provided with a bathrobe for going to & from the shower. The robe was a nice touch which saved me packing one more cumbersome item. When Laurie returns I immediately take my turn. Our cabin provides you with a private lavatory & sink with electrical outlets for those necessary hairdryers etc. This morning ritual I will spare you the details of each day. We manage our limited space with good pre-planning.
We must decide each morning where we will have our first coffee will it be the Seattle Club Car or New York Observation Car. Decisions - Decisions. It is usually the Zurich Car for me as it is closer to the Dining Car & breakfast. This is my first opportunity to meet the early risers Carl & Kathie Folks from Long Island N.Y. Carl will prove to be our on board authority as to how & why things are happening as they are. We love to hear his Long Island accent as he gives explanations.
Seven o'clock comes quickly as the conversations have been one of introduction & we immediately see a good sense of humor reins & as we got even better acquainted this comradely would only deepen.
My breakfast will remain unwavering oatmeal sprinkled with brown sugar, two glasses of fresh orange juice, two eggs over easy, two slices of whole wheat toast with blackberry jam & coffee. We are so impressed with our server that we manage to stop in her area each day. We may have missed opportunities to be served by other great staff as I would discover as the days went on & we sat in other areas.
When we returned to our cabins we would find Alex had the beds up & our quarters were ship shape. This again became our morning ritual. You could count on Alex to have our cabin back to that "compact but comfortable", state when we returned from breakfast each morning.
I sat in the dome car & watched the diversity of landscape as the train moved towards the Grand Canyon National Park.
We move from a dry area with many dead trees into a more fertile appearing countryside. Vegetation is still scarce, yet fence posts are an indicator that animals are around somewhere close. Made of what appears to be any branches or wood available hold strands of wire in place. Soon, sure enough I spot a few cattle here & there as we move eastward.
Wayne shows up & I find out we are entering the Colorado Plateau. The landscape continually changes as I watch with an almost mesmerizing interest. He reminds me to drink lots of water today as we are seven thousand feet above sea level & need to be careful not to get dehydrated.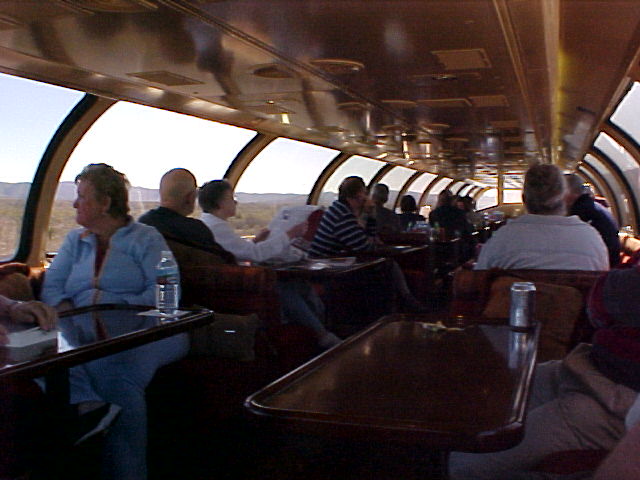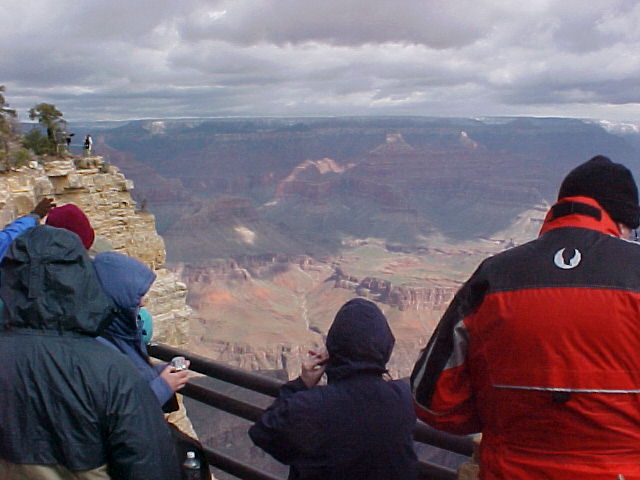 Time to go grab my camera as we arrive at the Grand Canyon Depot in William's, a quaint historic town from which you could book a tour aboard Grand Canyon Railway. It is interesting to note that the railroad carried passengers continually from 1901 to 1968 when a decline in passengers due to increase in automobile traffic, brought rail service to a halt. In 1989 with restoration to their original state the train began to service the Canyon again. Today we would travel by motor coach. It sure would be nice to take this Grand Canyon Rail trip just once to get a sense of what it would have been like for past Presidents, foreign dignitaries, movie stars & early adventurers who made that trip in another time.
After an hour motor coach ride we arrive at the Yavapai observation area where I have opted to take the hour and a half walk along the canyon rim. I must climb a set of steps before I will be aware of the humbling sense one gets at viewing the sheer beauty that fills the eye & soul. The wind blows cold as I reach the edge of the rim. What I wouldn't give for my winter coat right now. We had not come prepared for the low temperatures made even harder to tolerate due to the bone chilling wind. Not even the cold weather will discourage the walk along the paved rim to our destination the Bright Angel Lodge to rendezvous with the group who had decided to take the bus tour instead of the walk. A guide had been provided to give us historic natural & cultural information as we walk along. He tells us that ancient people have inhabited the Canyon for eight hundred years & possibly as long as ten thousand years, touches on Phantom Ranch & its history along with geological information. I stop in sheltered areas to just view in awe this most unique & very personal experience that I have been so blessed to come face to face with.
Time has passed quickly & much to my surprise we have arrived at the Bright Angel Lodge. A fire burns in the huge fireplace & I take time to warm up before entering the History room. Artifacts, history of the Fred Harvey Company & his influence on the area along with the Harvey Girls & Mary Colter make it well worth a visit to the history room. Worth your time to explore this well put together collection.
The El Tovar Hotel is closed due to renovations being done in preparation for the celebration of its hundredth anniversary thus we go to the Yavapia Lodge for lunch. I choose chicken, potatoes, and mixed vegetables from the buffet selection.
After lunch & a quick tour of the gift shop Laurie & I choose to return to the El Tovar Canyon rim area &make our way back once again to the Bright Angel Lodge. The alternative was touring around the Bright Angel area for two hours. Many passengers expressed the observation later in the day that one bus going back to William's would have been a better choice for those who found the cold & walking difficult. While I was sitting in the Lodge I had an opportunity to talk with a girl who had taken the mule ride down the canyon the day before. She informed me that the canyon had been fogged in so I guess even that it was cold we had definitely lucked out in that we had a clear spectacular view today.
At three forty five the buses left the area to return to William's & the Orient Express. On the bus we viewed a movie on the mule ride. Laurie & I agreed it would have been an incredible experience which we both would have loved to have taken.
With little time to tour William's we are soon back on the train.
I sure appreciated the fact that Laurie had given me her extra sweater or I certainly would not have been able to enjoy my day as much as I did.
As I sit down for dinner I sure look forward to the warming bowl of butter squash soup. Each night we are offered two bread choices. A chicken breast stuffed with spinach & cheese served on herbed basmatic rice with roasted red pepper coulis, dessert of chocolate strawberry shortcake with chocolate ganache, seasonal fresh fruit & a hot teapot of green tea & now I'm truly warm & very contented. We stop to visit with some fellow passengers in the Seattle piano bar car. I join in a sing-a-long with Al & passengers who are now starting to get better acquainted. It seems as if at least I remember one line of most tunes being played. Conversations are easily entered into as we all get to know each other better. We promise to come back tomorrow evening.
It has been a full day so Laurie & I turn in very early. We talk for a while about our day & I'm sure at some point Laurie found she was talking to herself since my last memory is the sound of her voice as it trailed off into space as we travel to Albuquerque, New Mexico.
Monday March 21st.: We must be in Santa Fe, New Mexico to-day.
We begin our early morning ritual of showering, dressing, breakfast & preparation to detrain at nine o'clock.
We board motor coaches for the hour plus drive from Albuquerque to Santa Fe. In the downtown plaza area we are divided into smaller groups & with the assistance of a guide begin to tour the area beginning with the square. Once again we see the interest of the local populace to preserve their past. Buildings are meticulously restored with attention paid to even the smallest details. Our guide is very knowledgeable and he informs us that the plaza is the heart & soul of the city. It is listed in the National Registry of Historic Places. We view from the central area many landmarks as he describes the oldest adobe house built by the pueblo people by pouring liquid mud between upright wooden frames. The house is now a gift shop. As we face the new gazebo our guide tells of how before anything is restored a dig for artifacts takes place. He also informs us of how lotteries are drawn for selling space around the plaza for fairness to native vendors & as to how we can be assured that anything we purchase from these vendors is guaranteed authentic by the city of Santa Fe. We leave the plaza & tour to the St. Francis of Assisi Cathedral one block from the Plaza. French architects & Italian masons built over & around the original chapel. Our Lady of the Rosary Chapel is all that remained of Our Lady of the Assumption Church which dated back to the founding of Santa Fe in 1610. As you approach the front doors you note sixteen large carved panels. Inside the ornamentation of early architecture is evident everywhere. Stations of the Cross, large multihued stained glass windows which our guide points out contain the only red glass that survived the loss of the original church. The oldest representation of the Madonna in the United States is presently holding a place of honor in the chapel area. With Easter approaching the organist is practicing & the powerful acoustics fill the building. We move to the neighboring Loretto Chapel. It was built by the same French & Italian craftsmen as a chapel for the Sisters of Loretto who had established a school for girls in 1852. I had heard about the spiral staircase somewhere before but could not have imagined that I would get to eyewitness this mystifying staircase. The story goes that the sisters had prayed for a staircase to reach the choir loft of the Chapel. A mysterious carpenter armed only with a T-square, a saw & hammer appeared riding a donkey & agreed to take on the project. Built with no nails, dowels or any other visible means of support it stands as a truly magnificent wonder of just how this achievement was accomplished. Once completed the stranger disappeared or should I say just left without receiving any pay.
I'm sure glad visiting this intriguing place was on our itinerary.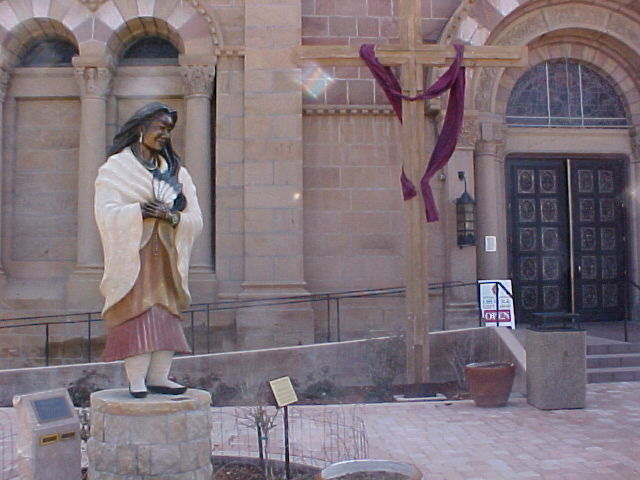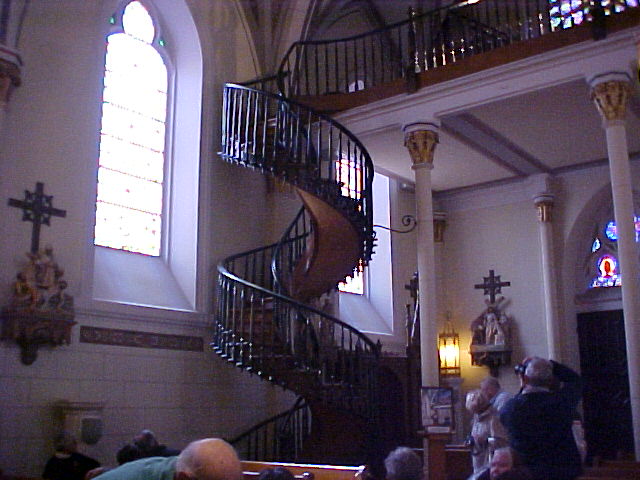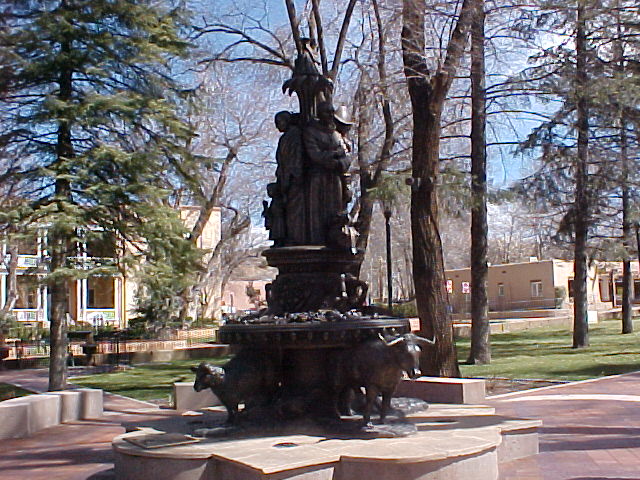 Leaving the Chapel we realized it was time to go to lunch.
La Casa Sena warmly welcomed us with a special touch, a menu welcoming American Orient Express passengers. Sitting at long tables enabled us to get acquainted with more of our passengers as I enjoyed pepita crusted, grilled to perfection, salmon with creamy polenta, sautéed spinach, pipian Verde. For desert melt in your mouth chocolate pistachio silk cake, (a flourless chocolate cake, white & dark chocolate mousse, pistachio crust) & coffee. Are you drooling? The memory of this luncheon conjures up dancing of the taste buds.
We are on our own as we leave La Casa Sena. Laurie & I leisurely tour some shops & visit the plaza once again where the vendors have set up their wears. The wind has picked up; its cool so indoor shopping seems to be the answer to keeping comfortably warm. Carrying our few purchases we have to rush back to the plaza to make our three forty five deadline to board buses back to the train. Where's Ed? Ah, here he comes. A little before five thirty we are aboard the Orient Express once again.
I go to the cabin to freshen up & then meet Laurie in the New York observation car for; you guessed it a light snack prepared attractively as always by Michael.
We visit with other passengers discussing another great off train tour & soon decide it is time to go to dinner.
I guess comparing any meal to our luncheon in Santa Fe would pale in comparison. All of our meals on the AOE have been spectacular not only in taste & eye appeal but also in the way it is served by the most attentive staff. Good company, good food. It is important to remember here the care that is taken to make our off train dining as memorable as our onboard dining. It is a wonderful opportunity taking in local cuisine & atmosphere with all the arrangements having been made for you.
Laurie is not feeling up to par so decides to turn in early. I sit in the dome car & visit with other passengers including two young boys John & Chris from Florida. These young men keep popping up now & then, here & there, always polite, & well behaved. It amazes me how well informed John is on just about any subject discussed. The boys are traveling with John's mom, Chris's aunt & grandmother who have enough confidence in their behavior that they have permitted them to share a cabin & dine independent of them. It is working out great, as I have observed them on many occasions behaving in a way that would make any parent proud.
Two other friends traveling together, Leslie & Maureen from California, join me. We talk about places we have been & places we have yet to see. One of the best parts of traveling is the people we meet. The train brings people together in a very special way. Soon to my surprise it is almost eleven o'clock & I make my way quietly past a sleeping Laurie into my top bunk. The knowledge that tomorrow we will spend the day aboard the train gives me the feeling we won't be up & at it so early.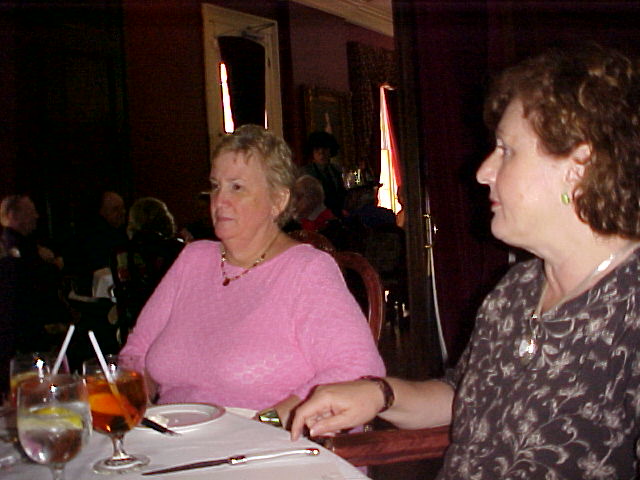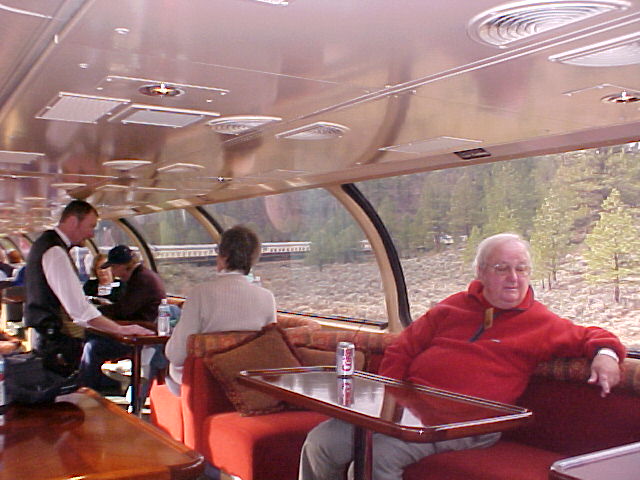 Tuesday March 22nd. :
Wrong again! Slept well so feel well rested as my good buddy is up & at it 5.30. I hear the cabin door close & know she is off to the shower. I had better get up & get ready to leave as soon as she gets back or our whole day will be off. When Laurie returns she wants to know if I would mind if she asked Alex to leave the bottom bunk down as she still is feeling ill & might want to take advantage of the fact that we will be on the train all day & she could grab some time to recoup. No problem.
Each morning we have had breakfast in close proximity to the same early risers. This group chats around the car, making it seem like breakfast around a big country kitchen. Lots of fun is always to be expected at these early morning gatherings.
We go back & find the cabin made up & as requested the bottom bunk is down.
I go to the dome car to spend time enjoying just sitting back, relaxing & watching the world go by. AS much as I am enjoying my day tours off the train I must admit that traveling in daylight absorbing the view from the train as its motion lulls you into euphoria is one of the most enjoyable parts of train travel.
Soon ten o'clock arrives & Wayne arrives to give us a lecture on "How the first people came to America". I hesitate to call it a lecture as it is more of an informative talk highlighted with questions & answers. The hour passed quickly & I looked forward to the continuation of discussion to take place at two o'clock in the afternoon with discussion on the history of Mexico, Texas and the Alamo.
In the meantime the train continues past what had been a dry landscape into a much more livable area of the state. Once again fences do not resemble those at home where cedar fence posts hold strands of page wire. Here it seems what ever wood is available is used. A few mixed breed cattle graze & occasionally you spot a set of gateposts that seem to lead to an entrance to a ranch which is not visible from my perch in the dome car.
After lunch & my return to the dome car the landscape has become lush with larger herds of cattle roaming on large tracks of land. The vegetation still seems sparse to what our cattle graze on at home. It must take quite a bit of acreage to feed one cow here.
Wayne does his talk & I continue to just watch the world slip by. This day has given me a chance to just sit back, reflect and await our next stop San Antonio.
We arrive at San Antonio's Sunset Station about five thirty. Kitty comes over the intercom to announce that we will be staying overnight at the station & that if we choose we can detrain at our leisure as long as we are back on the train by nine o'clock.
Maureen & Leslie have decided to walk to the Riverwalk after dinner & ask Laurie & me if we would like to go along. We agree & after dinner make our way to the Seattle Club car to detrain. We stopped to listen to Al who had everyone singing along with his piano playing. He plays beautifully and you can see it is a passion of his. Our little quartet joins in singing along and it is with some regret that we tear ourselves away to walk down to the Riverwalk.
For the first time we walk along in the warm breezes we have been looking forward to since leaving the snow of Ontario. Canadian winter behind me the adrenalin flows & the walk is a touch of springtime so far from home. As we enter the Riverwalk we are met with the sights & sounds of a carnival-like atmosphere. The walkways are crowded with people of all ages. The border of the walkway is lined with many hotels, clubs, bars, shopping centers, businesses & restaurants. A mix of foods & beverages to please a wide diversity of cultural taste delights those who are looking for that special dish. We stop to quench our thirst at an outside table. Maureen acts as our bartender. Although the atmosphere lends itself to linger a while, we know we will be back in the morning and since we have managed to cross bridges over the canals and not to sure of just where we will be when we leave the Riverwalk we find an exit. Sure enough, we have exited at a different location. After taking a few minutes to get what we think are our bearings we arrive unexpectedly at the Alamo.
I'm glad I was able to see this area glowing with many dazzling lights. Maureen points out to us that this stroll must have been predestined as it is a sight we would not witness in daylight.
With the Marriot hotel as our beacon we find our way back to Sunset Station.
Weary, swollen feet but glad that I had joined in on this evening trek as morning will present a totally different appearance I'm sure.
Back aboard the train we quickly prepare for a much needed night's sleep.
Wednesday March 23rd.
This is truly going to be a busy day so we rose early (I had Laurie up at 4.45 put on my glasses-- it was 5.45). Showered, dressed, had early morning coffee Copper Canyon dome car and later breakfast. A pleasant surprise is that of seeing a fellow passenger Vivian who has been ill with bronchitis up for breakfast. Concern as to her health has been expressed by all and she is surprised & pleased at all the fuss.
Prepared to detrain at nine o'clock we board buses that take us to the Riverwalk.
This morning the Riverwalk has taken on a totally different appearance as we board our river barge for a tour of the area. Attendants water the abundant array flowers & greenery. Everywhere you look your eyes are met with new visions of delight and a true sense of serenity in the quiet morning hours. Our barge guide gives us a history of the area from a waterway that supplied the early missions and occasionally flooded causing death & destruction to the beautifully landscaped waterway it is today. He pointed out several large gates that monitor the flow of the river & close automatically if the water rises. The two and a half mile tour ends and we now walk to the Alamo.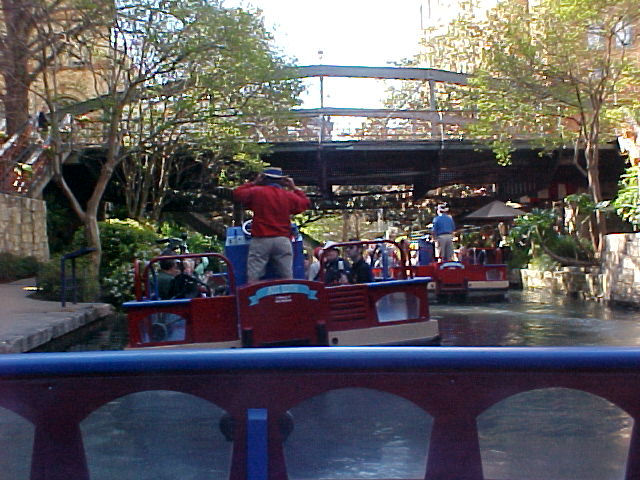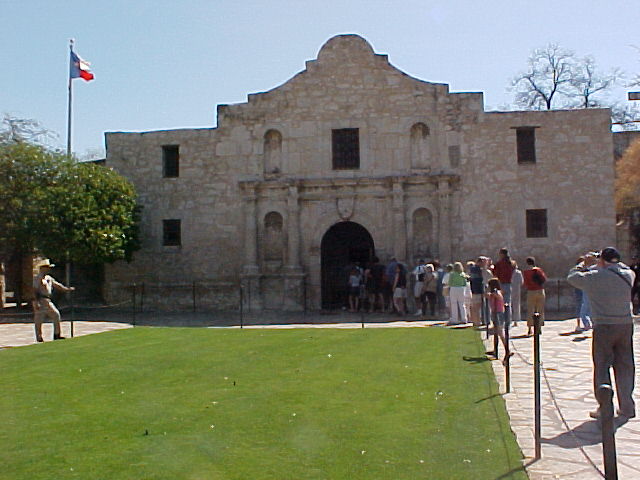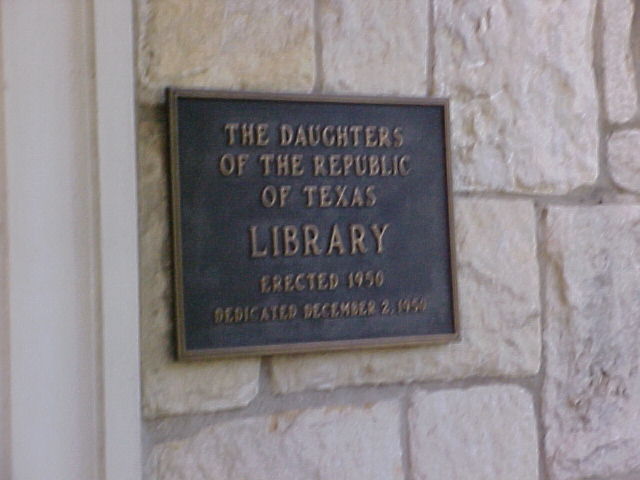 The Alamo is treated as a sacred place by Texans & I imagine most Americans. The guard reminds gentlemen to remove their hats as we enter the mission where a small band held out for thirteen days against the army of General Antonio Lopez de Santa Anna during the war for independence.
I enter the courtyard to find a guide who is about to give a talk on the history of the Alamo. She speaks with great passion & refers to the Alamo as a Shrine of Texas Liberty. As she continues her story the emotion & facts brings me to tears.
The Daughters of the Republic of Texas played a major role in saving what is left of this once larger area.
I leave with a better understanding of why Texans hold so dear to their freedoms which came with such courage.
Laurie & I decide to take a leisurely tour of the area rather than visit the San Jose Mission. We walk back to the station making only a few stops & one wrong turn that saw I had circled a block. We visit the original station now in the process of being restored. You can easily see that San Antonio has a plan & vision for its present & future development.
Back on the train we enjoy a late lunch of a chicken salad on mixed greens with sesame breadsticks, apple berry crisp served with ice cream & green tea.
The dome car gives a restful area to relax after a busy morning. One can gather their thoughts and share feelings with others if you wish. There is a sense of tranquility after the hustle & bustle of the downtown area.
Laurie & I go to the New York car about four to enjoy Michael's appealing late afternoon cocktail hour. We made not have solved all the world's problems in the next couple of hours but the conversations with other passengers made for fascinating dialogue. We decide about six thirty we will leave for dinner.
I select prime rib, cooked to perfection, with Peruvian potatoes, sautéed broccoli with orange cinnamon crème brulee. The best brulee I have ever tasted.
Ed a fellow passenger had joined us during dinner & we lingered over coffee to listen with interest to the volumes of fascinating tidbits he chats about. He travels a lot by train & chats about his Canadian relatives who live not far from where I do.
We stop in Houston to change crews. A private car is observed from the window. Theresa our server informs us that the two cars that now serve as a private home once had been owned by the AOE. Warren Henry is named on one car while Evelyn Henry is on the second. They like us our sitting around a table enjoying dinner. In the Evelyn car a chef is busy preparing something. I surmise Evelyn's car is equipped with a kitchen area. No surprise there.
Laurie still has the sniffles and turns in right after dinner. I spend some time in the dome car getting caught up on my journal but soon find my eyes heavy and head nodding decide I as well should turn in for the night.
Thursday March 24th. :
The tracks had caused me to sleep poorly as the train did a lot of rocking & rolling.
We are up early as usual and after showering & dressing Laurie decides she will have a continental breakfast in the New York car and I go to the dining car for my usual breakfast.
Kitty announces that we will soon cross the Mississippi river over the longest & highest rail bridge in the U.S.A. I eagerly keep an eye out the window & soon we begin our climb slowly over a spectacular view of the "Mighty Mississippi". Large cranes dot the rivers edge. Barges & ships navigate their way along. I see that the cranes are probably in place to load & unload these same ships & barges. Carl Folks has left Kathie at breakfast to get a video shot from the vestibule. This has been an amazing experience. Laurie comes into the dining car. She also has been trying to get some good pictures.
We make our way to the New Orleans station.
Nine o'clock we detrain and prepare to board mini buses for our day in New Orleans.
As soon as I spot a red headed gal, in a mauve jacket with pink & white bunny earrings I steer Laurie to this bus. I would find out that this was surely one of the best decisions I would make this day. A lifelong resident of New Orleans, Katie knew not only the city inside out but the history & populous as well. She had explained to us that she had spent many hours in the French Quarter visiting her relatives as a child. During our tour she would over and over again simply delight us with her many animated story telling abilities of the truly colorful characters who at one time or another called New Orleans their home. Not a dull moment the whole time she was with us. She gives us a brief info session as we start our tour. New Orleans is known as the Big Easy. The oldest & most famous part of New Orleans is the French Quarter which is rectangular in shape not square.
We make a pit stop at a park. Katie takes this opportunity to tell us about the live oak trees. It gets it name from the fact that old leaves drop off as new leaves appear & these trees are so famous that they have been given names & numbers. She tells us of #0 named McDonogh tree twenty-five feet five inches in circumference seventy- two feet high with a one hundred foot crown spread and estimated to be six hundred years old. The silvery moss that hangs from the trees in long graceful streams absorbs all its nutrients from the air and does not harm the trees that support them. I can't help but wonder if not from her explanation would I have even noticed the trees with so much else to see.
As we travel to our next destination the cemetery Katie points out the different structural design of the homes along the way. Our bus pulls up in front of decorative wrought iron gates to the most unique cemetery I have ever visited. Katie leads us into an area of large ornate above ground tombs & crypts. A description of just how bodies are entombed in layers and the progression of making room in the same tomb for future generations are implemented was an interesting and logical practice. With an average of seven feet above sea level digging to bury often meant watery graves. Katie tells us cemetery means, "to lie down", but the bodies would not do this and sometimes would rise and drift away during flooding. Fact or fiction it made a great story. If a burial site fell into such a state of disrepair as to be torn down the ground where it stood is considered sacred ground & no tomb is built on the spot. Many family tombs resemble miniatures houses surrounded by wrought iron fences. The tombs are set out in rows and Katie states that this is why their cemeteries are referred to as "Cities of the Dead".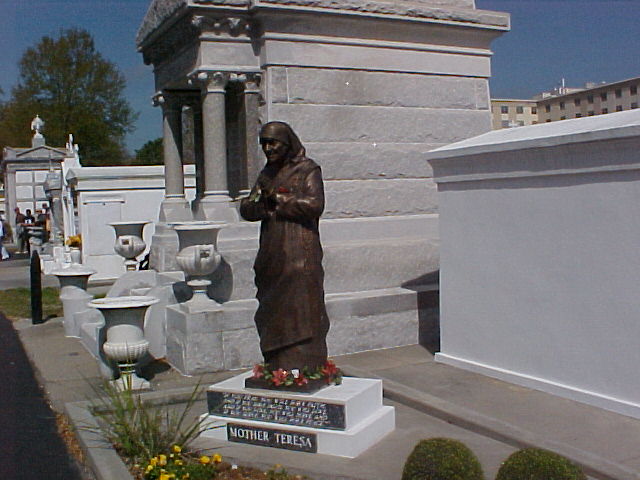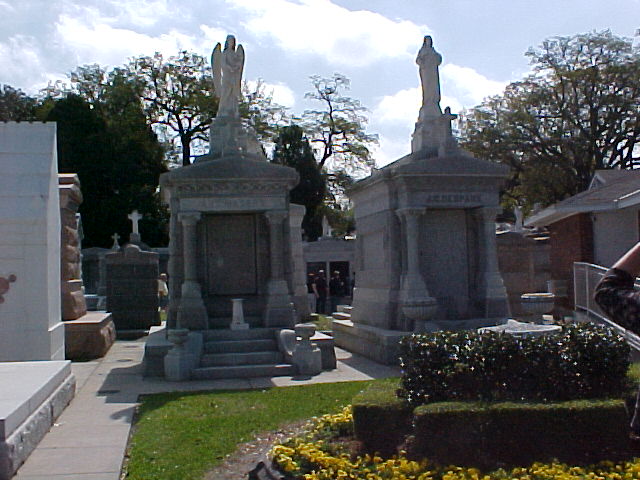 Aboard our bus again we now head to the French Quarter. Katie points out places of interest on the way.

The tour of this area is once again filled with many intriguing tales. It would take just too much time to note them all. Katie tells us we will hear many tales in New Orleans some authentic some sensationalism. It's up to us to choose what we will believe. "What I have told you is as close to the truth as I can make it she states. She warns us if in our free time we decide to visit the oldest cemetery located just off the Quarter to be careful. The voodoo queen Marie Laveau is buried there and strange characters still visit her grave sight & practice their rituals. At night narrow paths & tombs offer concealment for muggers.

We say our goodbye's to this great guide as she points the way to Muriel's restaurant.

The menu is: mixed seasonal greens with sweet onion, extra virgin olive oil, reduced sherry wine vinegar & a goat cheese medallion salad with pecan crusted puppy drum with oven roasted pecan & crawfish with relish & a lemon butter sauce. A great dessert crème brulee with fresh fruit. Coffee or tea. We sit at tables for about a dozen people so a constant chatter accompanies our delicious luncheon.

Laurie & I choose to spend more time in this area rather than visit the D-Day museum.

You get a distinct feeling of possibly being part of a movie set as you wonder amongst colorful street vendors, artisans, street characters, while in the background the air is filled with the sound of jazz musicians at almost every turn.

By four o'clock we are ready to board our bus back to the train. The bus is full so I guess we are not the only ones walked out.

Back on the train, feet up, its time to rest a while, reflecting on our busy day thus far. With so much to see & so little time and energy pacing yourself is essential.

We must keep up our energy so guess what!!!! Its time to eat again.

I decide on pan seared chicken served with mashed potatoes (my special request) thyme jasmine rice mustard greens topped with maple beurre blanc. For dessert, which I never refuse, fresh berry bouchee puff pastry basket with vanilla cream & fresh berries. Maureen & Leslie have joined us so we linger over coffee and visit at our leisure.

Thought I might stay up a little later tonight but alas the bunk beckons. Night---Night.

The train does some shunting around as it leaves New Orleans on its way to our next stop Savannah Georgia. Soon drop off to sleep again.

Friday March 25th. :

We travel north east today through Alabama and into Georgia. Finally we are now on Eastern Time. I will have a few days to adjust to home time. It probably would have made more sense for me to adjust my watch while away rather than add up to three hours difference at one point and time to time change daily by the hour. Who said be sensible outwayed the fear of not being able to properly reset my watch without my husbands help. He certainly knows that such things are men's work, something like programming the DVD player.

After my oatmeal this morning I decided to have the three cheese omelet. It was light as a feather & oh so good. Breaking from a breakfast routine wow this should be a surprising day. This morning all of the early birds seem happy that this will be a day of train travel and rest and relaxation. By now we are much more familiar with our fellow passengers and joining in meaniful conversations seems to be the order of the day.

As I sit in the dome car I reflect on the trip thus far. I would want to visit again many of the historic places I've visited or will yet visit and just sit on a bench and quietly imagine a different time. The hustle & bustle of our present time leaves no time for leisurely remembering all those who went before to give us what we seem to be so easily giving up today. All the freedoms so strongly fought for. Laurie & I have touched on this in our walking conversations reflecting on the thought that United States citizens have an early history of defending their rights by standing up and fighting for them while in Canada many came with the signing of papers. Our Charter of Right's, in my personal opinion is now depriving me of many of the basic rights I hold dear. Wow where is all this coming from.

Once again one of those unexpected moments that encourages the mind to move into an inquisitive thought process. I spot a man standing over a grave, head bowed. A very private moment for him yet I had been an invisible observer.

Wayne comes by and we talk about a few things as he prepares for his next lecture.He tells me of how our twelve year old John is going to help him with his talk as he has his own feelings on the topic,"The Ice Age in North America and Global Climate Change".

Before he gets to that topic he does a brief talk on early railroads & suggests a book, "Ain't nothing like it in the World', by Steven Ambrose

A handout showing showing the generalized climate trend for the last 100 million years & discussion from Wayne & John leaves you with as many unanswered questions as answers. John, who had questioned his teachers approach to the question, read a book by Michael Creeten on global cooling. The debate goes on with the whole global issue becoming even more political. It seems to be a matter of which group of so-called experts one chooses to believe. Even among scientists, people protect their positions or are it their funding or ideology. Good science should be keeping an open mind, debate & discuss. It was very heartening to see a twelve year old at least ask questions of a whole beauracrcy that has created its own big industry. I must also mention his teacher had encouraged him to seek out his own answers. John was quick to point this out.

The train makes its way along passing many small towns that have the appearance of having possibly lost that one industry that supported its economy. I see the large vacant looking buildings & homes that would point to this. Rural Canada is having the same occurrence. The global economy may be helping big business but it sure isn't doing anything for small town economies.

I will have a small lunch today as we look forward to a special afternoon tea with our pastry chef Elisa as our hostess. She has been working most of the night to treat the passengers with this special tea.

I go back to the dome car & relax watching the view from the train. The dome car is designed with comfortable, well upholstered rounded seating which lends itself to not only great comfort but the opportunity to visit back & forth across the car. I prefer this seating to the bench seating I have experienced on other trains.

We pass through not one but two long tunnels. I always feel uneasy doing this and am relieved when we exit. Looking back the brick exterior makes me feel even safer being out. If the whole tunnel was constructed of bricks the contractor sure must have known what they were doing.

The afternoon has been a delight and you guessed it its time to go to dinner. The soup is to die for roasted carrot & ginger with spinach infused oil. We joked with cutest elderly couple about the size of the gentleman's salad. Laurie has asked to take their picture. They willingly agree but he insists Laurie should be taking a picture of his tiny salad.My entrée was a loin pork chop served with corn bread stuffing, broccoli & cranberry-apple chutney. As if I had not had more than my share of desserts at the tea, I have Taramisu & tea for the meal top off.

Spend some time visiting and then go to our cabin as tomorrow we are in Savannah and it promises to again be a jam-packed day. Goodnight Miss Laurie.

Saturday March 26th. : Where are we?????? Savannah, Georgia.

When I entered the Copper Canyon dome car those early birds surprised me by singing, "O Canada". They confessed that they had been stumbling trying to remember the words. I confessed that I also had to think about it as we often hear it sung partially in our second official language and has had the words from my childhood changed and old habits are hard to break. We played a little your country my country trivia. Good fun.

Leslie & Maureen join us for breakfast and we enter into a bit of gossip about a possible train board romance. I'll say no more. Leslie reminds us of her expression, "These southern men with their southern drawl could melt the pants right off you". We have a great laugh. One thing for sure they sure seem to know how to treat their ladies.

Eight forty five and we detrain and break into three groups to board open-air shuttles to begin our tour of Savannah. The sunny morning has become overcast. Before we travel too far our driver is asked to pull down the side blinds when we make our first stop.

We take a few minutes to shop while trolley is pulled over.

Visit a religious store across from church & purchase umbrella's to keep away the rain. Black with gold shamrocks this should definitely prevent rain today. It did not rain all day. I also bought a St. Christopher medal.

Back on the trolley we start our tour of some of the twenty one impressive squares. Magnificent architecture of the stately homes will remain in my mind for a long time. Johnson square was the first square. Designed about 1733 it was used as a public area. A mill was located here and a large bake oven was for public use. Nathaniel Green monument located here.

Our guide tells a tale of how John Wesley a Methodist minister had become fascinated with a young parishioner Sophia Hopkey. They spent much time together but never married as Wesley thought marriage would interfere with his ministerial calling. He was devastated when Sophy met and married William Williamson. He was so distraught that in his anger he refused to allow her to take communion. Ruining her reputation, she took him to court. He left for England a ruined man, never to return.

This was one of many stories we heard on our tours.

How great would it be to sit on a park bench beside these numerous statues of such many famous people and reflect on their past as your mind takes you back to another time and place. Imagine them strolling through these squares in their finery.

So many fascinating stories in these southern cities that it would take volumes to tell you even a few of the tales related to me. Thankfully visionary people are appreciating their past and preserving it with well planned restoration. I am thankful for what I am seeing but would sure like to come back at my leisure and spend more time soaking in the ambiance.

We now must make a choice of touring Fort Pulaski or the Roundhouse Railroad Museum. Laurie & I decide to tour the Railroad Museum.

The site has been designated as a historic landmark & boasts the oldest portable steam engine in the United States. Our guide pointed out the massive turntable located in the central portion of the yard. He informs us that it is still operational and muscle powered. The area is a period of restoration and work was being carried out during our visit. Also another standout attraction is a massive 125 foot restored industrial smokestack. A shaft & belt driven machinery exhibit is located on site. The printing shop is an almost completed. We travel into an area where a working HO scale model of Savannah grabs the attention of all. One of our fellow passengers laments that his wife restricts the size of his model train area and would sure love a display like this.

We tour the rolling stock. I will list the stock for those interested train buffs.

Engines

:

Holly Hill Lumber #15- Lightweight locomotives like this one cleared trees in the swamps & forests of Georgia & South Carolina. The engine is on loan for restoration by the Patsiliga Museum, Mike Buckner, and President.

Atlantic Steel #1- Small tank engines like this one (known as "yard goats") were used in shops & industrial plants to move cars around the yard.

Georgia Power # 30- This 1913 "goat" first had several owners & ended up switching coal cars at Georgia Power Plant Arkwright near Macon. Sold for scrap to Macon Iron & Paper Stock Co, it was thoughtfully preserved & donated by the Koplin family. It has been fully restored to operation by the restoration staff.

Central of Georgia #8- This 1886 steam locomotive (named "Maude" after a comic strip mule) was built for and retied from the Central of Georgia locomotive.

Central of Georgia #223- Mainline freight engines like this 1907 were very common in the 1900's. By the end of WW1, it was too light & was relegated to branch line trains. This locomotive retired from a Central of Georgia subsidiary, the Wrightsville & Tennille railroad in 1952.

Central of Georgia #403(Tender) - The tender spent its career behind the Central of Georgia # 403 currently in the Savannah History Museum. Tenders carry the fuel needed for long hauls.

Cars:

Central of Georgia Baggage Car #430- Built by Pullman in 1924 as the "Charles Carroll" (Central of Georgia parlor Car # 639), this car was bought in 1942 to carry baggage. The car's original use explains the uncommon remaining vestibules (which are unstable space) for baggage cars.

N&W Boxcar- Steel-sided riveted boxcars like this one were used betweenWW11 & 1970. Today, sea containers are loaded on flat cars & truck easily.

Atlantic Coast Line Caboose- Cabooses served as a lookout station for overheating wheels & offices for the conductor & brakeman. Modern, electronic feedback on today's wheels makes this icon obsolete.

Southern Railroad Hopper- Hoppers are used to carry unbound freight like gravel & coal. This hopper was filled to each certain weight & then sealed. It was then used to adjust the shop scales because the exact weight was painted on the side.

Wrightsville & Tennille X-10 Caboose- Built as a Central of Georgia Caboose in the 1930's & sold to their subsidiary, W&T.

Central of Georgia Inspection Car #2- This circa 1882 car was built in the Savannah Coach Shops (view from boardwalk). The original exterior woodwork & turn of the century wooden interior makes this car very rare.

Central of Georgia Office Car" Columbus"- Built in 1913 for use as a parlor observation lounge for the Illinois Central Railroad, it was converted in the Savannah shops in 1920. It has been renovated to its 1920s era look inside.

Central of Georgia Office Car "Atlanta"- Built in 1925 as a Parlor Car # 647, the car was converted in 1950 & contains many items of the era. It was air-conditioned by up to 4200 lbs. of ice. (It is on loan from Atlantic Wood Industries).

W-5 Trolley- Melbourne Tramways of Australia.

Berksey- This crew car has been converted to an open sided Savannah streetcar of the 1920's

As you can see the people of Savannah truly are working hard to preserve all aspects of their past.

I take time to stop in the gift shop to purchase rail caps, wooden train whistles, bandanas & mouth organs for my grandchildren.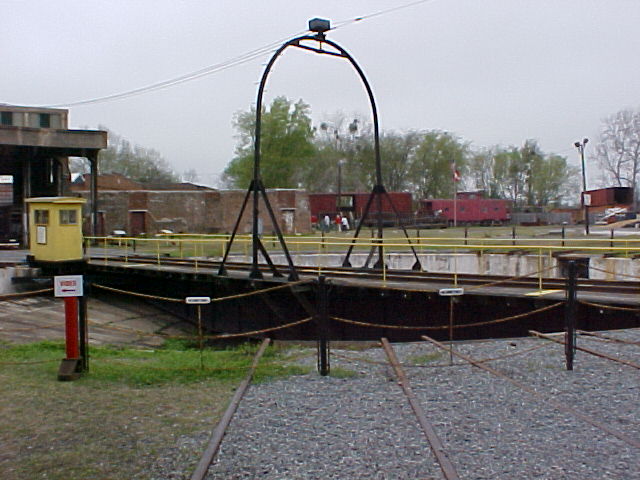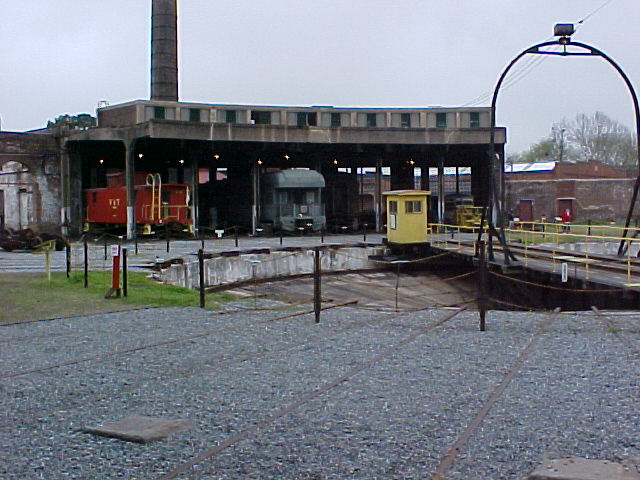 We now move to the home of Dr. Metts. As we enter the porch we are met by a traditionally dressed southern bell who invites us to partake of a

Recipe for Savannah Mint Juleps: Combine 3 cups of sugar & 4 cups of water in a saucepan and bring to a boil, cover & simmer for 5 minutes. Do not stir while cooking. Let cool completely. Add 1 to 1 ½ cups of Crème d' Menthe, 9 oz Canadian Blend & 9 oz Bourbon. Rim glasses with lemon & powdered sugar, fill with crushed ice, add mint julep mixture & garnish with fresh mint sprigs. Yields 20 servings.

I thought they were great while Laurie told me later she didn't care for it. Heck, if I'd known I just might have had hers as well. Great photo opts but it was then that I realized that my camera was among the missing. I approached our guide who politely informed me not to worry she would look after everything. She soon came back & reported that she had checked the trolley with no luck and had called the Roundhouse & was informed that my camera had been safely stowed away. She told me not to worry about a thing we would retrieve the camera later. Talk about southern hospitality at its best I just wish I could type with the delightful southern accent.

We entered the dining room & sat comfortably around a large table & enjoyed our lunch served country style on large platters & bowls. A true southern delight of country fried chicken, chicken steak, sweet potatoes, collard greens & mixed chutney are brought to the table by a southern dressed bell.

We received an informal chat about early scandals and a vocal treat from one of the hosts "Mandy", who portrayed a character from "Midnight in the garden of Good & Evil" . I will definitely check this book out of the library when I get home.

After completing this magnificent luncheon we strolled leisurely across the square to the home of Marcia Thompson, the granddaughter of Mrs. Wilkes. This is where we will have dessert. Chocolate cake, banana pudding and good company made this another memorable stop on this tour.

Back on the train Laurie & I promise each other that being Saturday night we'll go out on the town (train). We start with a trip to the New York car. Charles & Betty are always happy to visit and we tell them of our plans to break with our early to bed early to rise routine to which they respond in agreement. Ed is also relaxing and all agree it's a good idea. We join with the others in having yet another of Michael's cocktail hours. Laurie has a glass of champagne. This is a very special occasion. A good time is had by all.

Dinner is served. Wouldn't you wonder just how we manage to eat so regularly? I think it has something to do with all the walking we do. Well that's the best excuse I could come up with on such shot notice.

Orange beet soup splashed with Grand Marnier, Marinated breast of chicken served with mashed potatoes (dirty rice on menu) haricot vert & maple cream. Dessert chocolate strawberry cream pie.

Once again we linger over our tea to visit with our fellow passengers.

After dinner we go to the Seattle Club car. It's too early for Debra to be playing but a nice surprise is to find Al on the piano & Mike on the banjo. They have had a great time playing together on this trip, much to the enjoyment of all the other passengers. A sing a long is enjoyed by all. Debra starts to play at eight thirty and the fun continues.

Laurie & I go back to our cabin pleased that at last we have both managed to stay up past ten.

Sunday March 27th.

Charleston South Carolina

We are up at 5.30 & after showering & dressing go our separate ways. Laurie heads for the New York car & I go to the Copper Canyon for our first coffee. The "early riser's club', begins to trail in. Greetings of happy Easter are exchanged.

It is raining very hard & a few leaks start to drip into the car. The passenger services office is open 24 hours and the night attended calls for some towels to begin drying up the dripping. Our always on-duty passenger Carl volunteer's to take over the job. Carl moves a cushion and finds an Easter egg. Laurie also finds one under a cushion. They have a number on them; leading to the thought a prize must follow (maybe a future trip on the AOE). As it turns out it must have just been a way to count eggs. I think, even though on holiday's Carl needs to be working. He has been our dependable information officer on this trip. If there is anything you need to know, as to "What's Happening? ", ask Carl. If he doesn't know within minutes he's back with an answer.

We go to breakfast at seven and soon find ourselves pulling into in Charleston S.C. As we pull into Charleston a new adventure begins. Our progress seems to be carefully watched by we do not know who. It becomes evident that we are on watched over grounds. As we would find out later we travel and station at the Charleston Naval Yards. Laurie takes a few pictures and is quickly taunted by other passengers that she will be taken to task for taking pictures of secret service personnel. As the vehicles follow along we are not sure that they are wrong. It is a bit of light fun with Laurie at the center of it all.

The elevation in Charleston is 0 - feet above sea level and with all the abundance of water outside hopefully we won't float away. We are scheduled for a carriage ride not a gondola ride this morning.

We board the buses to take us to our rendezvous with our carriages. As we tour we pass The Citadel the military college for the state of South Carolina. Our guide gives a brief description of its history and a reminder of the scandals as depicted in the movie, "The Citadel".

The carriages are lined up as the church bells toll the hour. We leave the bus and climb aboard the carriage. Coming from a farm background I can't miss the addition of preventative action taken to see no horse droppings remain on Charleston streets. I've heard of these precautions but it is the first time I have witnessed it. I must say it is very inconspicuous & the horses do not seem to be aware or disturbed by the procedure. With the number of carriages on the streets I'm sure this is much appreciated by the citizenry as well as tourists. Raining, blowing breeze carries rain across covered carriage. Our guide has dried the seat and I am comfortably seated in the middle covered with a blanket. It is comfortably warm but the blanket will keep us dry. I had brought along a hooded rain coat & rain poncho's had been provided on the bus.

After all this preparation, shortly into the trip the rain eases off. Our guide points out places of historic interest and architectural beauty. With three hundred years of history behind it there is much to see. The houses bolted together after an earthquake, medallions located on the exterior to identify those to be protected by the local fire departments, numerous churches where many parishioners enter for Easter service as the sound of church bells fill the air. Just a bit of what we catch sight & sound of.

Dropped off at the stables I decide to visit inside. The horses are kept in clean brick boxed stalls with iron black painted bars giving an airy view of contented horses within. These working animals are well cared for.

We take a quick walk about. The rain is coming down heavy again so we take a walk into the covered market. It is early on a Sunday or possibly because it is Easter Sunday few vendors are on hand.

We soon board our bus back to the train for lunch. The cream of tomato soup is welcoming and I finish off with carrot cake & fresh fruit.

Two o'clock and we once again board motor coaches to travel to the historic Magnolia Plantation.

We get tidbits of local history as we make the almost hour drive.

It is truly an amazing sight as we make our way up the long winding driveway. The grounds are most impressive in a most natural state.

We meet on the verandah to tour the mansion. Our guide invites a few people other than the last few of our AOE group to join us. This makes a group a little too large to be accommodated by the room size. As we crowd in we are warned not to step behind the roped off area (which is virtually impossible). The constant caution messages delivered in a dominant fashion by our guide makes me decide to leave the mansion tour and the exterior instead. The too large group was not our choice but certainly did add to the inability to view the interior.

Much more time would have been needed to tour the wildlife sanctuary which is truly worth visiting.

I picked up a book on the plantation at the basement gift shop I will see its grandeur by photos and reading at home. The Magnolia Plantation is truly worth a much complete visit. There is too much to pack into a two hour visit. I have at least had a quick look at this scenic wonder.

It is all too soon time to board the coaches and return to the train.

Back on the train we make our way to the New York car for a farewell champagne reception. All passengers gathered here marvel at just how quickly the nine days have passed. We sure have packed a lot into such a short time.

My conclusion would be, "If you only have the time and money to touch briefly on a cross the states tour this is the way to go". You won't see all of the ports of call but you certainly will get a glimpse of the past & present of so many of the major cities of a truly great country. You will be guided by informative people who know their stuff. You will be looked after by a capable train staff that will look after your onboard needs with complete skilled proficiency. Sit back relax and enjoy the ride.

Our last dinner on board, I enjoy a potato leek soup garnished with sour cream and chives, pan seared breast of pheasant accompanied by rice pilaf and mango-Dijon chutney.

Dessert is a red velvet cake with chocolate, fresh berries and I select green tea from the many choice of tea available.

We had been unable to sit with our favorite server Theresa, but none the less she poked her head around the corner to give us a personal note which read, "It was a pleasure being your server this week. Enjoy the rest of your travels through life. Maybe someday through our adventures our paths will cross again, we'll wave hello and remember the good times had on the American Orient Express". Adventure, this is how Laurie and I view life, one big adventure. I now know Theresa feels the same way that is probably something we recognized in her and immediately knew she would be much more than our server but a wealth of shared tales.

Many of us gather for a last time in the comfortable surroundings of the Seattle Club Car for one last opportunity to enjoy the company of strangers who have become memorable faces & personalities who swill stay with me for a long time even though our paths may never meet again.

Soon we are off to pack & prepare for our last nights sleep on board as we travel to our final destination Washington, D.C.

Monday, March 28th. Washington D.C.

Laurie & I go to breakfast after having had our meeting & greeting at the "early risers club". Somehow it seems as if I am about to wake from a very enjoyable dream. We delay leaving and linger over breakfast trying to prolong what has been so much fun.

One last time in the dome car with hopes of seeing some of what Washington has to offer. Rain and fog make this virtually impossible.

We say goodbye to our most competent porter Alex, grab our bags and detrain one last time. Goodbyes are exchanged as we depart and make our way into the beautiful Washington Station. We can't spend time enjoying the incredible beauty of this place as we are not sure where we pick up our luggage. At ground level we find our way to the baggage cart, locate our luggage and then try to find our transportation to Dulles Airport. We had arranged at the passenger service desk on the train for a super shuttle but we are on our own now and quite confused. Lo and behold across the expanse of the large area appears our, "knight in shining armor", Al. He quickly swoops the two of us up and delivers us to an impatient cabby who Al had implored to just give him one more sweep of the area to find two seemingly abandoned fellow travelers. Bag & baggage we are loaded in the shuttle. I find it hard to get the smile of relief off my face.

Once at the airport a quick hug from Al and he disappears as quickly as he had rescued us. I'm sure he has no idea of how grateful we are for his efforts on our behalf.

We check our baggage and go to the boarding area just wanting to sit down and ponder our good fortune at arriving in plenty of time to get something to eat and await our departure time. A severe storm goes through the Washington area and our plane is delayed approximately an hour. I call my daughter and pass on the delay arrival time as she will meet us at the Syracuse N.Y. Airport.

Once on board we take off with many other delayed flights and I must say the lights of the city and exiting planes is a most spectacular view indeed. A fitting way to end another fabulous adventure as we watch the ground disappear and we slowly climb up-up & away. Bon Voyage until we meet again.

Fellow traveler in the journey we call life

Yours sincerely

Darlene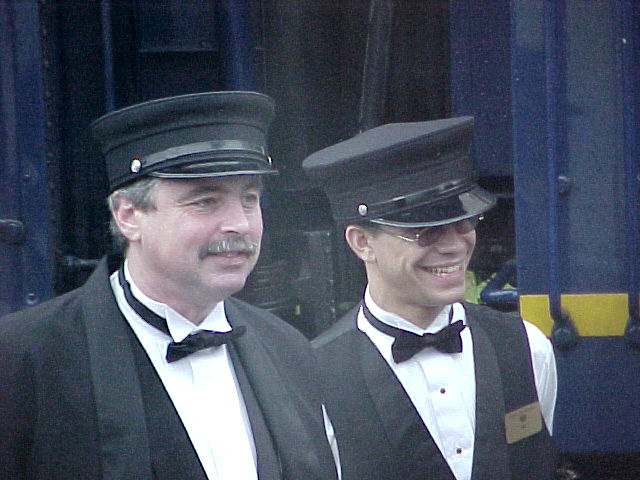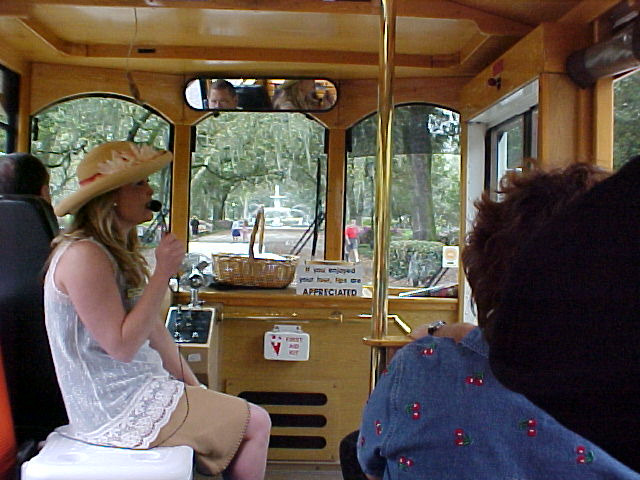 Thanks for the memories
Photos
Click on below links to view each set of photos:
Set #01 / Set #02 / Set #03 / Set #04 / Set #05
Click here for more American Orient Express travelogues and photos!
Click here for more travelogues and photos by Darlene Banning!
Visit our Rail Magazine promotion trading partners:
Click here to add your print rail magazine.