Pacific Surfliner Coach Car Photos
www.trainweb.com/routes/route_ps/2000b09a
Below are exterior and interior photos of the new Amtrak California Surfliner Coach Car.
The first Amtrak Pacific Surfliner passenger arrived into Los Angeles on Sunday morning, February 6, 2000. The car was brought in on the westbound Amtrak Southwest Chief, Train #3. The first car to be delivered was Surfliner Coach Number 6400.
Below photos were provided courtesy of Sam's Steel Rails West (www.trainweb.com/samssrw), one of the best sources of railroad photographs, posters, maps, railfan information, railroad T-shirts, caps, and more! Click here to visit Sam's Steel Rails West web site!
Note: If you clicked on any of the thumbnail photos below to view the full size image prior to 8:15 PM on Wednesday, Feb. 9, 2000, some of the links were not correct. That problem has now been fixed. If you click on any of the below photos, the correct full size image will be displayed.
Restrooms
Downstairs Wheelchair Accessible (left) - Smaller Restoom (right)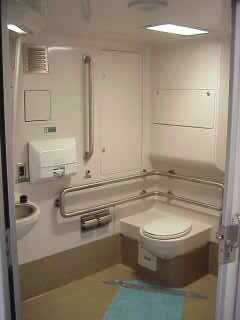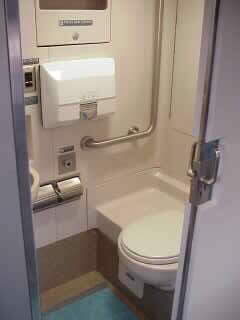 Additional photos of the Surfliner Car are expected to be
posted to this page soon. Please check back periodically!
Click here for more information about the Amtrak Pacific Surfliner.
Visit related pages from this and other web sites:
Click below for pages in the directory of TrainWeb sites: