Railfans.com
www.trainweb.com/railfan/index.html
| | |
| --- | --- |
| Click on each photo below for the story and photos: | |
Rail Tour Providers: Excursions / Private Railcar Trips / Tourist Railways / Travel Agencies
Announce or View Upcoming Rail Tours: Excursions / Private Railcar Trips / Tourist Railways
Extensive railfan related resources including information on rail companies, rail organizations, rail advocacy, rail clubs, passenger trains, excursion trains, railroad art and railroad photography.
Railfanning Resources:

From TrainWeb:
Photos:
Websites Hosted At TrainWeb:
Railroad Community Forums:
Info from On-Track-On-Line.com:
More Resources:
Old, But Still Interesting Links:

Our Railfanning Sponsors:
Our Railfan Magazine Trade Partners:
Our Model Railroading Magazine Trade Partners:
Other Interesting Links:





Click on the below images to visit our rail magazine promotion trading partners:

(Click here to add your print rail magazine.)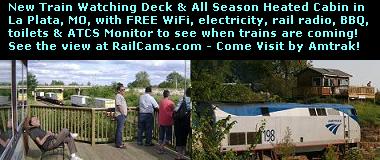 Visit related pages from this and other web sites:
Click below for pages in the directory of TrainWeb sites:
Why this ad?