National Railway Historical Society
NRHS 2009 Convention
Photos & Stories by Chris Guenzler
www.trainweb.com/nrhs/nrhs2009.html
Photos and stories from the National Railway Historical Society NRHS 2009 Annual Convention by Chris Guenzler. The below includes Amtrak travel to the event, railroads visited along the way, reports and photos from many rail outings at NRHS, and Chris' Amtrak travel back home to Santa Ana, California.
Related Links:
Amtrak train to bring railroad buffs to Duluth for convention
Steam on the Range 2009 Annual NRHS Convention Website
National Railway Historical Society (NRHS) Official Website
Stories and Photos from prior NRHS Conventions
More stories and photos from Chris Guenzler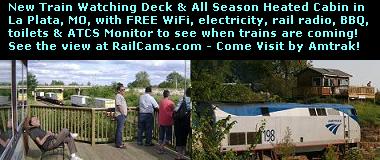 Visit our Rail Magazine promotion trading partners:
Click here to add your print rail magazine.