Diningcars.com
Amtrak Superliner Dining Car
Amtrak Superliner Passenger Train Dining Car, including photographs and detailed descriptions of seats, rooms, train cars, menus and services.
Special note: This page was last updated in 1999 and may be a little outdated. Much of the information on this page is still useful, but do keep in mind that it has not been updated for some time.
What is the diner like?
Amtrak attempts to make their diner like a finer restaurant. It is definitely a step above a Denny's. Each table is set with fine linen, china and fresh flowers. The food itself is prepared fresh in the downstairs kitchen. This is far above the quality that you will find in any airline, even first class. The Chef is right on board.
What are the prices like?
If you are traveling First Class, which means in a Sleeper, then the price of all meals is included in your ticket. You just need to sign for your meals. With your meal, you can order soup, salad or both, an entree, desert, a beverage, plus even coffee or tea after all that. There is no extra charge, even if you order all of that, which many people do! The only thing you would be charged for is if you order wine, beer, or other alcoholic beverage with your meal, and that is usually only $2.50 to $3.50.
What does this cost you if not traveling First Class? If you are traveling Coach, you are welcome to eat in the Dining Car, but do have to pay the prices listed in the menu. The main entree at Breakfast or Lunch will run about $6 while the main entree at Diner will be about $9. This might seem to be high prices compared to a Dennys, but you will find that the atmosphere and service is more similar to a fine hotel restaurant where the prices are much higher. The view is also something that you can't get anywhere else! Coach passengers do have to pay for any beverages or desert they order, plus soup or salad except with Diner. Thus, a Coach passenger could easily end up paying $30 per day for meals considering the total cost for Breakfast, Lunch and Diner. For two people, that's $60 per day and for three $90 per day. I'll leave calculating the cost to feed a family of four as an exercise for the reader. If you can get the Economy Bedroom (includes meals for 2) for $67 per day, the Deluxe Bedroom (includes meals for 3) for about $120 per day, and the Family Bedroom (includes meals for 4) for about $99 per day, then the prices of those rooms might not seem so much when you include the cost of the included meals. However, you can also get away a lot cheaper by either purchasing food from the Coach lounge car or bringing your own food along. (Federal Health Laws requires that any food brought onto the train be consumed at your seat and not taken to the Dining Car nor the Lounge Car).
Tipping
Should you tip, and if so, how much? I've read about tipping in two books about train travel. Both said it was customary to tip just like you would in a restaurant. I guess that would mean between 15% and 20% of the bill. Both books suggested that you should tip even if the cost of your meal is included, as it is if you are in the Sleeping Cars.
The only tipping I have even seen in the Dining Car is $1 per person, regardless of the cost of the meal. I have often seen people not leave anything, but never have I ever seen anyone leave more than $1. That comes out about right for 15% to 20% on the price of breakfast and lunch which would have cost between $6 and $8. The total food bill for diner would probably be more like $12 to $18 including beverage and desert. $1 is a bit low if you are trying to leave 15% to 20%, but I have yet to see anyone leave anything more than $1 at any meal. Use your own judgement, but I don't suggest leaving anything less that $1 at any meal for each person in your party.
Please select one of the following:
A sample menu. / Photographs of the Dining Car.
Superliner Page / Accommodations Index
Click on the below images to visit our rail magazine promotion trading partners:
(Click here to add your print rail magazine.)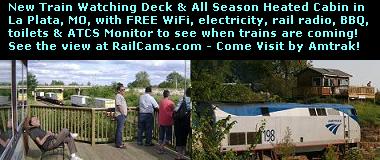 Visit related pages from this and other web sites:
Click below for pages in the directory of TrainWeb sites: