Steve's July 2010
Amtrak Southwest Chief Trip
Plane, Game & Train
Jul 17-22, 2010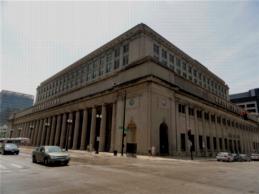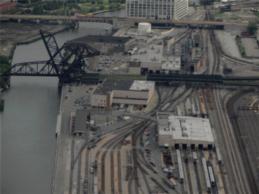 Left: Chicago Union Station
Right: View of Chicago Amtrak / Metra Railyards from Willis Tower
Click on any photo below for a larger image.
2010-Jul-17, Saturday
We left our home in Orange Country around 3 PM to head for the John Wayne Airport (Orange County). Everything went smoothly going through check-in and security. Since we are flying American Airlines and they charge for even the first bag, we ended up paying $50 just for the one bag each that my wife and I were checking. After passing through security we stopped at the Oasis Restaurant for a grilled vegetable sandwich and a couple of Bloody Marys.
The flight went fine. No delays. No food service on the flight beyond what you could purchase. They offered some gourmet sandwiches from Boston Market that looked good, but my wife and were full from lunch before the flight and didn't buy any food in flight. They also had various snacks for sale and nothing at all was given out free, not even little sacks of peanuts. They did provide some free soft drinks and water.
After arriving into Chicago O'Hare Airport we had a long walk to baggage claim. My "Flight Tracker Pro" App said our luggage would be at Baggage Claim #7. The pilot announced it would be at Baggage Claim #6. Guess which was right? Our luggage came off at Baggage Claim #7! After getting our luggage we knew in advance that we'd have about another 30 minute $50 taxi ride. It turned out to just about cost that including tip.
We had arrived into the Chicago Airport a bit after 10 PM Central Time and didn't get to our hotel in Downtown Chicago until a bit after 11 PM. We had a room reserved at the "W Hotel" at 172 Adams Street in Chicago. My wife was coming to a conference related to her business, MIDCOM Corporation, and the cost of the trip and the hotel room was sponsored by one of MIDCOM's vendors, CareerBuilder.com. I was sort of just coming along for the ride. While the vendor covered Barbara's airfare, I had to cover my own airfare. I figured I'd come one way with my wife, spend a day with her in Chicago, and then take the Amtrak Southwest Chief back home to California stopping in La Plata for a day.
We went to check in at the front desk at the W Hotel, but they had some bad news for us: The hotel was 100% overbooked and they already had to find alternative accommodations for ten guests before us. Unforunately every hotel in the Chicago area was totally full! The hotel manager did not know what was causing so many rooms to be booked up. Some people suggested that it might be the filming of the new "Transformers" movie in Chicago. In any case, the hotel person appologized profusely and said that he'd provide transportation to another hotel and provide lodging at that alternative hotel at no charge. That was nice of them, but our vendor, Career Builder, was going to be paying for the room anyway. So the free room would be little recompense for our inconvenience. To top it off, the alternative hotel was a Westin Hotel all the way out in Lombard, Illinois, about another 40 minute taxi ride away! So we headed back to the taxi and rode for another 40 minutes out to our alternate hotel.
Click Here for photos from the Westin Hotel in Lombard, Illinois
The other hotel was a member of the same Starwood chain as the "W Hotel" and they provided us with a very nice upgraded room on the "Executive Floor". We spent the night there and then took a taxi back to the "W Hotel" in Downtown Chicago around 11 AM. By that time some people had checked out of the "W" and they were able to provide us with a room. Again to compensate us for our inconvenience the "W Hotel" gave us a nice upgraded room on the 20th floor and gave us two $20 coupons good toward breakfast. It was a bit of an inconvenience, but we liked the upgraded rooms and gave me a bit of an adventure to write about!
Click Here for more photos of The "W" Hotel in Chicago, Illinois.
2010-Jul-18, Sunday
About noon we set out for a walk down Adams Street to go to the "Greek Islands" restaurant. MIDCOM Corporation, my wife's company, in addition to Anaheim, California, has had an office in Chicago, Illinois, for many years. My wife had set up a lunch date with the MIDCOM Chicago person and his family for around 1:30 PM at the Greek Islands Restaurant. The last time I had been to the MIDCOM Chicago office was back around 1996 when I came out to set up some computer equipment. So it had been a few years since my own personal visit to MIDCOM in Chicago!
Click Here for photos from the Walk to the Greek Islands Restaurant.
The Greek Islands Restaurant was on Adams Street just like our "W Hotel" and only about 3/4 of a mile down the street. So my wife and I just decided to get a bit of exercise and walk down to it. Two blocks from our hotel we passed the Willis Tower (used to be called the Sears Tower, tallest building in North America), a couple more blocks and we passed Chicago Union Station, and then we arrive at the Greek Islands Restaurant. It seemed like all the major items of interest to us in Chicago are all located on Adams Street!
The food and the company at the Greek Islands Restaurant was fantastic! We have a lot of Mediterranean restaurants where we live in California that serve "Greek like" food, but I can't think of any authentic Greek Restaurants near our home. One of the appetizers we had at lunch was the "flaming cheese"! I remember those from when I used to live in Massachusetts but can't remember ever seeing that item at the Mediterranean restaurants that my wife and I frequent. The view was great too as I could see the Willis Tower right from where I was sitting!
On the walk back to our hotel we decided to go see the view from the Skydeck on top of Willis Tower. I had been up there a couple of times before over the last 15 years, but Barbara hadn't been up before. I remember during many of my early Amtrak trips through Chicago from 1995 on I kept trying to go up the Tower, then called Sears Tower, but every time I visited Chicago it was heavily overcast with very little view. The one time it was a clear day I just went into the elevator and took it to the Skydeck. There was an admission fee, but there weren't any special lines or methods to get to the Skydeck. This time there was a special entrance for tourists, there were screening devices like at airports, there were ticket windows, and there was a whole tourist area to explain all about the Tower, the Skydeck, and about the history of Chicago. I don't remember seeing any of that on my prior visits, but maybe I just forgot. The one thing I know I didn't have to deal with was standing in lines for an hour for our turn to take the elevator to the top!
At least once we did get our turn in the elevator it only took 60 seconds to reach the Skydeck! They packed everyone into the elevators more than a New York Subway during rush hour!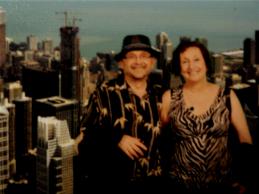 The Skydeck itself was pretty full but I was able to find free window space to take photographs out of windows in each direction. The very first window that I approached was right over Chicago Union Station and the Amtrak and Metra railyards. Some of those photos can be seen below.
The wait for the elevator down fortunately wasn't as long. After taking the elevator down we headed back to Adams Street and our hotel which was just a couple of blocks beyond the Tower, just past the Chicago elevated station.
Click Here for more photos from the Willis Tower Skydeck (Sears Tower).
Because it took us so long to wait in lines to get up the Willis Tower we didn't have much time to rest and then get ready for our next appointment, heading out to see the Chicago Cubs play the Philadelphia Phillies at Wrigley Field!
The people from Career Builders who sponsored Barbara's trip to the business event in Chicago came to the hotel just after 5 PM. We all hopped in a taxi and headed off to Wrigley Field.
Although the Chicago Cubs hadn't been doing to good lately, they put on a tremendously entertaining game this day beating Philadelphia Phillies 11 to 6! They started off to a pretty early lead and managed to maintain that lead throughout the game, a number of times getting on base and scoring of errors by Philadelphia Phillies.
Click Here for more photos from the Chicago Cubs game.
Trying to find a taxi to get us home was another story! We left at the bottom of the eighth inning before the game ended to try to beat the crowd. We walked a long way away from the stadium and still had a difficult time finding and flagging down an available taxi. The biggest problem were the people walking ahead of us who were also flagging down taxis. But eventually we did get one going in the opposite direction that was dropping someone off at a restaurant. After getting back to the hotel, we called it a night and turned in.
2010-Jul-19, Monday
By coincidence, Bob Cox, Currator of the Silver Rails Gallery, would be taking the same Amtrak Southwest Chief from Chicago to La Plata today. Bob was just returning from the National Model Railroad Association Annual Conference where he and Matt Melzer had manned a booth for Silver Rails Country and TrainParty.com.
Bob Manning of Southwest Rail Association was also in Chicago along with his wife, Joyce. Bob would be boarding the Amtrak Empire Builder that same day in Chicago Union Station. We were all in Chicago for different reasons but thought it would be a good idea to all get together for lunch before our trains departed.
After the walk I took the prior day where I discovered how close my hotel was to Chicago Union Station, I suggested that we all just meet at my hotel for lunch. Bob Manning knew exactly where the "W" Hotel was and said he and his wife would meet me and Barbara at about 11:30 AM at our hotel. I called Bob Cox and let him know where our hotel was located relative to the Amtrak Station and how to get there. So that was the plan!
My wife and I headed downstairs a little early to explore the "P" level of the hotel just above and looking over the main lobby. As we were walking around that level and I was about to take a photo overlooking the lobby, I saw that Bob and Joyce Manning had just arrived! So I went ahead and took a photo of them from where I was standing above the lobby.
Barbara and I walked down the stairs to join Bob & Joyce. When we noticed that the hotel restaurant was temporarily closed, Bob said he knew of a pub just a block down the street, the Elephant Castle Pub & Restaurant. We headed for that restaurant and called Bob Cox to let him know of the change in plans. We got seated at a table for five right away and ordered some of the many beers they had on tap. While we were waiting for Bob Cox, he called to let us know that he wasn't going to be able to join us for lunch. Bob was carrying a lot of luggage as he was bringing a lot of booth supplies back from the show. He had planned to put them all in one of the lockers in Chicago Union Station, but there were no lockers available. He had just too much luggage to leave the station with it. We said we were sorry he wouldn't be able to make it, but we'd join him shortly at the station. So, we went ahead and had our lunch as Bob and Joyce's train would be leaving just shortly after 2 PM.
After we finished lunch we all stopped by our hotel so that Barbara and I could retrieve our luggage. We then all just walked the three blocks from the "W" Hotel to Chicago Union Station and wheeled our luggage along.
Bob and Joyce brought Barbara into the Metropolitan Lounge while I went to look for Bob Cox. I eventually had to call Bob on his cell phone as I guess he was in one of the other side waiting rooms. We decided to meet in front of the Amtrak Metropolitan Lounge. Using my Amtrak Select Plus Membership I have access to all Amtrak Metropolitan Lounges, even when traveling in Coach Class which I would be doing from Chicago to La Plata, and am allowed to bring in one unrelated person. So that is pretty much where the three of us spent the next hour talking before our train was called. Bob and Joyce Manning had already headed to their train which departed an hour before our train.
When our train was called we all lined up at the rear of the Chicago Metropolitan Lounge to head out the back door to the platform where we would board. As we walked down the platform we saw there were 4 special cars at the rear of our train. The last two were BNSF technical cars filled with BNSF crew and the next two were Federal Railroad Administration (FRA) cars. Some of them were track geometry cars so evidently they were going to be doing some track measurements on this route.
The ride to La Plata, which was almost 5 hours due to some slow orders, was filled mostly with work and talk about work, and about other Silver Rails and Silver Rails Gallery topics. Bob and I had dinner in the Dining Car which was quite good. I had the baked salmon and Bob had a steak.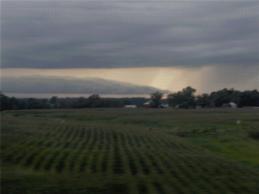 Along the way we saw a pretty good size storm building up in the distance with quite a bit of lightning. When we got to La Plata, it hadn't started to rain yet but was quite humid and warm. Ray Burns and Shivam Surve, my partners at TrainWeb.com and TrainParty.com were waiting to drive me to the Depot Inn & Suites. They were wondering why the train was so late and why the status Amtrak had been giving about the train wasn't up to date. Most of the loss of time took place between the last reporting stop and La Plata so no updates went into the system between those points. Thus, the train ended up being almost an hour later than what the Amtrak status system was reporting.
Ray and Shivam dropped me off at the hotel and we made plans to get together for lunch the following day. I actually hadn't expected it to be Ray and Shivam picking me up from the station as I know they don't tend to be up late. I figured it would be someone else from the hotel staff picking me up. I didn't want to keep Ray and Shivam up and waiting for my train unnecessarily as I knew the train could be late. But I was happy to see them and appreciated their waiting for my late train and giving me a ride.
The first thing I noticed as I stepped into the lobby were the two new TV screens that were recently set up. One normally has a live feed of the trains going by the Chris Guenzler Millionth Rail Mile Lookout Point. The other is an ATCS monitor that shows the location of all trains up and down the BNSF mainline for hundreds of miles so that you know when to expect a train by the Lookout Point. Unfortunately, a lightning storm the morning before had again fried the ethernet extenders which took out both of those displays as well as the RailCams. Originally we had considered going with a fiber optic cable rather than the extended ethernet cable. That was quite a bit more expensive than the fiber optics, but after having to replace the ethernet extenders so many times after being fried by lightning, we should have done the fiber optic cable in the first place. Now we will be going with the fiber optic cable anyway to try to put a final end to this repeating problem.
Inside the hotel I was greeted by my sister, Shelli Tucker, who works part time at the Depot Inn & Suites and part time at TrainParty.com, and part time anywhere else she is needed in the Silver Rails effort! Just about all of us wear many hats in the TrainWeb / Silver Rails ventures!
There isn't much open in La Plata at 9:30 PM on a weekday night. About the only place that was open was Smitty's Tavern in Downtown La Plata, just a couple of buildings down from the Silver Rails Gallery. So my sister and I went down to Smitty's Tavern. I've been visiting La Plata for the past 4 years and I still find new places to go and new things to see that I've never done before. This time it was going into Smitty's Tavern for a beer! I had never been in Smitty's Travern before. As a place for a late night beer it seemed good to me! While we were in there, due to the building storms, there was some lightning and the power flickered momentarily twice. The bar owner went into the store room and brought out portable lanters for each table just in case the lights went out again. Fortunately they did not.
After that my sister dropped me back off at the hotel. Being a Monday night, there were some empty suites available and they assigned me to the Western Suite. Over the four years that I've been visiting La Plata I've probably stayed in each of the suties before, though I don't remember having been in the Western Suite before. Maybe another first! The Regular Rooms each have a letter of the alphabet from A to Z since there are 26 regular rooms in addition to the 4 suties. I've probably also stayed in most of the different lettered regular rooms since I seem to end up in a room with a different letter each time I visit. I generally don't stay in a suite unless there will definitely be one empty for the night. I like to keep the opportunity to try a suite at the hotel available to others especially if they have never previously been to the Depot Inn & Suites.
I thought I was just going to turn in and go to sleep shortly after arriving at the hotel, but there were weather alerts and tornado watches being reported on the television. This part of Missiouri is not generally known for tornados unlike other parts of Missouri, but there was a damaging one last year not too far from La Plata. Tornadoes right in La Plata itself are pretty rare. I heard the last one to touch down in La Plata was more than 40 years ago. But the weather alerts were warning that the current storm had so far produced three tornadoes within about 20 to 40 miles of La Plata. The rain was coming down very heavy by this time and there was quite a bit of lightning. I stayed up until around 2:30 AM until all the tornado alerts had ended. Though we have our earthquakes in California where I live, we don't tend to get such a tremendous downpour or "exciting" weather. Having originally grown up in New England, I do tend to miss the rain and the diversity of weather conditions. Thus, I think I was more excited than frightened by the severe weather. It pretty much came and went over a matter of a few hours. The heavy rain had left flooding in some spots which was rapidly dissipating.
Click Here for more photos from Monday, July 19, 2010.
2010-Jul-20, Tuesday
After being up until almost 3 AM, I pretty much slept through until 10:30 AM. Though, it was still just 8:30 AM Pacific Time and I think my body still hadn't adjusted out of that California time zone.
About 11:30 AM I went to the hotel lobby and grabbed a cup of coffee which is always being freshly brewed around the clock and always free to hotel guests. I sat at one of the tables in the lobby, set up my computer, and connected to the free high-speed WiFi available throughout the hotel (and also at the La Plata Amtrak Station and the Lookout Point).
Ray and Shivam arrived at Noon and they drove me to Napoli's Italian Restaurant, actually one of my favorite Italian Restaurants in the area! They make very authentic Italian Food and have a good selection of beer and wine, including Chianti.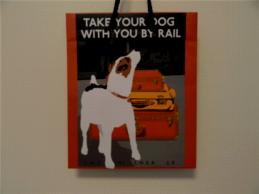 After lunch we headed over to the TrainWeb.com / TrainParty.com building. An Amish friend of Ray and Shivam was in the building awaiting their return. Some of the packing papers from the inbound shipments to TrainParty.com are used by the Amish school. To us this is just excess paper that we would normally dispose, so we are more than happy to help out the Amish school if they can make use of it. Sometimes it amazes me how much in our throw away society can be put to good use by the Amish. Bob Cox was also there as he works part time at TrainParty.com too! As I mentioned above, we all wear many hats in the TrainWeb / Silver Rails ventures! (Bob also works as one of the caretakers at the La Plata Amtrak Station, so he could be the person who greets you at the station if you arrive by Amtrak in the morning). Ray then gave me a ride back to the hotel and his Amish friend a ride back to his friend's house.
After that my sister Shelli met me at the hotel. Then I did another first that I had never done before, I drove us in the hotel golf cart to the Lookout Point! I had never driven any Golf Cart before in my entire life and previously had only been a passenger in the hotel golf cart on the ride to the Lookout Point. When I first turned the key, I thought there was a problem, until I realized the golf cart makes no noise unlike a gasoline engine!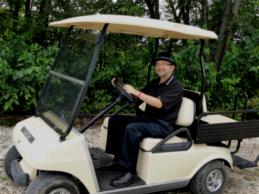 Once we got to the Lookout Point the railroad radio came to life and I knew a train would be heading down the mainline below the lookout point very soon. I grabbed my camera and headed out to the Lookout Point Deck for a closer shot down the line. Sure enough, in just a few minutes a freight train rounded the corner down the line by the Amtrak Station.
After driving the golf cart back to the hotel we went over to The Red Rooster Restaurant a couple of doors down from the hotel just for some drinks, appetizers and conversation! We then headed back to the hotel. My sister headed home to get changed to get ready for her evening shift at the hotel and to host the Evening Manager's Reception at the Depot Inn & Suites where free wine for guests is featured from LocoVino.com as well as beer, soft drinks and snacks. I headed back to my room to get a little work on the internet done.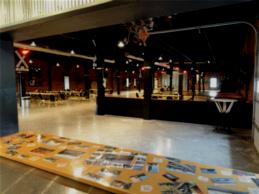 About 5:30 PM Bob Cox picked me up to take me over to take a look inside the Silver Rails Event Center. For a long time I've been wanting to take a photograph of the inside of the event center while standing as far as I could in one corner of it to give an idea of just how big the place is. I managed to do that by standing inside the bar area and shooting out through the bar serving window. I've posted that photo above. The Silver Rails Event Center is about 50 feet wide by about 200 feet long or about 10,000 square feet. We also talked about using portable partitions to divide up the event center for smaller events. If you are interested in having an event at the Silver Rails Event Center, contact Amy Cox at SilverGalAmy@gmail.com or 660-287-2069, who is the Event Coordinator for the event center. If you love trains, it is a great place for a wedding or any other sort of social event. The entire Silver Rails Event Center displays a railroad theme throughout!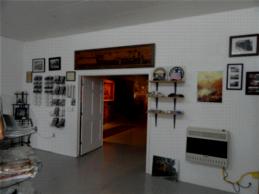 We next went over to the Silver Rails Gallery just a block from the Silver Rails Event Center. Bob showed me a couple of new additions to the gallery. I can't help but be quite impressed by all the works of railroad art and photography on display by both well known and lesser known railroad artists and photographers.
Click Here for a lot more photos and information about the Silver Rails Gallery
Then we went down to the store room of the gallery and looked at some boxes that had been moved from California to La Plata a few years prior. We found a number of interesting items that had sort of vanished for a few years. Some included various Amtrak and other railroad memoriabilia which will be move to our railroad displays. Some of it was books that will be placed into the Silver Rails Memorial Library inside the rear of the Silver Rails Gallery, and some was unsold railroad merchandise that will end up in the Silver Rails Shop. We even located a number of TrainWeb.com and TrainParty.com huge vinyl banners that had been used at some prior shows years ago. I hope those end up on the outside of the TrainWeb / TrainParty building where some additional signage would be good.
Bob & Amy Cox's Show-n-Off Photography and DJ Service is located next door to the Silver Rails Gallery. Amy Cox, Bob's wife, and their daughter were there when we arrived. Bob, Amy and I got a chance to talk about some of the upcoming plans to market the gallery a bit more towards bringing events in from out of town.
After that, Bob drove me back to the hotel where we walked next door to take a look at the ex-Amtrak Mail Handling Car that houses the Exhibition of Amtrak History. Right now, that exhibit is down for refurbishing. The exhbits have all been removed so that the railcar can have insulation put in. This was done to the north railcar that houses the Professional Model Railroad Display and will soon also house the Railroad Telegraphy Display, but the south railcar that housed the Exhibition of Amtrak History had never been insulated. It was about time to do this both for the comfort of visitors and to better preserve the more delicate materials on display in the railcar.
By then it was after 7:30 PM and time to gather up my luggage and head for the La Plata Amtrak Station in time to make my train, though we knew it was already running more than 30 minutes late. Bob drove me to the Amtrak station. Once I got there I found a seat near a power outlet, plugged in my computer, and connected to the free WiFi in the station. While working on my email, Ray and Shivam came in to see me off. We all hung around while waiting for my late train. The train eventually arrived at about 8:45 PM. It came in on the second track so I had to cross over Main #1 to get to the train door as it pulled up. I shook hands and waved goodbye to everyone after my short 24 hour visit.
My Sleeping Car Attendant helped my onboard and showed me to my room. My ticket said Room 17 in Car 0340, which normally an Amtrak Superliner Transition Sleeping Car. It is split with half the rooms for the train crew and service staff and half for booked passengers. But, since they had to change equipment in Chicago, they substituted a regular Amtrak Superliner Sleeping Car for the Transition Sleeper. Since there is no Room 17 in a regular Superliner Sleeping Car, they reassigned me to Room 5. The loading car number still indicated this to be Car Number 0340, the car that I had been ticketed on.
As my Sleeping Car Attendant was making up my bed around 10 PM, who comes walking down the corridor but Richard Talmy! I had contacted him a few weeks before just to see if he might be on this train. He said he wouldn't as he was originally scheduled to be on vacation at this time. But he had readjusted his schedule since the time of that communication and was doing this one run between vacation time before and after. So we just accidentally ended up on the same train after all!
I was originally thinking of skipping lunch, but that may be hard to do with Richard working the Dining Car!
That brings us right up to the moment as I'm writing this! It is now 11:28 PM and I think we may be a bit late getting into Kansas City. So, I'm going to sign off at this point and probably won't write more until tomorrow.
Click Here for more photos from Tuesday, July 20, 2010.
2010-Jul-21, Wednesday
I had a good connection over my AT&T WWAN card for a couple of hours after we departed from Kansas City so I stayed up until almost 2 AM catching up on my email. Fortunately that was only about Midnight California time. Unfortunately, I woke up about 6:30 AM Central Time (4:30 AM California Time) ready to roll! I may take a bit of a nap later to make up for that time.
I generally like to limit my calorie intake while traveling on long train rides. Like a cruise ship, it is not hard to overeat on a train. At home I generally just have a coffee in the morning, a light lunch, and then a normal dinner, even trying to keep that healthy. It is not hard for most people to overeat on a train especially with three full meals included in the price of the Sleeping Car ticket. I usually skip breakfast and often skip lunch too on the train. If I do go to one, then I'll skip the other. Back in the days when Amtrak used to have those fantastic tuna sandwiches in the Cafe Car, I used to skip the included free lunch and / or dinner and buy one of those tuna sandwiches from the Cafe Car. But since Amtrak stopped offering those tuna sandwiches a couple of years ago, I'm not even tempted to grab anything for lunch.
Since I was already awake and up at 6:30 AM, I thought maybe it would be good to go for breakfast today instead of lunch. I could just order some coffee and toast. Since the Dining Car opens for service at 6:30 AM and they don't make any calls for Breakfast until at least 7 AM, I figured the Dining Car might be about as quiet as it is going to get. Richard Talmy might not be as busy as it gets later, or at lunch or dinner, and we might at least exchange a few words whenever he came by to serve my table.
(Note: When reading this travelogue, Matt Melzer reminded me that toast has not been offered in the Amtrak Dining Car for at least a couple of years, ever since they removed the toasters. Instead they serve biscuits or croissants.)
But on this rare occassion where I decided that I would go down to breakfast, it wasn't to be! Evidently they were having some problems with the air conditioning in the Dining Car, and maybe some other electrical problems. I had gone downstairs to one of the restrooms to get dressed. While I was in the restroom I could hear the Conductor on his two-way radio explaining that the air conditioning was extremely hot and they'd have to do something else to take care of breakfast for the passengers. He suggested they prepare some limited standard meals and serve them in the Cafe Car.
Shortly after that I heard an announcement by the Dining Car Steward that breakfast would be served downstairs in the Cafe Car. As I headed out of the restroom towards the stairs I met the Conductor coming down the stairs. He said to me: "You probably just heard that announcement. Please disregard that. What we are going to do is call Sleeping Car passengers into the Dining Car in smaller groups and offer a limited breakfast menu so that we can avoid everyone all coming down into the Cafe Car at once. If you'll have a little patience, we'll call you when we have something arranged for breakfast." I replied: "No problem! Thanks." The Conductor then went onto the P.A. system and announced the same thing he had just told me personally.
The downstairs area in the Cafe Car doesn't hold that many people, so I'm sure it filled up instantly as soon as the Dining Car Steward made the first P.A. announcement. Thus the need to stop more from piling up down there. My usual alternative to breakfast when riding the train is to go purchase a Bloody Mary from the Cafe Car. But with the crowd that just arrived there, that didn't sound like a good plan! So I just returned to my room and would decide on whether to go for breakfast, a Bloody Mary, or anything later!
At 8:30 AM the Dining Car Steward announced that this is last call for service in the Dining Car, and then 15 seconds later announced that service in the Dining Car is now closed. I guess one needed to wear track shoes to get from their room to the Dining Car in the brief span between the last call and the diner being closed! Maybe he didn't mean that literally but would allow anyone in that was making their way towards the Dining Car from the last call. Whatever happened to that announcement the Conductor made that they'd let people know when the dinner was ready to accept Sleeping Car passengers in small numbers at a time? Oh well. Life on a train as usual. You just have to be ready to roll with it as this is quite typical. I guess that takes care of my uncertainty about whether to go down for breakfast instead of lunch!
Around 10 AM I was able to go down to the Cafe Car and purchase a Bloody Mary for $6. I usually leave a tip of $1 per alcoholic beverage that I purchase from the Cafe Car Attendant, but will even leave at least a $1 tip even when purchasing other items not including an alcoholic beverage. Because the train was a bit rocky at that point he just gave me the full sealed can of Bloody Mary Mix, the sealed bottle of Vodka, and a cup of ice. He added Tabasco and Worcester Sauce into the cup of ice. That was a good idea as I was easily able to carry it up the stairs of the shaky train without spilling anything. I just mixed everything when I found a seat. There were a few empty seats upstairs in the Sightseer Lounge Cafe Car and that is where I sat while I enjoyed my drink. I had my notebook computer with me and worked away while enjoying the view out the floor to ceiling windows. I returned to my room about 40 minutes later.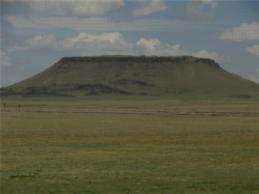 At around noon Richard Talmy and my Sleeping Car Attendant came through the car handing out bagged sandwiches. The lunch consisted of a very good quality turkey and cheese sub sandwich and a bag of chips. Later they came through offering ice cream to everyone.
The Dining Car is still out of service. They are hoping they might be able to get it repaired when they make their long service stop in Albuquerque. That stop can last up to an hour or more if the train arrives on time, or even early. Amtrak does have mechanical people stationed in Albuquerque and they can often fix problems that take less than an hour to repair. Albuquerque is a full service stop where they refuel the locomotives. The station is right next to Downtown Albuquerque so it is really easy with the long stop to go wandering into town often with time to even eat at one of the restaurants!
No luck fixing the Dining Car in Albuquerque! Around 6 PM Richard Talmy and my Sleeping Car Attendant brought around boxed lunches of grilled chicken from KFC. Included in the box was a leg, a breast, mashed potatos, and a biscuit. Most people seemed pretty happy with the substitution as well as the door to door delivery of dinner. I walked through the dining car a couple of times and could feel how hot it was in there. It was definitely a car you want to walk through fast and not spend much time there. They had the doors leading into the two connecting cars set to stay open to try to help cool down the Dining Car from the air conditioning in the adjacent cars. Most of the other cars in the train were quite cool with some I'd even say very "cold"! I had to close the vent and door in my room to keep the very cold air in the corridor from coming in .
Click Here for more photos from Wednesday, July 21, 2010.
2010-Jul-22, Thursday
I was woken up by two calls at around 5 AM, one from my wife and one from Randy. I guess they assumed the train was coming in on time and were calling to coordinate my ride back from the Fullerton Station. We were running about an hour late so we didn't get to San Bernardino until around 6:30 AM instead of 5:30 AM. The train arrived into Fullerton around 7:40 AM, just a bit more than an hour behind schedule. I noticed that the 4 cars from BNSF and the FRA were no longer on the end of our train. I have no idea where they took them off.
Click Each Link Below For More Photos

---
I did take a number of photos of the scenery on this trip, especially on Wednesday, July 21, 2010. If you would like to read prior travelogues and see photos from trips that I have previously taken on the route of the Amtrak Southwest Chief, please click here or just visit SouthwestChief.com.
As mentioned above, this was pretty much just a chance for me to spend a brief day in La Plata on my way from Chicago back to California so I didn't get a chance to do much touring. There is still more that I have not yet seen in Silver Rails Country even after several short vacations here over the past four years! For an idea of some of what there is to see, please click here to visit our new Silver Rails Country Checklist.
If you are a train enthusiast, regardless of whether or not you consider yourself a "railfan", there is plenty for both you and your family to see and do in Silver Rails Country right in La Plata and within about an hour drive of La Plata. I hope you'll check out SilverRailsCountry.com and personally be able to visit the area and let me know your impressions from your visit. If you go to the SilverRailsCountry.com web page you will see there is a toll-free phone number near the top of the page where you can call to make all your travel arrangements including booking your Amtrak travel, flights, rental car, hotel, tours, etc. We try our best to make it convenient for you to make your travel arrangements to visit and for there to be lots of things for you and your family to see and do year round during your visit! Plus, we are certain that you will greatly enjoy your stay at the Depot Inn & Suites with all its amenities and which is really a small train museum in and of itself with all the rail artifacts throughout the hotel. Your feedback is always welcome!
CLICK HERE
for additional rail travelogues and photos from several others who have visited Silver Rails Country.
CLICK HERE
for other rail travelogues and photos from Steve Grande.
Visit SouthwestChief.com
for a lot of other travelogues, photos and info of travel on this Amtrak route!
Click Each Link Below For More Photos

Visit our Rail Magazine promotion trading partners:
Click here to add your print rail magazine.