Steve's June 2010
Amtrak Southwest Chief
Trip to
Silver Rails Country
in La Plata, Missouri
Jun 3-9, 2010
Everyone involved in the Silver Rails Ventures (see: SilverRailsCountry.com and SilverRails.com) decided it would be good if we all got together for three days of strategy meetings. With most of those involved with this venture all living in La Plata, Missouri, except for Matt Melzer (Executive Director), my wife (Barbara Cepinko) and myself, it made more sense for the three of us to head from California to Missouri than to bring everyone here. Besides, it would also give my wife and I a chance to see the status of everything and visit the new Silver Rails Gallery which we would be seeing for the first time. We hadn't been to La Plata since the First Annual New Years Celebration for Train Enthusiasts at the start of this year. ( Click here for info.) Plus, by going to La Plata we'd also be able to have some strategy meetings with our partners Ray Burns and Shivam Surve related to TrainWeb.com and TrainParty.com also located in La Plata.
The airfare was so expensive to book this last minute trip that my wife and I instead decided to see if a room would be available on the train so that we could use Amtrak Guest Rewards points. Also, it is almost as convenient for us to go by train as it is to fly! To fly from California to the airport we have to leave in the morning since there are no workable flights or connections heading east to our destination at night. We'd have to drive to the airport, be there early for security screening, and then either fly to Kansas City or St. Louis, rent a car, and then drive for three hours, or take a connecting flight from St. Louis to Kirksville, Missouri. Basically, flying from California eats up a whole day of travel and requires the extra expense of either renting a car in Missouri or paying for the extra connecting flight. On the other hand, when we take the train, the eastbound Amtrak Southwest Chief departs from Fullerton that is pretty close to our home and arrives right into La Plata, Missouri, practically at the doorstep of the hotel!
The actual Silver Rails property begins across the street from the La Plata Amtrak Station, but since the hotel is on the opposite end of the property, the Depot Inn & Suites provides free shuttle service. We depart from Fullerton in the evening, sleep the night on the train, spend one full day on the train (the day we would have spent traveling all day by plane and car!), spend another night on the train and get off the next morning in La Plata. Thus, we get to relax or work for a full day on the train each way instead of spending the whole day flying or driving. Going by Amtrak is definitely the better way to go! With free hotel shuttle service provided not just from the Amtrak Station in La Plata, Missouri, on the Amtrak Southwest Chief route but also from the Amtrak Station in Ottumwa, Iowa, on the Amtrak California Zephyr route, and from the Amtrak Station in Quincy, Illinois, Silver Rails Country is really convenient to reach by Amtrak! But for those of you that want to fly into the Kirksville Airport 5 miles from the hotel, free hotel shuttle service is provided there too!
Click on a below photo for a larger image: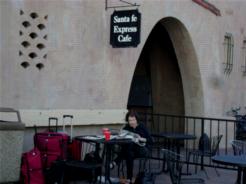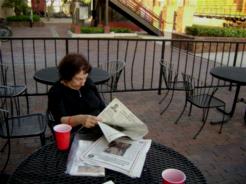 We arrived at the Fullerton Amtrak Station a bit early so we purchased a couple of beers and sat outside on the patio of the Santa Fe Express Cafe that is right at the platform. You can see my wife, Barbara, relaxing and reading the newspaper below the Santa Fe Express Cafe sign.
While we were waiting for our eastbound Amtrak Southwest Chief train a set of BNSF locomotives came through the station pulling a trainset of tanker cars. Below you can see that train going under the pedestrian bridge at the Fullerton Amtrak Station.
Click on a below photo for a larger image: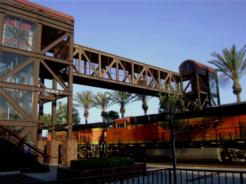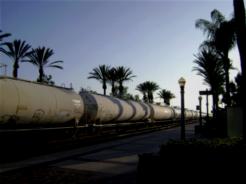 It has been quite some time since my last full rail travelogue. Things have gotten so busy with the ventures that I'm involved with that I haven't had much time to ride the rails. And the few times that I have had a chance to ride the rails, I've been pretty busy just working while I rode.
The ventures that I'm involved with include TrainWeb.com, TrainParty.com, and the Depot Inn & Suites, now all located in La Plata, Missouri. Plus I'm involved with many affiliated ventures that have sprung up as part of our effort to eventually expand the hotel into the SilverRailsResort.com. Those affiliated ventures include SilverRails.com, Silver Rails Country, the Silver Rails Gallery, and the American Passenger Rail Heritage Foundation ( APRHF.com), a 501(c)(3) non-profit organization. All of the above will soon be reachable via one central directory page that we'll soon be updating at SilverRails.com so that we don't have to keep promoting and remembering so many different web addresses!
After TrainWeb.com / TrainParty.com and my partners Ray Burns and Shivam Surve moved to La Plata, Missouri, in 2006, my wife and I continued to remain living in Southern California. My wife and I were both were born, grew up, and lived in the Northeast until 1980 until moving to Southern California. We have no current plans of moving out of sunny Southern California. Hence, we've had to make many round-trips from Fullerton for short stays in La Plata by either train or plane over the last few years and will probably have to continue to make these trips.
Those of you that have read my travelogues from prior years know that I like to give a blow by blow description of my rail travel and what my thoughts are while I travel. If that is why you enjoyed reading my prior travelogues, I'll try to stick to that format. I guess I've sort of been writting in the style of a "blog" since maybe before "blogs" were invented. If you are new to my writings and want to read some of my prior rail travelogues dating as far back as 1995, many with photos, they are ALL posted at: TrainWeb.com/travelogues/stevegrande/.
By the way, if while looking through those travelogues you see photos of me where I look a bit chunky, please disregard those photos. Between 2001 and 2004 I lost more than 50 pounds and have kept that weight off for more than 6 years. See the photos below. Since my weight loss I've remained within the "normal" range for my height. If you want to know what motivated me to lose weight, it was the onset of various health problems associated with excess weight. If you want to know my secret to losing weight and keeping it off, it was "vegan". I knew that I needed to have a lot more vegetables in my diet to be more healthy. But I also knew that I would never get enough vegetables in my diet as long as meat made up the majority of the calories in my diet. So, I figured if I completely gave up meat, it wouldn't take long before I was eating a lot more vegetables to make up for the meat missing from my diet. I was pure vegan for 3 years during most of my weight loss, but could never have kept with the vegan diet if I had not discovered that Indian vegan dishes are quite flavorful! Indian spices can modify rather bland vegies into a gourmet treat! No wonder Columbus searched for a shorter route to India for the spices! (Too bad he never reached the right continent for all the spices!). However, you have to stay away from Indian dishes with cream, butter (ghee), cheese (paneer) and anything that is deep fried (pakora). Those dishes can be extremely caloric! But the pure vegetable Indian dishes are very flavorful and low in fat and calories. South Indian Cuisine tends to have more healthy vegan offerings than North Indian Cuisine and recipes from other parts of India, but just about all Indian Restaurants have an extensive selection of vegetarian dishes. I'm not purely vegan any more, but I still rarely ever eat any red meat and eat very limited quantities of white meat. I do try to eat Salmon twice each week for its healthful properties. Indian food is still my favorite cuisine. I don't eat it every day like I did when losing weight, but seldom does a week go by that I don't go out to an Indian Restaurant. Just be careful if you eat Indian. You have to choose wisely or you will be eating very caloric food and be gaining instead of losing weight!
Click on a below photo for a larger image: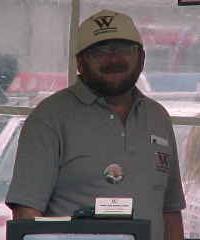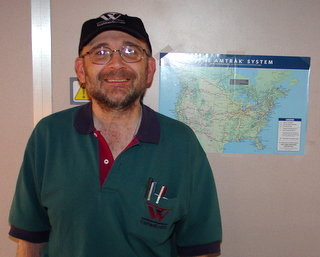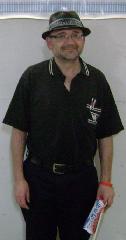 Left: May 1999 - Right: April 2007 - Bottom: June 2010
11 years later and 50 pounds lighter!
Sorry about going off topic, but I want to stick to my writing style of jotting down whatever is on my mind as it comes up. It seems to be what has in the past attracted people to me writing style.
2010-Jun-03 Thursday 7:07 PM PT

So here is where my "as it happens" travelogue begins! Our friend, Randy, gave us a ride to the Fullerton Depot. Normally when my wife and I make this trip to La Plata we arrive early and stop by The Slidebar Cafe in Fullerton for a snack and a drink. Today, however, we decided to forgo the customary stop at The Slidebar Cafe. Every time we leave from Fullerton we can't help but remember our very first train trip to La Plata that set everything in motion. That was the ONLY time in my life that I have EVER missed a train! It is an interesting story. If you want to read about it and see the photos from that trip in 2006 CLICK HERE. On that trip we saw the new TrainWeb.com / TrainParty.com building for the first time and stayed at the Depot Inn & Suites for the first time.
Click on a below photo for a larger image: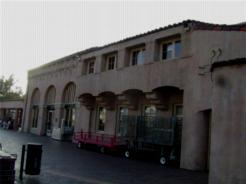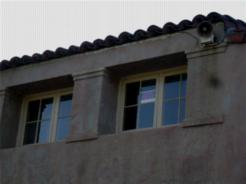 Above you can see some photos of the Fullerton Depot Building, especially of the windows to the office above the Amtrak Ticket Agents where TrainWeb.com had its own office for more than eight years from 1996 to 2004. Right now that space is again "FOR RENT". So if anyone is interested, it is available as of this writing! It has a wonderful view of the many dozens of BNSF, Amtrak, and Metrolink trains that pass through the station every day. If you decide to rent out the office, let me know so you can help TrainWeb restore the RailCams.com service we used to provide from Fullerton! RailCams.com now provides five different views of rail traffic through La Plata, Missouri: two from the RailLookout.com, two from the Amtrak La Plata Station, and one from the TrainWeb.com / TrainParty.com building. There is also one view from the Amtrak Olympia / Lacey Station in Washington, but that camera seems to have serious problems. It belongs to the Washington State Department of Transportation (WSDOT) who seem to have neither the funding nor the interest to fix that camera. However, we'll soon be restoring two views from Santa Ana, California. We also soon hope to have two views of rail traffic up and running from San Juan Capistrano thanks to the cooperation of The Vintage Steak House.
The eastbound Amtrak Southwest Chief arrived right on time. We had to go way to the eastern most part of the platform since our roomette was in the Crew / Dorm Transition Sleeper which is almost always near the front of the train right after the locomotives and baggage car. The Conductor popped out of the door of that car knowing that some passengers would be boarding into that car. He didn't have to walk far down the platform as my wife and I were the only passengers heading in his direction. My wife and I boarded the car and placed three of our items of luggage on the racks. Being the Crew / Dorm car with no other passengers yet in the car, the downstairs racks were totally empty leaving plenty of room for our luggage. We then headed up the stairs with a pretty good idea of where we would find our roomette. We know it would be in the direction of the other Sleeping Cars and not toward the front of the train. Towards the front of the train are the rooms for the crew.
As soon as the train started pulling out of the station I took a few photographs of the constuction work being done to install a new Metrolink siding in Fullerton. The tracks branch just off the east side of the platform at Fullerton Junction. The new siding will start on the south side of the junction such that Metrolink trains will not have to go through the junction to pull into the siding. This will avoid any traffic delays between Metrolink trains arriving from and departing to the south with the east / west rail traffic on the BNSF mainline.
Click on a below photo for a larger image: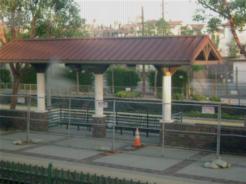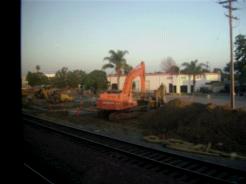 Above you can see the contruction of rails and siding at Fullerton Station for new more frequent Metrolink service through Orange County, California, that will have the north end of that service terminate in Fullerton and have trainsets parked overnight on these tracks.
This train is quite booked up. My wife and I wanted to travel in a Deluxe Room, but they were sold out. Even the roomettes were quite full and we are booked into the Crew Dorm car, Roomette 22 in Car Number 0440. I've never traveled in the Crew Dorm car before. Many years ago I did travel on an Amtrak Southwest Chief train from Fullerton when they were just using the downstairs lounge as an extra lounge for Sleeping Car Passengers and none of the crew were using this car. For that purpose the Transition Sleeper Car was at the end of the train rather than its usual position of right next to the baggage car. Click Here to read that travelogue from 1996. Click here to read some additional comments I made about the Amtrak Superliner Transition Sleeper Car in 1996 along with some photos. But please remember that page is saved for archival purposes only. My knowledge about Amtrak travel and Amtrak trainsets was far more limited back then than it is today. Please ignore requests for information that you will find in that report. Amtrak policies and use of the Transition Sleeper Car have changed quite a bit, especially in recent years, so much of the information in that report is now obsolete.
Click here if you'd like to view quite an extensive collection of exterior photos of Amtrak Superliner II Transition Sleeper Cars courtesy of Geno Dailey. If you see an Amtrak Superliner trainset, you can tell which is the Crew Dorm Transition Sleeper Car as it is the first double level car directly behind the baggage car. Unlike the other Amtrak Sleeping Cars that say "Sleeping Car" right on the outside of each car, this one says "Transition Sleeper".
The reason it is called a "Transition Sleeper" is because the door between train cars on one end of the railcar is at the same level as all single level passenger trains. This allows the crew to access the baggage car while the train is in motion since the baggage car has its door at the same level as other single level passenger trains. The other end of the Transition Sleeper has the door to the other train cars on the second level, which is where all Amtrak Superliner Cars have the passage way from one car to another. There is possibly another reason why these Transition Sleepers were designed. When Amtrak first started producing the double level Superliner cars, all prior passenger trainsets were single level. Amtrak may have been thinking that many of their trainsets would be a mix of single and double level passenger cars and some method would need to exist to allow crew to access both the doulbe and the single level cars. I don't know if such trainsets were ever operated, but the Transition Sleeper would have provided for that need. There have been cases, however, where an Amtrak Superliner train will have single level private cars and those cars have been positioned next to the Transition Sleeper or the Baggage Car just so the crew, and / or passenger of the private cars could have access to other parts of the train. This is not usually done. Usually when private cars are on an Amtrak Superliner trainset they are placed at the rear of the train after a regular Amtrak Superliner car and the passengers in the private cars have no access to the rest of the Superliner trainset. That also means the crew of the Amtrak train also has no access to the private cars except when the train stops and the crew access the car by walking outside the train.
The Transition Sleeper was designed to be occupied half by the crew and half by passengers. However, for many years, passengers were not booked into roomettes in the Transition Sleeper. It was totally occupied by the crew. After many years of operation in this manner, this policy was changed in just the few recent years. When Amtrak Sleeping Cars are totally booked, Amtrak was losing quite a bit of revenue by not being able to book passenger into the Transition Sleeper. But that situation has been resolved and Amtrak does now book passengers into the roomettes on one side of the Transition Sleeper when all of the other roomettes of the train have been booked. If you make a reservation for a roomette and get a room number higher than 17, then you are in the Transition Sleeper! There are no Deluxe Rooms in the Transition Sleeper, so if you have a Sleeping Room on the train with a letter instead of a number, you are in one of the regular Sleeping Cars.
I did tour the Amtrak Transition Sleeper Car back in 1996 while traveling on the Amtrak Southwest Chief. Amtrak also allowed a group of us to use the crew lounge in the Amtrak Southwest Chief to celebrate the exact moment that Chris Guenzler achieved his One Millionth Rail Travel Mile on his way to La Plata. A photo of that celebration in the Amtrak Superliner Transition Sleeper Crew Lounge can be seen above. However, I had never previously traveled as a passenger in the Transition Sleeper. So I was a bit apprehensive before boarding. I wasn't sure if there would be room for my luggage in the racks downstairs (there was!) or if there are any downstairs restrooms for passengers in addition to the upstairs restrooms (I don't think there are). There were only a couple of other roomettes in the Transition Sleeper on this trip taken up by other passenger. They were both Amish who kept pretty much to themselves. Thus we sort of had the run of this car to ourselves, besides the crew going through to get to and from their rooms that is!
Click on a below photo for a larger image: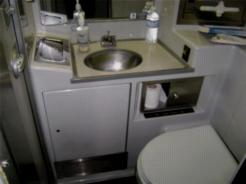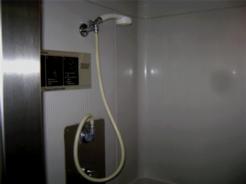 Above you can see photos of one of the two restrooms for passengers located upstairs in the Transition Sleeper. One restroom was near the end of the car closest to the next passenger car. The other restroom was past the stairway just before getting to the "Crew Only" half of the car. Both restrooms also had showers in them. In regular Amtrak Superliner Sleeping Cars there is just one shower for all the people who have roomettes and it is located downstairs. The five Deluxe Bedrooms in regular Amtrak Superliner Sleeping Cars also each have their own shower. I wasn't sure if there are any additional restrooms / showers in the Transition Sleeper Car that are for the crew or if they use the same restrooms / showers as the passengers in this car.
When Amtrak has booked passengers into the Crew Dorm Car, they have the Sleeping Car Attendant from the adjacent Sleeping Car take care of this car as sort of additional duty for him. That does put a bit more work on him. Right now it isn't too much of a problem as that car is still pretty empty. Evidently there is a huge tour group getting on at 5:30 AM in Flagstaff which is why this train is so booked up. After they get on, our Car Attendant will have his hands full! The closest Sleeping Car to the Dining Room, the 0330 Car, tends to get booked up first and that car is already pretty full with the Sleeping Car Attendant in that car already pretty busy.
When we got on the train and our tickets collected our Sleeping Car Attendant told us that we had dinner reservations already set up for 8:15 PM. He apologized in advance if we thought that might be too late in the evening, but we told him that would be fine. It was less than 45 minutes from when we saw him.
We were pleasantly surprised when we did enter the Dining Car as we saw it was Richard Talmy that would be our Dining Car Attendant. Richard and I go pretty far back to the earlier days of TrainWeb.com and we have even coordinated some things wine and rail related outside of Amtrak together. ( Click here for Amtrak travelogues and photos from prior rail trips written both by me and by others with Richard Talmy on board.) So, after the Dining Car had emptied out, we got a chance to catch up a bit on things that had transpired since the last time that we got to talk.
Click on a below photo for a larger image: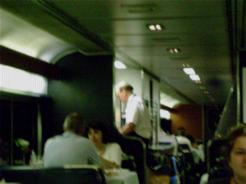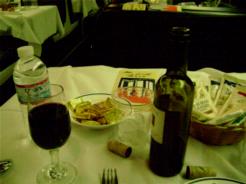 Dinner was very good! I think the selection and quality of food on the Amtrak Southwest Chief has improved in recent times. They now seem to always have at least one vegetarian selection. I had the pasta with vegetables. My wife had the chicken. I still find it odd that if you have only one chicken offering that it would be a chicken that comes on the bone. As I've mentioned previously, just about anyone that likes chicken on the bone will also eat a boneless chicken breast but the reverse is not true at all. If you go to a steakhouse or a seafood restaurant and they only offer one chicken alternative you will find that it is always a boneless chicken option. I think Amtrak could take a lesson from what other restaurants understand and make their one chicken offering one that is boneless.
Click on a below photo for a larger image: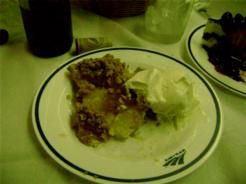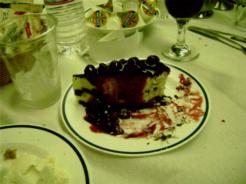 My wife and I don't usually eat desert, but the selections sounded so good that we just had to try them. We ordered one Apple Crumble Pie a la mode and one Cheesecake covered in blueberries. Both were wonderful! We didn't finish them and probably won't have any more desert for the rest of this trip on the train, but we were happy to have tasted them! Sorry about the above photos not showing the deserts in perfect presentation, but I forgot to photograph them before we delved into them!
It is an interesting experience in the Crew Dorm Car. When I went down and took a few minutes to get things out of my suitcase in the racks, some crew memebers were talking about their interactions they have had with the Amish. I couldn't help but overhear their conversation. It was interesting as it touched on some familiar topics considering that La Plata, my destination, has a large Amish community.
From the layout of the Crew Dorm Car I can see why they objected to having passengers share the car with them. Our luggage is in the racks at the bottom of the stairs, just like where we would place it in a Superliner Sleeping Car. The crew break room is right next to the luggage rack. As I head down the stairs to get some things out from my luggage, I often hear the crew talking about their experiences with passengers. As they hear my footsteps coming down the stairs, there is often a sudden silence in the conversation. I really can't blame them for feeling their space is being invaded. This is sort of the "behind the scenes" area where the crew should be able to let their hair hang down and discuss any frustrations of the trip with other crew members. They shouldn't have to worry about passengers overhearing their private conversations. However, the economics of the situation really do mandate that this car needs to remain shared between crew and rooms booked to paying passengers. Possibly if a sliding door was installed between the luggage racks and the crew break area that would resolve the problem. I'm pretty sure I've seen doors dividing the downstairs level of some of the other Superliner Coach Car configurations. In any case, when the next generation of passenger cars is built for Amtrak, it would probably be worth considering how to separate the crew area from the passenger area, especially where the crew can gather during their breaks and not be within earshot of passenger areas.
Click on a below photo for a larger image: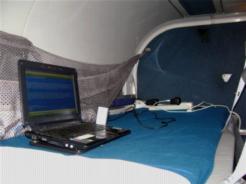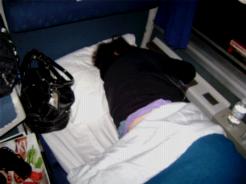 2010-Jun-03 Thursday 10:20 PM PT

I'm about to get ready to turn in for the evening. I've let my wife take the lower bed and I'll be climbing into the upper bed shortly. Pretty much the last several paragraphs have been typed by me standing up in our roomette with my computer on the upper bed while my wife was sleeping on the lower bed. You can see a photo of that arrangement above.
2010-Jun-04 Friday 09:32 AM MT

It is extremely rare that I have ever slept in the upper bed on an Amtrak train. I know I've done it before, but it is pretty rare. I can remember climbing the ladder in the Deluxe Room to reach the upper bed, and climbing the built in steps in the roomette. I especially remember what seems like a long step down when coming back down from the upper bed. For the most part, most of my Amtrak travel has either been alone where I've slept in the lower bed, or with my wife where we both slept in the lower bed, or with a travel companion where my companion slept in the upper bed.
It must be because I'm getting older that the top bed area seems more cramped than ever. I'm sure the space hasn't gotten any smaller. Plus, I know I personally take up less space now than I did a decade ago. Back in 1996 before I gained all the weight that I later lost, my wife and I took a trip from Fullerton to Chicago, then to Seattle, and then back to Fullerton all by Amtrak in a roomette and we BOTH slept on the bottom bed! For the life of me I can't figure out why we don't both fit on the bottom bed. Maybe as one gets older one just needs more room.
It is also a mystery to me how many of the elderly couples you will see on a train manage. I can't imagine either partner climbing up to the upper bed. Maybe they manage to both sleep in the bottom bed like my wife and I used to do. I have seen a number of times that elderly couples will get two roomettes and sleep across from each other so they could each have a lower bed. I guess that is sometimes less expensive than booking one Deluxe Room. On trains that aren't full I've even seen Car Attendants allow each partner of an elderly couple have their own roomette even though they only paid for one. Though, with trains getting so booked up today, it is getting more difficult to find trains with spare roomettes.
2010-Jun-04 Friday 06:51 PM PT

If you plan to do a lot of travel by Amtrak and would like your cell phone to work much of the time, and maybe even use a WWAN card to have internet access from your computer, then go with Verizon rather than any other service provider.
When you see those TV ads that show that Verizon has much greater geographic coverage in the United States, they are true! AT&T is also true when they say that more than 97% of people in the U.S. live in an area covered by their plan. The difference is that 97% of Americans live in cities and towns that have AT&T coverage. But Amtrak goes across a lot of desolate area that isn't anywhere near any cities or towns. Thus, a lot of the Amtrak routes are not covered by AT&T. For some reason, Verizon seems to cover quite a bit more of those desolate areas.
When I used to have Verizon cell and WWAN service, I was able to travel from California to Missouri and had access for most of the entire route. I recently switched to AT&T and have ONLY been able to use my cell phone and access the internet when the train was near towns and cities, not when it was traveling the long stretches between them. Thus, for Amtrak travel, Verizon is a far better service than AT&T.
So why did I switch from Verizon to AT&T? In my own home Verizon service was very bad. I could change from a sitting position to a standing position and lose the signal and my call. I could even switch my cell phone from one ear to the other and a call would be dropped! I eliminated all those problems by switching from Verizon to AT&T. I often ride the trains in Southern California between Fullerton and San Diego. In that area there doesn't seem to be much difference between Verizon and AT&T. Both work pretty good while riding the Amtrak Pacific Surfliners or Metrolink. If anything, AT&T seems to drop the connection less often than Verizon.
2010-Jun-04 Friday 08:03 PM PT

Sometimes you need to improvise! Many Amtrak restrooms doors are notorious at unlocking themselves which can lead to embarrasing circumstances both for the person in the restroom and the person attempting to enter. The shaking of the moving train tends to jog sliding locks to unlock themselves. The doors to the bedrooms in the Sleeping Cars have a latching mechanism that is VERY effective in not unlocking themselves. I don't know why they didn't put the same mechanism in the restrooms where an effective latch may be even more essential.
Click on the below photo for a larger image: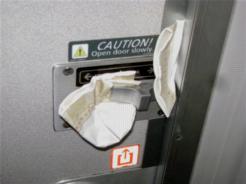 In any case, the latch on one of the restroom on this trip set a new world's record. As soon as I would tightly latch the door, it would manage to unlatch itself within 3 seconds of pulling my hand away! At least there would be no surprises. This latch just wasn't going to stay put! An easy fix is to just jam something into the latch so that it can't budge. As further insurance, it is a good idea to jam something between the door and the frame to stop the shaking of the door and the latch. Both measures make it very unlikely the latch will manage to unlock itself. If you didn't bring anything with you to do the jamming, just crunch up some empty paper cups that are available by the sink in every restroom. See the above photo.
2010-Jun-05 Saturday 08:04 AM CT

The Dining Car had a major technical failure on Saturday morning. It lost all electrical power. The crew had to end all dining car service for the rest of this trip. Instead, the Car Attendant and Dining Car staff went to each room proving hot breakfast items that they picked up from McDonald's in Kansas City, and Orange Juice. They will also be picking up sandwiches when the train arrives in Galesburg to provide Sleeping Car Passengers with lunch.
2010-Jun-05 Saturday 11:30 AM CT

The train had to stop in Marceline for about 20 minutes or so. It had started to rain and there were flash flood warnings somewhere east of La Plata. They had to stop the train so the Conductor and Engineer could mark down the slow orders of where the train would have to proceed with caution.
Click on a below photo for a larger image: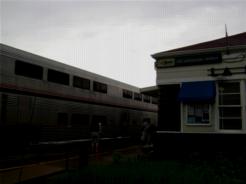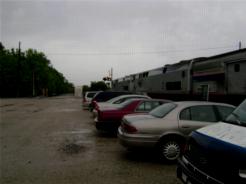 The train got to La Plata about 30 minutes late. Normally the train has to make a double stop in La Plata since the platform is so short. It stops once for the Sleeping Cars and once for the Coach Cars. But since my wife and I were in the Transition Sleeper, the train had to make three stops this time! With the Transition Sleeper being closest to the front of the train, the first stop would be for us. As our car came to the platform I saw a minivan parked right on the platform which I thought was odd. It turned out it was Bob Cox with a van full of pastries and juices to be loaded onto the train to make up for the lack of food service from the Dining Car. The staff on our train had called ahead and asked for food to be brought to the train. Bob Cox is one of the Amtrak Station Caretakers as well as Currator for the Silver Rails Gallery and as well as wearing a lot of other hats in Silver Rails Country!
Ray Burns, one of my partners in TrainWeb.com / TrainParty.com was there to greet us and drive us to the hotel. The original plan was for everyone to gather for lunch at the Red Rooster next to the Depot Inn & Suites at about noon. However, Matt Melzer, the Executive Director of Silver Rails and the American Passenger Rail Heritage Foundations (APRHF.com) was arriving into Ottumwa, Iowa, on the Amtrak California Zephyr and that train was running almost four hours late! Thus we postponed gathering at The Red Rooster to around 2:00 PM.
By the time Bob Cox drove up to Ottumwa and back to pick Matt up from his late arriving train it was around 2:30 PM. That was sort of the "kick off" meeting and social for the three full days of Silver Rails / APRHF strategy meetings that were to take place. Some of the people at this "kick off" meeting included Ray Burns, Shivam Surve, Matt Melzer, Bob & Amy Cox, my sister Shelli Tucker, my wife Barbara Cepinko, and myself.
Below: A visit to the TrainParty.com warehouse in the TrainWeb.com / TrainParty.com building. A photo of me in one photo and a photo of Ray Burns in the next photo. The next two photos show boxes piling up that are the outgoing purchases / shipments of TrainParty.com for that day. In the next photo, Shivam Surve and Bob Cox discussing some TrainParty issue. The following photo is shot out the open dock door at TrainParty.com where you can see the La Plata Amtrak Station in the background. The last of the set shows the American Flag flying above the Missouri State Flag in the TrainWeb / TrainParty yard.
Click on any photo below for a larger image: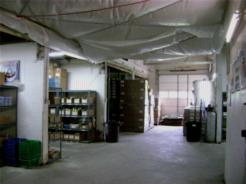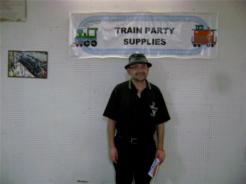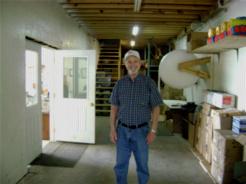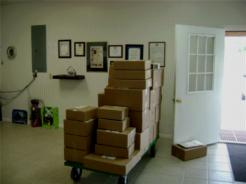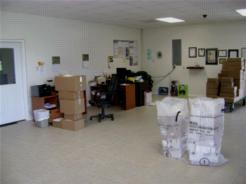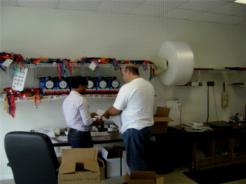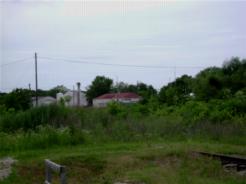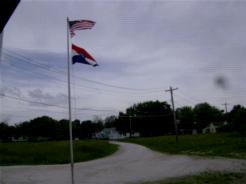 Below are just four photos that I took in the new Silver Rails Gallery. You can click here to see more in the full set of photographs from this rail travelogue. Or you can click here for many more photographs in the report by Carl Morrison of the Grand Opening of the Silver Rails Gallery on Saturday, March 13, 2010.
Below are two photos from the new Silver Rails Shop, the gift shop affiliated with the gallery where you can purchase many of the items on display in the gallery as well as a number of other items of interest to train enthusiasts. You can also purchase many of these items at the new online store at SilverRailsShop.com including Silver Rails, TrainWeb.com, and Depot Inn & Suites logo merchandise. The Silver Rails Gallery and the Silver Rails Shop are part of the 501(c)(3) non-profit American Passenger Rail Heritage Foundation (APRHF.com). Revenues from the gallery and shop help towards our goal of building a museum devoted to the heritage of American passenger rail in Silver Rails Country as well as maintain the venues already open including: the Silver Rails Gallery, the Exhibition of Amtrak History, the model railroad display and the soon to open Railroad Telegraphy Display. Click here to view more photos of the new Silver Rails Shop.
Below are two photos of Downtown La Plata. The Silver Rails Gallery is right in Downtown La Plata and the Silver Rails Event Center is just across the town square from the gallery. The Depot Inn & Suites, the Exhibition of Amtrak History, the Rail Lookout, the Model Railroad Display, the Red Rooster Restaurant and the soon to open Railroad Telegraphy Display are just as short drive down North Brown Street in La Plata. Most places to visit in Silver Rails Country are less than an hour drive from the Depot Inn & Suites. You can either rent a car or inquire with the hotel about escorted tours. Please visit SilverRailsCountry.com for further details.
2010-June-08 Tuesday 10:25 PM CT

These Silver Rails / APRHF strategy meetings were so non-stop over the three days that I think it was a first time in many years that I didn't get a chance to even check my email for three days straight! Not even when I went on a 2 week cruise did I let a day pass without checking my email! But these meetings started in the morning and went into the evening. By the time I'd return to my hotel room in the evening I just wouldn't have any energy left to deal with my emails. So, I didn't really start to catch up on the email from those days until we departed on Monday evening, June 7, 2010. Even then I had to wait until we were getting close to Kansas City before I had a good WWAN internet connection. The stop in Kansas City is fairly long and then the train stops again just outside of Kansas City at the fuel terminal to load fuel for the next segment of the trip. All during that time I was able to stay online and get through most of the email that had piled up. The train didn't leave from the Kansas City fuel terminal until almost midnight. I think I still had a workable internet connection even after our departure for about another 20 minutes before the train headed out of the suburbs of Kansas City into territory without AT&T WWAN coverage.
Anyway, not having much time to work on my email over the three days, I also didn't have time to add anything to this rail travelogue. So, there is pretty much a gap from that "kick off" meeting until I got back on the train on Monday.
We did have some of our meetings at the new SilverRailsGallery. My wife and I weren't able to come out for the Grand Opening of the gallery, so this was the first time we had seen it since the opening! We'd seen photos of it from the reports that covered the grand opening, but it was more impressive seeing it in person. I took a few photos of the gallery myself to include in this report as you can see above.
Some of our other meetings were held at the home office of TrainWeb.com / TrainParty.com. Shivam had done quite a bit of organizing of the warehouse space and has already added a number of new products to TrainParty.com. TrainParty.com now sells well over 700 different railroad theme party related items, which also includes things like gifts, whistles, costumes, puzzles, books, videos, etc., in addition to the railroad theme paper party supplies. Just as a reminder, keep in mind that TrainParty.com does sell Amtrak theme railroad party supplies, as well as our own Little Chug design for children and even the Whistle Stop theme that is good for all ages, even for adult birthday parties, retirement parties, etc.!
Barbara and I went to dinner as soon as we boarded the train. They were making last call. Boarding at La Plata is always a little "iffy" about whether you'll board in time for dinner or not. I think the official cut off for last reservations in the Dining Car is 8:00 PM. With the departure from La Plata scheduled for 8:06 PM, they will usually accommodate passengers boarding in La Plata as long as the train isn't running too late. But if the train is 30 minutes or later arriving into La Plata, that will often be well past last call and they will already be in the process of starting to close down the galley. There would usually still be people in the Dining Car finishing up their meals, having desert and coffee, but no new meal orders being submitted to the galley. If the train is so full that they are still calling people in for dinner reservations even at 8:30 PM, then they will usually accommodate those boarding in La Plata even if the train is running 30 minutes late.
We had dinner with a nice woman and her daughter that were traveling in the coach cars. She often travels by Amtrak between Albuquerque and Galesburg. Sometimes she'll travel in the Sleeping Cars when traveling alone, but this time she had two of her children traveling with her. She said she'd often upgrade onboard when roomettes are available and that has cost her as little as $115 for a whole day and night of travel. That works out pretty good as she gets much of her $115 back as just a savings with the free meals provided to Sleeping Car Passengers, especially if she goes for breakfast, lunch and dinner. She very much enjoys Amtrak travel and tries to go by train rather than flying as much as she can. She was quite familiar with Kirksville and had even played golf before at the La Plata Municiple Golf Course!
She had never heard of the Depot Inn & Suites in La Plata, but it was probably built after her last visit. Being a train enthusiast, she got quite excited about the hotel and all the other train related things there are to see in Silver Rails Country near the hotel. She seemed particularly interested that the Exhibition of Amtrak History is located in one of the ex-Amtrak Mail Handling Cars next to the hotel and the Disney Hometown Museum in Marceline that is not far from La Plata. She even talked about times that she had chased trains and done train watching, so she got a kick out of hearing about the all weather Rail Lookout Cabin near the hotel and that hotel guests could watch the trains through La Plata 24/7 right from a special channel on the TV of every room in the hotel. I did forget to mention that she can see the trains through La Plata from anywhere at RailCams.com, though those don't provide streaming video and audio like what is available on the TVs in the hotel rooms.
After dinner my wife and I were pretty tired. That was pretty close to 10 PM Central Time. The bed wasn't made yet so rather than push the button to wait for the Car Attendant, I decided to just go ahead and make the bed myself. It is easy enough once you've done it a number of times. Also, since my wife and I had our two backpacks and 3 items of luggage in the room, I knew the car attendant would have to be playing musical chairs with everything to try to open the bed. So, I went ahead and did it myself and had the room all set up the way I liked it in less than 5 minutes. Again I noticed that the mattresses were set up to place the head of the mattress under the window. I never like that. I rather have the head of the mattress by the door so that I can look out the window while lying down. I don't find staring at the door very interesting and would rather have the bed oriented toward looking out the window. Rarely do I ever see the Car Attendants set the bed up that way. I guess it is because the pillows tend to fall of the bed when the head of the bed is near the door. Also, if there is strong air flow from the A/C vent that isn't completely stopped by shutting the vent, then having that blow in your face could be annoying. I didn't mind the possibility of the pillows falling off the end of the bed and the breeze rarely bothers me. So, for the trade off, I'd rather be able to see out the window whenever I have my eyes open rather than have a view of the door or sink. Also, my wife and I seem to fit just fine sharing the lower bed together. It is a little tight as I don't think the width of the bed is even that of a double mattress. It is probably more the width of what one would consider a single bed today, but that was wide enough.
About an hour later the Car Attendant came by to see if we needed our beds made. I told him that we had been pretty tired when we got to the room and had just made them ourselves. He seemed somewhat annoyed and said something like: "That is my job and I'm here to do that for you. All you had to do was call me." Sometimes Car Attendants react that way when passengers do their own beds. In my trip out here a number of passengers had made their own beds without calling the Car Attendant and he just took it in stride even making a few jokes about it. It wasn't for lack of any dilligence on the part of the Car Attendant. Some people just like to make up their own beds without calling and waiting for the Car Attendant. It doesn't reflect on their service to keep the passengers happy. I only get annoyed when I push the button and nobody comes for 20 minutes, 30 minutes, an hour, or ever! That is when I feel the Car Attendant is not doing his job. But I never hold it against them if I rush ahead of them and do things myself. The tip that I provide is never reduced because they didn't provide services that I didn't request. It is only reduced when they fail to provide services that I did request. But I'm sure there are many others that will reduce the tip even when the Car Attendants service is minimal only because they didn't use any of their services.
2010-June-08 Tuesday 10:40 AM CT

At 10:40 AM we have come to a dead stop. The Conductor announced that this is due to some signal issues and that we will continue as soon as the train receives a clear signal. Hopefully this will clear up soon. Personally I don't mind if we get delayed an hour or two on our westward journey. This train is scheduled into Fullerton at around 6:30 AM PT so I really don't mind if we come in at 7:30 AM or 8:30 AM. I'm sure that would also make it easier on Randy who'll be coming to pick us up. I sometimes pick people up from the Fullerton Station getting off the westbound Amtrak Southwest Chief. I always check the train status before I go to bed the night before. But unless it is many hours late, I set my alarm as if the train will catch up and arrive on time. Then when I get up, I'll check the train status again. If it is still running late I'll leasurly go about my normal morning tasks before heading out to the station. But if the train is on time, I'll rush out the door and leave most of my morning tasks for after I return from the station. So, picking up from a late train is always a less hectic situation.

At 10:47 AM we started slowly rolling again! A 7 minute delay is not too bad. That is something that can be made up from all the padding in the schedule.
2010-June-09 Wednesday 10:30 AM PT

Our train arrived into the Amtrak San Bernardino Station in California right on schedule. But that is when a few delays began! There was a Metrolink Comuter train boarding that the Dispatcher wanted to make sure got out in the tracks ahead of us. So we had to wait about ten minutes for that train to leave. Then, further down the tracks we had another ten minute wait for another Metrolink train to pass us going in the opposite direction. Continuing with a few delays here and there like that we finally ended up in Fullerton a bit more than an hour late.
We had told Randy that we would call him from San Bernardino to let him know if our train was running on time and if he should be at the station to pick us up at the 6:30 AM scheduled arrival time. We did call him from San Bernardino to let him know our train was running on time. Thus Randy was down at the Fullerton Amtrak Station waiting for us by 6:30 AM! We did call him as soon as we started experiencing delays, but he was already on his way to Fullerton and there was no point in turning back. Thus he just waiting for us at the station until our train arrived.
Almost forgot! I didn't take many photos of the scenery or the train. But, I've taken this Amtrak route so many times that you can find tons of photos and other travelogues by clicking here or just visit SouthwestChief.com.
Overall it was a great journey. We enjoyed much of the train ride and were happy to have a chance to see everything in Silver Rails Country again. Unfortunately, we didn't get too much time to relax and enjoy ourselves while in La Plata with all the strategy meetings going on. Hopefully on our next visit we'll have a bit more down time! Even after our many visits over the last four years, there is still plenty that we have not yet seen in Silver Rails Country and a lot of things that are certainly worth visiting again!
If you are a train enthusiast, regardless of whether or not you consider yourself a "railfan", there is plenty for both you and your family to see and do in Silver Rails Country right in La Plata and within about an hour drive of La Plata. I hope you'll check out SilverRailsCountry.com and personally be able to visit the area and let me know your impressions from your visit. If you go to the SilverRailsCountry.com web page you will see there is a toll-free phone number near the top of the page where you can call to make all your travel arrangements including booking your Amtrak travel, flights, rental car, hotel, tours, etc. We try our best to make it convenient for you to make your travel arrangements to visit and for there to be lots of things for you and your family to see and do year round during your visit! Plus, we are certain that you will greatly enjoy your stay at the Depot Inn & Suites with all its ammenities and which is really a small train museum in and of itself with all the rail artifacts throughout the hotel. Your feedback is always welcome!
CLICK HERE
for the full set of photos from this rail trip along with some additional comments.
CLICK HERE
for additional rail travelogues and photos from several others who have visited Silver Rails Country.
CLICK HERE
for other rail travelogues and photos from me.
Visit SouthwestChief.com
for a lot of other travelogues, photos and info of travel on this Amtrak route!
Visit our Rail Magazine promotion trading partners:
Click here to add your print rail magazine.