OUR 2006 AMTRAK TRIP
by Rich Kimmel
July 1, 2006 -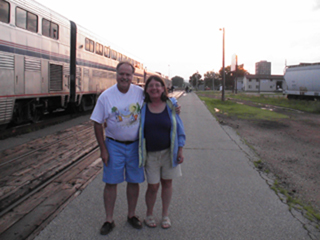 "Railroad Rich" Kimmel with Mrs. Railroad Rich (aka Jan) at Winona, Minnesota
(Throughout this report, click any image to see a double-sized picture.)
Saturday July 1-Sunday, July 2, 2006 –
Silver Meteor
I haven't taken an AMTRAK trip for about 4 years, since during the last couple years, I was busy preparing for my recent marriage of June 2005 to my wife Jan. This was the first "long" AMTRAK trip I had taken Jan on, and we discussed it at great length at least one year before we took the trip, as I wanted to make sure she would be comfortable traveling overnight for 3 days out and 3 days back on AMTRAK. She had taken AMTRAK trips before, however, but had been previously limited to coach. We booked 1st class accommodations on this trip both out and back, in "deluxe bedrooms" (formerly called "bedrooms", as opposed to what are now called "bedrooms," which were formerly known as either "economy rooms" or "roomettes.") Our route "out" would take us on the
Silver Meteor
from Winter Park, FL to Washington DC, then the
Capitol Ltd
from Washington DC to Chicago, then the
Empire Builder
from Chicago to the Izaak Walton Inn at Essex, Montana. Once in Montana, we rented a car and headed south, did more sightseeing, then came back on the
Southwest Chief
from Flagstaff, AZ to Chicago, then retraced our route on the
Capitol Ltd
and the
Silver Meteor
. I had wanted to take a different route back from Chicago, on the
Lake Shore Ltd
or the
Cardinal
, but it is impossible to make connections to any of those trains from the SWC without an overnight stay in Chicago, which we did not want.. So we were limited in our itinerary.
The
Silver Meteor
was scheduled to depart Winter Park at 1:15 PM Saturday afternoon. I checked the "Train Status" section of
http://www.amtrak.com
on Saturday morning and the site stated that Train #98 would be arriving in Winter Park on time. My wife Jan and I then continued our routine Saturday morning activities, and finished packing, and I checked the web site again later, which now showed Train #98 would arrive in WPK at 1:52 PM, a bit late. One more check an hour later, and #98 was now scheduled for 1:55 PM – still not too terribly late. Jan and I went to the local McDonald's to get lunch, thinking that the dining car may be closed for lunch by the time we finally boarded, then we called the local Yellow Cab taxi to pick us up and take us to the Winter Park AMTRAK station. We arrived at the station about 1:40 for our expected 1:55 departure of the
however, upon arrival, the agent at the station told us that #98 would be a "little late" – apparently it was no longer due to arrive at 1:55, but was now due at 2:15. 2:15 came and went, and still no #98. We were talking with another railfan, whose name I didn't catch, but he must have been a loyal Train Web Forum reader, since he was telling us he had heard that most of the AMTRAK system was due to get 180-day train-off notices the following week. Hmmm – where would he have gotten that information? Only one source I know of has published that type of information, but I did not ask the gentleman……. This particular gentleman also told us what he thinks of the Viewliner sleepers – not complimentary comments.
About 2:30 it began to rain – the usual summer afternoon rain showers in Florida. And still no Train #98. Our railfan friend had been calling "Julie" at AMTRAK once every 5 minutes or so, and reported to us that the train had "just left Orlando" about 2:30 PM. Finally about 2:40, we heard the whistle coming up from Orlando and saw the gates go down just south of the station. The rain was coming down harder, and I was concerned about my new JVC camcorder getting wet. But nonetheless, as we were waiting in the sleeper boarding location, Train #98 pulled in and got a video of the train coming to pick us up. We boarded into Room A of the car "Morning View," and our attendant was "Allen." Allen introduced himself to us and stated that lunch was not in fact being served any longer, but he would be happy to make a dinner reservation for us, and we chose the 7 PM sitting. We had already eaten lunch before we left for the station, since I thought the train would be arriving later than 1:55. However, since we were first class passengers, and our scheduled departure from Winter Park was during the time when the diner was still open for lunch, shouldn't we have been somehow compensated, since the lunch meal should have been included in our fare? I didn't make an issue of it.
We had left approximately 1 hr 45 minutes late from Winter Park. Between Winter Park and Jacksonville, we passed all 3 southbound AMTRAK trains (including Auto Train), all of which were several hours late. Because of the delays, we were about 3 hours late as we pulled into Jacksonville. During the afternoon, we sat in the room, me doing video out the window, and my wife Jan sewing. The main bunk in our room was facing "backwards," but at one point, Allen pulled out a folding chair from beneath the bunk and set it up across from the main bunk, so I could sit forward while taking my video, and could also be across from my wife for talking and socializing. One thing about being in a deluxe bedroom is that you actually have good views out both sides of the train – one window in the room, but with the door and curtain open, it is easy to see out the hall window, and it is only a couple steps for me to walk into the hall and take video from the other side of the train. We spent very little time in any lounge cars, which, as you may know from reading past travelogues, is very unusual for me! But the views from the deluxe bedroom were adequate, and you don't have the crowds to put up with.
One problem we had was what to do with our luggage – both Jan and I each had a large suit-case, plus I had a smaller suitcase which was full of route map books. My wife Jan had a cos-metics bag and a purse also, and I could wear my camcorder in a back pack around my waist. Initially we pulled the top bunk in the room down and put everything except the camcorder, purse, and small map book suitcase on the top bunk, and we would figure out later where the bags would go overnight after we decided who would sleep on the top bunk and who on the bottom bunk.
It was finally "diner lite" time as we made the stop in Jacksonville with out 7 PM reservations. We had wanted to get out and walk around at the Jacksonville stop, but because of our tardiness, we were eating during the stop. If we would have been closer to schedule, we would have made the stop in JAX before dinner, and we could have gotten out. I did not keep track of every meal I had on our trip like others have done, so I will just make a few food comments. The Meteor had diner lite, as did all other trains except the Empire Builder. We walked into the diner from the sleeper car, and one of the Steward's "assistants" told us to sit at a certain table; however, the table she told us to sit at had not been cleaned from the previous diners and the tablecloths had not yet been changed. The steward saw what had happened, apologized to us, and cleaned the table for us. We didn't see the "assistant" much more. We soon ordered our food, and it seemed to take longer than it should have for my food to come. Apparently someone had lost my order, so I put it in again. "Diner Lite" is OK – I think I had the braised beef the first night, which was fine. There is not the variety with "diner lite" that we were used to previously, and yes, I believe the food quality has changed for the worse, unfortunately. Most of the offerings were fine, but the things to stay away from are the "special of the day," which was country fried steak (aka chicken fried steak) on every train we were on, I believe, and the pizza, which we never had, but others have said it was awful. And my wife didn't particularly care for the cod.
After dinner it was back to the room. Shortly after the Jesup stop, we asked Allen to make up the beds, and as he was doing that, I noticed that the bottom bunk in the Viewliner deluxe bedroom (and in Superliners) is actually a double mattress, and plenty big enough for the 2 of us. We were pleasantly surprised, and happy that neither of us had to take the top bunk, which would have required us to rearrange our suitcases again. We were in bed after the Savannah station.
The CSX tracks through the eastern seaboard have got to be the roughest tracks on the AMTRAK system. If not the roughest, they are a close second. I had forgotten how rough that section was. The other nights we were onboard, we slept on much smoother track.
The following morning we woke up between Petersburg and Richmond and were approximately 4 hours late. We arrived in Washington DC on the lower level, and the train was met by redcaps. I don't like to think of myself as "old," but we needed help carrying our 2 heavy suitcases up to the Acela Lounge – we were going to be gone 2_ weeks, so our suitcases were full and heavy. The redcap took our luggage directly to the Acela Lounge where we stored it for the day, and checked in. I have always liked the Washington DC Acela Lounge – it is comfortable and quiet most of the time, and a nice place to relax. We stored our suitcases, then took a walk around Washington Union Station to check out all the shops. Several years ago there used to be a railroad shop at WUS, in which all sorts of model railroad as well as railfan items were sold, including books and videos. I was looking forward to walking through that shop again, but alas, it is no longer there! We then took a walk outside the station and toward the Capitol building. It was Sunday, July 2, and festivities for the 4th of July were being set up amid the road construction around the capitol building. And it was HOT!!!!!!! So we did not walk very far. After walking for an hour or so, we retreated back to Union Station and had lunch at the Thunder Grill, which is located in the southeast corner of the station. Good choice of food there. We had plenty of time between trains, since I had been following the status of all the trains we were going to be on for a few weeks through
www.amtrak.com
We originally were booked on the
Silver Star
, which left Winter Park later in the afternoon and arrived in WAS later in the day, but the Star had been subject to numerous "service disruptions" in the weeks before our trip, and when it did run, it made it to Washington much after our next train,
the Capitol
, was scheduled to leave on numerous occasions. So I paid an "upgrade charge" to change the reservations a couple weeks before the trip.
Sunday July 2-Monday, July 3, 2006 –
Capitol Ltd
Later in the afternoon, after our Thunder Grill lunch and walk around DC, it was time to board the
Capitol Ltd
. We had "signed up" for a redcap to help us with our bags when we checked into the Acela Lounge earlier. The Capitol was delayed in arriving, however, and a few minutes before it was finally time to board, the Acela Lounge attendant called everyone up front who had requested redcap assistance. Several redcaps came in, but each one was "assigned" to one or two passengers, it seemed, and no one was available for us. Passengers were beginning to board, and the attendant told us several times that a "redcap is coming right away," and to wait. After 10 minutes or so, no redcap showed up to help us with our baggage, so, not wanting to miss the train, I "schlepped" our 2 large suitcases all the way out to the platform and onto the waiting train – thank goodness the Capitol boarded on the upper level, and not on the lower level. As I carried our 2 heavy suitcases through the boarding door, the lounge attendant was there and said "Oh, you're not going to use the redcap?" I said no, since "the redcap" never showed up to help us. That was the only time on the entire trip that I carried our heavy suitcases onto a train!
We found Room C in the refurbished Superliner sleeping car, known as "car 2901" since it was the second car in front of the diner. I never knew for sure, but I suspected that the bottom bunk in Superliner "deluxe bedrooms" is also a double mattress, and, as it turned out later, my suspicion was correct, so we pulled the top bunk down and stored the heavy suitcases up there again. Our attendant "Lou" soon came around to introduce himself. After we got under way, we ventured back to the Sightseer Lounge, which, on the Capitol, is one of the recently converted lounge cars. Approximately half the car was occupied by tables; however, on this train they were used solely for lounge seating and not for diner seating. I like the new layout of these cars, since it allows room to lay down my map books and video camera equipment, and be able to sit across from my wife for conversation, but still being able to see out the windows to take video and photos.
As we made our stop at Harpers Ferry, I noticed that the Harpers Ferry AMTRAK station is currently undergoing what appears to be a major remodeling. We left Harpers Ferry 43 minutes late then, and were on our way to Martinsburg, the next stop. We left Martinsburg approximately 55 minutes late, and shortly after our departure from Martinsburg, the female conductor made an announcement over the PA system that we were running approximately one hour late due to CSX-imposed heat restrictions, which would be lifted by 7 PM. She also said something about a problem grade crossing we had come through, in which the gate may not have been working properly. It is nice that the train crews on some trains is now keeping passengers informed of delays and train status. I also noticed, shortly after the Martinsburg stop, the MARC commuter train yard on the south side of the CSX line, which today was gated shut as several MARC cars were being stored overnight in the small facility. MARC trains do not operate on Sunday, so these cars were set to begin service again on Monday morning. Between Martinsburg and Cumberland, we used our dinner reservations and sat with a woman approximately our age and her mother, who were traveling to I forgot where By the time we left Cumberland, we were a full 1_ hours late. The Capitol also has "diner lite," and I believe I had the pork chops that evening, which were good. My wife and I also shared a bottle of wine with each dinner meal on the trains we rode. Later on, after dinner, we sat in the lounge car again, and were going to get a nightcap, but apparently the lounge car steward was "out of everything." Sounds like the train was not restocked very well in Washington—or is the Capitol stocked in Chicago for both the eastbound and westbound trip? Soon it was time to turn in for the night, so we asked Lou to make up the bottom bunk, and we were in bed before the Connellsville stop. The CSX-owned tracks which the Capitol travels over are in MUCH better shape than the CSX tracks between Florida and the Northeast, so we were able to sleep better this second night of our trip.
On Monday morning, we awoke at the Toledo station, from which we departed approximately 1_ hours late. I took a shower in the Superliner shower in our room, which had nice hot water, but was rather cramped and small. I never complain about showers in the sleeper rooms; however, since it wasn't that long ago that AMTRAK trains did not have showers, which was not a problem for people spending just one night on the train, but for people who are on the train for several nights in a row, it is a luxury to have a shower available! We soon got organized and had breakfast in the diner, and sat with an Australian couple who were touring the United States. Their impressions of AMTRAK were fairly positive from the trips they had already been on. After breakfast we sat in the room some more, and I continued my video. We began traveling much slower than usual, the telltale sign of following freight traffic, since the main line in that area is double track, and to pass a freight train going the opposite direction, AMTRAK and the freight would each be on a separate line, usually AMTRAK being in the passing siding and restricted to slower speeds. We left the Waterloo, Indiana, station approximately 2 hours late. At many of the stations at which we stopped, the trains we were on were required to make "double stops," due to the lengths of the trains, lengths of the platforms at the stations, and due to the fact that at many stations, both coach passengers and sleeper passengers would detrain, thus requiring 2 separate stops. After we left Waterloo, the conductor came over the PA system and confirmed that we were indeed 2 hours late because of freight traffic, and that the situation was likely to stay the same "for a while." He also mentioned that Chicago time was one hour behind Waterloo, and that it was only a little after 7 AM there now, that the running time between Waterloo and Chicago was 3 hours, and that all passengers with connecting trains in Chicago WOULD make their connections – a rather bold statement in my opinion, but it turned out that he was correct! A few minutes after the announcement, however, our train noticeably picked up speed and was soon traveling at what I presumed to be track speed. We soon passed a freight train headed the same way we were, but on the other track, so apparently Norfolk Southern was in a good mood this morning or something and switched the freight onto the other track so we could pass. That was nice of them….. Wish it happened more often!
It soon began raining fairly heavily as we passed through Goshen, Elkhart, and South Bend. We left South Bend 2 hours 20 minutes behind schedule, and my wife and I decided to call my wife's daughter and my sister on the ol' cell phone to see if they'd like to meet us in Chicago between trains, since it was now evident that we would indeed have several hours between trains. We had discussed this with them prior to our trip, and they both thought it was a good idea. My sister Kathy would take the Metra train in to Union Station from Libertyville, and would arrive about 11 AM, she thought. Jan's daughter Melissa would take the Metra in from Naperville and would arrive about 10:30 in Union Station. Since this was the day before the 4th of July, all the Metra routes in Chicago had special schedules in effect.
As usual, most trains are wyed into Chicago Union Station, and this train was no exception. The conductor had said we'd be at Union Station by 10, but we actually were not within sight of the station until about 10:15, and by the time the Capitol was wyed onto the BNSF/Metra line and backed in to CUS, it was approximately quarter of 11. As we were wying onto the BNSF, we saw Jan's daughter Melissa's inbound Metra train pass the Capitol, and about 5 minutes later, Melissa called on the cell phone saying she was at the station and wondering where we were. Apparently she did not see the AMTRAK train wying onto the BNSF next to her train. As soon as we pulled in, we tipped Lou, then found a redcap to take our suitcases into the Metropolitan Lounge, then we saw Melissa waiting for us right before the point where no one except ticketed passengers are allowed. I checked our suitcases into the baggage storage area in the Metropolitan Lounge, and both Jan & I got our "passes" so we could come back to the lounge later.
The Metropolitan Lounge in Chicago Union Station has changed somewhat—it is much bigger now, and does not seem to be so congested as in the past. When several trains arrive and depart at times near each other, however, it is still somewhat of a "zoo," but I have seen definite improvements with the remodeling. The attended baggage storage area is new also, even though the unattended room next to the check-in desk is also still there. We left our suitcases with the attendant in the locked storage area, and were given claim checks to retrieve our suitcases later. The redcaps from the train platform took our suitcases right into the baggage storage area for us—this kind of service is DEFINITELY worth a tip of $5 per bag or so!
I tried checking the Metra North Line schedule to check on my sister's train, but the one Metra monitor which was not working was the one for her train!! There was a Metra information table in the north concourse today, however, since there were so many special schedules, so I asked about my sister's train, and was told it would be in about 11:20. Kathy finally arrived on Metra, right at 11:20, and the four of us went to the Food Court to get some lunch. Everyone except Melissa get lunch at the Country Bakery, and Melissa got a burrito at a different place, then found us a table in the darkest possible corner of the food court – that was the only table available. We all had a nice lunch together, then we all walked outside the Jackson Boulevard entrance and stood in the Plaza by the river talking and visiting. Since this was the day before July 4, there were several tour boats passing the station on the Chicago River. Then about 1:30, Kathy left on the next northbound Metra train for home, and Melissa left on the next westbound train for her home. Jan and I went back to the Metropolitan Lounge, arranged for a redcap, got our suitcases, and soon boarded the next train, #7, the
Empire Builder
.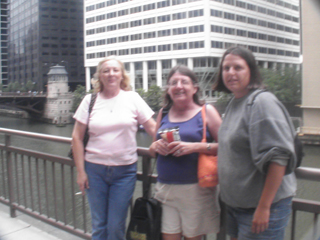 My sister Kathy, wife Jan, and stepdaughter Melissa outside CUS

Monday July 3-Tuesday, July 4, 2006 –
Empire Builder
It was soon time to board the
Empire Builder
, so we found a redcap and loaded our suitcases from the baggage room onto his cart, and he took us to Deluxe Bedroom C in car 0731. This particular Superliner train had refurbished cars, and our room was finished in the "wood texture" motif, which looks nice. Unlike the Viewliner sleepers, the Superliner deluxe bedrooms have a permanently-mounted chair set across from the bunk and facing it, so again I could sit facing the "right" direction and also be facing my wife, or if the bunk was facing "forward," I could sit next to her and still do my videotaping looking forward. Our car attendant this leg was "Moe," a fairly efficient and helpful attendant, but definitely not one of AMTRAK's brightest employees. We departed Chicago 2 minutes late by my watch; however, my watch may have been off by 2 minutes. Shortly after we left, before Moe came up to formally introduce himself to us, we had a long drawn-out lecture from "Michelle," the dining car steward, about dinner reservations and the order in which they would be taken. She also made a request for people not to leave the diner until they have paid, since she didn't want to have to chase after people, and also mentioned that alcoholic beverages are an extra cost for 1st class passengers, and also made a comment that when you go into the diner, you will be seated with someone you don't know. She would take reservations in the Seattle sleepers first this evening, then the Portland sleepers, then the Seattle coaches, then the Portland coaches, and finally in the lounge car, and tomorrow night, she would reverse the order in which she took reservations. We were in a Seattle sleeper, so we were the first car she came through to make dinner reservations. After she left, Moe came around to see us, and we informed him we would like to put our suitcases on the top bunk, and use only the lower bunk to sleep, and asked if he would help us, which he did. After we got the suitcases stored, I attempted to hook the straps in the upper bunk into their places on the ceiling, but apparently I got the straps so tight that it was not possible to get them unattached then. Hopefully Moe got that straightened out after we left the train.
We soon went to the Sightseer Lounge to get a drink and watch as we passed through the suburbs of Lake Forest, where both my wife and I went to high school (and first met) many years ago. The upstairs bar was serving on this train, as well as the downstairs bar, but there were long lines at both of them. My wife found a couple seats in the upper level of the lounge, and I attempted to get us each a rum and coke at the upper level bar, but after waiting in line for 15 minutes, the attendant told me that he didn't serve alcohol upstairs and that I would have to go downstairs! That would not have been a problem if there had been some sort of sign somewhere saying that, but there was no such sign, so I ended up going downstairs and standing in line for another 15 minutes before I got our drinks. We sat in the lounge for a while, then went back up to our room. We arrived into Milwaukee 10 minutes early, so had plenty of time to get off the train for a few minutes and walk around. We then left Milwaukee 2 minutes late again, but I gave AMTRAK the benefit of the doubt, assumed my watch was 2 minutes fast, so I reset my watch so that I showed an on-time departure from Milwaukee. I did not reset my watch any more on the trip. We continued the trip across Wisconsin, and were stopped by our first freight delay south of Ixonia, where we were put onto a siding. We then left Columbus 25 minutes behind schedule, and Portage 26 minutes behind schedule. I figured we would most likely arrive at our final destination, Essex, Montana, on time the following evening, since the schedule of the Empire Builder has quite a bit of padding between Havre and Shelby, Montana, and at a couple other places along the route. Since the Empire Builder was pretty full on this trip, we had to "double stop" at most stations, one stop being for sleeper passengers, and one for coach.
I was also trying out the new JVC Everio camcorder for the first time on this trip. The camera has a color screen LCD viewfinder, but the image quality in the viewfinder is not very good, and I was worried that some of my video would not come out when I eventually downloaded it onto a standard VCR cassette. Luckily I was wrong, as all my video came out quite well. However, I was using my polarizing filter up to this point, to eliminate the reflections from the train windows, but thought maybe if I took the filter off, I would get better images in the viewfinder. I did get better quality images in the viewfinder with the filter off; however, that was compensated for by the continuing presence of reflections throughout the trip. I should have left the filter on, but I did not.
Our next stop was Wisconsin Dells, where both my wife and I had been on a few occasions as children with our families. The Dells continues to be a classic "tourist trap," and some of the tackier businesses visible from the Empire Builder were such gems as Old River Golf, the Dells Torture Museum, and the Dells Bells Wedding Chapel. My wife and I joked that maybe we should have gotten married at the Dells Bells Wedding Chapel! A little later it was time for our 7 PM dinner reservations. We entered the diner and sat with a young couple who were going to Seattle.
The Empire Builder
has not converted to "diner lite" yet, so they had the old-fashioned full selection of food, and the menu included things like pork shanks, seared salmon, and beef bourginone, which are not available on the "diner lite" trains. As we sat in the diner, we crossed the Mississippi River into Minnesota. My wife had been watching a somewhat obnoxious fellow who she had seen getting several drinks in the lounge car earlier, who apparently had been talking loud and being boisterous for a while, so we saw this particular fellow being escorted through the diner back into his coach (or maybe off the train?) by one of the onboard staff while we were eating dinner. Before we had gone to dinner, Moe came to the room and told us that we get a complimentary bottle of champagne for being 1st class passengers – another of the new "amenities" which AMTRAK is trying out on the upgraded Empire Builder. I had not previously heard about the complimentary champagne, and we told Moe yes we would like it, but probably not until later, maybe just before we went to bed. After dinner we retreated to our room again and had Moe make the bunk up. We did have time to step off the train at the Winona station, however, and while we were off, the young couple we had dinner with took a photo of us (the photo at the beginning of this article). We left Winona 35 minutes late. We asked Moe about the complimentary champagne again, and he had forgotten about it at first, but after we reminded him, he brought us a bottle with 2 glasses, which we finished before the St. Paul station. At St. Paul we again got out for a few minutes, then we went back in for the night.
On Tuesday morning the 4th of July, we awoke at the Devils Lake stop, but when I first awoke, I thought we were still at the East Grand Forks station. My timetable indicated that we had left Devils Lake pretty close to schedule, within 2 or 3 minutes, which was good. Eastern North Dakota was quite foggy this morning, but the fog eventually lifted. We got up and had breakfast in the diner, and sat with a couple who was going to East Glacier Park, and then onto Browning to work with the Blackfeet Indians for a few weeks. By the time we had gotten back to our room, Moe had made up the bed so we again had a nice couch to sit on. Because of a lot of "padding" in the schedule of the Empire Builder, we arrived in Minot approximately one hour early, since we had basically been on time ever since departing Chicago the previous afternoon. We had plenty of time to get out and walk around the station and take more video. Back onto the train, and we left Minot on time, and soon crossed the Gassmann Coulee, which was fairly impressive to my wife, who had never seen it. She did not like the fact, however, that you can't see the trestle or any railings while we are on the trestle! Between Tioga and Williston, I took a short nap on the bunk in our room.
At the Williston station, we arrived early again, and I stepped off for a few minutes, but my wife stayed on the train. We departed on time, then my wife and I went to the lower level of the Sightseer Lounge to sit on the other side of the train where we got a better view of the Missouri River, and we also got soft drinks. I took some video of the river, and at this time, the National Park Service's "Trails and Rails" was beginning in the upper level of the lounge, with a ranger talking about the Lewis & Clark Expedition. We were interested in sitting and listening for a while, but alas, every seat in the upper level of the lounge was occupied, so we went back to our room. The
Empire Builder
was packed today, with all sleeper rooms occupied, and I believe most of the coach seats occupied. At each station, we boarded and disembarked quite a few passengers – I only wish that Former Secretary of Transportation Norm Mineta was onboard with us today to see first-hand his "empty train" which goes to places that "nobody wants to go."
Shortly after the Williston stop, Moe came by the room and announced that there would be a wine tasting party in the diner "after lunch," and asked if we were planning on going to it. We said we would, and asked what time it started. Moe said "well, I don't know – they stop serving lunch at 2, so probably about then." Later in the morning, Michelle came through the car again to make lunch reservations. I have never had to make a reservation for lunch on AMTRAK, so I asked her "Since when do you take lunch reservations?"" Her answer was "Oh, we're supposed to do that all the time now because of the new meal service." I replied "well, we have not had to make lunch reservations on the previous 2 trains we were on." "Oh," says Michelle," well, they should have been doing that!" We made 1 PM lunch reservations, and ate as we were passing between Malta and Glasgow, I believe. We had lunch with a retired teaching couple from Palm Springs, CA, who had been touring the country. Then the inevitable happened -- our first 2 major delays on the Builder. We were put into a siding on the single-track main for approximately _ hour to wait for an eastbound BNSF freight, then shortly after that, we had a 45 minute delay, but that delay was NOT for a freight train – we were waiting for the eastbound Builder! As best I could estimate from our current position and the timetable, it appeared that the train we were waiting for was also fairly close to schedule. Of course, our wait delayed our train for most of the rest of the day.
At Havre, the Builder makes a fuel stop immediately before the passenger stop, and the an-nouncement came over the PA system that no one was to get off the train during the fuel stop, but we were to wait until the second stop, then we could get out and walk around or smoke – as most of you know, most of the AMTRAK LD trains now are non-smoking, but passengers are allowed to smoke at designated "smoking stops," which are generally the longer station stops where train servicing and crew changes take place. The fuel stop was made, and soon we pulled up to the Havre station, and both Jan and I got off to walk around for a few minutes. We then left Havre exactly 1 hour behind schedule.
Earlier Michelle had made another announcement that she would soon be taking dinner reservations, and the first one would be at 5:30. She was going to start at the Portland end of the train for reservations on this evening, but the conductor or someone had told her that there were some people in our car (meaning us) who need to get off at Essex, and would need an early dinner reservation, so she found us and made 5:30 reservations for us. I appreciated that very much—it is the mark of a good AMTRAK employee who pays attention to details such as this! So what happened to the wine tasting we were supposed to have? Was there now any time left to do a wine tasting? Maybe it was going to be cancelled since we were running so late. Throughout the afternoon, we looked into the dining car, which was one car behind us, and they had wine glasses set up at all the tables for most of the afternoon. We were supposed to leave Havre at 2:49 PM; we left at 3:49 PM – almost 4 PM. How was the crew going to have time to do a wine party, then set up for 5:30 dinner? Well, as it turned out, shortly after we departed Havre, the announcement came over the PA that all sleeping car passengers should now report to the dining car for the wine tasting party, so we had the wine tasting after all! The tasting was coordinated by the 4 or 5 sleeping car attendants on the train and maybe one person from the diner staff (not Michelle). We had 3 samplings of wine, and all wines were from the Columbia River Valley, which of course is traversed by the Portland section of the Empire Builder. The wines were all fairly tasty, and each passenger got a tasting glass, plus 3 kinds of cheese – one to taste after each wine selection was tasted. The driest wine was tasted first, then the sweeter wines. The tasting was done in a fairly professional manner, and the staff told us (from reading written descriptions!) about each wine and cheese. Then at 5 PM on the dot, the dining car representative told us that we all have to leave right now, so they can set up for dinner. But it was a nice 1-hour wine tasting party.
Again, due to quite a bit of padding in the schedule, we arrived into Shelby just about "on time," according to the timetable, even though we had left Havre (105 miles east) 1 hour late. The rest of the trip was on time, and we arrived at Essex at 7:41 PM, on time.
The Essex "station" is a wide spot in a driveway which leads to the Izaak Walton Inn, no more than _ mile from the Inn. It is a flag stop, but on this day, we had several people getting off at Essex. The train had to make 3 stops, one sleeper stop for us in front, a coach stop further back in the train, and a stop for the Portland coach, on the end of the train. Approximately 6 other people got off the train with us. One of the employees at the Inn meets the train with a van, and puts the suitcases in the back of the van, then drives to the check-in desk at the Inn.
The Izaak Walton Inn (see
http://www.izaakwaltoninn.com/index2.htm
) was built in 1939 to house Great Northern Railroad workers from the engine facility located next door. The engine facility is still there, only it is now operated by BNSF. The hotel fell into disrepair for a few years, but over the last 10 or 15 years, it was remodeled and revamped into the premier "railroad themed" hotel it is today. It is truly a railfan's paradise!! Almost every inch of the inside of the lodge is highlighted by railroad themes – old and modern photographs, old railroad memorabilia, old timetables, and "railfan" items. It has a railroad-themed gift shop (with some emphasis also on nearby Glacier National Park!), and has a full dining room and bar. Approximately half the rooms face the BNSF main line, over which the Builder operates twice daily. I have been through the area numerous times on the Empire Builder, but one thing I never noticed was the pedestrian footbridge over the tracks, which is an excellent place for freight and passenger railfanning! Across the footbridge are several refurbished "cabooses," which can also be rented as accommodations. We stayed in the main lodge, but, if you look at the photos on the web site, the cabooses are also shown. The lodge is located on U.S. 2, near the south boundary of Glacier National Park.
The first evening we were at the Izaak Walton Inn, we actually had fireworks after dark! The fireworks were largely "store-bought" fireworks set off by the Izaak Walton staff right between the BNSF main line and the siding which leads to the engine maintenance facility at Essex. Several freights passed during the fireworks show – the fireworks did not interfere at all with the BNSF traffic.
VACATION – July 4 through July 14, 2006
Since this is a railroad article, I am not going to bore you with details of the "non-rail" portion of our trip. All I will say is that we had a wonderful 1_ weeks of sightseeing out West! In a nutshell, we stayed at Izaak Walton 3 nights, toured Glacier Park in one of the vintage "red busses" –the "Jammers." We then rented a car at the Kalispell, MT airport, and drove south. From Glacier National Park, we drove to Yellowstone Park on Friday, July 7, stayed in West Yellowstone one night, then 2 nights at the Old Faithful Snow Lodge. We did more sightseeing in Yellowstone for 2 days, and saw lots of wildlife (primarily elk and buffalo), plus the normal geyser-hot-spring-mud pot-pretty views associated with Yellowstone, then we headed south into Colorado. The drive from Yellowstone to Denver is a loooooooooooong day!!!!!!! (12 hours, largely on 2-lane roads in Wyoming!) Overnight in Denver, then it was on to Durango where my wife's parents used to live and are now buried. The main attraction in Durango was the Durango & Silverton Narrow Gauge railway, which I will discuss here. (see
http://www.durangotrain.com/
)
Wednesday July 12, 2006 –
the Silverton
Of course I have known about
the Silverton
train for years, but had never ridden it. My wife Jan had ridden it once several years ago while visiting her folks in Durango, but we wanted to make sure we included it in this year's vacation. We had arrived in Durango the previous evening, and heard the distinctive whistle of
the Silverton
train all over town! We had made a reservation several weeks in advance, and had reserved our seats on the 9 AM departure from Durango. I was always under the impression that there was only one train; however, there are several sets of locos and cars, and at least 4 daily departures to Silverton (during the summer). The 45-mile trip up the Animas Canyon takes 3 hours, then another 3 hours back. After arrival in Silverton, we had 2 hours to eat lunch and sightsee and shop before heading back. We had arrived at the Durango depot early, and saw the train sitting at the station almost full, and were surprised that it filled up so fast – we were told to be there by 8:30, but we had arrived 8:15 or so. We soon found out that the train we saw was not our train, but the 8:30 train, so I was lucky enough to get some video of the 8:30 pulling out of the depot. We had time to walk around the gift shop for a few minutes, then we boarded into "coach no. 42," and it was not immediately obvious which car that was, since each vintage coach has a regular "railroad number" on it, and the "42" or whatever they use to designate each car, is on a very small signboard which is attached to one end of the car. We found the car we were in, which was railroad car no. 630, and found our seats. The Silverton train consists of "vintage coaches" and "open-sided coaches." The open-sided coaches are open on the sides, but they also have roofs. All windows in the vintage coaches can be opened by the passengers.
The Silverton line is a tourist train only line now, and is single-tracked; therefore, inbound and outbound trains at no time pass each other. All trains arrive in Silverton before the first trains head back to Durango. The line was formerly part of the Denver & Rio Grande Western Royal Gorge route. One can see a couple old freight cars on sidings on the route; however, I believe they are only for "effect," as no regular freight or passenger traffic uses this line any more. The line from Durango climbs approximately 2700 ft in the 45 miles. Because of the steep 1.1% grade (average 1.1%; however, several sections have steeper grades), the train runs on narrow-gauge tracks. The route follows the Animas River Canyon upstream from Durango to Silverton. Because the train lacks modern braking and suspension systems, the ride is quite rough, but that is part of the enjoyment of traveling on this historic train! Because of the curves and the roughness of the ride, the train is limited to approximately 20 mph average. The route itself, in my opinion, is not that much more scenic than Amtrak's California Zephyr, as it is largely through forests and along the river valley. The highest spot above the Animas Canyon, however, is quite scenic – that is the part of the route that one sees in all the "tourist brochures," The "high line": above the Animas Canyon is only 2 or 3 miles, and that is definitely the most scenic part of the ride on the Silverton. The route crosses the Animas River at several places, and also stops at Needleton to put water into the steam locomotive. Through most of the trip, the Animas River is at the same level as the train, and it is a very pretty rushing mountain stream. A few high peaks can be seen from the train, and they are labeled with marker signs along the right-of-way.
After arrival in the old mining town of Silverton, we had 2 hours to sightsee before heading back. My wife Jan and I had lunch at the "Shady Lady," which has an ummmm-"shady" history of being the last active brothel in Silverton! We then walked around some of the tourist spots and saw the historical museum, which was rather interesting, then bought some typical "touristy" souvenirs, and headed back to the depot.
The return trip takes the same amount of time as the trip to Silverton, in spite of the fact that the return trip is downhill and the trip to Silverton is uphill.
We enjoyed riding on the Silverton very much, and this is one attraction that every railfan HAS to visit sometime in his or her life!!!
Saturday July 15-Sunday, July 16, 2006 –
Southwest Chief


After our stay in Durango, we drove on down to Flagstaff, Arizona via the Meteor Crater, where we spent an hour or so. Our itinerary for Flagstaff was to spend one day at the Grand Canyon before heading back home on AMTRAK. We were supposed to turn our Alamo rental car in at the Flagstaff airport; however, when we arrived at our Holiday Inn Express, we saw there was an Alamo drop-off desk right at the hotel, so we were able to turn the car in there, which saved us a trip to the airport and a probably expensive taxi ride back. The first evening in Flagstaff we were able to connect with Jan's brother Neal, who lives in the Phoenix area, but was working in Flagstaff that day, so we were able to all go to dinner together. The next day we saw the Grand Canyon, then came back to the motel and prepared for an early morning departure on AMTRAK Train #4, the
Southwest Chief
. Since we had to leave pretty early in the AM, I inquired at the front desk about checking out the night before, and about finding a taxicab to the AMTRAK station at 4:15AM. Since I had put our room on a credit card, they merely slipped the checkout under our door in the AM, and it was all paid for. There is actually staff at the front desk of the Holiday Inn Express all night, so when we got our 3:30 AM wakeup call, there was someone at the desk. As soon as we got our 3:30 AM wakeup call, I called "Julie" at AMTRAK to check on the status of Train #4 into Flagstaff. It must have been pretty early for Julie, since she had to ask me 2 or 3 times what city I was inquiring about. But she finally "understood" me and told me that Train #4 was running about 20 minutes late, so we packed up and went downstairs to the lobby of the motel to wait for the taxi which the front desk staff had ordered for us. In a few minutes a taxi-cab appeared, but the driver remained in the driver seat and did not open up the door or offer to help us load our luggage. It turned out that the taxi which first pulled up was not the right taxi – he was waiting for a different group, and didn't know anything about the request for us. But a couple minutes later another taxi pulled up, which was driven by a young female driver, who appeared, well, kind of "ditzy." She was the one the motel had called, but what we did not know was that the motel had paid for our taxi ride – an unexpected surprise. We were telling the driver about our vacation, and the first question she asked was are we going to catch a train or a tour bus to some other location (at 4:30 AM?) Then we told her we were traveling back to Florida, and she asked when we would get home – the next day? And then were we coming back right away?
We arrived at the AMTRAK station, which had a moderate crowd waiting for the departure of the
Chief
. It was still dark outside, and the station agent asked us to check in, where we gave him our names, and he crossed our names off the master list he had. He then told us that the train would be a little later now, maybe 40 minutes or so, and that the train had just left Williams Junction, the last station stop before Flagstaff. I wandered around and took some video both inside and outside the station, and watched a couple freights go past the station on the BNSF "Transcon" line, which is a very heavy freight mainline across the country. Since it was a bit chilly (even after daytime 100 degree temperatures the day before!), Jan stayed inside the station until shortly before the train pulled in, but I chose to hang around outside and talk to other passengers.
The Southwest Chief finally pulled in about quarter of 6, only 45 minutes late, and left by 5:50 AM. We met "Henry" our sleeper car attendant, who helped us take our suitcases into Room C of car 0430, the first sleeper in front of the diner. In a few minutes, the conductor came by to pick up our tickets and apologized for the delay in arriving at Flagstaff, but they had a small freight delay at Williams Junction. This part of the route of the
Chief
is on the BNSF "Transcon" freight line, which is double-tracked and over which many many freight trains operate – between Flagstaff and Dalies, just south of Albuquerque, we were running on the Transcon and saw a freight train at least once every 3 or 4 minutes. We had a few minor delays while on the Transcon, but at no time did we have to wait on a siding for extended periods of time, and we basically kept moving all morning. BNSF is to be commended for their handling of AMTRAK on this very busy freight line – too bad some of the other host railroads can't do the same. We had no more significant delays between Flagstaff and Albuquerque.
Soon Henry came to the room and introduced himself, and we had him help us put the big suitcases on the top bunk. Henry asked each of us our names, as he did to other passengers in his car as well. We departed Flagstaff 51 minutes late, and my wife soon went to sleep on the main bunk to catch up on the sleep we missed by getting up at 3:30 AM! I sat on the chair across from the bunk and took some video, but every time I turned the video camera on to catch an interesting feature, it seems a freight train would pass right at that minute!
At the Winslow stop, I noticed a few old Pennsylvania and NYC passenger cars sitting in a yard near the station, including a car named "America." I could not tell whether these cars were coaches or sleepers. After we departed Winslow, I heard the dining car steward calling names off the waiting list for breakfast, so I decided to wake Jan up and see if she was interested in getting some breakfast. She was, so we went to the dining car and gave our name to the steward. A few minutes later they called us in. We sat with a young black mother and her teenage daughter who were moving from San Diego to Chicago. Since I wasn't feeling that well on this return trip, I opted only for the continental breakfast, and I believe my wife had the same thing.
The Chief
also features "diner lite" service. After breakfast, we went back into the room, and our next stop was Gallup, New Mexico, where we departed one hour 14 minutes late. My wife continued working on a sewing project she had brought with her, and I continued my video out the window. Passing through Grants, New Mexico, there apparently was some kind of motorcycle rally taking place. We saw several tents set up in the downtown area, then as we sped through the city parallel to old U.S. 66, we saw several motorcycles heading both directions, into and away from town. At Dalies, the route of the Chief diverges from the Transcon line, and, as we made the sweeping left-hand turn, there was a BNSF freight waiting on the westbound Transcon for us to clear. We did not see any more freight trains until quite a distance past Albuquerque.
Again due to padding in the schedule, we arrived into Albuquerque 5 minutes early, so had plenty of time to get out and walk around. The Native American vendors were there waiting for the train, so most passengers wandered around to look at their wares. My wife purchased a necklace for her daughter and some earrings for herself from one of the vendors. Albuquerque now has a new AMTRAK station, which I have never seen before. It is an "intermodal" station and serves both Greyhound and AMTRAK, and will soon be serving the new Albuquerque light rail system. I did not wander into the station, but it looked rather modern and nice. And the famous "burrito wagon" is still parked at the station between trains also! We did not get any food, as we were going to be eating lunch onboard the Chief soon. While we were at the station, however, I did notice that our train was carrying 3 "express" cars on the back of the train, and then a private car behind the express cars. The "All Aboard" was soon given, and we were about to pull out on time; however, we progressed a few car lengths, then stopped again, and finally left approximately 25 minutes late. An announcement was made that the reason we had to stop again was to fill the private car at the end of the train with water. Apparently, that car was not positioned properly while we were stopped at the station to allow that task to be done (too many express cars in the way?)
The next stop was Lamy, New Mexico, the stop for those passengers going to Santa Fe. We departed Lamy 21 minutes late, and, as we left the station, I noticed the refurbished red passenger car which is parked next to the station, and which apparently has people living in it! They had the end of the "car home" outfitted with a nice patio, with chairs and tables. After passing through Apache Canyon and Glorieta Pass, and showing the features to my wife, we were delayed in the Interstate 25 town of Rowe, waiting for the westbound
Southwest Chief,
Train #3, which apparently was running fairly close to schedule. It was soon lunch time, and, although it had not been that long since breakfast, we went to have lunch anyway. I believe I had the Angus burger, which was okay. At lunch we sat with a couple from Palm Springs, California, who were taking the
Chief
to Raton, and then were going to catch an AMTRAK Thruway bus to Colorado Springs. As we passed through the fairly featureless high plains of northeastern New Mexico, I took a short nap on the train, then went back to my videotaping, and we saw quite a few antelope from the train the rest of the afternoon. We departed Las Vegas 35 minutes late. At Raton we had time to get out for a few minutes and walk round, and we left Raton 30 minutes late, to begin our ascent up Raton Pass and into Colorado.
I took some more video going over Raton Pass, then we arrived in Trinidad, Colorado, where we also left 30 minutes late. We saw quite a few more antelope from the train as we passed through southeastern Colorado, then we arrived at La Junta early, and left on time. We had 7:30 dinner reservations, and sat with a couple who had also been traveling to the Grand Canyon, but who had taken the Grand Canton Railway from Williams, and had gotten confused about whether the hotel they had reservations at was in Williams or Williams Junction, so they had to go through sort of a "Chinese fire drill" with taxicabs around Williams and the Grand Canyon. This couple was eventually bound for St. Louis, but instead of taking #4 to Kansas City, then connecting to the
Ann Rutledge
, they had to take the
Chief
to Galesburg, then an AMTRAK Thruway bus to Springfield, IL, then the
State House
or the
Texas Eagle
to St. Louis, since they were apparently told that the
Rutledge
the following morning was sold out. After dinner, we asked Henry to make up the bottom bunk in our room, and we were in bed by the time the Chief made its on-time stop at Lamar.
Overnight we slept fairly well, and I awoke at a couple of the Kansas stations, and I believe we were pretty close to schedule all night. We woke up on Sunday morning between Topeka and Kansas City, and had several freight delays in the maze of yards, railroad junctions, and crossovers. Again, due to a lot of padding in the schedule, we arrived in Kansas City only 20 minutes late, and had a chance to get out and walk around for a few minutes. I have not been through Kansas City on the
Chief
for many years, so I have not seen the new station. We did not have time to go into it on this trip, but we saw the stairway which leads up to the station. After departing Kansas City only 27 minutes behind schedule, we soon found our way into the dining car to eat breakfast, and sat with 2 women. I was not feeling well on this day, so again all I had was the continental breakfast. After breakfast, we retreated back to the room, and I spent quite a bit of time through the day napping, and took very little video of the route as it crosses Missouri. My wife and I sat in the Sightseer Lounge for a while later, but then went back to our room. I also did not keep track of our on-time performance at the La Plata stop. We decided not to have lunch on the train.
In Fort Madison, we also had time to get out and walk around for a few minutes. It was hot in Fort Madison, as it had been all across the Midwest during this week. We departed Fort Madison 39 minutes late, and as we pulled out of the station and prepared to cross the Mississippi River, Henry became our "tour guide" to the Fort Madison area, and pointed out features such as the old Fort Madison, Catfish Bend and the casino boat, the Sheaffer Pen Company (what? Are they still in business?), and the prison. He also pointed out that a barge plying its way down the river had cleared the drawbridge, so we would not have to wait for the drawbridge before we crossed the river. My wife Jan called her daughter Melissa in Naperville, Illinois, on the cell phone, and told her we would probably be passing through Naperville about 3 PM, and if she wanted, she could drive down to the Naperville Metra station and wave at us as we passed. Melissa chose not to do that, however, due to the extreme hot weather in the Chicago area – she would rather stay in her air-conditioned apartment for the afternoon.
As we approached Cameron, Illinois, I was interested in studying the new crossover that BNSF recently built to connect the former BN main with the former (and higher in elevation) ATSF main, which allows both the
Southwest Chief
and the
California Zephyr
to now take the same route between Chicago, Galesburg, and Cameron. It apparently is more than just one connecting track which connects 2 other tracks at different grades. There appear to be several other new tracks in the area now. If anyone reading has a detailed map of this new junction, I'd like to see one. We soon stopped at Galesburg, and departed approximately 46 minutes late. We only had a couple hours between trains in Chicago, but we never doubted we would miss the connection at any time during our trip from Flagstaff.
As the afternoon went on, it seemed that our car was getting warmer and warmer, I thought it was just me, since as I said, I was not feeling that well on this day, but my wife was getting warmer also, and soon Henry made an announcement that the car was indeed getting hotter due to a malfunction in the air conditioning system. Actually, our half of the sleeper was extremely hot, but the other half (the "roomette half") remaining in a deep freeze the whole route. We did not have very far to go; however, it has been the general practice lately that the consist from the incoming
Chief
into Chicago is the same consist which is used in the outgoing
Capitol Ltd
, so we were a bit concerned. Henry told us several times that he was making up beds so that car could be used on the
Capitol
later in the evening, but that AMTRAK would not use this car on the
Capitol
if the air conditioning could not be fixed. He said they would likely replace the car in Chicago, but as efficient as Henry may be, he is only a car attendant, and they do not always know the inner workings of putting trains together in the yard and consisting. So we were wondering what would happen to us – would we be in the same hot car all night again on the
Capitol
out of Chicago? Would they be able to replace the car? If no other sleeper was available, would they put us in a coach on the
Capitol
and refund our accommodation fare? And if they were able to replace the car, would that delay the boarding of the
Capitol
by several hours? We would hope for the best.
In Aurora, we were delayed for a while waiting for freights to clear the track ahead of us. I had originally thought that we may have been waiting for a Metra train; however, it was Sunday, and not very many Metra schedules operate on Sunday. Jan called her daughter again as we approached Naperville, and told her daughter the exact moment when we were passing the Naperville Metra station and other landmarks in the area, but, a stated earlier, her daughter did not come down to wave at us. We left the Naperville AMTRAK station 1 hour 1 minute late, but again, thanks to padding in the schedule, we arrived into Chicago Union Station only 28 minutes late. And for once, the
Southwest Chief
did not back into Union Station, but headed straight in, engine first. As soon as we got out and Henry unloaded our baggage for us, we found a redcap to take our suitcases directly to the Metropolitan Lounge, where we again checked in and checked the suitcases into the locked attended baggage room. The Metropolitan lounge was not very busy, and we had approximately one hour before boarding was supposed to begin for the next train, #30, the
Capitol Ltd
. I was expecting the boarding of #30 to be quite delayed if AMTRAK had to replace our sleeper with another one. Since we didn't have lunch on the
Chief
, Jan and I went up to the Snuggery in the Food Court and had a late lunch of chicken wings and beer.
Sunday July 16-Monday, July 17, 2006 –
Capitol Ltd
After our late "lunch," we retreated back to the Metropolitan Lounge to await the boarding of Train #30, the eastbound
Capitol Ltd
. To our surprise, we boarded on time and found a redcap to take our suitcases out to Deluxe Bedroom E in car 3000. We found our room, and saw immediately that the train we were boarding was NOT the same consist as the inbound Train #4, which we had departed just a couple hours ago. I saw that the numbers on the sides of the car were all "06**" numbers, which leads me to believe that this was actually the consist from the inbound
California Zephyr
, and not the consist from the inbound
Chief
. The sleeper we were in was newer than the car we were in on the
Chief
, and we did have air conditioning in the car!! We soon met our car attendant "Brenda," who I have met before, and remember her from my 1998 trip (see travelogue elsewhere in this section of Train Web) on the
Cardinal
from Washington DC to Chicago. The only difference was that Brenda now had dark hair, and when I met her in 1998, she had blonde hair, but she told me that was during the years when she had a desire to be a blonde. When she came to our room to introduce herself, we again told her of our plans to put the suitcases on the top bunk and use the lower bunk for sleeping, and she helped us put our suitcases in the upper bunk. She also made 7:15 PM dinner reservations for us, and had told us that the consist of this train was actually from the inbound
Southwest Chief
of the previous day, but, based on the car numbers, I believe it was actually from the previous day's Train #6, the
Zephyr.


Surprisingly, we left Chicago on time, and stayed in our room for the first couple hours, again with me taking video out the window of the south side of Chicago and our traverse through northern Indiana. We had a couple minor delays due to freight traffic or traffic in the Gary steel mill complex, but arrived into South Bend only 15 minutes late or so. Neither this train nor the
Lake Shore Ltd
stop at Hammond-Whiting, Indiana, any more, and I can not understand why this important suburban stop was cut from all trains except the Michigan trains. We then made our stop in South Bend, and about the time we were supposed to depart, all the power in the train went out and we were stopped for approximately 45 minutes. Luckily we were in the diner and had gotten our food order in before the power went out. Apparently there was a broken air hose somewhere, which was repaired while we were stopped. This was the only mechanical delay we experienced in the entire vacation! Jan and I had dinner with a lady from Mishawaka, Indiana, who had just boarded in South Bend and went right to the diner. She was headed for Pittsburgh. After dinner and after we got the air hose fixed, we went back to our room for a while, and later decided we wanted to go to the Sightseer Lounge to get a drink before we went to bed. We found seats in the lounge, and I went downstairs to get our drinks, and found the lounge attendant gone on her dinner break. This was not the first time this happened on this trip!! On several other occasions, we went to the lounge after dinner only to find the attendant gone. As we walked through the diner, the lady who we had eaten with was still sitting at the table we were at, even though she had long ago finished her dinner. I waited a few minutes, then I walked back to the lounge alone to get some soft drinks, and the attendant was still gone, and the lady we had dinner with was still sitting in the diner yet! We gave up on our drinks for the evening, and soon went to bed. I was still not feeling that well, and was tired.
I awoke at a couple of the overnight stations, and to the best of my judgment, I figured we were running about _ hour late, mainly due to our mechanical delay in South Bend. I do not believe the train lost any additional time overnight. We woke up Monday morning between Connellsville and Cumberland, and had breakfast in the diner again. I still was not feeling that well, so I believe I had the continental breakfast again this morning, without the yogurt. We sat with a single man who did not talk very much. After breakfast I napped a little in our room, and again took very little video. We began slowing down outside of Cumberland, and at first I thought we were going under heat restrictions again, but it soon became obvious that there was quite a bit of track work going on for the last 10 or 15 miles before Cumberland. We passed many CSX MOW vehicles, and saw evidence of track replacement and alignment going on. We then stopped for a few minutes approximately _ mile before the Cumberland station, and several of the passengers thought that was the station stop. After we finally stopped at the correct location, we departed Cumberland 1 hour 11 minutes late, and the track work continued for a few more miles past the station.
We departed Martinsburg 1hour 20 minutes late, and departed Harpers Ferry 1 hour 21 minutes late. It then became obvious that we were not going to be "that" late into Washington DC – on several occasions over the last few weeks before our vacation, according to the AMTRAK "Train Status" part of the web site, the Capitol arrived 5, 6 or more hours late into Washington. I had originally booked us on Train #91, the
Silver Star
, from Washington DC back to Florida, which was scheduled to depart Washington DC at 3:05 PM. Since the
Capitol
is scheduled to arrived in Washington at 11:59 AM, I thought the 3-hour connection might be a little close and we may miss Train #91, so I changed our reservation one week before we left to Train #97, the
Silver Meteor
, which is scheduled to depart Washington DC at 7:30 PM, which would give us plenty of time to make the connection if the
Capitol
was running more than 4 or 5 hours late. Since it was obvious that we would arrive in Washington well before 3 PM, we decided to try and get a deluxe bedroom on the
Silver Star
after we arrived in Washington.
We finally arrived in Washington DC at 12:45 PM, only 46 minutes late. We found a redcap on the platform when we arrived, who again took our suitcases to the Acela Lounge. We met him in the lounge and told him, as well as the lounge attendant, that we were scheduled to depart again at 7:30 PM on the
Silver Meteor
, but that we may be on the
Silver Star
at 3:05 instead, and we would let the lounge attendant know. At any rate, we would need redcap assistance again to help us carry our heavy suitcases from the Acela Lounge out to the Florida train. We tipped the redcap, then put our suitcases in the luggage room next to the lounge attendant, then went to the AMTRAK ticket window to try and change our reservation to the earlier train.
I explained the situation to the AMTRAK agent, and she told me that yes, there was a bedroom available on the
Silver Star
. I was about to book it, then I realized that what she meant was a "bedroom," not a "deluxe bedroom," or, as most of us know it, a "roomette" or an "economy room." My wife and I discussed it for a few seconds, then decided we did NOT want to try and squeeze us plus our large suitcases into an economy room, and we would just go ahead and keep the deluxe room we had on the later
Meteor
. The AMTRAK agent also told us that, if we were to book the "bedroom" on the
Star,
we would have to pay yet another "upgrade charge." Huh? Why would we have to pay an upgrade charge to get into a smaller bedroom? That makes absolutely 0 sense to me!! If we were in doubt about whether or not to take the roomette accommodation, that was the deciding straw that led us to NOT opt for the smaller room on the earlier train. So we decided to spend the afternoon touring the Smithsonian Natural History Museum between trains!! But first, we had to inform the Acela Lounge attendant that we would NOT be leaving on Train #91, and that we would still be on Train #97, but would need redcap assistance for that train later in the evening. Then it was lunch time. We again went to the Thunder Grill in Washington Union Station to get lunch, then took one of Washington's "Circulator" busses from Union Station to 8th Street, I believe, then we caught another Circulator down a few blocks to Constitution Avenue, from where we had to walk about 2 blocks to get to the Natural History Museum. It was another very hot day in Washington, DC, so the air-conditioned museum was packed with people, including many kids – it was almost too crowded to enjoy. Instead of waiting for bus connections on the way back, we took a taxicab back to Union Station, had an afternoon drink at the Center Court cocktail lounge, then retreated to the Acela Lounge again to wait for the boarding of the
Silver Meteor
.
Monday July 17-Tuesday, July 18, 2006 –
Silver Meteor


The
Silver Meteor
was scheduled to depart Washington DC at 7:30 PM. We had stayed at the Smithsonian until about 5 PM, then had gone back to Union Station. In the Acela Lounge, the
Meteor
was still posted as departing on time; however, the departure immediately before the
Meteor
, the southbound
Crescent
, was reportedly delayed in boarding due to a broken-down MARC commuter train someplace between Washington, DC and Baltimore. I was wondering why that had not affected our train, and at approximately 7:15 PM, the AMTRAK staff was in the process of beginning to get the
Crescent
boarded. Finally, the notice appeared that Train #97, the
Meteor
, would also be delayed in boarding. We continued waiting in the Acela Lounge, and finally the broken-down commuter train was fixed and the track was cleared, so it was soon time to board the
Silver Meteor
. We had arranged for a redcap earlier, and this time, a redcap came up to help us with the big suitcases. There were not very many passengers boarding Train #97, so the redcap offered to give us, as well as our baggage, a ride down to the track. So we took him up on the offer and climbed into his golf cart. I always wondered how the redcaps got down to the lower level tracks from the upper level at Washington Union Station. He drove us out to the end of the upper level tracks, where the grades of the upper and lower levels come together, simply crossed over a couple tracks, then went back down the other direction on the lower level, and stopped right at the spot where our sleeping car would be spotted. One other passenger and baggage was also being driven to the track by a redcap in front of us.
Eventually, Train #97, the
Silver Meteor
, came into sight led by an AEM electric locomotive, which would be replaced with a P42 here before we left Washington. The redcap took our suitcases into Room B of Car 9711, Skyline View. We soon met our car attendant Julie, and again went through the ritual of putting our suitcases on the upper bunk. The Skyline View car, while it is a newer Viewliner car, had already seen its day. It appeared to be in rather run-down shape –scratches on the mirrors, a beat-up outside, and no working PA system in the car. We departed Washington, DC exactly one hour behind schedule. Julie was pleasant, but appeared worn out, like this was the last leg of a multi-day shift. After we departed and our tickets were collected, we went into the dining car for dinner – our last "diner-lite" meal on this vacation! We sat with a gentleman who was traveling to Charleston. After dinner we went back to our room, and were soon in bed for the night before the Richmond station.
The CSX tracks in the Atlantic Seaboard did not get any smoother in the 2 weeks we were gone. They were still plenty rough, making it hard to get much sleep on the last night of our trip. The next night we would be home, in our own bed – aaaah! A bed that doesn't move! We awoke in the morning before the Savannah stop, and again got breakfast in the diner. We were joined at breakfast by a lady from Lake Mary, Florida, not too far from where we live, who had been visiting in Rocky Mount, NC, and she had mentioned that, in her opinion, the Rocky Mount AMTRAK station is the only station in the AMTRAK system that "actually looks like a train station." Well, I appreciate her comments, and I know some of what AMTRAK passes off as "stations" are nothing more than oversized bus shelters, but I think there are several stations in the system that actually "look like stations."
We departed Savannah 1 hour 28 minutes late, and departed Jesup, Georgia, 1 hour 27 minutes late. Again, I napped most of the morning. As much as I like riding on trains, like my wife, I too was anxious to get back home after a wonderful 2 _ –week vacation. We were able to get out and walk around for a few minutes at the Jacksonville station. Only 3 hours until home now!
For the final 3 hours of our trip, I took very little video, and didn't even follow my railroad maps, like I usually do. I have been on this segment enough times, that I pretty much know what everything we pass is. We arrived at our home station of Winter Park about 1:45 PM, only 1 hour 20 minutes late or so. Julie helped us get our suitcases off, then we waited next to the sleeping car while I took one last video sequence, and the Winter Park agent came past with the baggage cart, and put our 2 big suitcases on top of the others he was taking up to the station. There were not very many passengers detraining at Winter Park, but I imagine there were quite a few detraining at Orlando, the next stop, 5 miles further south.
We walked to the front of the station, and Jan called a taxicab on the cell phone. While we were waiting for the taxi, I got a large bottle of coke from the machine inside the station, but could not get the top off it without a pair of pliers or a wrench. So we were not able to open the bottle until we got home. Soon enough, our taxi came and whisked us back home.
All in all, we had a great trip and enjoyed every part of it! My wife Jan enjoyed the train trip as much as I did, and we both enjoyed all the things we had a chance to see out west. Who knows? We may plan another combination train/car trip somewhere for next year! As long as there are still trains around and AMTRAK – and as a final note, I may add that nowhere, but NOWHERE did we see any signs or indications that some of the AMTRAK LD trains may not be running much longer, and we saw zero "180-day train-off notices," like had been rumored before this trip.
CLICK HERE
FOR MORE TRAVELOGUES BY RICH KIMMEL
Visit our Rail Magazine promotion trading partners:
Click here to add your print rail magazine.