Travel To AAPRCO
On The Virginia City Private Railcar

Amtrak from Fullerton to Emeryville, California
Virginia City Private Railcar from Emeryville to Chicago, Illinois
October 17 - 21, 2002 : Travelogue #1 of 5

Click to view each set of photo highlights below:
Fri, Oct 18 / Sat, Oct 19 / Sun, Oct 20 / Mon, Oct 21
All of my train trips have been journeys of adventure. I've enjoyed watched the surging waters of the California coast and the tranquility of the forested mountains of the Pacific Northwest while riding in the comfort of the Amtrak Coast Starlight Pacific Parlour Car. I've experienced VIA Rail's exciting Canadian while traveling across the vast expanses of Canada's wilderness. Though this was the last year for BC Rail's luxurious Pacific Northwind, I'll never forget traveling along the thrashing waters and watching the majestic scenery of the rugged interior of British Columbia. Traveling in style on the Rocky Mountaineer through the Canadian Rockies was breathtaking and riding through the grandeur of the American Northwest behind a beautiful steam engine on Montana Rocky Rail Tours was a very unique experience. I enjoyed a deluxe rail journey on America's most beautiful vintage streamliner train through a number of national parks on the American Orient Express. But, the grandest rail travel experience of all is in a private railcar!
Years ago, the railroad barons had their own private railcars. If you weren't an invited guest, then the only way you'd be on board is if you were a member of the car's staff. Today, you neither have to own nor work onboard to enjoy the luxury of private railcar travel. You can book a trip as part of an organized tour or you can charter one of these cars for your own rail trip! A private railcar charter trip is also ideal for a family or group event.
Today, private railcars are owned by individuals, companies and organizations. Often, owners will plan an excursion for their private railcars and invite the public. You can go along for the ride by paying your portion of the cost of the trip. Such luxurious accommodations can be pricey, but that price is usually reasonable for the unique level of service. If you want to do something even more custom than going along with an organized excursion, you can privately charter the railcar for yourself, your family or for most any group event! Unlike years ago, you no longer have to own your own private railcar to enjoy the unique experience of travel in one!
The private railcars that exist today came from a number of sources. Some are those that did originally belong to the railroad barons. Others were business cars used by railroad executives. Many, however, used to be passenger cars on the major railroads in the days when passenger trains were the priciple means of transportation in this nation. After Amtrak took over responsibility for passenger rail transportation in this country from the freight railroads, a lot of passenger cars were sold to private individuals, companies and organizations. The most popular of these cars for private ownership were the dome cars, lounge cars, and sleeping cars, though a number of coach and other types of cars were also purchased.
In many cases, where the layout of the interior of the car met the new owners' needs, the car was restored to perfect condition keeping the original layout. In other cases, extensive modifications to the interior of the cars have been made to make them more amenable to the new owner and more practical for chartering. A completely self-contained private railcar available for charter will usually have a small lounge area, a dining room, sleeping accommodations with bath and shower, and a kitchen area for food preparation. Many other car layouts do exist, such as ones that are all sleeping rooms, or ones that are one large lounge and bar area, plus many other cars with various combinations of features. Cars that are not totally self-contained for long rail trips will often be used in combination with other private railcars or are sometimes used for shorter one day trips. Almost all of the private railcars available for charter today feature 110 VAC electricity and air conditioning.
Most rail excursions or charters of private railcars travel all or part of an existing Amtrak or VIA Rail route. Usually, the private railcar will be placed at the end of an Amtrak or VIA train at some major station along the regular route of that train and then be dropped off at another major station along the route. Sometimes, there are special arrangements where a number of private railcars will travel together, not as part of a regularly scheduled Amtrak train. These trips will sometimes involve travel over a route that is not normally served by any passenger trains. When I will be traveling on this trip from Chicago, Illinois, to the AAPRCO meeting in Baltimore, Maryland, and back to Chicago, our train will only be made up of private railcars and we will be traveling over quite a bit of track that is not served by any passenger train.
This will be the longest trip that I have ever taken in a private railcar, but it is not my first! Steve Grande and I previously traveled on the Scottish Thistle owned by Dean McCormick. We rode along the California Coast from Los Angeles to Oakland, California, on the tail of the Amtrak Coast Starlight. We ate royally and were pampered to the point of embarrassment. What a unique experience of standing on the open platform smelling the ocean air and feeling the cool breeze on your body! Although traveling on the Amtrak Coast Starlight is very enjoyable, there is just no comparison to traveling in a private railcar on the end of the same train! We have also traveled many times between Fullerton and San Diego in Bill Hatrick's Overland Trail private lounge car. We even traveled round trip for 7 days in the Overland Trail behind the AT&SF 3751 Steam Locomotive from Los Angeles to Railfair'99 in Sacramento! The Overland Trail even features a barbershop room onboard where I was given a shave and a haircut! If you've ever enjoyed an oceanliner cruise, chances are you will never forget the opulence of a private railcar vacation as well.
Thursday, October 17, 2002
Today, Saylor Runyon and I are going on just such a trip for TrainWeb. This will be Saylor's second trip in a private railcar and my third. This adventure will be to travel on the Virginia City owned by Wade and Julia Pellizzer and the Silver Iris owned by Bob Klein to Baltimore, Maryland, for the annual meeting of the American Association of Private Rail Car Owners (AAPRCO). It all started off by us getting up at 6:15 AM this morning and making sure that we were in the TrainWeb office upstairs at the Fullerton, California, train station by at least 8:00 AM. Once there, we could make sure that all of our equipment was in order and then just slip downstairs and jump on the train when it cruised into town.
Steve helped us onto the train and then bid us goodbye as we pulled away from the Fullerton Station at 9:13 AM. By 9:50 AM we were at the Los Angeles train station amongst the hustle and bustle of the big city. Here, one goes downstairs, either by ramp or stairs, and then goes for a good walk underground in the tunnel that eventually brings you to the Amtrak station proper. We went to the side of the station where the Amtrak busses are situated and waited to board a bus for Bakersfield. We eventually left at 10:45 AM in a nice coach which turned out to be a nice ride north through the countryside on Interstate 5 over the grapevine to Bakersfield.
The new Bakersfield Amtrak station is a tremendous improvement over what the city had before. I am sure that the general public is appreciative of that. We boarded the Amtrak San Joaquin around 1:00 PM and the train took off around 1:15 PM. This portion of the rail trip was quite nice until we got to Fresno where we were informed that we had to disembark and take a bus to Stockton. A freight train carrying chemicals derailed up ahead. All the passengers were bused to Stockton since it was going to take quite a while to clear up the tracks.
The people at TrainWeb have great respect for a gal named Cindy Camara who works for Amtrak out here in California. She used to work in marketing at Amtrak West in Oakland, but she was just recently transferred to the Inland Empire for other duties. It just so happened that she was in charge of the bedlam that was given to her because of the freight accident. She already had four Greyhound busses waiting for us out on the street and looked pretty cool and collected getting everything logically set out. That's a heck of a way to start a new job! It was a pleasant surprise to see her again, even through this unusual circumstance. So, it's odd how things turn out, eh?
The Greyhound busses were less roomy in the seating area than the Amtrak buses. Don't ask me why. I do know that all of the busses are the same width and length. However, with good conversation and a smooth ride, the 6:00 PM arrival at Stockton was over before we knew it. It took another half hour before we got back on the train. After waiting for a freight train to pass before our Amtrak San Joaquin train could proceed, we were on our way north once more. A little late, but on our way. I didn't want to get backlogged in trying to get up to date with my travelogue, so I pulled out my travelogue and got a little more work done on the train. Everything is just part of the adventure when you look at the overall picture of things. I don't think that the media likes to hear that, but that's the reality of it in my book.
We arrived pretty tired in Emeryville, California, around 9:00 PM. We took the elevator to the upper level of the pedestrian bridge and crossed over the tracks to where the Woodfin Suites Hotel was located. We purchased a few snack items that were offered at the check in desk and headed for our suite, room number 301.
The suite was very nice. A nice kitchen setup with large counter, living room and bedroom. The bedroom had a king size bed and the living room had a sofa that also turned into a large bed. It's truly a first class setup that is very modern and clean. The continental breakfast was truly a whole breakfast with lots of seating room. For more information, you can look up Woodfin Suites at RAILhotels.com.
Friday, October 18, 2002
We requested a wake up call for 6:00 AM which gave us enough time to clean up and go downstairs to have breakfast. We later took the free hotel shuttle to the train station and were there around 8:40 AM. Saylor and I met a few of the passengers that were going to board the private railcars in the station. The flurry of excitement that one experiences in such a setting was buzzing everywhere. The Amtrak California Zephyr #6 arrived with the Silver Iris and the Virginia City in tow with some freight (possibly mail) in behind that. I can tell you, it's pretty difficult not to smile when you are walking toward a private railcar that you are going to board. One cannot but feel like a million dollars when you know that you are going on such a journey.
I took a few pictures while on the platform and then Bob Klein, the owner of the Silver Iris, and also our steward, took my luggage and swiftly brought it on board his car and directed me to my room, Suite A. Of course the Amtrak passengers were admiring the private railcars and wishing they were traveling this way as well. How many of them don't know that they can travel this way? Just go to RAILcharter.com and the agents and owners of the private railcars are listed there by state so you can see where the closest one is located to you.
It was a cool and cloudy day which made for pleasant walking. Saylor and I were shown what the different switches in the room were for and after we were familiar with everything, we went through the rest of the car admiring the workmanship that was put into these solidly built cars. It is always fascinating to go through the different private railcars and see how they're laid out, the color and design of the fabrics that they use. The owners always make sure that their cars are spotless and full of as much food and drink as anyone could possibly want.
The different bedroom layouts and the way things work in different rooms are fascinating. Such solidly built construction with fine quality material is so appealing to the eye! There is nothing wimpy about these cars. They are all solidly built! These cars are a tribute to the people who's artistic handiwork has stayed with us to this day. The cars are also a tribute to those who have restored and continue to maintain these cars in such fine shape. They have kept the flame alive which allows us to admire and appreciate them today. Just remember, these people are willing to share their prize with you, all you have to do is call them.
We had two lounge seats in our suite with a water closet. The water closet was furnished with a mirror, a toilet and a flip up sink. The large shower room was down the hallway. These railcars are air conditioned but a small overhead fan was there for our use. Heating came up from the floorboard. Just set the dial and the rest is automatic. I found the seating arrangement in the Silver Iris to be pretty neat. Once past the parlour you went through the galley and then out the door and into the next car.
The owners of these cars are always looking for innovative ways to make full use of the limited space available. What is so fascinating is that the owners of the cars go so far out of their way to accommodate you. They just don't want you to enjoy the trip alone, they want to pamper you. You would never suspect that they were the owners of these cars. An odd bunch, these AAPRCO people, but you can't help but admire and appreciate them.
Now it was time to go into the next car, the Virginia City. We first passed their galley where Kathy Mitchell was busy inside preparing lunch for everyone. Then we went past the full luxurious dining room where Marc Roumiguiere was busy arranging things. We went a little further down the corridor and were then in the elaborate living room. Of course, the railfans make a beeline for the outside platform. Most of the women preferred to stay inside and enjoy the plush seating, but of course!
The little angels painted on the ceiling, the delicate flowers painted on the furniture holding the fine stemware of crystal and golden colored goblets, the large chandelier over the dinning room table and the smaller ones in the hallways are all part of the massive display of fine French/Italian fanfare. The massive thick curtains draped just so, the chairs, oh, so European, and that extravagantious working fireplace? She will love it! He will too, but for sure we know that he will like the outside platform!
One thing that I've learned is that private car owners are no "wimps" when it comes to rail knowledge. This is their world and they enjoy sharing their knowledge, so there is always good conversation onboard. These cars are well suited for men and women alike, so there is no problem taking your spouse onboard.
The train slowly starts to leave the station at 9:35 AM. We are off! Here was Wade Pellizzer, the owner of the Virginia City (Julia, his wife and "The Baroness" could not make this particular trip), Ima Pellizzer, his mother (I took a liking to her), Bill Martin, Evelyn Brown, Bob Clark, Ted and Marian Campbell, Paul Pakus, Chuck Cottam, Bob Klein (the owner of the Silver Iris), along with Saylor and myself. These few people had the whole two private railcars for themselves. Boy, what are you people waiting for? Get on the horn and book your reservations. Make that dream trip of a lifetime come true!
Our first stop was Martinez, CA, and we left there 10:16 AM after just a few minutes stop. Here is a list all of the stops on the way to Chicago and the time the train is scheduled to leave each stop: Davis, CA at 10:59 AM, Sacramento, CA at 11:35 AM, Roseville, CA, 12:09 PM, Colfax, CA, 12:55 PM, Truckee, CA (Lake Tahoe), 3:11 PM, Reno, NV, 4:16 PM, Sparks, NV, 4:57 PM, Winnemucca, NV, 7:27 PM, Elko, NV, 9:30 PM, Salt Lake City, UT, 3:55 AM, Provo, UT, 5:02 AM, Helper, UT, 7:05 AM, Green River, UT, 8:27 AM, Grand Junction, CO, 10:45 AM, Glenwood Springs (Aspen), CO, 12:37 PM, Granby (Rocky Mt. Nat'l Park), 3:52 PM, Fraser-Winter Park, CO, 4:22 PM, Denver (Colorado Springs, Pueblo), CO, 7:50 PM, Fort Morgan (Sterling), CO, 9:25 PM, McCook, NE, 12:49 AM, Holdredge, NE, 1:54 AM, Hastings (Grand Island), NE, 2:42 AM, Lincoln, NE, 4:47 AM, Omaha, NE, 6:15 AM, Creston, IA, 8:03 AM, Osceola (Des Moines), IA, 8:35 AM, Ottumwa, IA, 10:33 AM, Mt. Pleasant, IA, 11:18 AM, Burlington, IA, 11:50 AM, Galesburg, IL, 12:38 PM, Princeton, IL, 1:29 PM, Naperville (METRA/BN Line), IL, 2:41 PM, Chicago (Union Station), IL, 4:10 PM.
Today, Saylor and I will eat on the Silve Iris. For lunch we had a delicious chicken salad with vegetables and warm rolls and a cream cheese chocolate cake for dessert. For dinner we had lovely slices of lean ham, mashed potatoes and vegetables. We had decadent cheesecake with raspberry topping for dessert. Needless to say, I was feeding my face between meals on the assorted peanuts and other snacks. Of course the alcoholic drinks were made for anyone that wanted them. One price pays for everything. Come and get it!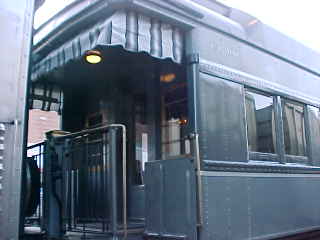 I was out on the open platform at the rear of the car a few times but I didn't stay out too long. That's for the diehards, men and women of steel who have thundered down many a track a huffing and a puffing as they go. I'm talking about the railfans who have rail nostalgia flowing through their veins. I don't mind being around a few of them out on the open platform. But sometimes there can be too many of them glued out there.
When we came into Sparks, Nevada, we picked up Jan Lewis, another great cook, to give even more service to the passengers. Gosh, how much more are they going to pamper us?? The weather was lovely going through Donner Pass and the scenery was constantly changing, especially from state to state. One of many of God's gifts to this country.
Around 9:00 PM Saylor and I decided that we had enough for the day. Bob had already set up everyone's bed so all we had to do was jump in! It looks like I'll be taking the upper birth on this trip as I'm the younger of the two. We adjusted the heater and we were set for the night. The ride got a little bumpy in some places but what better position to be in than prone?
Saturday, October 19, 2002
I almost missed breakfast as I didn't hear the chimes. I was awake somewhere around 3:00 AM until around 6:00 AM. I don't know why. Today, those people that ate in the Silver Iris yesterday, now eat in the Virginia City, and vice versa. That's a nice way to round things out, I would think. Our hot breakfast biscuits had pieces of cheese, ham and eggs in them and our bowl of fruit is always a pleasure to devour. There was more, but I limited how much I ate this morning.
Now we were going through the Rocky Mountains. Very picturesque and almost surreal. You can't help but appreciate God's handiwork. It's kind of exciting knowing that we are traveling alongside the Colorado River, the waters that give life to so much, to so many, so far, for so long. May she never cease giving life and pleasure to all of us.
Once in a while I would get off the car to "stretch my legs" when the train stopped at a station for a while. Many an Amtrak passenger would be admiring the private railcars. Now you wives know what to get your mate for Christmas! No, not the car itself, just the two of you go on a nice trip and experience some of the niceties of life. Chances are, you'll enjoy it!
For lunch we had a chicken burrito with guacamole and salad with salsa. I added Tobasco sauce as I like mine hot. We had Chocolate cake with cookies for dessert. Believe me, these meals taste as good as they look! Again, back to the room for more catch up with the travelogue. I make sporadic stops so that I can go outside to the vestibule and open the window to take some camera shots of the area. Saylor is always out there taking shots so I hope that they come out good. At least I can see the Colorado River from my bedroom window as it snakes along the canyons and crevices of the mountainsides. So beautiful and serene up here in the Rocky Mountains. I just saw someone kayaking through a turbulent section.
I worked with my laptop all afternoon with sporadic picture taking, but at least I'm caught up to the present. Always so much to see, ever changing, ever winding to and fro like a huge serpent gliding its way through the crevices and valleys and mountaintops with occasional wild game popping up unexpectedly, giving you that exciting moment of seeing life that was common centuries gone by.
At 6:00 PM, a quite gong flowed through the corridors signalling that dinner is being served. What a pleasant sound to the ears. This evening we have salmon smothered in spices with lots of lemons and fresh vegetables. Hot rolls with big chunks of butter on plates were also available on each end of the table. Wine was served, always lots of wine! Bergundy red, or a light white wine tonight, sir? "Ahh, cest la vie!" I cannot tell a lie, I ate all of my dessert: cranberry/apple oatmeal crunch a la mode.
After dinner we relaxed in the living room and enjoyed light conversation with some other passengers and staff. Come around 8:00 PM (remember, we had turned our clock one hour ahead) Saylor and I decided to retire for the night. Our room was already heated up so we wouldn't feel the cold of the night. The beds are always neatly made and oh, so comfortable. Good night, all!
Sunday, October, 20. 2002
I got up at 8:00 AM this morning and had a great refreshing shower. Brunch was served offering scrambled eggs, potatoes, bacon and Polish sausage with cooked tomato and an English muffin. Two glasses of orange juice tasted very good. I ate in the Silver Iris this morning while Saylor ate in the Virginia City railcar.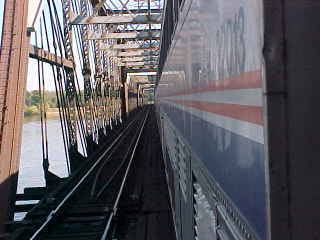 We later went through Iowa and then across the train bridge over the Mississippi River into the State of Illinois . These states are so beautiful going through the countryside, especially going through the small towns and cities. Exceptionally so during the fall, I think.
As the trainset was going through the Chicago suburbs heading for Union Station I started to notice different houses that I've previously seen when I was by here before. One thing about Chicago, it always seems to have everything. I always like coming to this city.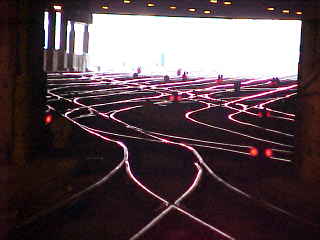 The train went into the underground area at Union Station for their departing passengers and the passengers in the two private railcars settled down for dinner. Tonight we had choice juicy turkey with stuffing and other goodies. The poached pear with sauce for dessert made some people sit up straight and want more. The whole trip was like that. A grand time for all.
A lot of fun conversation this evening going from one interesting topic to another. I made the mistake of making a statement when a train was going by. It was like talking to a wall. Everyone was too busy staring and concentrating on the "choo choo" going by. "But of course!" Everyone piled into the Virginia City living room like one big family and snuggled in to watch TV to see how the baseball playoffs in California were turning out. A lot of cheering for both sides, it seemed. It was 11:00 PM so I'm going to bed. I'll find out who won this game tomorrow morning.
Monday, October 21, 2002
I arose at 6:00 AM, showered up, prepared my gear for the day and headed for the last car. It seemed that we had been moved sometime during the early morning and were settled near the maintenance building with a few other private railcars hooked up to ours. I went outside in the Chicago nippy weather and took pictures with names/numbers of the different cars that had joined our happy crew.
Wade and a few other people were up now and everyone relaxed and chatted for a while in the living room. It was nice to get in from the chilly outside and into the warmth of the Virginia City. We were soon invited to the dinning room to have breakfast: eggs with pancakes with sausages and a fresh fruit cup.
After breakfast I went back to my room and took a rest while I waited for Saylor to finish his breakfast. We left the trainset by 11:00 AM and walked through the yard and up the winding stairs to the Roosevelt Ave. bridge. We soon hailed a taxi and had the driver take us to Devon Avenue in north Chicago that had many Indian restaurants. During the nice thirty minute ride along the edge of the city we got to see some of the lovely scenery of the area.
The taxi dropped us off at the area that we wanted. We walked a little and went into the Sher-A-Punjab Restaurant as there were a lot of people eating inside. That's usually a sign of good food being offered. The buffet offered everything that I was familiar with, so I dug in. This food was a little on the hot side, but I liked it. It was good to eat those delectable spices again. "Hot" does not necessarily mean the same thing as "spicy." Americans tend to use these two words interchangeably, but something can be "spicy" without being "hot." "Hot" is the level of spicy taste. You can have food spiced to a "mild," "medium," or "hot" level, or anywhere in between.
After lunch we walked around the area and I picked up a few things for my wife. Needless to say, my feet were killing me. All this sidewalk walking is not my idea of fun, though it was enjoyable to see the different wares available. At around 3:00 PM we grabbed a taxi and headed back to the Roosevelt Ave. bridge, down the winding stairs, and a short skip and a walk to the Virginia City and Silver Iris.
Saylor and I didn't eat this evening as we were really not hungry. Now it was time to get back to my travelogue and get caught up once more. As I was pecking away at the keys, the switcher started to move our two cars around the yard so they could be facing the opposite direction when we were brought back to our original position. A nice little trip around the Chicago rail yard. A fun ride for any railfan!
For the next segment of our journey, Chicago to Baltimore, our train would be made up entirely of private railcars! From Emeryville to Chicago, it was just the Virginia City and Silver Iris taging along at the end of the eastbound Amtrak California Zephyr Train #6. But, from Chicago to Baltimore, we'd be traveling in the special Western AAPRCO train. There are two trainsets heading to AAPRCO. Our trainset, the "western" goes from Chicago to Baltimore. The "Easern" AAPRCO trainset will go from Philadelphia to Baltimore. Almost every private car going to this AAPRCO will travel either to Chicago or to Philadelphia to join up with one of these two trainsets, and then will travel together with all the other private cars in that trainset to Baltimore. Since a lot of private railcars had to be assembled for this special trainset, quite a bit of movement in the Chicago yard was to be expected.
We also picked up another passenger today, Kathleen Griebel of Elkhorn, Wisconsin. Kathy came on board at this junction to go down to Baltimore with the rest of the group. I hit the sack around 9:00 PM for a full night sleep. Tomorrow we begin our journey from Chicago to Baltimore and will be able to wander through the train meeting the other passengers from all the other private railcars making this journey from the west to AAPRCO!
Note: Photos of many individual railcars as well as virtual tours of some of them will be posted along with Part 5 of this travelogue. We will be posting one part of the travelogue each week and featuring it on the main page of TrainWeb.
Click here to read Part 2 of this travelogue.
Click to view each set of photo highlights below:
Fri, Oct 18 / Sat, Oct 19 / Sun, Oct 20 / Mon, Oct 21
Click to view each set of detailed photos below:
Thursday, Oct 17, 2002
Set #01
Friday, Oct 18, 2002
Set #02 / Set #03 / Set #04 / Set #05 / Set #06 / Set #07
Set #08 / Set #09 / Set #10 / Set #11 / Set #12 / Set #13
Saturday, Oct 19, 2002
Set #14 / Set #15 / Set #16 / Set #17 / Set #18 / Set #19
Set #20 / Set #21 / Set #22 / Set #23 / Set #24 / Set #25
Set #26
Sunday, Oct 20, 2002
Set #27 / Set #28 / Set #29 / Set #30 / Set #31
Set #32 / Set #33 / Set #34 / Set #35
Monday, Oct 21, 2002
Set #36 / Set #37 / Set #38 / Set #39 / Set #40
CLICK HERE
To Read More Rail Travelogues
And View More Photos Of Rail Travel!
Are you interested in rail travel in a private railcar? Click here for information on chartering a private railcar. AAPRCO holds their convention once each year in various cities. You can travel across the country in a private railcar to the convention as Ray and Saylor did by contacting the owner of one of the private railcars that will be going to the convention. But, you don't have to go to the AAPRCO convention to enjoy the luxury of travel in a private railcar. You can charter a private railcar any time of the year to take you to many destinations along the rails! Click here for more information!