Montana Rockies Rail Tours
Travelogue of Ray Burns
December 8 - 10, 2001
http://www.trainweb.com/travelogues/rayburns/2001l08a.html
My Alaskan Airlines plane didn't take off until 11: AM Saturday, December 08, 2001, but as everyone knows, you have to be there at least two hours in advance. I figure an hour is more than enough time to get to the Los Angeles airport and another hour for any unforeseen events, so that means that I leave the house no later than 7:00 AM. I left at 6:10 AM and the 510 freeway was closed. I tried another opening and it was closed there as well. Now I was happy that I left home early. I took another route and got to the airport with no problem.
The purpose of telling you this little bit of information is not so much as a warning to you to take precautions, but rather that "is this going to be a prelude to the rest of this voyage?" Does this little dark cloud forbear what other irks lie ahead on this trip? We shall see.
I was told to go to gate 31C. At boarding time I noticed that my plane was still not listed and I figured that the plane was late. However, I was getting "antsy" and I started to look around. I noticed a few "doors" down that they had "Seattle" on their board and people were leaving the terminal to board the plane. I better check this out! Sure enough, it was my plane. I was now a little concerned that the "dark cloud" was still with me. The trip to Seattle was nice and on time, as was the departure.
Now it was time to fly on "Horizon Air" to Missoula, Montana. Now if you don't know where Missoula, Montana is, that's great, because then when you come here, and I highly advise that you do, then it will be one of those neat little experiences that twenty years from now you will still remember the adventure and the people.
My plane left at 3:15 PM and like Alaska, they were on time, coming and going. My problem is that by some freak accident, I got on the wrong plane. However, I had this "feeling" that something was wrong. The same feeling that helped me get through Vietnam. A Guardian Angel? Anyway, I asked the attendant when I boarded if this plane was going to Missoula. "Oh no, sir. That's the plane that is beside us." That's what I get for following the people in front of me. Now I was kind of worried about that "dark cloud" that I was talking about. This was a sleek two prop plane that I was boarding and it also was a good flight.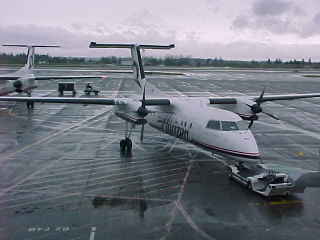 As I was waiting for my luggage to come in I was a little concerned about getting to my hotel and to the train. No folks, I am not talking about Amtrak on this trip, I'm talking about the "Montana Rockies Rail Tours." You might wonder: "Who are they?" Well, I can tell you this much, they cover Idaho, Montana, Yellowstone & Glacier National Parks, the Continental Divide, the Missouri River and the Lewis and Clark Trail. They were once owned by the American Orient Express under a different name and a group of bright people, such as Marcia Pilgeram, the President and CEO of this firm, had a vision and a burning desire to make this new company a reality. To make a long and very interesting story short, she, with other invisionaries, bought these and other cars, refurbished them, marketed their services and "voila!", "Ta-Dah!", here they are! I truly relate their experiences to that of the founder and owner of "Rocky Mountaineer Rail Tours" up in Canada. I believe that he wrote a very interesting book about his "empire building" and is must reading if you have any interest in what it takes to build a railroad. It is a long and hard struggle! Who knows, maybe Marcia will write a book as well. It too would raise some eyebrows, I am sure. Believe me folks, these stories are real and a lot more fascinating than any soap operas that you think are pretty wild. To know the story behind the scene always makes you more appreciative of what you receive because of the hard work and dedication of all the people of the Railroad companies. Going to Disneyland is one thing, but to know the history about Walt Disney and how the odds were stacked against him and how he slowly but surely built his empire is fascinating indeed. Once you understand what it took to establish the service that is offered to you, then you will truly have a respectful appreciation for what you will experience, other than just the dollars it takes to enjoy it.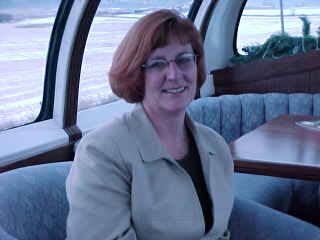 Marcia Pilgeram, President & CEO,
Montana Rockies Rail Tours
As I turned away from the phone to call the hotel, here was this gal holding a paper up to her chest that said "Montana Rockies Rail Tours." Sure enough, she was here to pick myself and others up to bring us to the hotel as well as to the train for a little cocktail reception in the "Northern View" dome car. I don't drink and I'm not much for parties, but I was ready to see the train and meet some nice people! Hey, maybe I'm starting to slip away from under that "dark cloud."
Larae Jackson was very bubbly and just a fun person to be around. She drove us through Missoula and right over to the trainset. By the way, folks, this trip that I'm going on is called the "Montana Daylight Christmas Special!" Santa and his wife will be there (does anybody know her name other than Mrs. Clause?) as well as the "Sweet Adelines" choir to sing everyones' favourite Christmas songs. Lots of food and bubbly as we ride through the countryside just before Christmas. Not bad, not bad at all!
I only saw the interior of the "Northern View" dome today, but I'll see the rest of the trainset tomorrow. I noticed that the seats, as well as everything else, were impeccable! Everything looked pretty new and kept in pristine shape. Terry Gainer, Ex. VP of Sales, and Mike Phillips, VP of Passenger Operations were onboard to greet everyone as our party boarded. There were hors d'oeuvres in this car and everyone was socializing and enoying the atmosphere.
After a half hour or so everyone departed the car and entered the shelter of one of two one ton vans. We were wisked away to a local brewery called "Big Sky Brewing Company" (www.BigSkyBrew.com) where we (for those who drink beer) were given free drinks to bring on the good cheer by Brad Robinson. It seems that all of the employees are brewers.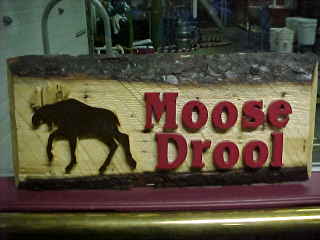 These Montana people seem to have a very strong sense of humour as they tend to take almost everything with a congenial sense of thinking, such as, "MooseDrool," "ScapeGoat," and "SlowElk" beers. Many nice souvenirs were available for the afficianados. I picked up a lovely glass mug for myself. We then went outside to the other end of the building and here was a small business lit up like a Christmas tree. "Mother Moose Enterprises" is a personalized handcrafted gift store run by Peggy Kupper and her husband. "www.MotherMooseGifts.com." Come in and enjoy the coffee and cookies while you browse around as so much cute home made novelty items abound here.
Next stop was "The Bridge Bistro" Restaurant" (www.BridgeBistro.com). This establishment has been in business for thirty one years, so I would think that Shirley Juhl, the owner, must be doing something right. We all decided to eat on the second floor and enjoy the quaintness of the upstairs atmosphere. The waitresses were very bubbly and eager to serve. I had salmon with mashed potatoes and vegetables. The problem with this place is that they give you too much food and it's excellent. I'm the type of person who has a difficult time leaving any food on my plate, so with that combination, my stomache expanded quite a bit. It's a good thing that I can take the pain. Good prices, good food, good golly, I'm ready to roll down the stairs! Then, to everyones surprise, we were then taken over to the "Waterfront Pasta House" where the "Goldsmith'S Premium Ice Cream" site dishes out their great ice cream. Yes, it was cold outside, but we ate it inside. What a nice little "top off!" They have a sister business next door called "Goldsmith'S Bed and Breakfast" (www.GoldSmithsInn.com) operated by Jeana and Rick Goldsmith.
After that, the vans drove us to our Holiday Inn Parkside Hotel www.HolidayInnMissoula.com and I am sure that everyone will sleep soundly tonight. My luggage was waiting for me in my room, thanks to Larae Jackson. I was overly stuffed and tired! A nice warm room with everything that I need was bidding to me. Looking out the window I can see that there is a large river flowing behind the hotel. Very picturesque during the daytime, I am sure. But, all that I desire now is for some sleep in a very comfortable bed!
I got up at 4:00 AM, Sunday, December 09, 2001 and showered. After getting everything ready, I commenced to type on my laptop. It's a good thing that I did, as this was the only chance I had on this whole trip to do any writing, other than take notes. I'm scared to do anything in the airport now as I feel that security is going to pounce on me. I have a difficult time as it is just getting past security until they realize that I'm harmless.
Around 7:20 AM, a great looking bus from Beach Transportation Company (406-549-6121), which is based right here in Missoula, Montana, and has been in business since 1941, pulled up alongside the train and Robert Mitchell, the company Safety Director, stepped out from behind the wheel and opened the door to allow all the the group of people that I was with into the warm bus.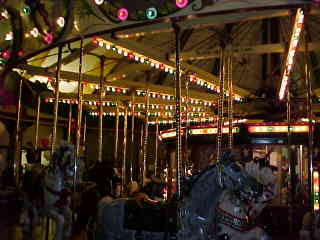 Robert also took the train ride with us this day. It was the very first train ride that he was ever on! He first drove us to a site within the city called "A Carousel For Missoula." It's exactly what it states. It is a large carousel that was built entirely by volunteers literally from the ground up. Each horse was made from scratch by a different volunteer who had to learn how to carve the horse out of wood. With a dream and a lot of hard work, this beauty became a reality and it all started with one man. We had continental breakfast inside the structure while Theresa Cox, the Executive Director, gave everyone the fascinating history to this grand project. Cyndi Joslyn, the Gift Shop Manager, was kind enough to come down early Sunday morning as well, to open the well assorted gift shop to be available for our pleasure. It's difficult to go through here without purchasing something for someone. During the nearly four years in which the Carousel was a public project, over 200 volunteers gave well over 100,000 hours of labor, community members and visitors contributed thousands of dollars, local businesses donated materials and services, and a community's dream became reality. Everyone in this community contributed in one way or another. This is a must see, and remember folks, anything you purchase helps keep this puppy going.
From here, Robert drove his bus to the train. There it was in all its beauty, The Montana Rockies Rail Tours trainset. Montana's only touring trainset. He drove the bus right to the spot where we enter the train. That way we were in the cold for just a few moments. By the way, did you know that Helena is the state Capital? Of course, everyone knows that. Right? Or how about, did you know that Montana is synonymous with the Lewis and Clark expedition? Oh yeah, well did you know that Annie Oakley, Billy the Kid, the Sundance Kid and Jeremiah Johnson (originally named Liver E. Johnson) were in this neck of the woods? There's more, a lot more, but I'll let you learn that when you come up here yourself. I'm not going to write a book. You can catch this train in Sandpoint, Idaho, which leaves at 9:30 in the morning, or board in Livingston, Montana, or just fly or drive into Missoula proper. (Sandpoint, Idaho, is served by the Amtrak Empire Builder if you want travel 100% by train!)
The train left slowly backing into a "Y" so it would be headed into another direction. Railfans would enjoy this touch. The company uses names such as "Discovery" passengers, who eat their box lunches at their seat with the large picture windows. "Big Sky" passengers, who take up the rear portion of the train, eat at the dining car and enjoy those great dome cars. "Montana Gold" is truly at another level. These are the last cars on the trainset and are basically private railcars. If you ever want to go first class, there is no better way. I have seen some nice dome cars in my travels, but this puppy takes the cake! Want a queen size bed? No problemo! Heck, their restroom is fancier than mine at home. I highly recommend that you take a room in one of these cars so you can dine, and I mean DINE in this class and enjoy the lavish living room with the absolutely plush dome car. You will not regret doing so. That is a promise!
The train has 478 miles of track to work with and don't think for one minute that it's not a "big deal." It IS a big deal! These tracks snake and curve and wind to and fro with wild animals and lovely trees hither and thither and beautiful snow peaked mountains with water that has cascaded and danced and plunged and rainbowed its way down to the lower levels to give you those beautiful rivers, streams and lakes that produce those succulent rainbow trout and other delicious morsels of fish that ends on our plate. Yes folks, the fish is fresh up here in "Big Sky Country!"
The consist had 17 cars which included two 750 G9 engines, 2 baggage cars. They also had their power for the trainset not coming from the engine so it's great having that kind of backup. A partial list is:
1. RQAX 104 Power car (Generator Car)
2. RQAX 1612 Baggage/Dormitory car.
3. RQAX 1711 Crew/Lounge for use behind the 614 Steam engine.
4. RQAX 8750 Buffet/Diner.
5. RQAX 800269 Dome lounge named the "Silver Scene,"
6. RQAX 940 Dome/coach.
7. RQAX 9410 Dome/coach.
8. RQAX 3109 Buffet Lounge.
9. RQAX 4734 Coach
10. RQAX 4734 Coach
11. RQAX 4001 Coach
12. RQAX 4013 Coach
Then there are the private cars added to the consist. I might ad that there will be one more trip before summer before they change the name on the cars. So, if you want to be on one set of cars named "so and so" make sure that you're on the next trip out. Then you can go again at a later date and be on "another" set of cars with different names. They have different routes so you don't have to worry about taking the same route. The scenery is stunning, so I am sure that you won't even mind taking the same route. In fact, if you really want your voyage to be different, just go at a different time of year.
I believe that in 2002, the Montana Rockies Rail Tours will be going to Spokane, Washington, and then in 2003, to Seattle, Washington, Salt Lake City, Utah, and to Denver, Colorado. Their website is pretty indepth with good information so they will have new information posted when it is time. I am sure that we will also receive it and then we'll post it to "What's New" here at www.TrainWeb.com.
We had lunch at 1:30 PM and here is what was on the menu in the dining car.

1. Northern Pacific Beef Stew served in a Sourdough bowl with Cheese and Fruit.
2. Jocko River Buffalo Burger, Caramelized Onions and Jack Cheese with Scalloped Potatoes.
3. Cranberry Chicken Grilled Breast with Cranberry Glaze with Roasted Red Potatoes with Chefs Vegetables.
I took the beef stew inside the sourdough bread. It tasted as good as it looked! I'm sure that all their choices did. For dessert there was Dutch Apple Pie or Pecan Pie. I won't tell you what I had because they were both decadent. All I'll say is that they were delicious!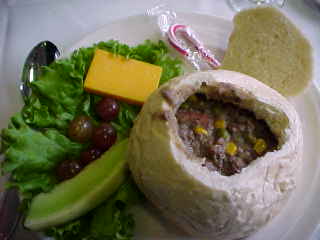 As many of you folks know, an enjoyable train ride is one of the greatest ways to meet other people and socialize, if you don't mind doing that once in a while. You can be a loner and still thoroughly enjoy the trip. The key words are hospitality and personality! These people understand those words and massage them to the limit. A number of train companies understand this language and it makes all the difference in the world.
Let me tell you about some fascinating people that I met on this journey. There was Nebil and Fedva Dikmen of Escape Tours and Dikmen Travel from the Seattle, WA, area. Their site is www.WebTravel.com. Gracious and knowledgeable people if there ever were any. Then I met a very friendly gentleman from Heritage Clubs International, Inc. George Aker is his name and this very likeable person is a man with a very interesting arrangement for people in their fifties or more (www.HeritageClubs.com). A site out of Iowa, well worth checking out. Then came two gals, Myrt Servatius and Annette Graham, of Totem Travel, who are a joy to be around. That is, if you like to laugh! Those Canadians from British Columbia certainly have a great sense of humour. Don't be around them after you've eaten, though. It hurts the stomache. Judy Steeneck of Centennial Travelers out of Colorado (www.CentennialTravel.com), graced the table that George Aker and I were sitting at this evening. A very interesting lady. Rob Spooner of Northwest Regional Magazines also runs the Online Highways travel information website (www.ohwy.com), based out of Oregon. Be careful, he's good at cards, except I think that his wife beat him at a game. There were so many others, so you see, it is not just the sights that are enjoyable.
It is always fascinating to see new countryside and feast on what God gives for free. The train goes through the heart of the country, many times where no one lives. You are truly out in the wild in the comfort of your very civilized "living room." My jaunt this time was just for the day. I went around the "loop" and it was a very fullfilling day! Well worth every minute of it. Now this company has been in business for their first year and it has turned out quite well for them as they had more than two hundred people on this trip alone, so I highly suggest that you get on the ball and contact them at www.MontanaRailtours.com and have them book you a spot, pronto! Once the word starts getting out how truly beautiful and enjoyable these trips are, they are going to be booked up to the ears. Right now most people have not heard of them, so take advantage of that temporary drawback on their part and get in before the stampede starts. But whatever you do, make sure that they know that you came to them through TrainWeb. Once the word really gets out there, then the masses will start coming in.
I saw one rail fan out in the cold driving all over the place to take pictures of this trainset as it travelled along the route. Once the word gets out, the railfans should be thronging to this area. The train can do 60 MPH on these tracks, but these trains travel between 35 to 40 MPH so you have more time to enjoy the scenery along the way. In fact, this is the only passenger train on these lines and it seems that the relationship between Montana Rockies Rail Tours and the freight trains are excellent. Very unusual, as normally the two entities are like cats and dogs. Too bad they all don't get along like this. A super entertaining and enjoyable trip! Of course, there are longer 2 1/2 day trips and even much longer. Private trips can be arranged as well.
The train docked back in Missoula and the bus took some of us to the hotel and others to the Rocky Mountain Elk Foundation. This is the national headquarters for this nonprofit organization whose mission is to ensure the future of elk and other wildlife and their habitat. They have a lovely setup inside their building. With 100,000 members and 180,000 visitors this year, they are one worthwhile growing group. They have a great magazine for their members. Dick Solum was kind enough to keep the building open for us to go inside and look around as well as provide information on the wild habitat in Montana (www.ElkFoundation.org). Obviously it is a place where you must stop by and visit. Excellent.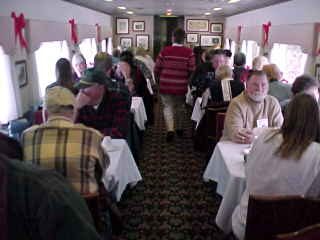 Time was short so we were then brought back to the train for a great get together in the dining car. Ken Keeler in charge of Operations for this company was sitting beside me and Nebil and Fedva Dikmen out of Seattle, WA, sat across from me. I had delicious trout this evening. Gracious dining and companionship for all. I could barely eat any of my desert though. I was just too packed! I might add that Marcia Pilgeram, the president of the company, was about the train all day greeting her guests. Hey, these people aim to please. They didn't treat me as a guest, they treated me like family.
I like saying nice things about people that treat me right. It's a little payback for their kindness to me and it makes me feel good to do it. Once we left the train after that gracious meal many of us went on the bus and Robert took us back to the Holiday Inn Parkside Hotel. Others might have had the strength to go around town, but I've had it! But this time, I'm looking forward to another good nights sleep and sleeping in.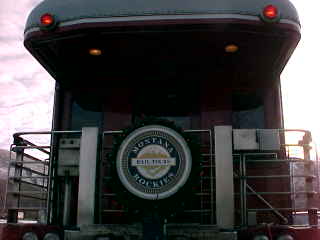 Monday, December 09, 2001, I got up around 8:00 AM and got everything ready and went to the lobby and checked out. Great friendly service. The hotel shuttle then drove me to the train and I spent the day taking a number of Virtual Reality pictures. Within a couple of days, a link will be posted from this travelogue to those VR pictures, so please be sure to re-visit this page in a few days. To see other Virtual Reality photos that TrainWeb has taken of trains, stations, and other tourist attractions, visit: www.360360.com! Follow the instructions and you will have a lot of fun looking at some very unique 360x360 immersion photographs where you can "step into the picture!" Mike Phillips took care of me today and when all was done and well, he brought me to the airport for my plane trip back to Seattle, Washington. Thanks for everything, Mike!
My plane left around 6:00 PM without a hitch and about 9:35 PM my connecting flight left Seattle, Washington, for Los Angeles, California. The flight by Horizon and Alaska Airlines turned out fine. I just hate going through the security check, that's all. Being back at midnight was a little heavy, but once in a while it's okay. I'll be back in the office tomorrow. As I work on this travelogue, I'll be reminiscing of the grand time that I was privileged to experience. That will give me great memories for a long time to come. Needless to say, that "black cloud" disappeared when I landed in Big Sky Country!"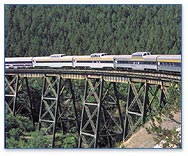 Click on each link below to view each set of photos:

Are you interested in taking a similar rail tour through the Montana Rockies yourself? Click here for more information about available tours, routes, dates and prices. Be sure to mention TrainWeb when you call or write the Montana Rockies Rail Tours Company!
CLICK HERE
To Read More Rail Travelogues
And View More Photos Of Rail Travel!
Visit related pages from this and other web sites:
Click below for pages in the directory of TrainWeb sites: